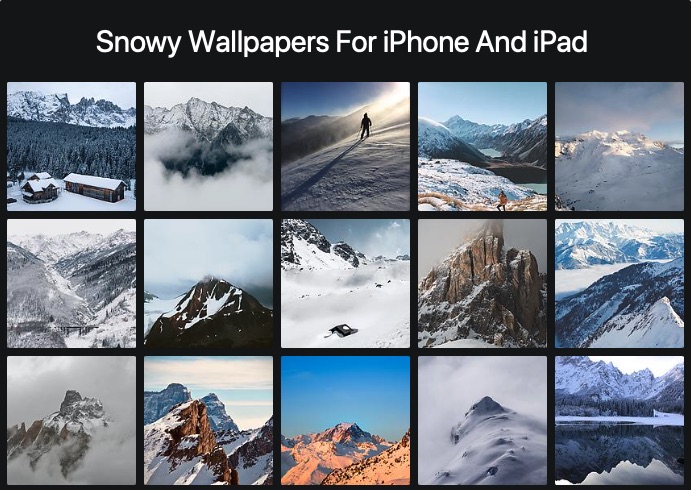 Snowy Mountain wallpapers for iPhone can give your iPhone's lockscreen and home screen the dramatic yet somehow calming look that you might be looking for.
If you are searching for some amazing Snowy Mountain wallpapers for iPhone, then we have certainly got you covered. Here we have shared 15 such high-resolution wallpapers that you can not only use on your iPhone but they also look great on the iPad.
You can download Snowy Mountain wallpapers for iPhone and iPad by simply long pressing on the wallpaper image you like and saving it to your device's Photos app. Once the image has downloaded, you can then proceed to use it as your device's wallpaper both both lockscreen and home screen.
Thanks to the high-resolution of these stunning wallpaper images you can use them on any model of iPhone including iPhone 12 Pro Max, iPhone 12 Pro, iPhone 12, iPhone 12 mini, iPhone 11 Pro, iPhone XS Max, iPhone XS, iPhone X, iPhone 8 and other devices of similar resolution. All iPad models should also apply these wallpaper perfectly.
Need more mountain wallpapers for iPhone? Then check out our wallpaper collection on best mountain wallpapers for iPhone here.
Also check out:
Download Snowy Mountain Wallpapers for iPhone and iPad
Click on the image you want to download and once you are in the preview mode tap and hold on the image to save it.
There you go folks, these are the best and most stunning Snowy wallpapers for iPhone and iPad.
What do you think about these wallpapers? Share your thoughts in the comments below.
These wallpapers have been taken from the Unsplash iPhone app, which you can download from the App Store for free. here.