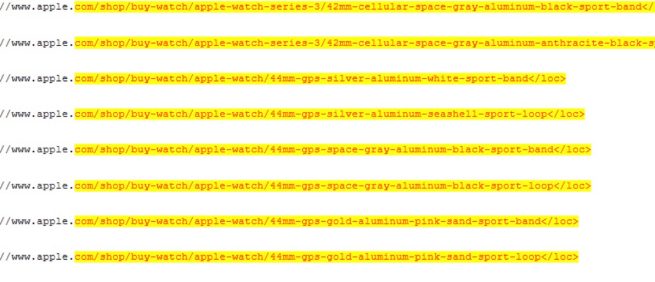 We have just had embarrassing leaks on Apple's official website, which has leaked the names, colors and sizes of the upcoming iPhone models. However today's Apple leaks are not limited to the new iPhones, as the company's website has also revealed new details about Apple Watch Series 4.
Apple.com's prematurely updated sitemap URLs have also revealed that Apple Watch Series 4 will be available in new 40mm and 44mm sizes. Alongside the new sizes Apple will also be selling the 42mm Series 3 model, presumably at a lower price point.
The two millimeter increase in the Watch's size is significant as the company is also going to reduce the bezels around the device's screen. That combined with increased size will add significant real estate to the device's display.
In addition to revealing the new sizes the leaked URLs also confirm the colors of the new models, which will be available in Space Grey, Silver and Gold finishes. Stainless steel models and special Nike and Hermes models will also be available.
The existence of Ceramic edition for the Series 4 could not be confirmed in this leak. (Source)