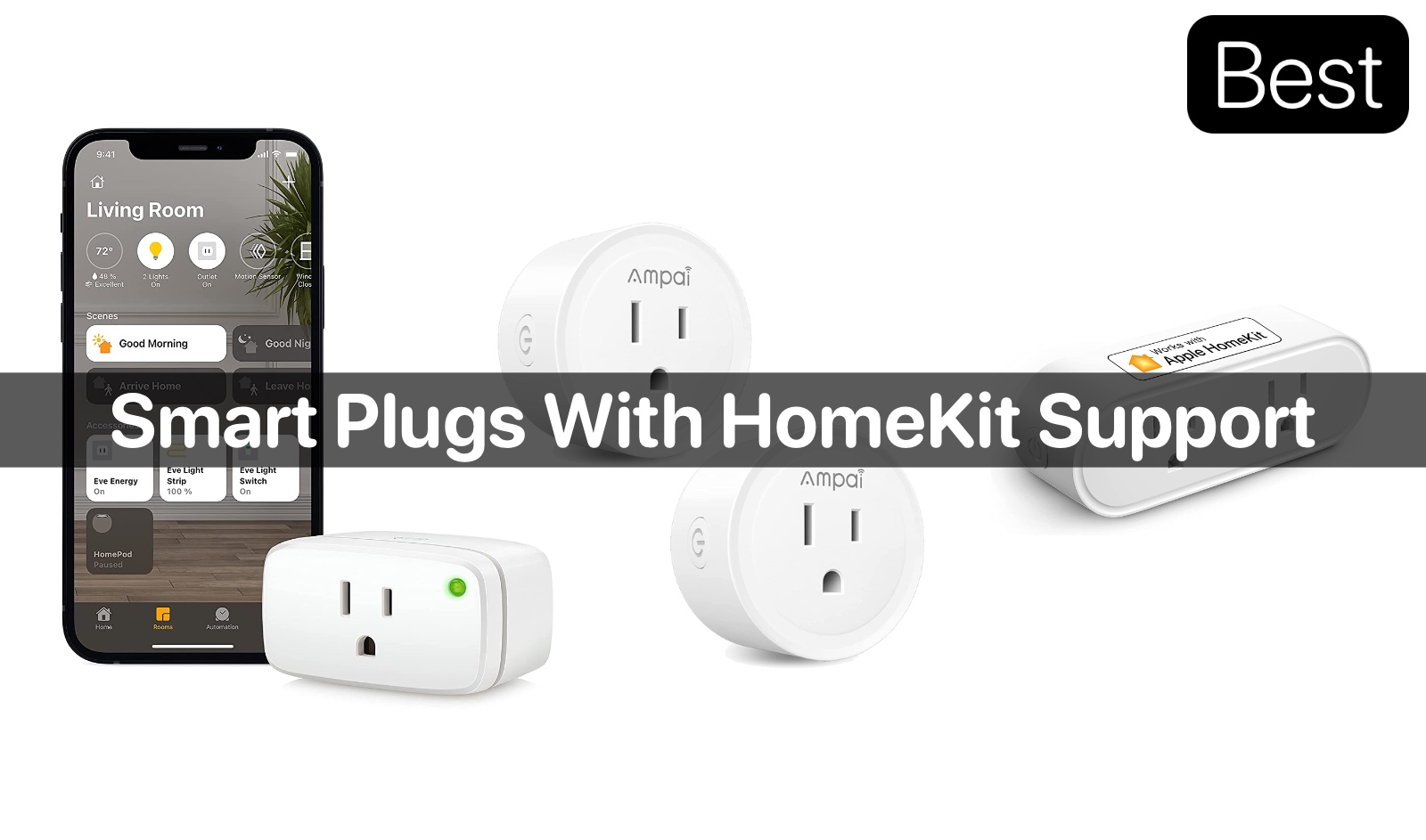 In this post, you will find the best Smart Plugs for iPhone users that are compatible with HomeKit and Apple's Home app in 2023.
You might not realize how much of a difference iPhone-compatible smart plugs can make in your home. These devices act as a bridge between a plug and a power socket, allowing power to flow through only when needed. When you are at home or on the go, you can set and monitor each smart plug using your phone or tablet.
Plugs with smart features can be helpful in several ways. Installing one of these makes turning off devices plugged into awkward or hard-to-reach wall outlets easier. Aside from that, you can schedule when to turn on and off your lights.
In addition to monitoring your energy consumption with smart plugs, you can adjust your habits to save money on your utility bills. You can also check your phone if you forget to turn one off.
Let us guide you through choosing a home kit smart plug or even several to complete your smart home.
Best Smart Plugs for iPhone Users
Whether you want to turn on or off your lamp without fumbling for a cord or want to up the ante with energy monitoring or Siri, Alexa, or Google Assistant voice support, we have what you need in our list of the best HomeKit smart plugs.
1. VOCOlinc Homekit Smart Plug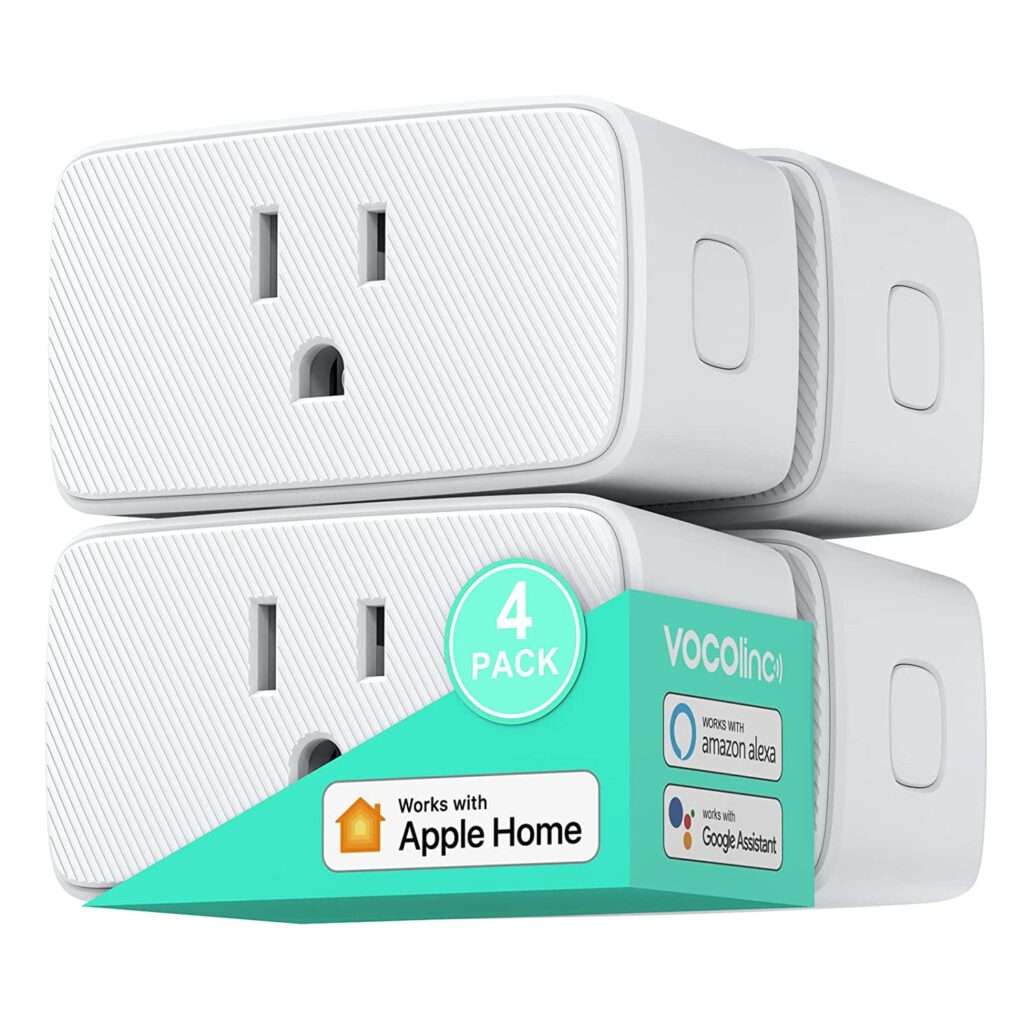 In addition to supporting Apple HomeKit, Amazon Alexa, and Google Assistant, the VOCOlinc smart plug also supports its app. The voice assistant, such as Siri, Alexa, or Google Assistant, allows you to control simple tasks with simple commands. The VOCOlinc app lets you control the plug remotely, and you can also schedule connected devices to turn on and off at specific times.
This smart plug only supports 2.4GHz Wi-Fi for connection stability.
The smart outlet has been certified by TUV and FCC, and it can support electrical devices with a maximum current of 15A. The smart plug shell is constructed from flame-retardant PC material, providing you with protection and quality assurance.
Unlike other smart plugs, the mini Wi-Fi version occupies only one socket and does not interfere with using other plugs.
The smart outlet can be controlled remotely and scheduled to turn on and off at specific times. Get started living a more eco-friendly and smarter lifestyle.
Buy VOCOlinc Homekit Smart Plug for $12.99 each here.
2. Kasa Smart Plug Mini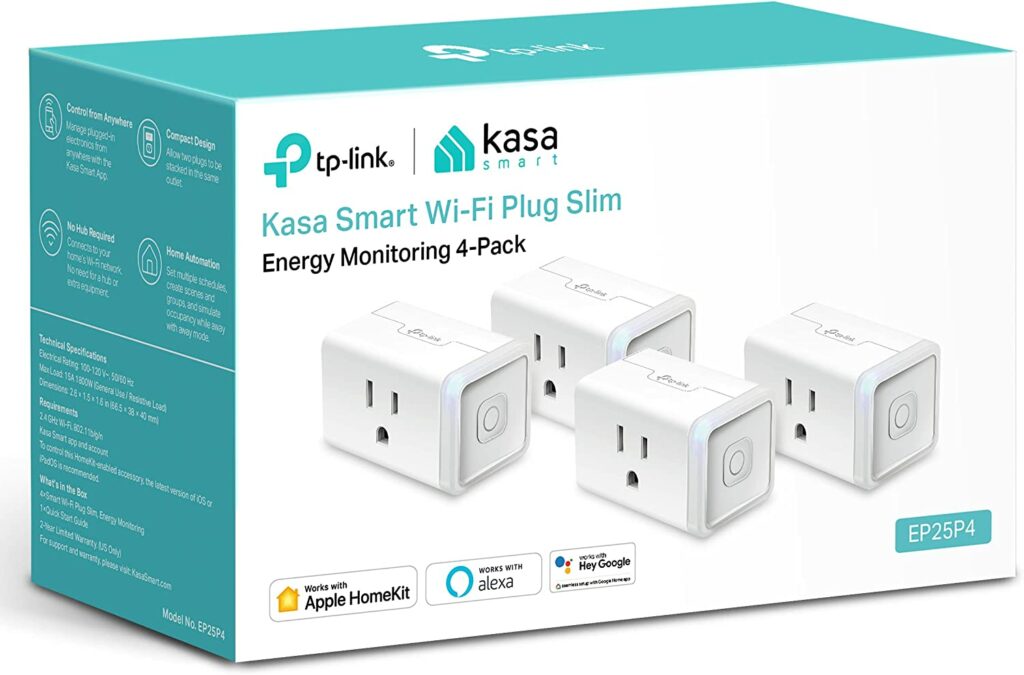 Kasa Apple HomeKit compatible smart plugs work seamlessly with Apple ecosystems, so just ask Siri to turn on/off devices.
Within the Kasa Smart app, you can view the historical power consumption of your connected devices in real time with the smart Wi-Fi home plug. It supports loads up to 1800W and 15A.
This Amazon Frustration-Free Setup (FFS) and Google Seamless Setup (GSS) compatible smart plug feature an extremely easy and quick setup process. The Kasa App can also be set up in a few simple steps.
You don't have to hassle with blocking other outlets with this compact Wi-Fi smart plug. It's also UL-certified flame retardant and comes with a limited 2-year warranty.
The Kasa App allows you to control any Wi-Fi smart plug anywhere, anytime, or you can use Siri, Amazon Alexa, Google Assistant, or Samsung SmartThings to control your smart plug with voice commands.
Buy Kasa Smart Plug Mini for $37.33 here.
3. Meross Smart Plug Mini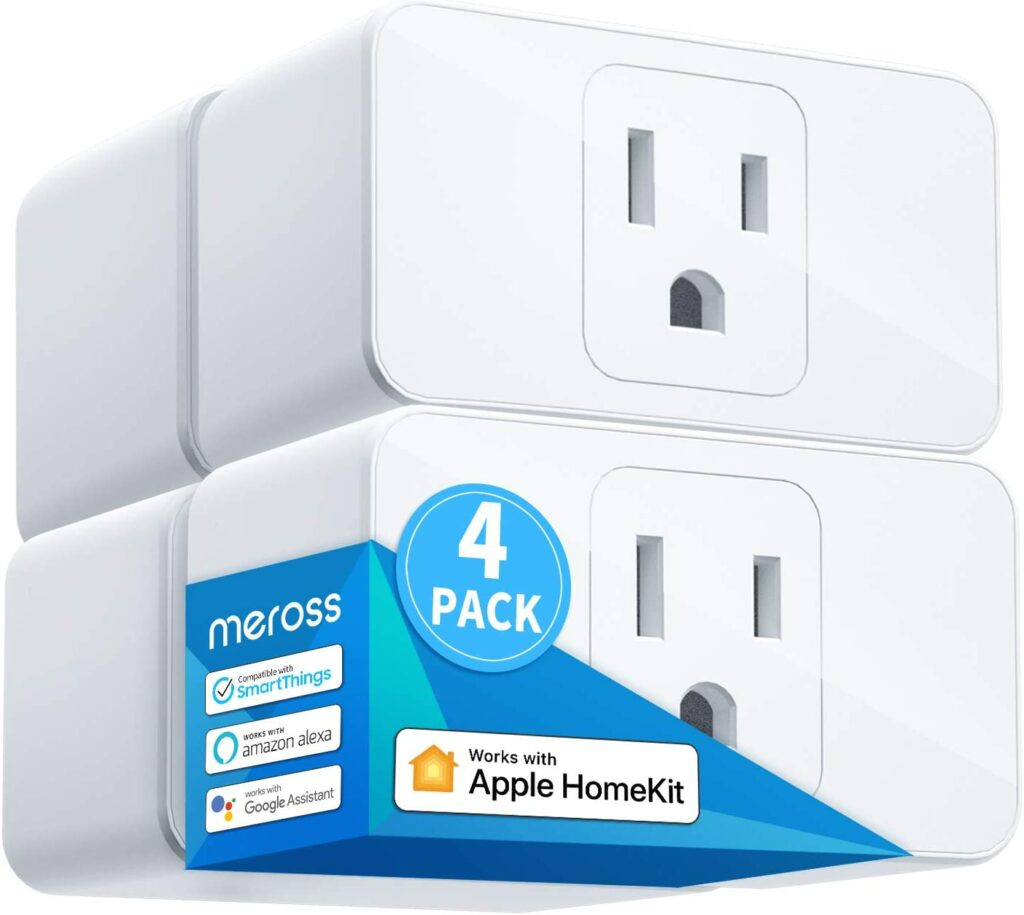 Meross manufactures products that make a positive impact on people's lives. The company strives to make homes and lives easier for its customers.
The smart plug is compatible with Apple HomeKit, Apple Watch, Siri, Carplay, Amazon Alexa, and Google Assistant.
Although this smart plug occupies only one outlet, you can stack two mini smart plugs on top of one another, which is convenient and practical. You can control your connected devices using voice commands. Just speak the commands to turn them on and off.
The smart plug can automatically turn on and off connected devices. You can save energy by turning off lights when you are not using them or leaving them on by mistake. You can set sunrise and sunset times.
The best part is that it's made of flame-resistant material and is tested and approved according to safety and quality standards. With ETL and FCC certification, it powers up to 15A home appliances.
Buy Meross Smart Plug Mini for $39.99 here.
4. Meross Wi-Fi Dual Smart Outlet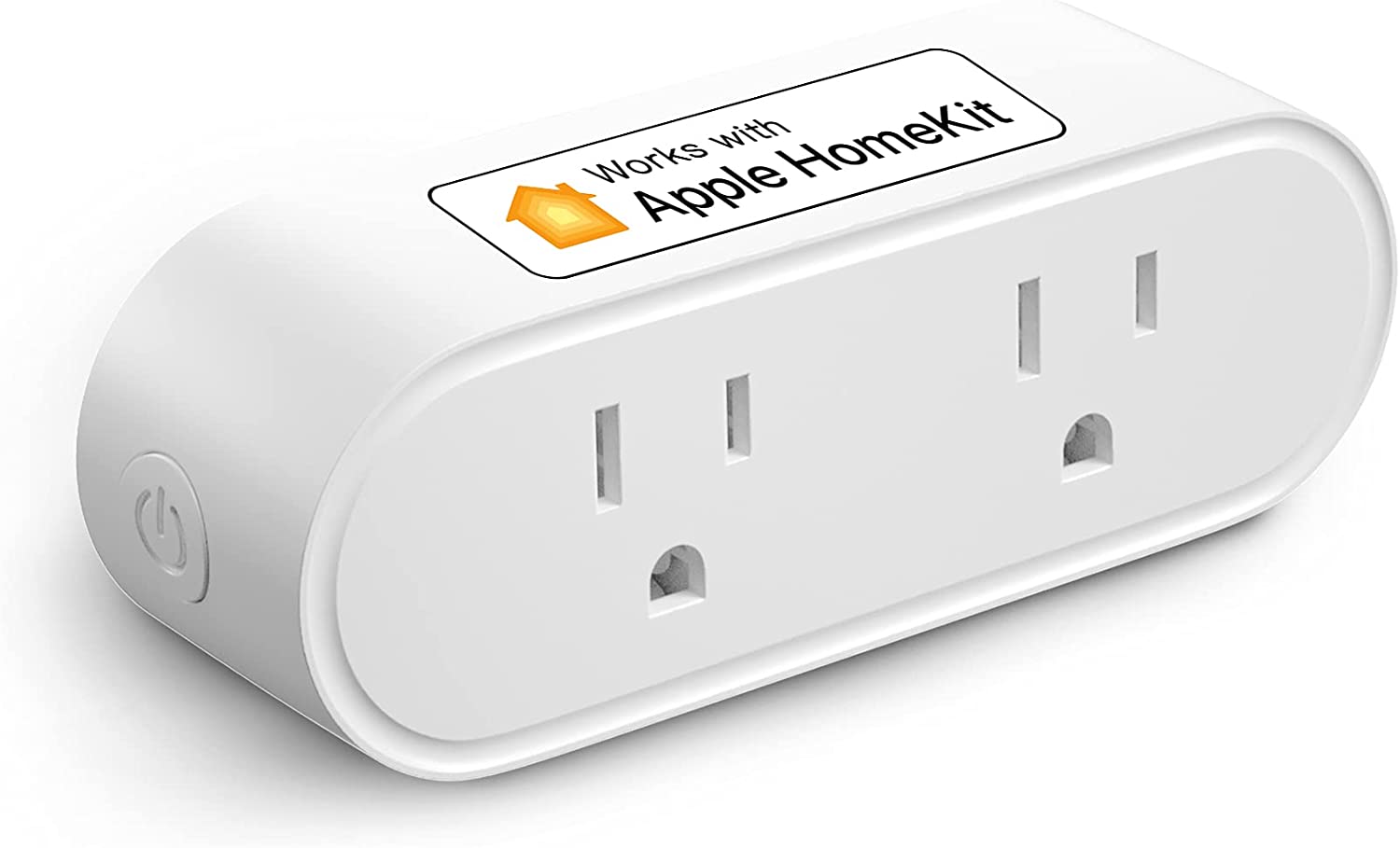 This Wi-Fi plug features two outlets to save space. A Meross outlet can be plugged into two devices, simultaneously controlled by one manual ON/OFF button and independently controlled by an app. Compared to the normal single-socket smart plug, this plug is more efficient. With up to 10A of power, it can run a wide range of home appliances.
To enable HomeKit remote control, you must have a HomePod, an Apple TV 4K, an Apple TV HD, etc. Connect any of these Apple devices in your house to your Wi-Fi network and use them as a HomeKit bridge. Keeping your HomeKit bridge online is crucial once it's been set up. You can't remotely control the device if it's powered off or disconnected from Wi-Fi.
You can schedule HomeKit plugs to turn on and off connected devices automatically.
Buy Meross Wi-Fi Dual Smart Outlet for $16.99 here.
5. Leviton Decora Mini Plug-In Dimmer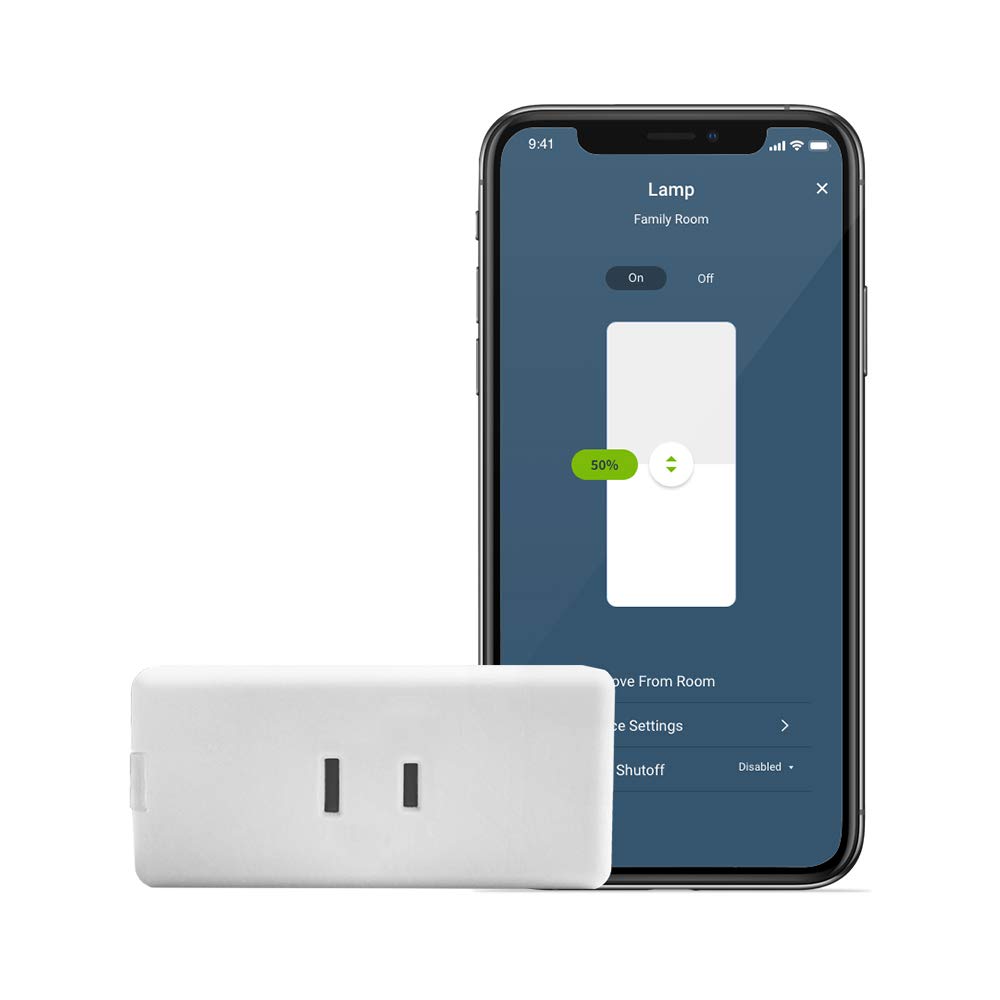 The Leviton Company has been manufacturing electrical products for over 110 years, including over 30 years in home automation and data connectivity. Its century-long history of investing in research and development, manufacturing, distribution, human capital, and training has provided the industry with a solid framework for continuous improvement, high standards, and innovation.
So, you can rely on this Apple Smart Plug for your smart home. So, create lighting scenes easily using multiple devices, schedule lights to turn on and off when you want, and control lights from anywhere.
With custom fade rates and bulb settings, you can dim and brighten plug-in lamps from anywhere
You can dim and brighten lamps connected to Hey Google, Amazon Alexa, or Apple Siri with the help of Hey Google
Using the Apple Home app, you can control your Apple Home system from your iPhone, iPad, Apple Watch, Mac, or HomePod.
This device controls dimmable LED/CFL bulbs and fixtures up to 100W and Incandescent fixtures up to 300W using 2.4GHz frequencies.
Buy Leviton Decora Mini Plug-In Dimmer for $32.69 here.
6. Eve Energy – Apple HomeKit Smart Home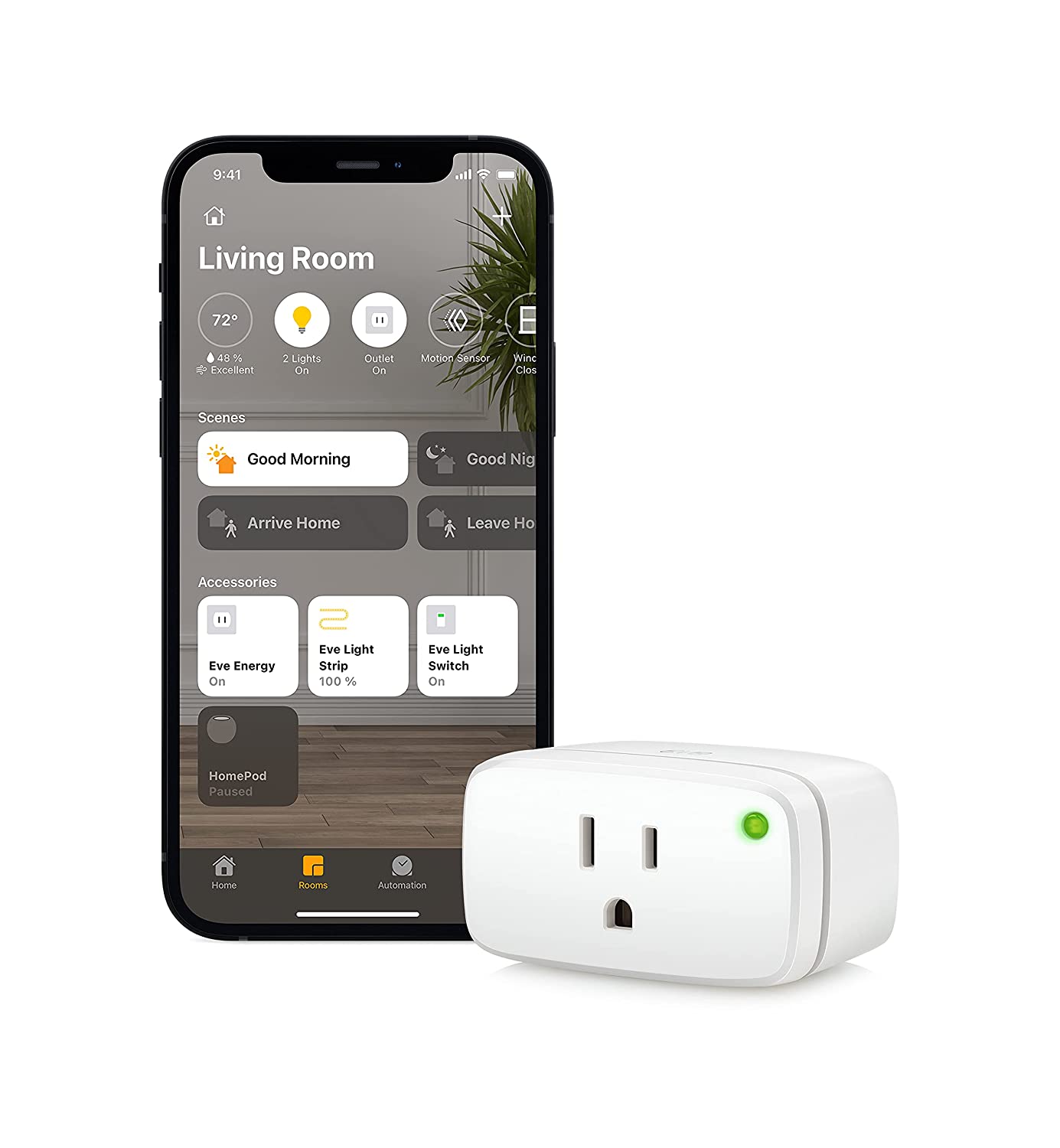 You can turn lights and appliances on and off using the app, Siri, or the built-in button. If you prefer, you can set up schedules to automatically switch devices – regardless of whether your iPhone and home network are connected. Additionally, you can track your electricity consumption and see your projected costs.
With a home hub (HomePod, HomePod mini, or Apple TV), you can control your appliances wherever you are.
Eve Energy's matter-compatible Smart Plugs are HomeKit-enabled for unparalleled ease of use and advanced security.
With a quick & easy setup, you don't need a bridge or gateway to get started. It supports Bluetooth and Thread and automatically joins your Thread network. However, a thread requires a HomePod mini connected to the Internet as a border router.
Buy Eve Energy – Apple HomeKit Smart Home for $39.95 here.
7. SYLVANIA SMART Bluetooth Outlet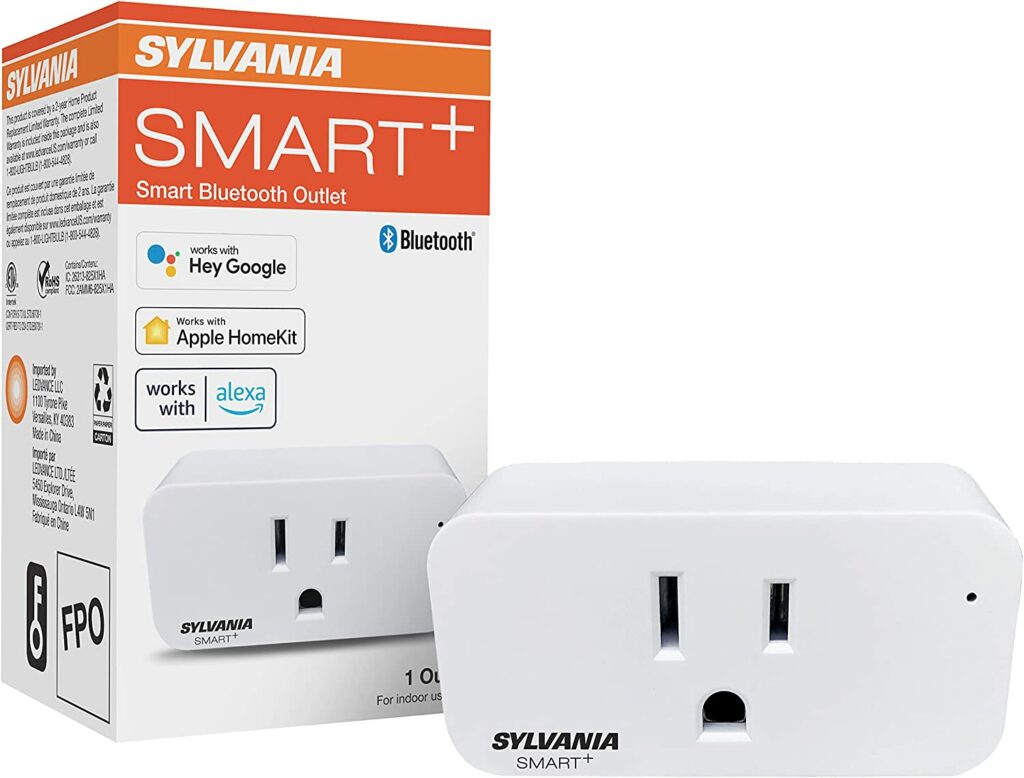 The SYLVANIA SMART+ App and your home assistant – either through your voice or smartphone – take smart living to the next level. You do not need an additional hub or accessories for instant installation.
Lighting, appliances, heaters, and fans can all be connected with reliable, stable connections. The coffee maker and holiday lights can be programmed to run at specific times. But don't forget to ensure that the coffee maker isn't connected to the holiday lights, or you could end up with a very caffeinated Christmas!
Make schedules for routines, alarms, and bedtimes to save energy and money. You can stay safe and secure wherever you are – anytime, anywhere.
Using Bluetooth Mesh technology, you can maintain a reliable connection when using multiple smart devices. With Bluetooth, you can enhance reliability and scalability and extend the range of your devices. It is ideal for homes with existing devices that require stronger connectivity.
Buy SYLVANIA SMART Bluetooth Outlet for $6.99 here.
8. DoHome Smart Plug Mini HomeKit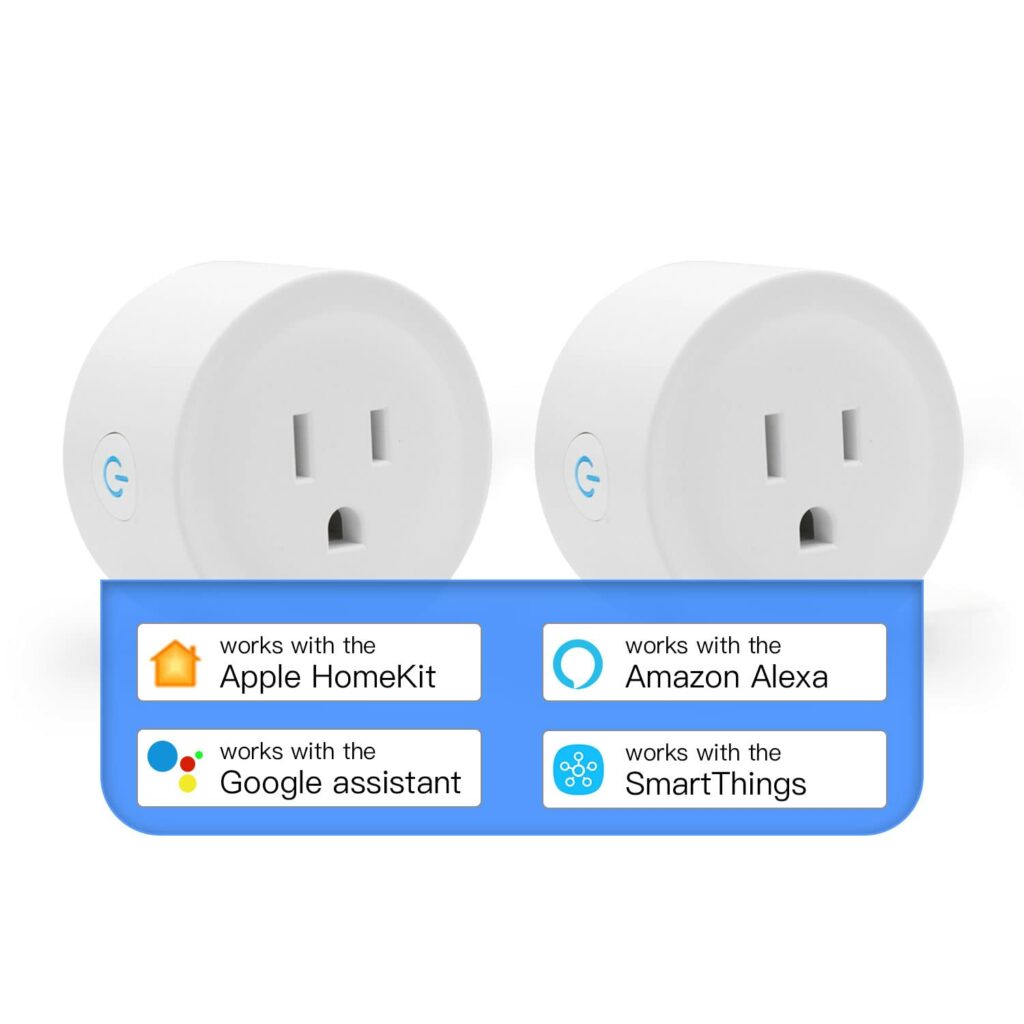 The Apple Home app and the Cozylife app on your phone give you access to your smart plug wherever you are, anytime. You will enjoy great convenience when using this smart plug.
By adding your home devices to a group, you can turn on/off the devices in the group with just one command. You can schedule any electronic device to automatically turn on and off according to your preferences. For instance, turn on the light in the morning and turn it off at night, disconnect the phone within 30 minutes, and so forth.
CozyLife smart plug outlets use premium materials and techniques to ensure the quality of every plug to prevent overcharging and overheating of your home devices and to save energy and money.
Buy DoHome Smart Plug Mini HomeKit for $22.99 here.
9. OHMAX 15A Smart Plug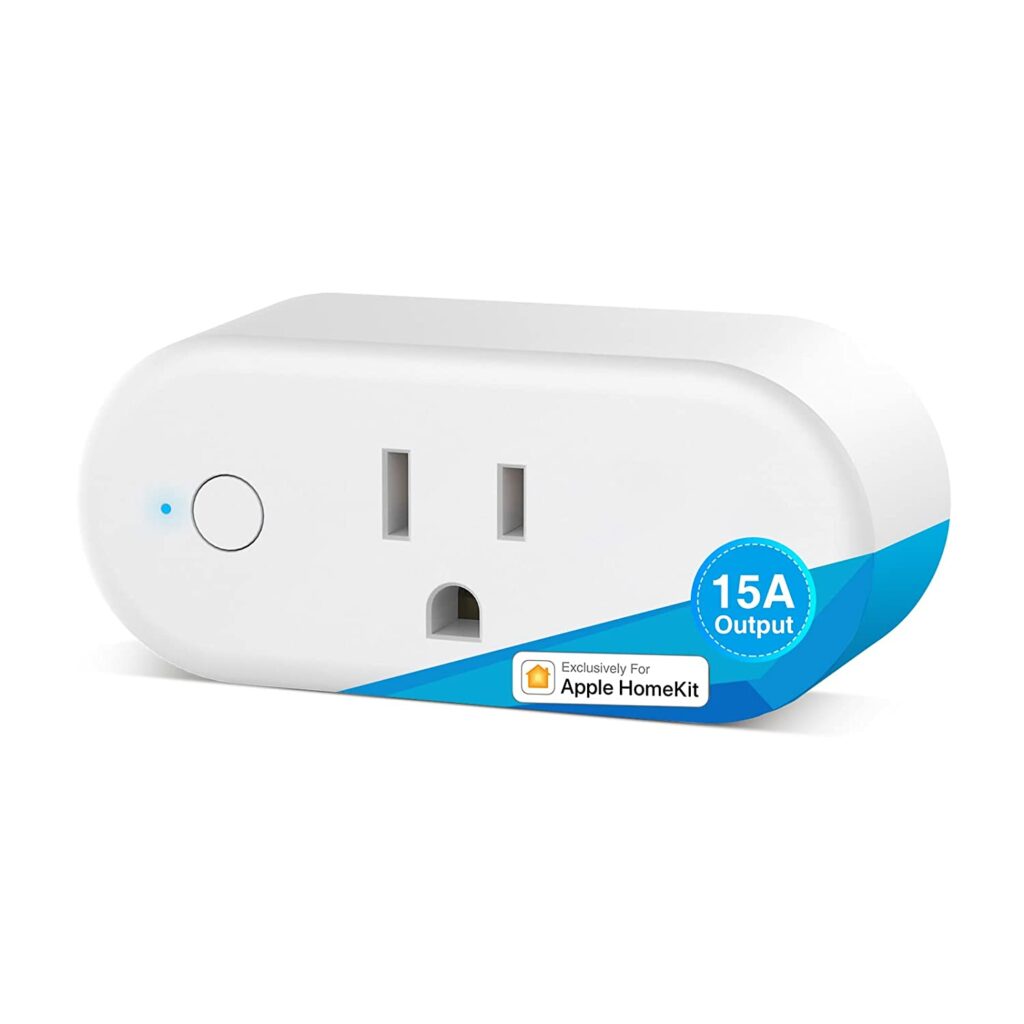 This Apple HomeKit smart plug features a round, rectangular design that prevents the second outlet from getting blocked. This means you can stack two plugs in the same outlet.
It supports home appliances up to 1800W (120V,15A), making it easier for you to bring your dumb appliances into your innovative home system. The smart plug comes with surge protection, short-circuit protection, overload protection, overcurrent protection, V0 grade fire resistance (1382°F), and FCC certification.
This smart plug works with Apple HomeKit and Apple HomePod, so you can ask Siri to turn on or off the light. No need to manually control it.
The appliance can be set up with a timer or schedule if you tend to forget to turn it on or off.
Buy OHMAX 15A Smart Plug for $11.99 here.
10. Ampai Smart Plugs with Energy Monitoring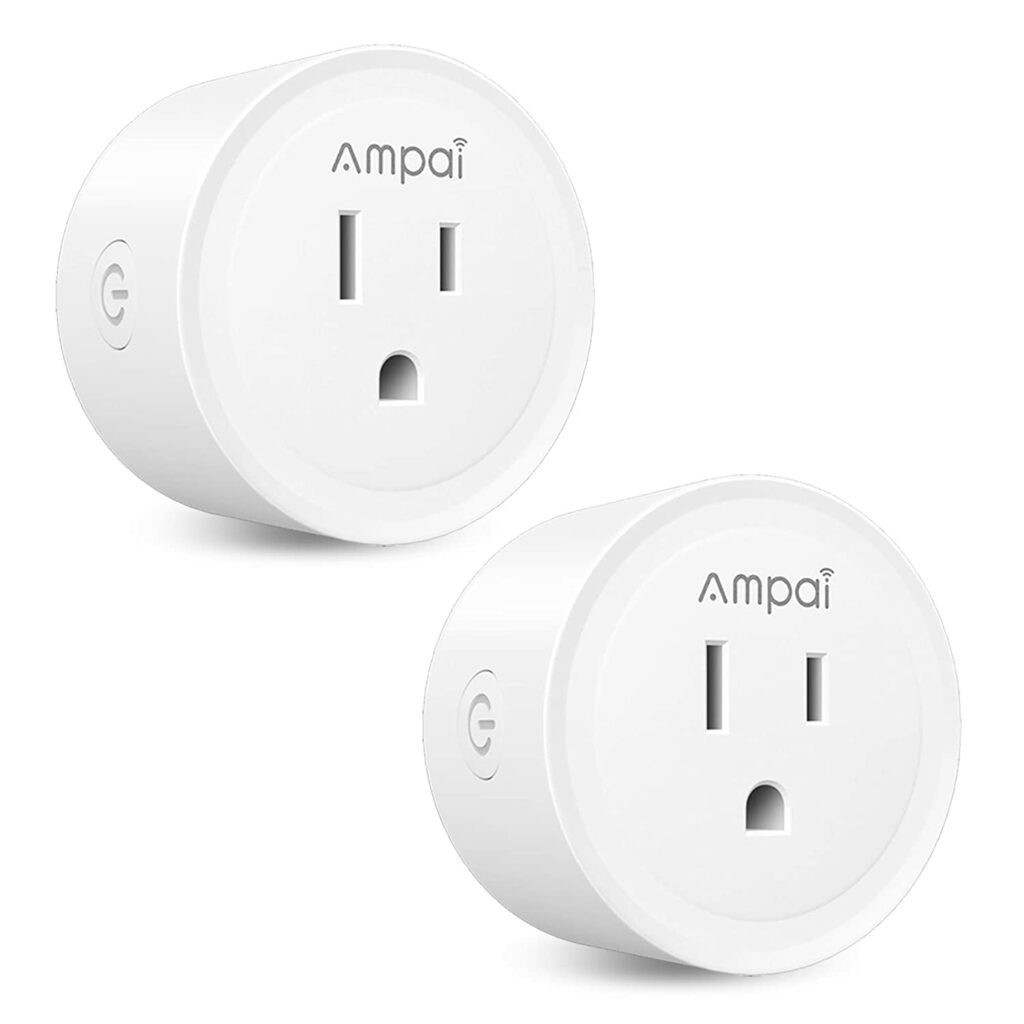 It only takes a few seconds to connect and set up the Ampai plug-and-play smart plug.
With the Ampai app, you can control your smart plug with Alexa, HomeKit, and Google Home. With HomeKit, no additional smart products app needs to be downloaded, and you can manage your smart home devices remotely via an Apple device that's networked as a hub. It is made from high-quality flame-retardant PC-V0 materials and has passed the FCC certification process.
Set up home timers for electrical outlets to automatically turn off devices and optimize energy usage so you can operate your home in an eco-friendly and cost-effective manner.
The Ampai app, HomeKit, and Alexa are all compatible with Ampai smart plugs.
Buy Ampai Smart Plugs (2-pack) with Energy Monitoring for $27.99 here.
11. SwitchBot HomeKit Smart Plug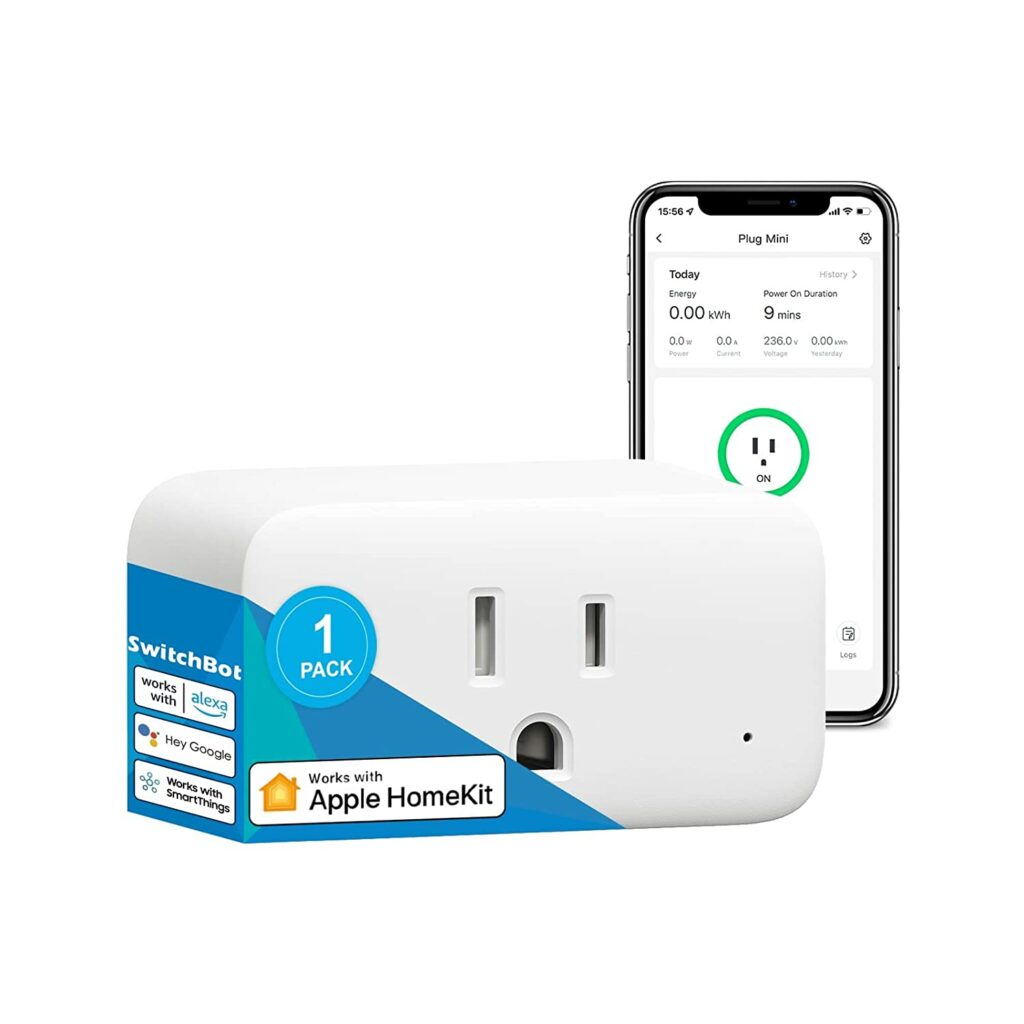 You can use the SwitchBot Plug Mini to automate devices when you go away from home by telling Siri you're leaving. In addition to Siri, SwitchBot Plug Mini works with Alexa, Google Home, IFTTTT, and more.
If you feel the light at work is a bit dim, you can turn on your desk lamp with SwitchBot Plug Mini on any Apple device. Alternatively, use your Apple Watch to turn on your fan after finishing a run. You can also set scenarios based on your Home App, for example, instructing SwitchBot Plug Mini to turn off your bedside light at 11 pm every night when it's time to go to sleep.
If you open your Home App and tap SwitchBot Plug Mini, you can control your appliances even when you are not home.
Additionally, SwitchBot Plug Mini can be configured to automatically turn off home devices when you leave or turn them on when you return. Furthermore, you can configure family member devices to make sure they have the same functionality when leaving and returning.
Buy SwitchBot HomeKit Smart Plug for $14.99 here.
Final Words
With the list of HomeKit-compatible smart plugs, we have added only the best ones. However, now it's your job to list down your preferences and make a smart choice.
Did you find your favorite Smart Plugs that support iPhone? Let us know in the comments below.
Feel free to post your queries in the comments, and we would be happy to assist.