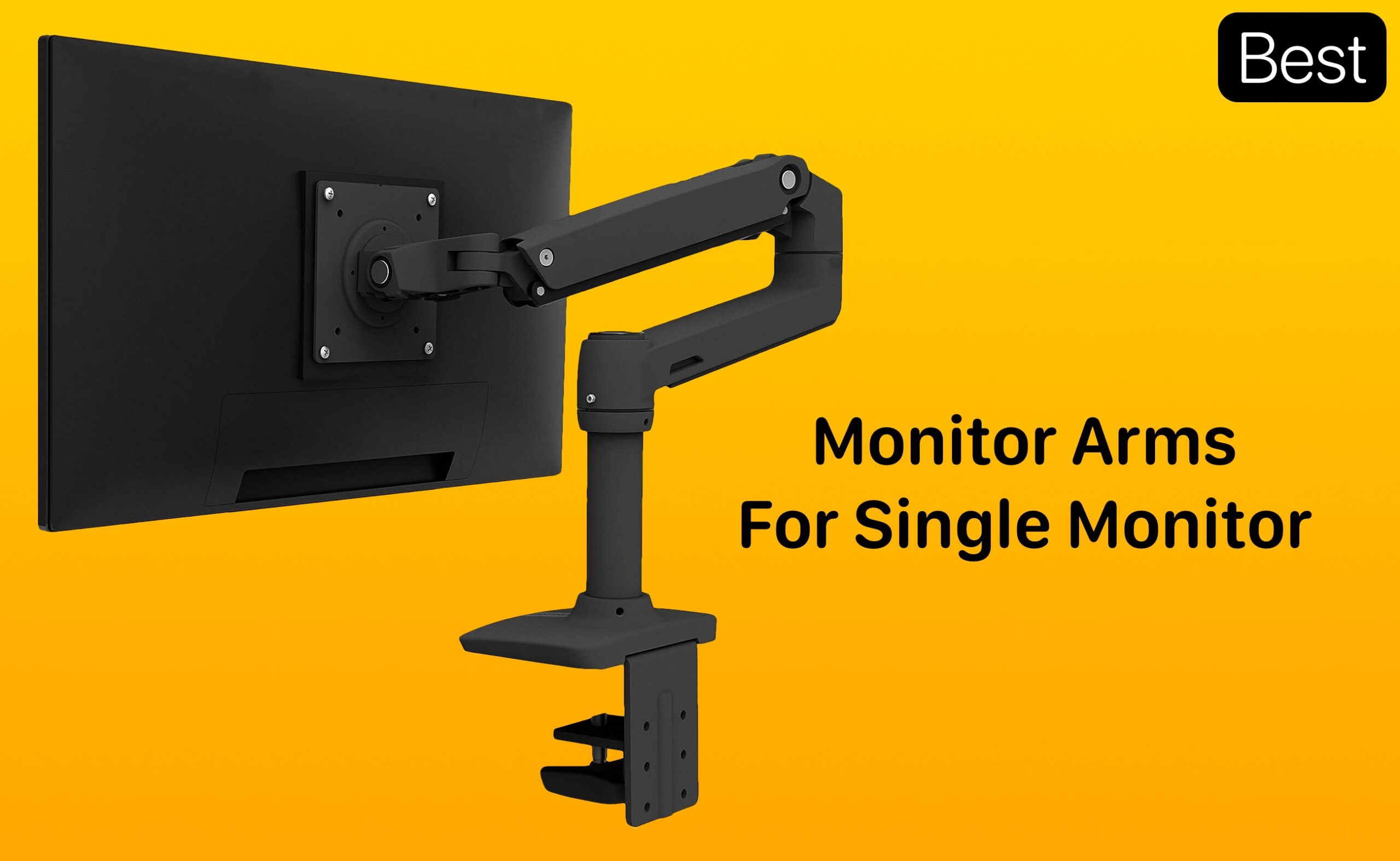 In this buying guide, we have listed 7 of the best monitor arms for 2023 that you can use with your single monitor Mac desk setup. So no matter if you use a Mac mini or a MacBook in clamshell mode along with a single monitor, this guide is for you.
In the ever-evolving landscape of modern workstations, a seamless blend of ergonomic design and cutting-edge technology is paramount to fostering productivity and well-being.
In the modern world, the importance of optimizing our desk setups cannot be overstated, and a pivotal element of this quest for efficiency and comfort lies in the selection of the best monitor arms for Mac.
Single monitor setups have their unique demands, necessitating a delicate balance between form, function, and flexibility.
In this article, we present the best monitor arms for a single monitor meticulously curated to elevate your desk space, enhance viewing experiences, and ultimately redefine how you work and engage with your digital world.
Got a dual monitor setup? Then check out our list of best dual monitor arms for Mac here.
Best Monitor Arms in 2023
The following meticulously chosen monitor arms seamlessly blend functionality with aesthetics, offering diverse options to cater to varying needs and preferences.
Whether you're a creative professional, a dedicated gamer, or a remote worker seeking the ideal ergonomic solution, join us as we explore the best budget monitor arm innovation for the contemporary workspace.
1. Ergotron – LX Premium Single Monitor Arm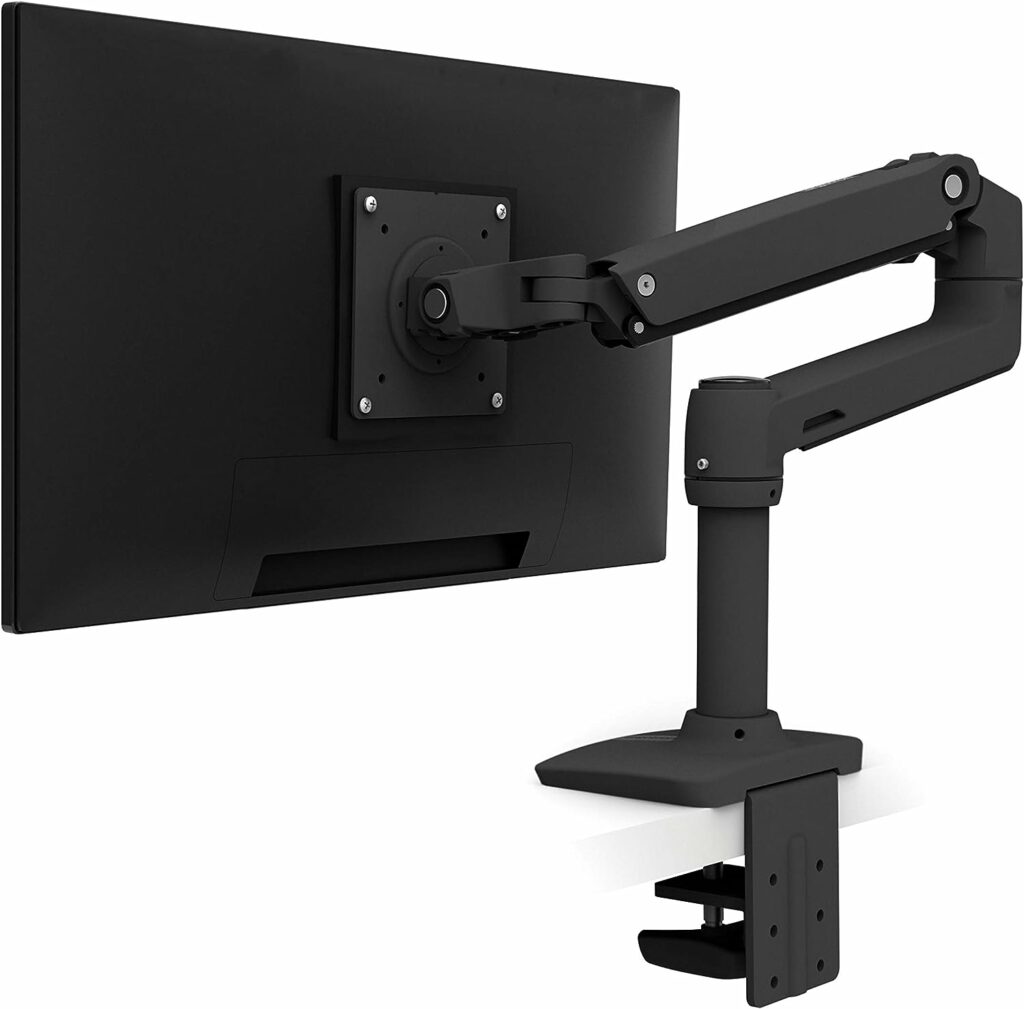 Designed to accommodate single screens of up to 34 inches diagonal, with a weight range spanning from 7 to 25 pounds, this monitor arm effortlessly supports your display needs. It seamlessly integrates with VESA patterns of 75x75mm and 100x100mm, ensuring compatibility across various setups.
Experience ergonomic perfection as you raise your monitor to a remarkable height up to 17.3 inches above your workspace, facilitated by an impressive 13 inches of lift. Whats more? You can enjoy optimal viewing angles for every task, thanks to 360 degrees of rotation and an expansive 75 degrees of tilt.
Crafted with an emphasis on aesthetics, the monitor arm seamlessly enhances your workspace environment. The integrated cable management system ensures a clean and organized look, while a range of compatible accessories empowers you to personalize your work or gaming setup according to your preferences.
Buy Ergotron – LX Premium Single Monitor Arm for $205 here.
2. MOUNTUP Ultrawide Single Monitor Desk Mount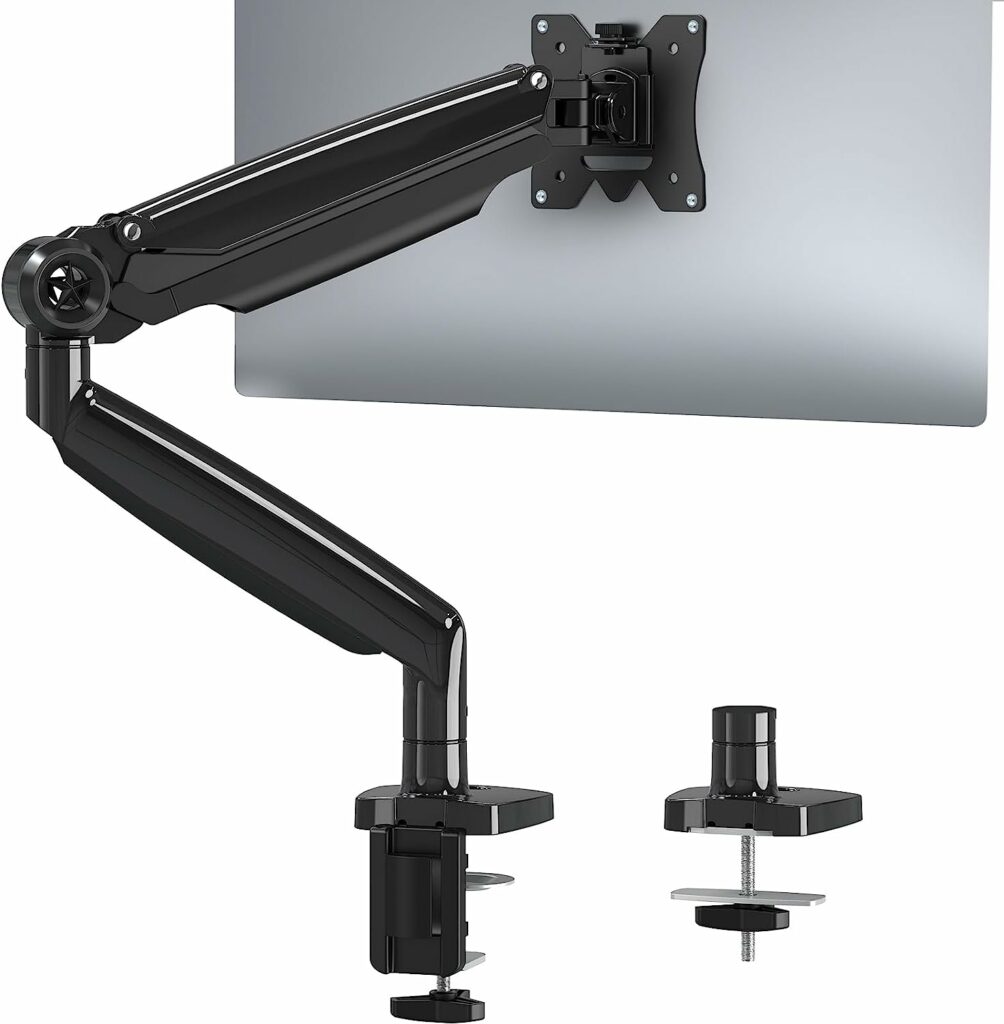 This single monitor arm desk mount offers an expansive range of movement, empowering you to tilt your screen up by 90° and down by 45°, swivel it by 180°, and smoothly rotate it 360° between landscape and portrait orientations.
The flexible arm boasts an impressive extension of up to 20.7 inches and a height adjustment of up to 19.7 inches, allowing you to discover the perfect ergonomic posture effortlessly. Doing so can alleviate strain on your spine, neck, and shoulders for improved comfort during prolonged use.
Designed with your workspace efficiency in mind, this mount supports both c-clamp (drill-free) and grommet (optional) mounting options. Opting for this sleek solution allows you to free up over 80% of your valuable desktop space, providing ample room for essential office accessories. Furthermore, setting up your monitor is a breeze thanks to the detachable VESA plate, streamlining the process of attaching your monitor to the upper arm.
Buy MOUNTUP Ultrawide Single Monitor Desk Mount for $79.99 here.
3. Mount-It! Single Monitor Arm Desk Mount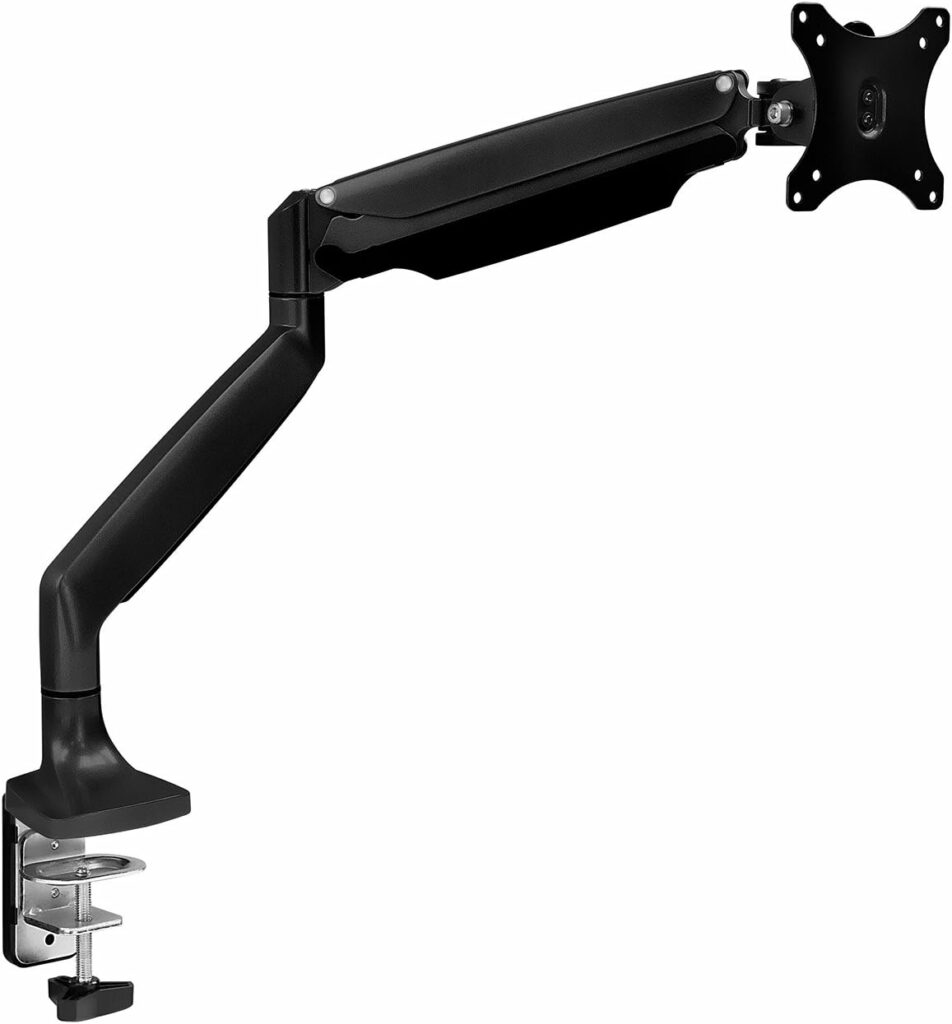 Experience the ultimate in workspace flexibility and comfort with the MOUNTUP Ultrawide Single Monitor Desk Mount. This mount supports both a c-clamp (drill-free) and grommet (optional) mount, allowing you to conserve over 80% of your valuable desktop space – a significant advantage compared to traditional monitor stands with bulky bases. With this product, installing your monitor is a breeze thanks to the detachable VESA plate, streamlining the setup process.
With easy-to-follow instructions and all necessary mounting hardware included, you'll be up and running in under 15 minutes from the moment you open the box. The detachable cable cover on the arm discreetly conceals cables, eliminating the eyesore of wire clutter and contributing to a more organized and comfortable office environment.
Furthermore, the premium gas spring technology, subjected to rigorous testing with over 20,000 exercises, ensures a longer lifespan and facilitates smoother, more fluid arm movements.
Buy Mount-It! Single Monitor Arm Desk Mount for $79.99 here.
4. HUANUO Gas Spring Single Monitor Stand
This innovative monitor stand boasts an extended and heightened gas spring arm, surpassing the capabilities of typical monitor arms. Enjoy the freedom of adjusting your screen with a remarkable +90° to -45° tilt, seamless 180° swivel, and a full 360° rotation for your display.
Experience enhanced versatility with a maximum height of 21.65" and an extended arm reach of 25.6". This generous range gives you more flexibility to arrange your equipment perfectly. By effortlessly lifting your monitor, this stand liberates precious desktop real estate, lending your workspace a polished and uncluttered aesthetic.
Simplify connectivity and minimize cable chaos with the built-in USB port, offering a convenient hub to charge your USB devices. This practical feature streamlines your setup and contributes to an elevated level of comfort and convenience. Beyond its functional prowess, the monitor stand boasts an elegant design that seamlessly integrates into your environment, all while ensuring effortless maintenance.
Buy HUANUO Gas Spring Single Monitor Stand for $89.99 here.
5. VIVO Aluminum Ultrawide Monitor Stand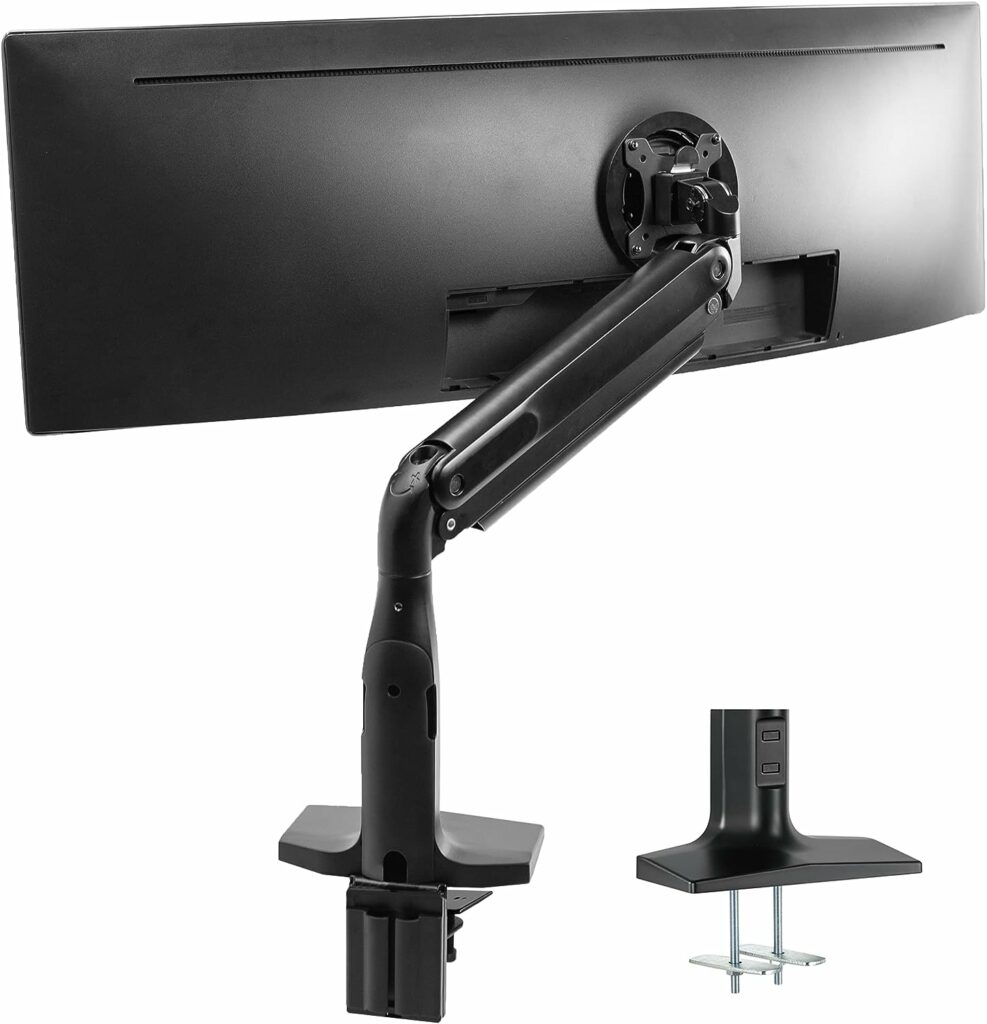 Engineered for stability and functionality, this stand securely attaches to your desk (suitable for desks up to 3.3" thick) through a robust C-clamp or an optional grommet mount.
Experience ergonomic excellence with the pneumatic arm, offering a height range from 5.9" to 25.5". Tailor your viewing experience effortlessly with the mounting bracket's impressive features: +45° to -45° tilt, 180° swivel, and 180° rotation, allowing you to find the perfect viewing angle for enhanced comfort.
Enhancing the aesthetic and organization of your workspace, the arm's integrated cable cover discreetly guides power and AV cords, maintaining a clutter-free environment.
Buy VIVO Aluminum Ultrawide Monitor Stand for $119.99 here
6. AVLT Single 13″-43″ Monitor Arm Desk Mount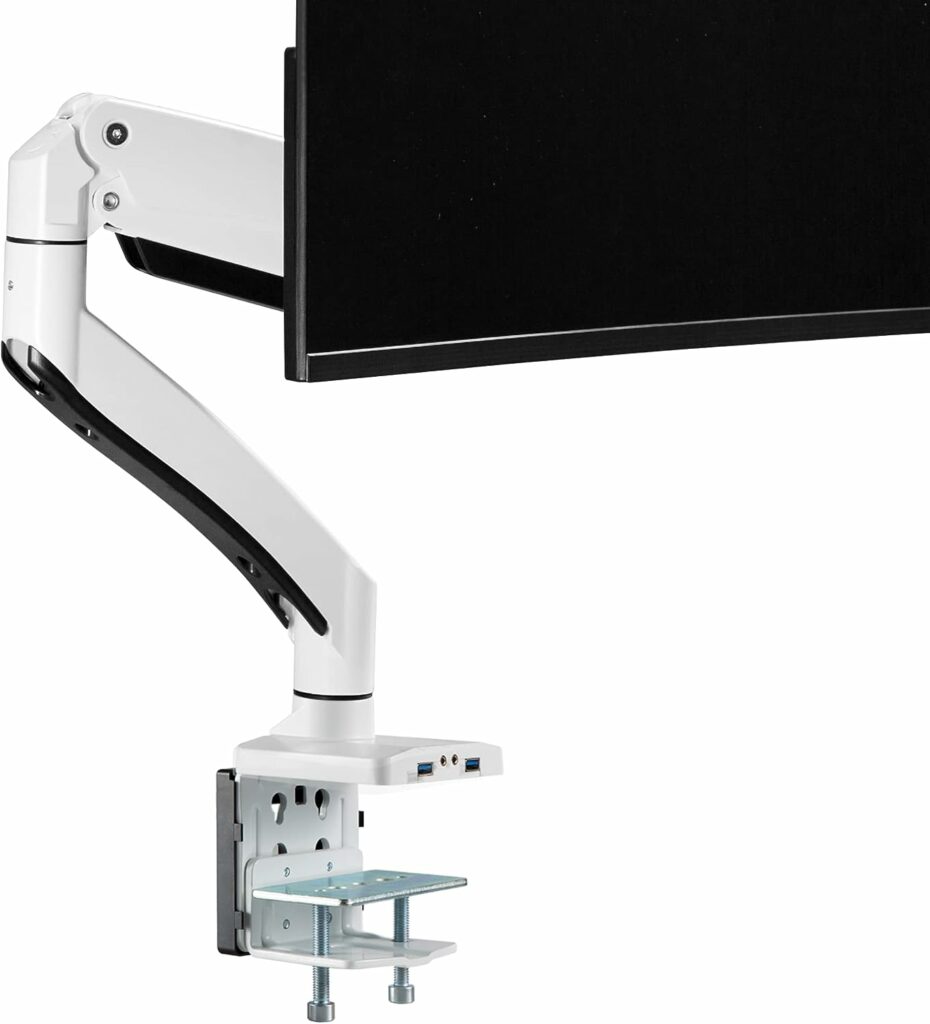 Crafted with a heavy-duty metal base, this mount occupies a mere 4.7″ x 4.3″ of your desk surface, optimizing your workspace. The mount offers flexible installation options, utilizing both c-clamp and grommet mounting, and can be secured to desks up to 3.3″ thick.
Experience effortless adjustments with the premium gas spring monitor arm, allowing you to smoothly transition your monitor's height from 10″ to 23″. Rigorously tested through a 16,000-cycle motion test, the arm ensures durability and reliability. Adapt your monitor to your preferred posture through arm extension, vertical tilt, horizontal swivel, and seamless landscape or portrait rotation.
Enhancing connectivity and convenience, the mount features two USB 3.0 and AUX ports for easy OS connectivity. With a simple tightening of screws, this monitor mount instantaneously enhances your ergonomic posture, expands your workspace, and efficiently conceals cables.
Buy AVLT Single 13″-43″ Monitor Arm Desk Mount for $146.99 here.
7. POUT E12 Single Ultrawide Monitor Arm
Experience the benefits of the articulating spring lift integrated into this VESA arm mount. Beyond just enhancing comfort, it assists in decluttering your workspace, eliminating the need for a traditional monitor stand. The thoughtful inclusion of a cable management cover further refines your setup, maintaining a tidy and organized environment.
Crafted for versatility, the Eyes 12 Single monitor arm provides height adjustability and a wide range of angles along its arm. With a remarkable tilt range of 40° in both upward and downward directions and a swivel capacity of 90°-180° at multiple points along the arm, you can customize your viewing experience precisely as you desire.
Designed for robust performance, the POUT E12 monitor arm ensures unwavering stability on your desk. The sturdy metal arm is securely anchored using a reliable clamp and grommet base, all while boasting a resilient aluminum construction. Despite its sleek profile, this arm is built to endure substantial weight, showcasing exceptional durability.
Buy POUT E12 Single Ultrawide Monitor Arm for $89 here.
To Conclude…
As technology continues to integrate seamlessly into our daily lives, investing in one of these top-tier monitor arms promises enhanced productivity and a step towards a healthier and more organized work environment.
With a perfect amalgamation of style, flexibility, and utility, the listed monitor arms are poised to redefine the modern workspace, setting new standards for comfort and performance in the years to come.
So, choose any of the above-mentioned products that best suit your needs and preferences.
Disclosure: iOSHacker may receive a commission if you purchase products through our affiliate links. For more visit our privacy policy page.