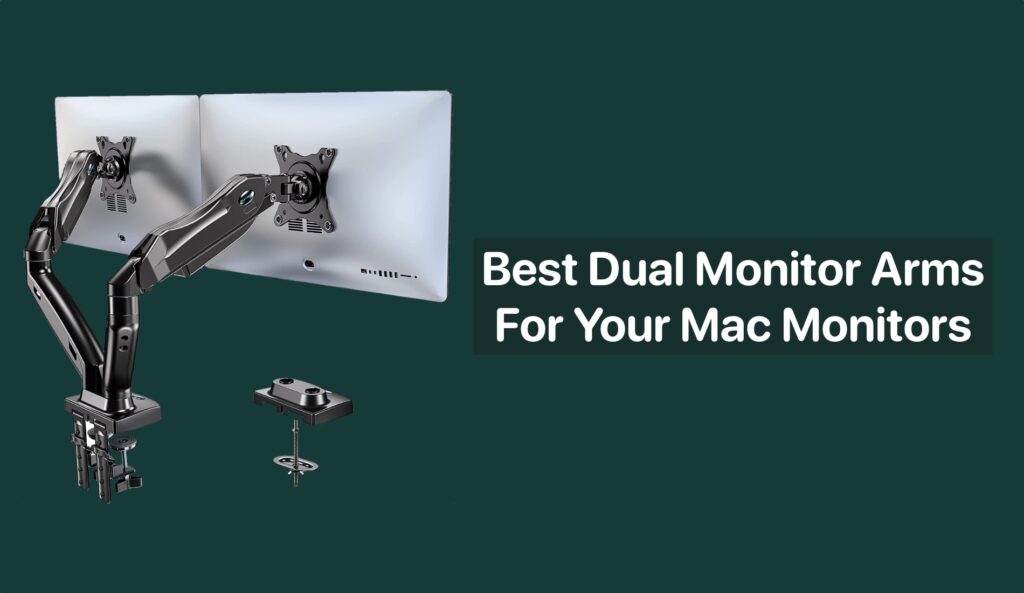 There is nothing better than a dual monitor setup. A multi-screen setup lets you view more data at a glance, improve ergonomics, and manage more activities simultaneously. But you can boost your productivity dramatically by mounting your screens on dual monitor arms or stands. You can elevate your screens to eye level while changing the orientation of your screens to either portrait or landscape.
Furthermore, some of these arms can rise as high as 20″ from the tabletop, allowing you to convert your regular desk into a standing one. Most importantly, these arms attach to your desk edge, giving you more space on your desk for books, keyboards, mice, and other items.
The question is, which one should you buy? We've rounded up the best dual monitor arms to increase productivity to help you maximize your productivity.
Dual Monitor Arms in 2023
Investing in dual monitor arms means that you will have to consider all these factors when deciding where to place your two monitors for comfortable viewing. It is easy to determine which dual monitor arm is right for you based on the size of your monitor, the measurement of your desk, and your level of comfort.
Our list of the best dual monitor stands will help you make a final decision. Let's begin!
1. HUANUO Dual Monitor Stand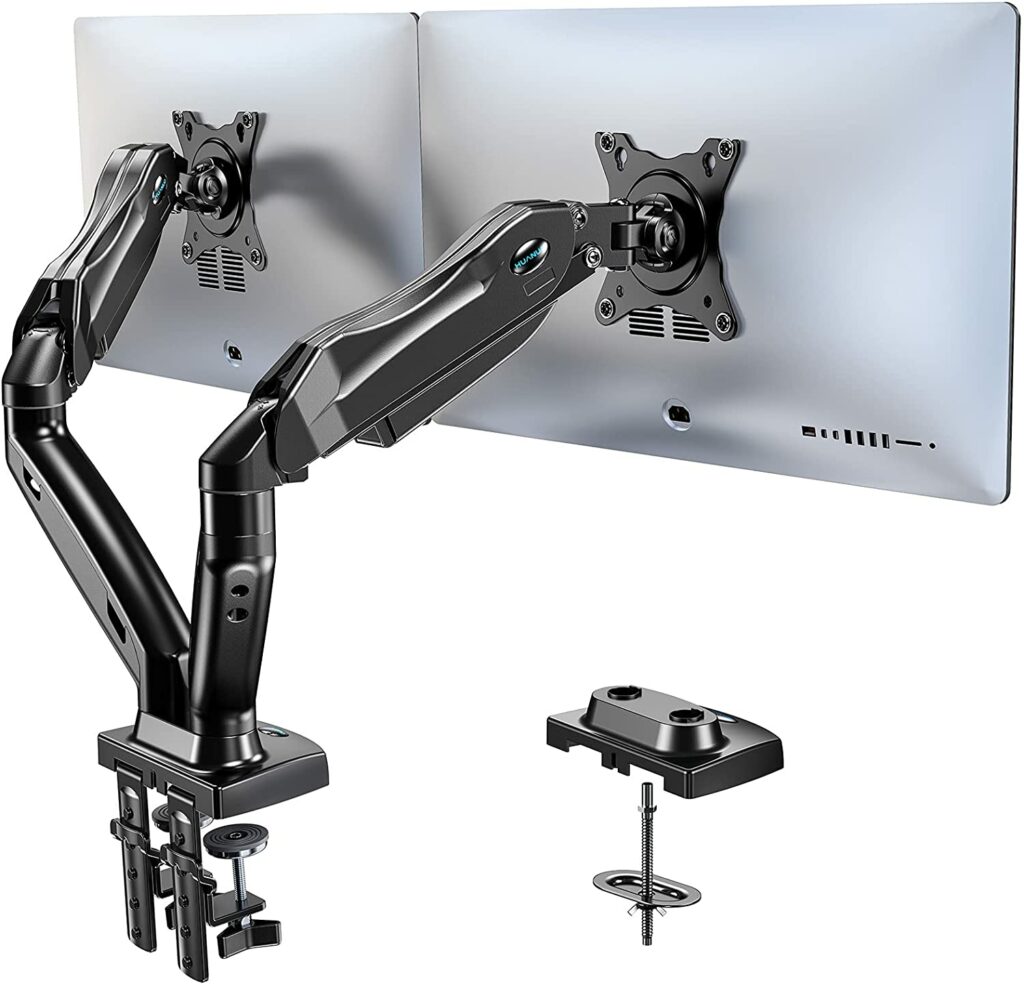 Designed with Gas Spring System, this dual monitor stand can be adjusted to an optimal height, ensuring a comfortable viewing experience. A great feature of this stand is that it can be elevated in a great way. The stand can be mounted to a desk in two different ways- using C-Clamps or HUANUO monitor mounts. This latter option gives you plenty of space for working on your desk.
It reduces clutter in the office due to no connection wires cluttering it up. Besides, the desk mount features universal specifications. With the VESA mounting plate of 100 X 100 and 75 X 75, any brand of monitor you own may easily be compatible with that.
Because the monitor bracket can be adjusted in any direction, you can raise or lower your monitor to the desired height. Whether the angle is 180° swivel or 360° rotation, all contribute to an improved viewing experience.
Buy HUANUO Dual Monitor Stand for $59.99 here
2. EVEO Premium Dual Monitor Stand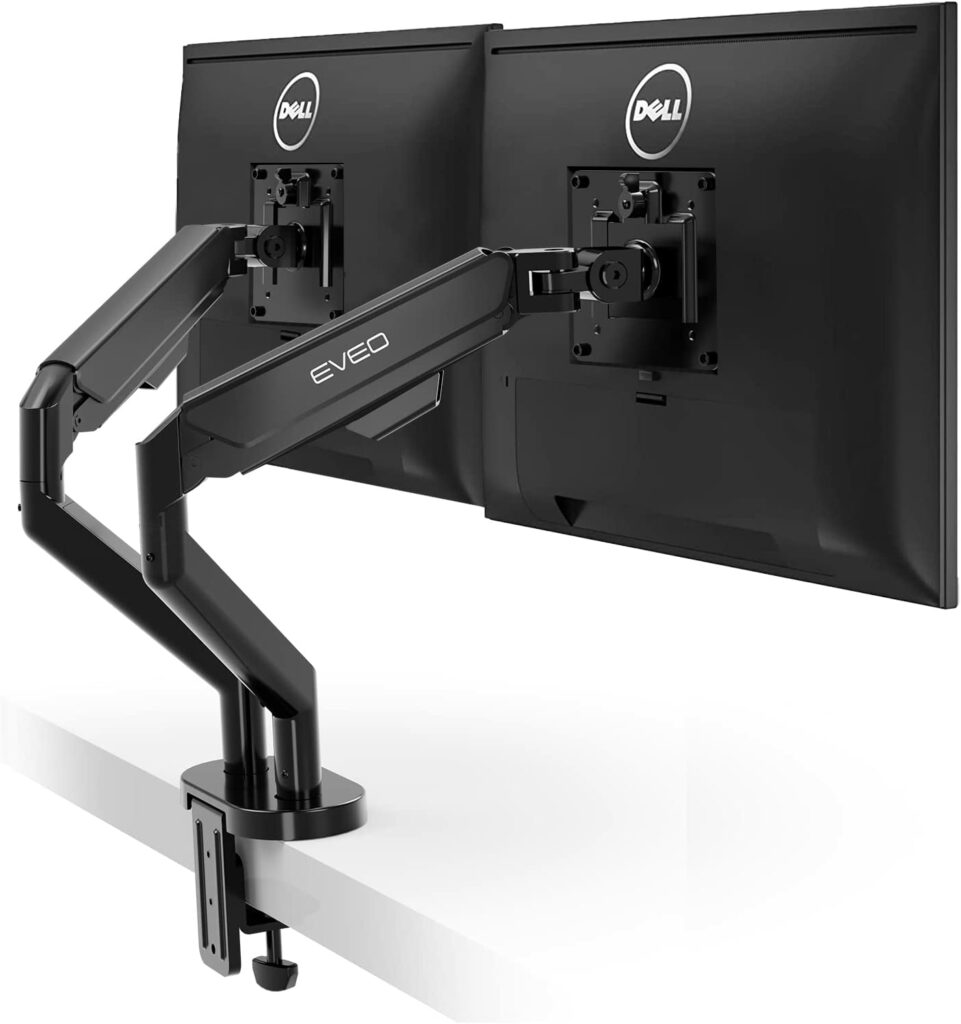 Multi-monitor computers are a great way to maximize your computer's capabilities. The real blessing is the ability to watch Youtube or Discord while playing a video game simultaneously.
You can mount two monitors on the same base using the EVEO Premium Dual Monitor Mount. Afterward, you can make any adjustments you like. No matter how you want your monitors arranged, this monitor arm can accommodate your preference.
The arms all have VESA mounting points at the end. This device can be adjusted to fit both 75×75 and 100×100 variants. In addition, each arm can support up to a 17.6-pound monitor and can rotate and pivot in a variety of ways.
 Buy EVEO Premium Dual Monitor Stand for $118.97 here
3. MOUNTUP Dual Monitor Stand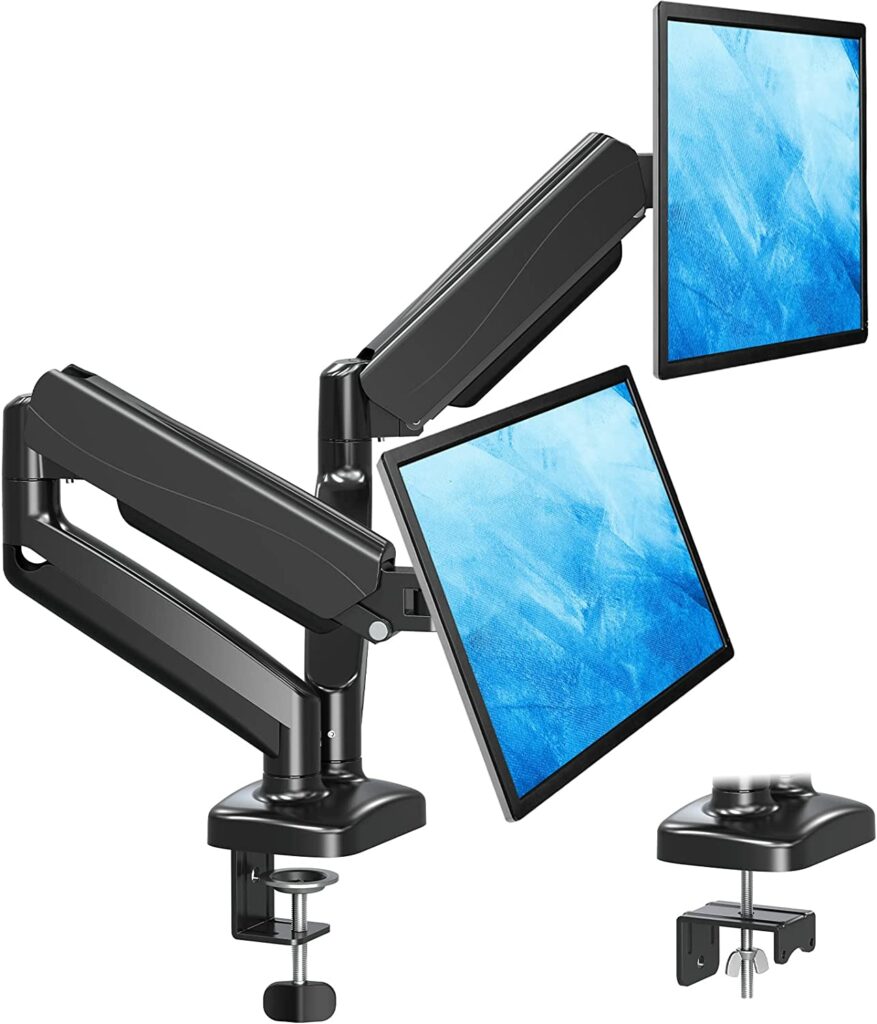 Designed to complement any office environment, the MOUNTUP Dual Monitor Stand offers flexible, independent positioning for both monitors. You can tilt it 135 degrees, swivel it 180 degrees, and rotate it 360 degrees (from portrait to landscape) to customize how you work or collaborate. Each arm connection can be adjusted. With this feature, you can position the screen wherever you like.
A thorough quality control process ensures that your computer monitors are stable and secure. The monitor arm provides full monitor movement with an extension range of 19.8 inches and a height adjustment range of 9.4 inches.
The dual monitor mount conceals wires within arms and frees up more desk space by holding two monitor arms at the same time. If you prefer a more comfortable environment to work, play, or view, then this product is the right choice for you.
Buy MOUNTUP Dual Monitor Stand for $58.99 here
4. Ergotron – LX Dual Monitor Arm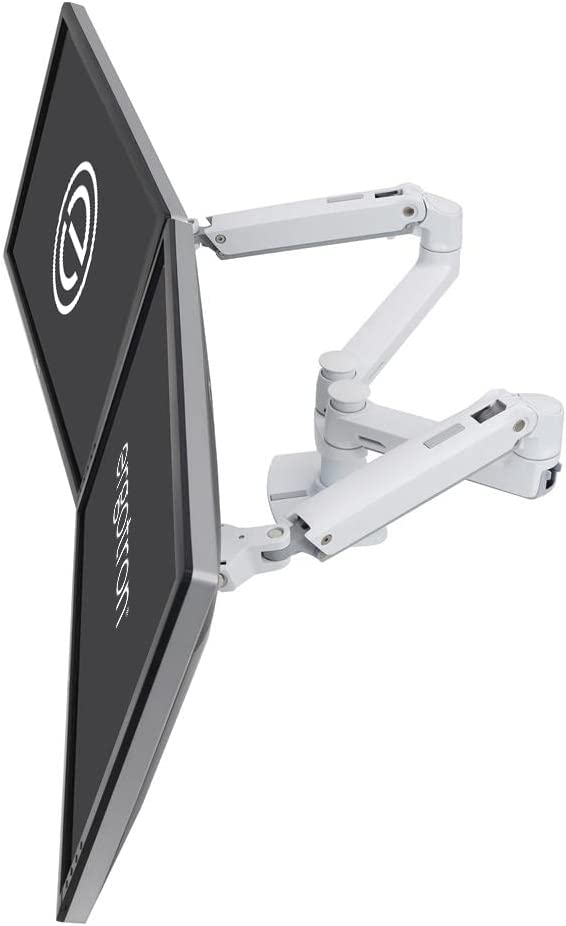 Regardless of why you need a monitor arm, the Ergotron LX has the features you want. The aluminum construction of this monitor arm makes it heavier than many of the other single monitor arm models on the market. This also makes this model durable enough to be backed by a 10-year warranty from Ergotron.
In addition to being able to hold monitors using VESA mounts, the Ergotron LX notebook tray attachment can also be used to hold laptops. Despite its size, the arm is easy to maneuver. The monitor stays in place even when weighing up to 25 pounds and measuring up to 34 inches in diameter. Additionally, the arms are highly adjustable, with 360-degree rotation and panning capabilities.
Buy Ergotron – LX Dual Monitor Arm for $375.00 here
5. EVEO High-Grade Dual Monitor Stand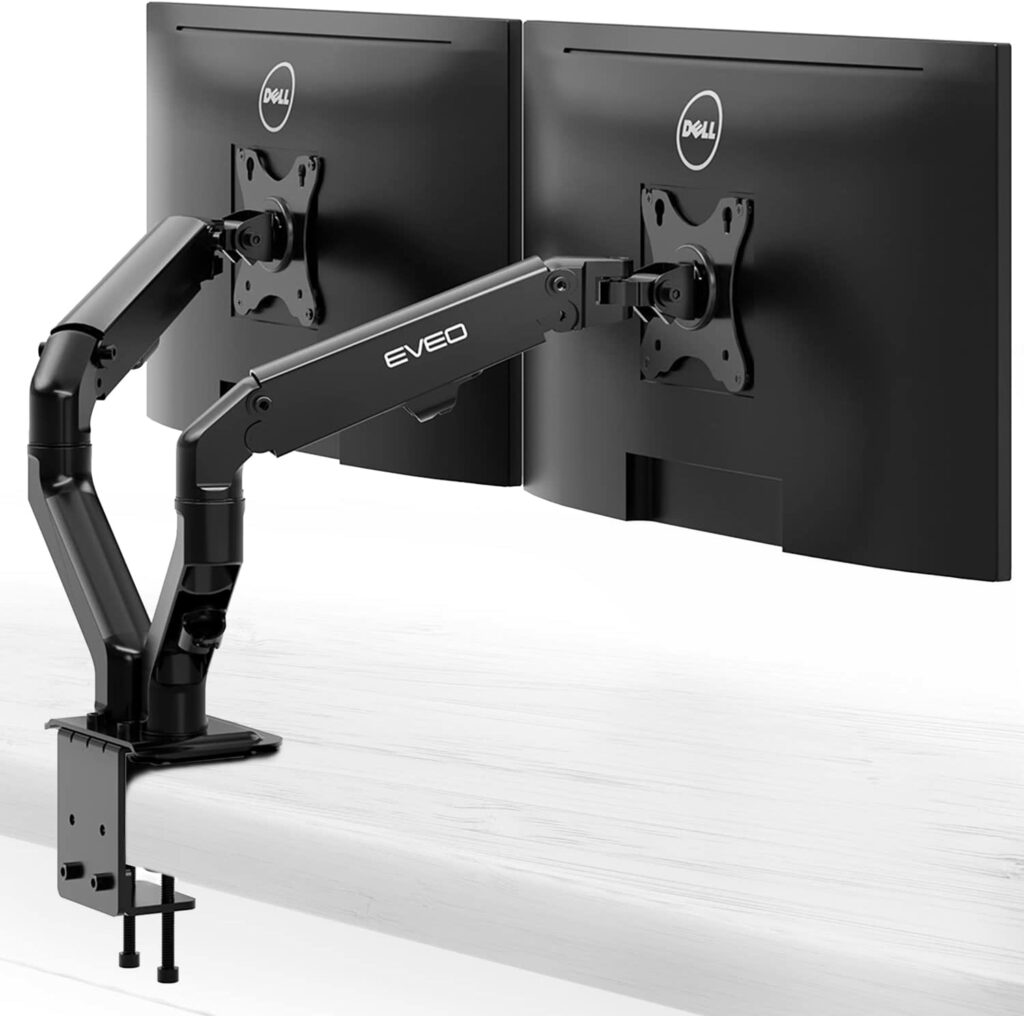 EVEO is a heavy-duty dual monitor mount designed to hold even your most prized monitors safely and securely. Give yourself peace of mind with this computer monitor stand that offers sturdy support and precise balance.
The monitor desk mount can be installed in 3 simple steps! Install the base on your desk, attach the arms to the mount, and screw your screens onto the arms. You can choose either option and both will support your monitor stands, remain stable, and allow you to move it in any direction you want.
The EVEO computer monitor stand for desk setups organizes four or more cables inside the monitor arms themselves, elevating your productivity while maintaining a full range of motion!
Buy EVEO High-Grade Dual Monitor Stand for $98.97 here
6. VIVO Dual Monitor Arm Mount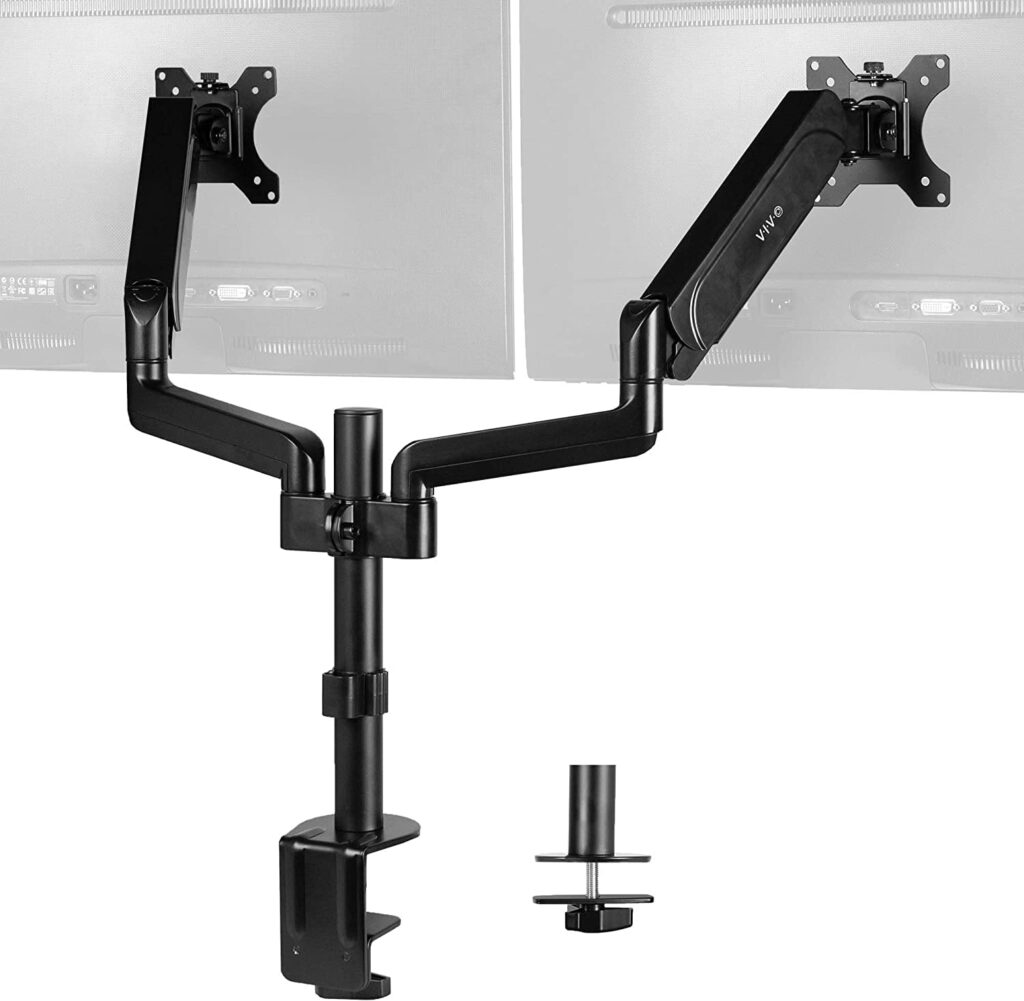 Dual monitor desk mounts by VIVO are made of steel for durable construction. Monitors can be mounted easily to it. With an impressive amount of tilt, rotation, and swivel, the arms adjust smoothly. It only reaches about a foot when monitors are mounted to the arms, so they may not be ideal for long-distance use.
This mount struggles to adjust vertically compared to the others on our list. Adjusting the height requires moving the entire arm up and down. Apart from its affordability, this mount is also versatile since it can be mounted to a desk, mounted to its stand, or mounted to a tall standing desk.
Buy VIVO Dual Monitor Arm Mount for $69.99 here
7. WALI Premium Dual LCD Monitor Desk Mount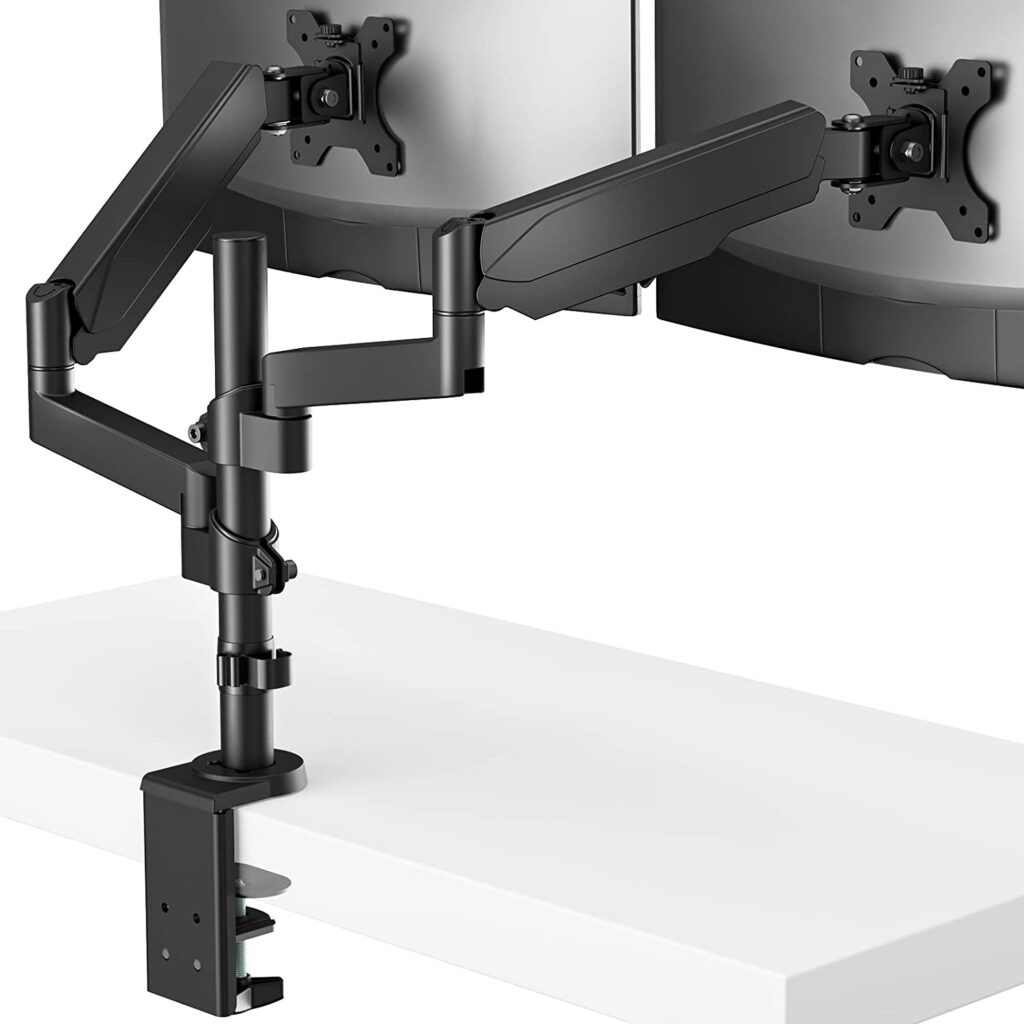 For those of you who own dual monitors, the WALI Premium Dual Monitor Mount is another excellent option. Despite its low price, it provides some serious stability. In addition, it supports a wide variety of monitor sizes. The monitor can easily accommodate two 32-inch monitors at the same time while maintaining full adjustment. The angle must be adjusted upwards, downwards, or tilted to obtain the right sight line.
Not only is this a great dual monitor option, but WALI also offers a single and triple monitor version. You may want to consider the triple variant if you plan on upgrading in the future.
Buy WALI Premium Dual LCD Monitor Desk Mount for $61.99 here
To Conclude
Adding a monitor arm to your existing dual monitor setup can be the missing piece of the puzzle. You can unlock the full potential of your monitors with any of these best dual monitor arms or stands, depending on your monitor screen size and budget.
So, which one would you go for? Let us know in the comments.