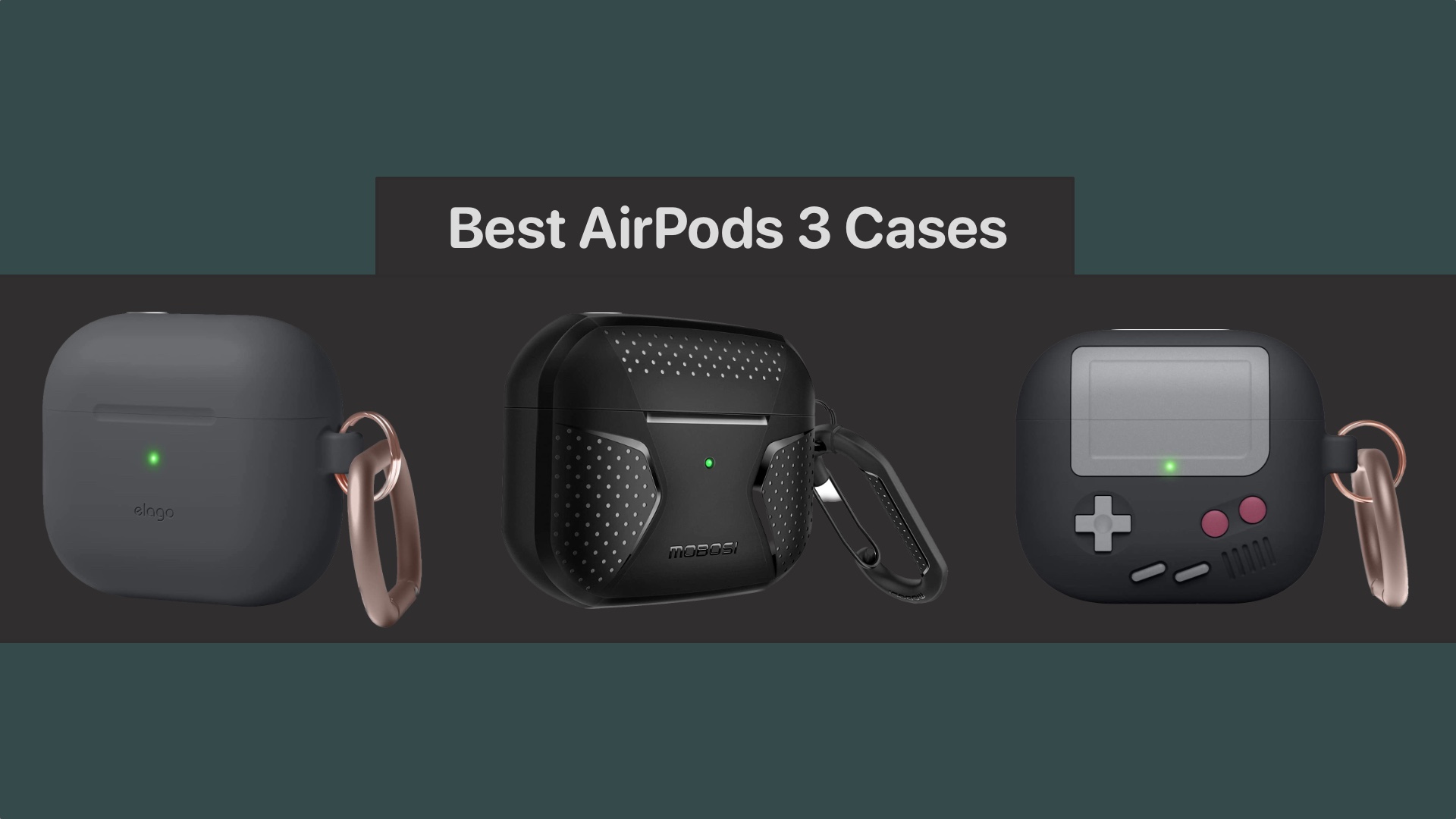 After spending hours untangling your earbuds, when you have finally decided to ditch the wires and upgrade to AirPods. So, what's next?
Picking a protective case for your expensive gadget.
It is not necessary to buy a costly AirPods case if your primary goal is to keep your AirPods safe and secure. There are many inexpensive AirPods cases available that offer storage and help protect your AirPods.
Additionally, there are case covers crafted in leather or vegan leather to house your Apple charging case, giving you both protection and style. The market is full of attractive AirPod cases that charge your headphones and they don't cost much more than the alternatives.
Our recommendations will help you determine which case is best for your AirPods.
Best AirPods 3 Compatible Cases
Get ready to upgrade the tiny Airpods container.
To add a little personality to your white charging case, here are the best AirPods 3 cases you can buy.
1. elago Silicone Case For AirPods 3
All Elago cases are designed in-house from scratch, unlike generic cases that are mass-produced. The entire process of creating a case is done in-house to ensure that you get a case that fits exactly, protects from drops and looks great – saving you time and money.
Cases are often criticized for not fitting properly and popping out. You will never have to worry about this with an Elago case. Using 3D molds, all cases are made specifically to fit your AirPods – meaning all functions, like wireless charging works seamlessly!
The premium silicone material protects your charging case from dirt, oil, scratches, and drops. In addition to providing a great grip, silicone also has a slim profile, so it fits in your pocket! You can also hang the case from your backpack, purse, pants, etc., with the included carabiner.
Buy the elago Silicone Case for $9.99 here
2. SUPCASE Unicorn Beetle Pro Series Case For AirPods 3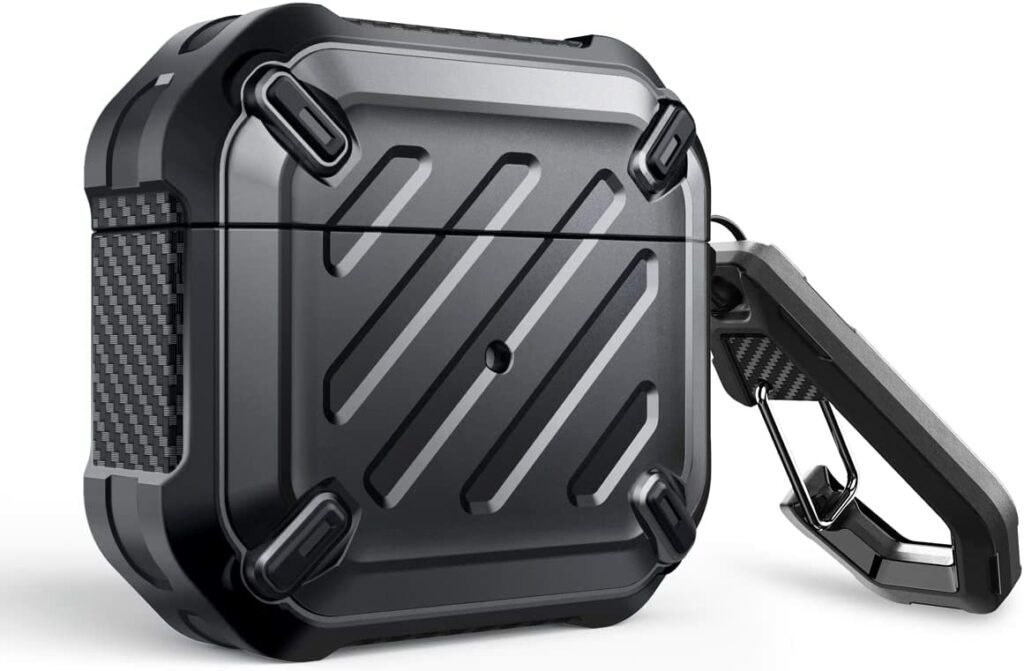 The SUPCASE cases are built to withstand harsh environments and unpredictable conditions. Most importantly, the company is dedicated to giving you peace of mind knowing all your trusted devices are protected without breaking the bank.
The hard-shell TPU and PC materials of this Airpod case provide durable protection from drops and scratches. You can easily open and close your case with its unique two-piece design.
Clip your AirPods to your belt loop or backpack using the included carabiner to prevent them from getting lost. The front LED is visible during charging, and the precise cutouts provide easy access to the USB cable.
Buy SUPCASE Unicorn Beetle Pro Series Case for $15.99 here
3. MOBOSI for AirPods 3rd Generation Case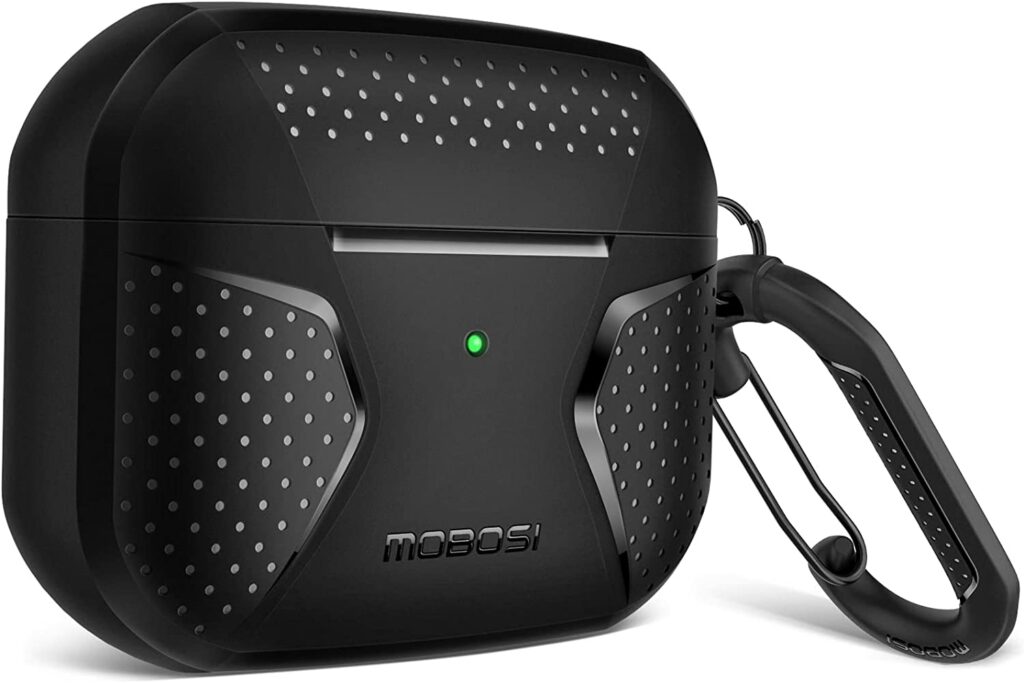 MOBOSI AirPods 3rd generation case with anti-slip features offers better shock absorption and 360° military-grade protection for your AirPods (3rd generation). The original AirPods 3 case fits perfectly in every position. The dotted net gives the case a chic touch while the sleek corners prevent scratches.
A precise cutout makes it easy to access the charging port so you can charge your AirPods 3 without taking off the protective case. You can see the front LED indicator while the device is charging.
The AirPod 3 case cover is equipped with an upgraded carabiner so you can carry your AirPods 3 anywhere. AirPods 3 generation case can be attached to backpacks and belts conveniently.
Buy MOBOSI for AirPods 3rd Generation Case for $13.98 here
4. ATUAT Protective Silicone Cover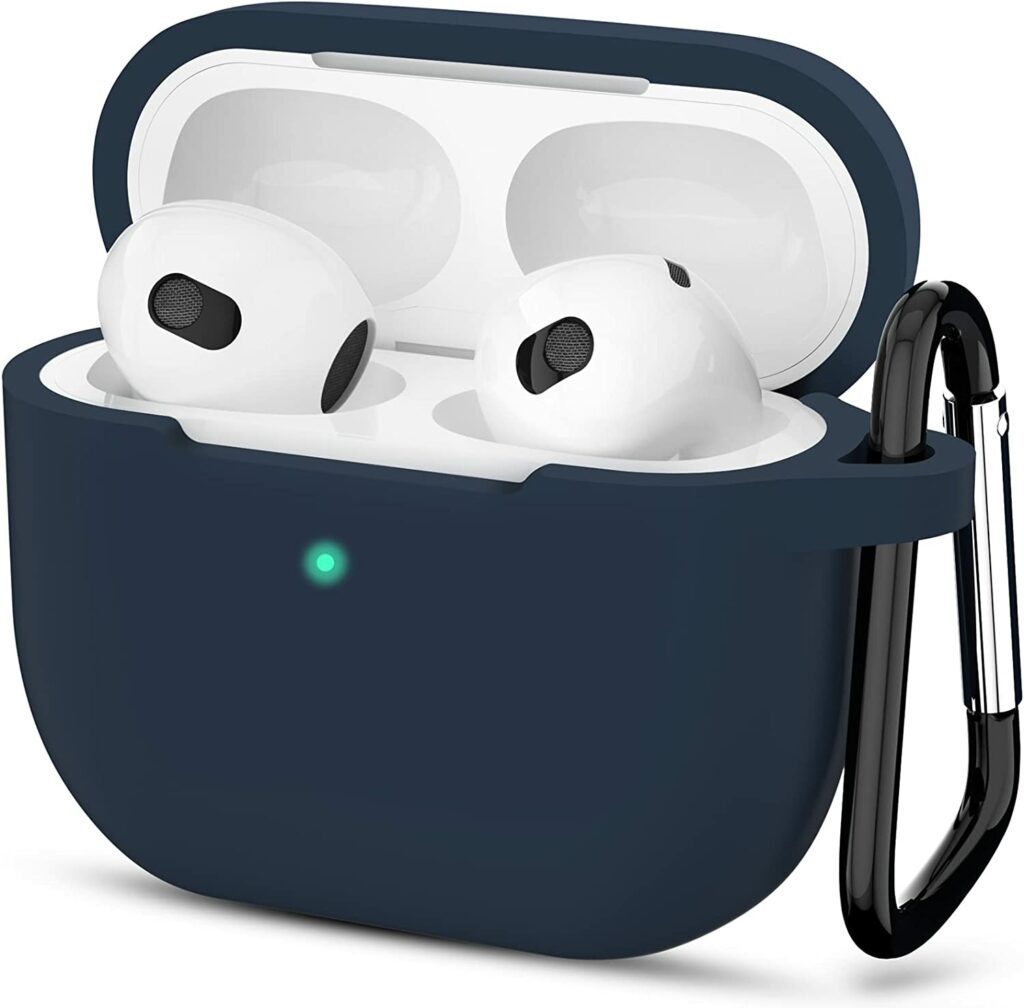 ATUAT silicone protective case has a thickness of 2.5mm, which is thicker and stronger than other silicone protective cases. The body is fully protected 360 degrees to prevent scratches and falls.
With premium-grade silicone, which is different from other materials, you can expect a longer lifespan and better protection.
Atop leading-edge technology, silicone has a silky and soft appearance, and it feels incredible in your hands. Additionally, the silicone protective case fits snugly on the AirPods 3 and prevents them from falling off.
You don't need to remove the silicone case while charging your AirPods. Plus, during wireless charging, you can see the indicator light.
Buy ATUAT Protective Silicone Cover for $7.99 here
5. R-fun AirPods 3 Case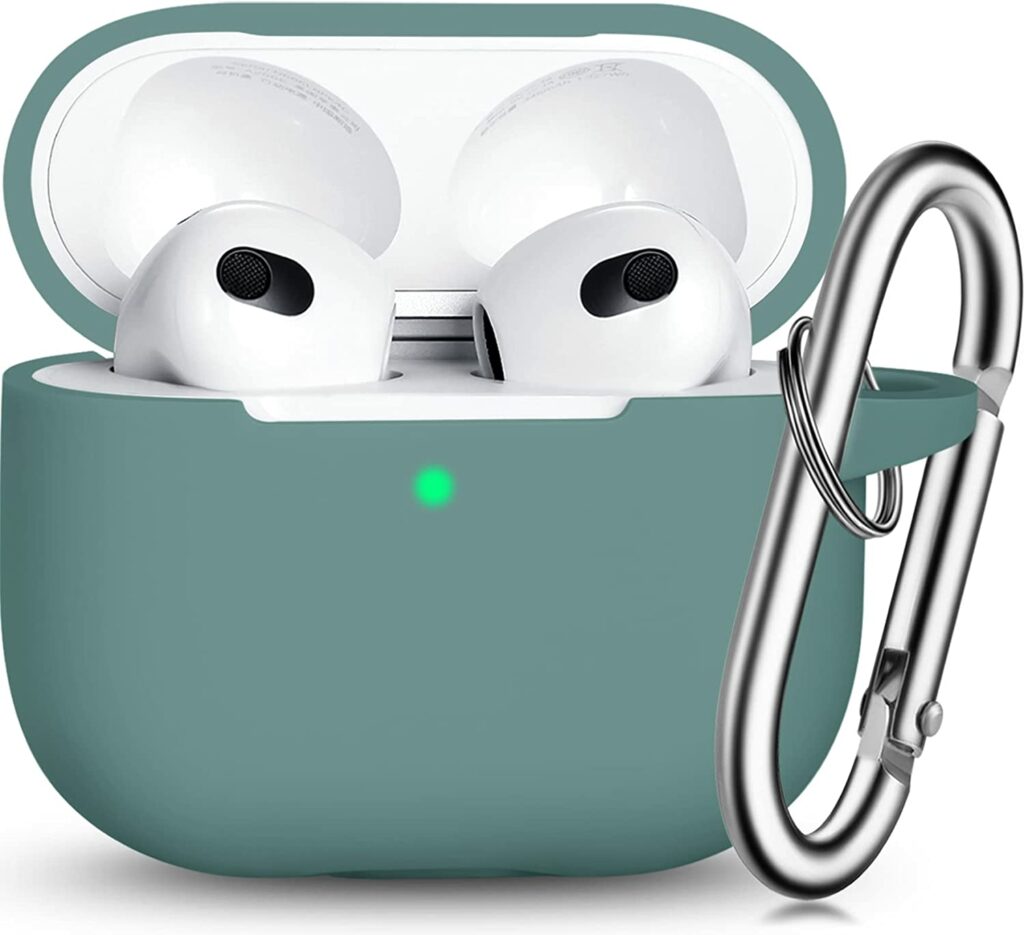 You can choose from a variety of fun colors to match your mood and dress for different occasions with the R-fun AirPods 3 Case. Your gadget is sure to stand out with this accessory.
Elastomer silicone material prevents your skin from irritation; waterproof, sweatproof, and scratchproof; and ensures the security of your Airpods 3 case.
Plus, a metal carabiner clip is included with each Airpods 3 case, so you can attach it to your bag or backpack easily.
Buy R-fun AirPods 3 Case Cover for $7.99 here
6. VRS Design Modern for AirPods 3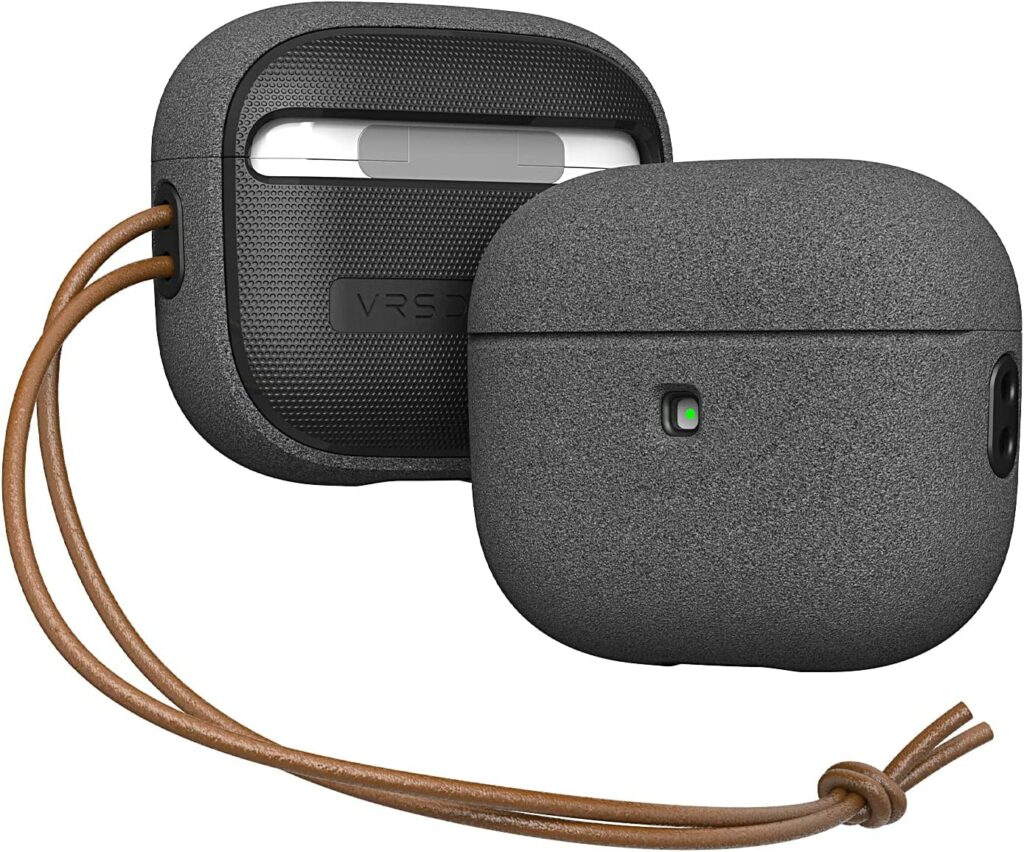 VRS Airpods case provides versatile protection from hard drops, scratches, and contamination thanks to the combination of a rugged PC and flexible TPU.
Optimally designed and highly durable, this sleek design offers perfect grip while protecting your gadget from damage. The case is designed to work with most wireless chargers and showcases the front LED light while wireless charging.
You can charge your Airpod Case without ever removing it, thanks to the perfect cutout charging port.
Buy VRS Design Modern for AirPods 3 for $19.99 here
7. MOBOSI AirPods 3 Case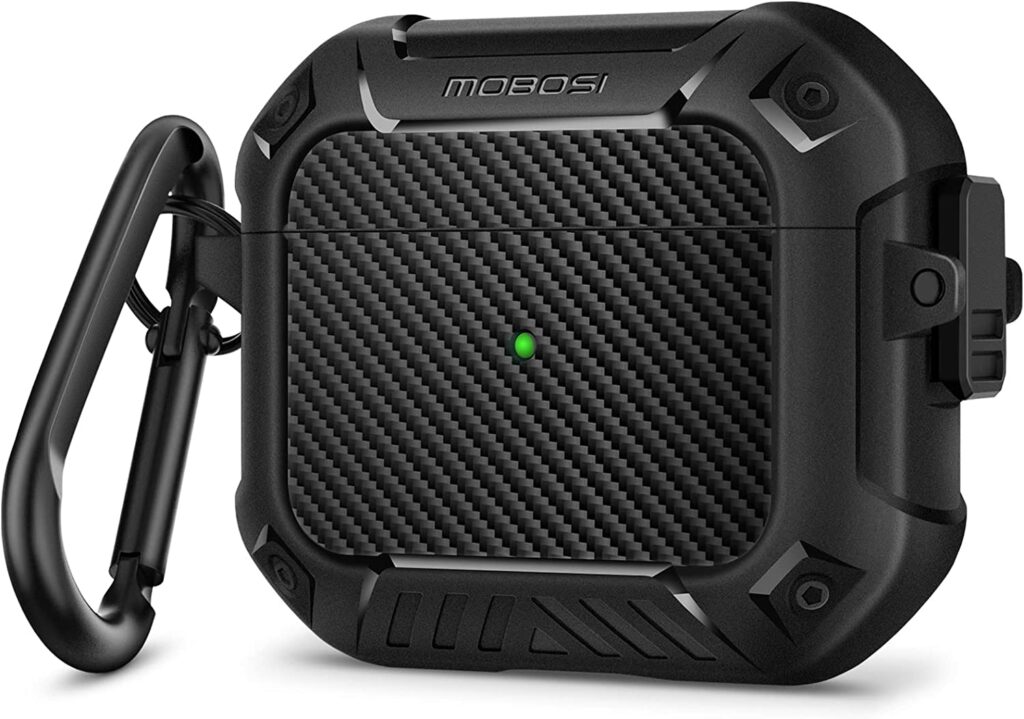 This hard shell offers drop protection and shockproof corners to keep your AirPods 3 safe from drops, scratches, and bumps. It also features a modern, stylish design with Carbon fiber elements.
By using the security lock design, you can ensure that the AirPods 3 charging case remains closed and secure at all times. AirPods 3 can be easily carried anywhere with the portable carabiner.
An easy-to-use two-piece design makes the AirPods 3rd generation case easy to open and close. Besides that, the pre-installed tape prevents the top cover from falling, plus this product comes with a replacement tape.
Without removing the cover, you can charge wirelessly or wired using the precise cutouts. An LED light can be seen during charging.
Buy MOBOSI AirPods 3 Case for $15.99 here
8. Valkit AirPods 3 Case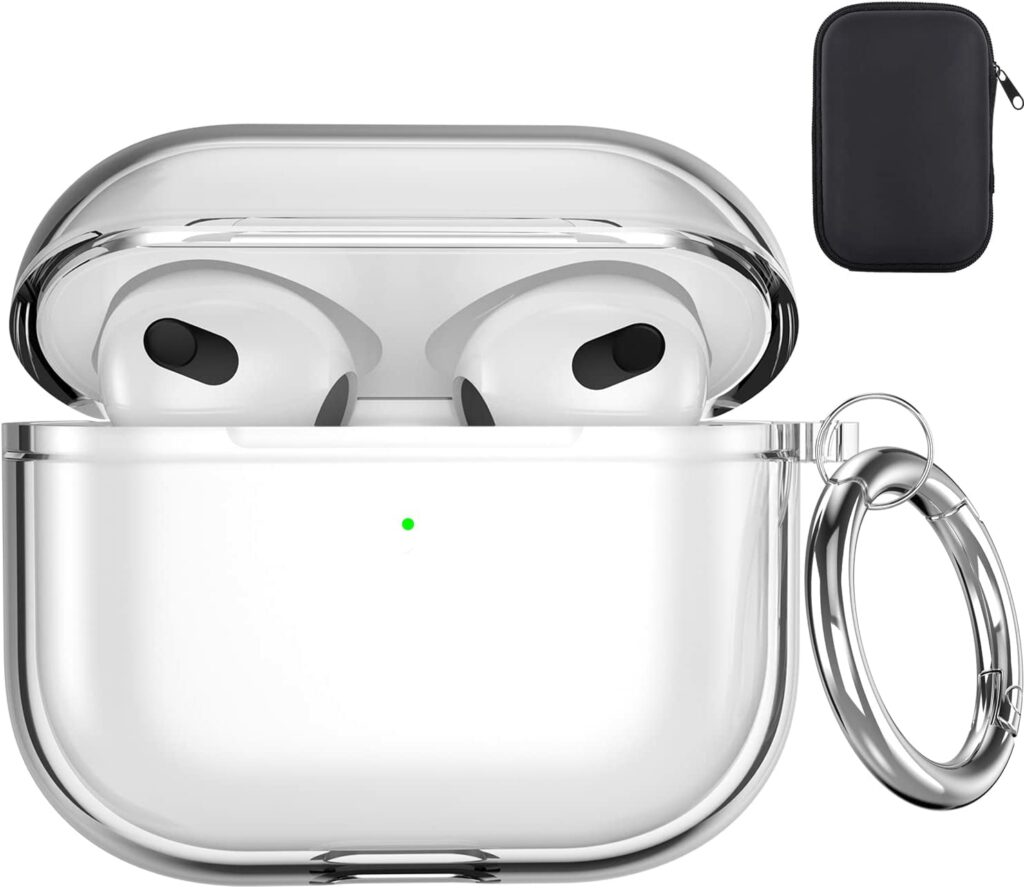 The Valkit Airpods 3 case cover is perfectly designed to fit the Apple AirPods 3 Gen charging case. This protective cover for AirPods has a two-piece design that makes installation and removal quite simple.
The Valkit compatible AirPods 3 cases are made of high-quality soft TPU material that will not harm your original charging case but provide excellent protection.
With a precise cutout, you have free access to the charging port without having to remove your protective case.
Designed with a crystal-clear appearance, the Apple AirPods 3rd Gen charging case maintains the original beauty of the device. You can easily carry your AirPods anywhere because of the compact design of the case and attached keychain.
Buy Valkit AirPods 3 Case for $10.98 here
9. elago AW5 AirPods 3 Case Cover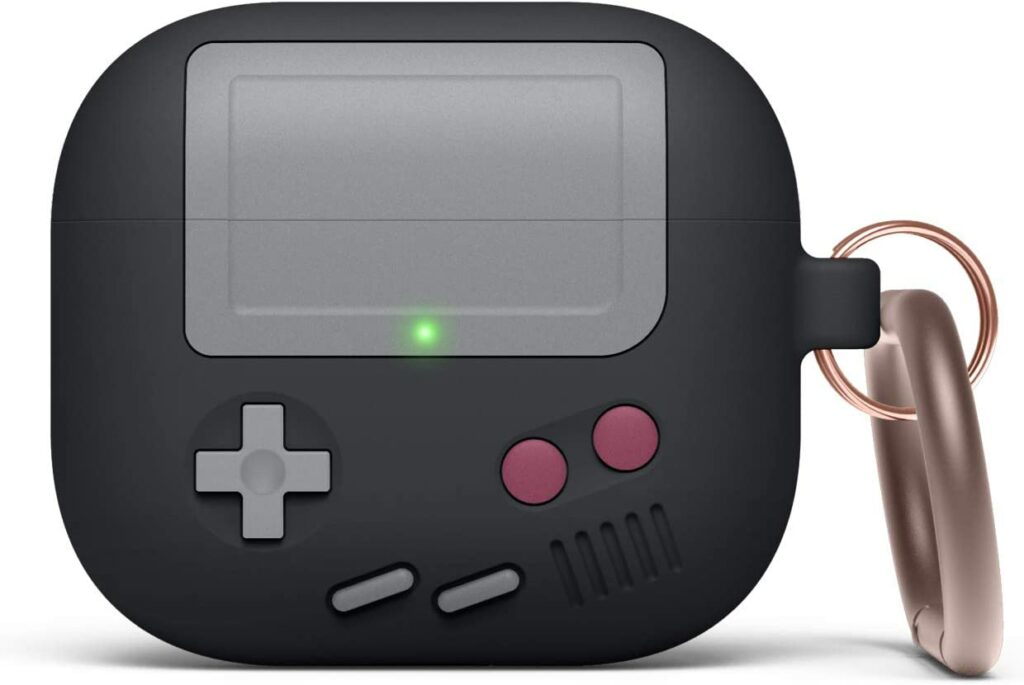 Elago is first and foremost a design company. The motto of their company is simple sophistication since they make useful products!
In contrast with other charging cases that just add some color, the Elago AW5 allows you to turn your charging case into a retro gaming console!
With this durable silicone case, you can enjoy a blast from the past and protect your device from drops, scratches, dirt, and oils.
elago AW5 AirPods 3 Case Cover for $15.99
That's All
Whether you are looking for a stylish or protective charging case for your AirPods or AirPods 2, this list has you covered. There's something on this list for everyone; each case offers its benefits.
However, choose the one that best fits your needs.
Which AirPods case caught your attention? Let us know in the comments section.