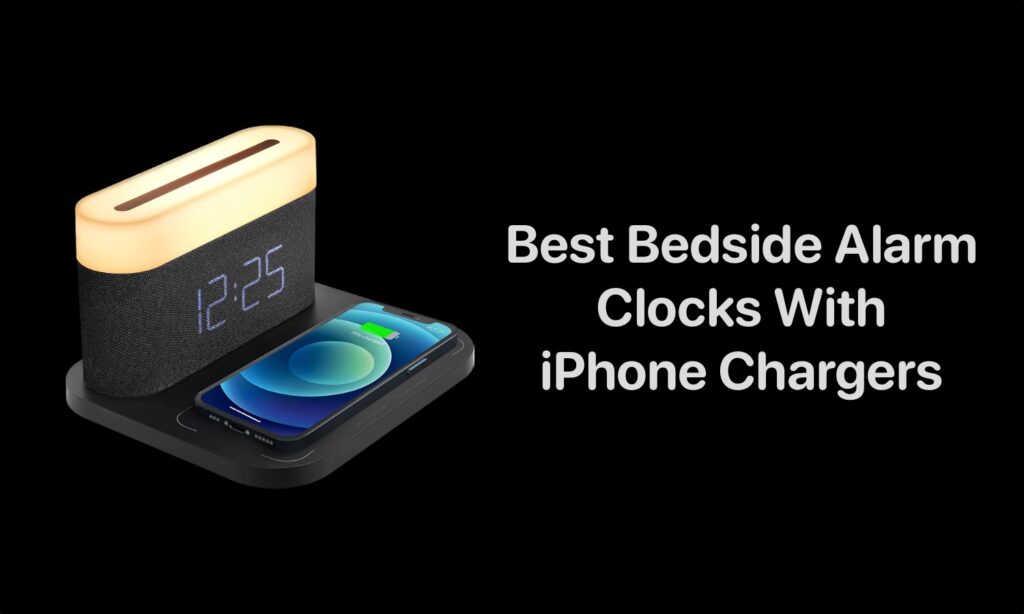 There is nothing more essential in your bedroom than a clock on your nightstand or end table. It's high time to invest in a wireless bedside clock with iPhone charger to maximize your limited table space.
The best ones have a lot of essential features that make your life easier. Usually, the display includes temperatures and weather, which can be projected onto the wall or ceiling with different levels of LED lighting and brightness.
However, having the ability to charge your devices while asleep is by far the most convenient feature. It comes in many different sizes and designs, or you can get a minimalist model with just a clock and charger.
In this article, we have listed down some of our favorite alarm clocks with wireless charging solutions for your bedroom.
Best Alarm Clock with Wireless Charger for iPhone
Since you want the best combination of an alarm clock and a wireless charging pad for your bedside table, so here are the best bedside alarm clocks.
1. JALL Wooden Digital Alarm Clock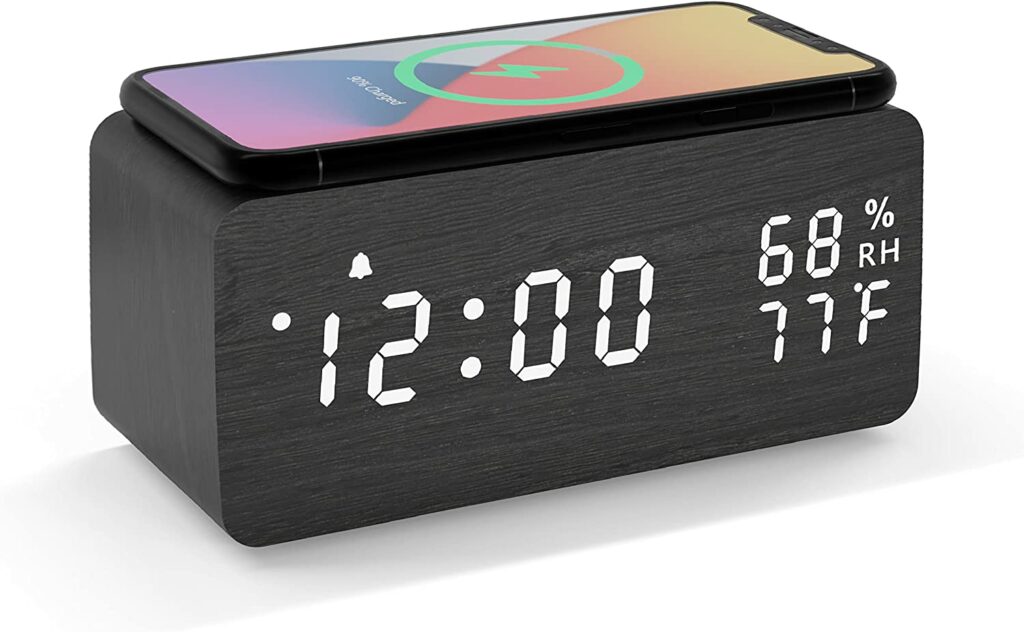 The JALL Digital Alarm Clock is the most elegant alarm clock you might ever see. Not only is it a clock, but it's also a great decoration for your bedroom.
This device allows you to adjust the brightness from low to high, or even turn off the LED light while keeping the sound sensitive. You won't have a problem seeing it at night thanks to its easy-to-use design.
If you want to wake up early, you can set two or three alarms. Moreover, it allows you to set weekday mode, which will ring only on Mondays and Fridays.
Designed to work with most universal Wireless Charging cellphone models. The charger provides convenience for placing and charging your phone.
Buy JALL Wooden Digital Alarm Clock for $31.99 here
2. ANJANK Wooden Digital Alarm Clock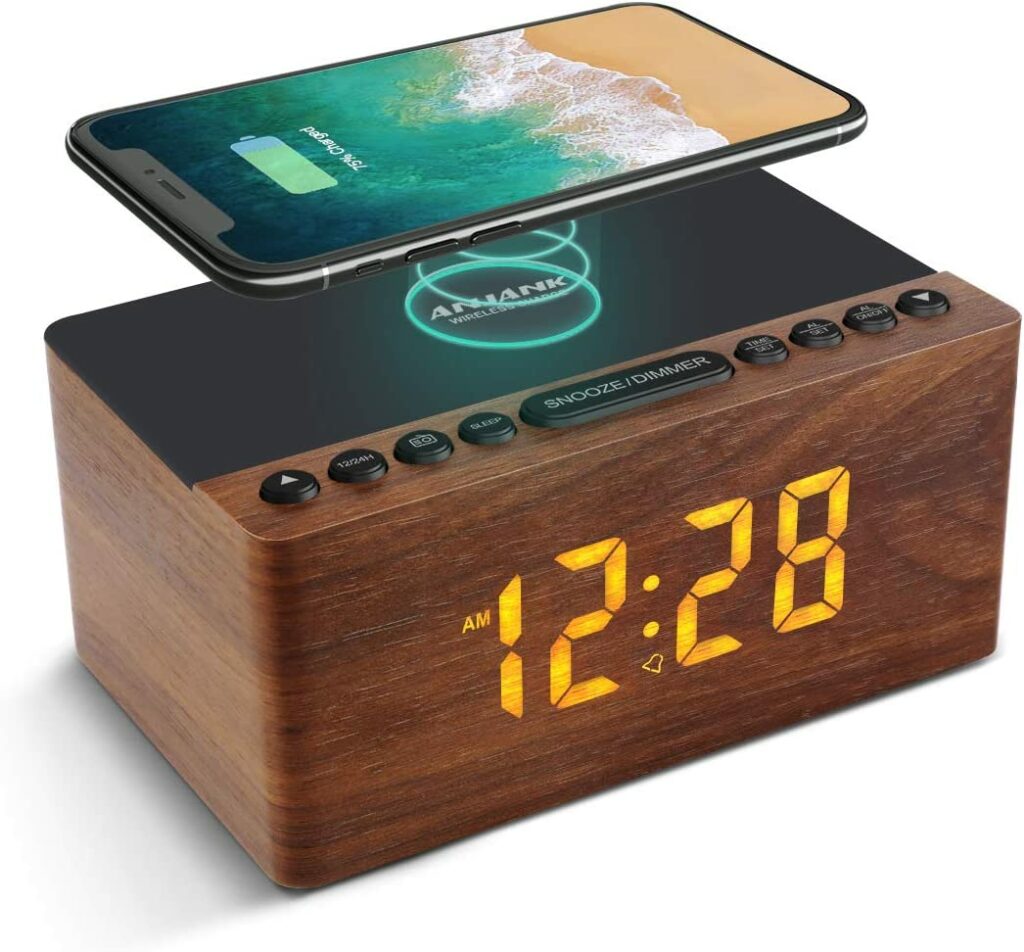 Get a fresh start in the morning with a classic buzzer or your favorite radio station!
The ANJANK radio clock ranges from 87.5MHz to 108MHz per radio channel. You can easily tune and save your favorite channels. You can enjoy the clear, pristine sound with an adjustable volume speaker.
The ANJANK alarm clock features 5W, 7.5W, and 10W adaptive charging, so you can quickly and easily charge your iPhone if it has a Qi-enabled function. The device also features a USB port for charging other electronic items, including a second phone, power bank, or smartwatch.
Whenever the alarm goes off, press SNOOZE and you'll sleep for an extra 9 minutes.
The 1.2′ number digits on the display make it easy to see even from your bedroom or living room. You can even choose from five levels of dimmer to select your preferred brightness.
Featuring a clean and modern aesthetic, this clock will look like a beautiful piece of decoration in your home.
Buy ANJANK Wooden Digital Alarm Clock for $36.99 here
3. COLSUR Digital Alarm Clock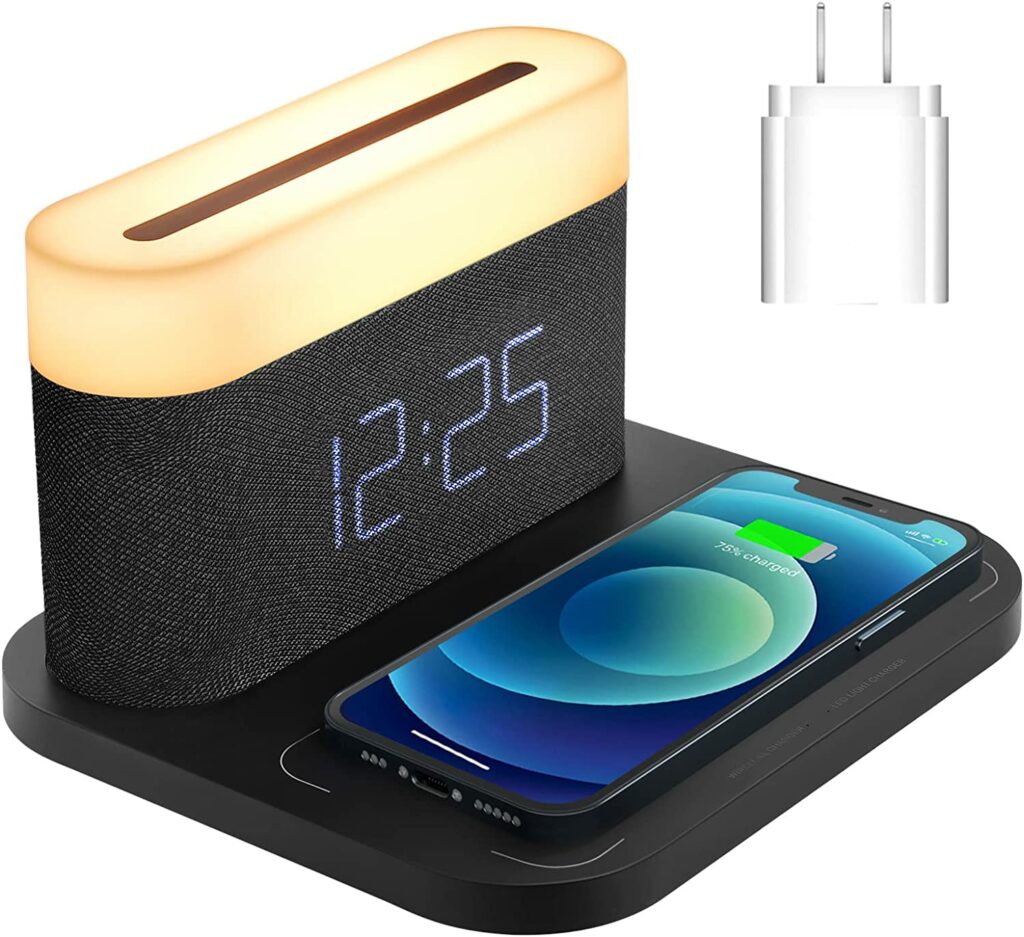 The COLSUR digital alarm clock combines an alarm clock, wireless charging, and nightlight into one device. With its built-in 1200mAh large battery, separate alarm clock, and bottom plate, the product serves multiple purposes.
You can adjust the brightness of the time by tapping the switch on the right side of the alarm clock. Memory mode allows the COLSUR Alarm Clock to remember not only the light but also the time, even if the power is out.
With only four buttons, it is easy to set the time, supports 12/24-hour time switching, and has two volumes.
The night light comes in three color temperatures: warm white, cool white, and white. A step-less dimming feature allows the brightness to be adjusted from 5% to 100%.
Buy COLSUR Digital Alarm Clock for $49.99 here
4. Andoolex Wooden Digital Alarm Clock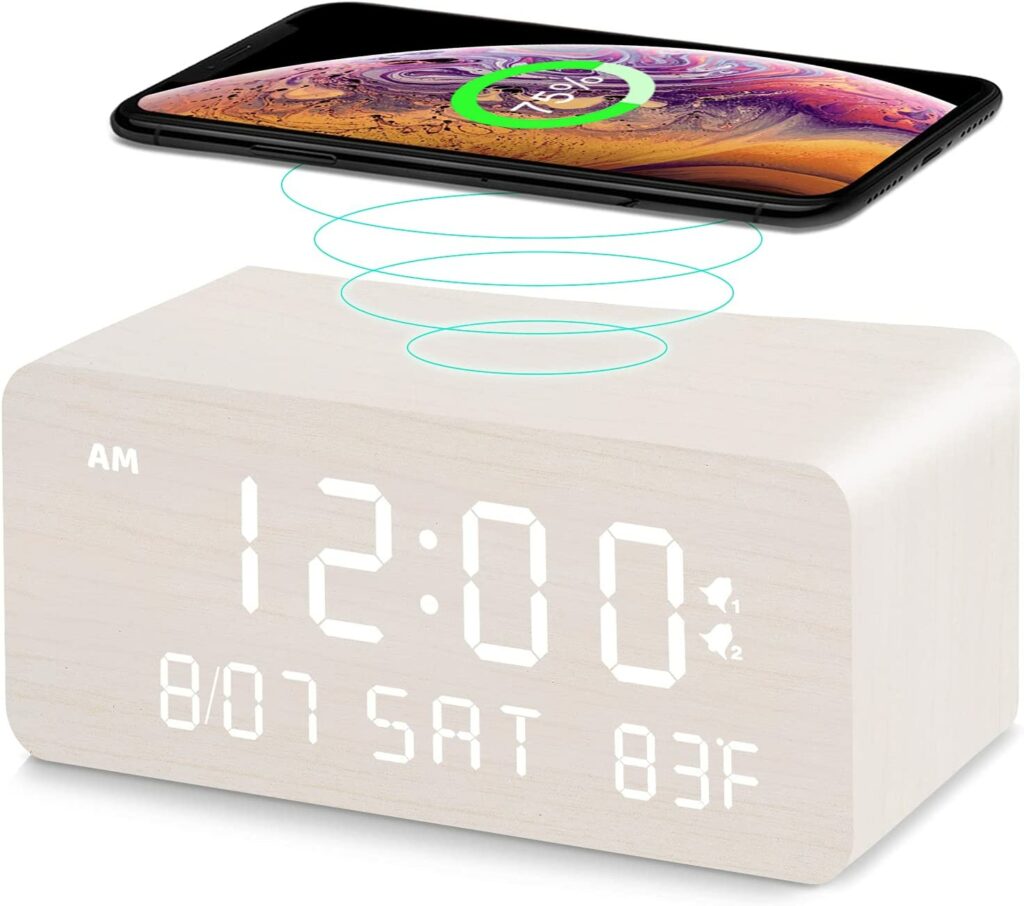 The wooden alarm clock comes with wireless charging support to charge your smart devices, making it convenient for you to place and charge your phone at the same time. You can rest your phone on the built-in Wireless Charging pad for easy wireless charging without using wires.
The LED digits on this digital alarm clock are clearer, which makes it easier to read and adjust to your desired brightness level, and you won't have to worry about the display shining when you're asleep, which is ideal for people who are sensitive to light.
The dual alarm feature allows you to set two different wake-up times so you are never late for work. Moreover, you can set a weekday mode so that it only rings on Monday through Friday.
A new version of this digital alarm clock with no harm "beep" alarm makes the sound louder and can be set from 60dB to 90dB depending on the person's preference. It features a 9-minute snooze function as well.
To enhance the aesthetics of your home, you can place it anywhere on the bedside table, nightstand, or desk.
Buy Andoolex Wooden Digital Alarm Clock for $32.99 here
5. REACHER Small Digital Alarm Clock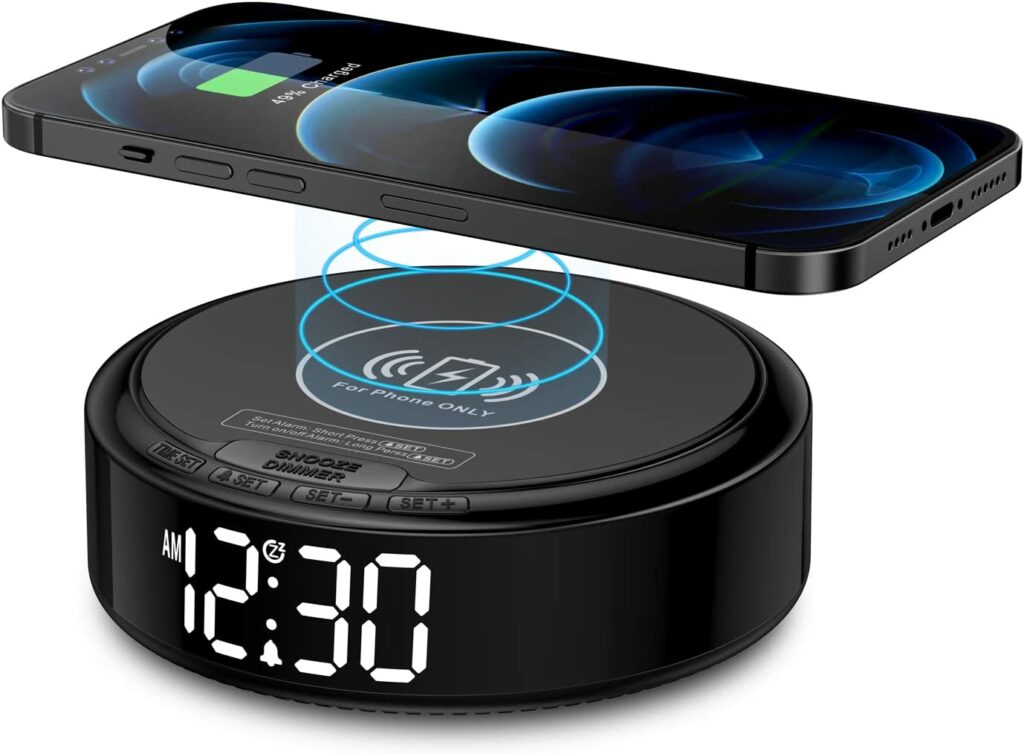 With the G5, you get all the features of a wireless charging station as well as an alarm clock. This charger supports 5W, 7.5W, and 10W adaptive charging. No more fumbling with plugs and unplugging cables.
LED display measures 1.96″ and is clear and bright, making it easy to read from a distance. In addition, the 6-level dimmer (including completely off) allows you to adjust the brightness in your room at night or when going to bed.
The 9-minute snooze helps you get an extra hour of sleep, up to 6 times, or you can stop it at any time. The alarm volume can be set to eight levels, the default being U06 (50-85DB), and it can be switched between 12 and 24 hours at any time.
Designed to be non-slip, the surface and bottom offer stability when phone is placed on top. There are holes in the bottom edge that dissipate heat for safe heat dissipation.
Buy REACHER Small Digital Alarm Clock for $22.99 here
6. iHome iW18 Digital Alarm Clock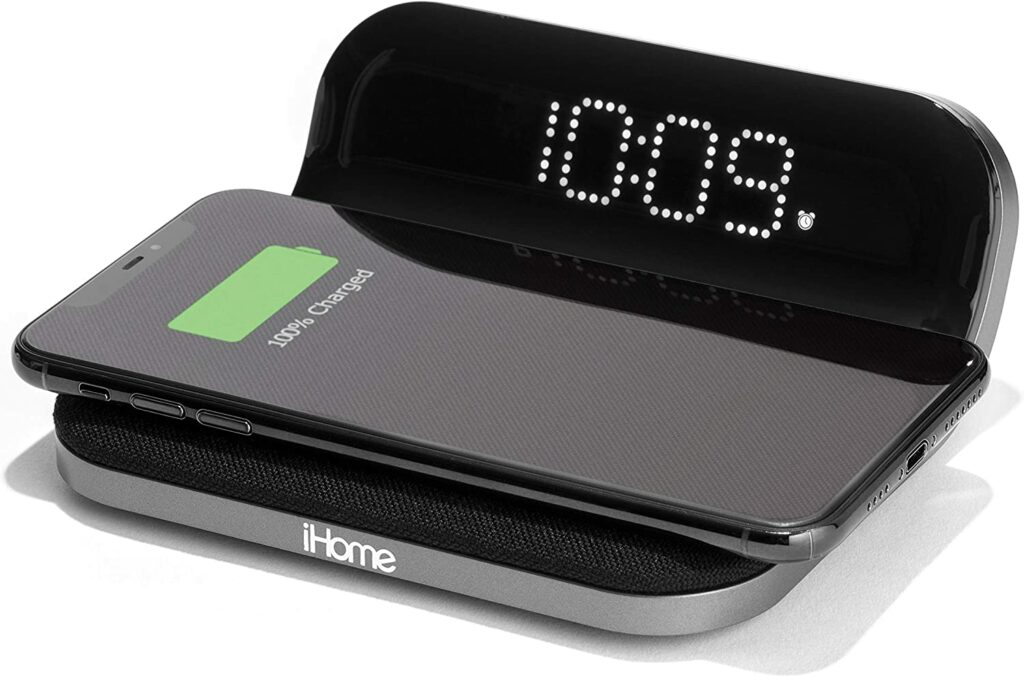 You can use this bedside alarm clock to set two separate alarms depending on your schedule. With the 7-5-2 alarm mode, you can set an alarm every day during the week or the weekend.
You no longer have to charge your devices away from your bedside with iW18 Alarm Clock – it is compatible with all QI-enabled smartphones. Using the 1A USB port, you can charge another device like a smartwatch.
The brightness can be adjusted for easier reading or better sensitivity; brighter during the day, darker during the night. You can adjust the brightness with the dimmer display button, which can go high, low, or off.
Anyone can set up this digital alarm clock with wireless charging since there are no complicated button combinations. This is an excellent gift for children, students, friends, and family since it has such a stylish design and compact size.
Buy iHome iW18 Digital Alarm Clock for $44.95 here
7. Think Gizmos Digital Alarm Clock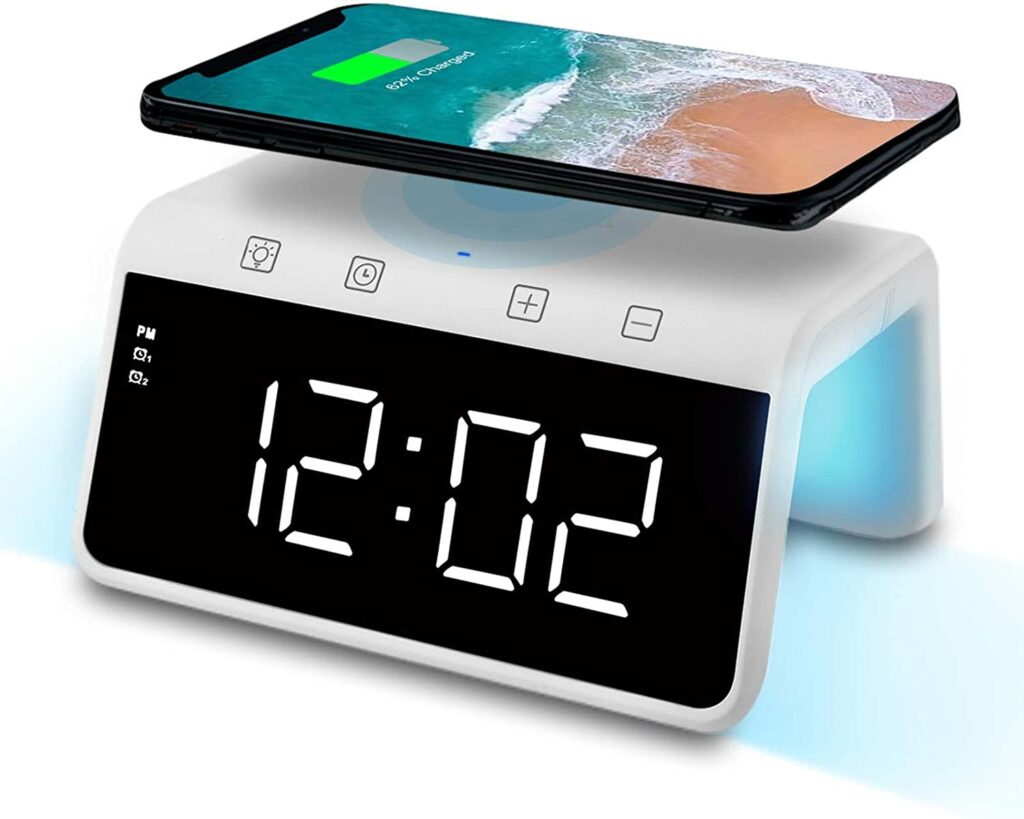 A variety of features make Think Gizmos Alarm Clock a great choice, including a backlit display, two programmable alarms without ticking, Qi-certified wireless charging, USB charge slot, and color changing night light.
The wireless alarm clock comes with a Qi-certified wireless charging dock. You can charge your Qi-compatible device simply by placing it on the charging pad.
Wireless Charger Alarm Clock comes in a contemporary arch shape that looks great anywhere in your home. You can place it on your bedside table, your desk, or on your office desk. The device comes equipped with a built-in adjustable backlight and a color-changing night light.
This version includes a button lock for added security and quick night light controls. With the included backup battery, you can keep track of the time even if there is a power outage. If your power goes out, you don't have to keep reprogramming the time.
Buy Think Gizmos Digital Alarm Clock for $34.95 here
Conclusion
Finding the alarm clock with a phone charger will now be a breeze. This list likely gave you an idea of what features you want in the ideal option for you.
But if you have any questions, feel free to post them in the comments section.