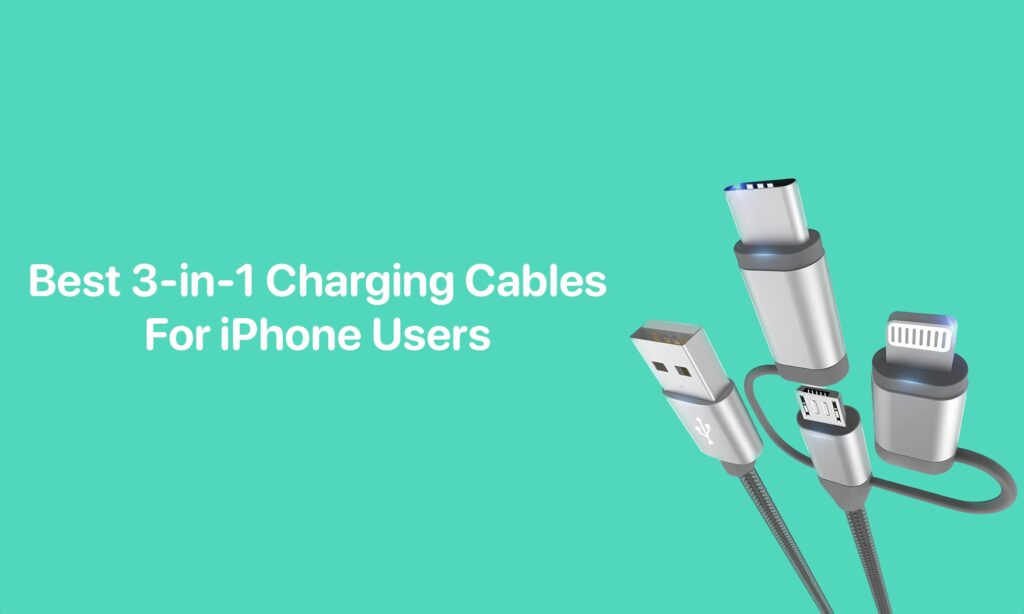 Looking for multi-purpose 3-in-1 charging cables that can charge your iPhone, AirPods and Apple Watch at the same time? Then look no further than these amazing cables that are designed to make your life easier.
It's completely okay to use different charging cables for your iPhone, AirPods, and Apple Watch. 
However, if you put these devices together to charge them at the same time, you may quickly find yourself caught up in an Oscar-worthy entanglement. To plug everything into a single electrical outlet, you might also need a multi-plug adapter or power strip.
A smarter strategy is to use multipurpose, and the best 3-in-1 charging cables for iPhone.
Best 3-in-1 Charging Cables for Apple Devices
The following are some of the best 3-in-1 USB cables available on the market from reputed brands like Anker and Spigen. Check them out and decide which one is right for you!
1. MICFLIP [Apple MFi Certified 3-in-1 Charging Cord Adapter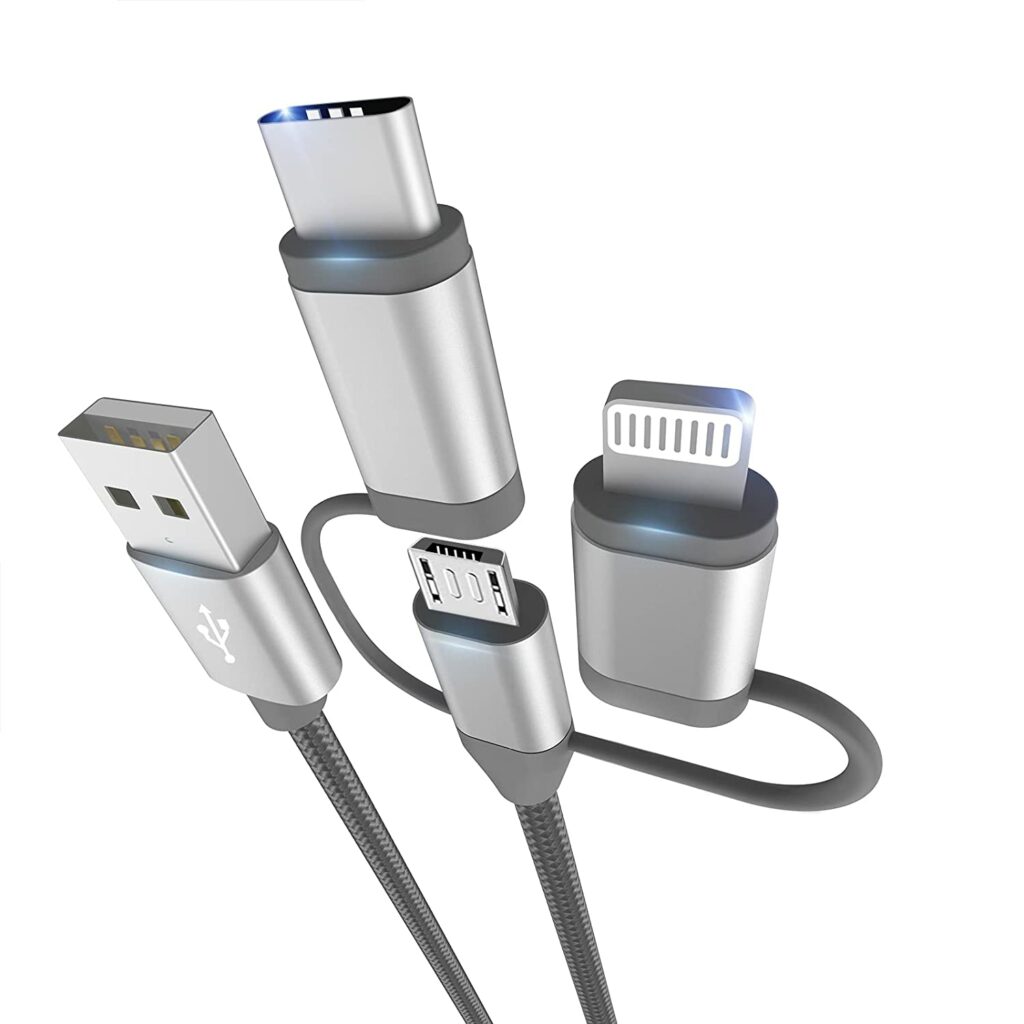 Using the multi-charging cable brings you convenience as well as a sense of sharing. The phone charger features three charging tips in one cable, which makes it simple, lightweight, and portable. You can use it at home, in your car, at work, on the go, in your office, in your dock, or with your friends.
It is compatible with a wide range of devices, including iPhones and iPads, Huawei, HTC, LG, Samsung Galaxy, Sony Xperia, and Android smartphones. Also, it supports 480Mbps data transfer speeds, making it easy to transfer music, photos, and files from iPhone to Macbook.
It measures 3.4 feet/1 meter in length to meet your daily usage needs. You can now get rid of the long charging cable that creates storage issues. Because this product is quite convenient to carry.
The cable is made of Fiber material, which makes it flexible, robust, and durable. The aluminum protection head increases the durability and corrosion resistance of the charging cable. Additionally, it can withstand 10000+ bending tests due to its specially woven fiber shell. 
Buy MICFLIP [Apple MFi Certified 3 in-1 Charging Cord Adapter for $11 here
2. Firsting iPhone Charger Cable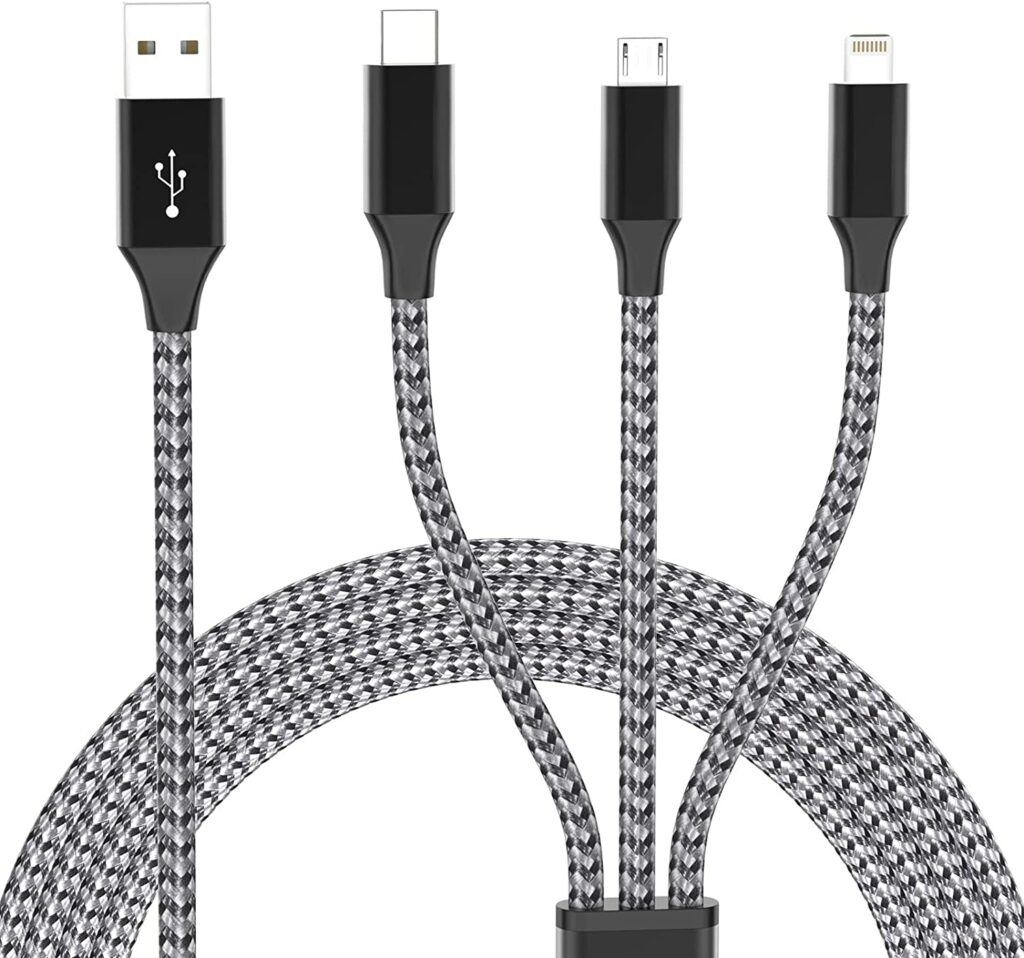 Firsting charger cable is made of military fiber which increases the tension by 200%, making it one of the most flexible, strongest, and most durable cables available. High-quality aluminum housing ensures a longer service life and makes the cable more durable and heat-resistant.
The charging cable for apple devices is simple, lightweight, and portable. So, bring one multi-charger cable that meets all your needs.
You can charge your phone with ease with this 4ft multi-USB cable. Whether you are laying on the sofa, relaxing in bed, or the backseat of the car, it is perfect for charging your phone!
Buy Firsting iPhone Charger Cable for $9.99 here
3. Teilybao 3-in-1 Charger Cable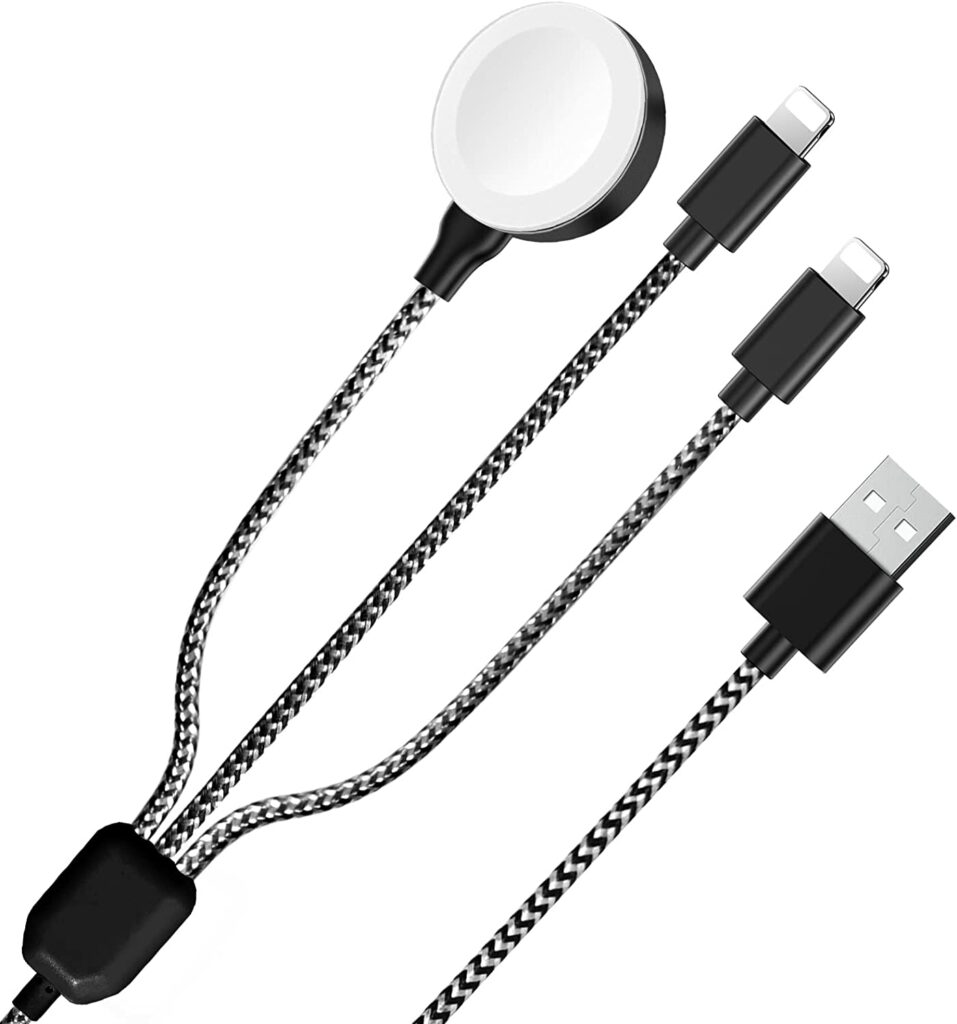 If you travel a lot with your Apple devices then this product is the right charger for you!
With the 3-in-1 watch charger cord, you can charge and transmit data more quickly without any risk of overheating. In addition to meeting your charging needs, it makes a wonderful Christmas and birthday gift for your friends and family.
This charger allows you to charge your Apple Watch, iPhone, and iPad simultaneously. You can put it in your pocket or bag, as it is 3.93ft long and portable.
Plus, magnetic attraction automatically adsorbs the watch when you hold the connector near the back.
Buy Teilybao 3-in-1 Charger Cable for $31.99 here
4. Spigen DuraSync 3-in-1 Universal Charger Cable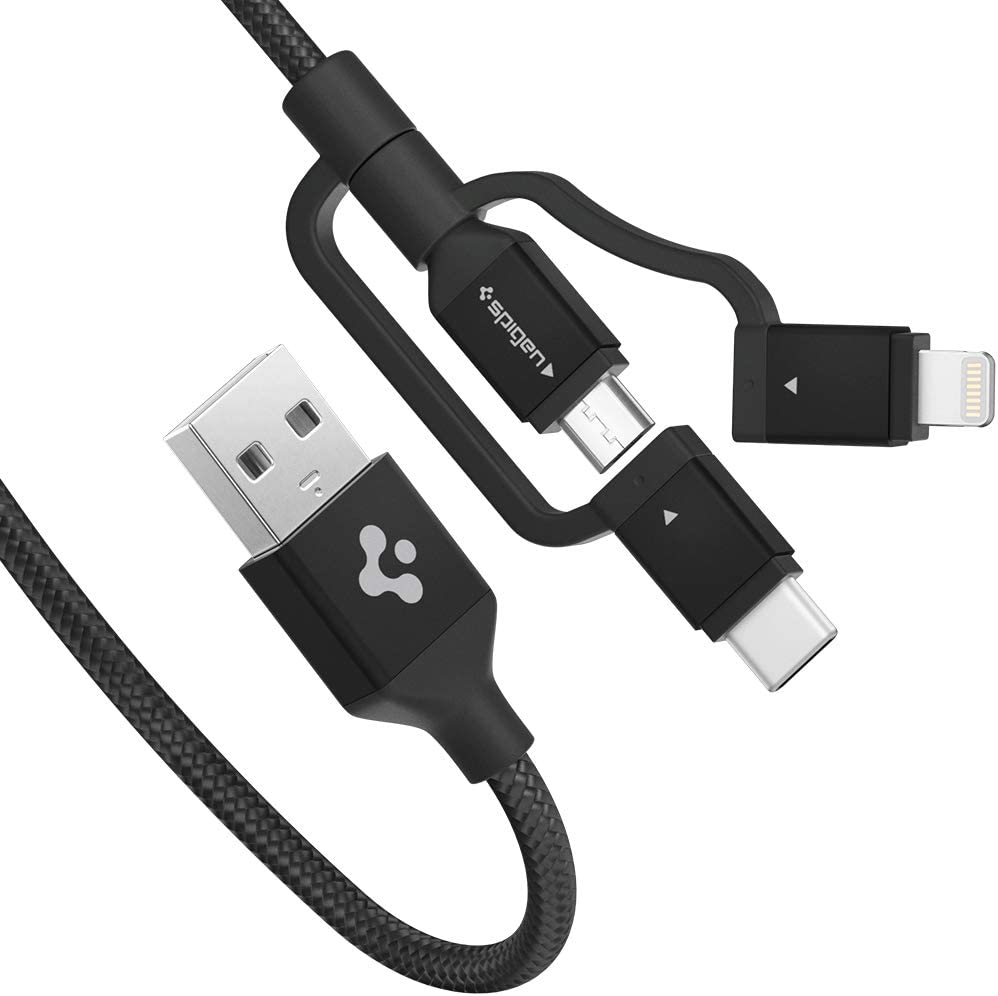 Having so many cables is a hassle, why bother? Spigen DuraSync 3-in-1 Cable is the perfect solution to replace all of them and make life easier.
There is a Lightning, USB-C, and mUSB output connector, so you will be able to charge and sync ALL of your devices. You can charge any QC 3.0-enabled device from 0% to 50% in 30 minutes (QC3.0 wall adapter required).
With the ability to withstand more than 30,000 bends, this product is constructed with durability and toughness for extended use.
A Velcro cable tie keeps the cables organized when on the go and prevents tangles.
What else? You can charge any Lightning device with peace of mind, as MFi certification ensures compatibility.
Buy Spigen DuraSync 3-in-1 Universal Charger Cable for $17.99 here
5. Anker Powerline II 3-in-1 Cable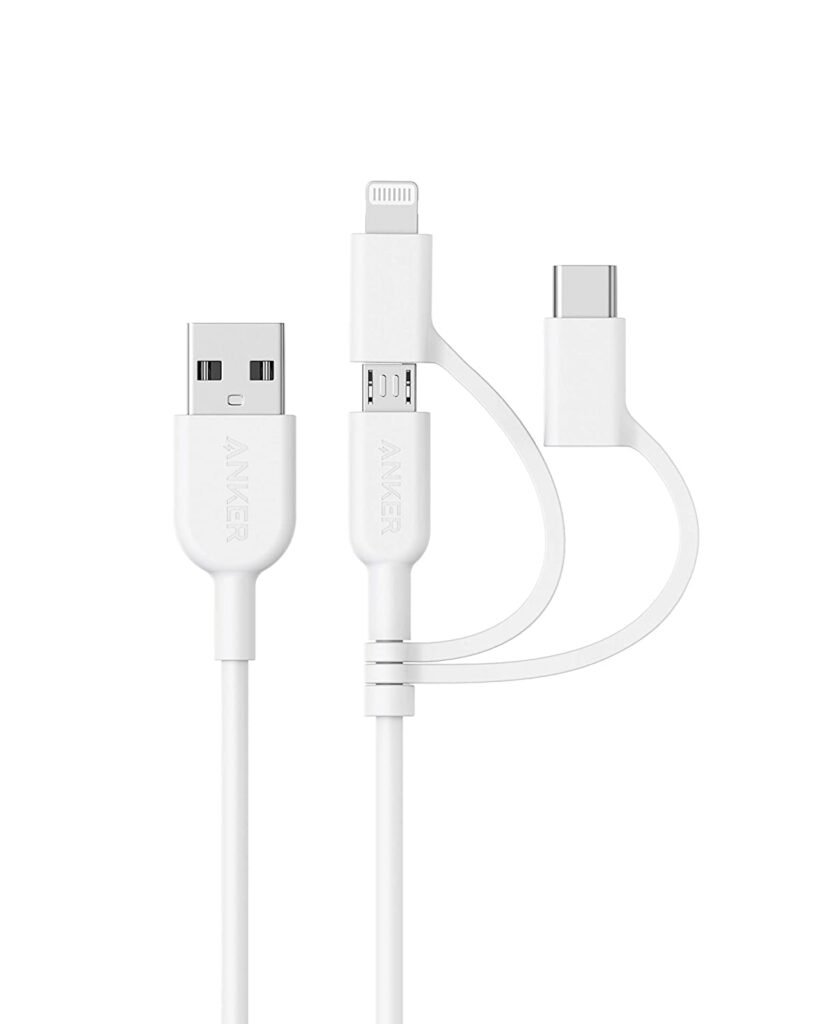 Anker wants you to be free of the ambiguity and inconvenience of not knowing where your next charge will come from.
The chargers and accessories they offer don't just power up your devices, they offer the tech experience you want without any limitations.
With the built-in Micro USB, USB-C, and Lightning connectors, you can charge any device.
A high level of reinforcement protects internal wiring from damage and degradation.
You can charge your devices safely, at their fastest speed, thanks to Apple's MFi certification and strict quality testing.
As a result of PowerLine II's long-lasting performance, the company offers a hassle-free, lifetime warranty.
Buy Anker Powerline II 3-in-1 Cable for $21.99 here
6. Wanxdagy USB C Charger for Apple Watch and iPhone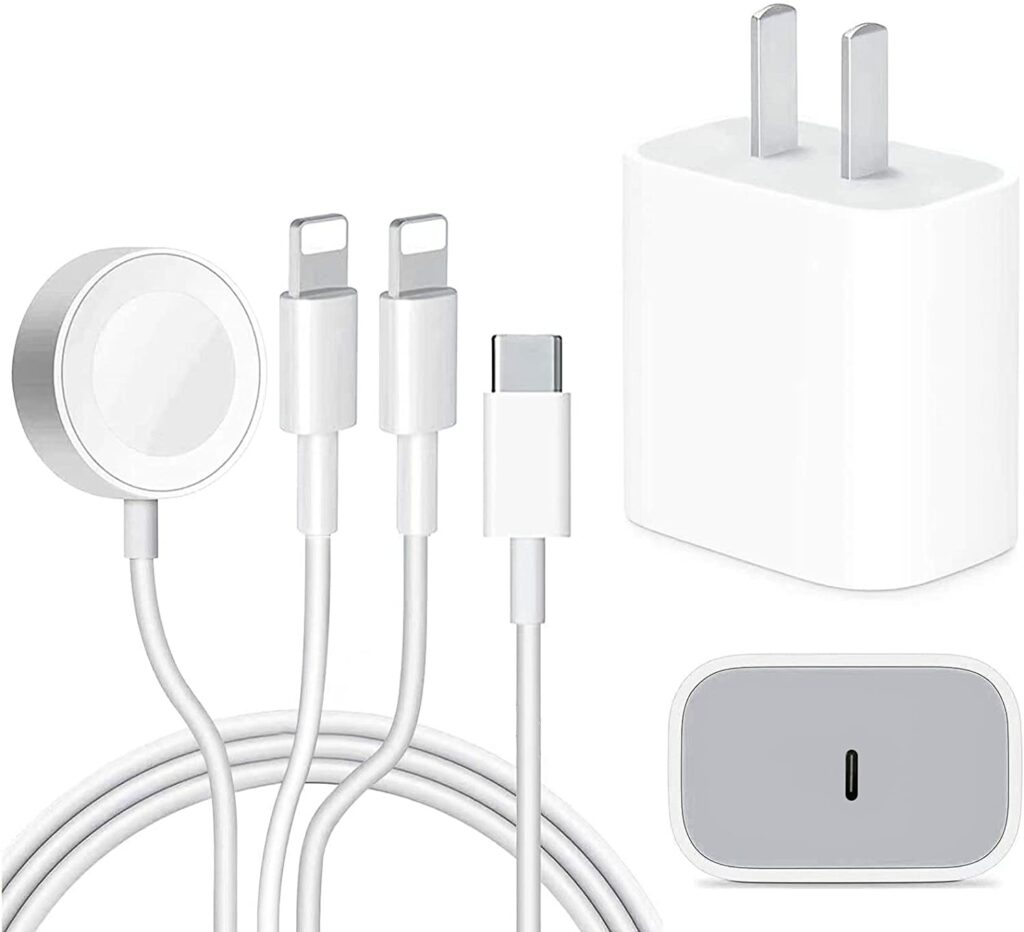 Wanxdagy charger shortens charging time and improves work efficiency, making your life more convenient.
A new watch charger with two charging connectors can charge two phones and an iWatch simultaneously. Save yourself the hassle of carrying multiple cables. A PD 3.0 30W wall charger with a USB Type C port will allow you to charge faster than you could with an original charger.
The original MFi chip and integrated magnetic technology, coupled with built-in protection for over-current, over-voltage, and over-temperature, create a safe charging environment for both the device and charger. Due to its strong magnetic adsorption, the angle of the watch charger can be adjusted freely without deviating from the center.
With high-quality materials, the 3-in-1 watch charger cable ensures excellent charging and data transmission performance. This portable 5ft/1.5m watch fast charger cable kit features a lightweight, easy-to-take travel design, easy to store and transport, and can be used at home or at the office to charge your watch or phone.
Buy Wanxdagy USB C Charger for Apple Watch and iPhone for $29.99 here
7. UYOUNG Multi Charging Cable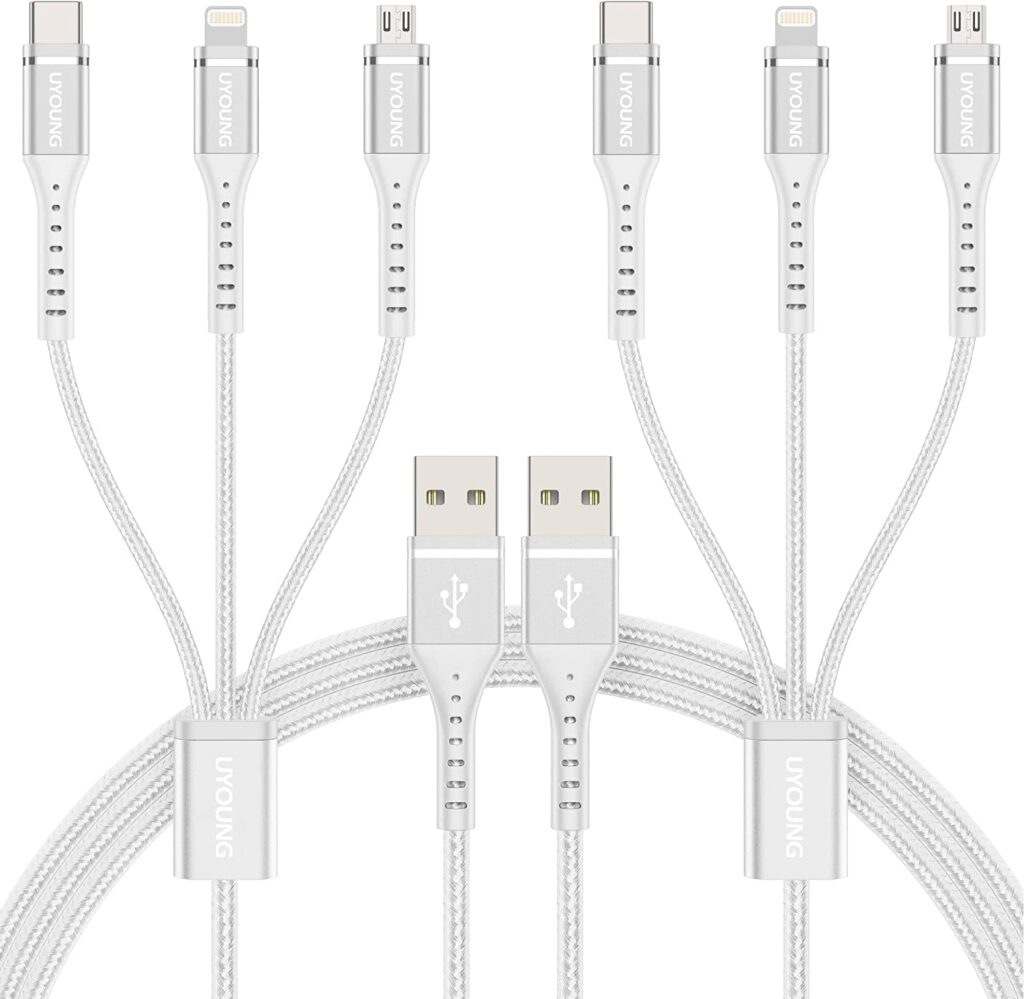 Due to its three USB ports, iPhone, Micro USB, and Type-C, it is compatible with most phones and tablets and can meet a variety of charging requirements. This multi-charging cable supports charging three devices simultaneously, so you can share it with your family and friends. You can use it at home, at the office, during travel, as a power bank, or for your Uber lift business.
Multiple devices can be charged simultaneously with an all-in-one charging cord, but only lightning connectors are capable of transferring data. With one multi-USB charger cable, you will be able to meet all your needs.
Unlike cheap TPE materials that break easily, this 3-way charger cable is made from premium double nylon braided and aluminum alloy to ensure a longer service life than other charging cables.
A multi-USB cable made of copper wire of 18AWG quality can deliver up to 3A (total) of output current.
Buy UYOUNG Multi Charging Cable for $12.99 here
Let's Untangled the Cords
We all have charging cables in our drawers (or boxes!) because of the variety of gadgets we use each day.
A mess of different cables can quickly become frustrating, whether you have an old Kindle with MicroUSB, an Android phone with a USB-C port, or an iPhone with a Lightning connector.
Thankfully, one of these cables with Lightning and USB-C connectors can easily help make things more streamlined. So, pick the one that best suits your needs and say bye-bye to tangled cables!
So, which one would you buy? Let us know in the comments.