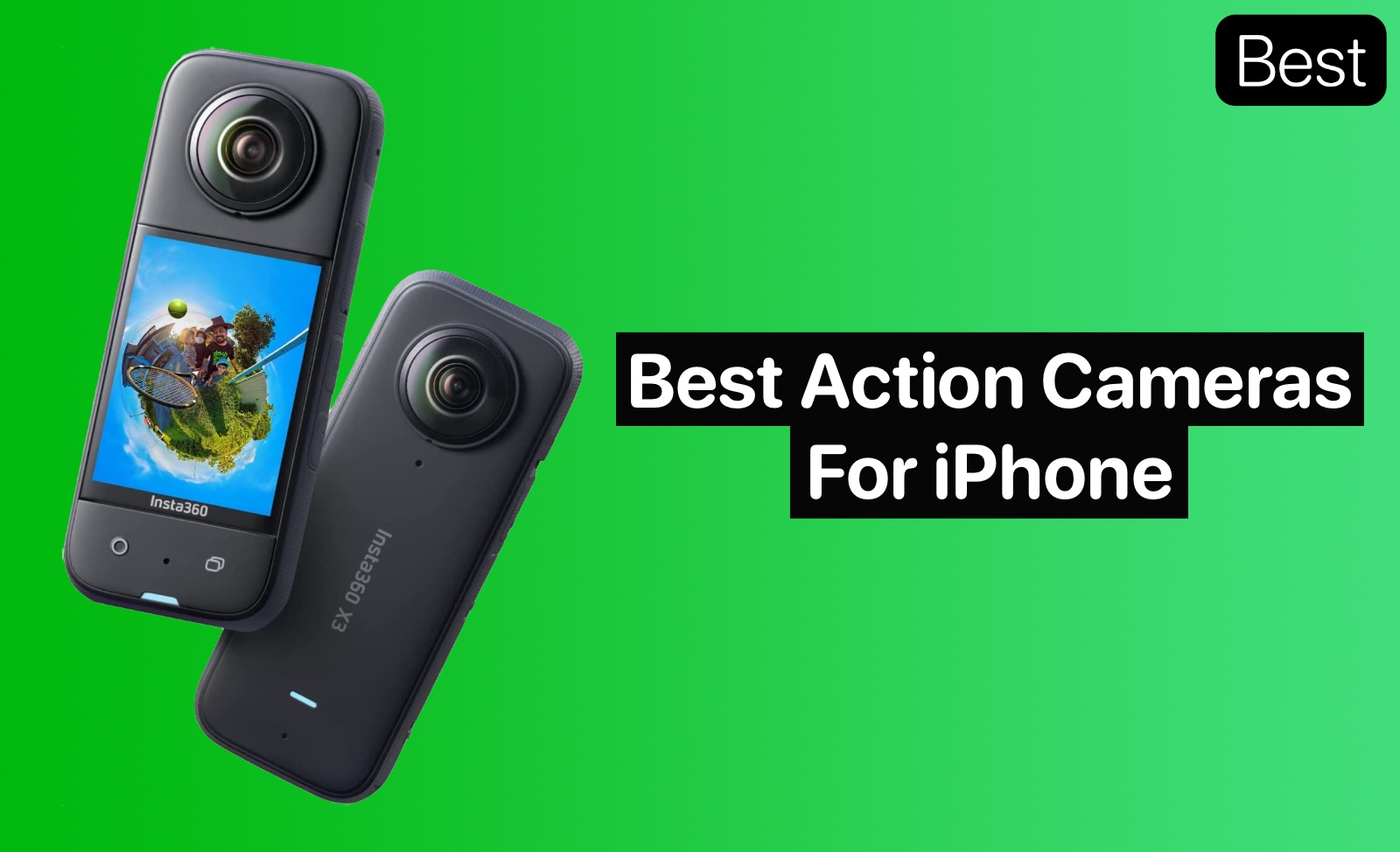 The best action cameras are small and portable adventure buddies that catch the moments just right. Whether they are underwater excursions, outdoor sports, or backyard escapades, these action cameras won't let you down.
Are you gearing up for your next adventure? Do activities like bungee jumping, underwater cave diving, or cliff camping give you a thrill like none other?
Stunts are the easy bit. The hard part is capturing the immersive details of your daredevil antics.
Sure, you can catch the moment and shoot the rough stuff with your iPhone.
But would it be as magnificent and cinematic compared to the footage you take from tools specially built to shoot the tough stuff?
Nope. Not even close.
Here's all you need to know about action video cameras and the top-rated models you need to buy before your next adventure. Let's go!
1. Insta360 X3 Action Camera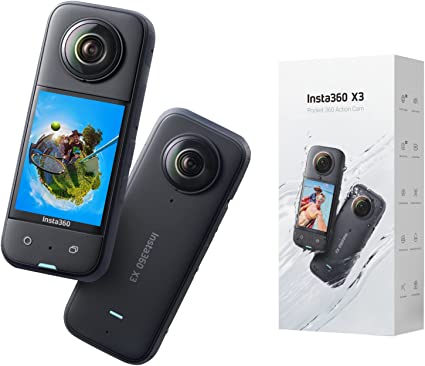 X3 is slim, spherical, and one of the best budget action cameras out there.
Easy to fit into a pocket, the waterproof camera does not require any additional case and can take on the toughest of situations even if they're 33 feet down.
When it's time to shoot, you can prop it up on the standard tripod socket, attach it to a selfie stick or a tabletop tripod, or wherever you find support.
Key Features:
Capture 5.7K 360° Active HDR video, 72MP photos, 8K time-lapses, and more with great clarity and detail, even in low light.
Shoot wide-angle footage and get maximum resolution with 4K30fps or 170° field of view with 2.7K MaxView.
Get smooth videos thanks to FlowState Stabilization and horizon leveling algorithms
Buy the Insta360 X3 Action Camera for $449.99 from Amazon.
2. GoPro MAX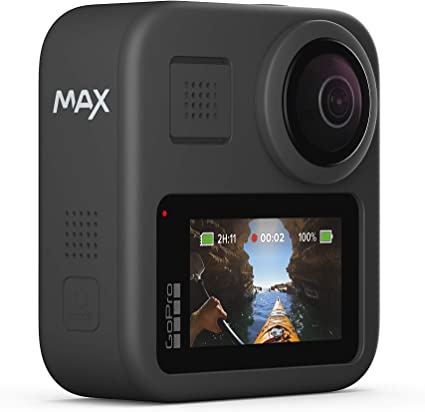 GoPro's 360-degree action camera is a lot friendlier to use and gives you complete creative freedom to capture your adventures. 
One of the greatest strengths of the best action cameras is their build quality, portability, and design. That is exactly what GoPro Max offers. The action camera is built from a protective rubber casing, offers up to 5 meters of water protection, and can survive the most hostile environments.
Key Features:
Shoot hero-style videos, 360 footage, or vlog with shotgun-mic performance and a front-facing screen.
The 180-degree capture acts as the ultimate buffer and delivers incredibly smooth and stable results.
Live stream your adventures in 1080p using the HERO mode.
Get incredible horizon leveling, distortion-free panoramic photos, and stabilized time-lapse videos
Choose a digital lens from Narrow, Linear, Wide, and Max SuperView.
Buy GoPro MAX for $499.99 from Amazon.
3. AKASO Brave 4 Pro Action Camera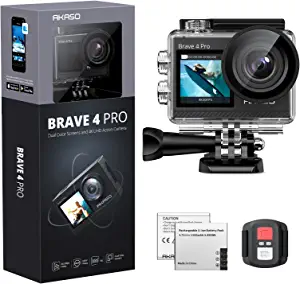 This budget-friendly action camera with an iPhone app can really do everything. The Brave 4 Pro is a sports action camera with GoPro's design minus the hefty price.
Jumping into the meat and bones, the AKASO action camera is packed with a dual-screen, 131ft underwater camcorder and camera support, advanced EIS remote control, 5X zoom, and an external mic.
Key Features:
The dual-color screen allows you to change the framing and monitoring views between the back and front
Shoot videos with 4K resolution at 30FPS and images with 20 MP clarity
The built-in EIS 2.0 with a 6-axis gyroscope detects position and motion changes ensuring smooth and stable results.
Capture sounds from all directions using external mic support.
Buy the AKASO Brave 4 Pro Action Camera for $109.99 from Amazon.
4. AKASO Brave 4 Action Camera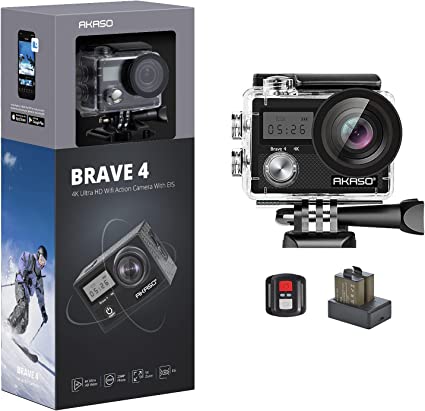 The AKASO Brave 4 action camera made it to the list of best action cameras solely for one reason: its incredible video stabilization feature. No matter how shaky it gets, the camera does an incredible job of smoothing out camera shakes in FHD.
It also has a great battery life that allows you to take sharp photographs and record smooth and crisp 4K videos for up to 90 minutes.
Key Features:
Boasts 4K/30fps, 2K/30fps, and 1080P/60FPS ultra HD video resolution and 20MP photos
Adjust the angle between 170°, 140°, 110°, and 70°
The built-in smart gyroscope ensures anti-shaking and image stabilization
Go 100FT underwater and record stunning footage as you swim, surf, and dive.
Buy the AKASO Brave 4 Action Camera for $71.99 from Amazon. 
5. Exprotrek 4K Action Camera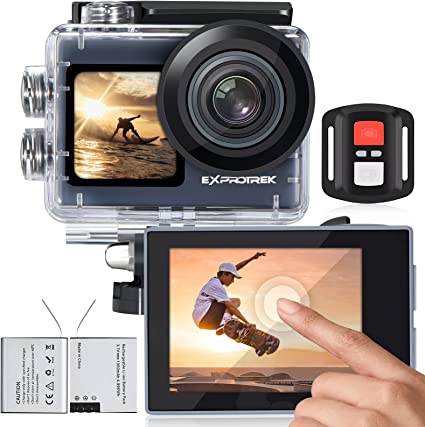 The Exprotrek action camera for Mac users is a popular budget-friendly action camera for all the right reasons.
It comes in a compact design with dual screens and multiple buttons. Unlike most action cameras, this one is not waterproof. However, it does come with a waterproof case that allows it to dive up to 132ft underwater.
Key Features:
Enjoy 4K 60fps, 2.7K 60fps, 1080P 120fps, 720P 240fps video resolution and 20MP, 16MP, 12MP, 5MP photo resolution
The EIS corrects every shake and blur, ensuring smooth and sharp results.
Easily control the camera from your wrist using the 2.4G wireless remote control
The 170° HD wide-angle comes with 7 layers of glass, UV protection, and an IR filter to reduce color dispersion and capture clear and crisp images and videos.
Buy the Exprotrek 4K Action Camera for $109.99 from Amazon.
6. WOLFANG GA200 Action Camera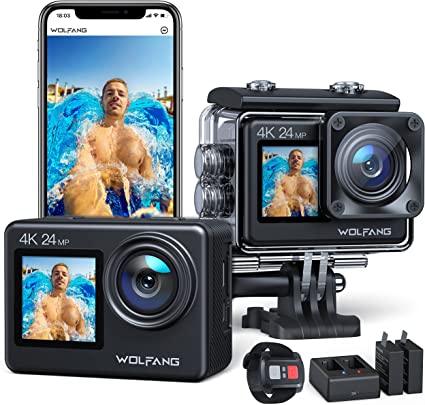 The WOLFANG GA200 is the best action camera under $100 for an iPhone and Mac user. It comes with two batteries and a single charger that allow you a longer, uninterrupted recording time.
Considering the price, this action camera delivers more for less. The GA200 offers distortion correction, inversion mode, driving and dive mode, 10M remote control, time-lapse photo and videos, and so much more.
Key Features:
Enjoy 24MP photo and 4k Ultra HD videos with 4K 30FPS, 2.7K 60FPS, 1080P 120FPS, and 720P 240FPS video resolutions
Switch between the front and the back screen as needed.
Go 40m underwater and capture the most striking, vivid, and natural videos and images
The anti-shake + EIS stabilizer ensures that your videos are silky smooth and clear.
Buy the WOLFANG GA200 Action Camera for $99.99 from Amazon.
Ending Note
The defining factors of the best action cameras of 2023 are small, lightweight, wearable, portable, waterproof, and mountable cameras that can withstand the toughest conditions.
At the end of the day, you need a camera that not only promises but delivers you a cinematic masterpiece of your dream adventures.
After all, good memories are not meant to just live in your mind. They ought to be shared with the rest of the world.
What is the most important feature for you when it comes to action cameras? Let us know in the comments below.