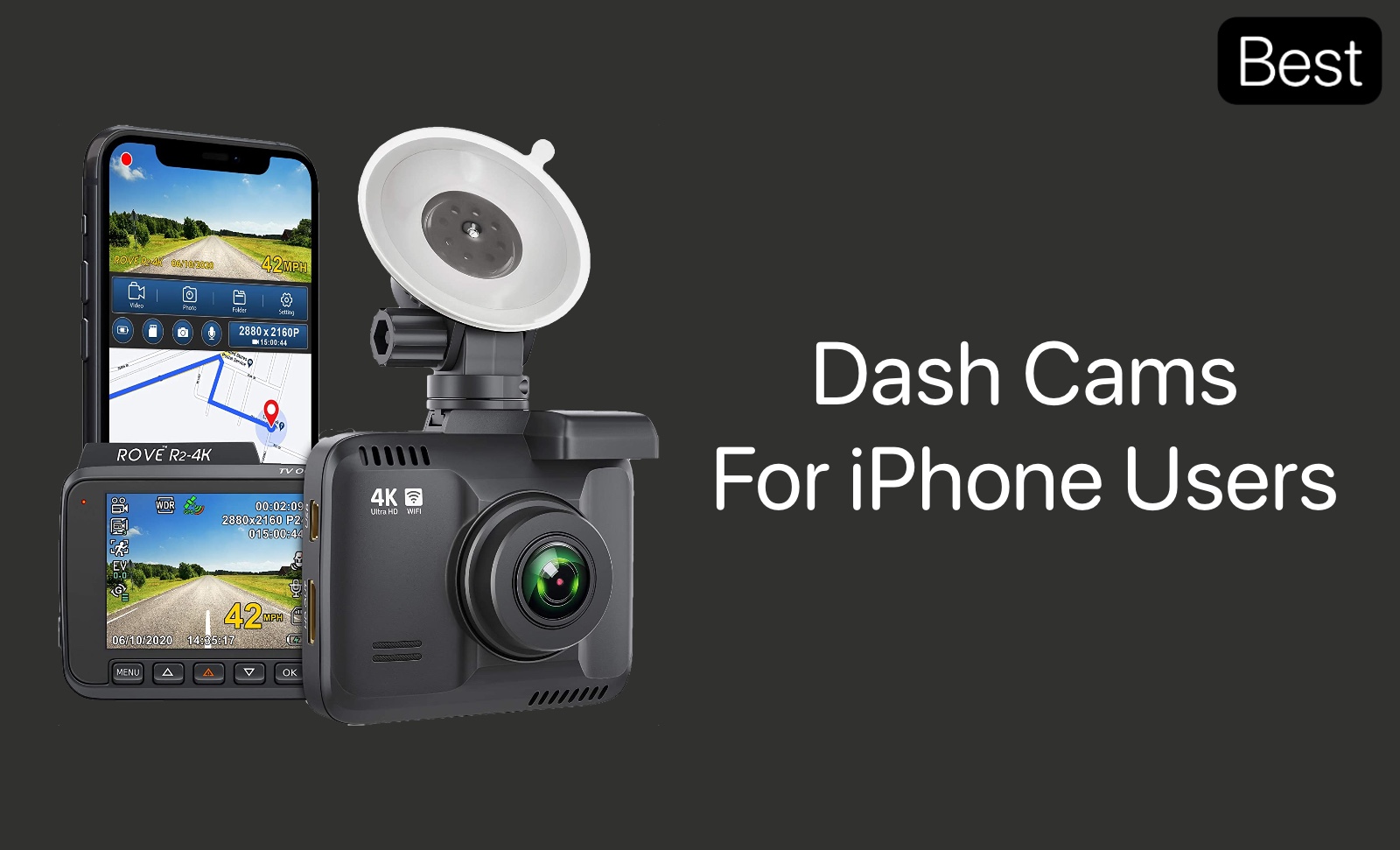 In this post we have listed the best dash cams for iPhone users. These dash cams come with dedicated iPhone apps, that let you view the recorded footage on your iOS device.
Dual dash cam with iPhone app are extremely valuable tools for your vehicle. A camera can act as an electronic eyewitness to a collision, providing instant video evidence in the event of a wrongful arrest.
In the past, dash cams were considered professional gear for truckers and other drivers. However, the emergence of cheaper and improved camera technology has made them a mainstream accessory. A personal vehicle camera is easy to install, affordable, and a good insurance policy against having your actions misrepresented by a court if a traffic or accident occurs.
Currently, dash cams have both forward- and rear-facing cameras and are affordable and available to everyone. The forward-facing cameras are often equipped with features like parking incident and collision detection, GPS, Bluetooth and Wi-Fi connectivity, smartphone app integration, microSD cards, and up to 4K video quality. In recent years, these features have become increasingly affordable.
However, there are a plethora of choices on the market. In this article, we have selected the best dash cams for iPhone users after carefully sifting through the huge selection.
Best Dash Cams for 2023 with iPhone App
Whether parked or driving, you can monitor your car or record road trips with the front and rear dash cam with the phone app. Check out the rest of this article to learn more.
1. Kingslim D5-4K Dash Cam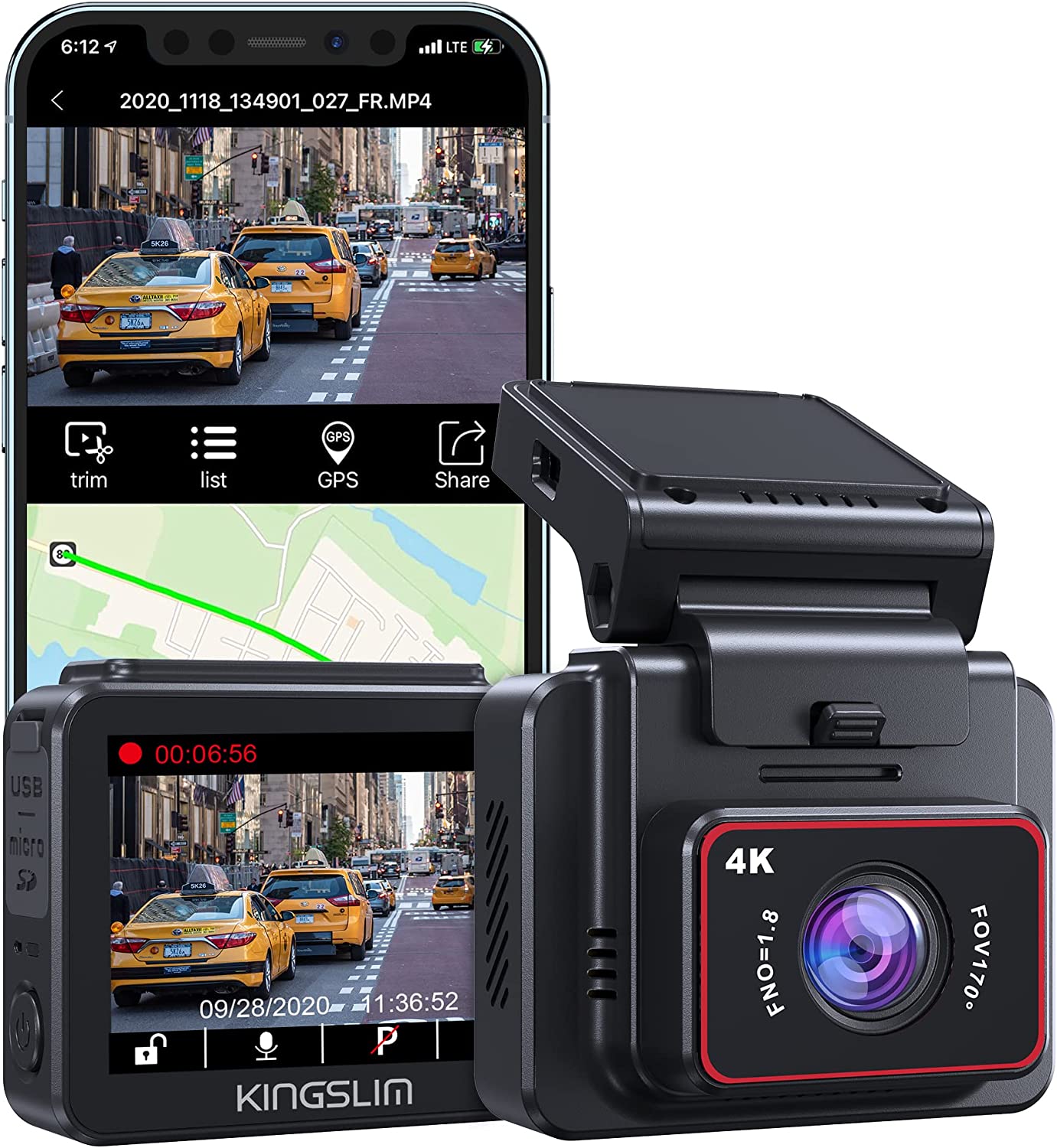 With 4K([email protected]), 2.5K (2560×[email protected]), and [email protected] Full HD videos and images, this dashcam captures license plates and roadway signs every time. The camera has a wide viewing angle of 170 degrees, allowing it to cover the entire road in front of your car.
This WiFi car camera is easy to connect to the KINGSLIM app. You can view, download, and adjust settings from the phone app.
Featuring a GPS module, it can automatically record and save your driving route and speed.
The small dashcam has a G-sensor, parking monitoring, motion detection, time-lapse, and loop recording capabilities. The G-sensor will automatically begin recording when the car detects impact and vibration. It sees the approach of an object within a certain distance and starts recording automatically. Additionally, the dashboard recorder has a Sony image sensor, six layers of glass lenses, and HDR high-dynamic range technology that provides super night vision even in low light conditions.
Buy Kingslim D5-4K Dash Cam for $76.49 here.
2. Rove R2-4K Dash Cam Built-in WiFi GPS Car Dashboard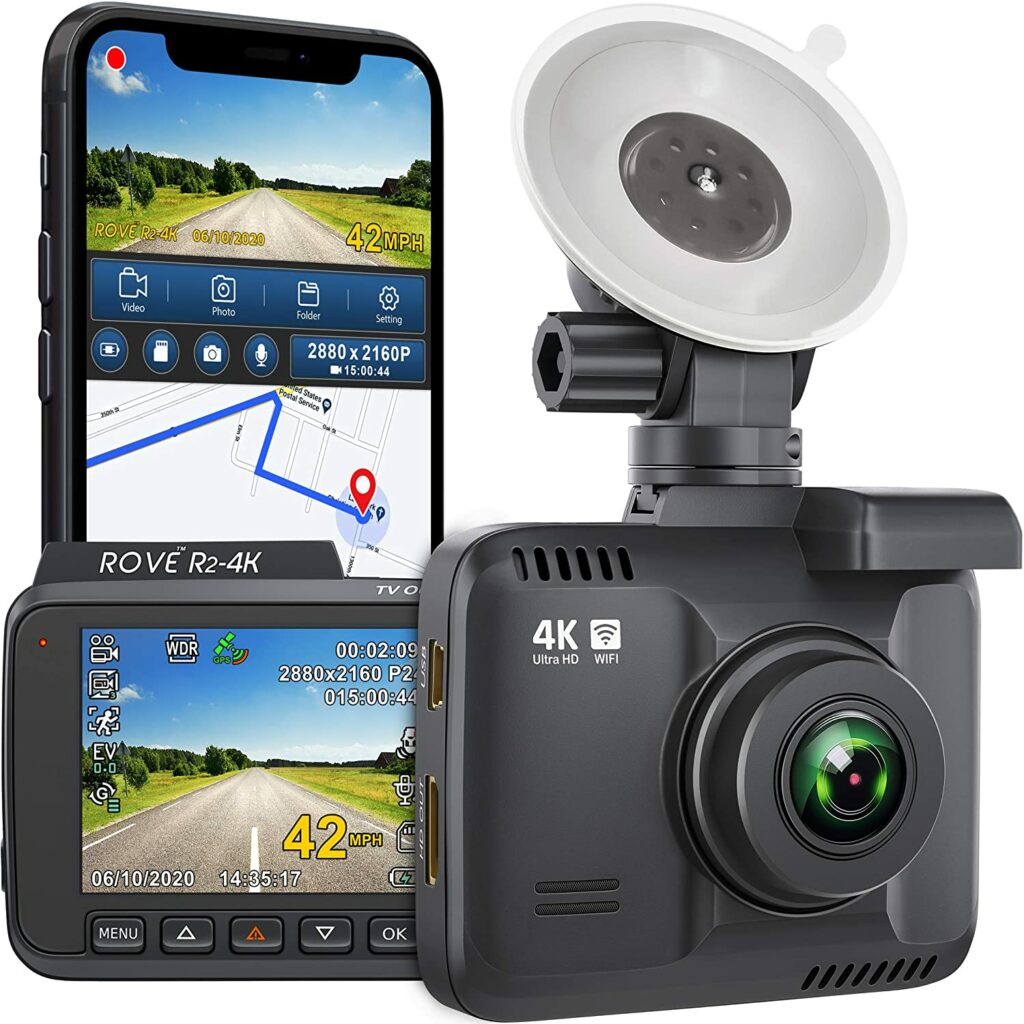 Using the Rove R2-4K dash camera, you can record videos in a resolution of up to 2160p. Compared to all other car dash cams, Ultra HD video recording provides clarity and quality. Ultra-low Light Sensor NT96660 + Sony IMX335 provides comparatively clearer images and video through Super Night Vision Technology in low-light conditions.
You can manage and view dash cam recordings on your iOS devices with the ROVE App. Your recorded 4k videos can be downloaded directly to your smartphone using the app and then shared on social networks.
Thanks to the built-in GPS, you can accurately track your speed and location while driving. Use the App to view your driving route and vehicle tracker on Google Maps via Wi-Fi or Car DV Player to view your driving route on Google Maps.
Buy Rove R2-4K Dash Cam Built-in WiFi GPS Car Dashboard for $119.99 here.
3. Avaett D60 Dual 1080P Dash Cam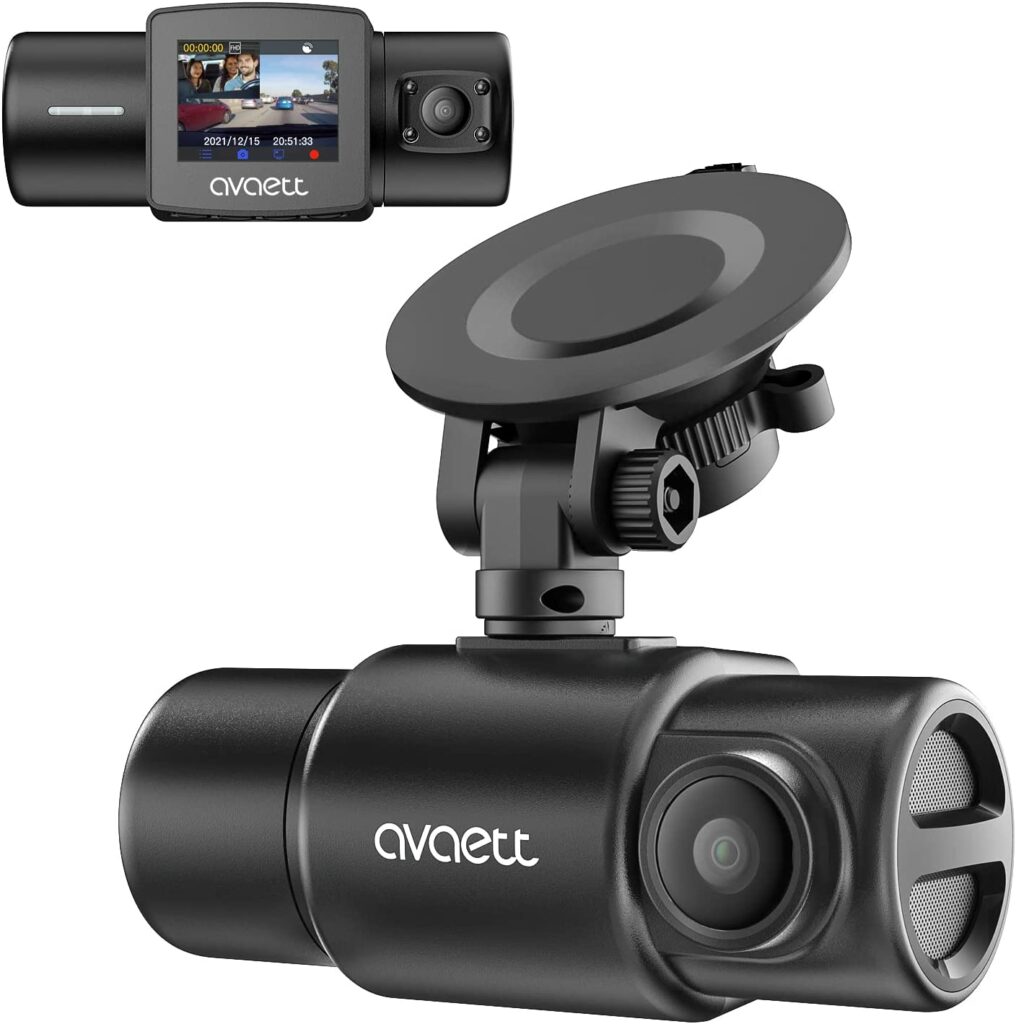 Using a dual wide-angle dash camera, you can record 1080p videos both front (wide angle 170°) and inside (wide angle 150°) of your car simultaneously, thus reducing blind spots. There is enough resolution on the front camera to capture six lanes with detailed information, such as street signs and sidewalks. Cameras mounted in the cabin can capture the driver, front passengers, and interior of the cabin in full detail. Furthermore, the video quality is extremely high.
A built-in GPS recorder is built into each dash cam to record your driving route, location, speed, and time.
With a Sony CMOS sensor and a wide aperture 6G lens, this dashboard camera provides clearer pictures in low light, rainy weather, and backlighting. Dashcam D60 uses supercapacitors that can withstand extreme temperatures, making it more reliable.
Buy Avaett D60 Dual 1080P Dash Cam for $149.99 here.
4. Vantrue N4 3 Channel 4K Dash Cam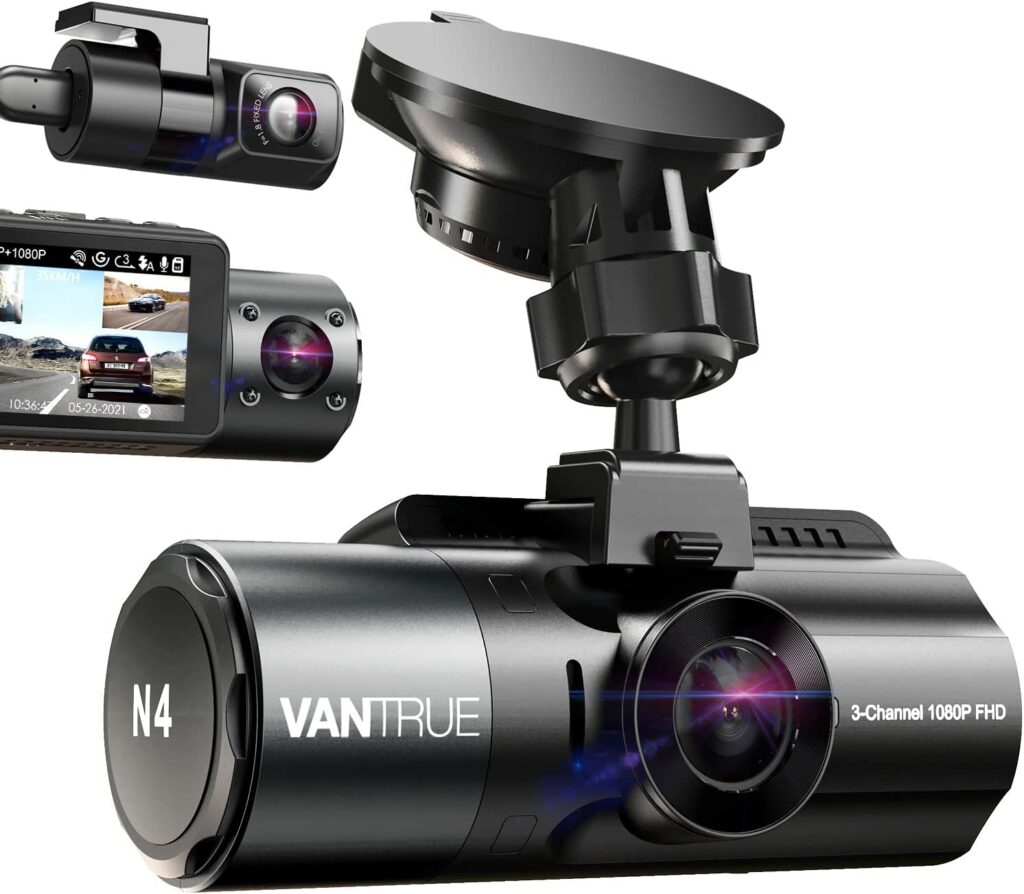 With its 155° front camera, 165° interior camera, and 160° rear camera, the N4 offers a triple channel dash cam that can monitor your vehicle from the front, rear, and interior simultaneously and provide audio at 1440P + 1440P + 1080P, preventing accidents and liability claims.
With its front and rear dual recording modes, it offers a 4K 2160P front camera and a 1080P rear camera. With a 20-foot extension cable, the rear cam can be easily adjusted 360° and is suitable for cars, SUVs, Jeeps, and trucks. You can capture license plates and road signs in 4K clarity with the front camera alone.
You can set the settings to record both the front and back of your entire cabin at 1440P + 1440P high resolution. This adjustable inside camera provides more flexibility and better viewing, making it ideal for rideshare drivers who may have to prove the activities occurring in the vehicle.
With a high-performance STARVIS CMOS sensor, a big F1.4 aperture 6-glass lens observing the road front, and a wide F1.8 aperture 6-glass lens observing the rear, this car camera is capable of increasing exposure automatically in the night time for capturing clear video footage; four IR LED lights facing the car cabin can accurately capture the driver and passengers even when the cabin is completely dark, making it ideal for rideshare drivers.
Buy Vantrue N4 3 Channel 4K Dash Cam for $259.99 here.
5. AZDOME M17 WiFi Dash Cam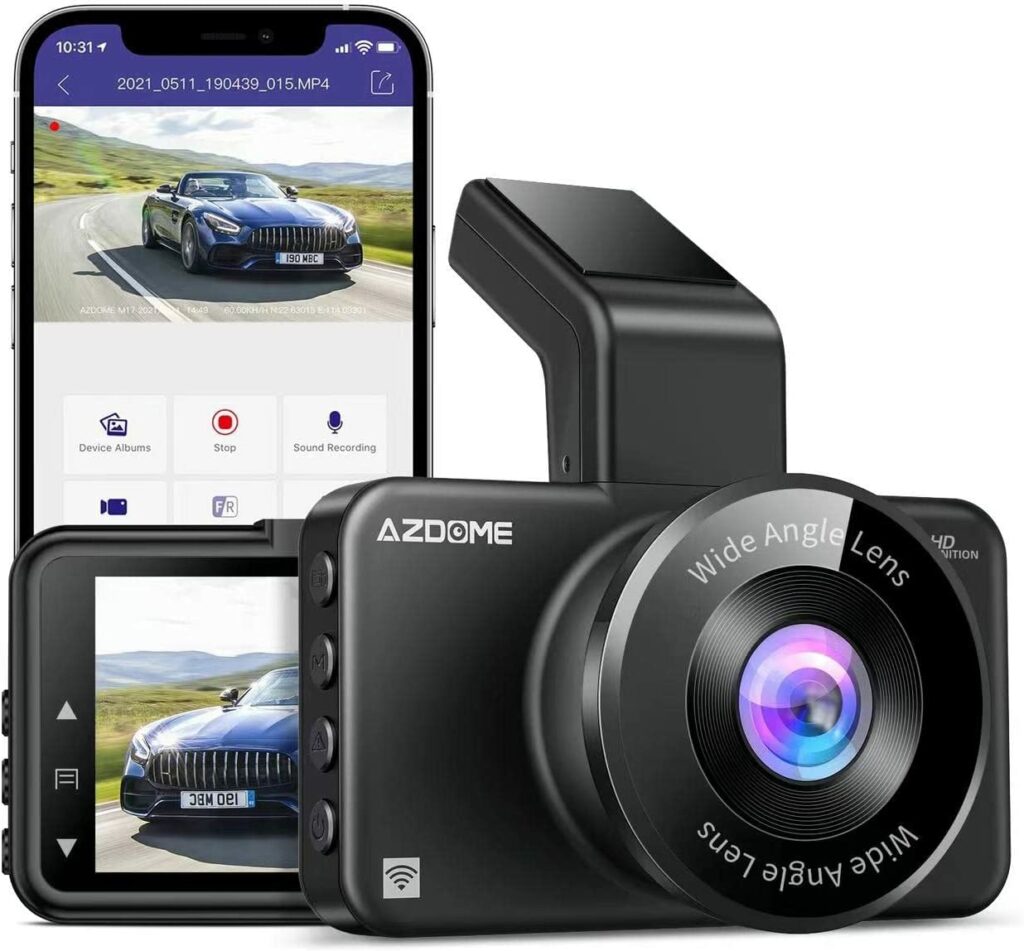 Video quality is better than other 1080P dash cameras on the market with the AZDOME M17 thanks to the professional-grade Full HD GC2053 CMOS image sensor and the Mstar 8336 chip. A built-in microphone allows for simultaneous audio recording with this car driving recorder.
The AZDOME app lets you view, download, and share AZDOME M17 dash camera recordings. With the app, you can easily change settings without dealing with complicated operations.
This car driving recorder is equipped with seamless coverage technology that ensures uninterrupted recording.
G-sensors help this dashcam lock videos during abnormal collisions, providing powerful evidence in the event of an accident.
The 24-hour parking monitor function requires a hardwire kit connected to an external power source. The camera will turn on and record a one-minute video if someone hits your car and triggers the G-Sensor Level. Once the video is saved, it will be locked and applied as evidence.
Buy AZDOME M17 WiFi Dash Cam for $49.99 here.
6. ARIFAYZ 4K Single Front Dash Camera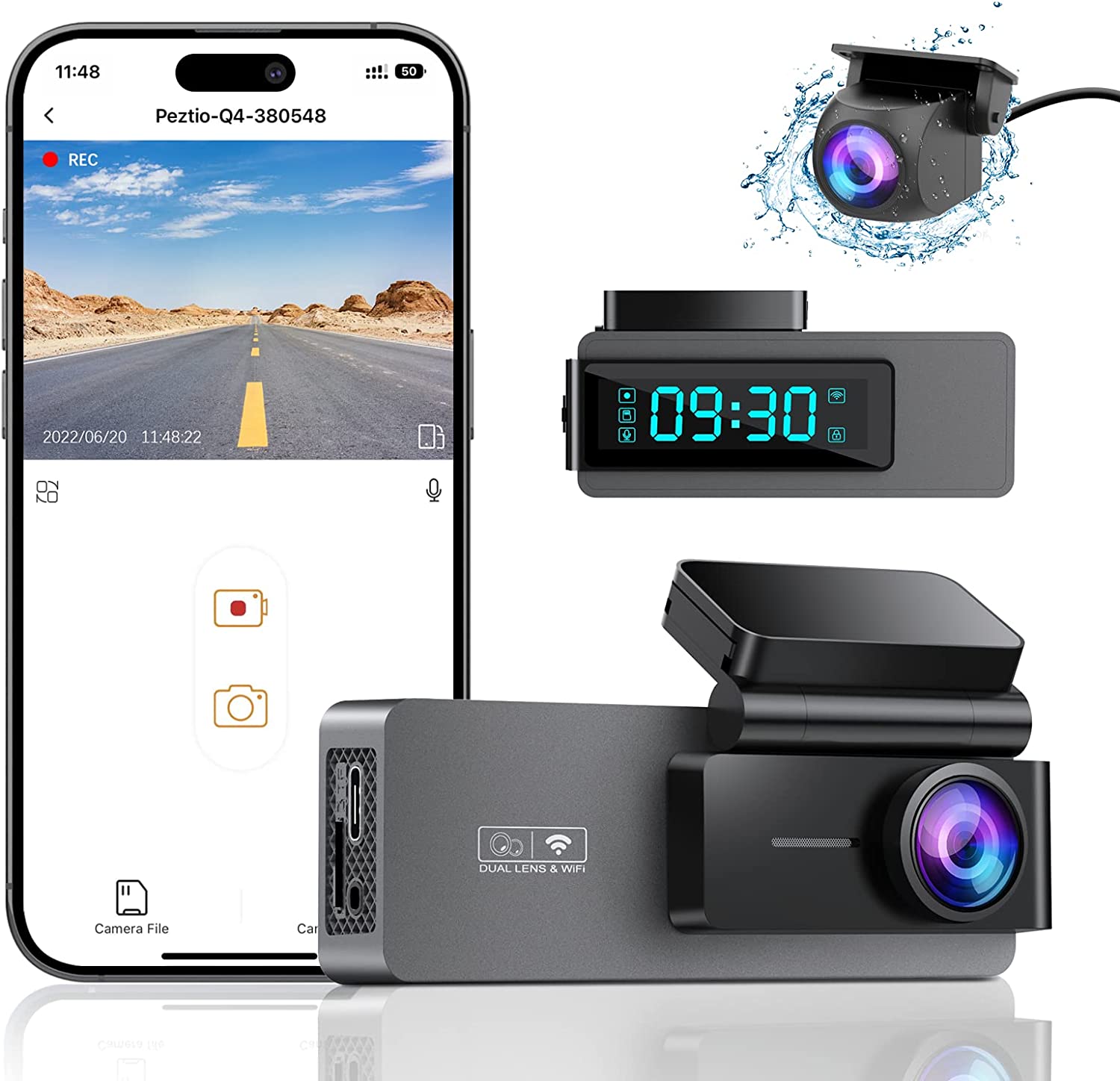 With the front dash camera, you can see license plates and road signs clearly throughout the day and night in UHD 3840x2160P/30fps. A high-quality GC CMOS sensor coupled with a 160° wide angle lens allows you to capture vivid moments of your driving and provide more detailed evidence than ever before.
A daisy chain of front and rear cameras simultaneously captures the road frontally (160°) and rearward (150°). This ensures that every angle is recorded at 2K 1400P front and 1080P rear for absolute clarity.
A delicate car camera with an APP for Android or iOS smartphones enables you to receive a live stream, download videos, adjust settings, and edit plus share your videos conveniently.
In addition to its compact design (Size: 3.7×1.8×1.4in), the hidden camera is mounted behind the rearview mirror. It is virtually unnoticed, making it easy for the driver to view the road.
GC CMOS sensor with f/1.5 aperture, WDR technology, provides super night vision by automatically balancing exposure in extreme darkness, achieving clear images, day or night.
The G-sensor detects a sudden shake/collision and automatically locks the footage to prevent the video from being overwritten, even in loop recording mode.
Buy ARIFAYZ 4K Single Front Dash Camera for $89.99 here.
7. Z-Edge WiFi Dash Cam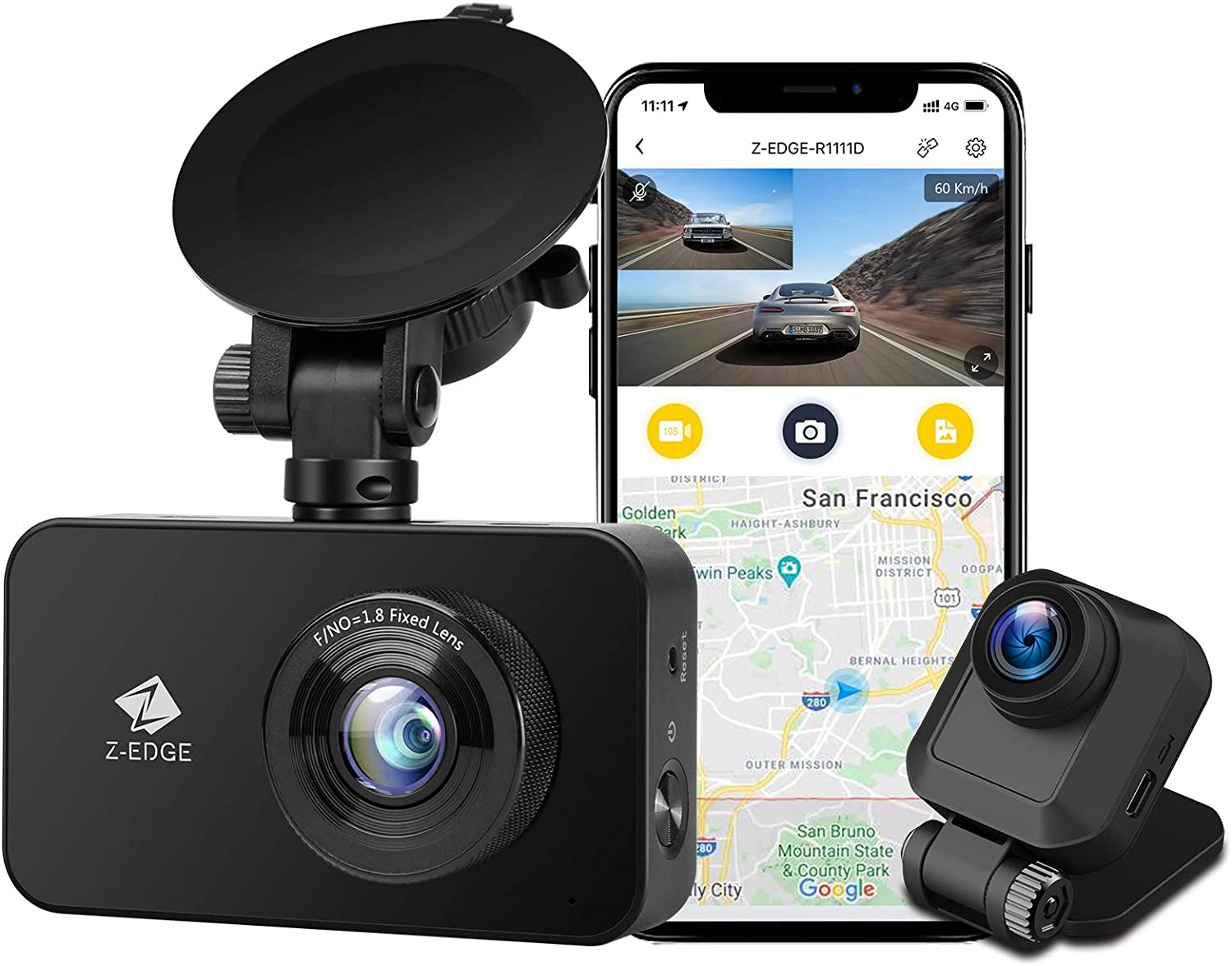 The dual dashcam can capture more details and present you with magnificent footage for daily video recordings since it simultaneously records both front and rear in Full HD 1296P+1080P at 30 FPS.
Wide Dynamic Range (WDR) technology provides excellent scene reproduction by balancing the extreme variations in brightness and darkness. The superior Sony sensor improves image quality at night, reveals details, and restores true colors thanks to improved low-light settings.
This dash camera can be easily connected to your iPhone's Wi-Fi network and viewed, shared, and downloaded via the "Z-DashCam" app without removing the micro SD card.
Loop recorders and 256GB memory cards facilitate storage management.
Buy Z-Edge WiFi Dash Cam for $99.99 here.
That was our list of dashcams with iPhone apps. We hope you find the cam that best suits your preferences!
If you have any queries, comment down below!