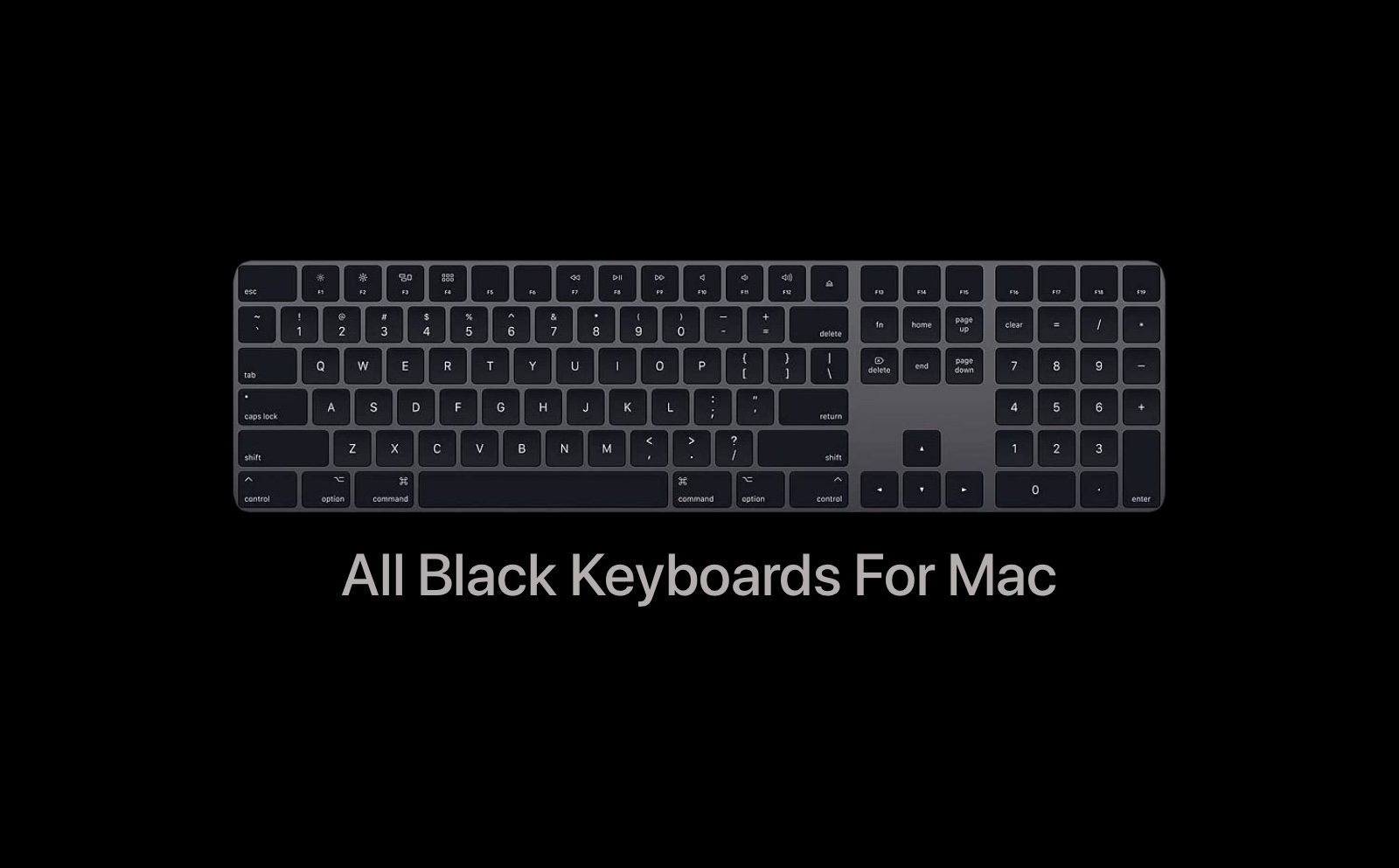 If you are looking for an all-black keyboard for your Mac, then you are in the right place. Here we have gathered a list of 7 best all black keyboards for Mac that you should buy in 2023.
Although voice and handwriting recognition technology has progressed, we still spend most days typing on keyboards. With the advent of more keyboards and more options, choosing the right keyboard for you becomes increasingly important. However, all-black keyboards for Mac look aesthetically pleasing!
Keyboards are often designed to be lightweight and take up a minimum amount of space on your desk. Moreover, some offer a wide range of additional features, such as backlit keys, USB ports, and the ability to pair multiple devices simultaneously. Some are about health, ensuring your fingers and wrists are relieved of stress, and providing a typing experience as risk-free as possible.
The keyboard that comes with your Mac is perfect for many users, BUT we are looking for the all-black keyboard, aren't we?
Since there are so many quality keyboards available, finding one that fits your working style and office is the key. So get the right key, and you will be typing away quickly!
Best All Black Keyboard for Mac
Whether you prefer a mechanical keyboard that provides satisfying tactile feedback or a keyboard that includes media controls and macOS shortcuts, finding the right keyboard is crucial if you spend hours typing daily. Choosing the right keyboard for Mac isn't easy, so we've rounded up some of the best for you.
Here's our list of the black minimalistic keyboards for Mac.
1. Logitech MX Keys Advanced Wireless Illuminated Keyboard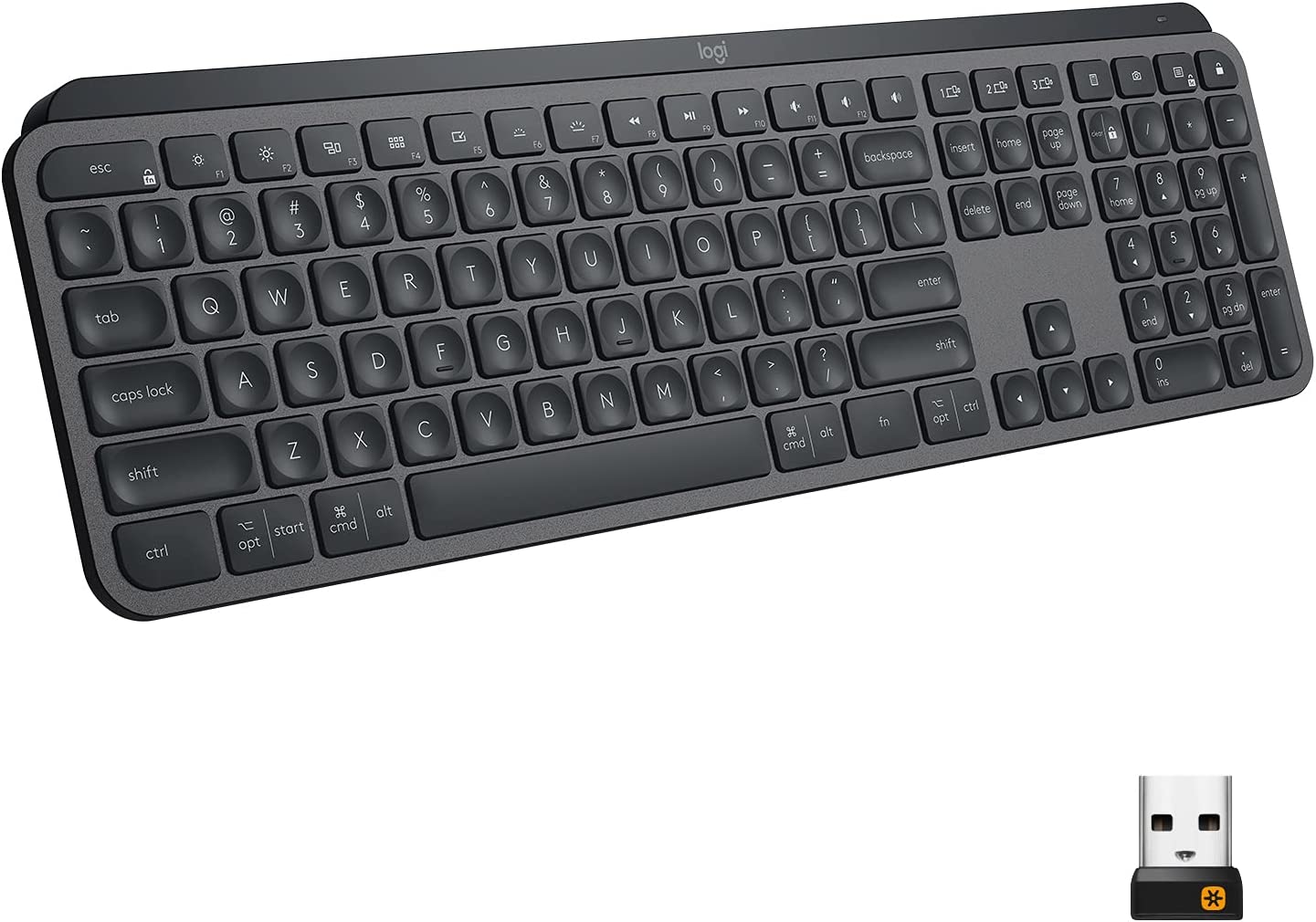 Put your trust in a Logitech keyboard designed for long hours at the desk. Despite the keyboard's lightweight design, its build is surprisingly sturdy, thanks to a single metal plate. You receive satisfying feedback every time you touch the spherically dished keys.
You can type comfortably, steadily, and accurately with a keyboard designed for comfort, reliability, and precision. You can connect your devices with the included Unifying USB Receiver or Bluetooth low energy.
This keyboard offers smart illumination with proximity detection and automated backlighting. On a full charge, the USB cable powers the keyboard for up to 10 days or up to 5 months without the backlight.
A fluid workflow allows you to type on multiple computers simultaneously.
It works with Windows, macOS, Linux, iOS, and Android systems – Use it with up to three devices. With easy-switch keys, you can connect up to three devices at once and easily switch between them.
Buy Logitech MX Keys Advanced Wireless Illuminated Keyboard for $119.99 here
2. Apple Magic Keyboard with Numeric Keypad

A classic keyboard, the black Apple keyboard without numeric keyboard, is a well-known device on the market. Our top pick for the best keyboard for Mac devices is no surprise since it is specifically designed to complement Mac devices with its features and aesthetics.
Mac users can use the Apple black magic keyboard that comes included with most desktop Macs. Its thin, compact design adds little clutter to your desk. In addition to controlling media and screen brightness, the function keys control a few Apple-specific features. It uses Apple's Touch ID chip for biometric sign-in functionality and works with Macs equipped with M1 chips.
It connects via Bluetooth and only supports pairing one device at a time, making it ideal for use with standalone iMacs or MacBooks with external monitors. However, Apple's Universal Control feature allows you to use one keyboard across multiple Macs. The battery life should last around a month, so you shouldn't worry about charging it frequently.
Buy Apple Magic Keyboard with Numeric Keypad (Amazon Renewed) for $150 here
3. OMOTON Bluetooth Keyboard for Mac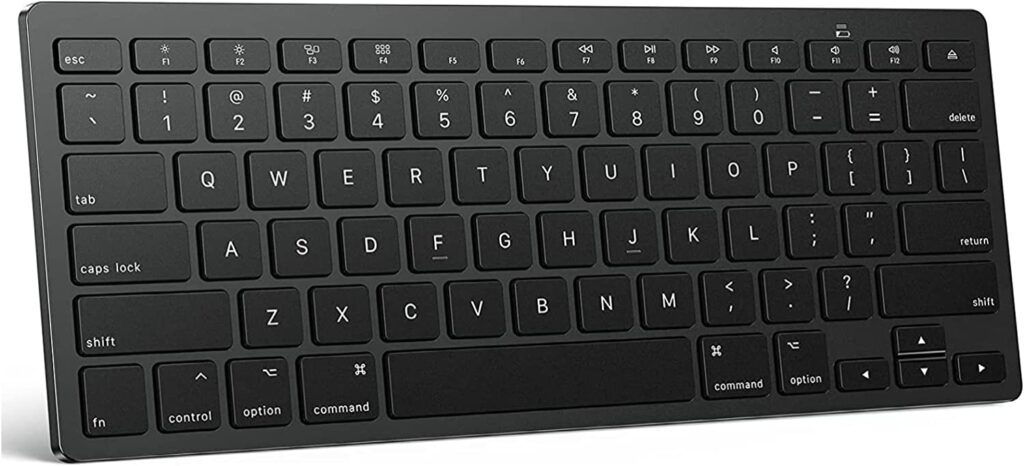 OMOTON is a valuable and practical addition to your MacOS devices due to its slim design and refined appearance. An impressive Bluetooth connection range of up to 33ft/10m is offered by this Bluetooth Mac keyboard.
This Bluetooth keyboard for Mac features a scissor-switch design to reduce fatigue and make typing smoother and more comfortable. In addition, it is exceptionally lightweight and slim, making it easy to carry around.
This Mac keyboard has been designed to maximize time and productivity by streamlining every movement you make. It makes everything a lot faster with the 12 shortcut keys.
Only two AAA batteries are needed to run this innovative keyboard. The device has an eco-friendly auto-sleep mode.
Buy OMOTON Bluetooth Keyboard for Mac for $23.99 here
4. Emetok Bluetooth Keyboard for Mac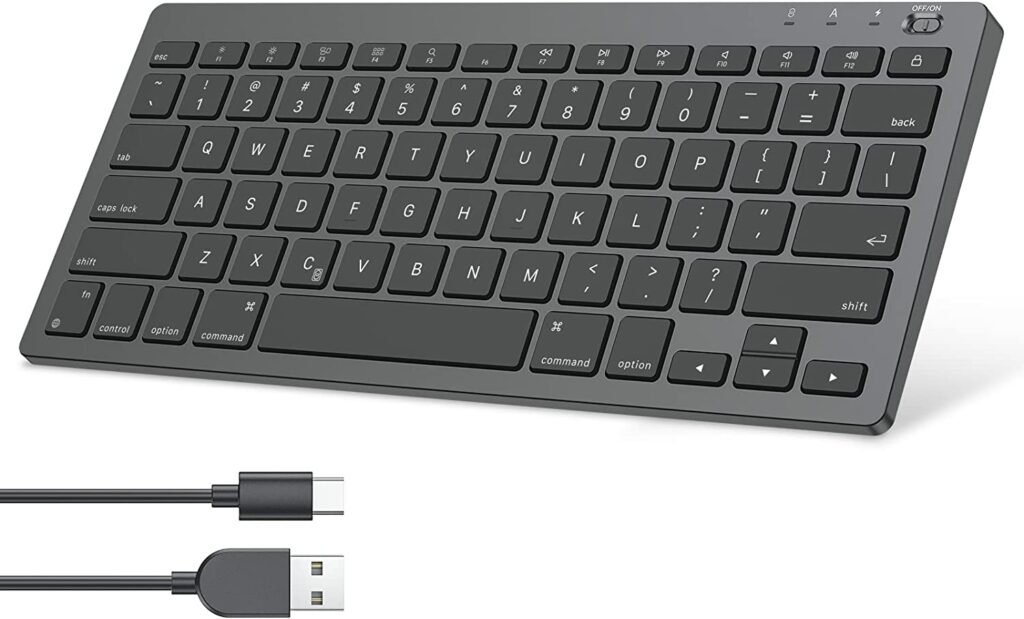 Emetok strives to develop products of higher quality, with more functions and better practicality. This keyboard is made more durable and stable with an Aluminum backplate, and its drop-shaped design guides your fingers into the best position.
A Bluetooth 5.1 chip ensures fast pairing and a stable connection (supports previous Bluetooth editions, such as Bluetooth 3.0).
You don't have to replace the battery anymore. It comes with a built-in rechargeable battery that will power your keyboard for about 100 hours.
Every key employs a scissor foot structure and has a travel distance of 2mm, allowing it to bounce back quickly. An ergonomic design makes typing a pleasure with tiny radians that adhere to the fingertips.
Buy Emetok Bluetooth Keyboard for Mac for $20.99 here
5. iClever Bluetooth Keyboard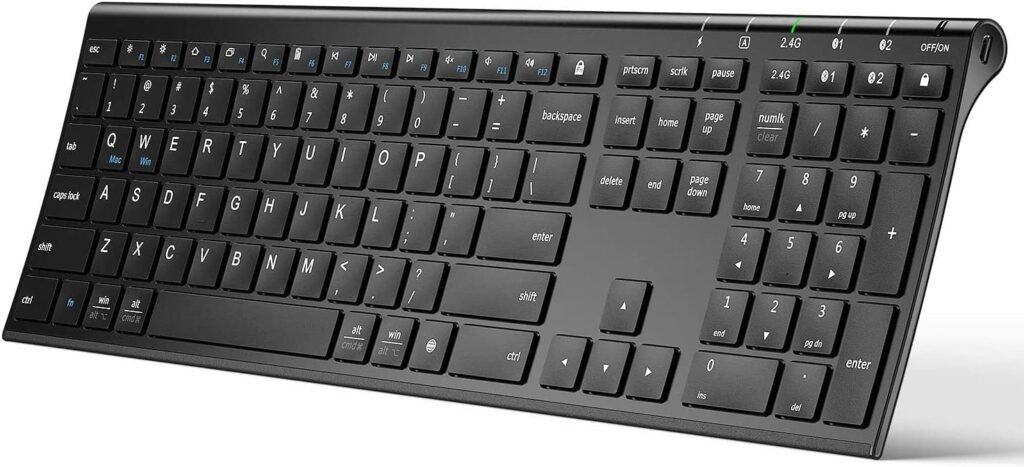 Designed from high-quality stainless steel and ABS, this dual-mode wireless keyboard will look fantastic on your desk. It also has a matte finish on the key set and fabric, keeping it clean even after repeated use.
IClever Bluetooth keyboards feature scissor-switch keys, which enable easier and quieter typing. You won't have to worry about your keys popping off, since this typing machine is built to withstand knocks and scrapes.
With its familiar full-size design and standard layout, the iClever wireless keyboard will feel right at home. Your hands won't feel cramped on a small keyboard since the keys are well-spaced, so you don't have to worry about making mistakes.
Despite its pretty looks, the iClever wireless keyboard is durable and built to withstand 3,000,000 presses. There is no better combination of function and form than this one! In addition to complementing your style with the luxurious colorway, the keyboard feels solid under your fingers.
Buy iClever Bluetooth Keyboard for $32.99 here
6. seenda Wireless Keyboard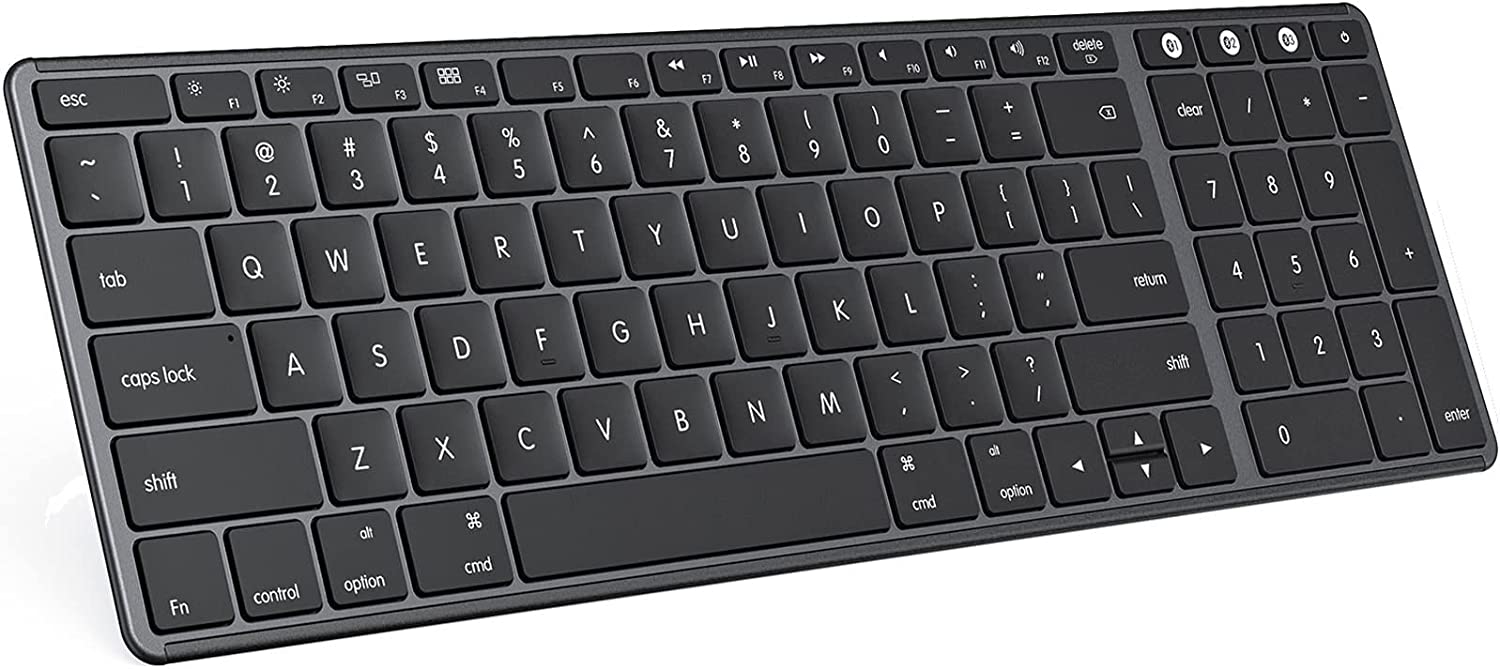 This Mac keyboard features a scissor-switch key mechanism similar to the magic keyboard, making it tactile and quiet, super responsive, and pops straight back up, so you can work quickly. Bluetooth keyboard provides smooth key travel and a low profile, making it easy to clean without sacrificing comfort and precision when typing.
Bluetooth connectivity allows up to three Apple devices to connect to the keyboard, including your iMac, MacBook, iPad, and iPhone. It functions as three Bluetooth keyboards but only takes up limited space and cost. This saves you money and allows you to arrange your desktop however you want while maintaining an artfully uncluttered workspace.
With a long-lasting rechargeable battery, the wireless keyboard eliminates battery changes. As a matter of energy conservation, this Mac Bluetooth keyboard switches into sleep mode after 30 minutes of inactivity. For maximum energy savings, you can turn the Bluetooth keyboard off when you are not using it!
Having a foot on the multi-device keyboard makes it more comfortable and less stressful on the carpal tunnel. With its attractive design and top-of-the-line stainless steel and ABS materials, the Bluetooth keyboard will make a beautiful addition to your desktop and be compact and light enough to fit in your bag.
Buy seenda Wireless Keyboard for $19.99 here
7. Kezhirui Wired Keyboard for Mac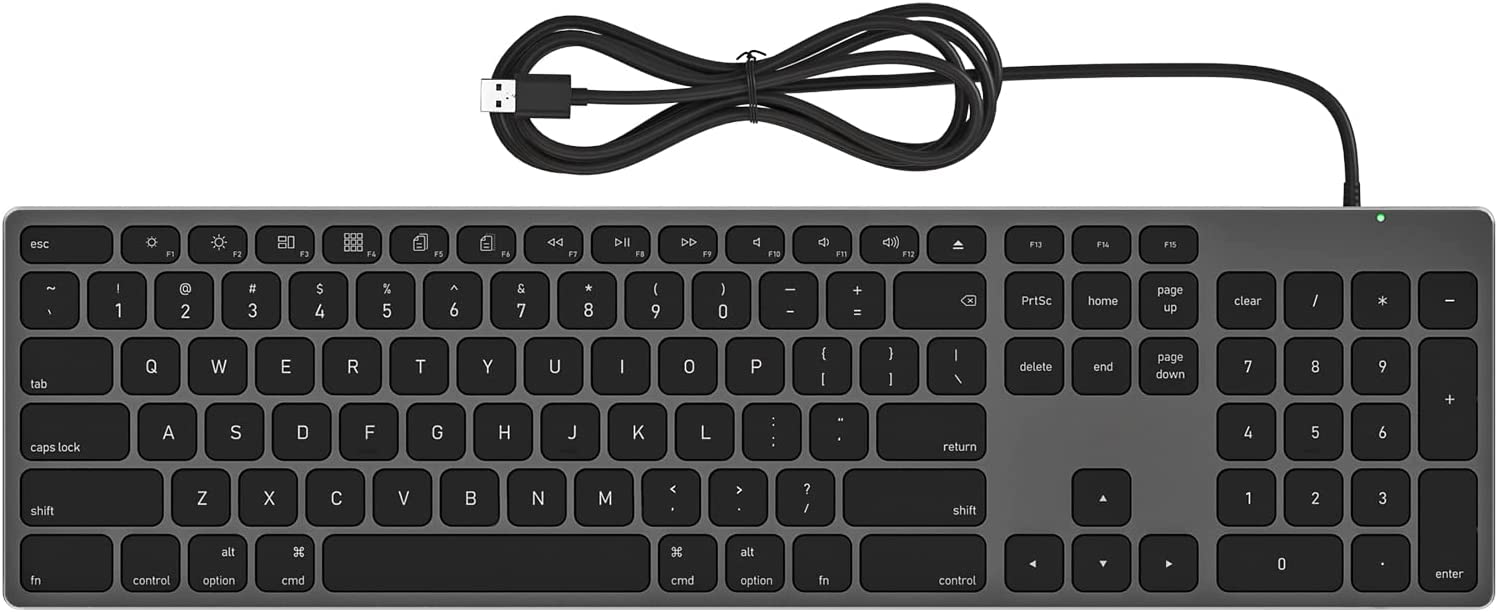 This wired keyboard for Apple is fully compatible with Apple Mac OS computers/laptops. It consists of 107 function keys (including 12 hotkeys), which makes it a perfect replacement for the original Magic keyboard, Mac Keyboard, or iMac keyboard.
The device is Plug-N-Play compatible with all Mac OS devices. It is not necessary to install any additional drivers or software. With a USB connection, you can just plug and play. There is a USB cable included for easy setup and reliable connection.
Its slim, fashion-forward design is low profile yet provides ultimate portability. It is as thin as 0.94 inches. The keys are carved into scissor shapes for smooth, whisper-quiet typing. The typing experience is going to be great for you.
Its elegant aluminum construction and oxidized finish perfectly complement your Mac accessories and devices.
Buy Kezhirui Wired Keyboard for Apple Mac OS for $39.99 here
Final Words
It is likely that an upgrade to your keyboard could bring some real benefits to your Mac, no matter what type you have. Laptop users also can benefit from adding a full-sized keyboard because it increases their productivity and allows them to work more comfortably and efficiently. Your wrists will appreciate it, too.
Choosing the right keyboard, however, is not always straightforward. In fact, the best keyboard is probably different for every individual than for any other piece of computer hardware. So, choose the one that best fits your preferences.
Was this article helpful? Let us know in the comments section.