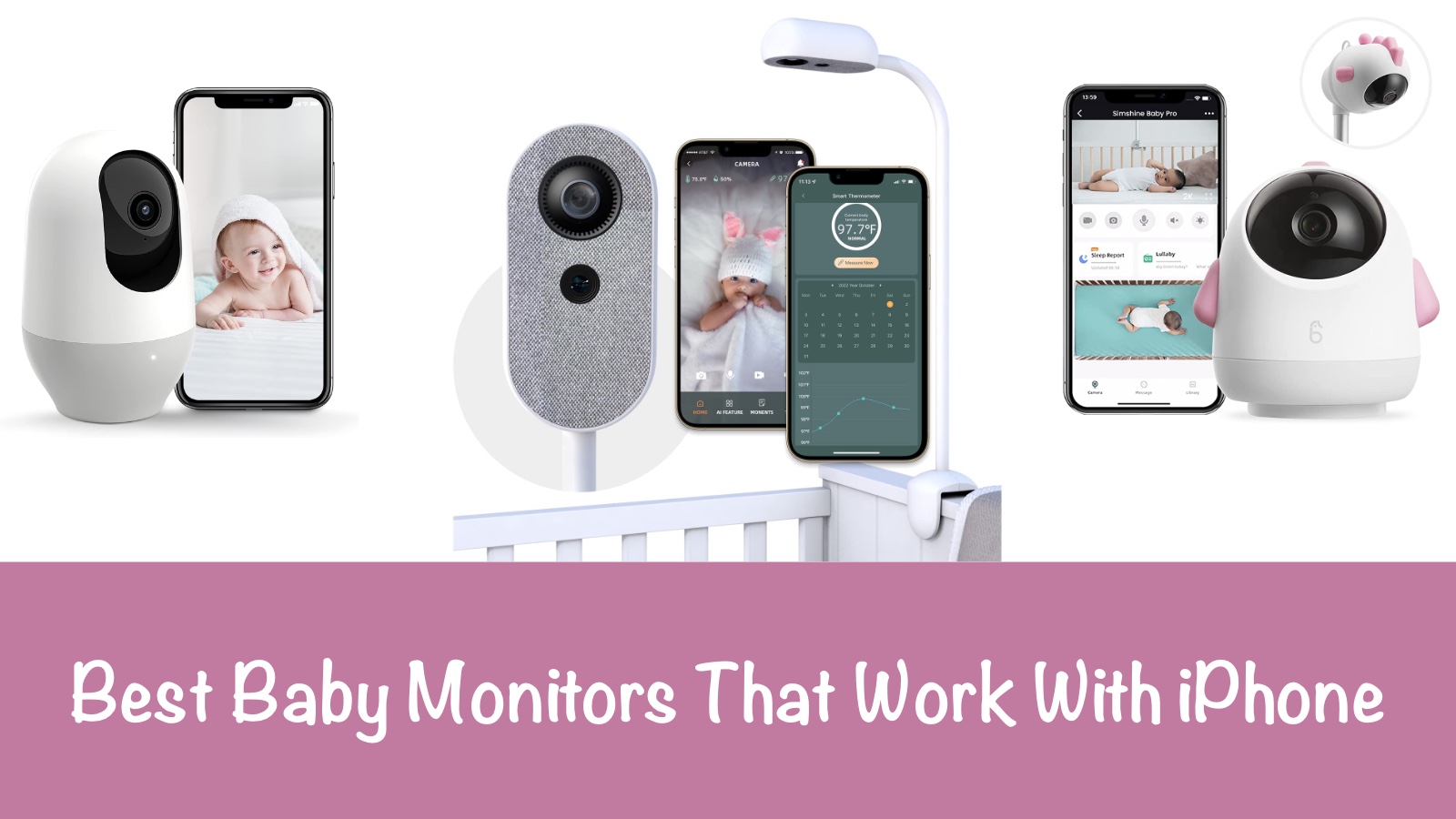 Are you new parents who get worried when your baby sleeps in the room next door? You can get your hands on a Wi-Fi baby monitor to track your child's activity when you are away!
As a guardian, you want reassurance all the time that your little one is safe and sound. This constant reassurance makes you focus on other tasks.
There are multiple options available in the market for the best baby monitors that work with iPhone in 2023 that offer both style and functionality. Aside from basic audio-only devices, smart video devices are available that can be used to watch, entertain, and pacify your child at home from a distance.
The best part is: there is numerous baby monitor brands advertisement online. But we have come up with a list of the best baby monitors for iPhone.
Let's talk about them!
Best Baby Monitors That Work With iPhone in 2023
Here are the top 9 baby monitors that work with iPhone and allow you to view a live feed of your baby and perform other actions right from your smartphone.
1. Nanit Pro Smart Baby Monitor & Flex Stand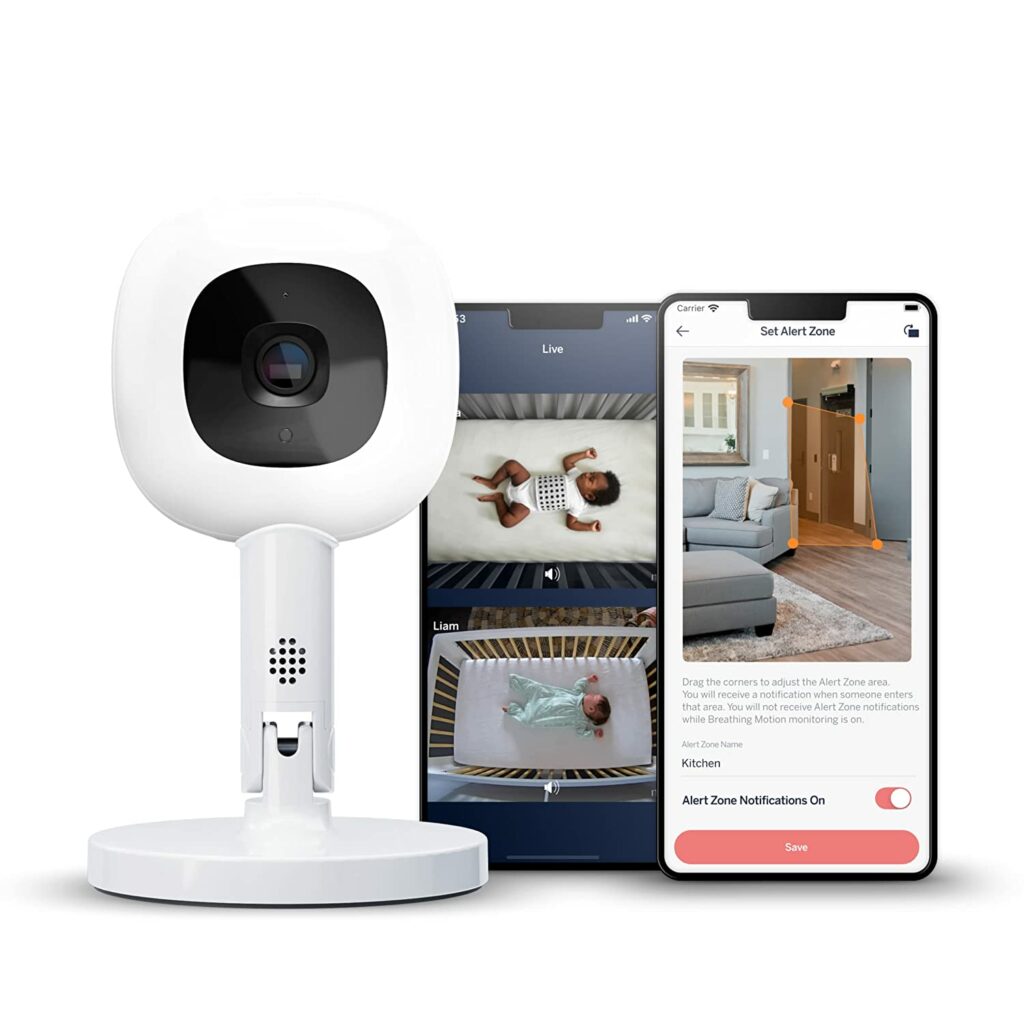 Nanit Baby Monitor provides a cutting-edge camera with computer vision technology including 1080p HD video which allows you to watch your baby from anywhere using the app. Only Nanit's smart monitor has a Split Screen feature, which allows users to view two cameras simultaneously. Using the Alert Zone feature, you can also detect if your child is entering an off-limits area, and receive an alert on your smartphone.
Using Nanit, you will be able to track your baby's sleep patterns and receive expert tips on how to improve his or her sleep. This is because each Pro Camera comes with one-year FREE Insights plus a personalized analytics plan.
With its custom-designed pattern, the Breathing Wear detects breathing motions in virtually any sleep position–without sensors! In essence, Nanit tracks the number of breaths per minute and alerts you in real-time if there is a motion or sound.
Buy Nanit Pro Smart Baby Monitor & Flex Stand for $199.99 here
2. Cubo Ai Plus Smart Baby Monitor and 3-Stand Set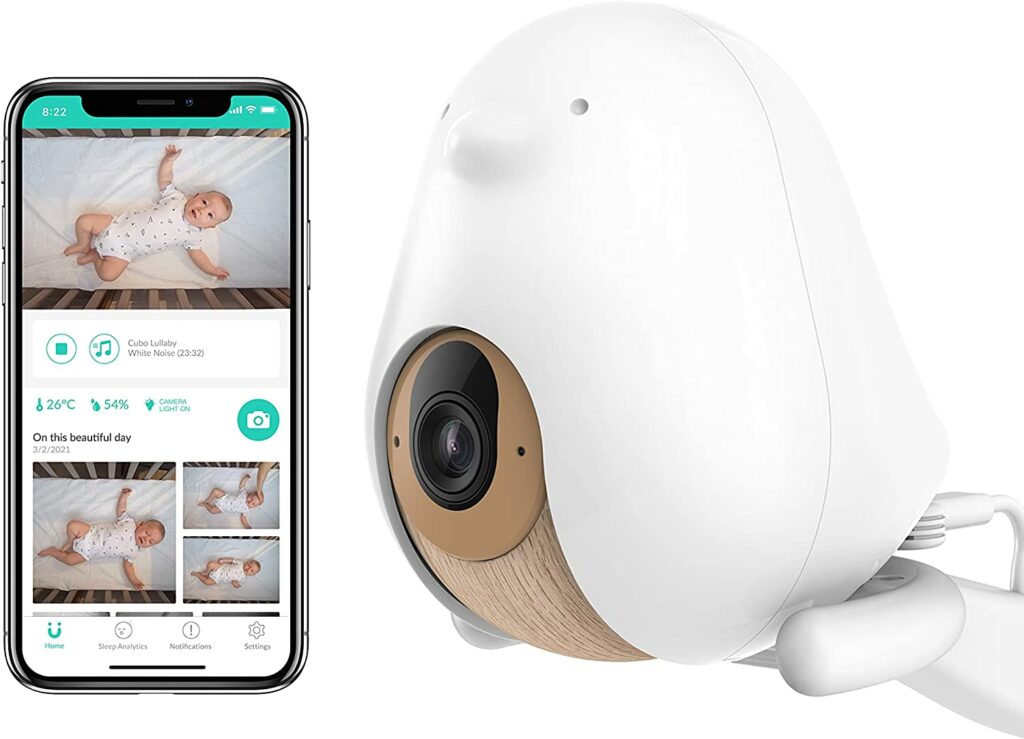 CuboAi, which was co-created by a pediatrician, alerts you in real-time if your baby's nose or mouth is covered or if they are face down. This monitor is equipped with amazing wonderful features that provide peace of mind for parents via HD night vision, true cry detection, and even danger zone alerts.
A sleep analytics tool shows a baby's sleep health in easy-to-navigate stats. You can even connect multiple CuboAi cameras to one account and share access with 7 people.
Buy Cubo Ai Plus Smart Baby Monitor and 3-Stand Set for $299 here
3. iBaby M8 2K Smart Baby Monitor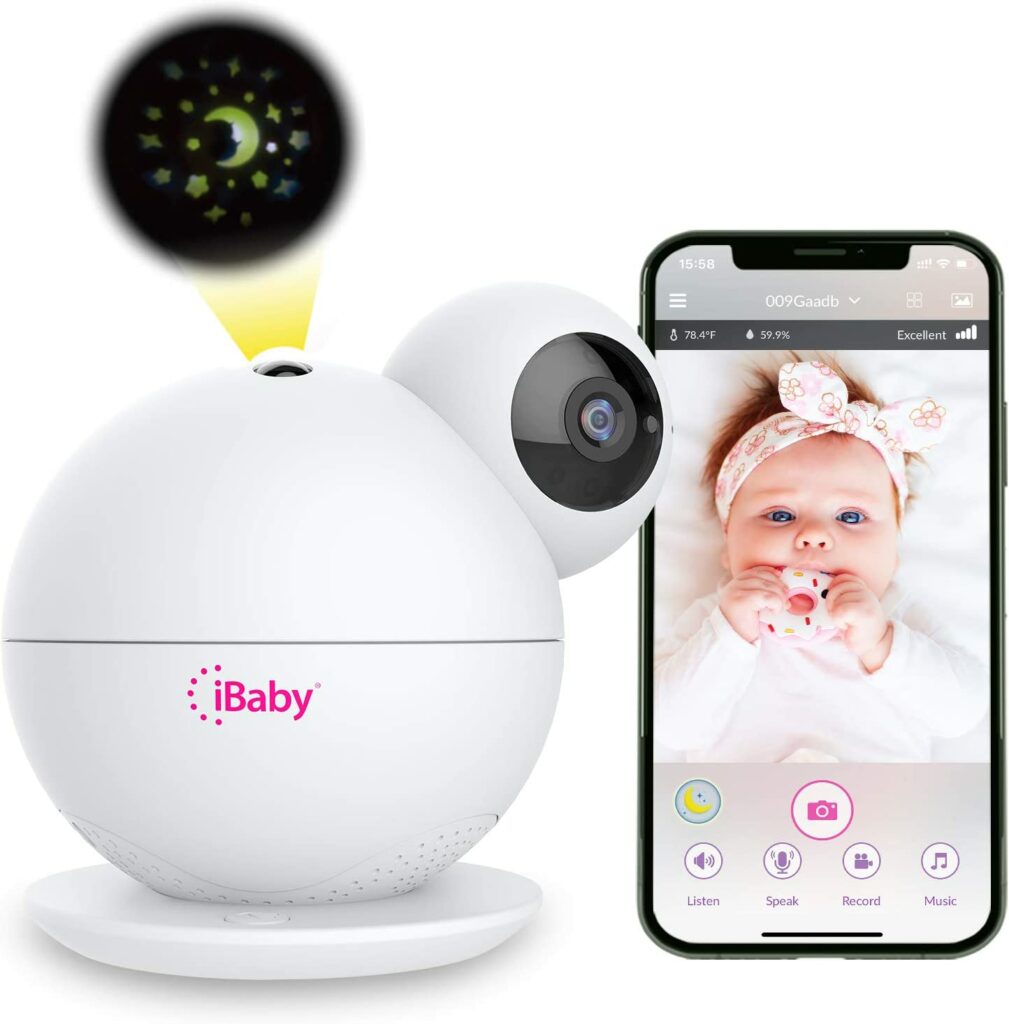 2K is another baby monitor with iPhone app through which you can monitor your baby in real time. The picture quality is twice that of 1080P and you will be able to see what's happening, thanks to iBaby Wi-Fi.
You can receive notifications even when you turn off the phone screen on the M8 Wi-Fi baby monitor. It features motion and crying alarms as well as room temperature/humidity alerts.
With the features, you can keep track of your child as he grows and moves around. M8 baby monitor with camera and audio is also equipped with a sound machine with over 1000 soothing lullabies and a moonlight projector.
Buy the iBaby M8 2K Smart Baby Monitor for $169.95 here
4. Simshine Baby Monitor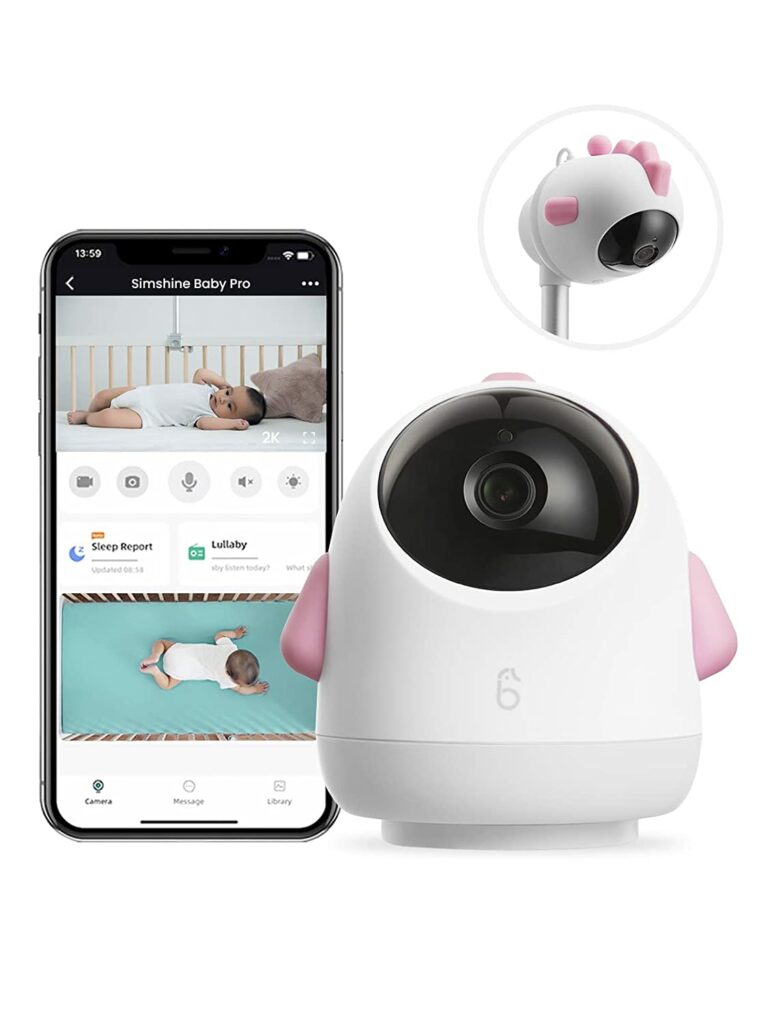 Simshine is yet another best baby monitor that connects to phone and supports 2k ultra-definition resolution and with 360° PTZ rotation, the monitoring range is larger. 
With an accuracy rate of 99%, the baby monitor With Camera And Audio can identify the baby's cry accurately, and it plays comforting music automatically.
Each family member can monitor the baby's growth using the Baby Video Monitor since it supports up to five sub-accounts. The account administrator can control permissions for watching intercom and review functions, so everyone can monitor the baby's growth!
The Baby Monitor Camera is the best choice if you do not want to pay endless monthly subscription charges or other fees.
Buy Simshine Baby Monitor for $149 here
5. Motorola Baby Monitor VM44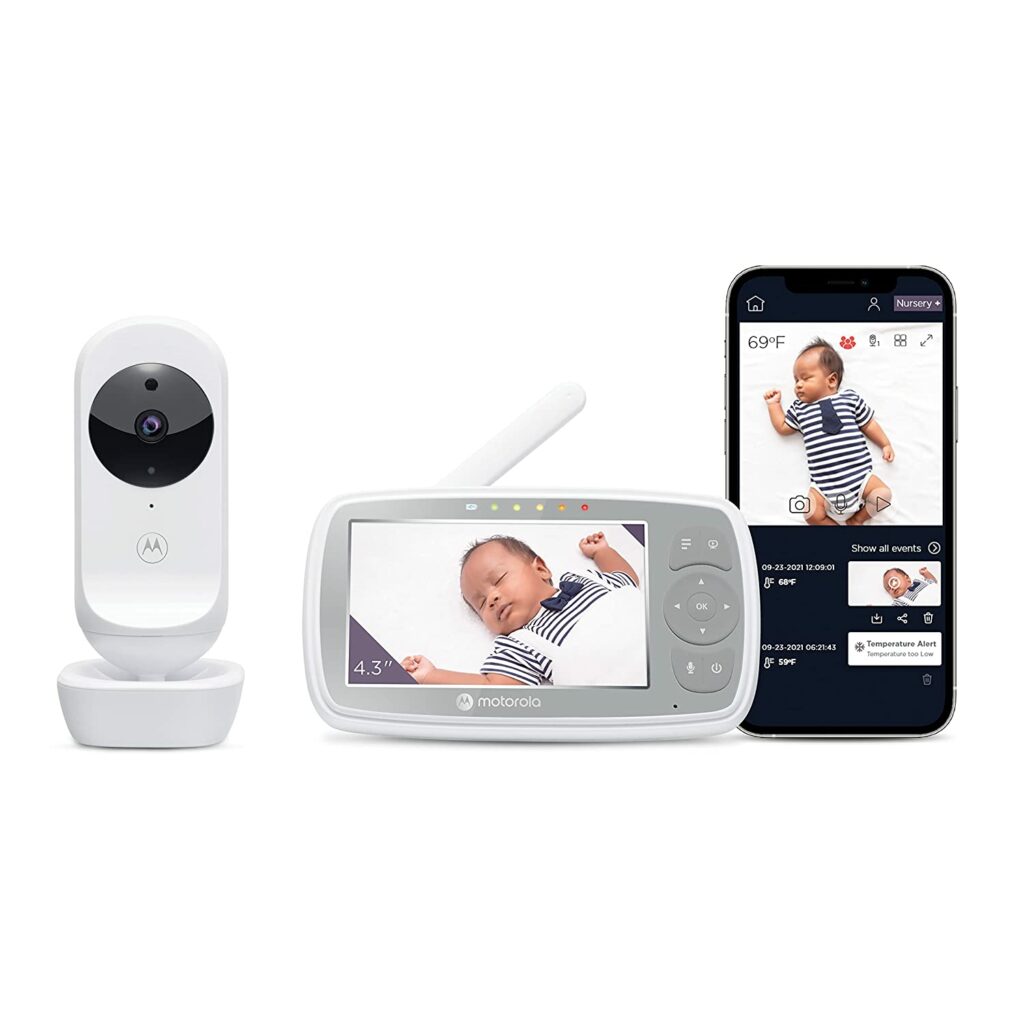 It includes a 4.3" screen and camera with manual pan and tilt and a digital zoom that connects through Wi-Fi to provide HD 720p video and a secure, private connection.
Motorola baby camera monitor with phone access connects to the complimentary Motorola Nursery App and is compatible with Apple iOS and Android. Securely accessible features include two-way talk, lullaby selection, room temperature sensor, and more.
On the 4.3″ LCD color screen on the parent unit, you can watch, listen, and communicate with your baby's room. Even at night, the infrared night vision camera provides a clear video feed.
You can speak to your sweetheart through the built-in speakers of this camera while they fall asleep in the nursery, reassuring them with your soothing words.
A high-sensitivity microphone is also included in this baby monitor camera to detect the slightest sounds and alert you.
Buy Motorola Baby Monitor VM44 for $99.99 here
6. Nooie Baby Monitor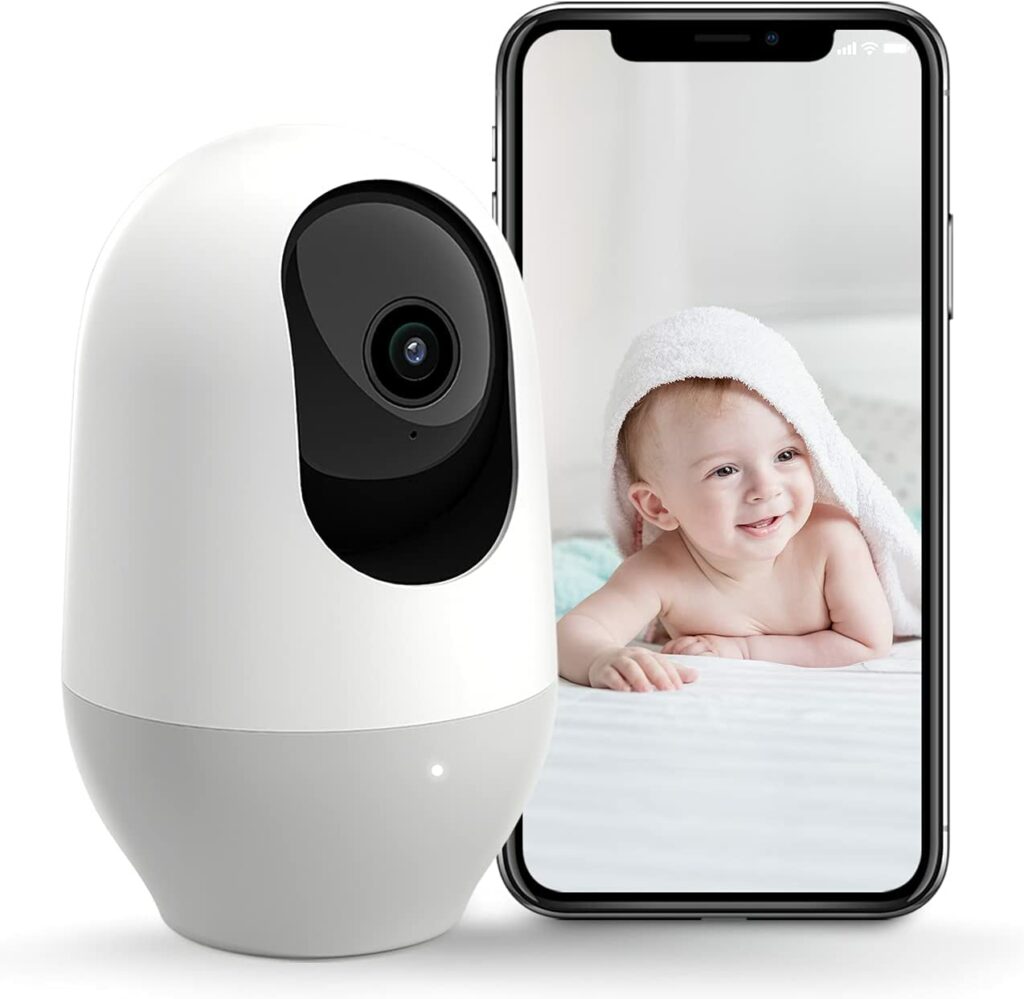 A 360-degree motion detection system that automatically detects and tracks activity in your home. Nooie Cam 360 has a 101° field of view — rotates 355° horizontally and 94° vertically. Plus, it pans and tilts effortlessly with the Nooie App.
The camera and App are easy to install, simple to control, and a breeze to maintain. You can download the app from App Store or Google Play, it also works perfectly with Alexa.
It offers live streaming throughout the day with real-time motion and sound alerts. Listen and communicate with family or pets with a built-in anti-noise mic and speaker no matter where you are.
Furthermore, it has multiple security protocols to keep your data and privacy secure, plus continuous or motion-detected recording options.
Buy Nooie Baby Monitor for $49.99 here
7. Sense-U Smart Baby Monitor 3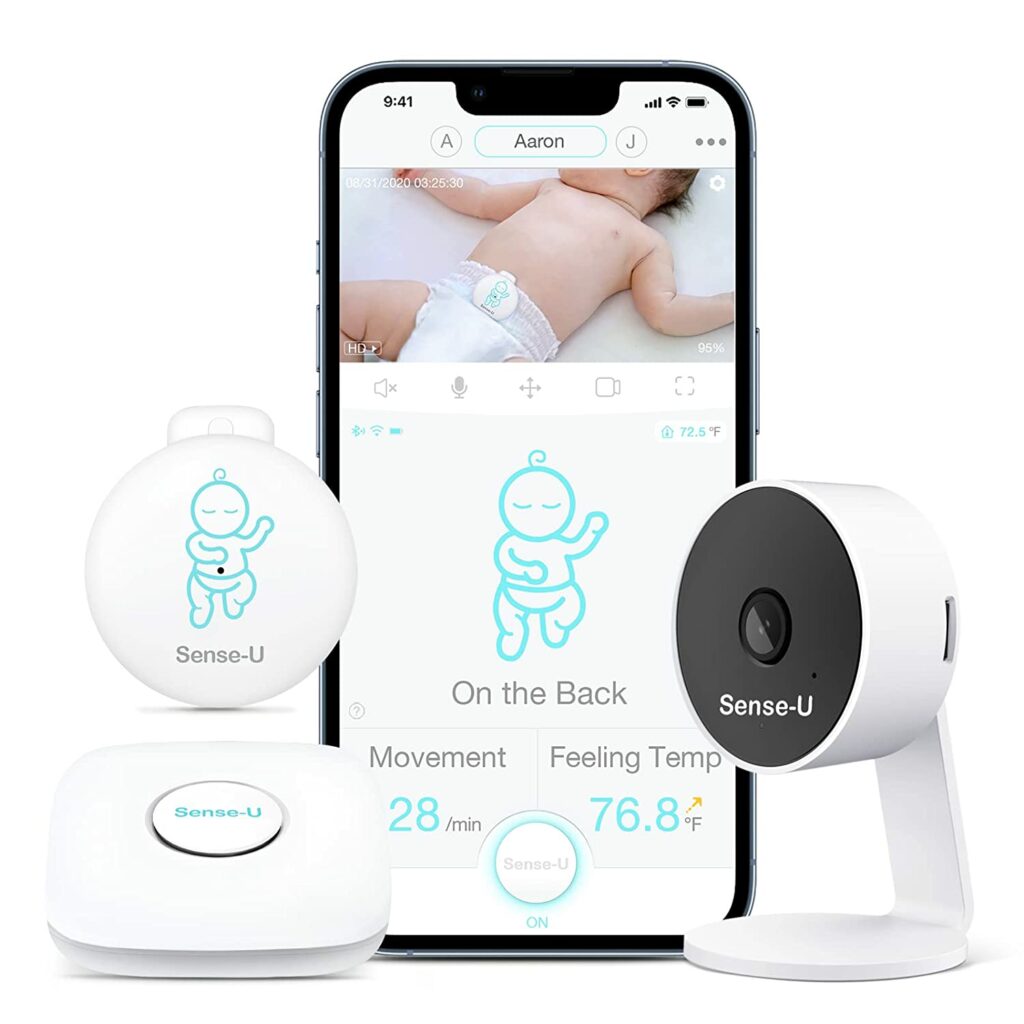 The Sense-U Video + Breathing Motion is one of the best iPhone-controlled baby monitors that allow you to know your child's breathing motion, room temperature, and sleep position, while streaming HD video 24/7.
From your smartphone, you can see, hear and talk to your child while monitoring them in 1080p HD video, night vision, two-way talk, and background audio. It also notifies you when sounds or motions are detected.
In case of a child emergency, Sense-U Base Station will alert you immediately with light and sound, and you will also receive an audible notification on your iPhone.
There is almost no radiation produced by the Sense-U Baby Monitor, which uses Bluetooth Low Energy (BT4.0+), which is 1/1000th the radiation of a smartphone.
Buy Sense-U Smart Baby Monitor 3 for $299.99 here
8. invidyo WiFi Baby Monitor with Camera and Audio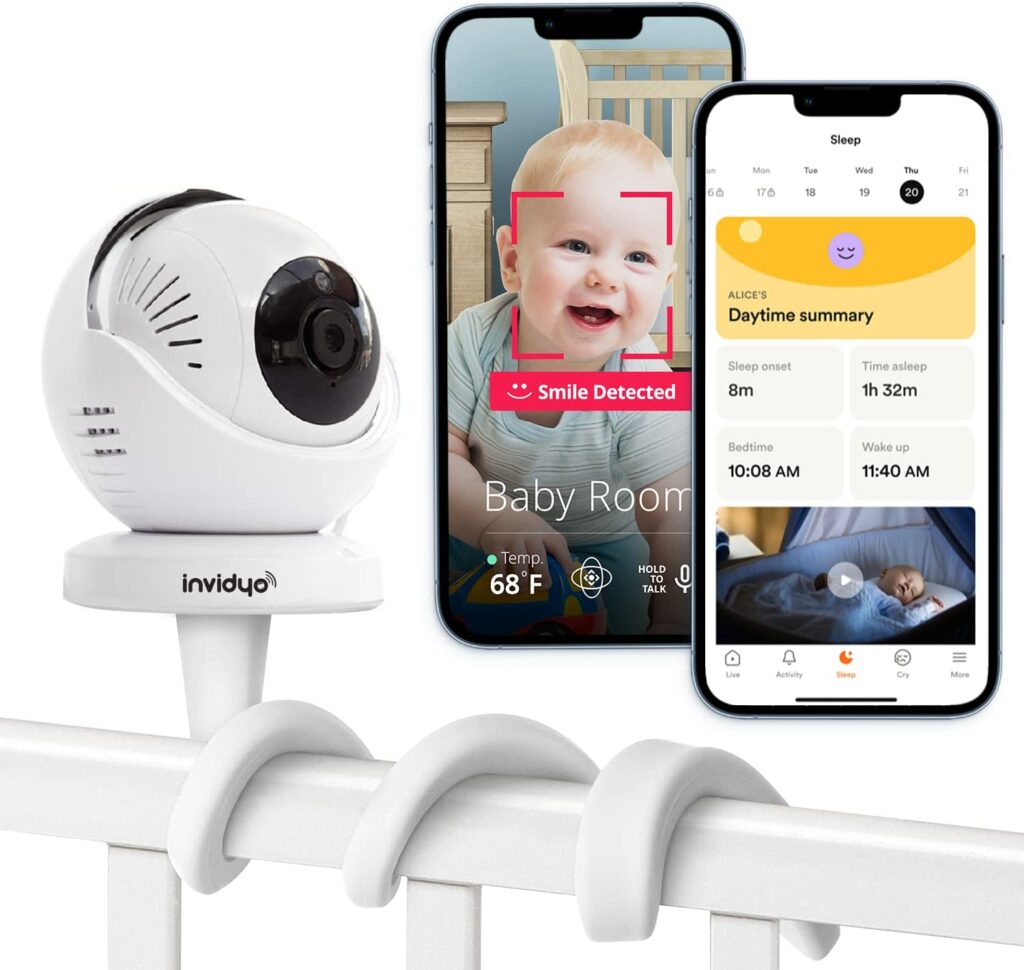 Invidyo monitors everything about your baby, unlike other smart baby monitors that only monitor your crib. Invidyo lets you remotely pan and tilt your camera so you can keep a close eye on your child. It provides a reliable connection and always-on background audio to ensure your baby's safety.
When the room temperature or sound threshold exceeds your preference, you will be immediately notified. Despite this, you won't be bothered by every small sound or motion since you can customize the type and sensitivity of notifications.
With Invidyo's smile detection algorithm, you can capture your baby's happiest moments every time he smiles. A daily highlights video is also created by Invidyo so that you can quickly see if anything significant has happened.
The Invidyo has 1080P video with advanced night vision, Alexa compatibility, 2-way communication, white noise, and lullabies. Vidyo is a great replacement for audio baby monitors, security cameras, sound machines, and video baby monitors.
Buy invidyo WiFi Baby Monitor with Camera and Audio for $110.99 here
9. Cheego Smart Baby Monitor & Clip-On Mounting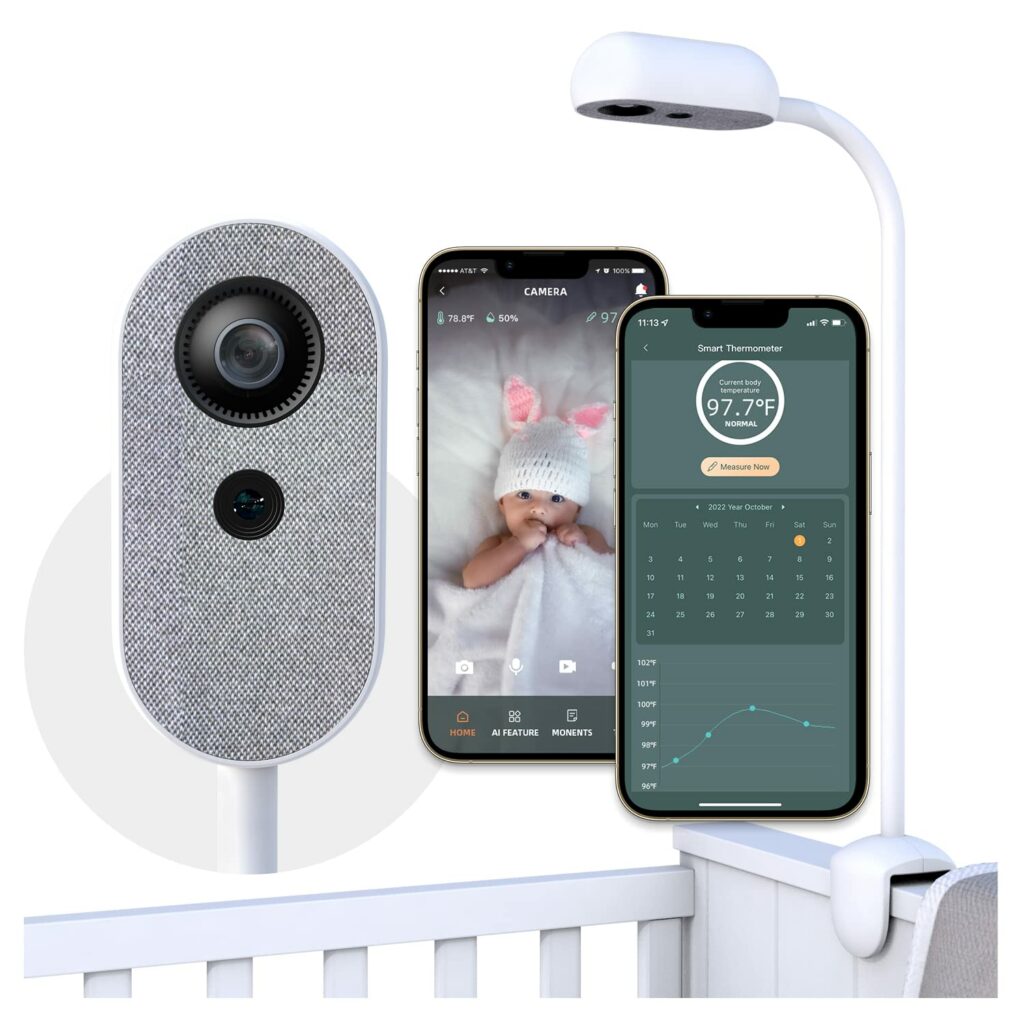 The Cheego Smart Baby Monitor has a 5MP CMOS camera, a 720p display, true color day vision, and Hd night vision, but it only connects to 2.4Ghz networks. The cheego smart application allows you to watch and record video, and adjust the pan and tilt of the image at any time.
Using a hyper-precision infrared sensor and advanced algorithm ensures accurate measurement of temperature within 0.3 degrees. Furthermore, you can receive alerts directly to your smart device regarding indoor temperature and humidity.
Cheego has crying detection, wake-up detection, lullabies, white noise, a smart LED lamp, and 2-way talk like every baby monitor on this list. Cheego automatically plays lullabies when your baby starts crying and turns on a soft light when your baby wakes up. With 2-way talk, you can talk to and hear your baby from anywhere. If there is any abnormality with the child, the Cheego smart notification will send an alert to your iPhone.
Buy Cheego Smart Baby Monitor & Clip-On Mounting for $167.99 here
Conclusion
An iPhone-compatible baby monitor is a necessity in today's world since you can't watch your newborn all the time. A wireless monitor, or a video monitor, can make the process even easier, allowing you to keep an eye on your little one while doing laundry or cooking dinner.
Understandably, you can't be home with your infant all of the time, and a baby monitor that's compatible with an iPhone, tablet, or other smart device is the most convenient option.
All these iPhone-controlled baby monitors on the list are fantastic for working parents who wish to monitor their baby at home, or for grandparents or other relatives who want to check in periodically.
Which one from the list will you choose? Let us know in the comments section.