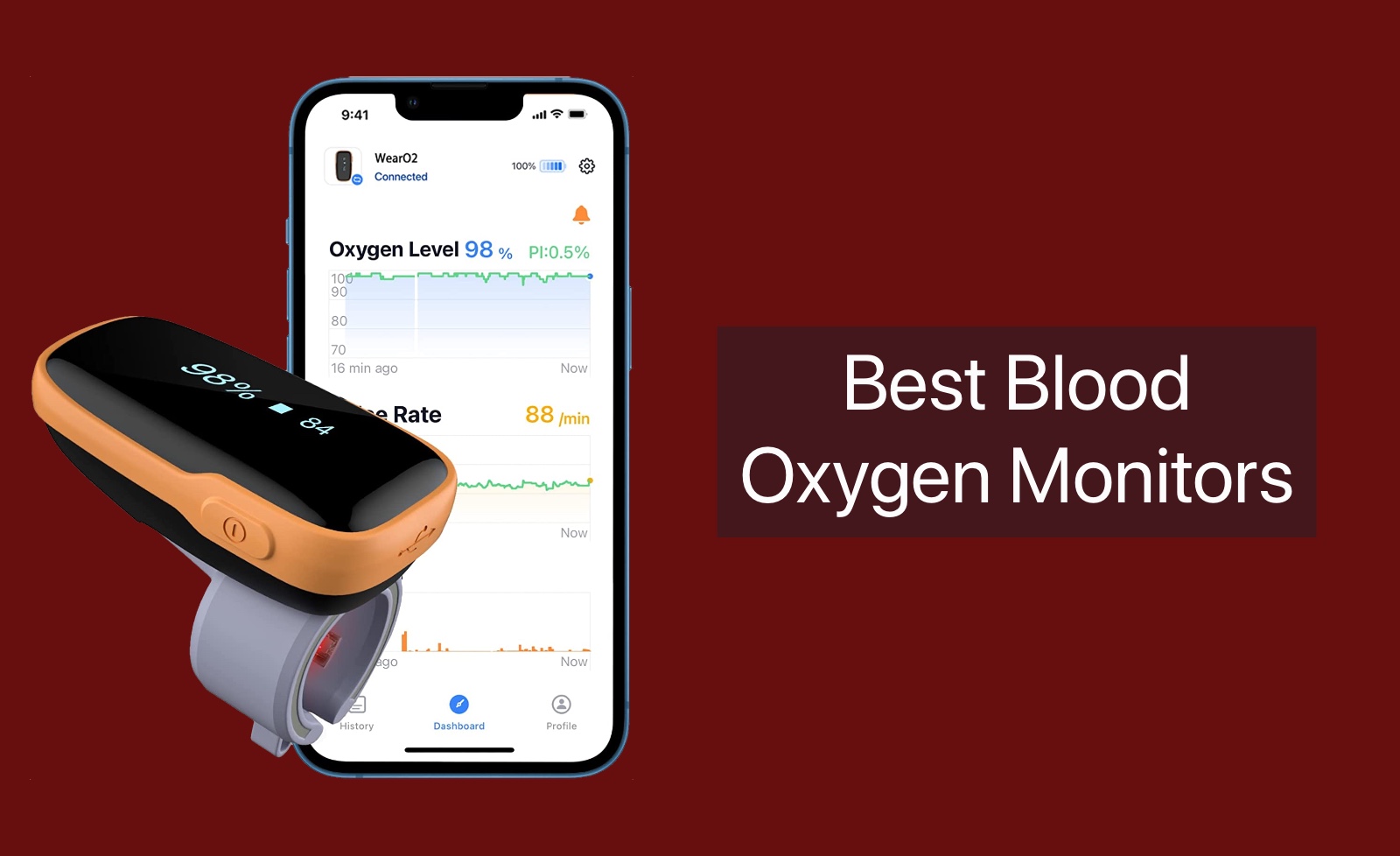 It is quite useful to keep blood oxygen monitors in the medicine cabinet even though they are traditionally used to diagnose chronic obstructive pulmonary disease (COPD), asthma, or other lung conditions.
You can use a blood oxygen monitor at home, too, to determine the levels of oxygen in your blood without invasive procedures. These are particularly useful for pilots or endurance athletes who work or train at high altitudes, where oxygen deficiency is more likely to occur. 
If you are unsure and can't decide which blood oxygen monitor to buy, you have landed on the right page. We will walk you through the list of blood oxygen monitors 2023. Let's get started.
Blood Oxygen Monitors with Apps 
Our article lists the best Bluetooth blood oxygen monitors for doctors, respiratory therapists, nurses, and other medical professionals.
Pulse oximeters listed here are generally intended for home use or sports use only. Depending on the specific requirements, they may not be suitable for medical purposes.
To that end, if you are planning on using the product for medical purposes, consult your doctor beforehand.
1. Wellue WearO2 Wearable Oxygen Monitor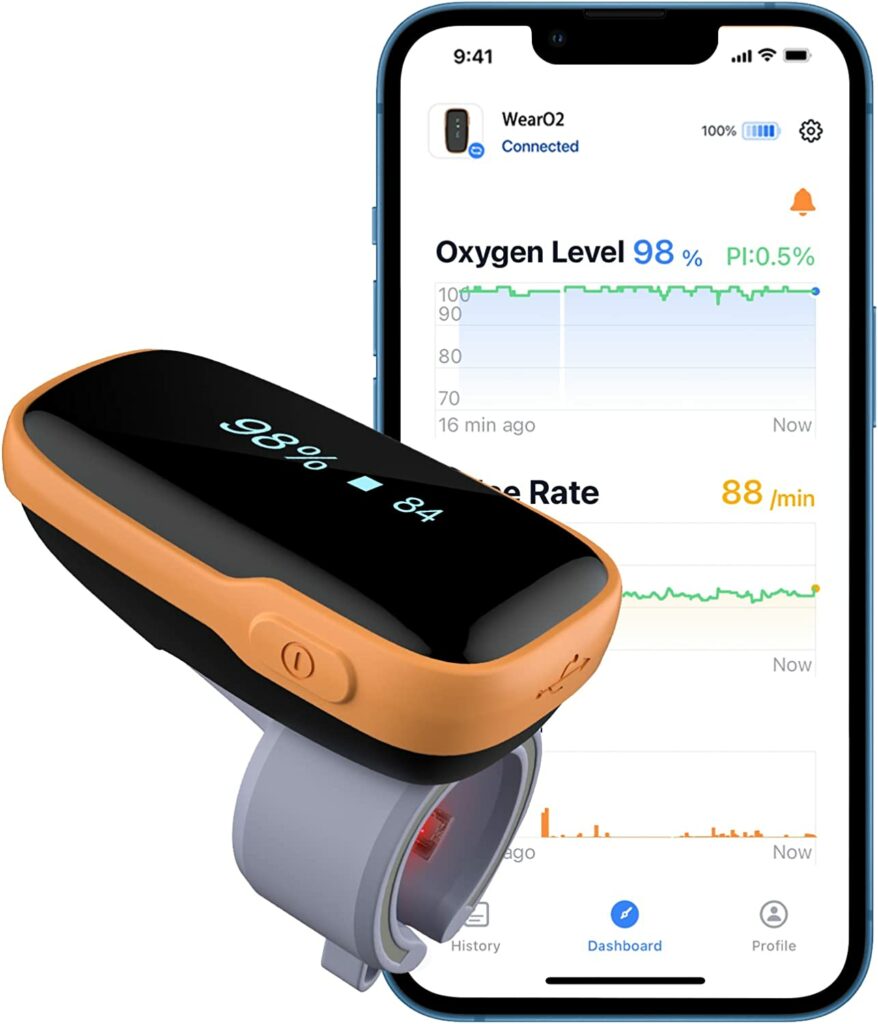 Unlike some monitors that need charging before use, you can use this one immediately after putting in the batteries. In addition to being versatile, the design is sleek, making it ideal for anyone with different finger sizes. Moreover, it has an OLED display that is bright and easy to read.
Though not a hi-tech option, it delivers the job with its no-frills design, auto-on and off modes, spot-checking and continuous measurement, and built-in memory. The device also tracks pulse rates, perfusion index, and pulse strength in addition to oxygen levels—which are more features than comparable low-tech devices.
As an added convenience, the monitor comes with a carrying pouch and lanyard for easier portability. 
Additionally, the device consistently beeps throughout the readings, which some users may not like, but considering the affordable price and overall value, it's not a big deal.
Buy Wellue WearO2 Wearable Oxygen Monitor for $119.99 here
2. Vibeat Oxylink Wearable Blood Oxygen Monitor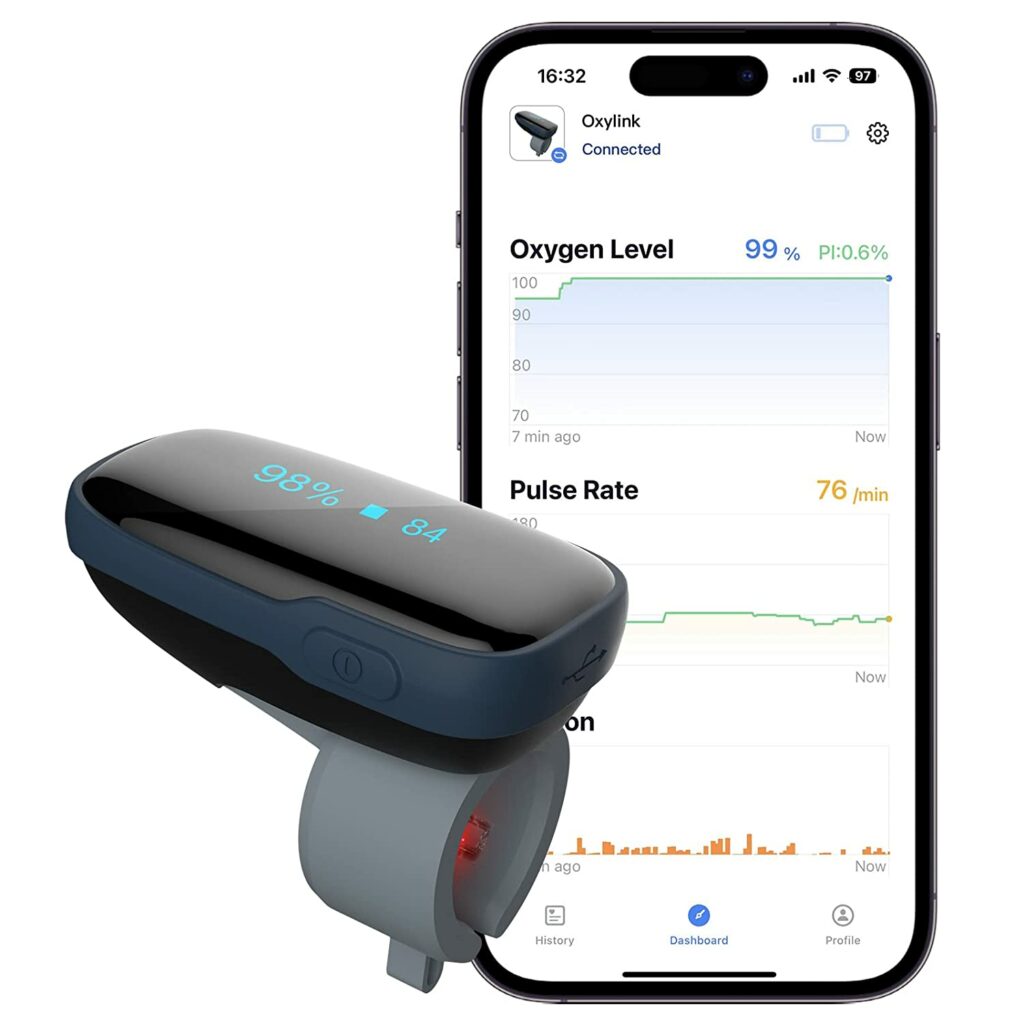 After a full charge, the Oxylink O2 monitor automatically tracks your oxygen level, heart rate, and body motion continuously for up to 8-12 hours each minute.
If your heart rate or oxygen level is higher than the threshold you set, both the device and APP will beep intelligently to remind you. However, remember that your phone will only receive the APP reminder if it stays on Dashboard and isn't locked.
The Vihealth App Dashboard includes real-time and historical blood oxygen level and heart rate monitoring. You can transfer the data to your smartphone to get more detailed information. In addition to managing historical data, the system supports sharing PDF and CSV records.
The smallest and lightest patented ring pulse oximeter is more comfortable, durable, and adaptable to most fingers compared to traditional pulse oximeters.
On the Oxylink oximeter, up to four records can be stored, each lasting for ten hours. Even if you don't have your phone nearby, you don't have to worry about data storage.
Buy Vibeat Oxylink Wearable Blood Oxygen Monitor for $119.99 here
3. EMAY Sleep Oxygen Monitor with 40 Hours Built-in Memory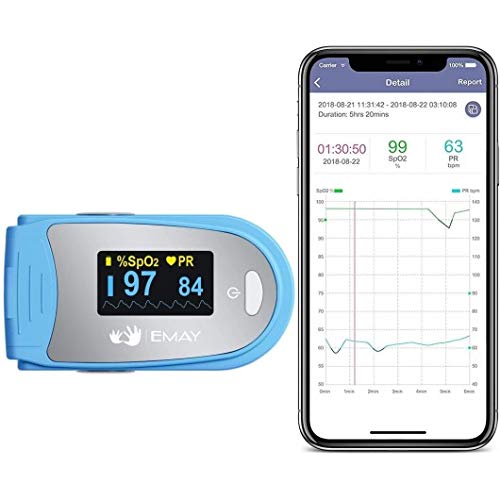 With this device, you will be able to track your oxygen level and heart rate over time and obtain a complete picture of how your body functions during a specific period.
The device displays your oxygen level in real-time, and it records the data continuously for up to 40 hours. This device provides both continuous and spot monitoring. Furthermore, it will ensure that every minute of your data is captured without missing a beat.
Simply stop exercising for 10 seconds and avoid direct sunlight before using the device for measurement & tracking to better understand how fitness/exercise might affect your blood oxygen saturation level.
However, the product is not recommended for use during sports or exercise like running, hiking, climbing, walking, etc.
Buy EMAY Sleep Oxygen Monitor with 40 Hours Built-in Memory for $59 here
4. Masimo MightySat Fingertip Pulse Oximeter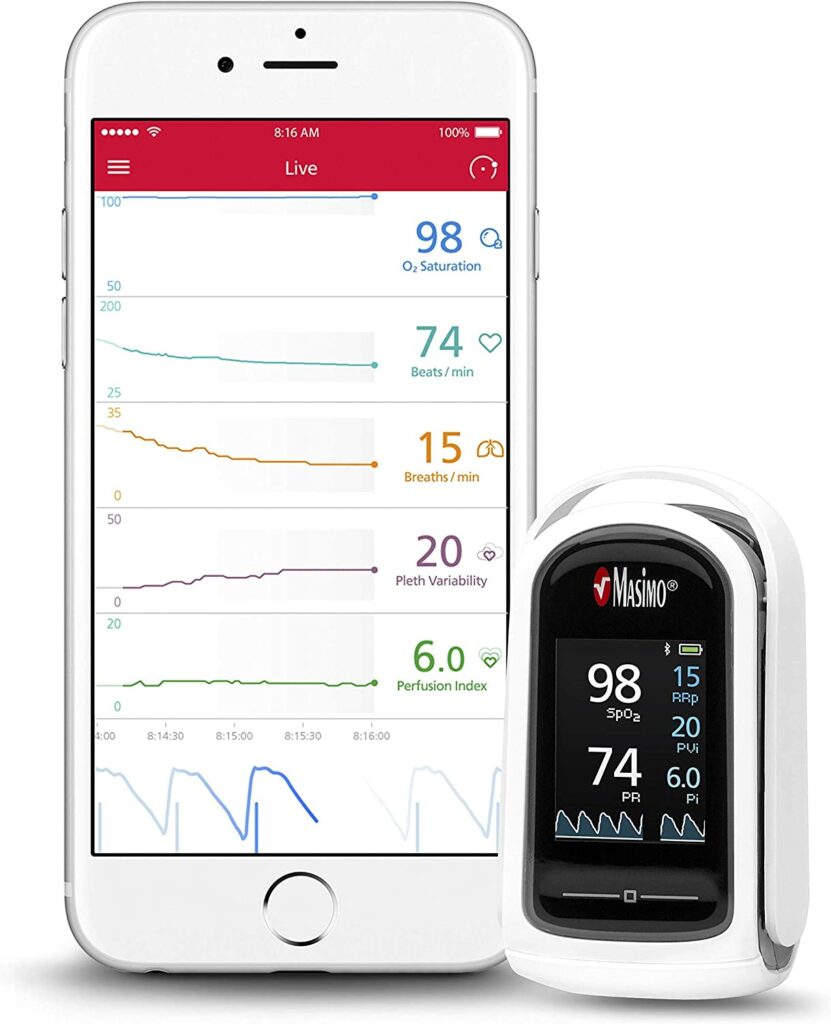 Masimo is yet another one of the most technologically advanced blood oxygen monitors that work with iPhone. The most expensive pulse oximeter on our list, this one stands out in a class of its own.
The only reason it is superior to the rest is that it offers advanced tracking features. With Bluetooth support and data sharing that syncs directly to your smartphone, this pulse oximeter provides advanced customization options. 
This device captures and syncs health data with Apple's Health app and other supported apps so that you can monitor, manage, and track your vital information for a better understanding of your overall health.
It may not be necessary for you to have this high-end pulse oximeter with all the tracking features. If you do, however, want a pulse oximeter that offers all the Bluetooth tracking capabilities, this is the one to choose.
In a nutshell, the Masimo MightySat may be the best choice for doctors, physicians, or those who run their practices.
Buy Masimo MightySat Fingertip Pulse Oximeter for $224.99 here
5. Beurer Bluetooth Digital fingertip Pulse Oximeter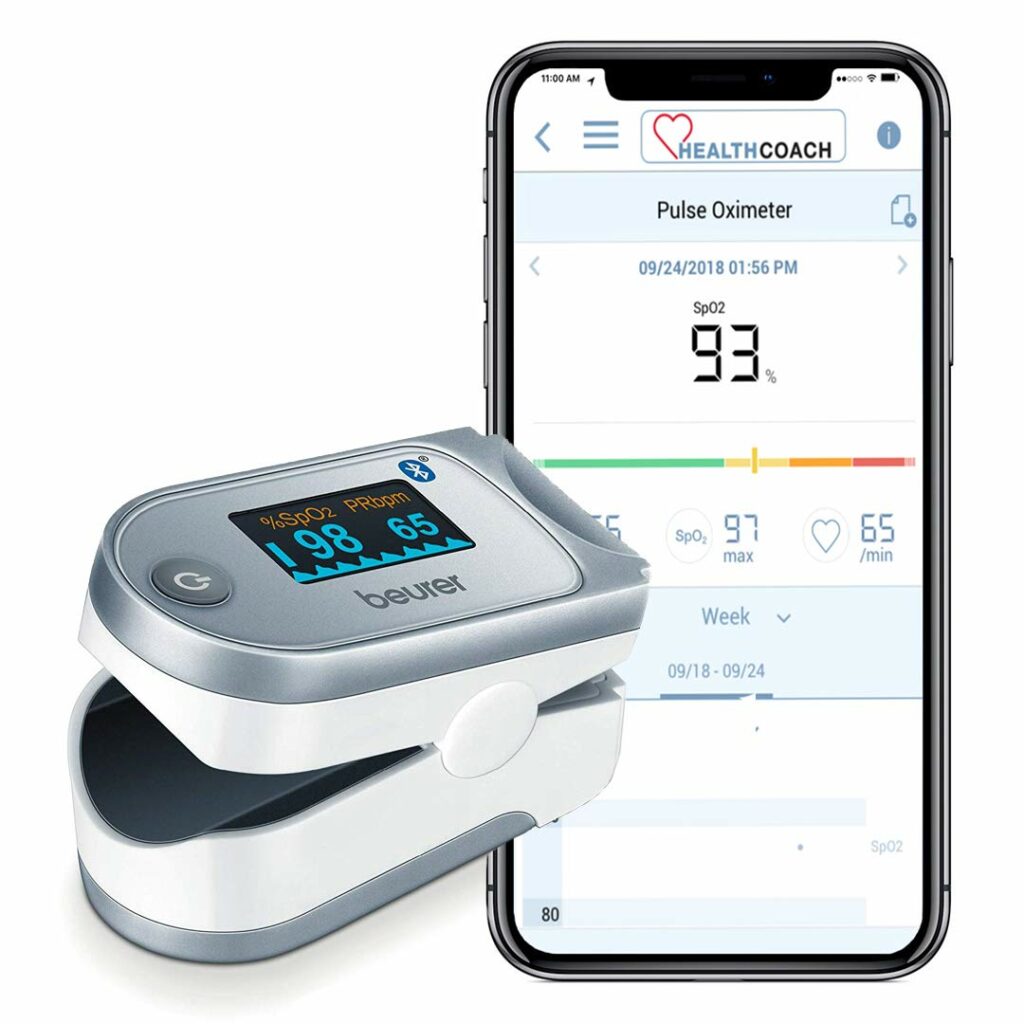 PO60 oximeter connects via Bluetooth to smartphones through the free HealthCoach app, storing 100 oxygen and pulse measurements.
A bright, color LED display with automatic screen rotation enables users to clearly see oxygen saturation and pulse from any angle based on the orientation of the oxygen sensor screen.
This oxygen sensor finger monitor for oxygen is lightweight and easy to use – perfect for medical, exercise, or high altitudes.
Aside from that, this device is German-engineered for accuracy – it displays your pulse and oxygen levels in real-time so you get the most accurate readings. The oxygen meter finger pulse oximeter comes with a lanyard and protective storage bag – batteries are also included so you can immediately it.
Buy Beurer Bluetooth Digital fingertip Pulse Oximeter for $48.95 here
6. Wellue Bluetooth Pulse Oximeter Fingertip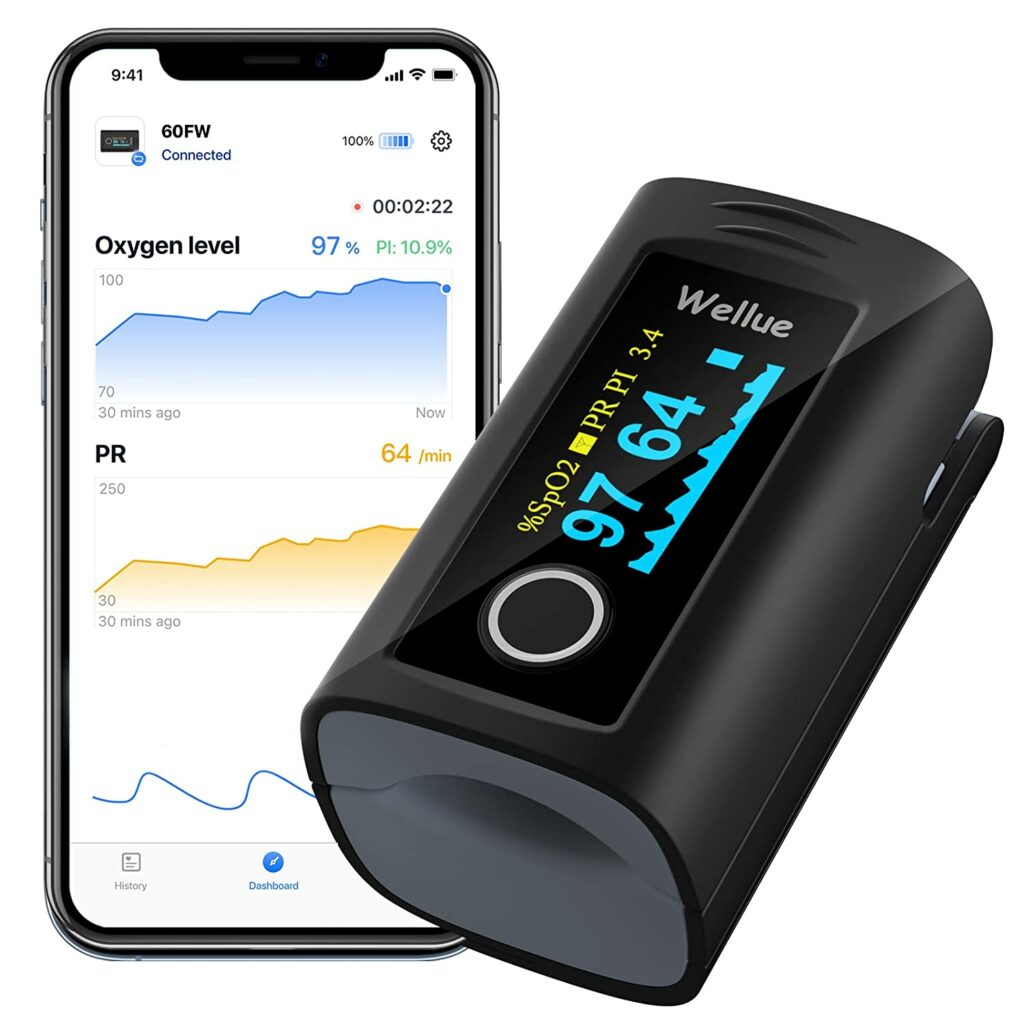 There isn't a significant price difference between Wellue Bluetooth Pulse Oximeter Fingertip and some standard finger pulse oximeters, and with the bonus that you can connect it to your phone and graph your data over time.
It has built-in memory for up to 12 uses, after which it needs to be connected to the app to store indefinitely. Unlike a sports watch, this device is easier to share among family members and suitable to take readings by anyone over the age of twelve.
This is a convenient way to assess family health, and Bluetooth data options – though limited – may appeal to some considering the minimal expense. You can track and graph up to ten hours of continuous data using the phone, and you can also add notes to each data group. So, go with this option if you are looking for an affordable blood oxygen monitor.
Buy Wellue Bluetooth Pulse Oximeter Fingertip for $12.99 here
To Conclude
That's all folks! This was our list of the best iPhone blood oxygen monitors.
Make sure you check the FDA classification, accuracy, type, and intended use when buying a pulse oximeter. You'll be able to make an informed decision based on our list of six devices, which are rated based on setup, fit, ease of use, and overall value.
Was this article helpful? Let us know in the comments section.