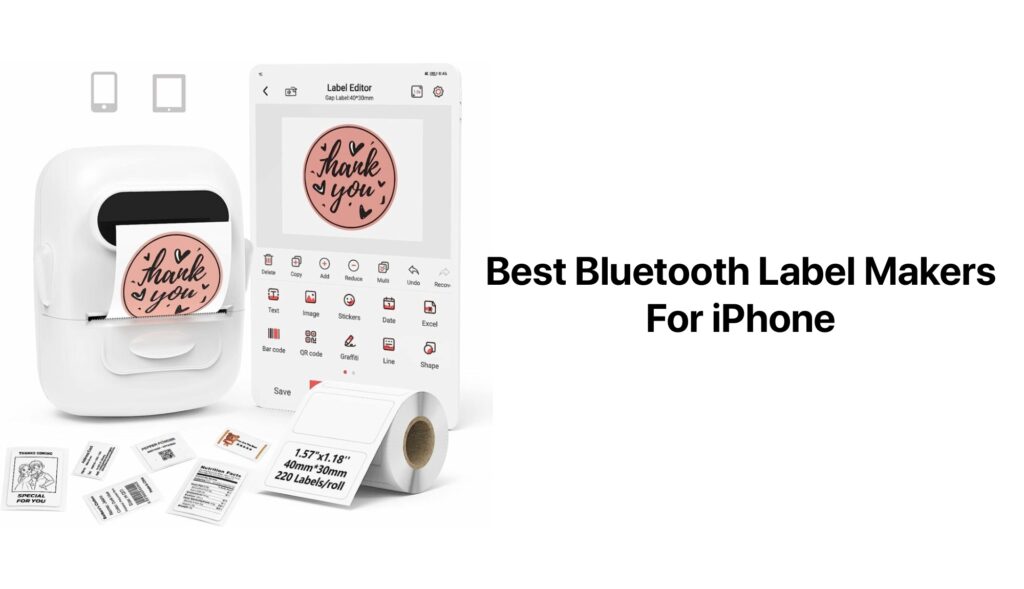 In this article, you will find the best Bluetooth label makers for iPhone and iPad. You can use these handy label makers to wirelessly print labels that you create you on your iOS device.
In the ever-evolving digital age, where convenience meets creativity, labeling has taken a high-tech twist! If you're an iPhone aficionado with a penchant for staying organized or adding a personal touch to your belongings, you're in for a treat.
Say goodbye to the days of scrawling illegible notes on sticky labels, and say hello to the seamless world of Bluetooth label makers. These ingenious gadgets have revolutionized the way we organize, personalize, and streamline our lives.
In our quest to help you find the cream of the crop, we've scoured the market, putting together a list of the absolute best portable label makers that work with iPhones. So, get ready to embark on a labeling adventure like no other, where your iPhone becomes the magic wand that transforms mundane labeling into a creative and connected experience.
Best Bluetooth Label Makers
Here are the best Bluetooth label makers for iPhone that you can buy for 2024, and use at home and office.
1. Vixic M960 Label Maker Machine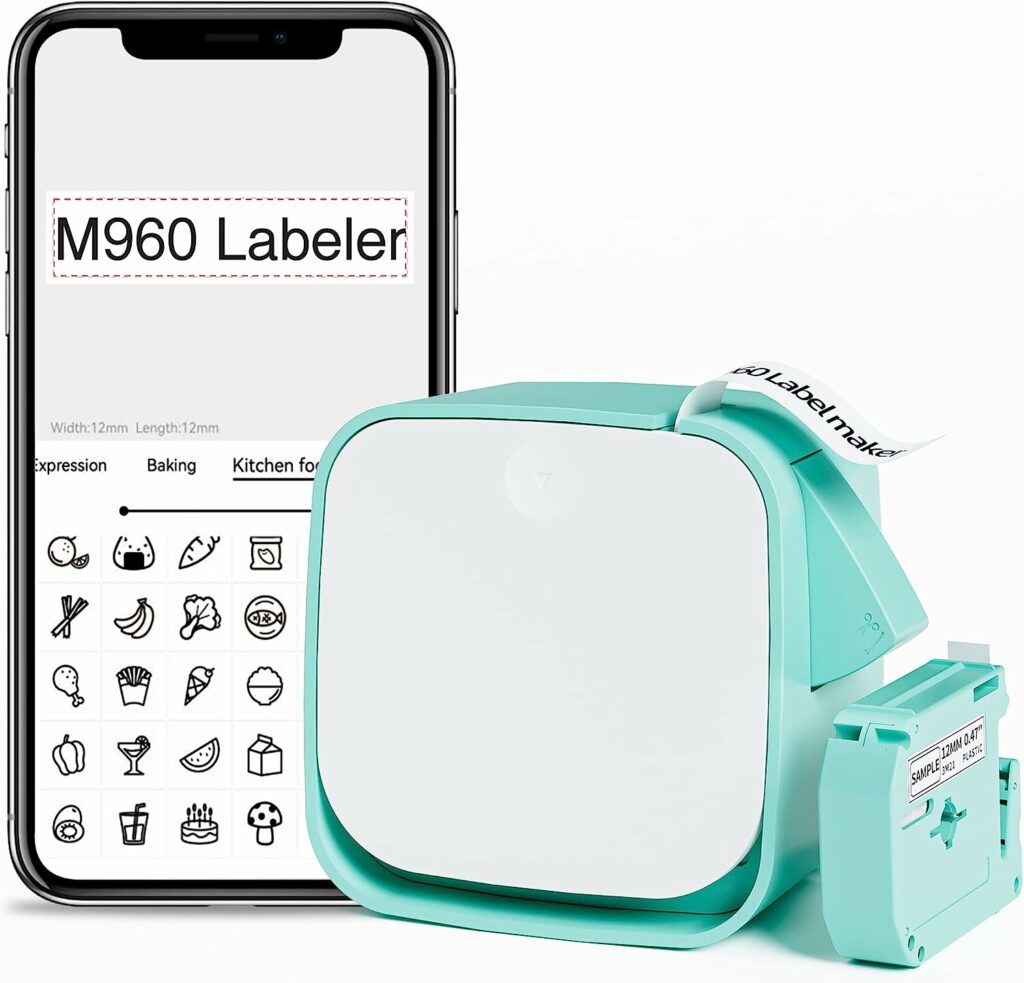 The Vixic M960 Label Maker Machine is a game-changer in the world of label printing. This sleek and compact device employs the latest printing technology to deliver larger, more legible fonts, eliminating the waste of blank labels. What sets this iPhone label maker apart is its inkless design, which not only saves you from the hassle of changing ink cartridges but also makes it an environmentally friendly choice.
With a robust 1200 MAH battery, this label maker can work continuously for up to 4 hours on a single 2-hour charge, and there's no need to constantly hunt for batteries. It's less than half the size and weight of traditional label makers, making it incredibly portable. You can literally slip it into your pocket or bag, ensuring you can print labels and stickers wherever you go.
Buy Vixic M960 Label Maker Machine for $19.99 here.
2. NIIMBOT Label Maker Machine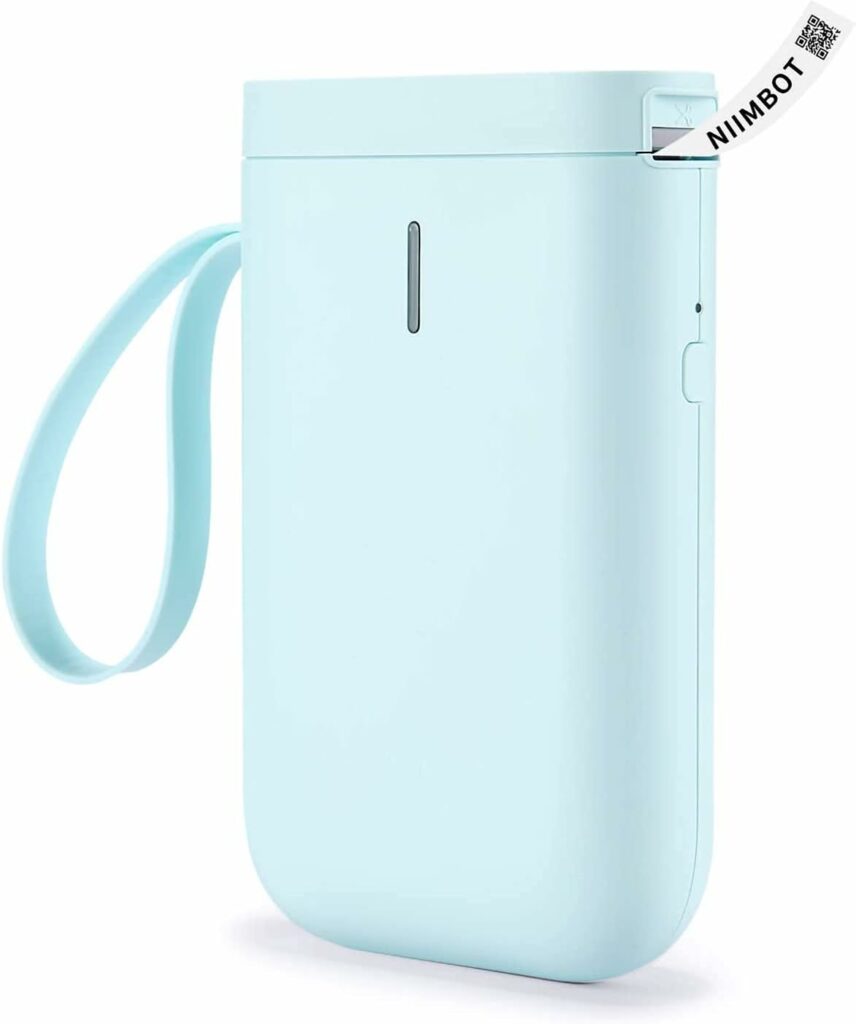 With this smart label maker with tape, you can print a wide range of things – from basic texts and numbers to intricate graphics, symbols, logos, barcodes, QR codes, and more. It's practically your labeling sidekick! Plus, it's intelligent enough to recognize voices and images, making labeling a breeze.
One of the coolest features of NIIMBOT Label Maker Machine is its reusability. You can use this iPhone label maker for up to 2 months on a single charge. That means no more constant battery replacements, and it's a win for the environment too.
This handheld label maker uses wireless technology to seamlessly design and print labels, up to 15mm wide, and it's all in the palm of your hand. Get ready to label smarter with NIIMBOT Label Maker – compact, powerful, and ready to tackle all your labeling needs.
Buy NIIMBOT Label Maker Machine for $29.99 here.
3. JADENS D110 Label Maker Machine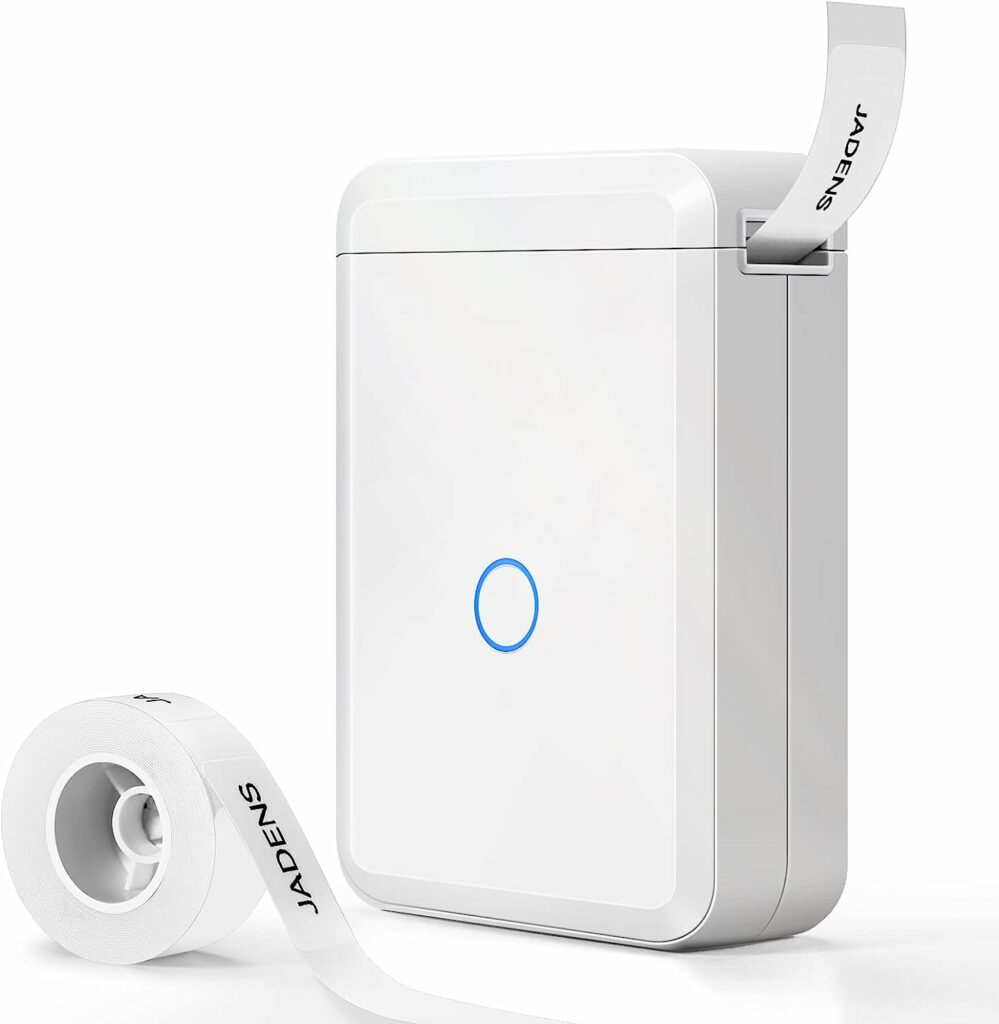 Say goodbye to the bulky traditional Bluetooth label makers, and hello to this sleek, pocket-sized powerhouse. Its compact and stylish design lets you carry it with ease, ensuring you can print high-quality labels and stickers wherever you go. This mini Bluetooth label printer takes convenience to the next level. All you need is the 'NIIMBOT' app, and you can wirelessly connect and pair your device with Bluetooth. With over 60 fonts, 12 languages, and 400 borders at your fingertips, it's the ultimate label-making companion for iOS users.
What sets JADENS D110 Label Maker Machine apart is its treasure trove of creative templates, available through the app. You'll find a wide array of free templates that include text, tables, symbols, logos, barcodes, QR codes, images, time stamps, and even Excel integration. The possibilities are endless, allowing you to craft cute, custom label stickers straight from your phone. It's essential to note that labels produced by this iPad label maker have fixed lengths and don't support continuous label tape.
Buy JADENS D110 Label Maker Machine for $29.99 here.
4. SUPVAN E10 Bluetooth Label Maker Machine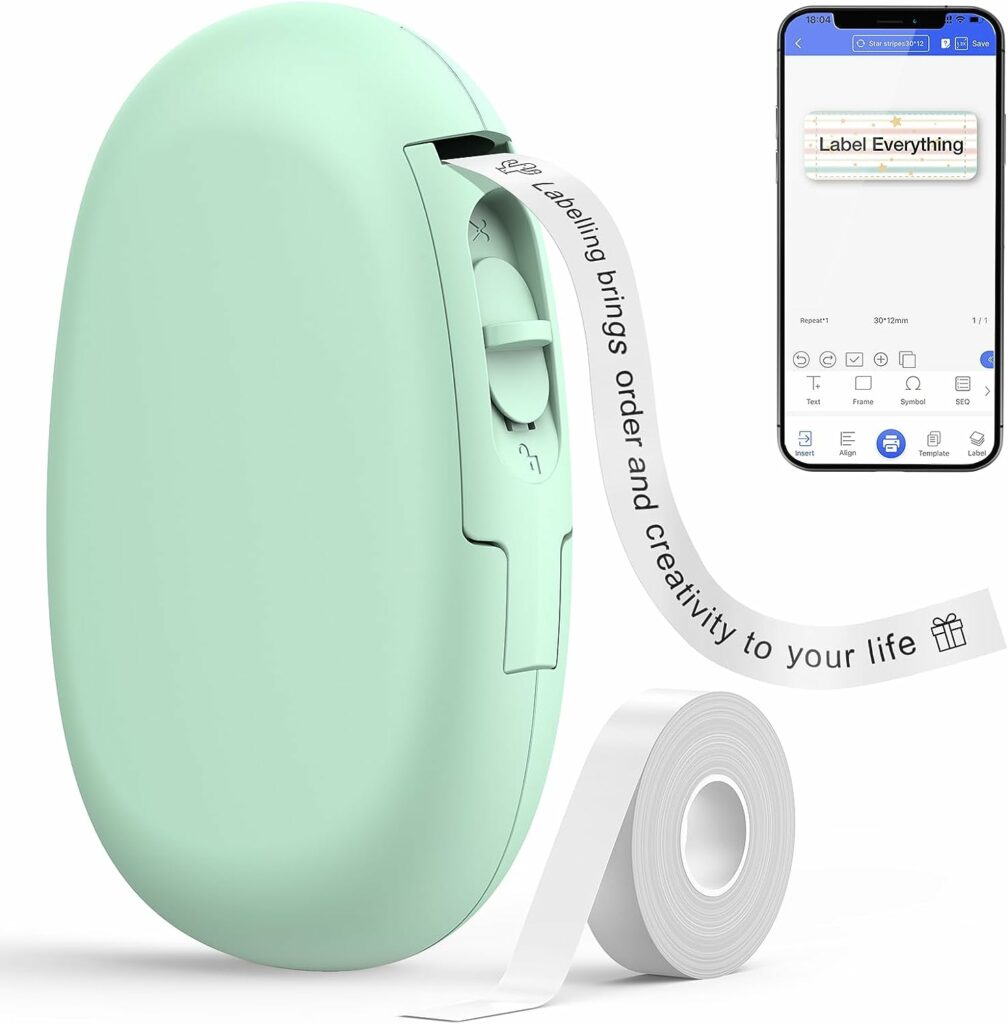 The SUPVAN E10 Bluetooth Label Maker Machine is your new labeling sidekick for a clutter-free, organized life! This nifty gadget is your go-to solution for labeling everything, from storage bins and boxes to food containers and more.
What sets the SUPVAN E10 apart is its smart App control, which allows you to label items with names, barcodes, QR codes, text, and even emojis. You'll never have to scribble down vague labels with a marker again. Plus, it comes with a variety of pre-made templates, making your labeling journey effortless.
The SUPVAN label maker employs inkless thermal technology, guaranteeing crisp and clear labels without the hassle of replacing ink cartridges. This not only saves you money but also precious time and effort.
Buy SUPVAN E10 Bluetooth Label Maker Machine for $29.99 here.
5. Makeid Label Maker Machine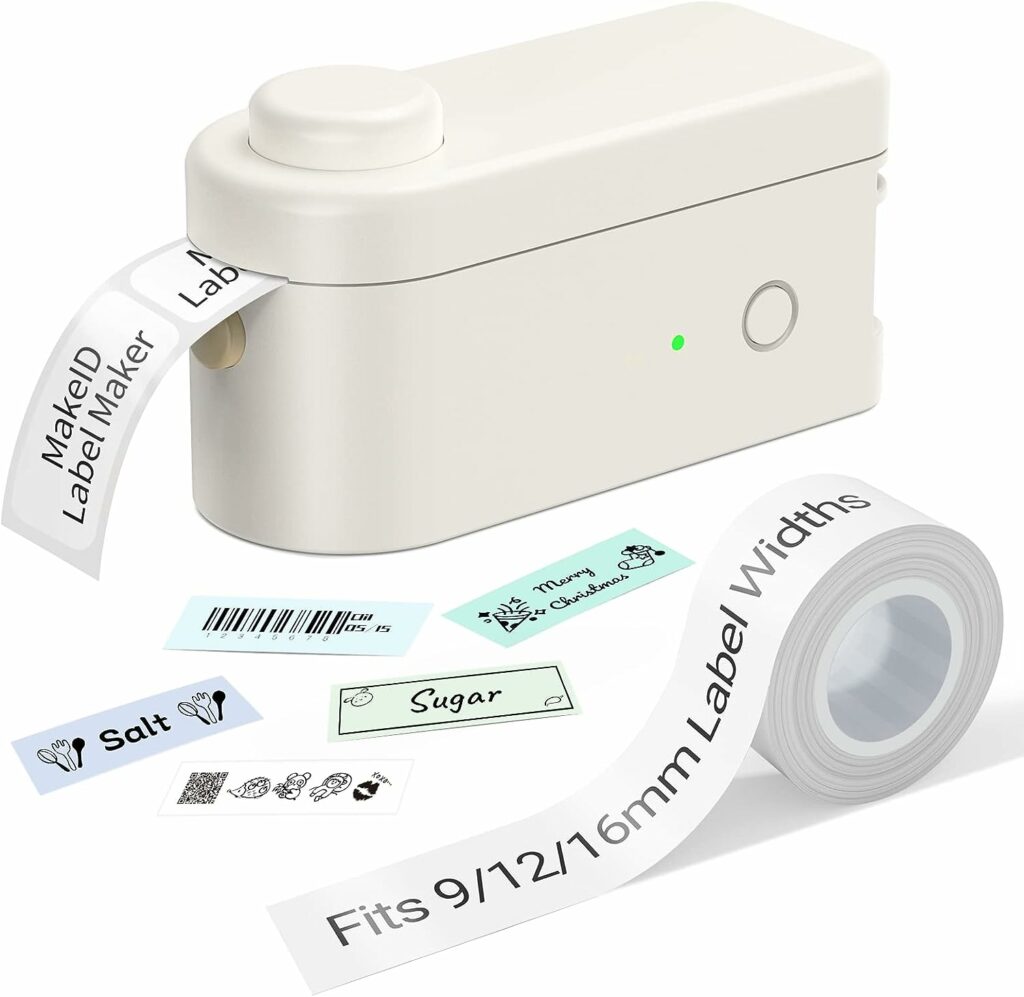 The MakeID Label Maker Machine is your ultimate tool for creating personalized labels that suit your needs! Whether you're at home, school, or work, this label maker is your go-to companion. Weighing in at just 125g, it's incredibly lightweight and portable, making label printing a breeze.
With a variety of font styles, numbers, symbols, emojis, and icons at your disposal, your labels can be as unique as you are. Plus, the MakeID labeler connects seamlessly to your iOS phone via Bluetooth, allowing you to design labels with a free app.
The MakeID label maker boasts thermal printing technology, ensuring sharp and precise label outputs. What's more, the labels are waterproof, won't fade for years, and leave no sticky glue residue – truly a win-win.
Buy Makeid Label Maker Machine for $29.99 here.
6. Phomemo Label Maker Machine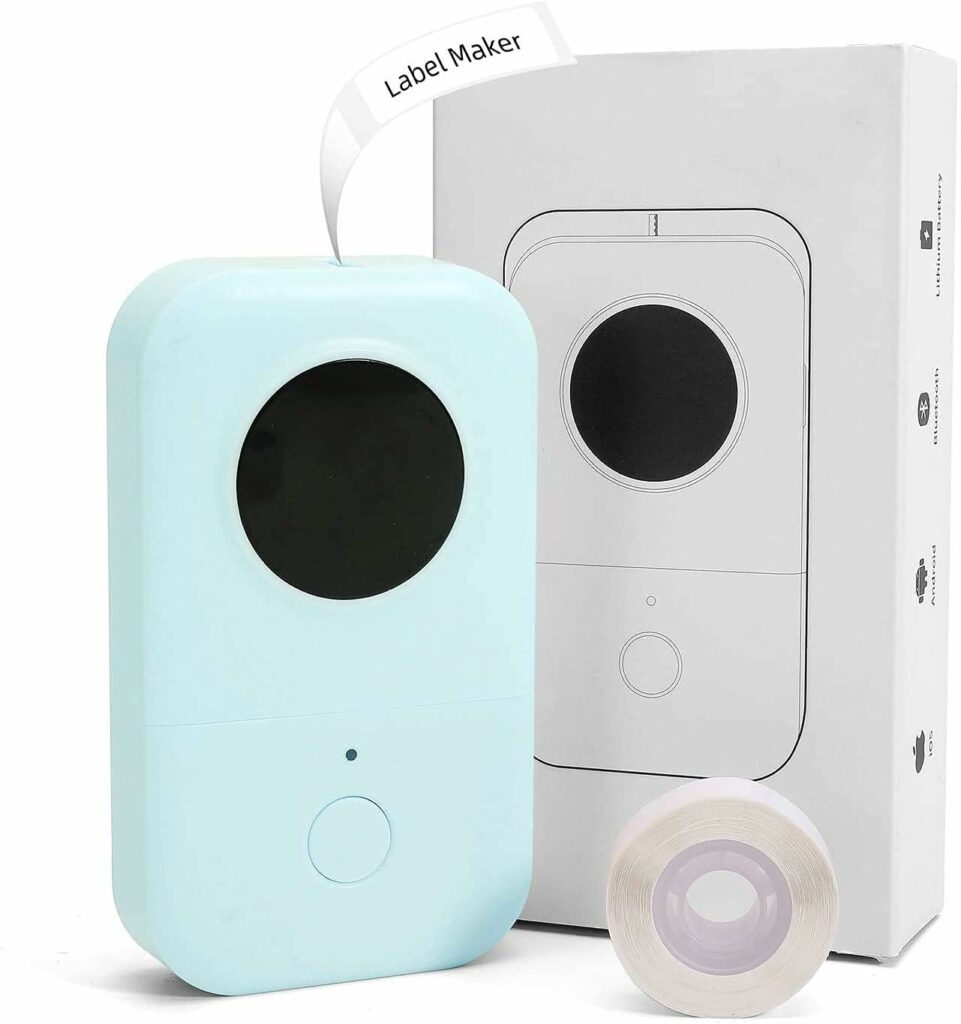 Imagine having the power of a traditional label maker in a device that's half the weight and size. This sleek machine is equipped with a high-quality German thermal print head that cranks up the DPI by 25%, giving you superior print clarity. Say goodbye to the hassle of printing, because this little dynamo delivers smooth printing effects with lightning-fast processing. It supports both continuous label tape and fixed-length labels, making it incredibly versatile.
But here's the real kicker – it uses BPA-free Direct thermal technology, so you don't need to worry about ink, toner, or ribbons. That means lower costs compared to inkjet printers. Plus, there's a rainbow of thermal color paper options to choose from, so your labels can be as vibrant as your imagination.
This mini label maker can sync with your smartphone via Bluetooth 4.0, allowing you to print labels from up to 10 meters away. It's compatible with both iPhones. To make it even more user-friendly, connect the D30 printer machine through the "Print Master" app, which can be easily downloaded from the APP STORE.
Buy Phomemo Label Maker Machine for $36.99 here.
7. MARKLIFE Label Maker Machine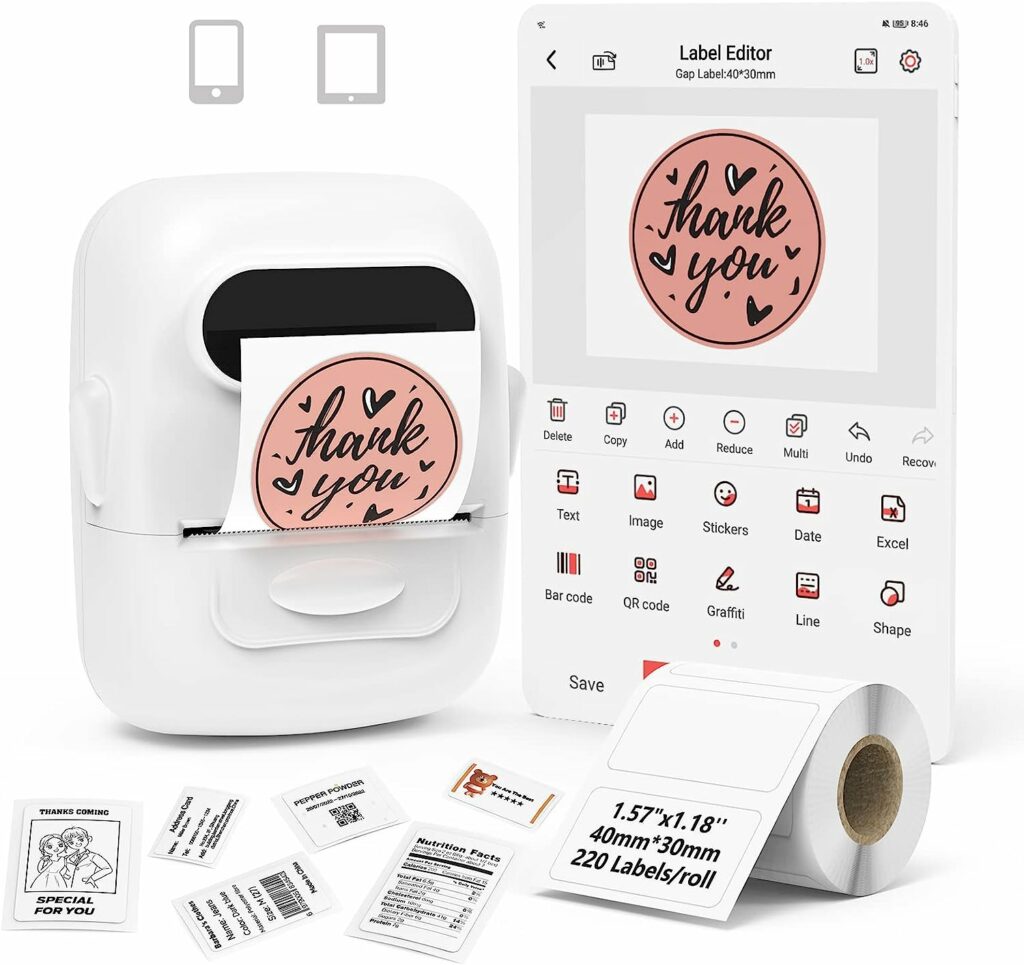 With tapes that measure 1.57″ x 1.18″ (40x30mm) in white gap label, the P50 Label Maker uses thermal printing technology for quick, no-fuss labeling. While it's strictly black and white printing, it'll save you oodles of time that you'd otherwise spend scribbling labels by hand.
The P50 is incredibly versatile, offering a printing width range from 0.59″ to 2.24″. It's a mini Bluetooth wireless thermal mobile label printer, so you can connect it effortlessly to your smartphone. The app comes loaded with templates, making it a breeze to print labels for clothing, prices, cables, jewelry, addresses, ingredients, and much more.
The best part? It's mini, lightweight, and portable. Pop it into your bag, and you're ready to roll. Connects to your smartphone in the blink of an eye via Bluetooth 4.0, with a range of 33 feet.
Buy MARKLIFE Label Maker Machine for $45.99 here.
To Conclude
In a world where organization and convenience are key, Bluetooth label makers have emerged as essential tools for iPhone users looking to streamline their lives. With a host of impressive options, from sleek designs to intuitive apps, the iPhone Bluetooth label makers not only help us label, categorize, and declutter but also make the process enjoyable.
So, as you embark on your labeling journey, remember that these best label makers for 2024 are not just about adhesive strips and fonts. They're about bringing a touch of tech-savvy magic to your daily life – turning the mundane into the extraordinary, one label at a time.
Embrace the power of organization, embrace the future, and label on, iPhone users!
Disclosure: iOSHacker may receive a commission if you purchase products through our affiliate links. For more visit our privacy policy page.