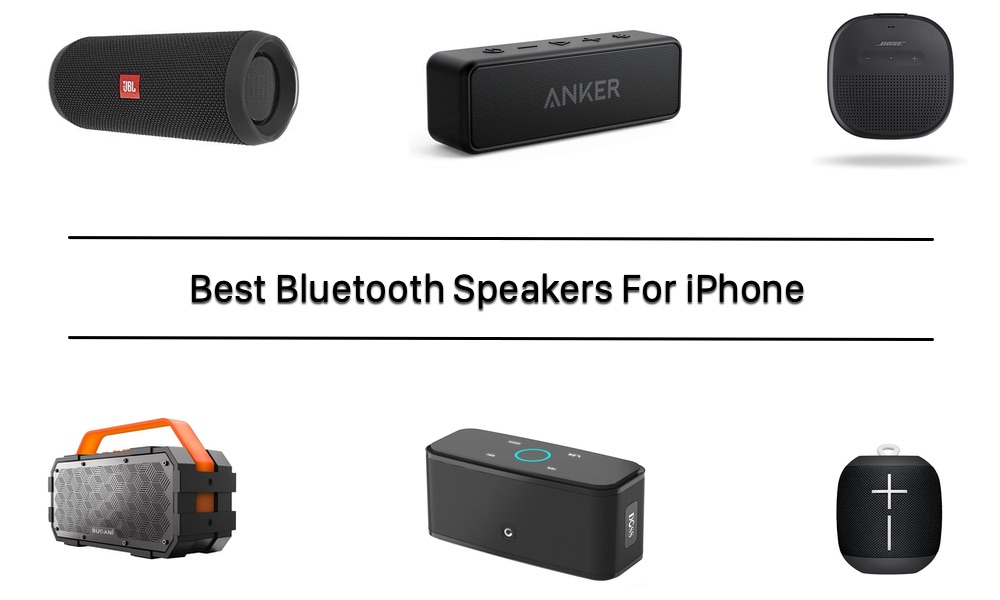 If you are looking for the best portable speakers for iPhone that cost less than $100, then you are in the right place. In this post we have shared 12 best Bluetooth speakers with amazing sound.
These Bluetooth speakers seamlessly connect with your device and offer hours of music listening fun.
Connecting a good Bluetooth speaker for iPhone or iPad can greatly improve your music listening experience on your iOS device. All of the best waterproof speakers mentioned here offer crisp, loud and bass filled sound that sounds great indoors and outdoors.
Not all Bluetooth speakers are created equally as some offer greater bass, while others focus on portability more than anything else. In this buying guide you will find the balance between various aspects of Bluetooth speakers.
Best Bluetooth Speakers For iPhone in 2022
So without any further ado, here are some of the best Bluetooth speakers in 2022 for iPhone or iPad, which you can buy for under $100. You will find the best outdoor Bluetooth speakers for iPhone here that despite there low price do not compromise on build quality or sound.
1. JBL Flip 4 Waterproof Portable Bluetooth Speaker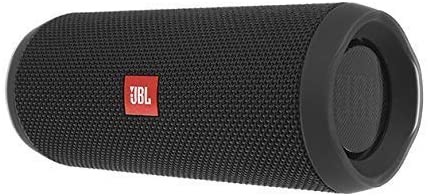 If you want to connect more than one Apple device (iPhone or iPad) with a portable Bluetooth speaker, look no further than JBL FLIP 4! It plays an excellent stereo sound and connects with up to two smartphones or tablets, wirelessly.
JBL Flip 4, the best Bluetooth speaker for 2022, has rechargeable 3000mAh battery which runs for 12 hours of playtime. The best part? As is waterproof, you don't have to worry about spills or rainwater and can submerge it in water. 
Want to crank up the volume more? Simply, with JBL connect+, you can connect more than 100 JBL connect+ enabled speakers and amplify the fun!
You can buy the JBL Flip 4 Waterproof Portable Bluetooth Speaker for $89.95. Get a good deal on this Bluetooth speaker.
2. Bose SoundLink Bluetooth Speaker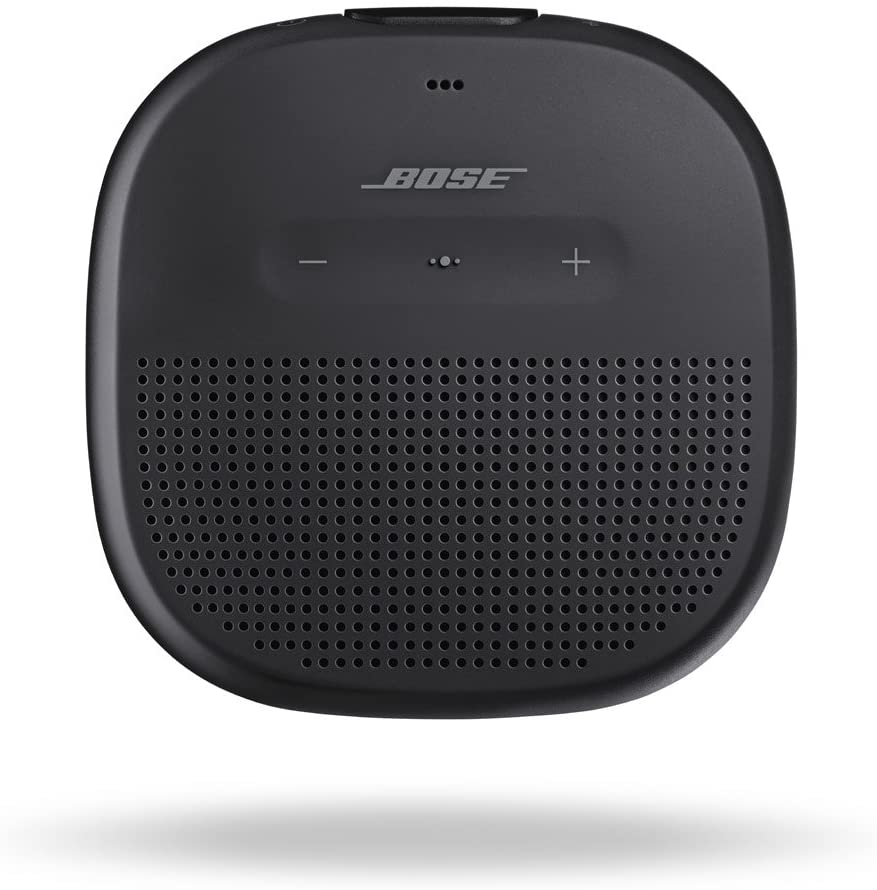 If you are fond of music on the go, this mini Bose SoundLink outdoor speaker is the one for your needs. This best Bluetooth speaker under $100, is not only affordable but also gives you a balanced sound and an unparalleled bass for the speaker of this size. Ideal for beach parties and camping vacays.
This is more than just a speaker. With its built-in mic, you can take calls with a wireless range of nearly 30 feet. The built quality is unbeatable and ideal for outdoor activities! Its rugged and soft surface resists dust, scratches, and dents. While going out, with the help of its Tear Resistant Strap, you can tie it to handlebars, cooler, or your backpack.
The battery is rechargeable and has 6 hours of playtime. Moreover, with its Bluetooth pairing voice prompts, you can take calls from a distance. Like JBL Flip4, it also gets connected to 2 SoundLink speakers and turns into a stereo mode.
You can buy this Bluetooth speaker for $109. Get a good deal on this Bluetooth speaker.
3. WONDERBOOM by Ultimate Ears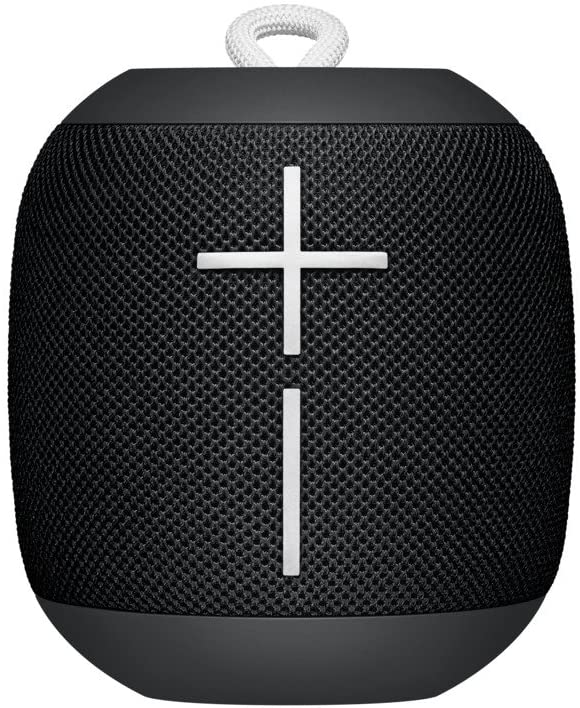 If I call WONDERBOOM by Ultimate ears a 'small wonder', it won't be an exaggeration! This best Bluetooth speaker for iPhone delivers a seriously loud sound. The clarity and crisp of its sound are more than you imagine! Your party will remain dull and incomplete without this prerequisite.
Don't be afraid of playing music around water, because its IPX WATERPROOF lets you play music around water safely.
You can buy theses iPhone Bluetooth speakers for $69. Get a good deal on this Bluetooth speaker.
4. Anker Soundcore 2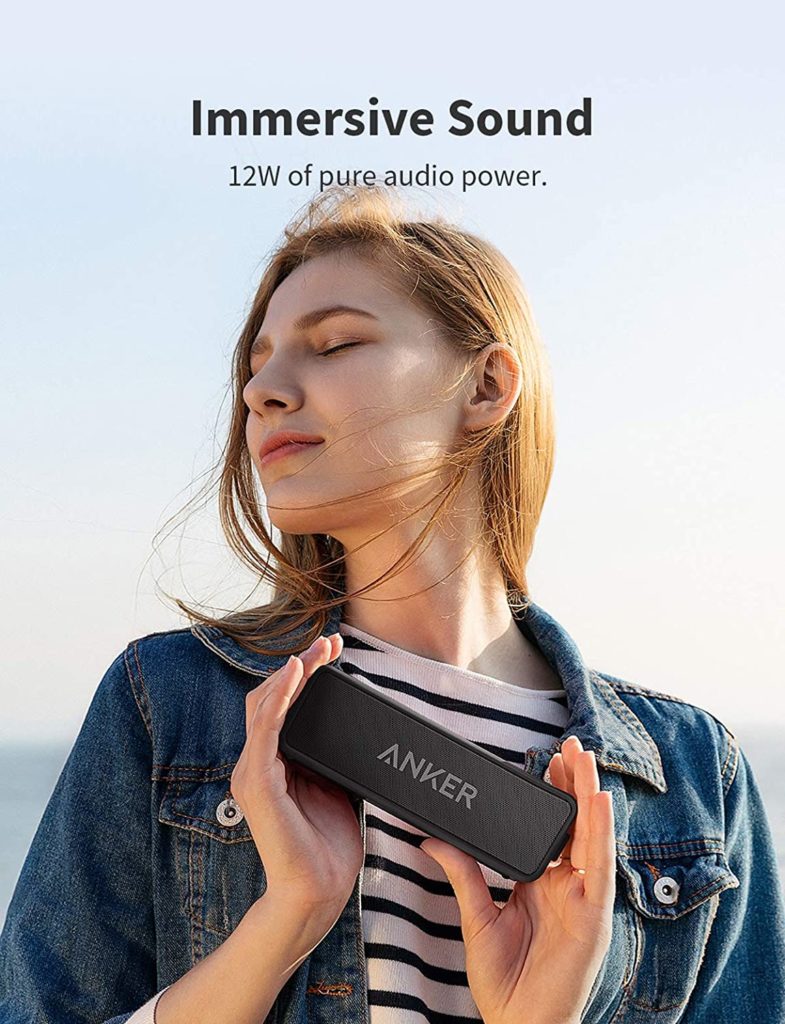 For 24-hours non-stop music, Anker Soundcore 2 is rightly called the best Bluetooth speaker for 2022. It is not only ideal for outdoor parties but is also excellent for travel and home use. Anker Soundcore 2 comes with 12W of audio power with increased bass giving you unbelievably loud sound.
Moreover, there is zero distortion no matter what volume you are playing the music. The low-end frequencies are boosted with its intense bass up technology and make the beats harder. The IPX protection ensures its use in rain, snow dust, and spills. 
Its 5200mAh Li-ion battery gives you a seamless non-stop music experience throughout the day.
You can buy this Anker Bluetooth speaker for iPhone and iPad for $29.99. Get a good deal on this Bluetooth speaker.
5. Bugani M90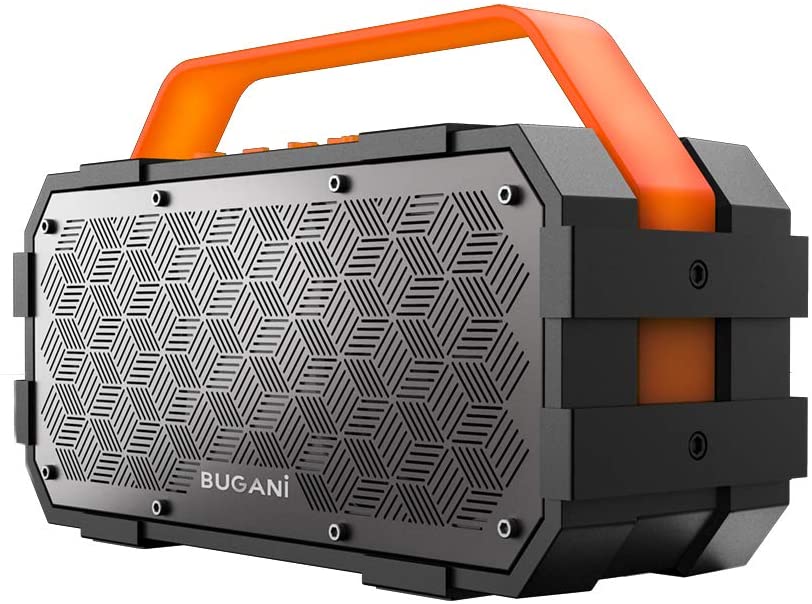 Lasts Bluetooth 5.0 technology with the fastest connectivity and 100 feet of wireless range makes Bugani M90 the best Bluetooth speaker under $100. Moreover, it easily connects with iPhone, iPad, Tablets, or Windows.
With no delays in the playback and zero distortion in its sound, you get a quality music experience. The big plus?  It has dual speaker configuration with stereo sound that makes a perfect fit for parties, camping, and travel music experience. 
Speaking of its built quality, it is made up of the latest ABS material as well as covered with metal frame, thus despite being dropped from 3 feet height, the speakers will not be damaged. This best Bluetooth speaker for iPhone and iPad use the latest FXN 4000mAh rechargeable battery. You can enjoy non-stop music for up to 20 hours!
You can buy these speakers for $40.99. Get a good deal on this Bluetooth speaker.
6. DOSS SoundBox Touch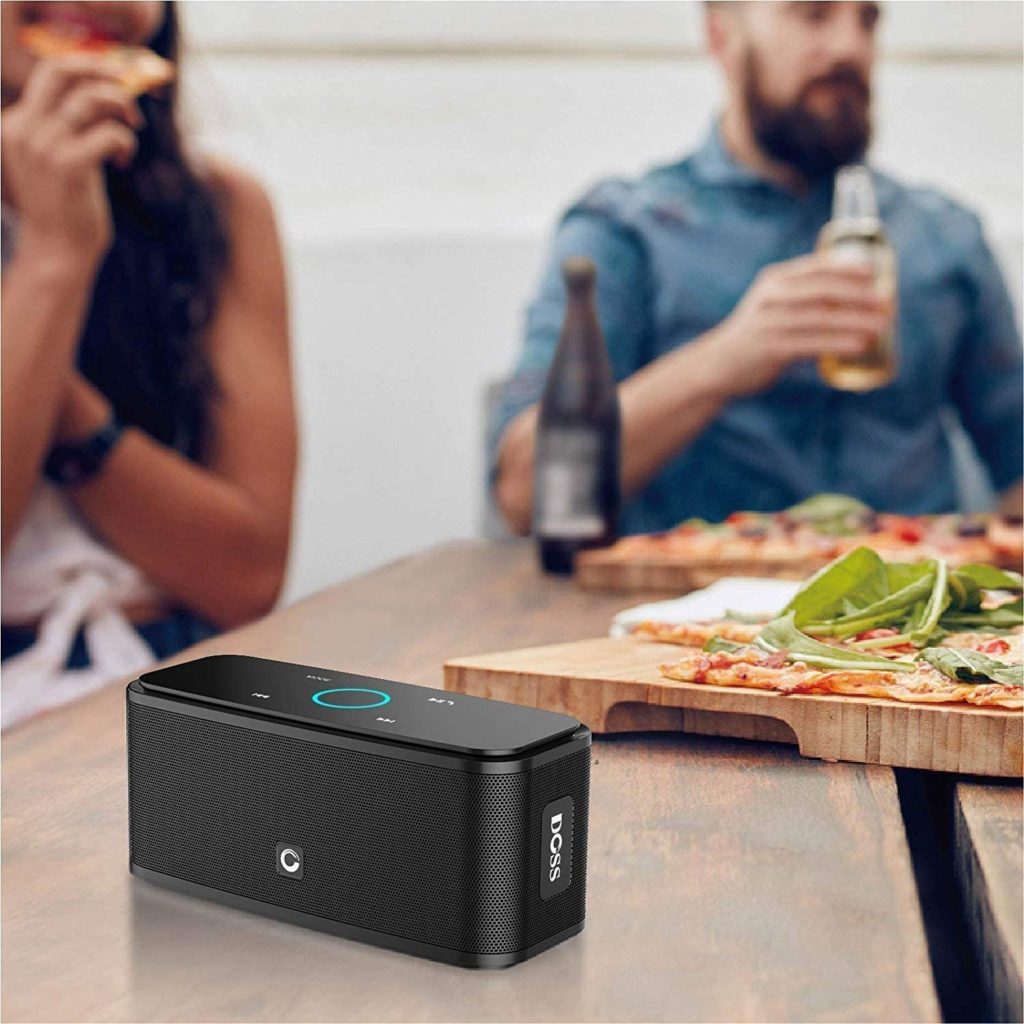 Next on our list is DOSS SoundBox Touch Bluetooth speaker has easy-to-use touch buttons. Unlike other speakers in the list, you can change tracks, up or down the volume, and pair with iPhone or iPad effortlessly in just one touch. 
Its impressive sound does not disappoint you no matter where you are, be it your lounge, camp, party, or even if you are hiking. This best Bluetooth speaker for 2022 has Bluetooth 4.0 technology and is compatible with all the devices. Now you don't need to worry about owning one specific device to pair up with DOSS SoundBox Touch. Another advantage of owning this speaker is that it remembers your previous device and quickly reconnects to it. 
This full-bodied 12W speaker gives you premium sound quality for up to 20 hours. You can fully recharge the battery within 3 to 4-hour time.
You can get this DOSS SoundBox Touch Bluetooth Speaker for $29.95. Get a good deal on this Bluetooth speaker.
7. MusiBaby Bluetooth Speaker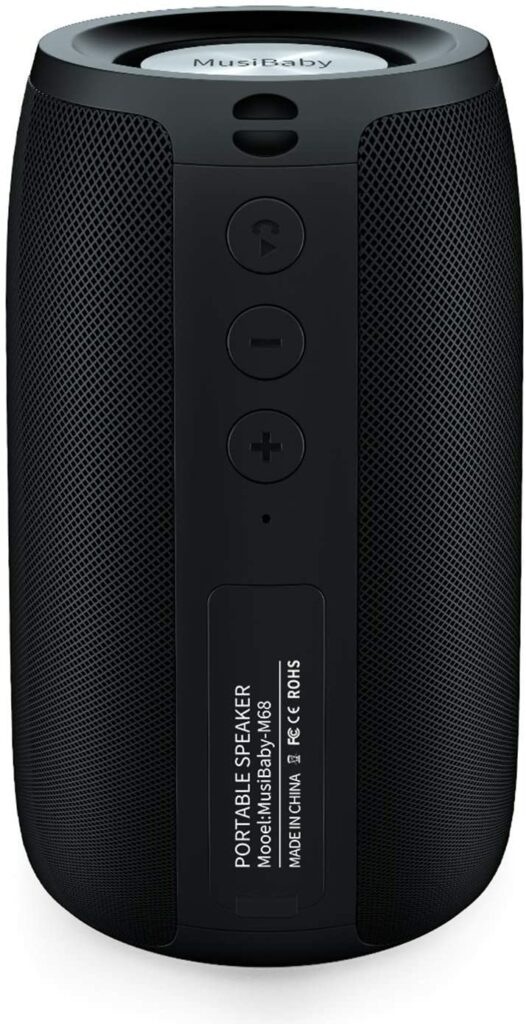 Next best budget Bluetooth speaker is MusiBaby Bluetooth speaker, which makes up for great portable speakers under $100 thanks to their small size and long battery life. Its manufacturer claims 1500 minutes of playtime delivering a 360 degree stereo sound no matter where you are.
Users also get to connect up to 2 speakers together wirelessly and stream music in both of them at the same time. MusiBaby Bluetooth speaker has IPX5 waterproofing and Bluetooth 5.0 technology.
You can buy it for just $26.34 at from Amazon here.
8. JBL Clip 3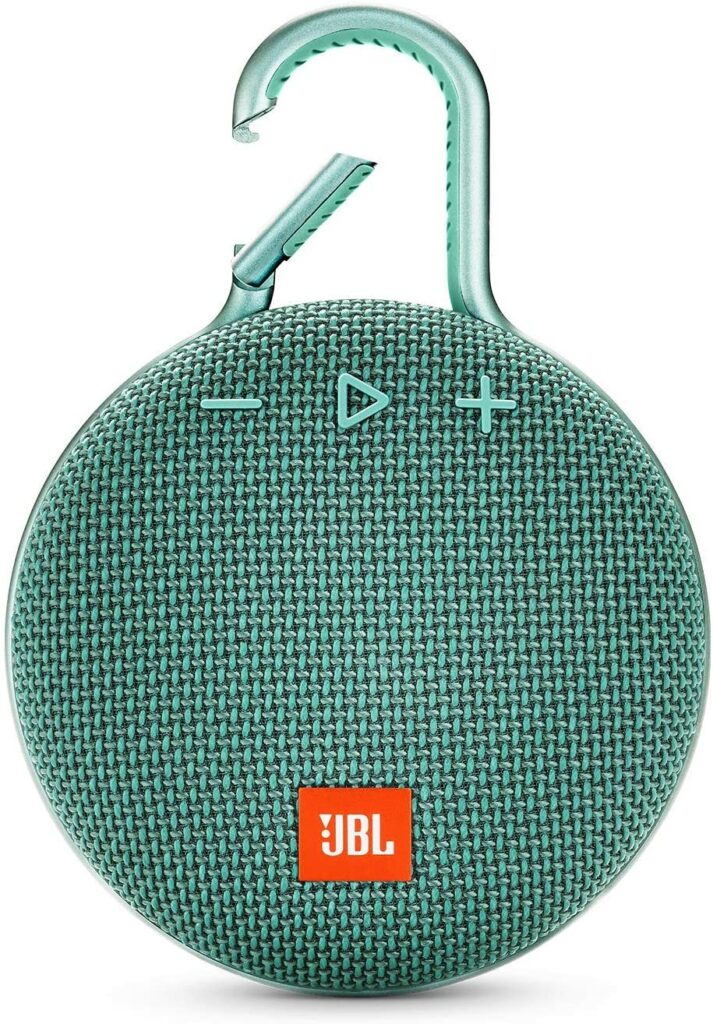 For those looking for the best outdoor Bluetooth speakers, JBL Clip 3 is a must have option. It is a great sounding ultra-portable speaker for iPhone users that offers up to 10 hours of playback.
It comes with noise cancelling and wireless streaming features that make it great for any pool party that you can throw at it. Speaking of pool parties the JBL Clip 3 features a waterproof and durable design that let you use it anywhere you like.
You can buy the JBL Clip 3 Bluetooth portable speaker for iPhone for $39.95 here.
9. Vanzon X5 Pro Portable Wireless Speaker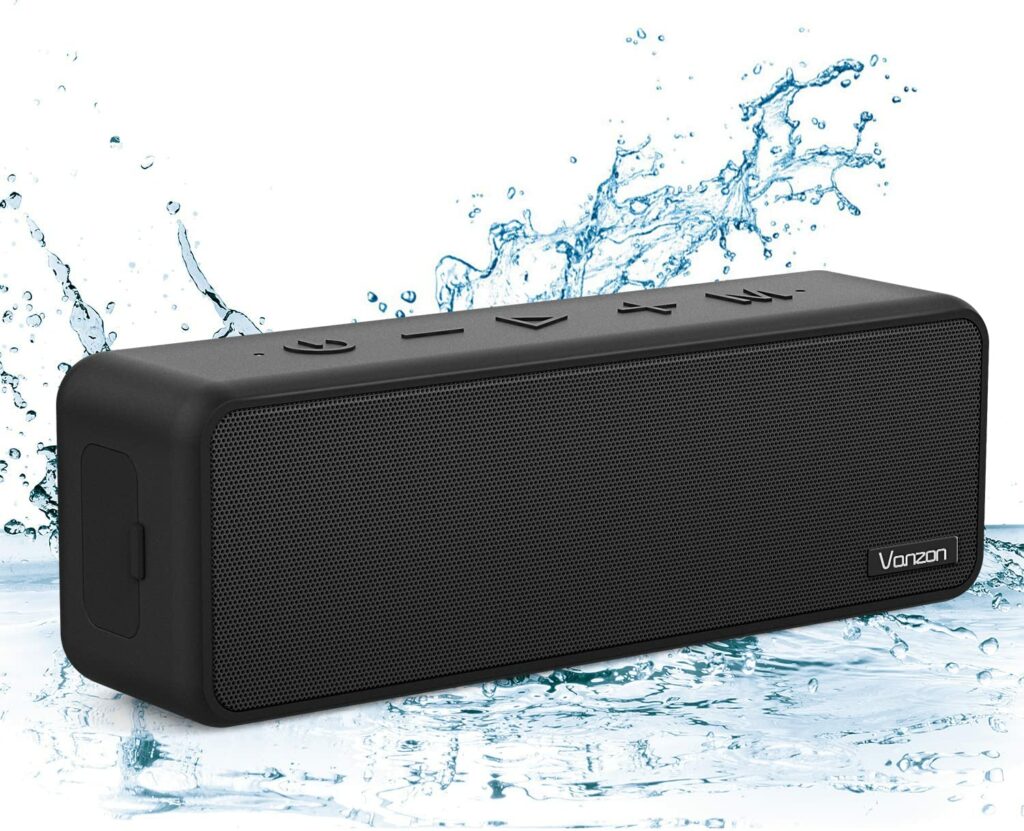 Another amazing Bluetooth speaker that you can buy for significantly less than $100 is the Vanzon X5 Pro Portable Wireless Speaker.
This minimal looking wireless speaker has an IPX7 design, great sound and ability to pair up with another speaker for a rich and loud sound. It offers a long range of up to 66 feet, which makes it perfect for an outdoor event. You can buy it from Amazon for $37.79 here.
10. Hadisala H3 Portable Wireless Speaker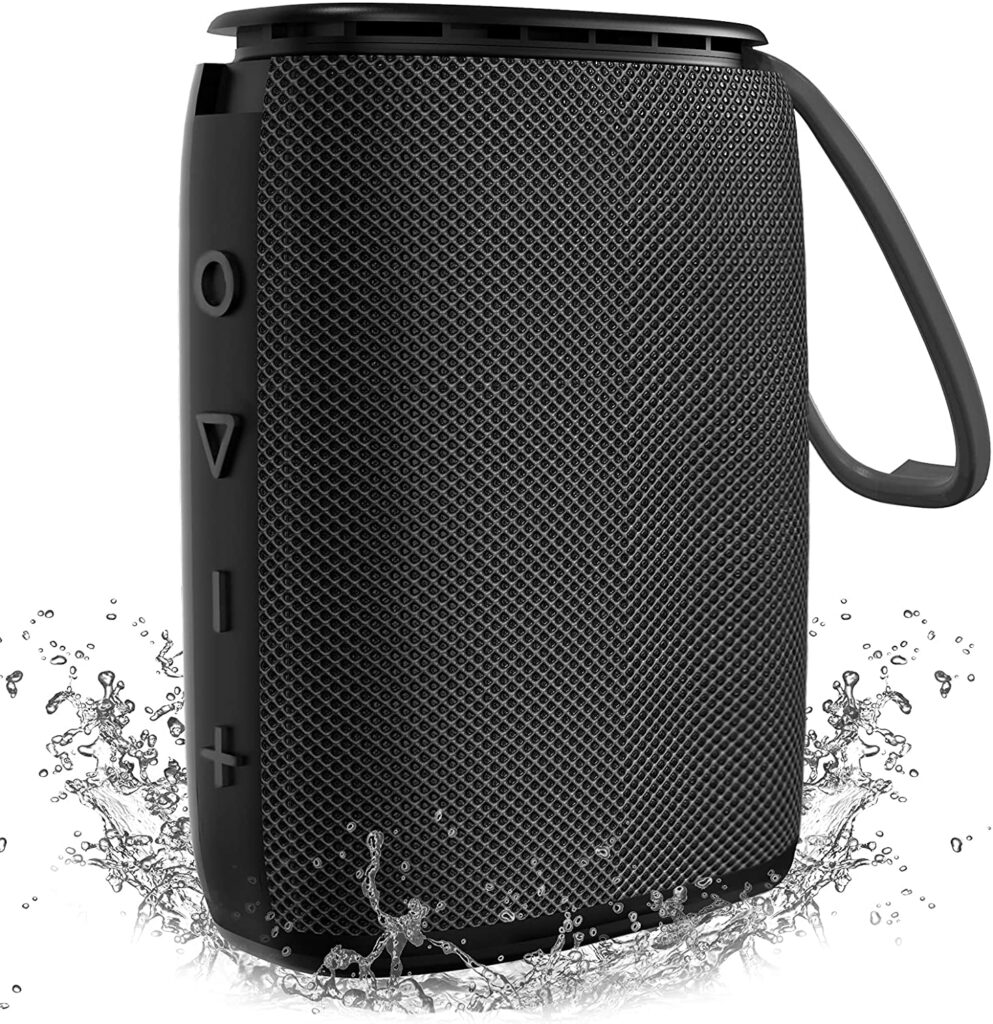 The Hadisala H3 IPX7 Bluetooth speaker is one of the best wireless speakers on this list as it features a very cool design and physical buttons that give it a very unique look and feel.
This waterproof Bluetooth speaker boasts features like IPX7 waterproofing, amazing sound quality that is rich with base and crystal clear mids, portable design with just 200g weight and a long 15 hour long playtime. You can buy this affordable Bluetooth speaker for $25.99 here.
11. LENRUE Bluetooth Speaker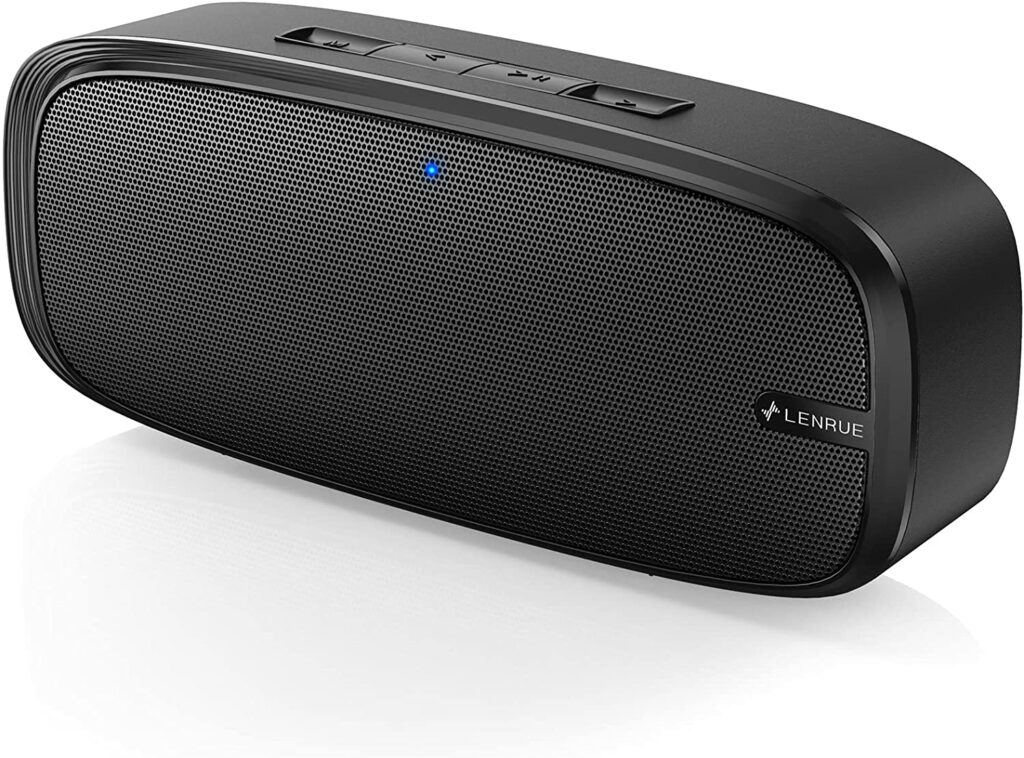 If you are looking for the best value to money ratio, then you can't go wrong with LENRUE Bluetooth Speaker. This portable speaker for iPhone delivers rich dual high performance drivers and unique enhanced bass.
It has a 1500mAh battery that delivers up to 12 hours of playtime. It also has a built-in mic that lets you do group audio calls with ease. You can buy it in four different color options and it costs $16.99.
12. Oontz Bluetooth Speaker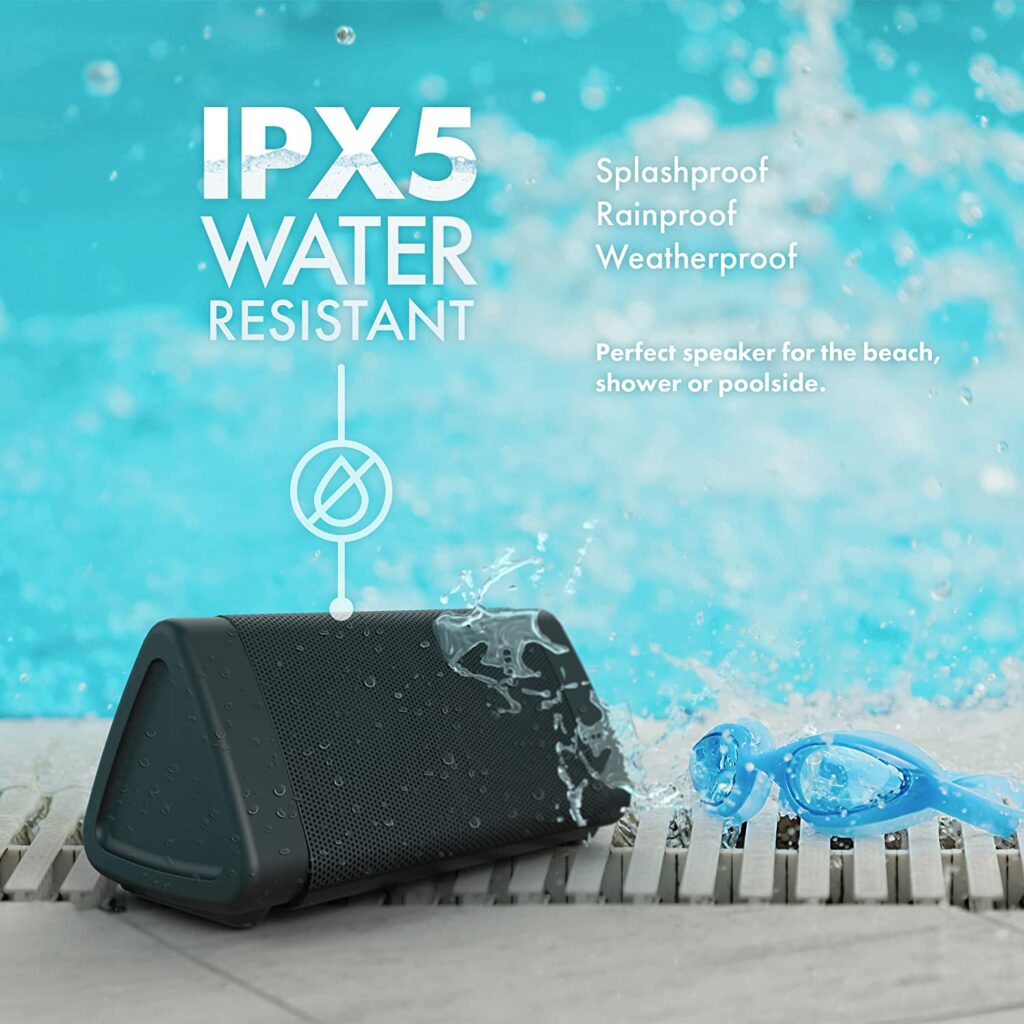 The Oontz Bluetooth Speaker is the perfect speaker for outdoors especially if you are going to be listening to music poolside. It offers crystal clear stereo sound and loud volumes with zero distortion.
That's not to say you cannot use it indoors as it performs equally good indoors. It offers a nice 14 hours of playtime before needing to be recharged. You can buy the Oontz Bluetooth Speaker for $27.99 here.
Which of the above best Bluetooth speaker under $100 is your favorite one?
Share with us in the comments below. Share this post with your friends and family, and help them pick the best Bluetooth speaker for 2022. 
For more interesting gadgets, keep visiting iOSHacker.com.