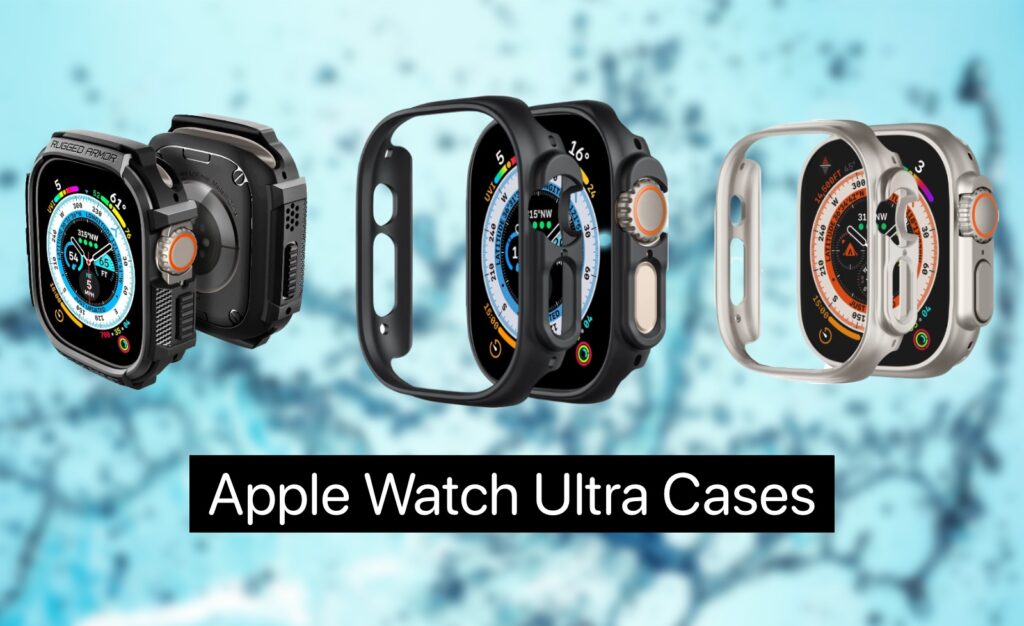 Here are the best Apple Watch Ultra cases that you should consider buying. These protective cases protect your Apple Watch from all four sides and make it more durable.
Every generation of Apple Watch has been tougher and more durable than the previous one. However, this does not mean they are invulnerable to damage. 
The Apple Watch Ultra is rugged, but not all Apple Watches are, so any force (even a small one) can damage it. Despite this, Apple does not make or sell cases for its smartwatches as it does for its iPhones, so finding the best Apple Watch cases can be a challenge.
Several third-party manufacturers offer cases for the Watch 7, whether you have the smaller 41mm version or the larger 45mm one.
While no Apple Watch case can make your Watch 7 indestructible, or prevent damage to the screen completely, it's still a good idea to get one for some extra protection.
Keeping all that in mind, we have highlighted some of the best Apple Watch Ultra cases.
Best Cases for Apple Watch Ultra
You may not want to add a case to a bulky smartwatch. However, it is crucial if you want to extend the life of your watch or maintain its resale value over time. Check out this list of the highest-quality Apple Watch Ultra cases if that sounds like something you are interested in.
1. Spigen Rugged Armor Case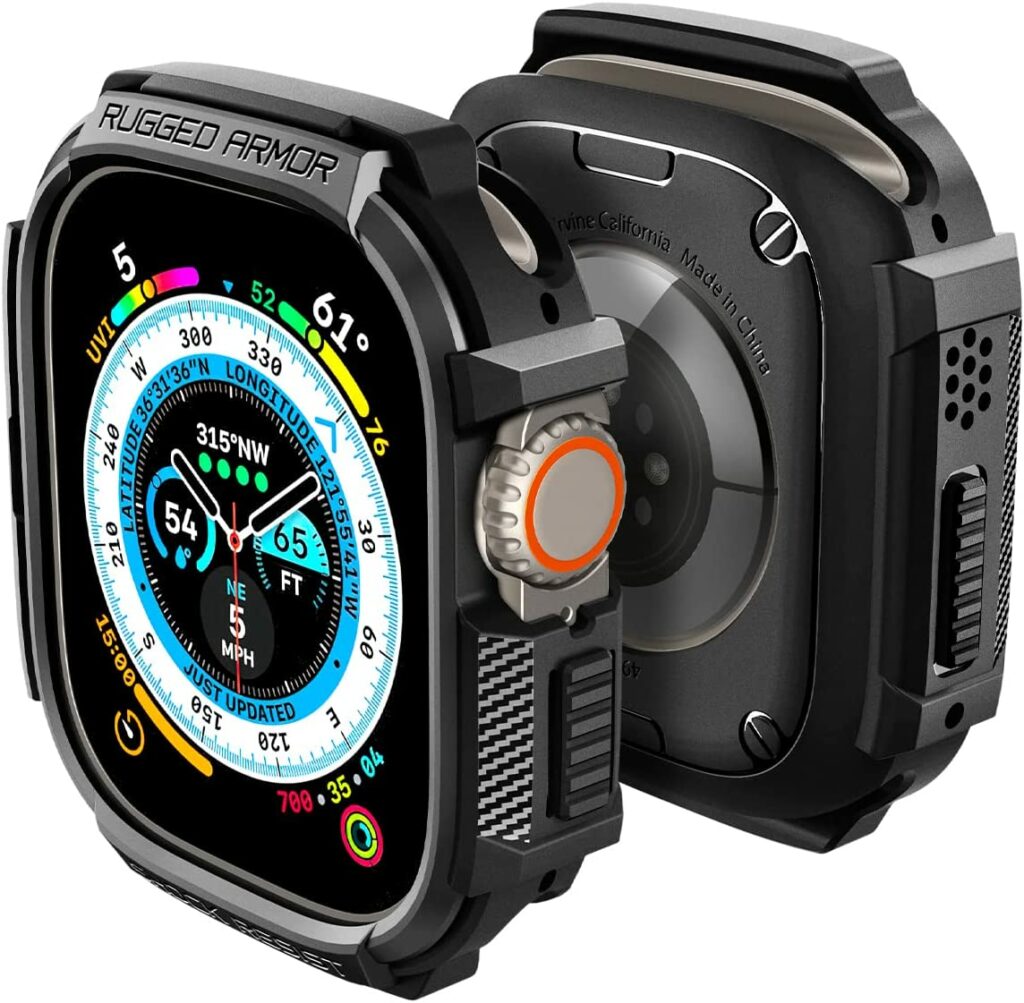 If you often bump your watch on a desk or door jams and stay worried that you might damage your smartwatch, invest in this rugged armor case and be careless if you hit it on.
To make your Apple Watch Ultra resemble the legendary G-Shock watches, the Spigen Rugged Armor is a great option. A protruding angular design protects the screen, along with RUGGED ARMOR and SHOCK RESIST engraved on the top and bottom bezels.
Designed in a unibody construction, the Rugged Armor case is made of thermoplastic polyurethane or TPU. Additionally, the device boasts precise cutouts for the sensors at the back, as well as for the Digital Crown, three microphone holes, and ten-speaker holes. Also, it retains its original tactile feedback.
Buy Spigen Rugged Armor Case for $18.99 here
2. Smiling Case Compatible with Apple Watch Ultra 49mm (2 Pack)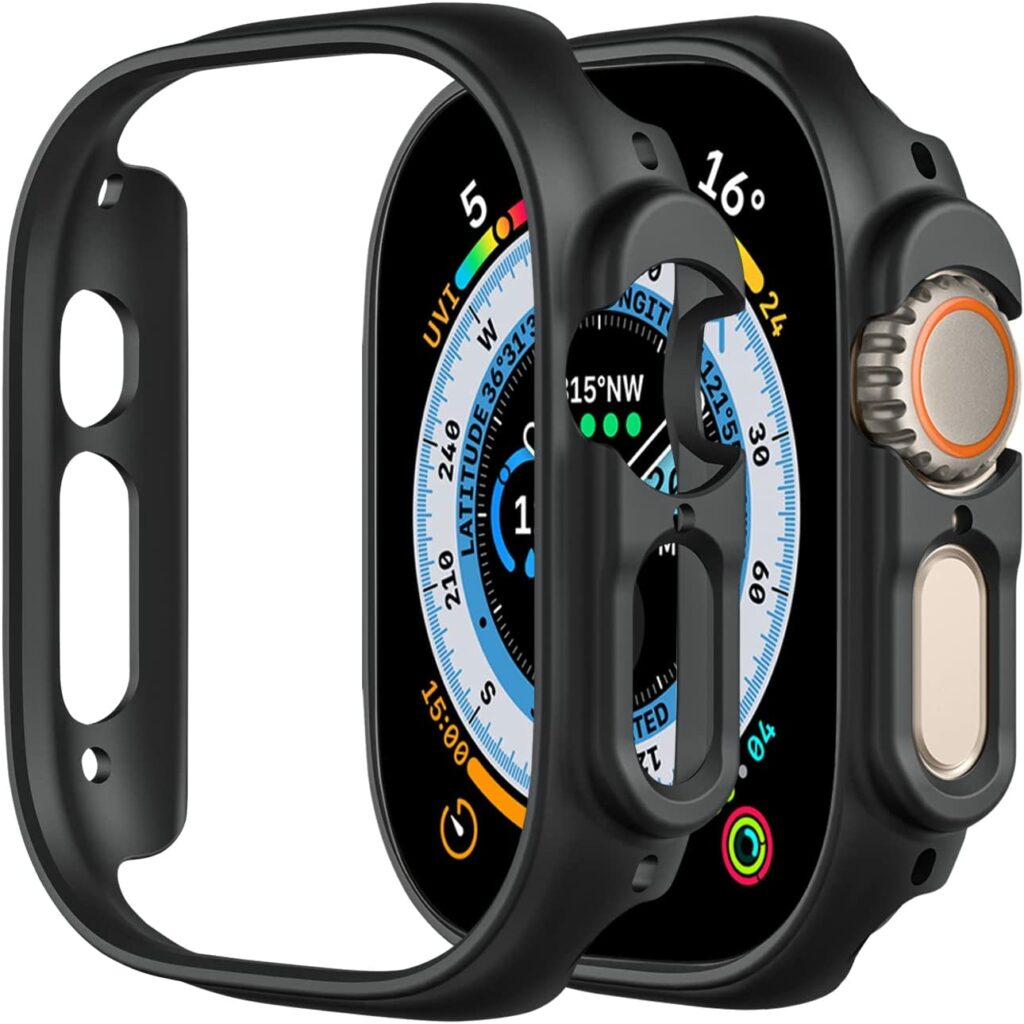 The smiling case is designed with electroplating, making your watch look more high-end and durable. You never need to worry about fading or peeling.
There are raised bezels to prevent drops, scratches, and bumps on the display.
You can solve your problems with touch screens once and for all. Whether it's sweat on the screen after a workout or a drastic temperature difference after returning from the outdoors, you don't have to fret.
With precise cutouts, all ports are easily accessible, and microphones are not interfered with while in use. You can directly charge your watch without removing the case since it can be taken on and off without removing the band.
Buy Smiling Case Compatible with Apple Watch Ultra 49mm for $8.98 here
3. Spigen Thin Fit Apple Watch Ultra 49mm Case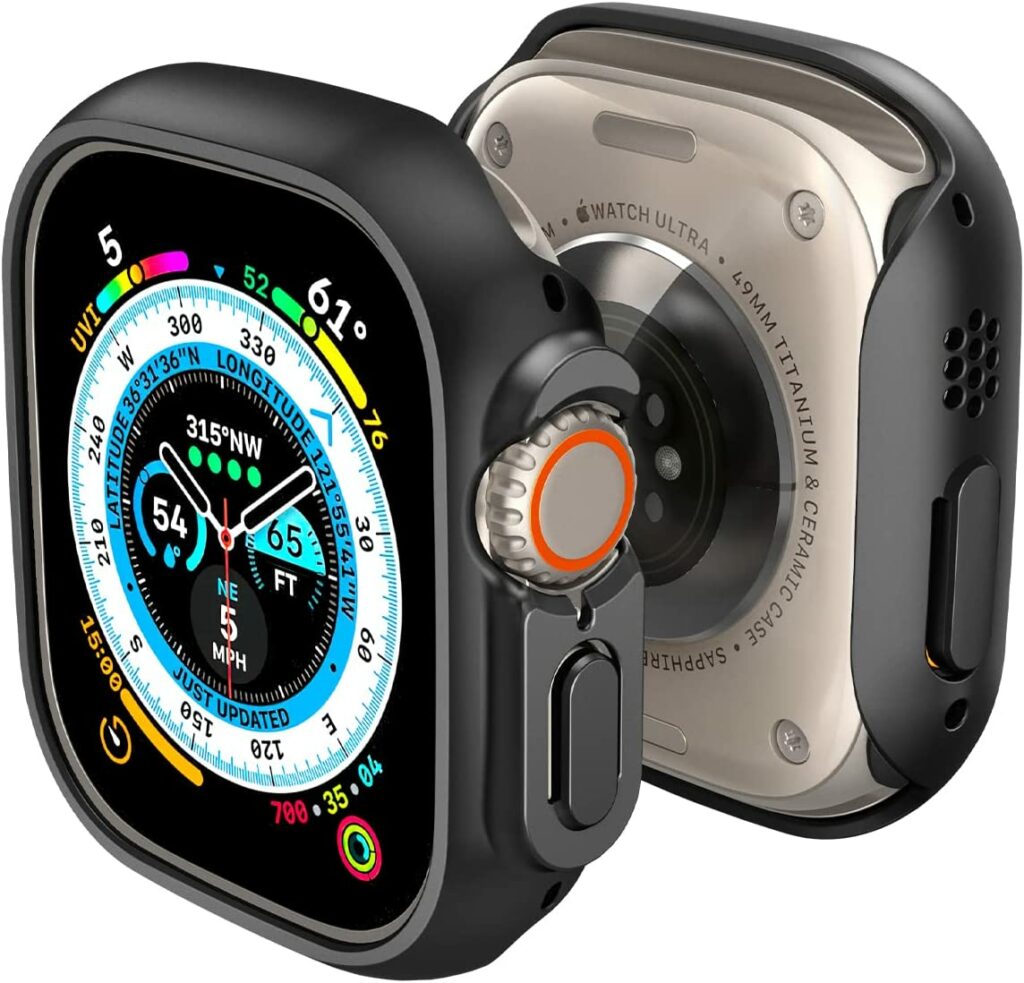 This one is wonderful because it can easily be pulled off when you want to enhance the watch's appearance. Spigen thin fit lets you remove it at any time without taking off the bands or even removing your wristband.
Even though it is easy to get on and off, it is still very secure, so you will not have to worry about it falling off or even getting knocked off.
Everything works perfectly, including the microphone, speaker, and sensor holes that line up without obstruction. It also helps protect the face of the watch because of the raised lip on top. Additionally, it adds character to the watch and enhances its aesthetics.
Buy Spigen Thin Fit Apple Watch Ultra 49mm Case for $18.99 here
4. elkson Apple Watch Ultra Bumper Case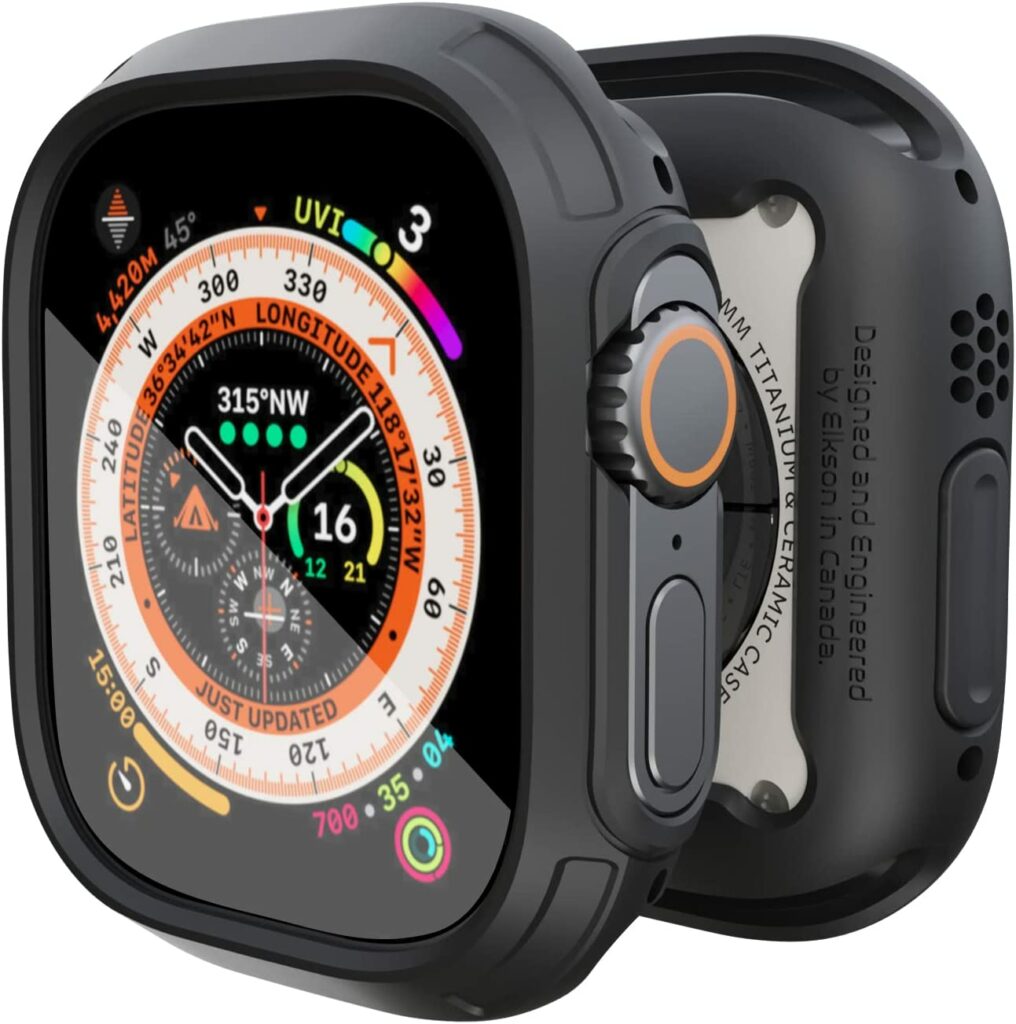 The Elkson case safeguards Apple Watch Ultra 49mm against bumps and drops. There is a raised edge guard and Tempered Glass on the watch face for protection.
For long-lasting durability, it is made with scratch-resistant TPU. Installation and removal are both easy and the inside material does not scratch your Apple Watch.
The case is soft, breathable, and lightweight, ideal for outdoor activities.
There are precise cuts to ensure that the watch crown and buttons work smoothly together. This Apple Watch Ultra case in 2023 fits snugly on your smartwatch and doesn't add bulk.
It is compatible with most Apple Watch screen protectors and chargers.
Buy the elkson Apple Watch Ultra Bumper Case for $14.99 here
5. BOTOMALL Rugged Bumper for Apple Watch Case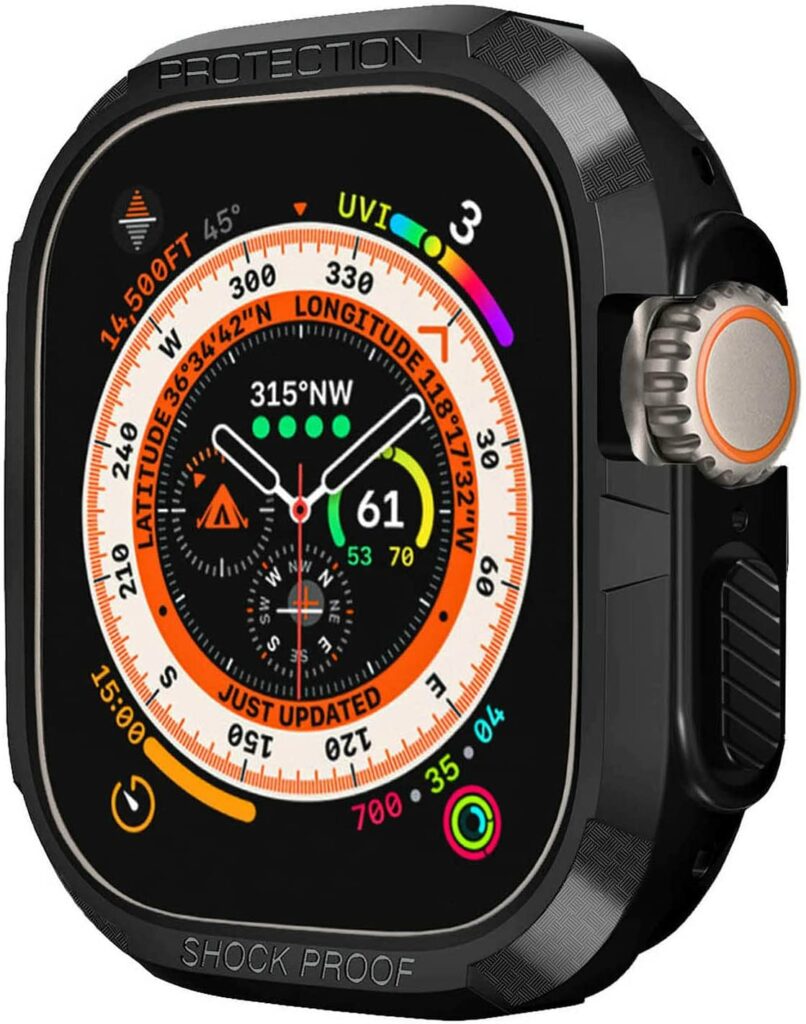 Botomall rugged case has stable and durable performance, provides a comfortable wearing experience, and has no deformation or discoloration.
This Apple Watch ultra silicone case has raised bezels around its screen, accurate cutouts that do not interfere with any of the buttons or knobs, and it is lightweight.
With various colors of metal, silicone, and nylon straps, you can tailor the Watch to match your mood and outfit – whether you are at work or out.
Ensures that independent buttons feel sensitive and are easy to press.
All in all, this case is thin, lightweight, not bulky, provides long-lasting clarity, and keeps colors bright.
Buy BOTOMALL Rugged Bumper for Apple Watch Case for $10.99 here
6. Misxi 2 Pack Hard PC Case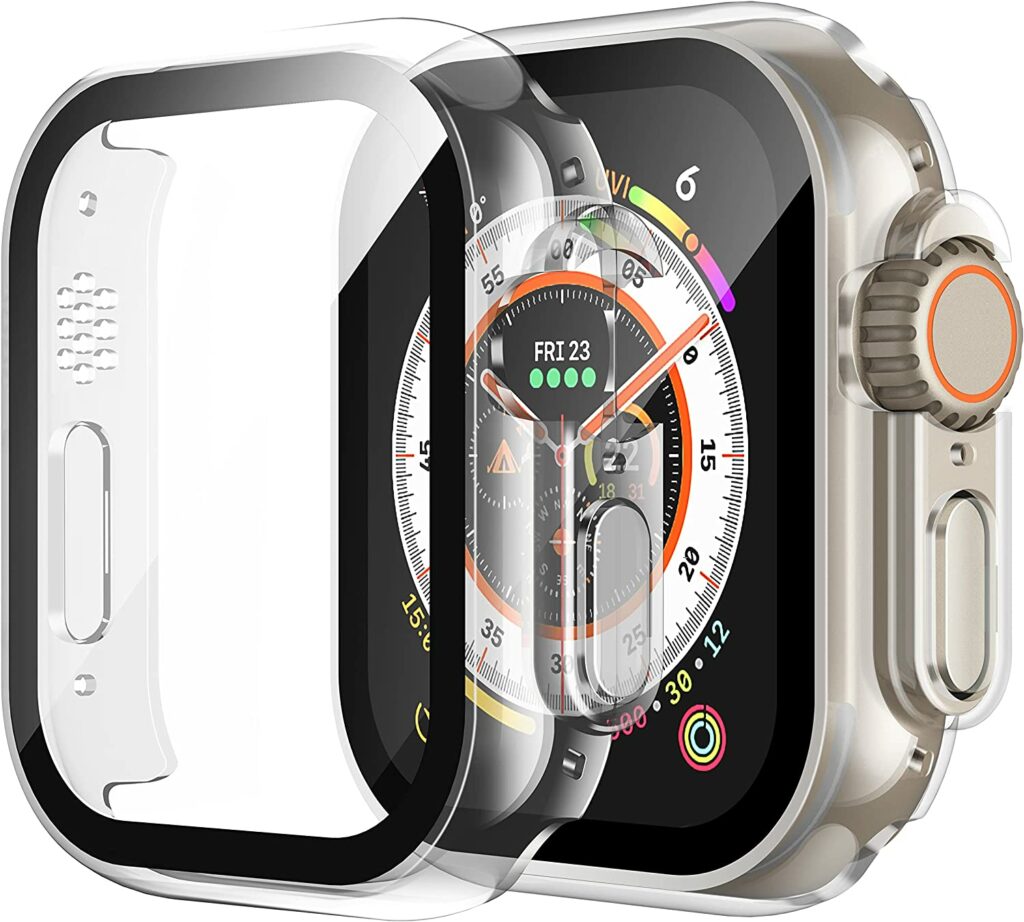 Protect your watch from all sides with Misxi's comprehensive protective case. It features 9H tempered glass, which keeps your screen from scratching and provides a high-definition display. You can protect your beloved watch with the case without feeling bulky.
Now you don't have to worry about scratching the screen.
A built-in screen protector in this case is molded one-to-one according to the iWatch Ultra 49 mm, and the hole position is precise to each detail. You can easily adjust the watch with the hollow crown. The cover buttons are designed to not only protect your watch buttons but also make them easier to press.
This clear case has precise cutouts for the Digital Crown, microphone, and speakers. The application of the case is also quite straightforward. A transparent protective case with a screen protector is also included in the box. It's now possible to flaunt your Apple Watch as well as protect it at the same time.
Buy Misxi 2 Pack Hard PC Case for $9.99 here
7. Recoppa Apple Watch Ultra Case 49mm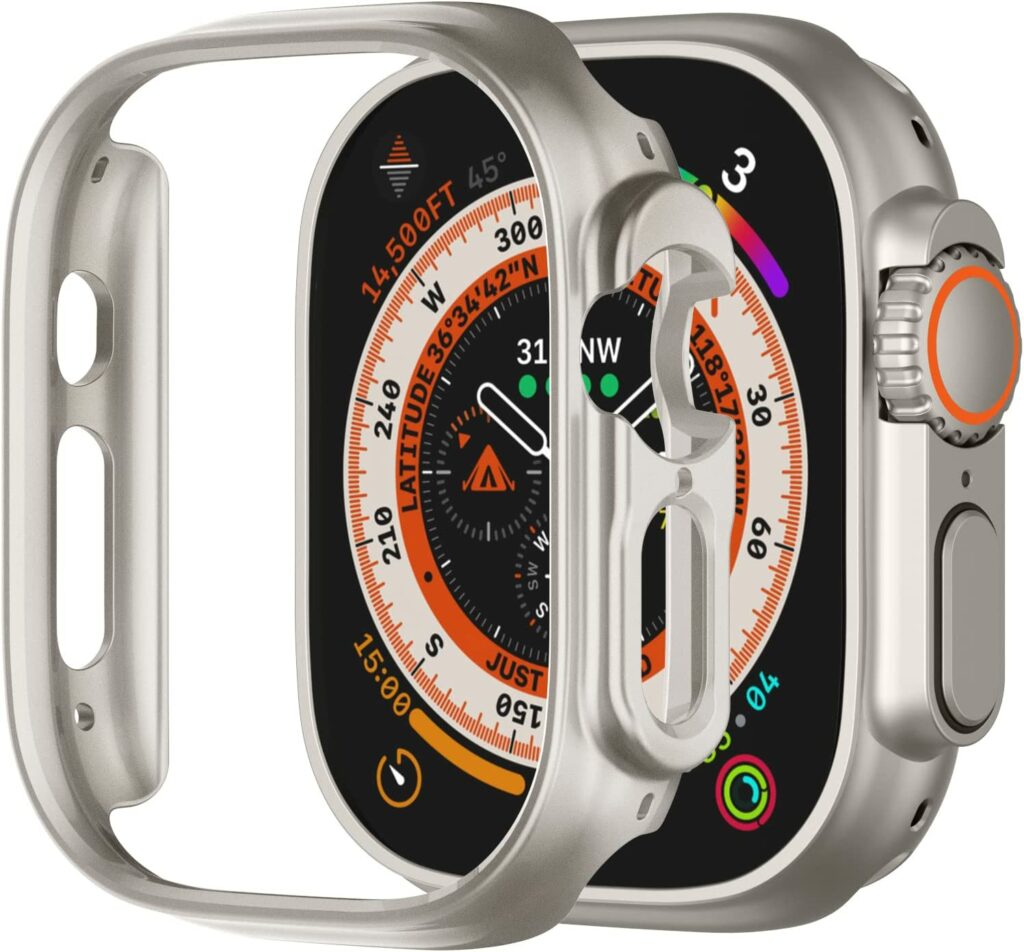 There is full edge coverage to protect your phone against all scratches, drops, and bumps. Apple Watch Ultra Covers are easy to mount on Apple Watch Ultra due to their snap-on design. The case is barely noticeable and does not harm your watch. You won't have to worry about it being a burden on your wrist whether you are using it for work or daily exercise.
Precision-fit cutouts allow easy access to each button. You don't have to remove the case to charge the watch. Using a simple protective case without a screen protector will prevent any problems with touch sensitivity.
Furthermore, the bumper is ultra-thin and lightweight, so you won't feel any excess bulk.
Buy Recoppa Apple Watch Ultra Case 49mm for $8.99 here
To Sum Up
You should protect all of your gadgets since it increases their longevity as well as saves you money on repair costs. Since the Apple Watch Ultra is a highly expensive device and easily scratches and dents when worn every day, you may wish to protect it with one of the cases we mentioned on the list.
So, which case would you choose for your smartwatch? Let us know in the comments section.