Are you looking forward to using Continuity Camera, the newest feature that turns your iPhone into a webcam for Macs? The best continuity camera mounts for Mac are listed in this article.
Apple has been offering Continuity Camera features for iPhone, iPad, and Mac users since 2018. Recent improvements have added another benefit – useful for anyone who participates in video conferences online.
Your Continuity Camera session can be used right away if you have upgraded to iOS 16 on your iPhone and macOS Ventura on your Mac.
However, you must ensure that both devices are signed in with the same Apple ID and connected to the same Wi-Fi network.
Launch the video app on your phone, such as Phone Booth, FaceTime, Facebook Messenger, Google Meet, Zoom, or Skype, and place it close to your Mac or MacBook. It should connect automatically, so you only need to select it in the video app's preferences.
Also read: How To Use iPhone's Camera On Mac To Scan Documents Or Take Photos
2023 Continuity Camera Mounts
The following options will help you decide what mount or stand is suitable for you based on your needs. If you don't use the Continuity Camera often, you may not need a stand specifically designed for it.
Here is the main list of mounts, holders, and stands compatible with the iPhone Continuity Camera.
1. Capstone Continuity Camera Mount
You can easily mount your iPhone on any flat-back computer monitor & use it as a webcam.
Use This Clamp-on All iMac Models, Studio Display, Pro Display XDR, and Desktop Screens with FLAT BACKS – Compatible with LG, Acer, Dell, Lenovo, Asus, Samsung, Sceptre, ViewSonic, BenQ, and more if the Monitor has a flat back.
The camera can be adjusted from vertical to 30 degrees downward for a perfect view and continuity.
This product works excellently on Twitch, YouTube, TikTok, Instagram Live, and other major streaming platforms. With the continuity cameras center stage feature, you remain in the camera frame as you move around the scene.
The Desk Feature View of Continuity Cameras utilizes multiple cameras to simultaneously show the user's face and an overhead view of their desk – perfect for DIY videos, showing off Sketches over FaceTime, and much more.
Buy Capstone Continuity Camera Mount for $27.99 here
2. Belkin iPhone MagSafe Camera Mount
Make your conference calls and FaceTime sessions more productive with this MagSafe-compatible iPhone mount. You can make video calls using your iPhone and Mac Notebook with Continuity Camera in the latest macOS version without additional equipment or tools. This is the perfect complement if you have a Mac Notebook and an iPhone.
Start chatting or streaming hands-free with your MagSafe-compatible iPhone (iPhone 12 and later) mounted on the robust magnetic mount. It enhances your video calling experience by seamlessly pairing your iPhone with your Mac Notebook.
You can use the magnetic iPhone mount in portrait or landscape mode. With a single flip of your iPhone, you can stream or record hands-free in either orientation.
Buy Belkin iPhone MagSafe Camera Mount for $29.99 here
3. Stouchi Aluminum Mag-Safe Continuity Camera Mount
Stouchi Continuity Camera Mount is made of aluminum alloy, making it light and durable at the same time. Mount surfaces touching your iPhone and Mac are covered with rubber or film to prevent scratches.
Magnetic attachments make hands-free camera streaming easy and seamless. You can rotate your iPhone, either portrait or landscape, with ease.
The magnetic mount also serves as a ring grip and kickstand to watch videos or enjoy other content on your iPhone when not connected to your Mac laptop.
Buy Stouchi Aluminum Mag-Safe Continuity Camera Mount for $18.99 here
4. MAGKOTA Camera Mount for iMac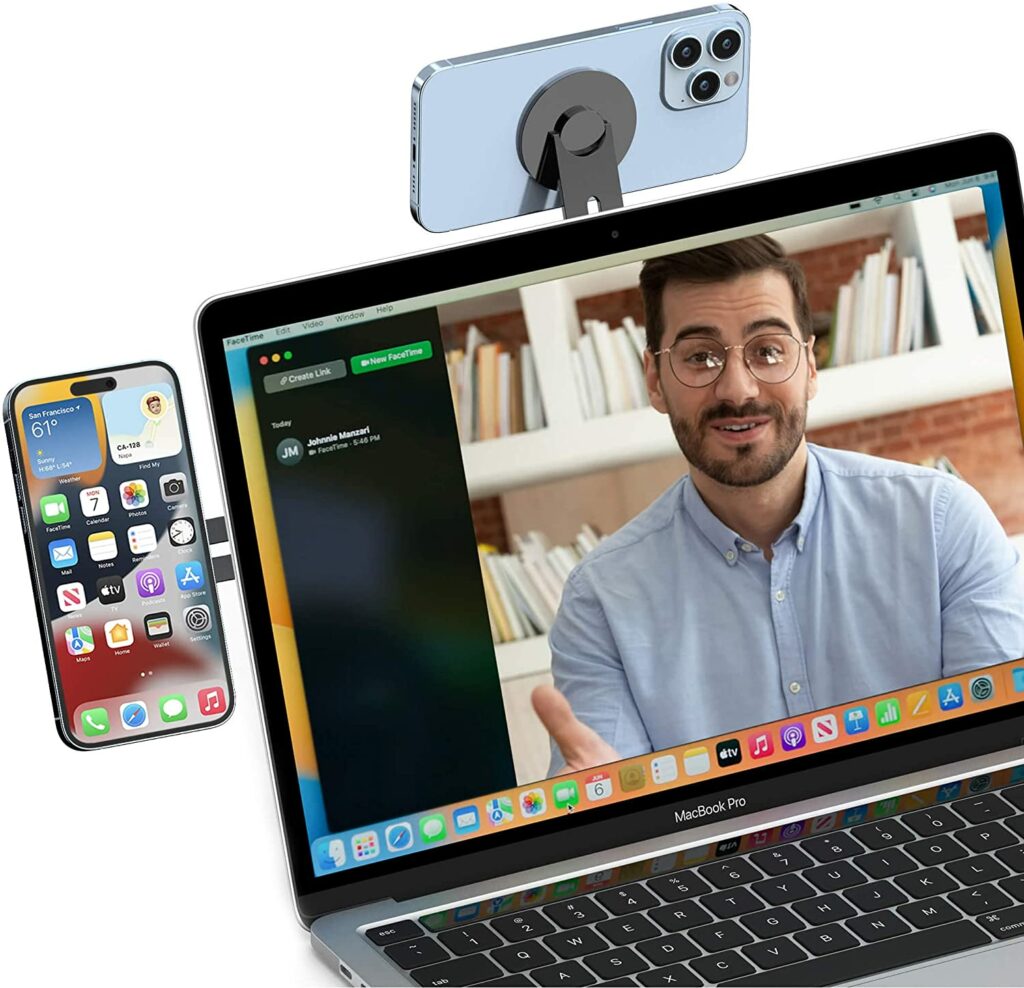 Your phone and laptop will always be at eye level with MAGKOTA's powerful magnetic phone mount, and you will never worry about strained necks or missed messages. Multitasking has never been more effortless with Mac OS Ventura too.
A premium aluminum alloy fabricates this phone holder, which is then treated with a frosted layer for increased durability. As it comes with a powerful magnet, you don't have to worry about the phone slipping off due to the built-in attachment. It is also an excellent device to install in a car with a central screen since it gives you an incredible experience.
The magnetic phone mount can be easily attached to any surface, such as a laptop, with the adhesive patch provided.
Buy MAGKOTA Camera Mount for iMac for $15.99 here
5. Doolkin® Duo Continuity Camera Mount
Doolkin Duo fits perfectly into Apple's Continuity Camera feature on macOS Ventura, allowing you to use your iPhone as a Continuity Camera. The feature allows you to use the camera on your iPhone as a webcam on your Mac.
This Doolkin magnetic phone mount is compatible with iPhone 12, 13 & 14. Any cell phone without MagSafe can use this magnetic ring on the back of the case; it comes with a magnetic ring that sticks to the back of your phone case.
This mount holds up to 0.5lb (240g) of weight, thanks to its strong magnets. So, ensure you don't exceed this amount combined with your phone and phone holder. It is also essential to make sure that the phone case is not too thick so that it weakens the MagSafe feature on the iPhone.
The Doolkin Duo magnetic phone holder allows you to mount your phone to your laptop away from your desk.
Buy Doolkin® Duo Continuity Camera Mount for $24.97 here
6. lepivcank Continuity Camera Mount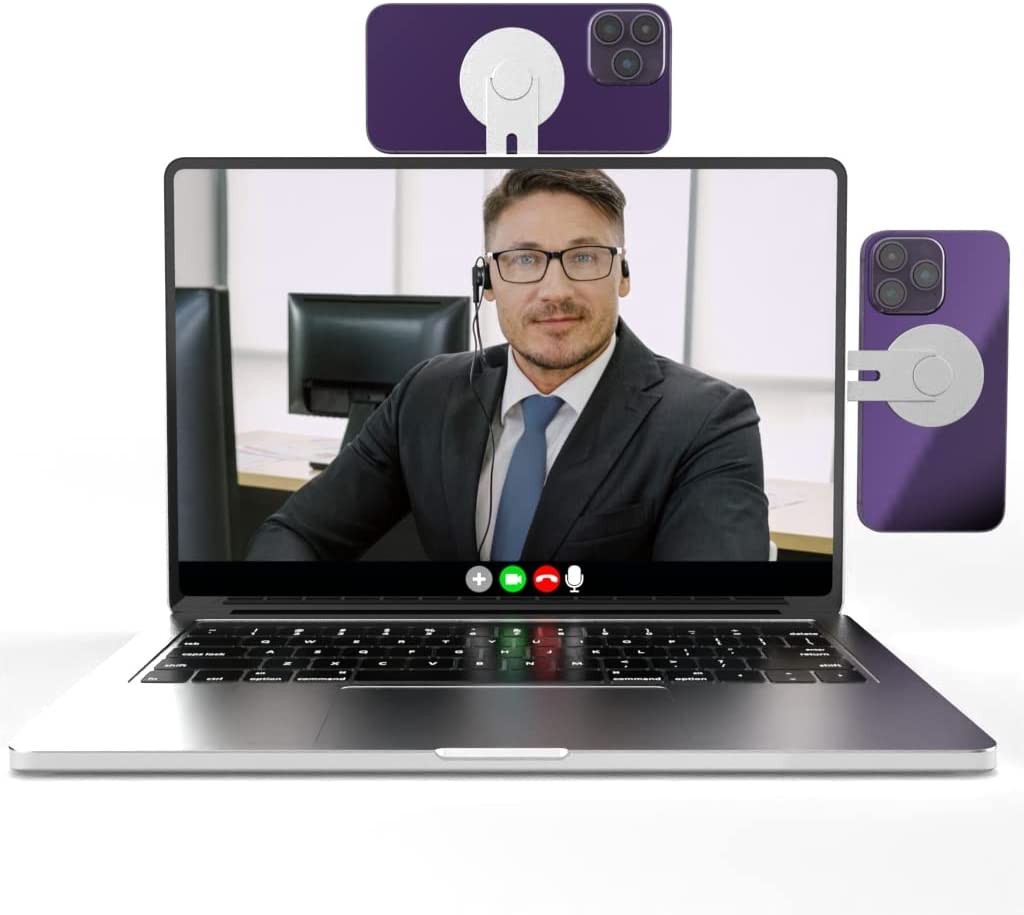 It rotates up when it is in use and rotates down when it is not in use to maintain stealth.
A rotational mount lets you see the ceiling and keyboard better than a clip-on stand.
Unlike the MacBook, this one of the best continuity camera mounts for MacBook is friendlier to the screen and will not damage it with the shear it generates.
All in all, you can use this product regardless of whether you have a MacBook or an iMac running macOS Ventura.
Buy the lepivcank Continuity Camera Mount for $16.99 here
7. MiiKARE Continuity Camera Mount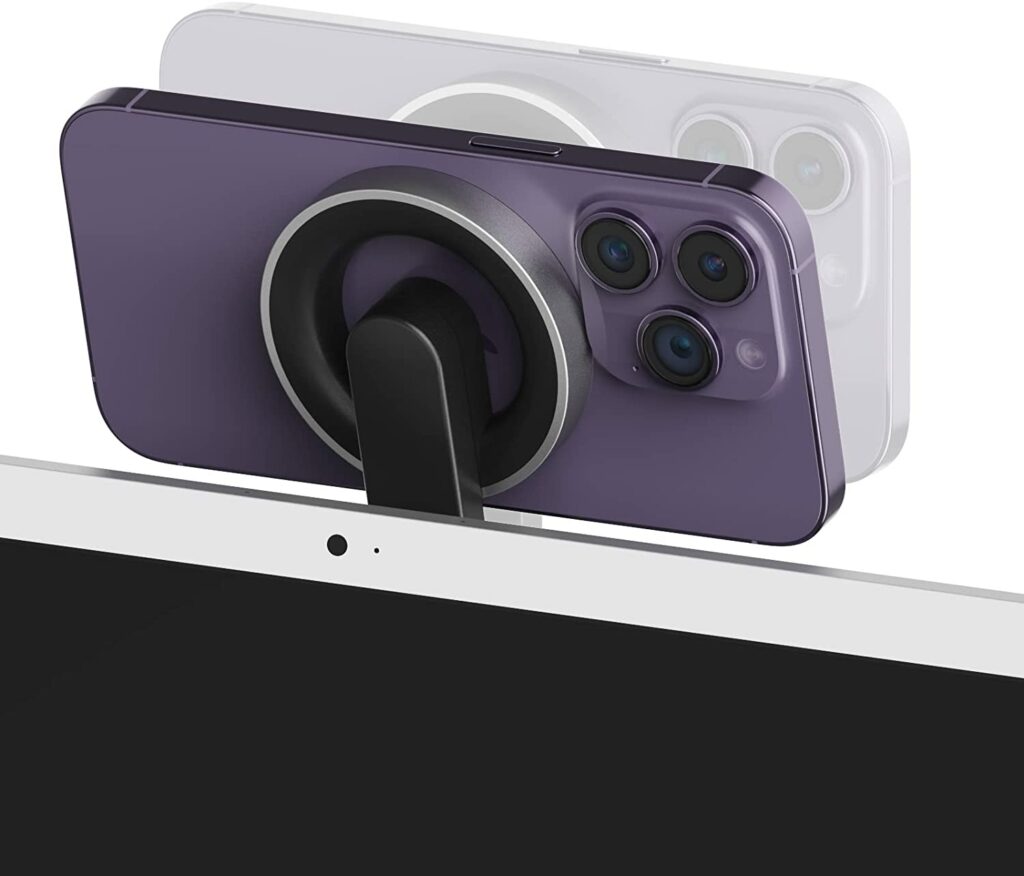 The MiiKARE tripod stand allows you to mount your iPhone behind your Imac/Macbook to create a high-quality webcam.
The magnetic ring head keeps your bigger, heavier iPhone from wobbling or falling. It is compatible with all iPhone 12, iPhone 13 & iPhone 14 models with magnet phone cases.
Telescopic metal poles allow you to adjust the height of monitors and iMacs and place your phone above them. In addition to supporting both landscape and portrait modes, the 360-degree rotatable design provides eight different locked angles.
It supports desk view perfectly because of its adjustable tilt angle. Thanks to the foldable arm, it is compact enough to fit in your bag or any other narrow space.
Additionally, it acts as a phone holder on your desk so that you can raise your phone to eye level and give your hands a break to relieve fatigue.
Buy MiiKARE Continuity Camera Mount for $19.99 here
8. Fumuxry Continuity Camera Mount for MacBook Air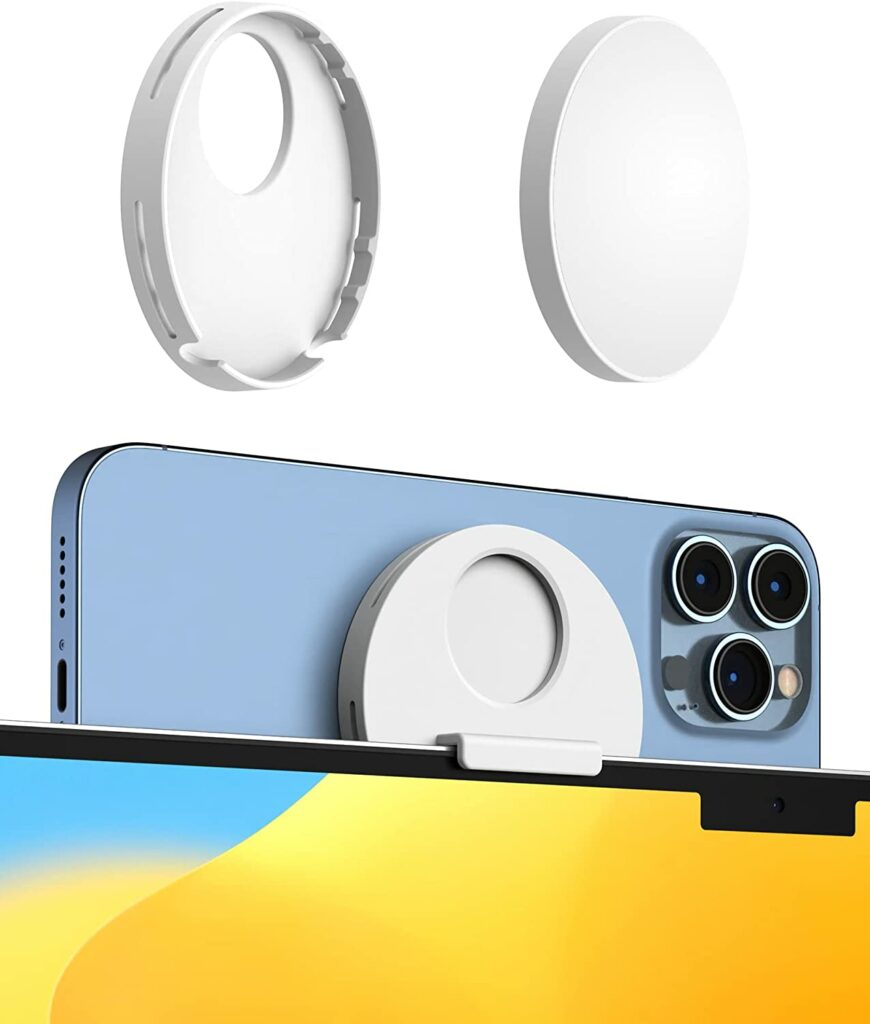 With its compact design, and lightweight build, the Fumuxry Continuity Camera mount is an ideal solution for long video conferences and FaceTime calls with loved ones. On top of that, you can effortlessly switch between Portrait and Landscape modes while on the phone.
Even if you're not a fan of the Continuity Camera feature, it won't make a big difference financially and will ensure that the hinge/screen will remain lightweight.
Furthermore, you can choose between MagSafe and Non-MagSafe models.
Buy Fumuxry Continuity Camera Mount for MacBook Air for $17.99 here
To Conclude
That was our list of the best MagSafe continuity camera mounts. Pick the one that best suits your needs.
Until next time.
Was this list helpful? Let us know in the comments below.