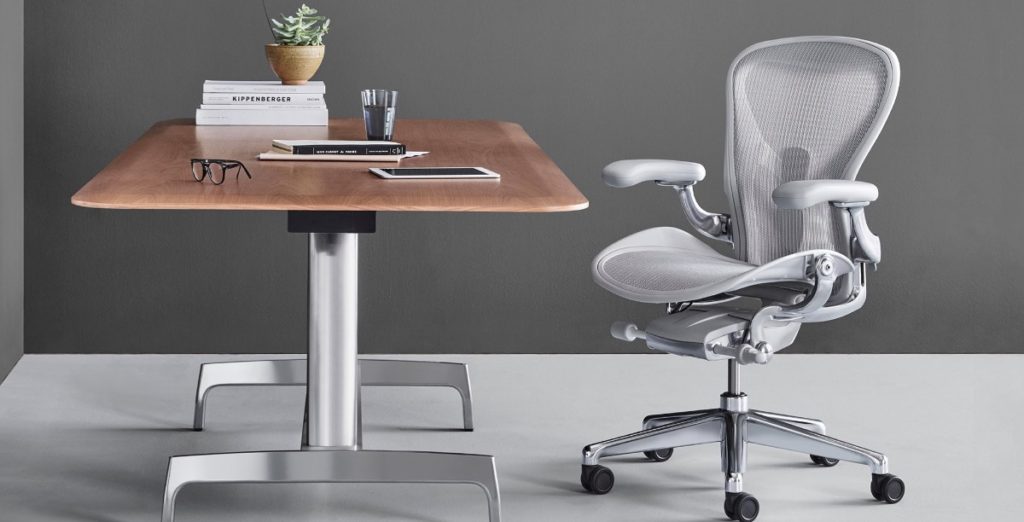 Looking for the best ergonomic office chairs for your Mac setup at home or office? Then look no further as we have the best possible options for you.
These super stylish and comfortable office chairs offer everything you need while working tirelessly for hours at the office. The look and design of these ergonomic office chairs complement the aesthetics of your Mac setup and make it look more professional, even if the home office is situated in your bedroom.
Ergonomic Office Chairs For Mac Setup
Read on to learn about the best ergonomic office chairs for your Mac setup in 2021 from brands like Herman Miller, Gabrylly, SteelCase, Duramont, Hbada and Sidiz.
1. Herman Miller Aeron Chair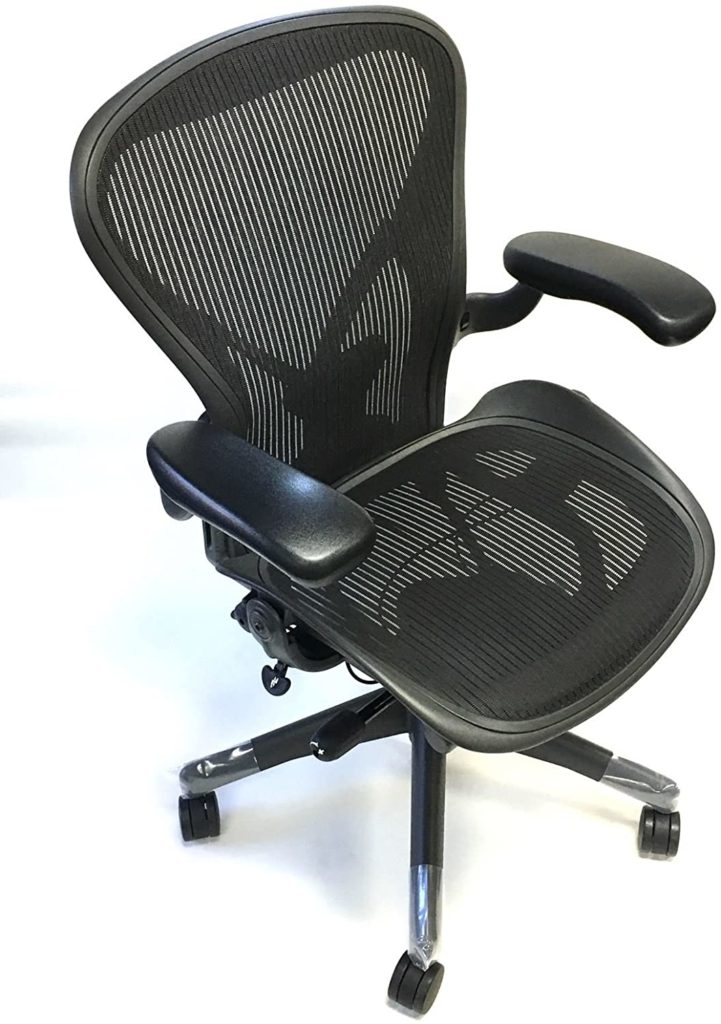 First on our Mac office chair list is Herman Miller Aeron Chair Size B. Its curvy back, round base, and armrests at the right angle are suitable for your office needs. 
If you need a chair with a medium-sized back, this is for you. This best ergonomic office chair gives your head and shoulders equal support while keeping your back in the correct form. The accessible lever at the bottom makes chair adjustment easy. The tilt-lock in your Mac office chair stops you from accidental backward tilts that may cause a sudden jerk and pain to your back. Moreover, this lock keeps your back upright in the correct position.
The breathable mesh material prevents your body from sweating and makes your chair even more ergonomic. The material stays firmly in its place and does not lose its strength after use for a long time. 
You can buy the Herman Miller Aeron Chair Size B for $699 at the link below.
2. Gabrylly Ergonomic Mesh Office Chair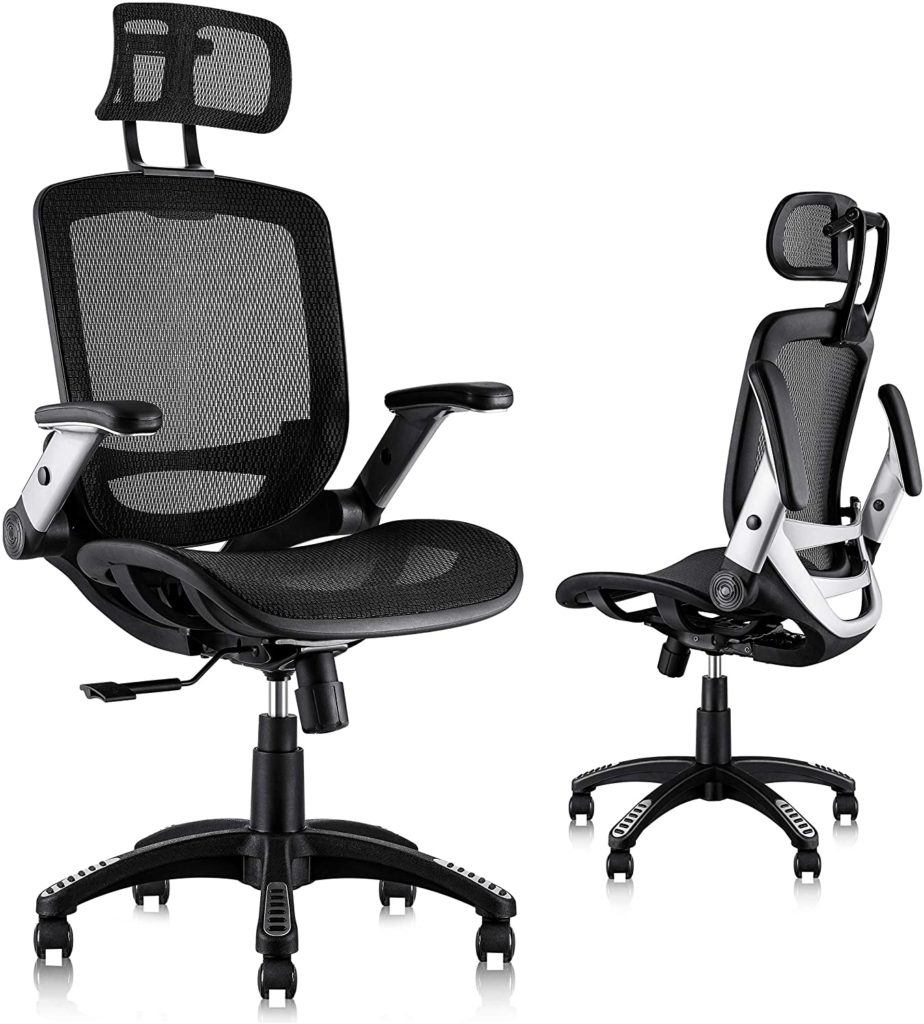 Those who sit and work all day might suffer from postural defects. And the solution is to add the best ergonomic office chair to your setup. That being said Gabrylly Ergonomic Mesh Office Chair has an ergonomic design that that will keep your back and posture safe. Your head, back, hips and hands are in complete comfort along with correct lumbar support. 
Its highly convenient to adjust its height, backrest, headrest, the flip-up arms according to your needs. This means you can sit on this chair for long hours without feeling tired. If your height is between 5'5″ to 6'2″, this is the ideal Mac office chair for you.
If you want to use more area under your desk, simply fold the armrests up and push them under the desk. Or adjust armrests' height by pressing the black button on them. Also, the mesh back and seat ensure increased air circulation to prevent sweating and discomfort makes its one of the best office chairs in 2021.
 You can buy the Gabrylly Ergonomic Mesh Office Chair for $289.50 at the link below.
3. SteelCase Ergonomic Office Chair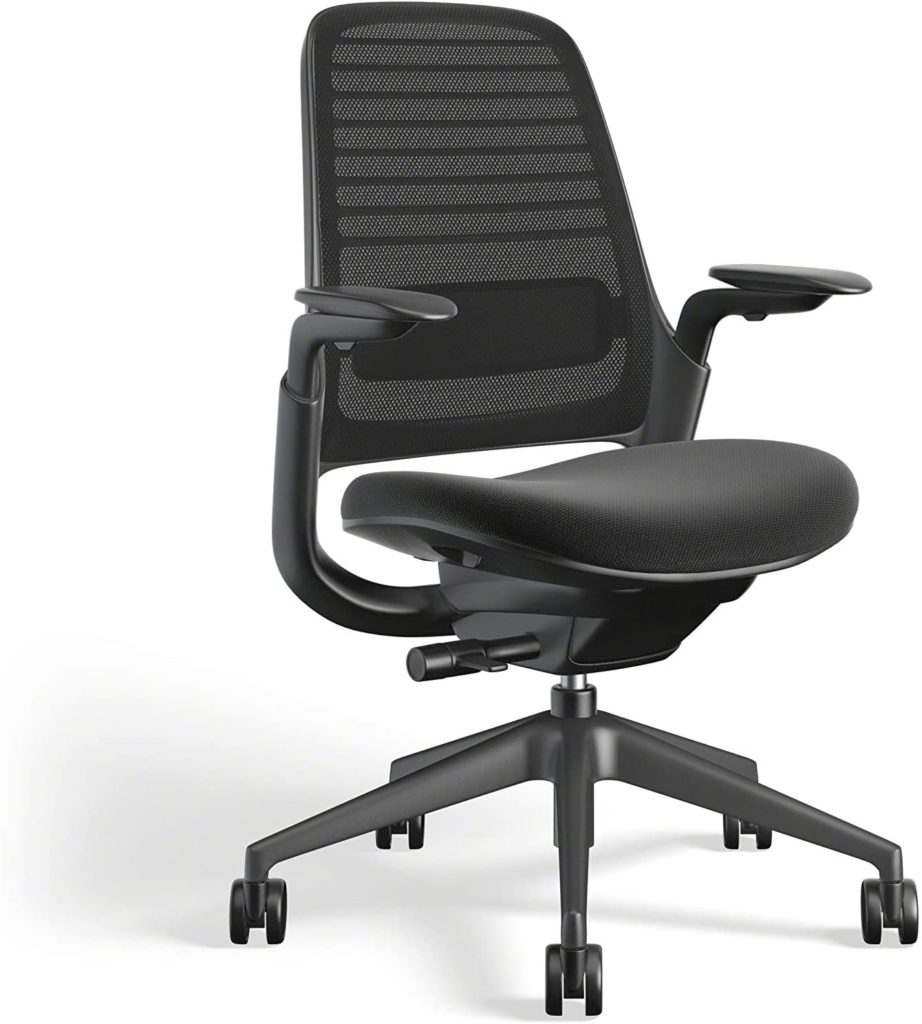 If your office floor is carpeted, you should be looking for SteelCase Mac office chair. Its wheels are designed to slide on the carpet smoothly. Also, its 100% polyester body is comfortable to sit on for long hours.
Its ergonomic design makes it the best office chair for back pain. You can adjust the seat depth with a flexible back setting. If you need to sit upright due to back pain its lumbar support will do the job. Moreover, keeping your needs in mind, you have the freedom to adjust seat height just the way you want.
Now you can fully enjoy all-day back support with a super-comfortable base. The flexor system technology in the backrest keeps your spine in the right position. SteelCase's best ergonomic office chair not only reduces back pain but also prevents it. Speaking of the armrest, it is fully adjustable according to your height. When you sit and move, the chair responds to your movement automatically and gives your body the correct resistance. When needed, its additional tension settings offer you an extra option to add more to its resistance.
Your legs and thighs are also in complete comfort. The seat cushion conforms to your body and reduces pressure when you sit for long hours. The bent edges release pressure points under your thighs.
You can buy this office chair for $436 at the link below.
4. Duramont Adjustable Office Chair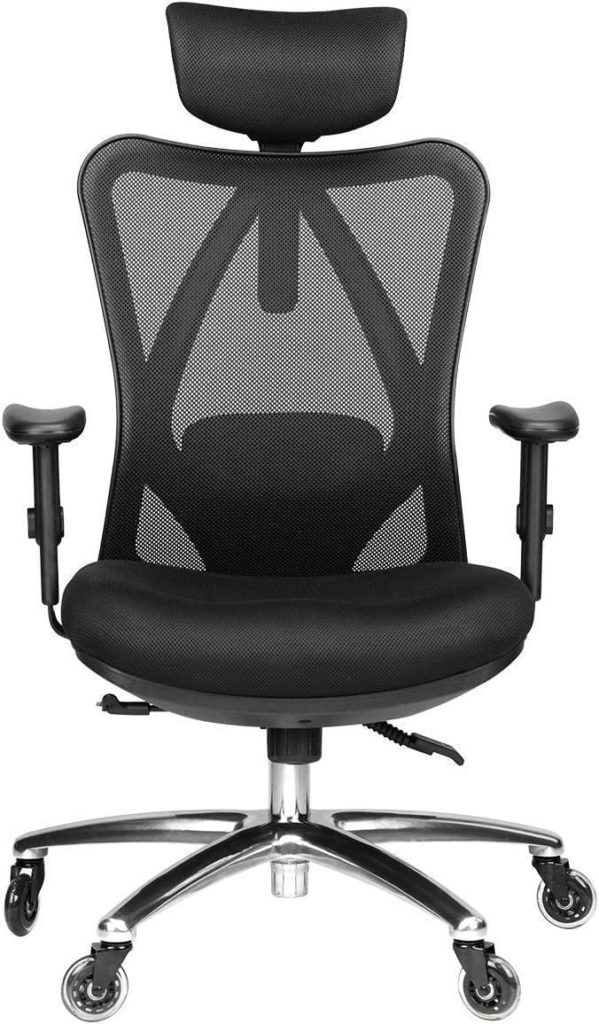 For those looking for additional adjustment options in the office chair, we recommend the Duramont adjustable Mac office chair. Its unique mechanism and state-of-the-art design win the game adjustable office chairs. A perfect and most comfortable seating position can be south with Duramont.
You have more options to adjust the headrest at any height and angle you want. In order to take care of your back, there is perfect lumbar support, height, and depth. You can also adjust the height of the armrest to fit it under the table if you need it. And if you feel it is too close to the seat, adjust the distance matching your comfort and style.
For the back issue, it's highly adjustable back rightly makes it the best ergonomic office chair. You can adjust the backrest up and down, or in and out. Also, due to its recline feature, you can tilt the backrest backward. Its breathable mesh material prevents sweating and keeps your back and legs cool, dry, and comfortable. Finding the accurate sitting position with this office chair is 100% ensured!
Moreover, its easy to install set up and 5-year warranty makes it a complete sitting solution for your office. 
You can buy this ergonomic office chair from Duramont for $246.49 at the link below.
5. Sidiz Office Chair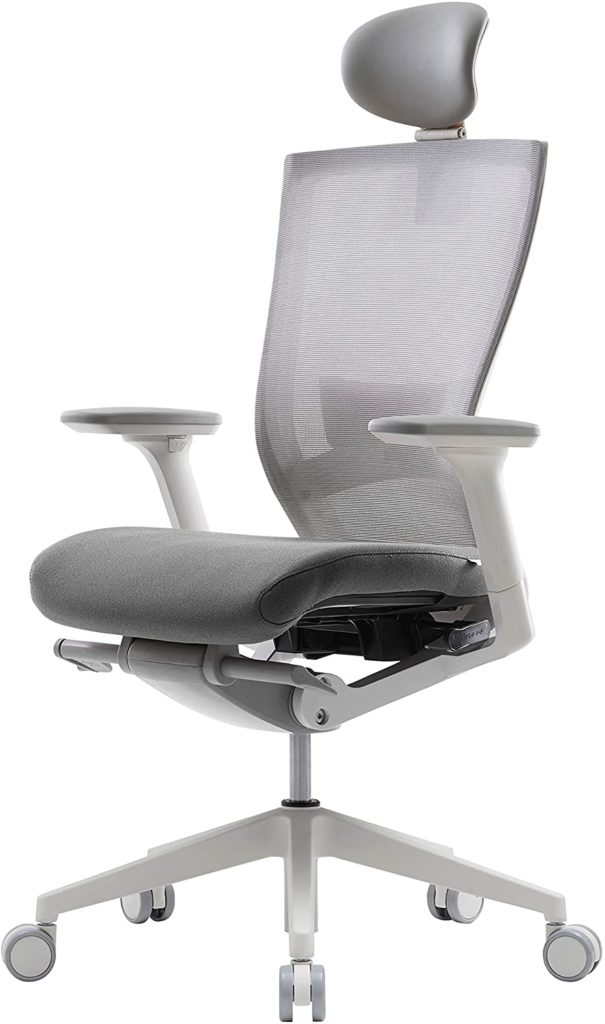 The beautiful design, ergonomic S-frame makes Sidiz the best office chair for back pain. Its curvy design sits well on your back and maintains the S-curve of your spine. Keeping in mind your convenience, each lever is accessible while sitting to adjust the chair. Adjust the backrest forward, backward, or the armrest up or down, you will have a complete comfortable experience.
The built quality is equally exceptional. Its long-lasting frame and body are made up of solid material. You may find this chair slightly heavier due to the high-quality material used in the chair.
Speaking of its adjustment features, the seat slope is adjustable and leans in easier. You can also sit in different postures and move in a variety of ways. Plus, its advanced multi-limited tilting system allows you to set it at 5 different tilting angles, and lean to the extent you want.
Now you can stay focused on your work while your Mac office chair takes care of your body! 
You can buy the SIDIZ T50 Home Office Desk Chair for $358.58.
6. Hbada Office Chair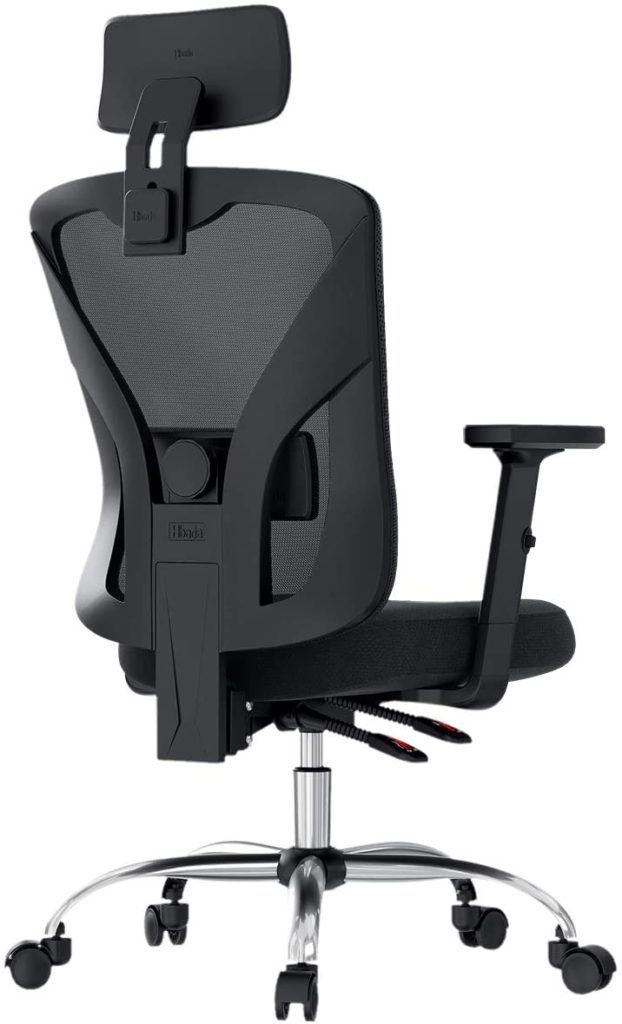 Hbada uniquely designed chair is one of the best office chairs 2021 you should keep in your office. It gives complete support to your head, back, hips, and arms. Its easily adjustable feature helps you adjust the height of the headrest, armrest, backrest, and seat. This way you can meet your sitting needs during long hours of work.
There is adjustable lumbar support that keeps your back in complete comfort. Its space-saving design has lifting armrests that ensure more space in your office and more comfort for your arms.
Its big size can accommodate bodies of different types. While the silent wheel rolling ensures none is disturbed with the creaking sound of wheels during work. Be it a carpet, wood, or marble floor, the wheels roll silently. Whereas the pentagonal base gives the chair high-level stability, durability, and a stylish look.
The breathable mesh material keeps your body sweat-free. Moreover, its durable material is wear-resistant and stays longer with you.
You can buy this office chair for $169.99 at the link below.
Now that you know about the best office chairs 2021, let us know in the comments below which one are you going to try (and why).
For more informative posts about Mac setup, stay tuned to iOSHacker.com. 
More accessories for your Home Office