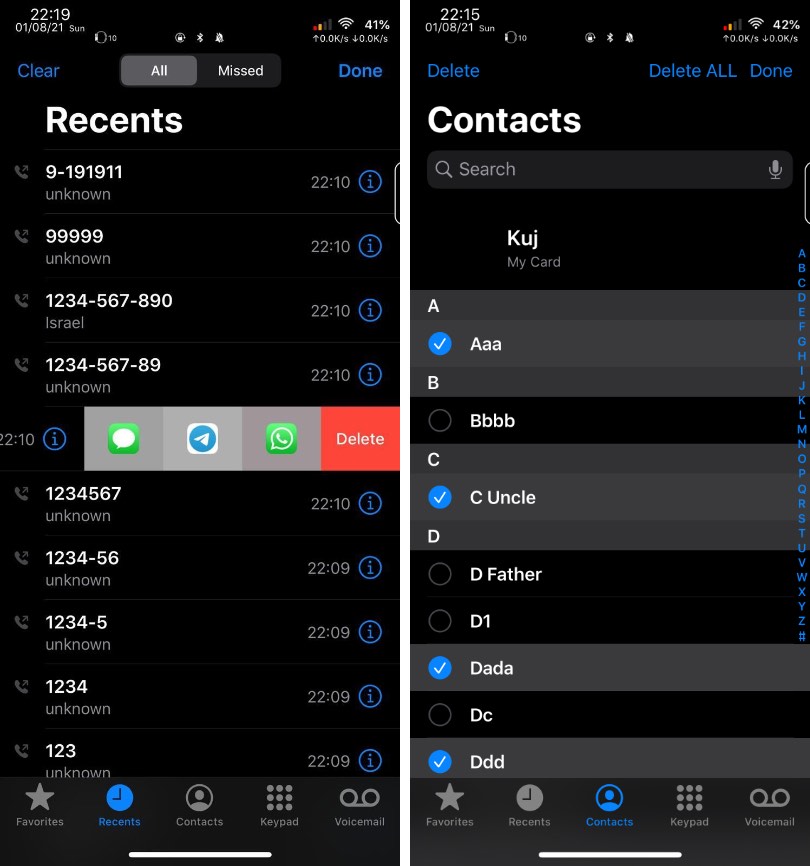 Ever since the early days of iPhone the Phone app has remained largely the same. When it comes to new features Apple seems to have paid little attention to making the Phone app more useful. The newly released Contacts Extended app is here to fix issues with the Phone app and make it more convenient for the users.
Contacts Extended tweak aims to give you more control over your contacts by offering features that are not available by default. The tweak adds new ways to initiate calls on the Recent calls screen, where it adds new communication options.
After installing this tweak iPhone users can swipe left on any contact or number to access various calling options that are not available by default. This includes options like WhatsApp, Telegram and the Messages app. This means you can quickly call any number with these apps by swiping left and then tapping on their dedicated option. You can even select which apps you want to show.
Contacts Extended also adds an option that enables users to delete all contacts with one tap. You can also select multiple contacts at once and then delete them all at the same time. This makes removing unwanted contacts from the Contacts list much easier.
Other features of this tweak include ability to add or remove confirmation before deleting any contact or recent call, ability to disable contact editing and more.
Before you start using this tweak make sure you set your country's calling prefix in tweak's preferences. This is an essential step for this tweak as it won't work without it.
You can download the Contacts Extended tweak from Cydia or any package manager of your choice through the Packix repo. It costs $0.99 and is compatible with iOS 12 up to iOS 14.3.