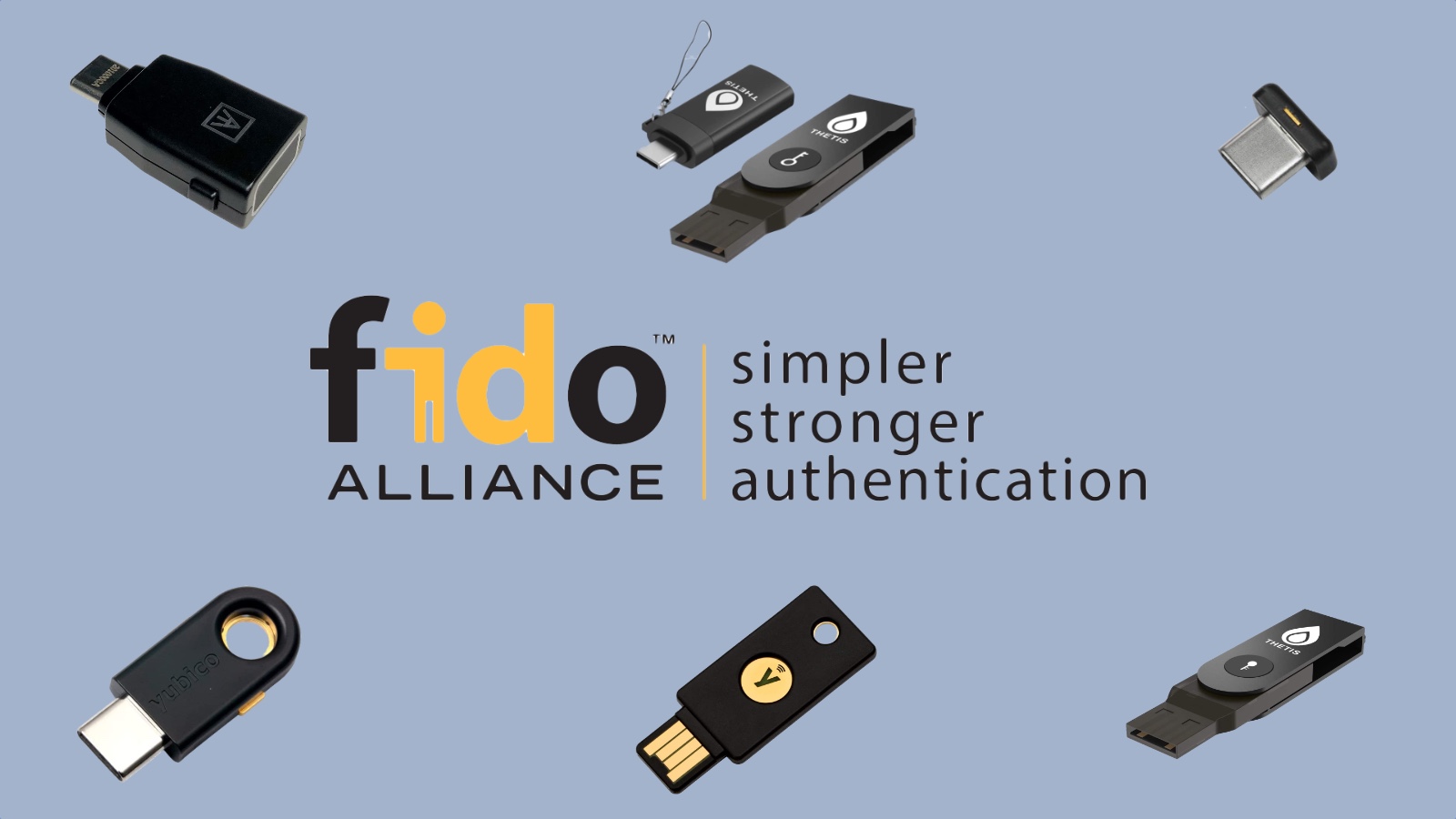 In this post we have featured some of the best FIDO Security Keys that you can use with your Mac in order to securely log in and perform other authentications.
Password security is a crucial step in securing your online life.
Speaking of security, FIDO U2F Security keys are an excellent way to strengthen two-factor authentication and protect your online accounts.
All forms of two-factor authentication are better than just using a password alone, but Mac compatible FIDO security keys offer more benefits than other popular methods such as one-time passwords (OTPs).
In this article, we will briefly explain what FIDO Security keys are, how they can be used to log in to a Mac, and what the best options are.
Let's get started.
What Are FIDO Security Keys?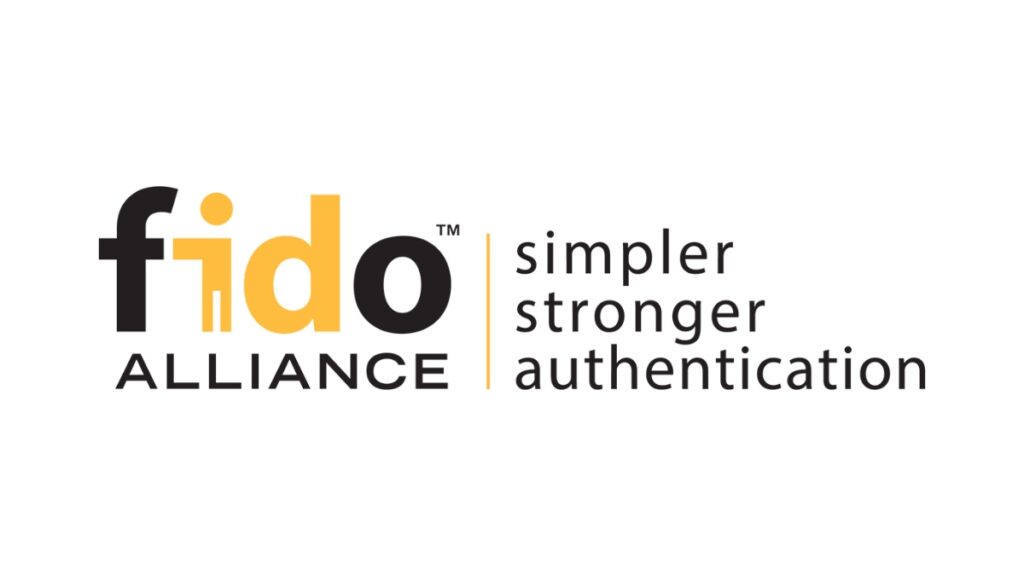 The Fast Identity Online (FIDO) protocol is a technical specification that specifies how to authenticate online user identities. The technology is used in scenarios such as fingerprint logins and two-factor logins, allowing users to access their accounts using biometric features or FIDO security keys.
Macs, iPhones, and Windows devices all support this verification solution because it improves security, protects privacy, and simplifies the verification process.
Like USB flash drives and USB keys, FIDO security keys have a similar appearance. Furthermore, they have some of the same functions as USB keys.
How to Use FIDO Security Key to Log into Your Mac
With two-factor authentication, your account security is largely determined by two factors – something you know, such as your password, and something you have, such as access to an OTP code on your phone.
With two-factor authentication (2FA), a second element – something you have – is required during the login process. But most basic 2FA systems use SMS text messages to send passcodes, a method that is vulnerable to skilled attackers and techniques such as SIM-jacking.
Security keys can eliminate some of these inherent vulnerabilities. It takes just a minute or two to set them up, and then you just plug them into your device and use them as a second factor of authentication.
Despite compromised passwords, requiring physical access to your key significantly reduces the chances of someone hacking your device or personal data.
Best FIDO Security Keys for Mac
While there are numerous security keys on the market today, it is recommended that you stick to those that support FIDO Universal 2nd Factor (U2F). Some of the Best FIDO Security keys for Mac.
1. Thetis Fido U2F Security Key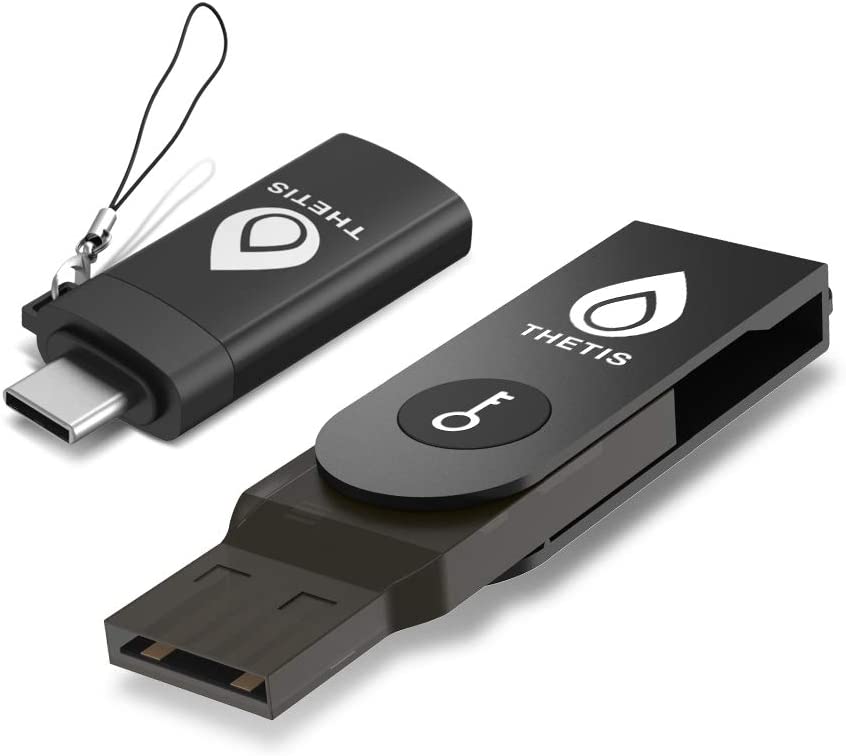 For your online account, Thetis Fido U2F offers strong-factor authentication. There is no risk of losing accounts through password theft, phishing, hacking, or keylogging scams.
Thetis U2F key can be used on any website that supports the U2F protocol using Chrome on Windows, Mac OS, or Linux.
It is certified by the world's largest authentication ecosystem and offers a simple, low-cost solution with high security that supports the U2F protocol (no UAF or OTP).
An integrated 360° rotating metal cover shields the USB connector when not in use. Furthermore, the Key is made from a durable aluminum alloy that protects it from drops, bumps, and scratches.
Buy Thetis Fido U2F Security Key for $24.99 here
2. Yubico YubiKey 5C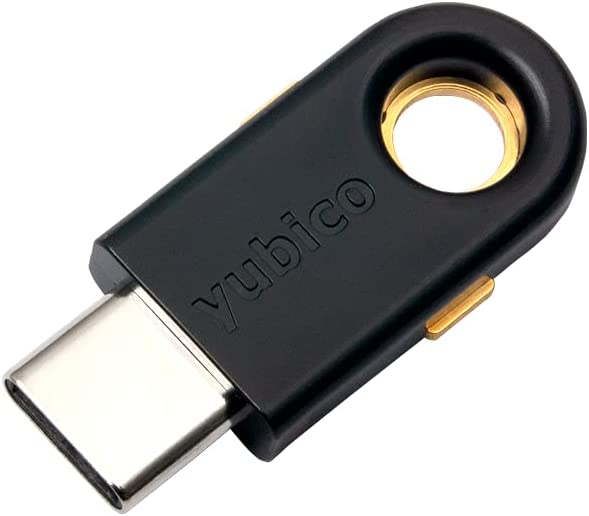 Secure your online accounts with dual-factor authentication using the Yubico YubiKey 5C security key, the world's most powerful USB key that supports more Internet and apps than any other.
The YubiKey 5C is FIDO certified and is compatible with Google Chrome, Mac OS X, and Linux applications. You can protect your Gmail, Facebook, Dropbox, Outlook, Last Pass, Dashlane, and 1Password accounts by using a secure login.
Each service will prompt you to connect the YubiKey PC Security Key to a USB C port and tap the golden contact.
In addition to being extremely durable and safe, YubiKeys are waterproof, kink-resistant, and tamper-proof. The YubiKey 5C is designed to protect your online accounts against phishing and other malicious attacks.
Buy Yubico YubiKey 5C for $52.51 here
3. Yubico – YubiKey 5C Nano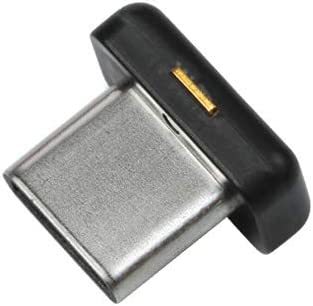 Secure your online accounts with the YubiKey 5C Nano security key to prevent unauthorized access. In addition to being the fastest and most secure USB security key, it works with more apps and online services than any other.
A FIDO-certified YubiKey 5C Nano is compatible with Chrome and any FIDO-compliant application on Windows, Mac OS, and Linux. Make your login secure and protect your Gmail, Facebook, Dropbox, Outlook, LastPass, 1Password, and more.
With the extra compact size of the device, you can stay connected and secure no matter where you are.
To provide strong hardware-based authentication, the YubiKey USB authenticator supports multiple protocols, including FIDO2, FIDO U2F, Yubico OTP, OATH-TOTP, OATH-HOTP, Smart cards (PIV), OpenPGP, and Challenge-Response.
Buy Yubico – YubiKey 5C Nano for $60 here
4. Identiv uTrust FIDO2 USB-C NFC Security Key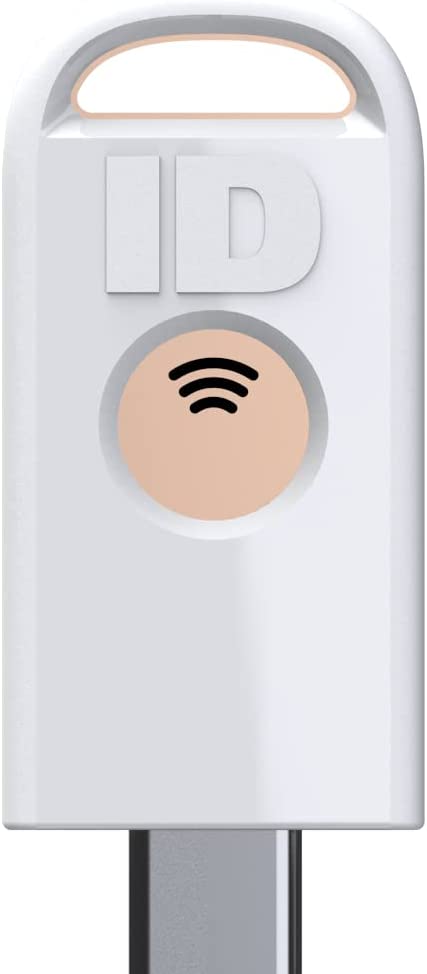 With Identiv's uTrust FIDO2 USB-C NFC Security Key, you can replace passwords with a secure, fast, scalable, and cost-effective login solution.
A cryptographic security model prevents phishing, password theft, and replay attacks from occurring. Moreover, this one of the best FIDO USB-C Security Keys has near-field communication (NFC) functionality for contactless application access.
FIDO2, FIDO U2F, PIV, TOTP, HOTP, and WebAuth support multiple protocols, enabling strong multi-factor authentication and removing the need for passwords. Supports everyday devices and services, such as phones, tablets, laptops, desktops, and social networks (e.g., Gmail, Facebook, Salesforce, LinkedIn).
Buy Identiv uTrust FIDO2 USB-C NFC Security Key for $19.98 here
5. AUTHENTREND ATKey.Pro – FIDO2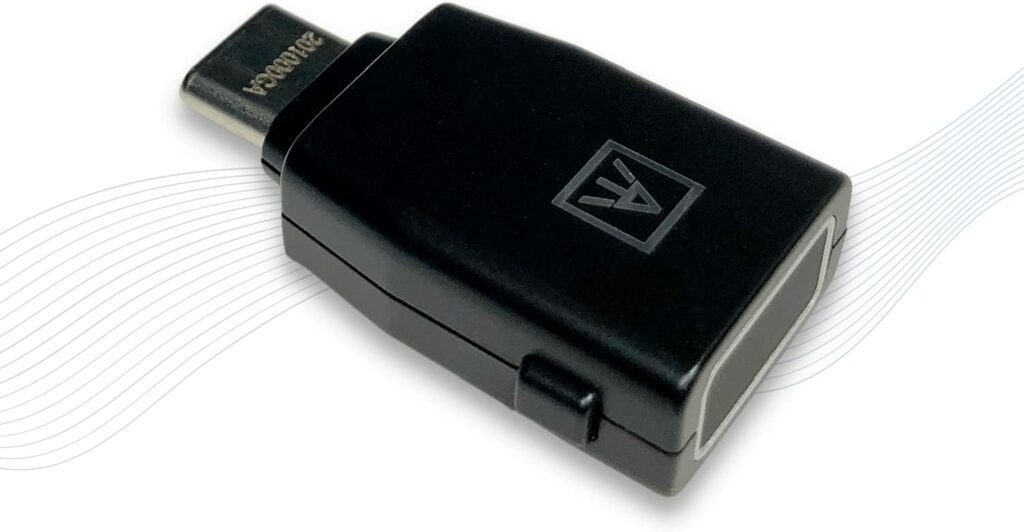 The most secure password is your biometrics, which is always with you, never lost, and can't be copied. Passwordless logins with FIDO-enabled services that require an additional PIN code aren't expected scenarios, so a slight touch of fingerprint authentication is the most reliable verification method.
In addition to supporting multiple OSes (Windows, Mac, Chromebook, Linux, iPad OS) with USB-C ports without additional driver installation, ATKey.Pro works with major browsers and any FIDO-enabled web service or application, including Microsoft Azure AD, Microsoft 365, Google accounts, Salesforce, Facebook, Twitter, Dropbox, cryptocurrency exchanges, and more.
This MCU and side-mounted sensor are validated to FIPS 140-2 Level 3 and provide users with fast and accurate fingerprint recognition in less than a second.
Buy AUTHENTREND ATKey.Pro – FIDO2 for $59 here
Best FIDO USB-A Security Keys
A revolutionary and innovative way to protect your account information. With FIDO USB-A security keys being certified by the world's largest ecosystem for standard-based, interoperable authentication, FIDO2 makes everyday log-in effortless and passwordless yet more secure than generic password-style security.
Here are a few options for FIDO security keys for USB-A type.
6. FIDO2 Security Key [Folding Design] Thetis Universal Two Factor Authentication USB (Type A)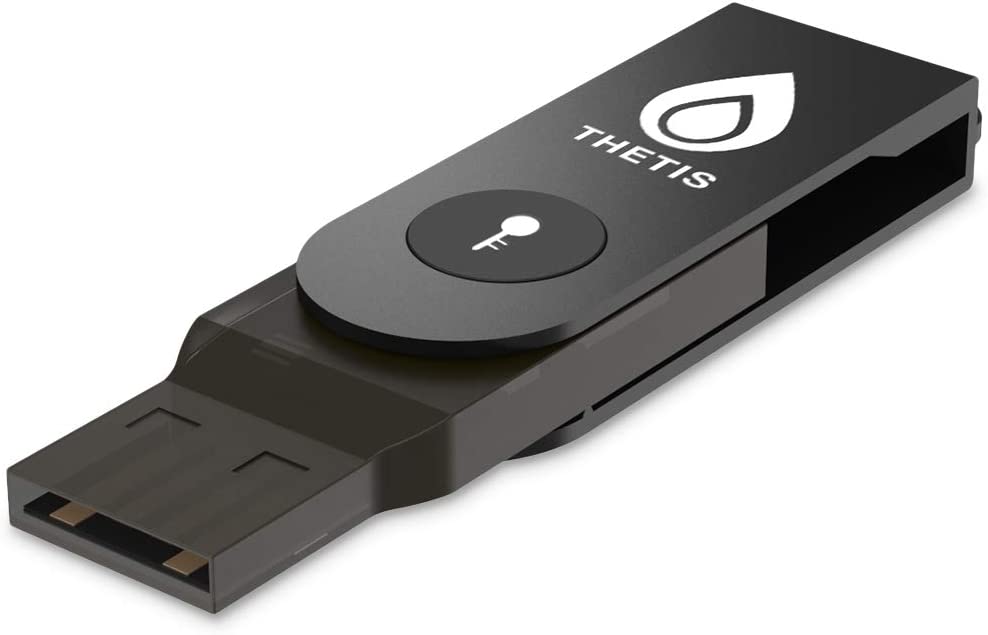 The FIDO2 key is backward compatible with the U2F protocol and works with the latest Chrome browser on Windows, macOS, or Linux operating systems. Websites that follow U2F protocols can support and protect U2F.
The unique multi-factor authentication process includes built-in, advanced HOTP (One Time Password) technology. Reduce your risk of theft, phishing, hacking, and other online scams by protecting your account info.
Designed with a rotating aluminum alloy cover to shield the USB connector when not in use. A tough and durable alloy protects the FIDO2 key from daily wear and tear, accidental drops, and scratches.
Buy FIDO2 Security Key [Folding Design] Thetis Universal Two Factor Authentication USB (Type A) for $24.99 here
7. Yubico Security Key, YubiKey 5 USB-A Ports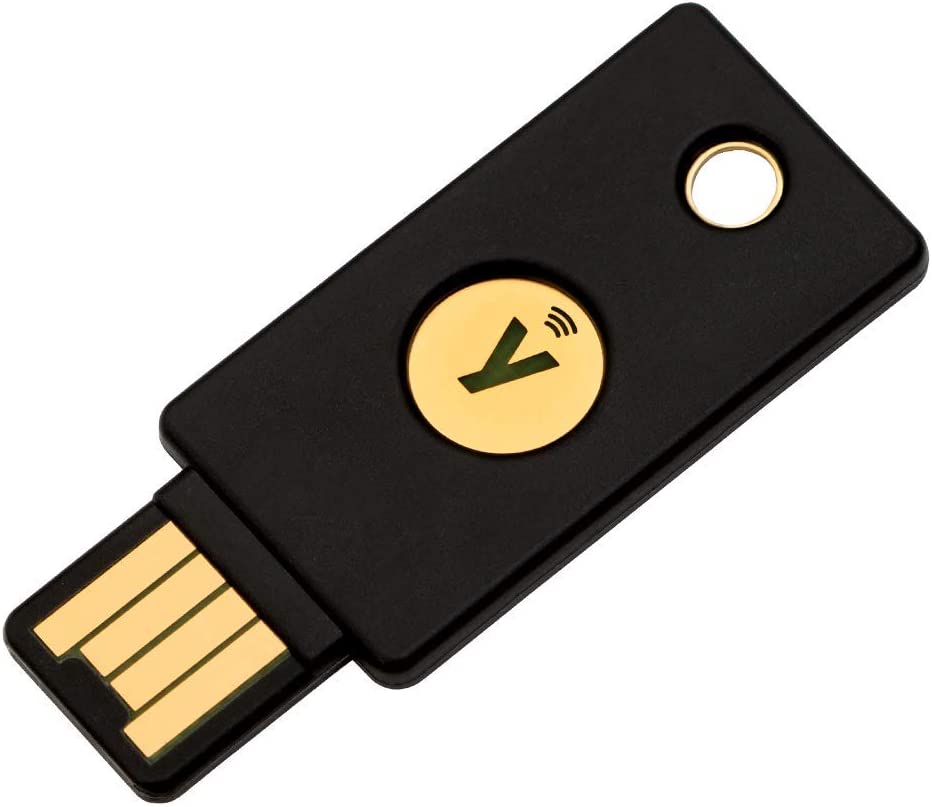 The YubiKey is a simple and secure way to authenticate computers, networks, and cloud services.
You can use it as a touch device by plugging it into a USB-A port or as an authentication device by placing it on NFC.
This security key works with numerous OSes, including Windows, Mac OS, Linux, and Firefox, as well as major browsers, including Edge, Chrome, Safari, and Firefox, as well as Google, Microsoft, AWS, Salesforce, and many other services.
Provides strong hardware-based authentication protocols such as FIDO 2, FIDO U2F, Smart Card (PIV), and OTP.
Yubico Security Key, YubiKey 5 USB-A Ports is available for $57.58.
To Conclude
For those with a high level of risk or security consciousness, security keys are an ideal option for protecting their accounts. They're likely to become more widely adopted across services like Apple as they become more popular.
In the future, 2FA systems like security keys and authenticator apps will become more essential due to the increasing prevalence of data breaches, phishing attacks, and other security risks.
But regardless of when you start using security keys, or even if you never do, you need to be aware of the limitations of your security. It is wise to use any type of two-factor authentication.
So, which one would you go for? Let us know in the comments.