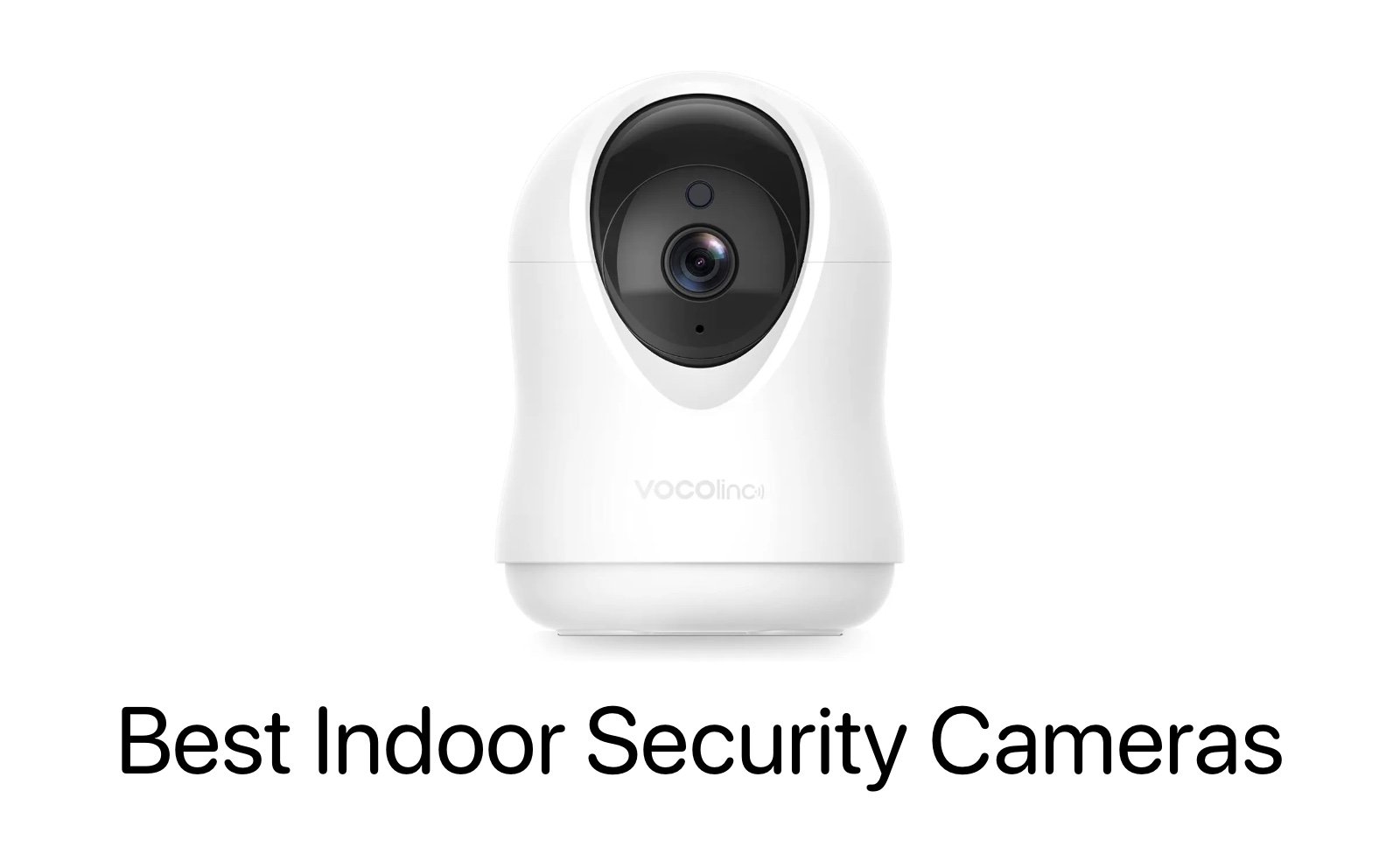 The development of indoor security cameras for iPhone users has accelerated over the past few years. Security cameras have evolved from clunky models from the early 2000s to smaller, smarter models that can capture incredible detail.
It has also improved a lot in terms of features! Nowadays, security cameras can distinguish between moving objects and people, recognize when packages are delivered or picked up, and even recognize faces. The best can even prevent potential trespassers from entering your property before they even get inside.
Security Cameras in 2023 for iPhone
Would you like to know which indoor security camera would be most suitable for your home? Several factors play into that, including price and compatibility with smart home systems and ecosystems, as well as video quality and features like pan, zoom, and real-time alerts.
We curated our list of the best iPhone security cameras indoor based on these considerations.
1. Aqara Security Camera Hub Indoor G2H Pro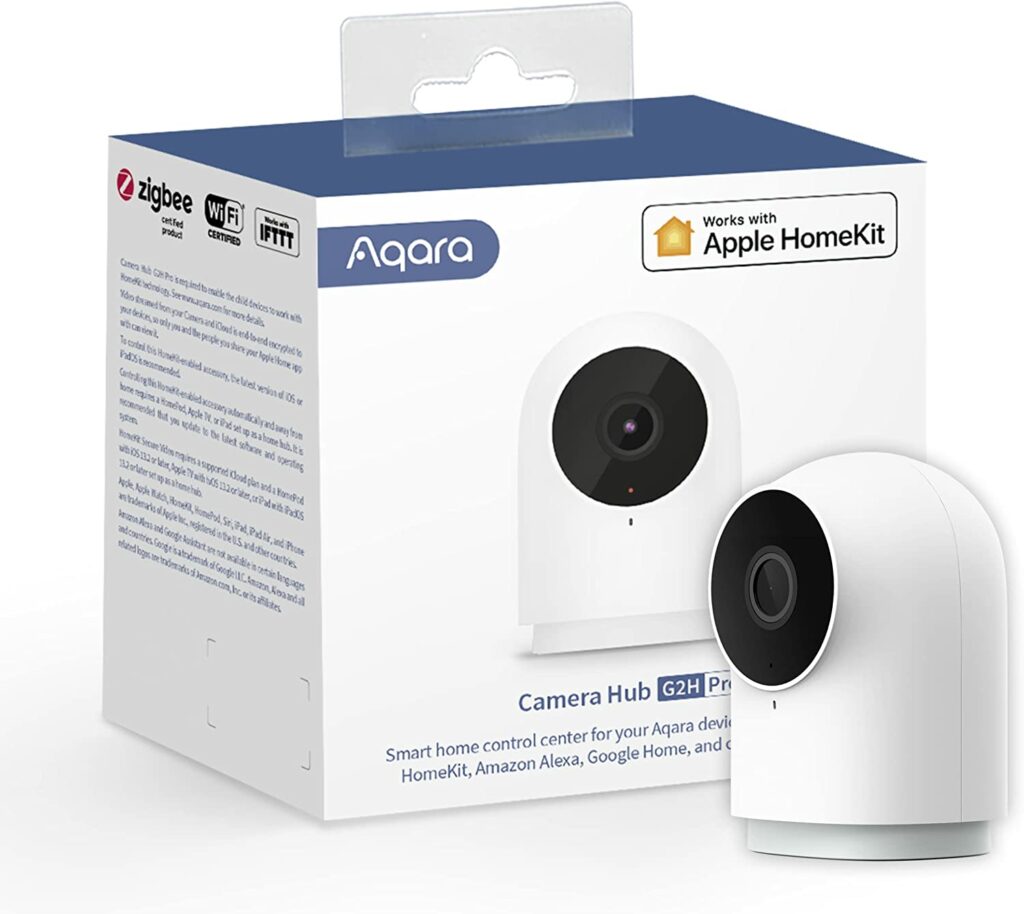 The Aqara Indoor Camera G2H Pro can be connected to Apple HomeKit Secure Video, protecting your privacy at home by preventing hackers from accessing your data. The G2H Pro recognizes faces and packages, handles notifications locally, and processes them on your HomeKit hub. The system allows you to communicate with your family via two-way audio and see real-time video images from a remote location.
The 1080p Full HD recording provides you with a stable and smooth video day or night thanks to the wide-angle lens that offers 146°. Your smartphone and built-in siren will notify you when an abnormal sound or motion is detected, and a short clip will be recorded. While the full footage is recorded locally, the short clip will be transmitted to the cloud immediately.
Additionally, the Camera G2H Pro can also function as a Zigbee 3.0 hub, allowing up to 128 Aqara Zigbee child devices to be connected and integrated for seamless integration. You will receive video notifications when the Aqara sensors are triggered by an event, such as opening the door, using the G2H Pro.
Buy Aqara Security Camera Hub Indoor G2H Pro for $55.99 here
2. blurams Security Camera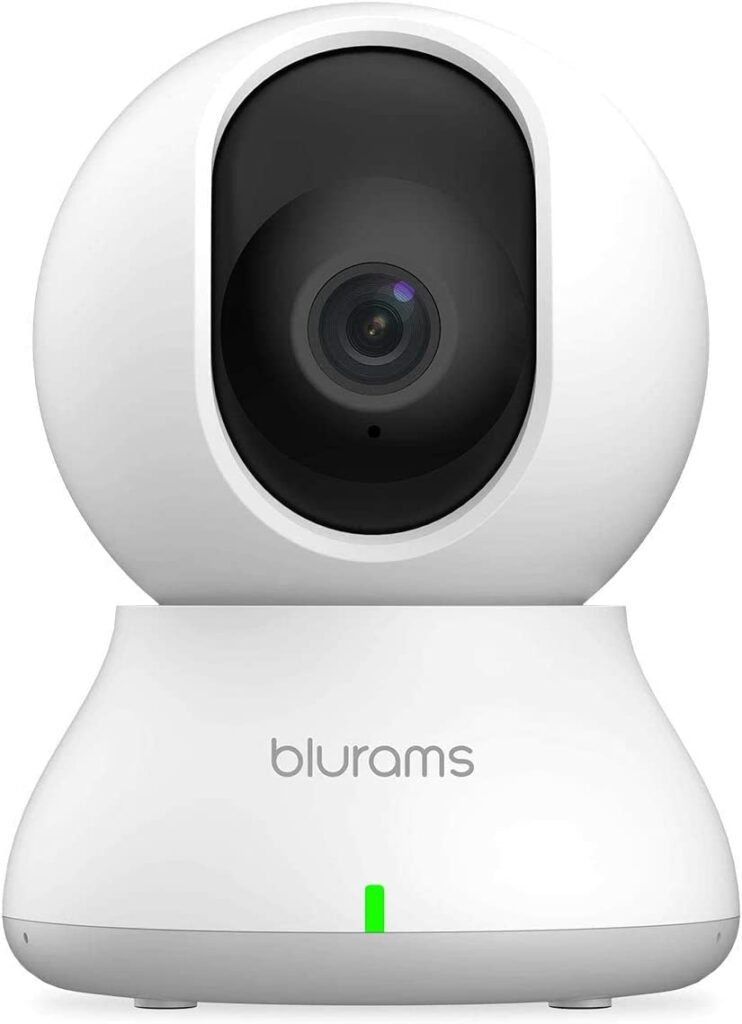 A blurams security camera detects motion automatically and tracks it. Even in dim conditions, this camera captures crisp videos and photos with its IR-CUT function. For privacy protection, you can turn on the privacy mode.
When a person, motion, or abnormal sound is detected in your home, you'll receive instant notifications on your phone. You can automatically record a 15-minute alert video, which is saved for 24 hours.
Use Alexa or Google Assistant to view blurams baby monitor live stream on your phone or tablet with your simple voice command. It lets you link any set of smart devices so they can work together, creating a more relaxing home.
The app or official website allows you to view four dog cameras simultaneously. You can share your camera access with as many family members as you like. The two-way audio technology allows you to transmit and receive audio at any time and from anywhere. The device is only compatible with 2.4GHz Wi-Fi networks (not 5GHz).
Buy blurams Security Camera for $36.99 here
3. TP-Link Tapo 2K Pan/Tilt Security Camera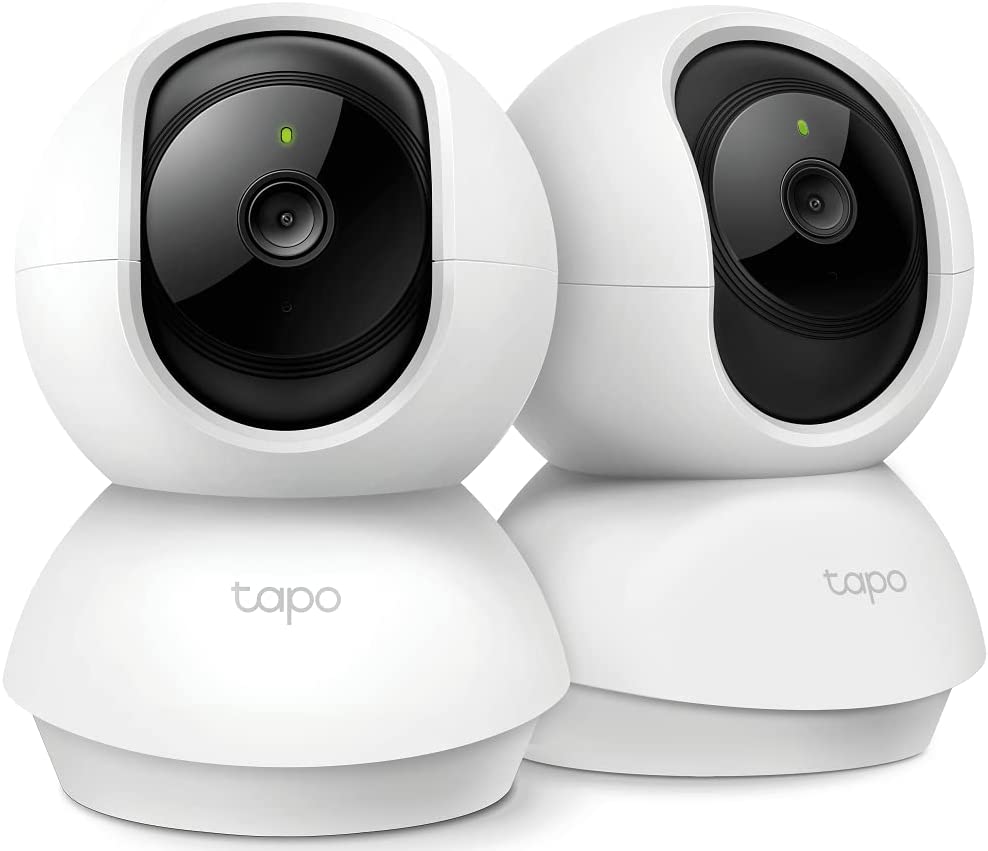 The 2K high-definition indoor security camera provides crystal-clear images of everything inside your home. This is one of the best baby monitor cameras for iPhone that allows you to keep track of what your baby is holding or eating. An IP camera that can pan and tilt 360° horizontally and 114° vertically can see everything around an entire room or walkway.
The Tapo indoor security camera is fully compatible with Amazon Alexa and Google Assistant, and you can view the live stream on an Echo Show or Google Chrome Cast device by using just your voice command. You can easily display your home security footage on a larger TV.
With 2-way audio built-in, you'll never be far from home. You can use this pet camera with a phone app to comfort your pet from anywhere in the world.
Night vision of 30 feet makes this indoor camera ideal for keeping an eye on things even at night.
Buy TP-Link Tapo 2K Pan/Tilt Security Camera (2-pack) for $54.99 here
4. Eve Cam – Apple HomeKit Smart Home Secure Indoor Camera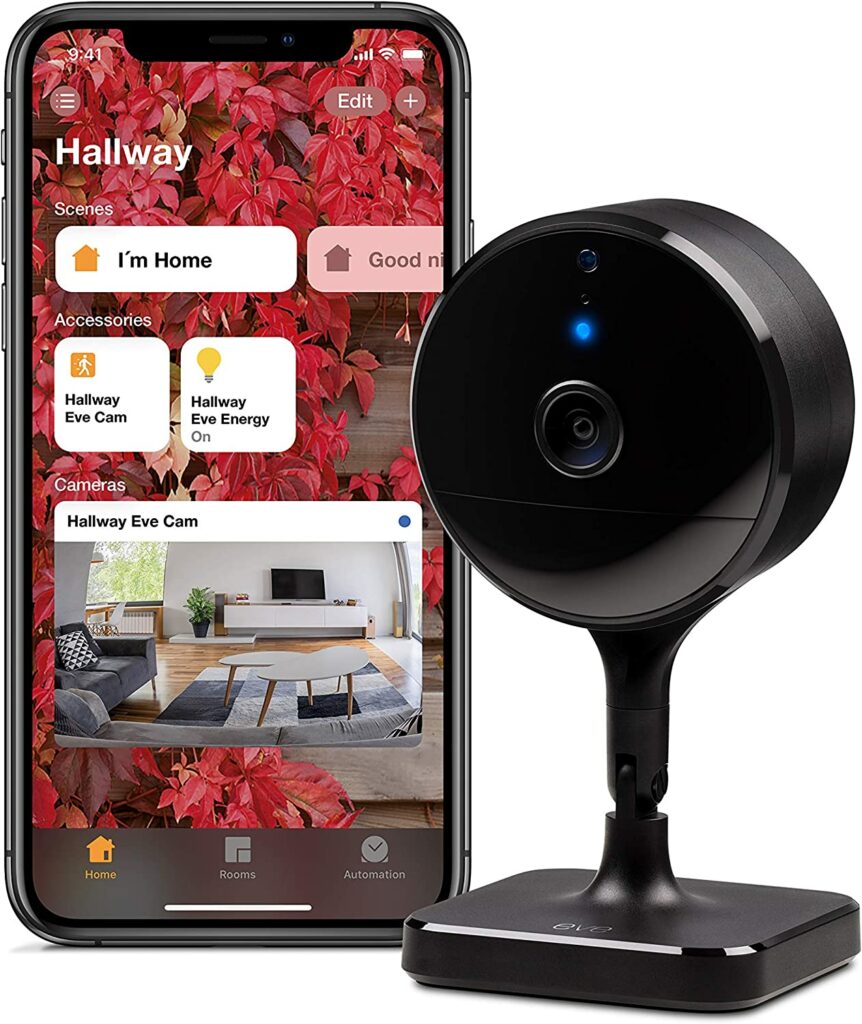 Be sure to keep an eye on your home 24 hours a day. You will receive rich notifications on your iPhone the moment something is amiss in your home – and you will remain in control of your personal space at the same time. The system allows you to choose whether to record every motion automatically or distinguish between people and pets – and to choose different settings based on whether you are at home (Recognition of People and Pets).
With your home hub (Apple TV or HomePod), you have direct and fully encrypted access to Eve Cam from anywhere.
Eve Cam can be used in any way you like, and it is always up to you to decide when to use it and how to use it. You could program Eve Cam to automatically turn off when everyone is home and control when you want notifications.
Additionally, the visible status LED always indicates whether the camera is recording or not.
Buy Eve Cam – Apple HomeKit Smart Home Secure Indoor Camera for $149.95 here
5. LaView Indoor Security Camera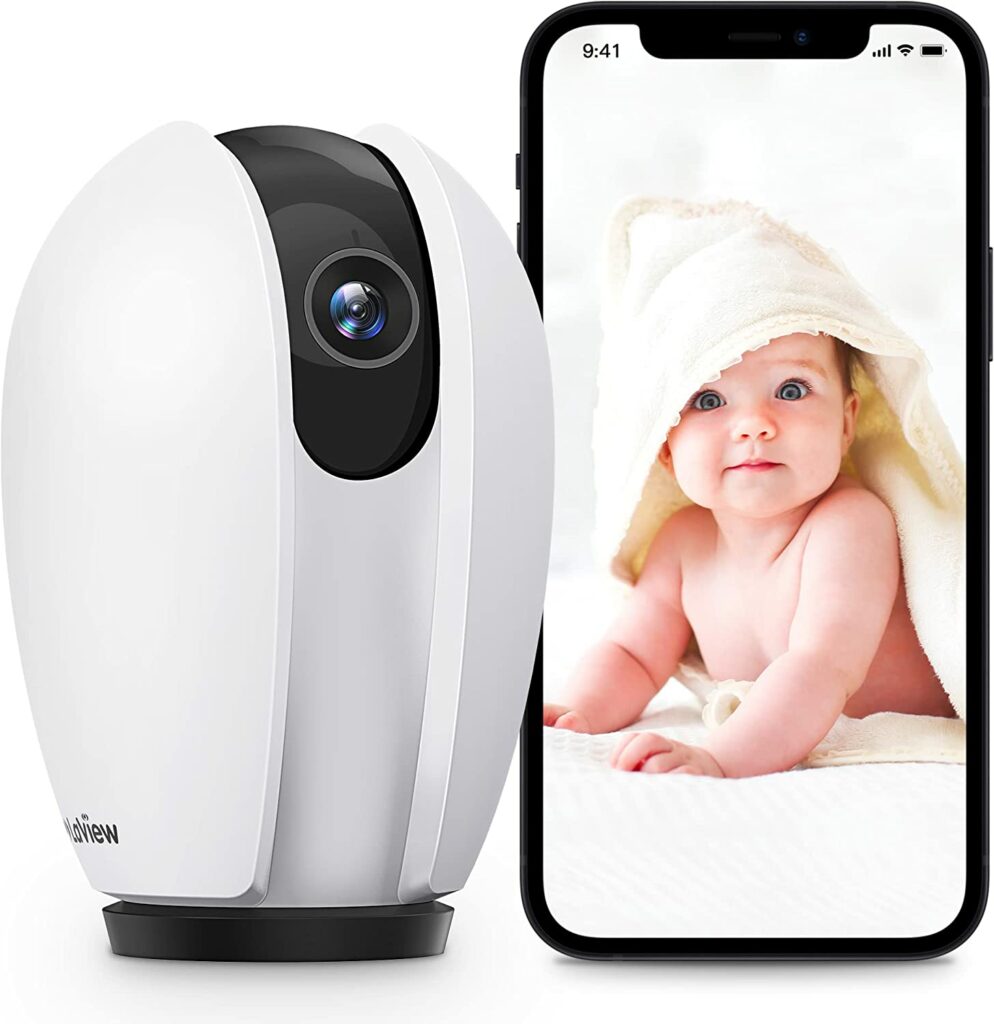 Using the LaView app, keep an eye on your home from anywhere, anytime, with 1080P HD resolution. With 360° surveillance, your indoor home will be more secure.
With the built-in microphone and speaker, you can easily communicate with your family. When abnormal motion is detected in your home, you'll receive an instant alert on your phone.
This camera makes sure your live streaming is high-quality 24/7 for extremely low light coverage. You can keep your home and family safe with LaView Smart Home Security Cameras, day or night. It is indeed an excellent choice for monitoring pets and babies.
There is no need to worry about the installation or maintenance of the Camera or App, as they are both simple to use. You can download the app from the App Store or Google Play. It is compatible with both Alexa and Google Assistant.
Buy LaView Indoor Security Camera for $26.99 here
6. LaView 4MP Bulb Security Camera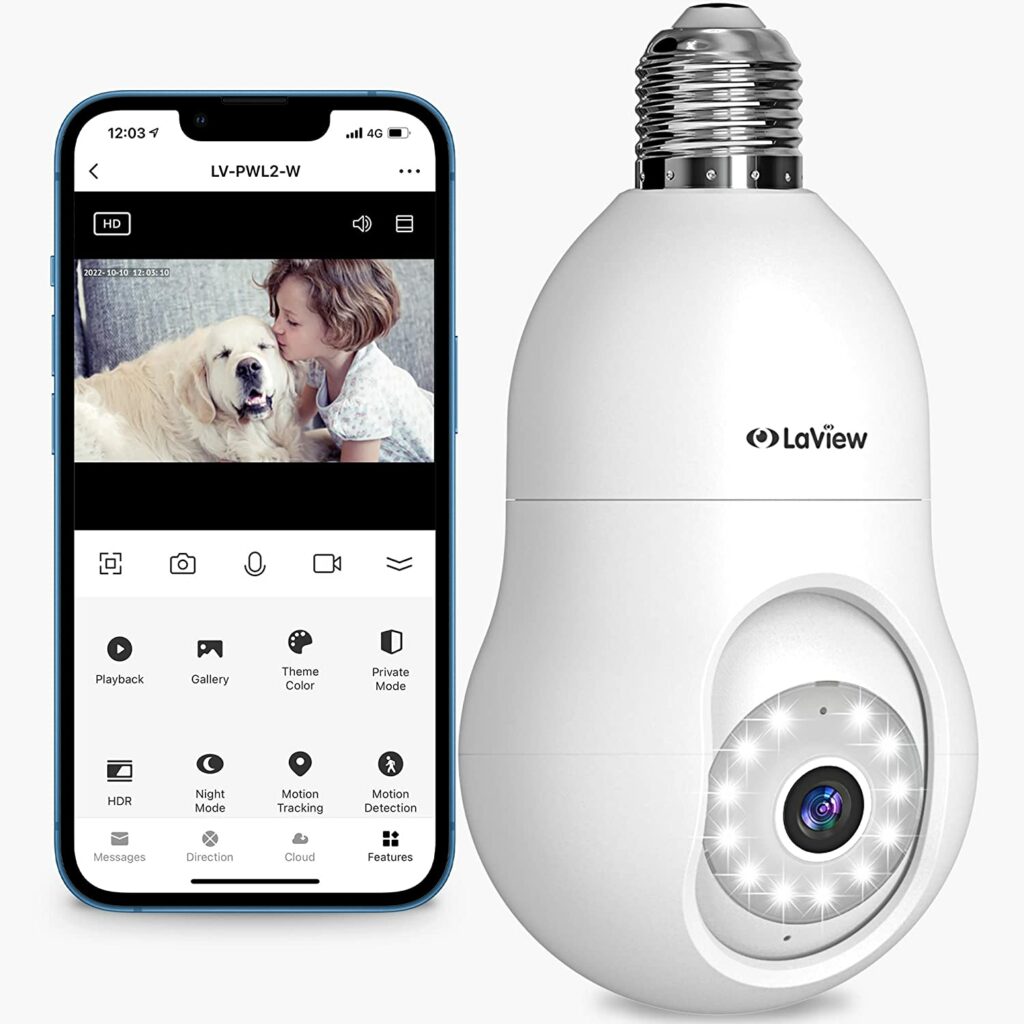 This bulb camera supports a 4MP resolution (2304x1296P) and a 12x digital zoom, which enables you to see ultra-clear details both day and night. It provides the best night vision experience, regardless of whether there is faint starlight or complete darkness.
In addition, this camera is certified by ETL and can be installed using a normal E27 bulb base of 110V to 240V.
The motion tracking technology allows security cameras to accurately detect and track objects over a wide range of 355° and 17 feet. Depending on your needs, you can also set sensitivity levels (low/medium/high). Once enabled, home security cameras will begin automatically recording and following objects in motion and will "alarm" when necessary.
Your mobile phone can connect to a Wi-Fi security camera so you can communicate with your family or visitors. It features a loud alarm when a moving object is detected, as well as an advanced microphone; the speaker lets you scare away uninvited guests and greet them.
This security camera supports up to 20 users at once, so you can share its access with family and friends, which is an added level of security. 
Buy LaView 4MP Bulb Security Camera for $39.99 here
7. VOCOlinc Indoor Security Camera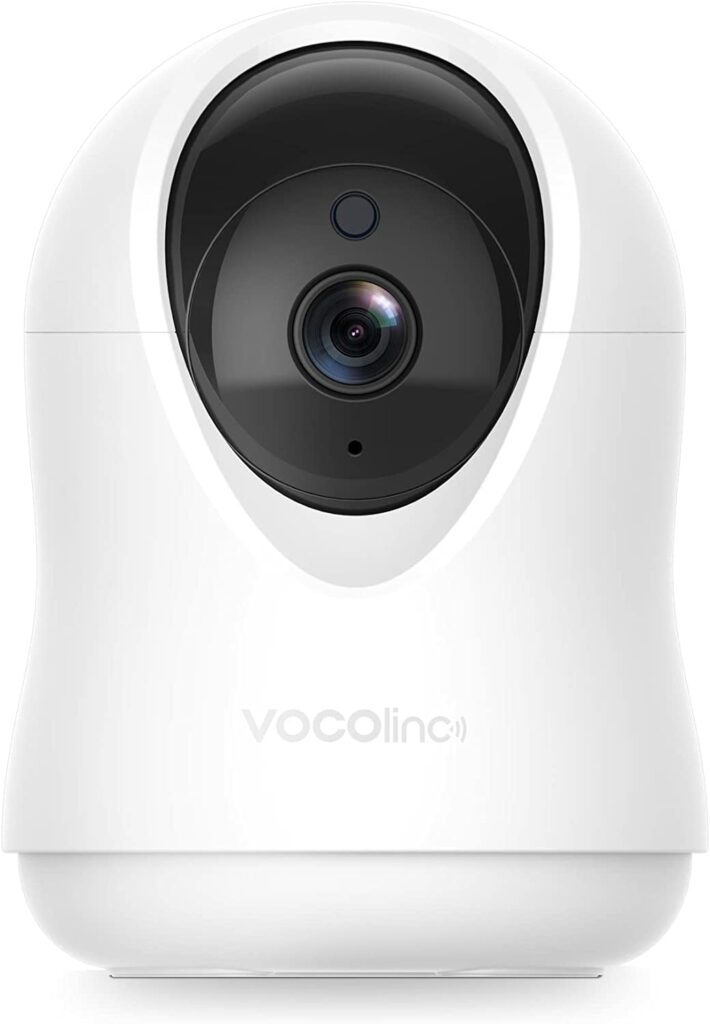 The VOCOlinc home camera displays crystal clear, smooth live video in 1080P HD resolution, which enables you to keep an eye on your home from anywhere at any time. With its 3X digital zoom, the security camera allows you to see details in the video. With its high-quality 3-megapixel sensor, it produces ultra-clear HD video without sacrificing streaming quality.
With its wide-angle lens and rotation range of 350° horizontal and 93° vertical, the camera offers complete coverage of surrounding areas. Four built-in IR LEDs provide outstanding night vision up to 19.56ft / 6m.
VOCOlinc indoor cameras come with built-in speakers to allow you to stay in touch with your family and pets from anywhere. Keep an eye on your kids and your dogs, or even ward off porch pirates while you're away.
Make the most of what HomeKit has to offer. Depending on your preferences, you can customize your recording. A motion sensor combined with HomeKit algorithms can distinguish between people, animals, and vehicles. You can automate tasks based on motion.
All in all, this indoor camera has been designed for Apple HomeKit Secure Video, which enables you to view or store end-to-end encrypted video securely.
Buy VOCOlinc Indoor Security Camera for $45.99 here
To Conclude
So, this was our list of the best indoor security cameras. Make sure you buy the one that best fits your needs and preferences.
Which product caught your eye? Let us know in the comments section.