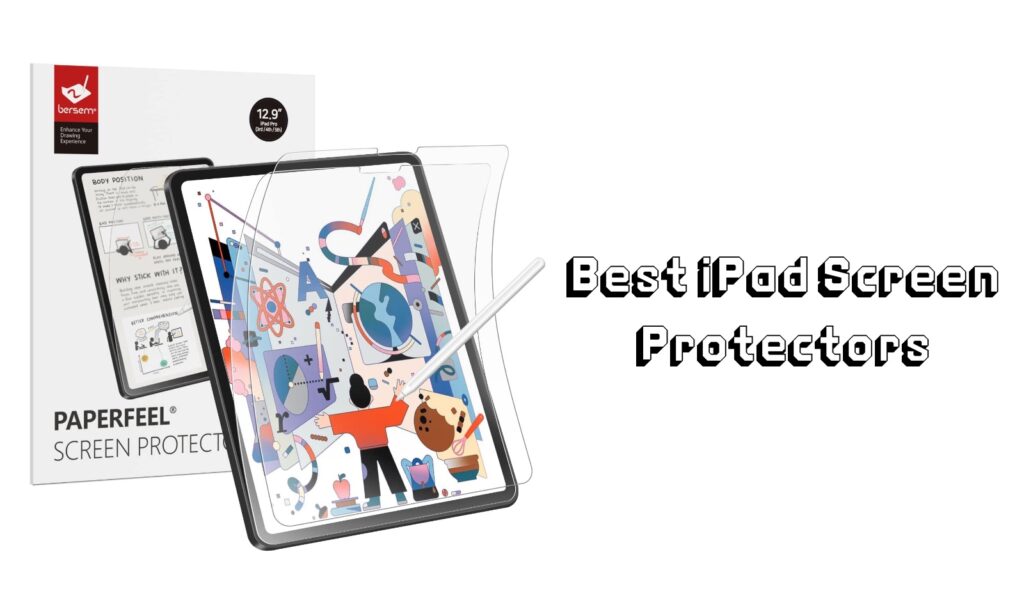 iPad screen protector not only just makes your tablet look nicer but it also offers ultimate screen protection.
Even though iPads are made using premium quality glass, they still can't safeguard the screen from scratches or drops. Besides, the screen protector provides a blue light filter that reduces eye strain.
You can find various options on the internet in different price ranges, so it can be tricky to choose the right protector iPad Pro 12.9-inch.
To clear things up, we have compiled a list of the best paperlike screen protectors so you can use your iPad freely!
These iPad Pro 12.9-inch Screen Protectors work with all models of 12.9-inch iPad released after 2018. So you can use these with 12.9-inch iPad Pro 2018, 2020 and 2021 models.
Best iPad Pro 12.9-inch Screen Protectors For 2022
Here are the best iPad Pro 12.9-inch screen protectors that you can buy in 2022.
1. Paperlike Matte Screen Protector For iPad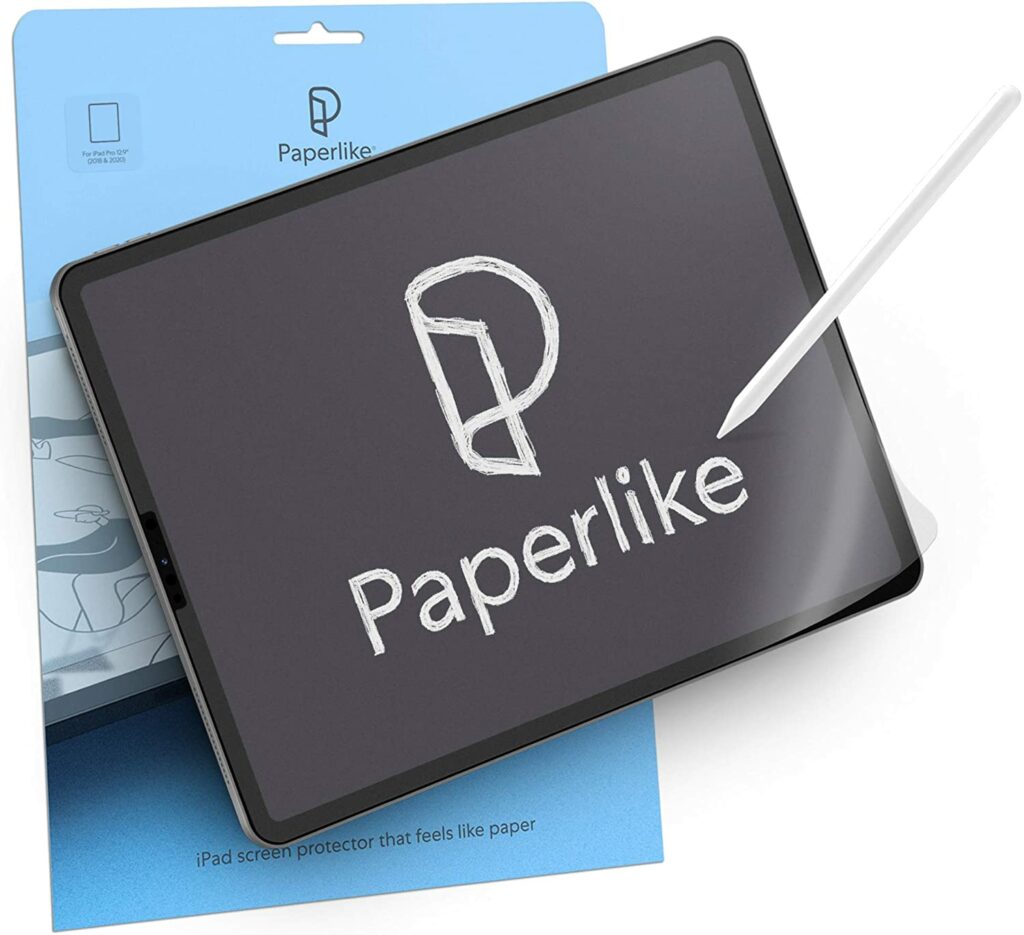 Paperlike screen protectors are ideal for digital artists, illustrators, and designers. This iPad screen protector enhances detail and precision when writing, note-taking, painting, or drawing on the iPad. With its natural feel and resistance, you can draw for hours on end.
Paperlike is specifically designed for Apple Pencils 1 and 2 but other Stylus Pens can be used just as well. Its expertly engineered surface texture decreases natural erosion and reduces the wear and tear on your pencil tips.
In order to keep your screen colors pixel perfect, Paperlike uses Nanodots technology to scatter incoming and outgoing light. The protector doesn't only reduce scratches and fingerprints, but also keep your Face ID authorization in place.
The Paperlike Matte Screen Protector for 12.9-inch iPad Pro comes in a pack of 2, with each costing $20.
Buy Paperlike Matte Screen protector for $39.99 here
2. HOHQ Tempered Glass Screen Protector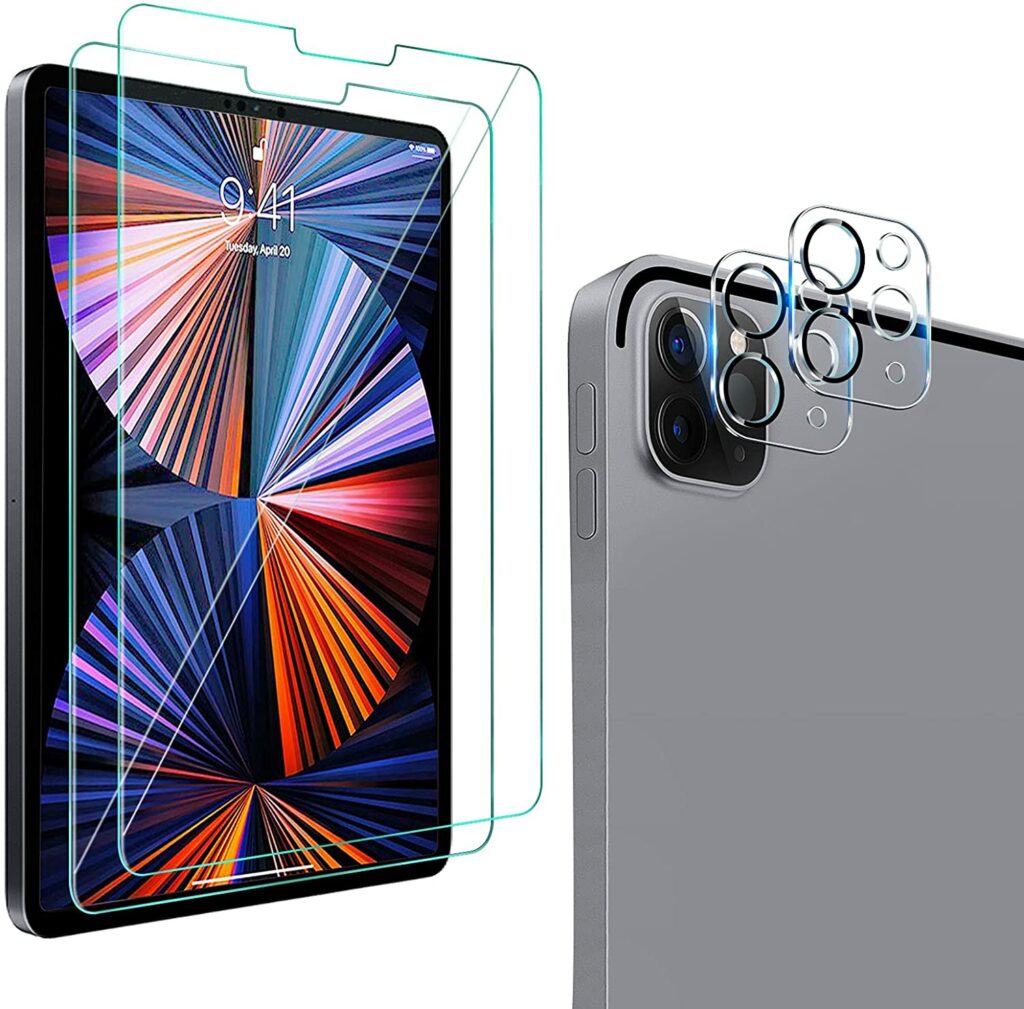 QHOHQ is designed with liquid retina display and camera lens protection for iPad Pro 12.9-inch 2020 and 2021 Release (4th and 5th Generation).
This screen protector is coated with plasma oleophobic coatings, which are quite smooth and prevent fingerprints from grease and sweat. Plus, you can seamlessly clean the screen.
It has 99.99% optical-grade light transmittance, which effectively blocks and filters out ultraviolet rays, and enhances the screen visibility.
What else? The protector is made of 0.33mm ultra-thin bling diamond grade hardness tempered glass. The glass helps maintain 99.99% response sensitivity & touch, smooth games and video playing, guarantees quick app launch and offers you an impeccable touch experience.
Additionally, the most durable front screen protector covers the edge of the phone entirely to prevent your tablet from being damaged.
Buy HOHQ Tempered Glass Screen Protector for iPad Pro 12.9 for $15.19 here
3. Ailun Screen Protector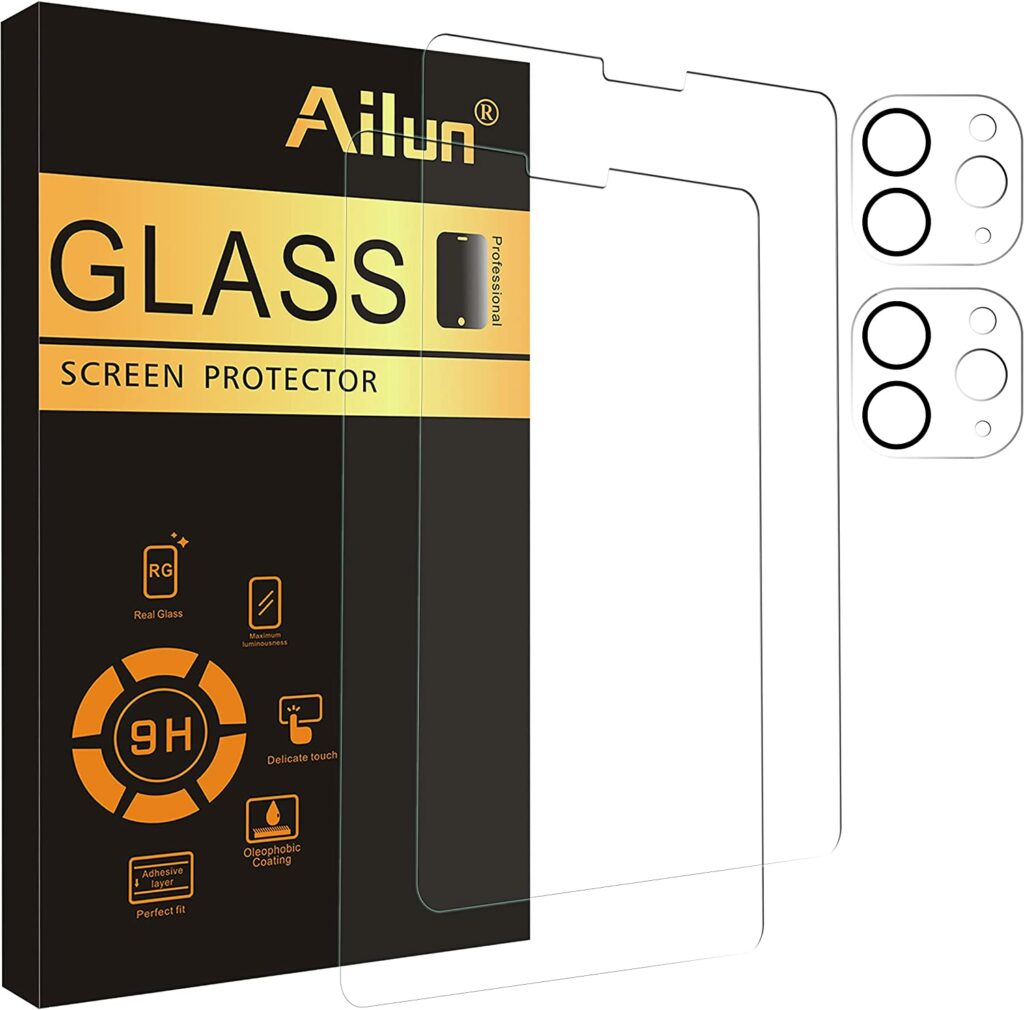 Ailun screen protector for iPad Pro 12.9-inch resists scrapes, scratches, and bumps in an excellent manner. An oleophobic coating on the screen prevents fingerprints and smudges, allowing the screen to remain clean and clear.
As part of its new technology, the camera lens protector integrates "seamlessly" augmented reality with light transmission and night shooting. If you keep the flash turned on at night, the original quality of photos and videos will be restored without having to design the position of the flash hole.
With this screen protector on, you can maintain the original response sensitivity, which guarantees accurate and quick typing, plus smooth games and video playing.
You can install the protector easily. However, make sure to remove dust and align it accurately before actual installation to avoid bubbles.
Buy Ailun 2 Pack Screen Protector for iPad Pro 12.9 for $13.98 here
4. Spigen Tempered Glass Screen Protector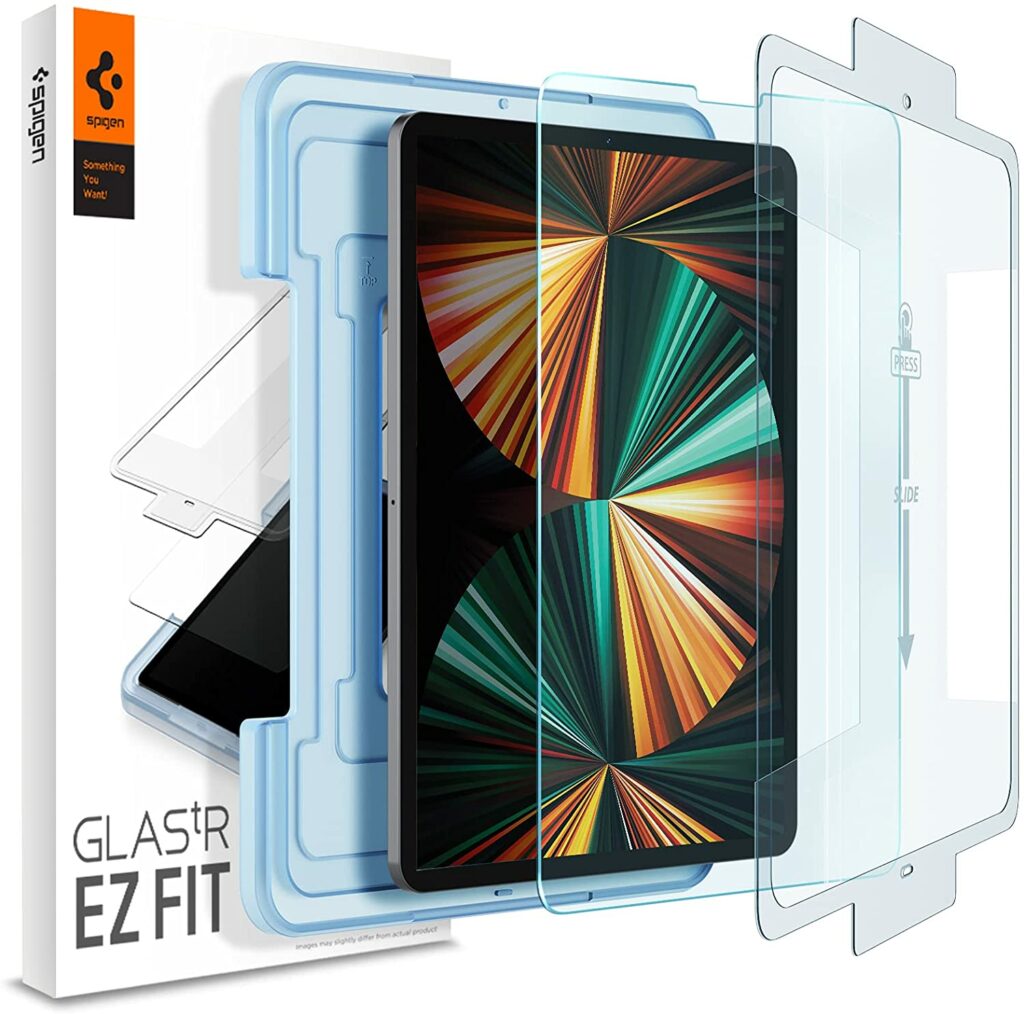 Tempered glass used in this protector is made of Silicon Dioxide that optimizes screen protection without compromising durability which is rated at 9H hardness. In addition, the liquid application uses oleophobic technology to add an invisible coating that strengthens the screen by making it oil and scratch-resistant.
You can keep the feel and look of the original screen with a layer of crystal clear defense with this latest screen protector. Its extreme clarity sustains the original screen brightness.
The product includes an innovative, auto-alignment tool that ensures effortless installation within a few minutes.
Buy Spigen Tempered Glass Screen Protector for $22.99 here
5. BERSEM Paperfeel Screen Protector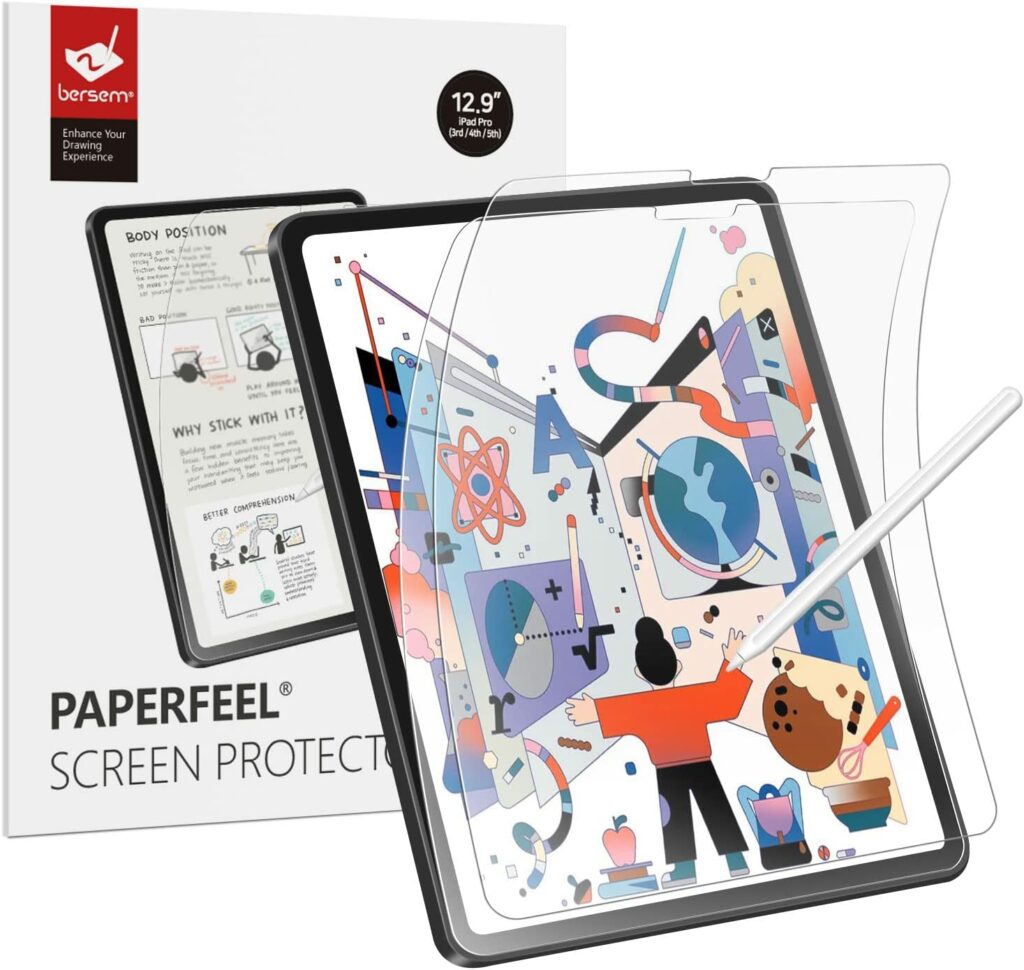 Bersem paperfeel screen protector has been specifically designed and made compatible with iPad Pro 12.9 Inch and Apple Pencil. So, whether you draw and write, the pencil nib won't wear down.
The ultrathin paperfeel film maintains the touch sensitivity just like your screen. Also, the original screen color and definition will not be changed with the Bersem protector on your screen.
Moreover, the new generation of products does not have colorful points and rainbow lines on the surface, so long-term use doesn't cause dizziness or discomfort.
Buy BERSEM Paperfeel Screen Protector for $10.98 here
6. ESR Glass Screen Protector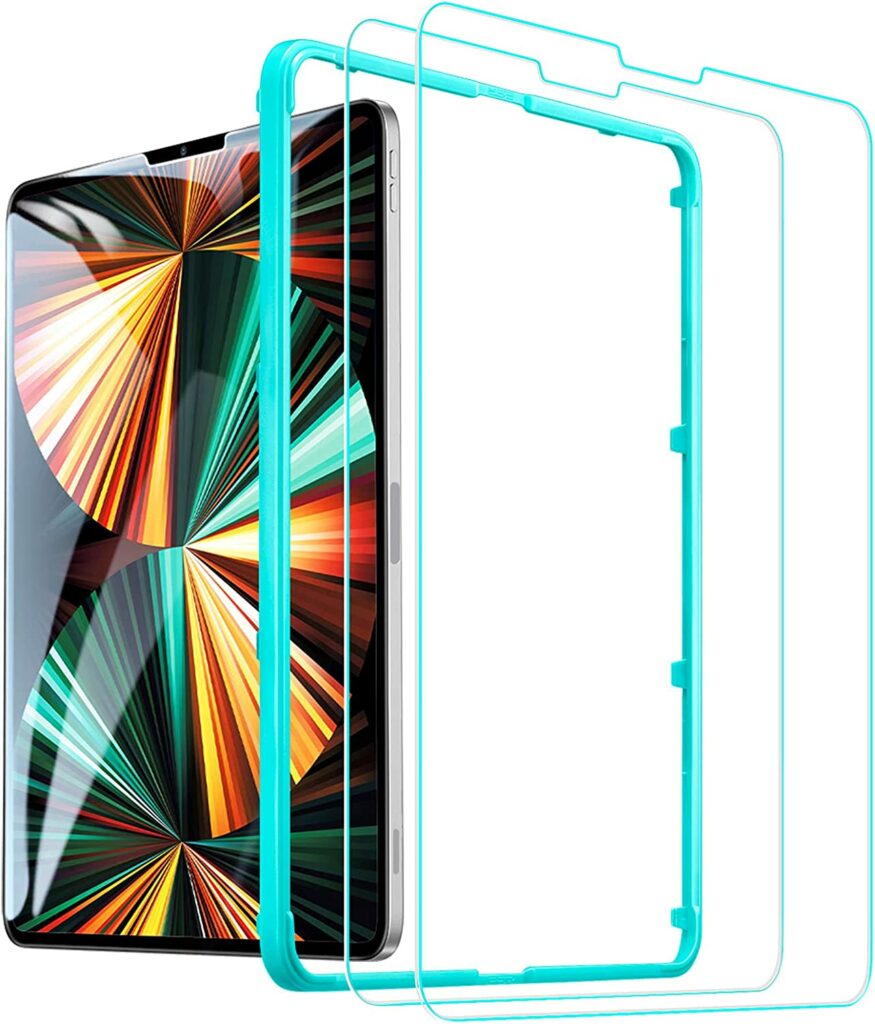 This ultra-transparent screen protector protects your iPad from dust and scratches while preserving image quality. Its large camera and microphone cutout safeguard unaffected Face ID and sound quality. You can also use an iPad Pencil smoothly because of its ultra-thin design that maintains high responsiveness efficiently.
The ESR screen protector is designed with premium tempered glass which protects your screen from getting scratched by hard and sharp objects. This product comes with a free installation frame that makes flawless alignment without bubbles.
Buy ESR (2-Pack) Glass Screen Protector for $15.99 here
7. SPARIN Screen Protector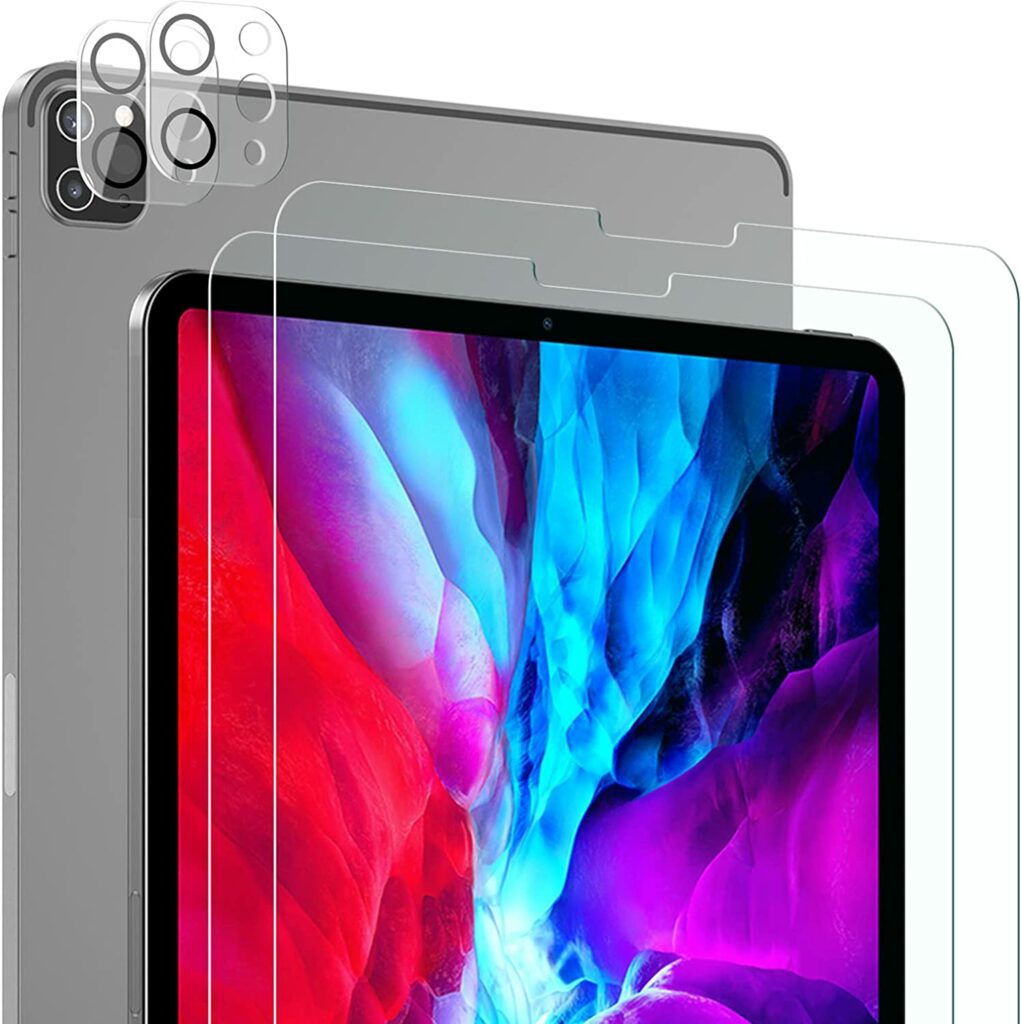 It is the only 0.33mm ultra-thin thickness screen protector for iPad Pro 12.9 that retains the original touch sensitivity while being highly compatible with Apple Pencil.
This iPad Pro 12.9-inch protector comes with a night circle function, so you can maintain the original pixels even when your flash goes on at night.
Made of premium tempered glass with 9H hardness, the Sparin screen protector provides the utmost protection for the screen and camera from unwanted scuffs or scratches.
The screen protector with the air-exhausting adhesive that automatically attaches to the screen smoothly when you lay it down, makes the installation hassle-free and bubble-free.
Buy SPARIN Screen Protector for $10.99 here
Conclusion
The best iPad screen protector for you certainly depends on your requirements. If you are an artist or illustrator, or someone who uses a stylus a lot on an iPad, you might need more than just a surface to protect the screen and enhance your stylus experience.
That's why Paperlike iPad screen protectors are perfect because they take the writing and drawing experience to the next level.
Do you like to carry your iPad in a case or sleeve? Let us know in the comments below.