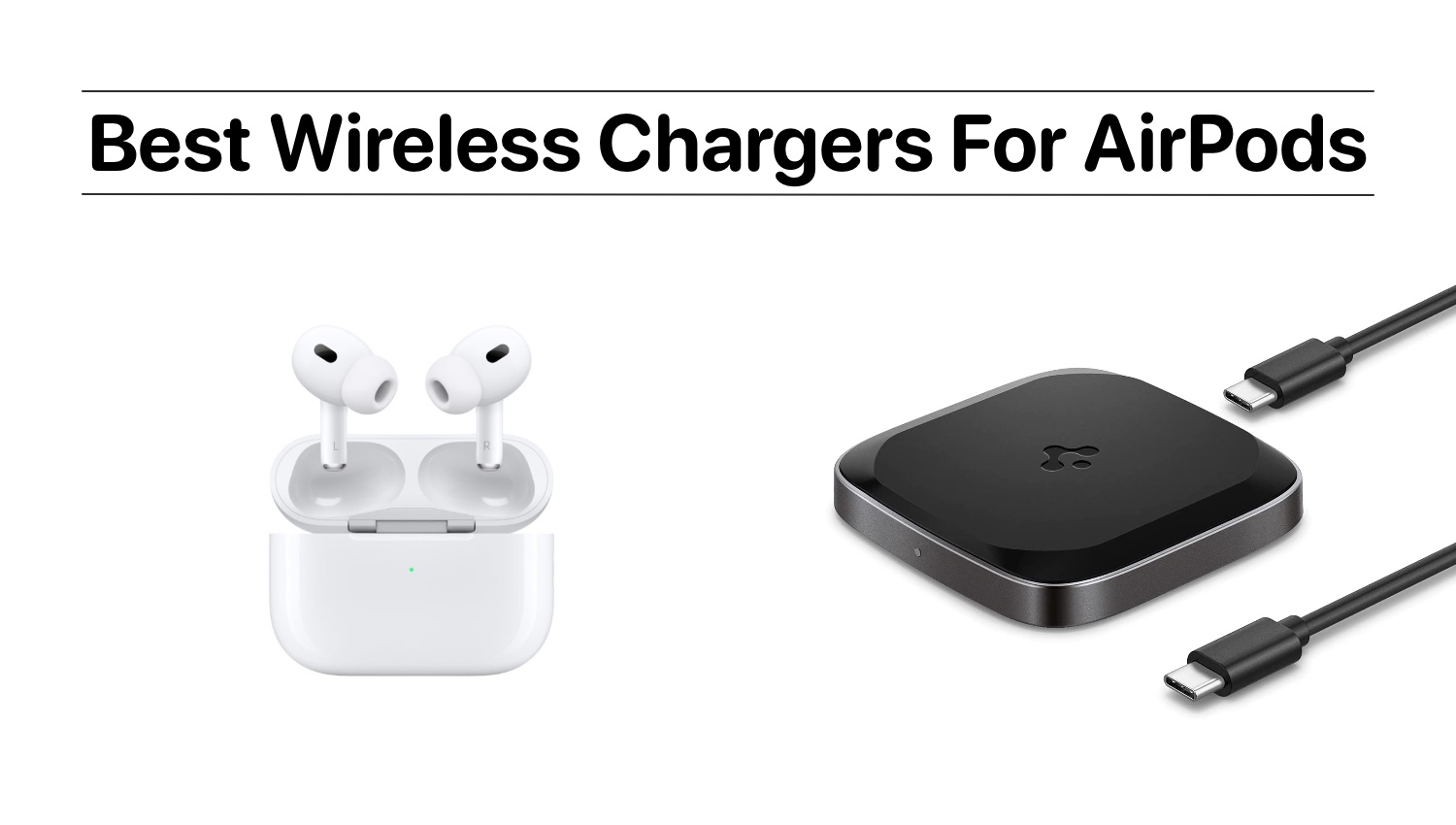 Almost all Apple fans have a drawer full of white wires and adapters for charging their AirPods, Apple Watch, and iPhones. The chaotic array contrasts drastically with Apple's sleek, streamlined design. Fortunately, wireless charging is a quick and easy solution to this problem.
We have put together a list of the best AirPods chargers so you continue vibing on your favorite songs.
Best Wireless Chargers for AirPods
Have you been thinking about upgrading your AirPods with a wireless charging case? Or are you looking for a replacement AirPods case? You don't have to stick with Apple's wireless charging case. When there are so many charging cases available, it can be difficult to decide what is best for you.
Here are the best small-sized AirPods wireless chargers you can buy.
1. Spigen Wireless Charger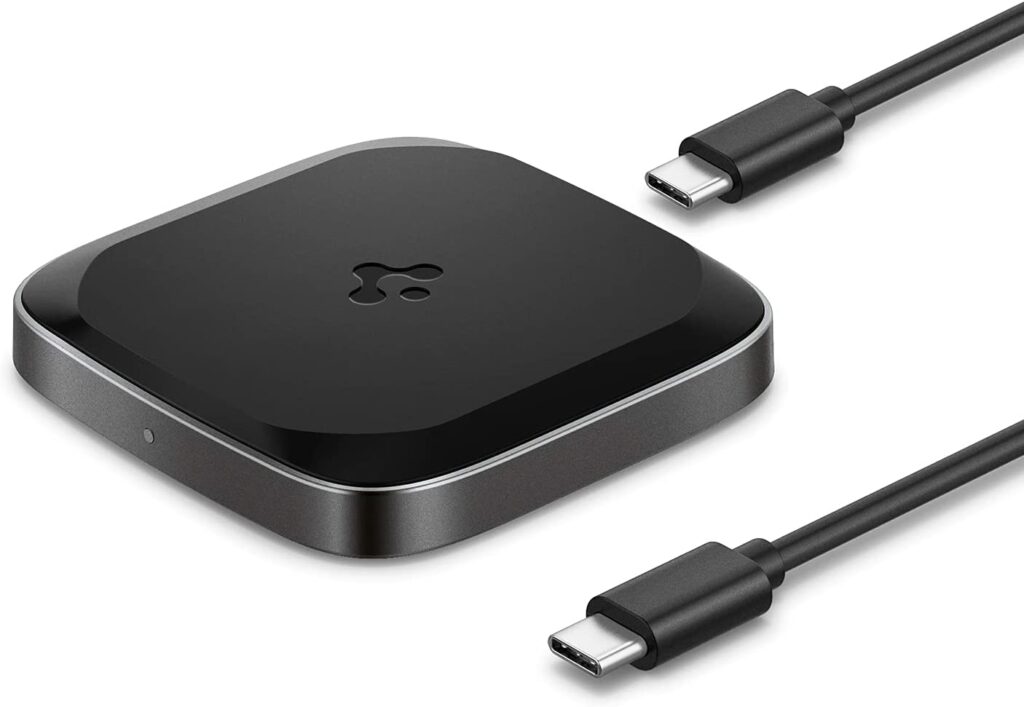 An elegant option for desks, Spigen's Essential 15W Wireless Charger offers 15W of power. Designed with a durable aluminum body and a textured charging pad to keep your phone in place while charging.
Unlike other Qi chargers, it supports charging up to 10W for Android devices and 7.5W for iOS devices. The charger also comes with a Qualcomm Quick Charge 3.0 adapter and a USB-C cable.
Using Overheat Protection Technology, it generates less heat while providing fast wireless charging speeds.
Furthermore, the LED indicator makes it easy to identify the charging status. Additionally, it provides a specific explanation for the slow charging speed.
Buy Spigen Wireless Charger for $24.99 here
2. Apple MagSafe Charger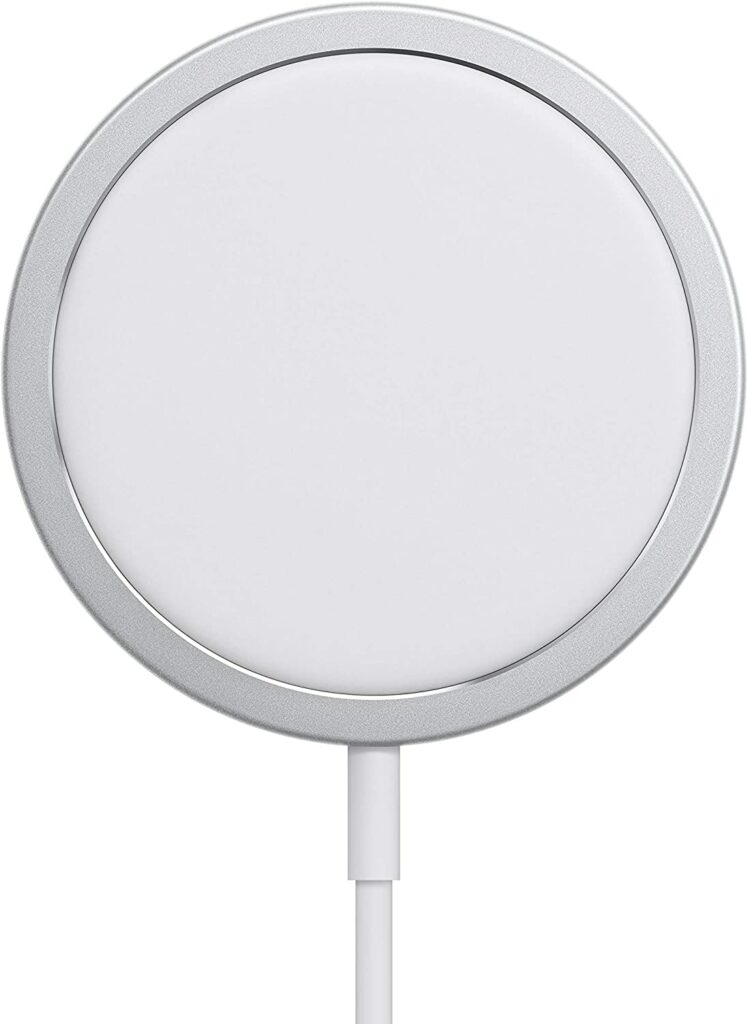 It is easy and convenient to charge wirelessly with Apple's MagSafe charger. The charger is specifically designed for iPhone 12 series smartphones, but it also works well with AirPods. In addition, it features built-in magnets that ensure it snaps into place immediately and begins charging.
This wireless charger is one of the fastest on the market, with a charging speed of 15W. To enhance your experience, you can seamlessly integrate it with other accessories like a stand.
This circular puck is well-constructed and made of a non-scratch material for your smart gadgets.
Buy Apple MagSafe Charger for $37.90 here
3. TOZO W1 Wireless Charger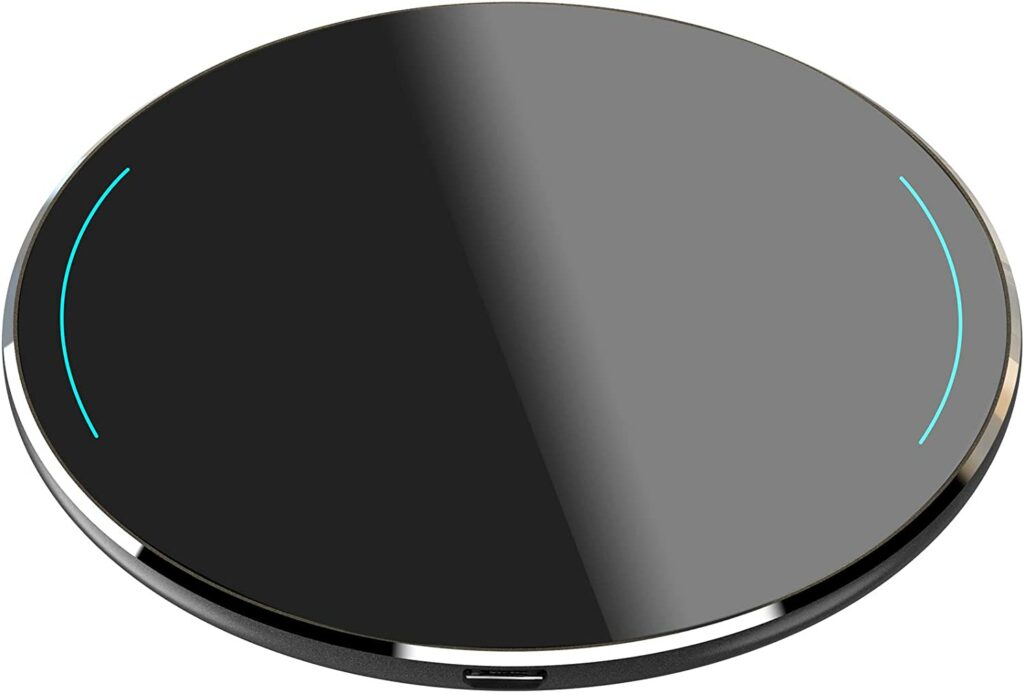 Simple panels and aviation aluminum make TOZO W1 the slimmest wireless charger on the market, measuring only 5mm thick and 100mm wide.
There is a built-in safety feature in this charger that protects against overcharging, overheating, and shorting out, so you can charge your devices with peace of mind.
The LED lights change colors to indicate when your device is charging, ready to charge, and fully charged.
Buy TOZO W1 Wireless Charger for $12.99 here
4. Belkin Wireless Charger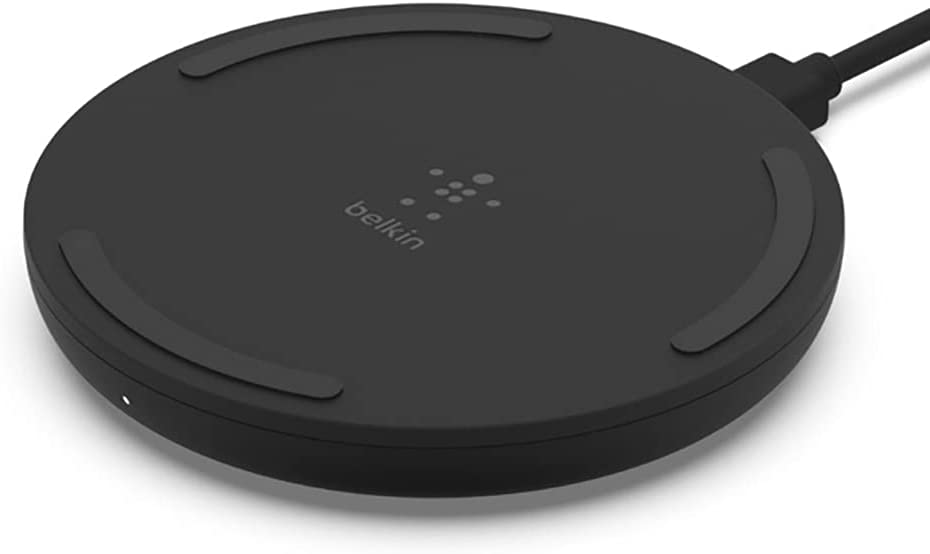 As the most versatile wireless charger on our list, Belkin's MagSafe charger is compatible with Apple Watch, AirPods, and iPhone 12 and 13 series. Additionally, you can charge two devices at once with it.
Designed with a modern look and chrome finish, it makes charging a breeze.
As opposed to Apple's MagSafe charger, this comes with a power adapter, which is a great add-on. Aside from that, it lets you watch videos or FaceTime while charging. Despite its lightweight design, it ensures a secure, aligned connection.
Best of all? It is the only charger on the market that comes with Apple's MagSafe technology. If you don't want to use the official Apple MagSafe, it makes the perfect alternative. Furthermore, it comes with a 2-year warranty!
Buy Belkin Wireless Charger for $13.72 here
5. KEYMOX Qi-Certified Wireless Charger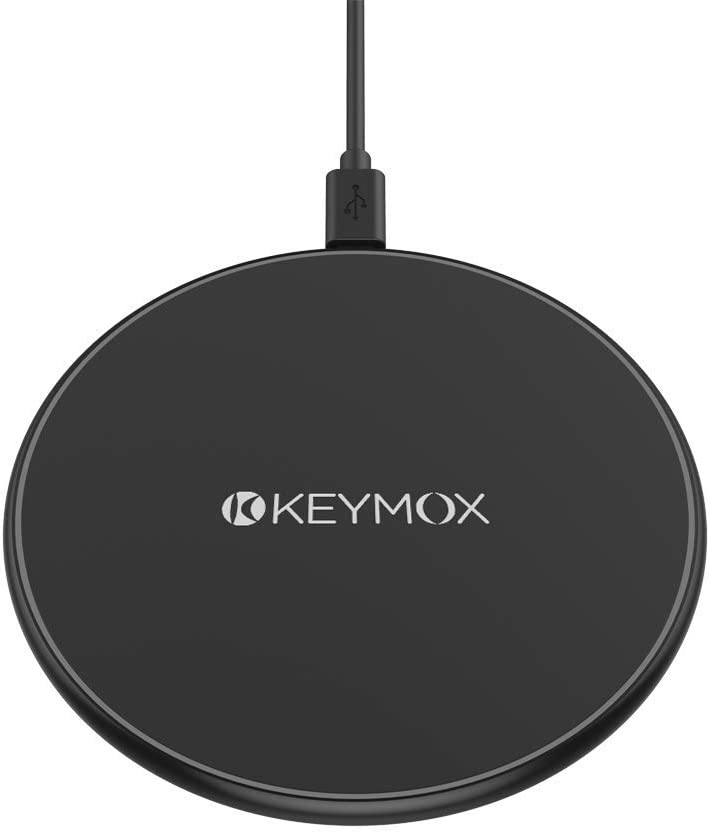 KEYMOX is Qi Certified and offers 10W of fast charging for Samsung Galaxy, 7.5W of charging for iPhones, and 5W of charging for other Qi-enabled devices. Both AirPods (with wireless charging case) and AirPods Pro are compatible with this wireless charger.
It transmits charging power directly through protective cases, so you can charge your gadgets with rubber, plastic, or TPU case. It is not recommended to use magnetic or metal attachments or cards, as it will prevent the device charging.
You can see the charging status from the LED indicator. To indicate that the wireless charger is in use, a white LED light will flash for about 10 seconds and then turn off. As the device charges, a green LED light will illuminate for 16 seconds and then turn off. When the device is fully charged, the LED lights will remain OFF.
Buy KEYMOX Qi-Certified Wireless Charger for $10.09 here
6. THREEKEY Magnetic Wireless Charger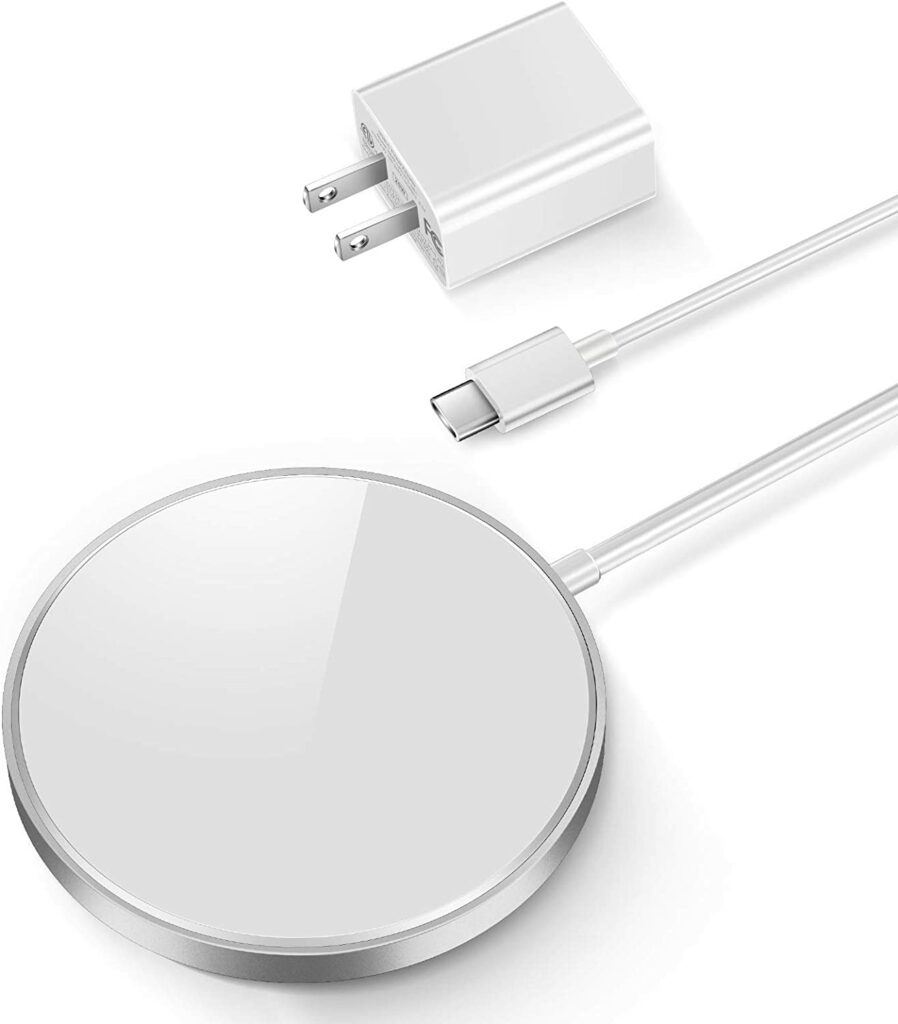 Threekey magnetic wireless chargers include a 20W PD adapter that is capable of charging mobile phones and Apple AirPods. It has a built-in superior magnetic attraction, which keeps your phone from falling off while it's charging.
There are four kinds of output power schemes supported by this wireless charging pad: 15W/10W/7.5W/5W. It adapts to different output powers. The charger features comprehensive intelligent protection technology to ensure the most efficient, safest charging for iPhone 7.5W(Max) and Samsung 10W/15W(Max).
Moreover, this Qi-certificated wireless charger protects from overcurrent, overvoltage, overtemperature, and foreign object detection to ensure safe charging.
In this charging pad, the diameter is 58.5mm, the thickness is 6.2mm, and the cable is 39.37 inches. It is portable and easy to carry, taking up less space than similar charging pads.
Buy THREEKEY Magnetic Wireless Charger for $21.99 here
7. Pocxwa 10W Wireless Charger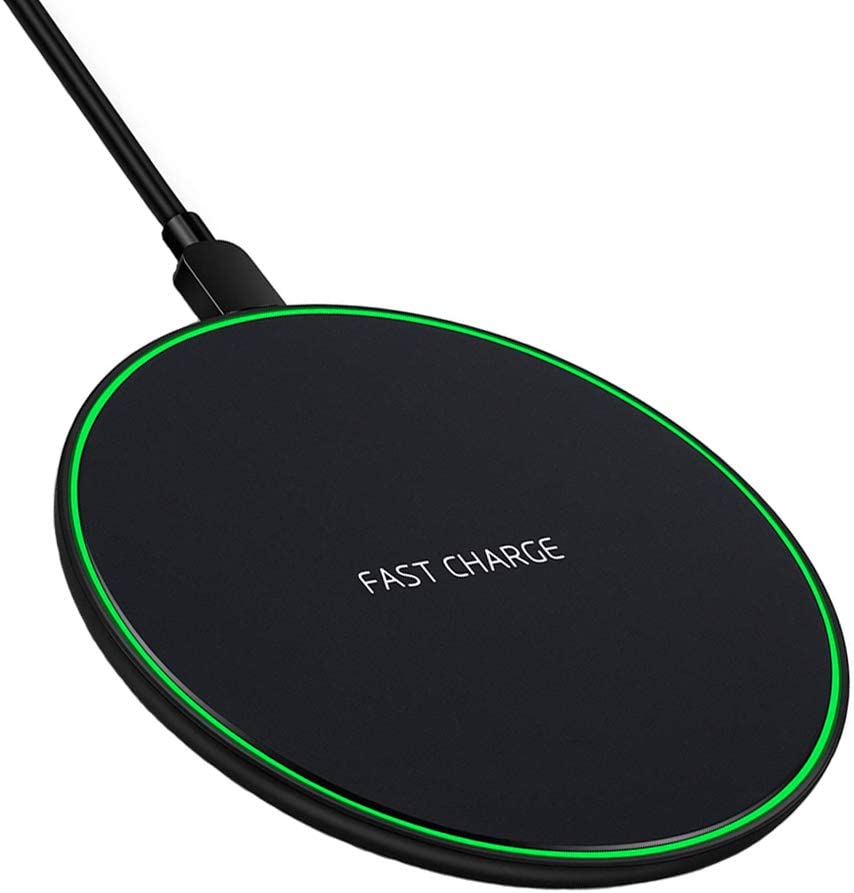 Pocxwa Wireless Charger features multifunctional intelligent protection technology that provides temperature control, surge protection, and short-circuit prevention. Your phone will not get heat up and will charge more efficiently thanks to an intelligent temperature control system.
This charger lets you enjoy the freedom of wireless and limitless charging.
With four anti-slip pads, this magnetic wireless charger won't scratch your desk with its soft material and padded anti-slip pads.
Furthermore, overvoltage protection, temperature control, foreign object detection, and other features eliminate safety concerns.
Buy Pocxwa 10W Wireless Charger for $17.99 here
To Conclude
No matter what case you choose, we hope you will always be able to keep your AirPods charged. The options listed here will wirelessly charge your AirPods so you can listen to podcasts, music, and more: you just have to decide which is right for you.
Was this helpful? Let us know in the comments section.