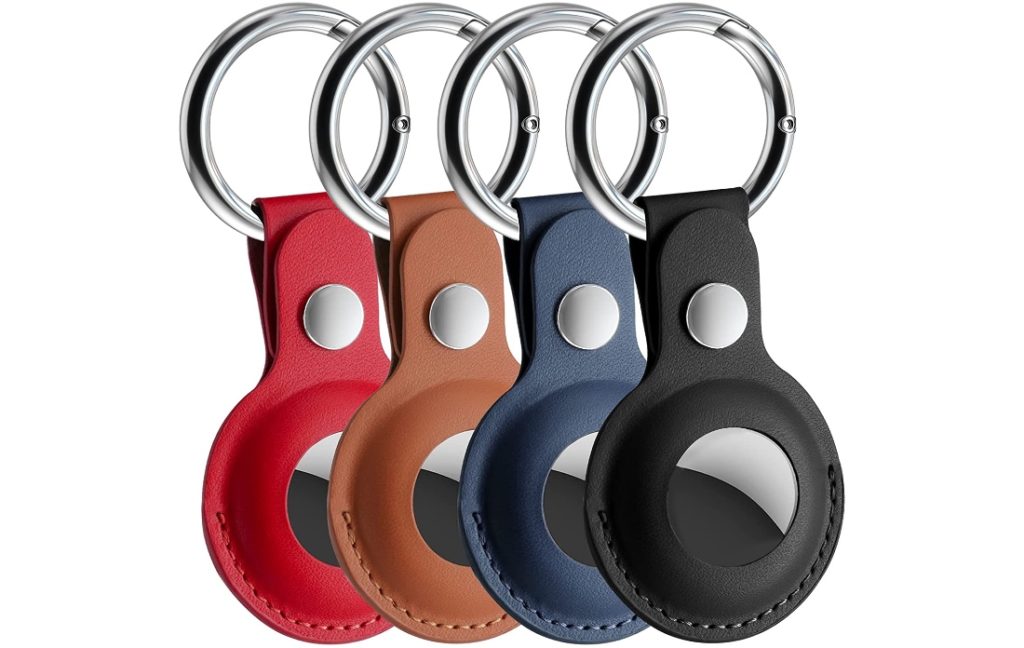 Are you looking to buy a key ring for your AirTag? Then look no further as we have the perfect selection catering to all of your buying needs in 2022.
Using a key ring for AirTag is the perfect way to use AirTag and to attach it with key, backpack, purse or any other thing that you want to track.
Apple sells its own version of AirTag key ring, and while that one is also featured in this post there are plenty of third-party accessories for AirTags that are not only great but also cost a fraction of the price.
If you are looking for AirTag alternatives, then read our list here.
Best Key Rings For AirTag
So without any further ado, let's take a look at the best key rings for AirTags for 2022.
1. Apple AirTag Leather Key Ring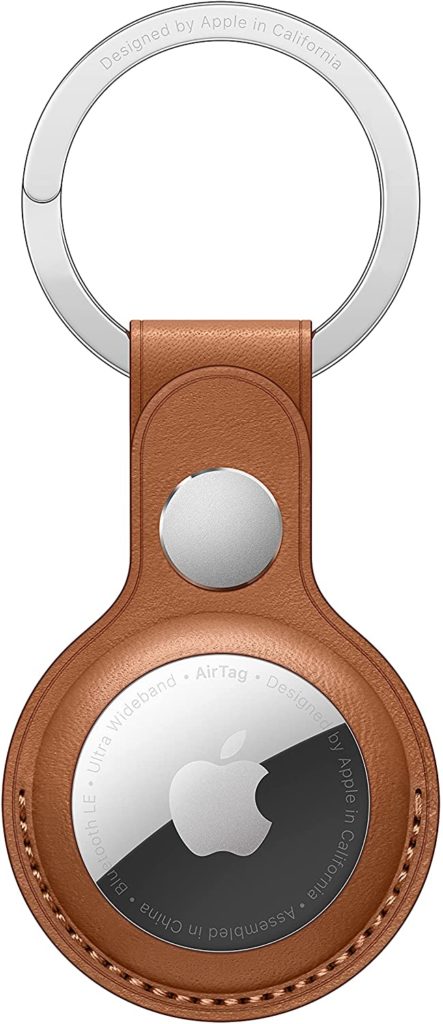 Apple AirTag Leather Key Ring is exclusively designed from the finest leather. Its surface gives you the feel of carrying super-quality leather. While the metal is made up of stainless steel to ensure the best durability.
It is waterproof so that you can carry it in the rain as well. The best thing is this keyring perfectly fits your AirTag that takes away the worry of dropping the AirTag down and damaging it. It comes with other beautiful shades to reflect your personality at its best.
You can buy the Apple AirTag Leather Key Ring for $35 at the link below. It is available in 7 different color options.
2. Dsytom AirTag Key ring (2-Pack)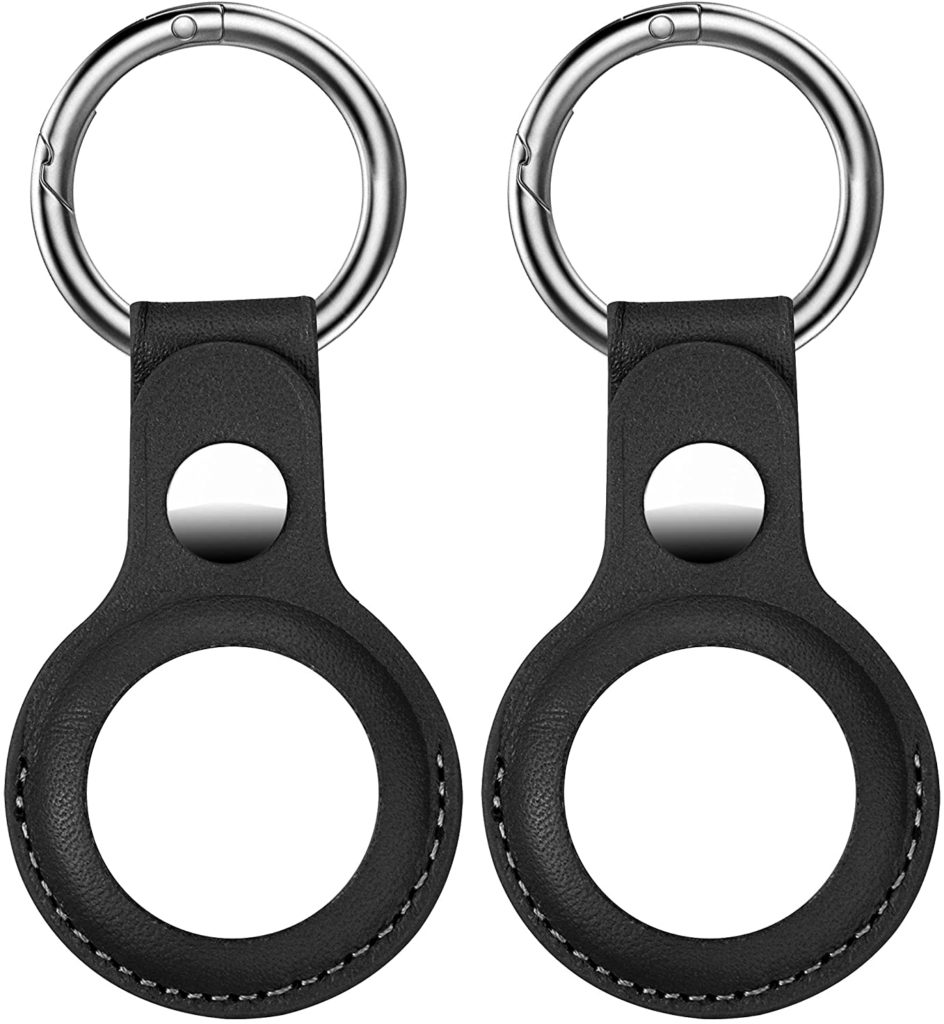 If you don't like a colorful key ring, Dsytom has a black leather keychain for AirTag. Its high-quality leather combined with a hollow design for AirTag truly demonstrates your sober taste.
It secures your AirTag firmly, increases its life, and retains its shine and brand new look. This Apple AirTag keychain protects your device from drop impact, bumps, and scratches. 
The metal key ring on this Apple AirTag lets you place it on other items as well. Such as dog chains, bags, kids, etc. It firmly holds your AirTag inside its leather that removes the possibility of dropping and damaging it.
Perhaps the best thing about this AirTag key ring is that it is pretty affordable as you can get a 2-pack for just $9.99.
You can buy the Dystom 2 Pack Leather Case for $9.99 at the link below.
3. Belkin AirTag Key Ring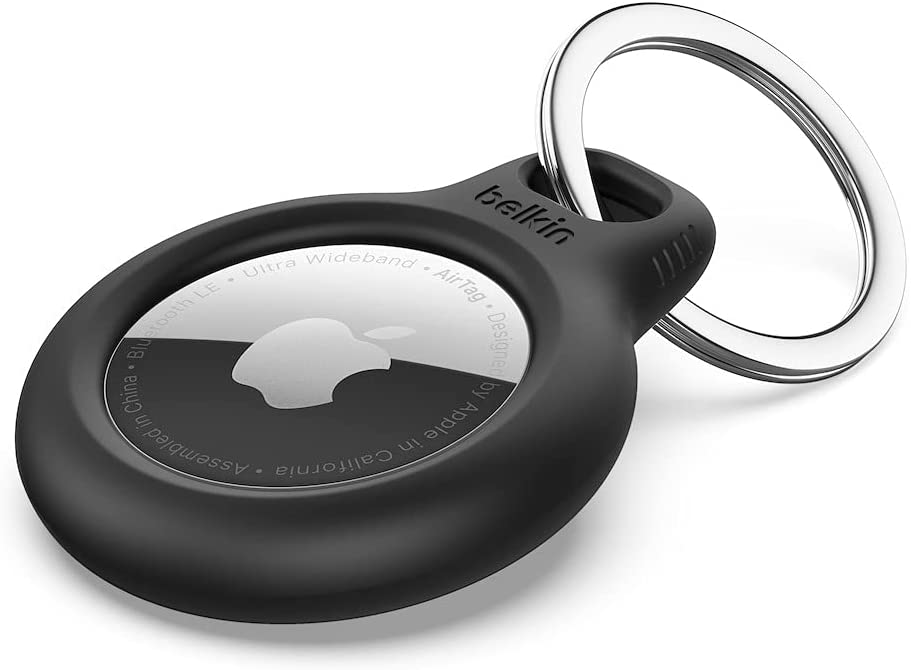 This bulgy yet stylish Apple AirTag keychain is designed for those who want personality in their keyring.
You can get it in blue, pink, and white colors or go for a plain black key ring for a completely neutral tone.
With this budget-friendly AirTag key ring, you can also buy more than one color to match it with your daily outfits. 
Its twist-and-lock design tightly holds your AirTag and protects it from drops and scratches. The bulgy edges give extra protection as they absorb the shock and drop impacts.
Along with attaching it with your keys, you can also place it on your pet, luggage, bags, and other accessories. 
You can buy the Belkin AirTag Case with Key Ring for $12.95 while a 2-pack is available for $19.99.
4. Wanchel AirTag Key Chain (5-Pack)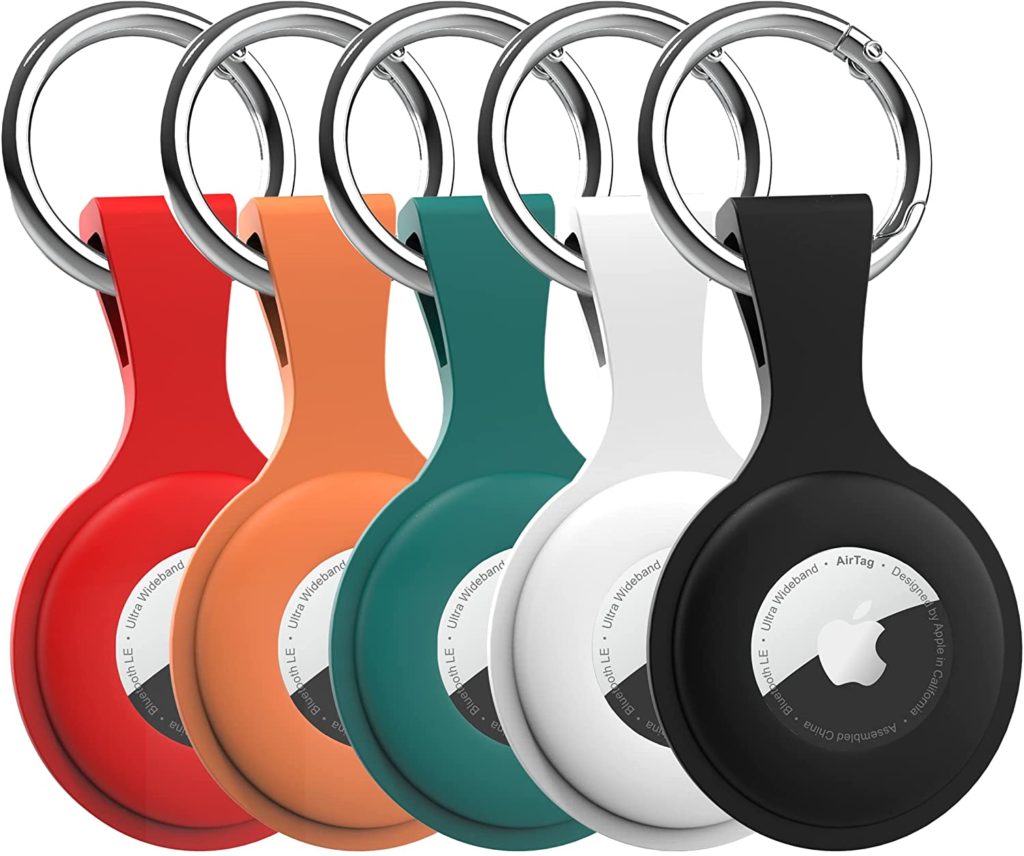 Wanchel has a good deal to offer! Its pack-of-five Apple AirTag Keychain has a wide range of beautiful colors and stylish designs.
Its anti-lost design features a sturdy metal ring that holds anything strongly. Be it your car keys, bags, luggage, pets, or kids, its security system never disappoints. While the metal clasp is designed for convenient use that locks and unlocks easily. 
This silicone AirTag is anti-slip and keeps your AirTag from falling out of it. Worried about its deformity?
Well, its elasticity retains its shape regardless of how hard you pull it. Its environment-friendly feature keeps it harmless to humans and the environment. 
You can buy the 5 Pack wanchel Key Ring for AirTag for $12.99 at the link below.
5. Pinzoveno Leather Key Ring (4-Pack)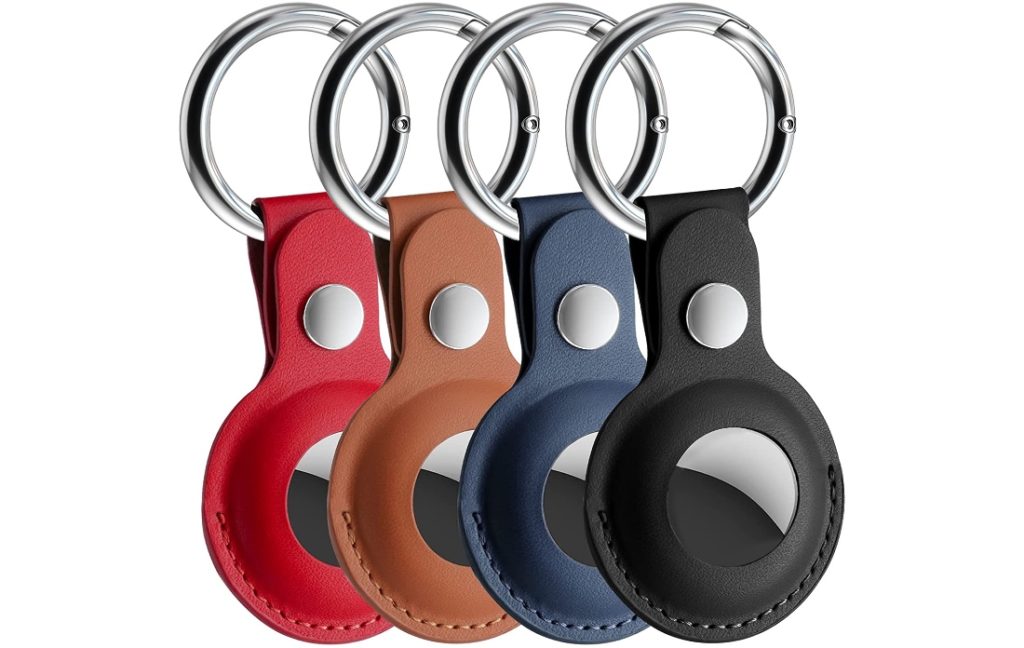 This soft leather keychain for AirTag by Pinzoveno has a matte finish with a classy look. It is sweatproof, scratch-resistant, and durable to ensure safety to your Apple AirTag.
The anti-lost keyring design is quick to lock and unlock making it user-friendly. Its thoughtful design keeps both sides partially open to keep the way of signals and sound clear without any obstruction. Moreover, its matte and sober color collection look good for daily use.
Given its strength, you can attach it to your pet, kid's bag, luggage, or anything that can be lost.
You can buy the Pinzoveno key ring for AirTag in a 4-Pack for $10.16.
6. Choocl AirTag Key Ring (2-Pack)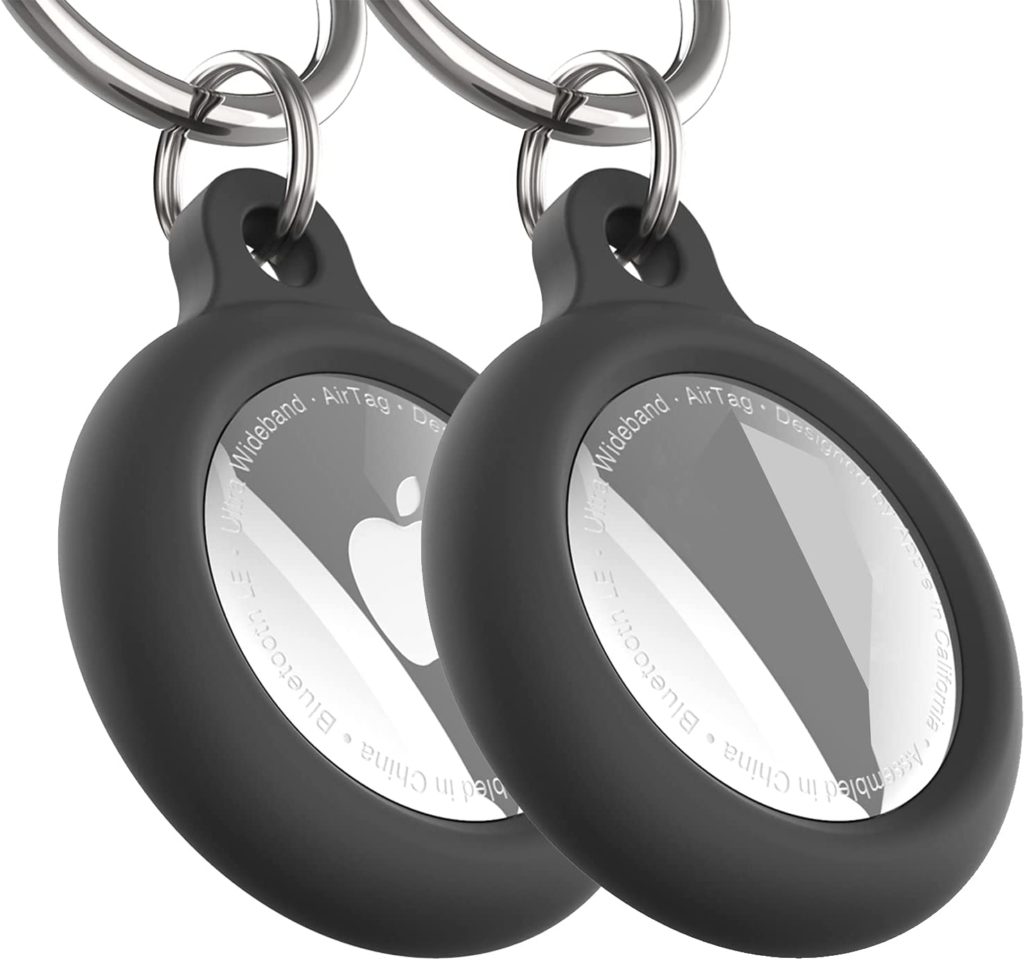 Like its competitor Wanchel, Choocl's keyring is also silicon and bulgy Apple AirTag key chain. Its two-pack AirTag keyring is made up of high-quality silicone.
Its super-strong body is scratch-resistant, sweatproof, washable, and lightweight! 
Moreover, the cut-out for the AirTag keeps the transmission of signals and sound clear and reachable.
Its portable design is good to attach to pets, car keys, luggage, kids and anything you believe can be lost easily. It comes with matte black, white, and blue colors that can be a good fit for your neutral style and everyday use. 
You can buy the Choocl AirTag Key Ring in 2-pack for $7.99 at the link below.
Which of the above Apple Apple AirTag key chain is your choice? Share with us in the comments below. Also, share this post with your friends and make their life easier!
For more Apple accessories and devices, stay tuned to iOSHacker.com.
More awesome accessories