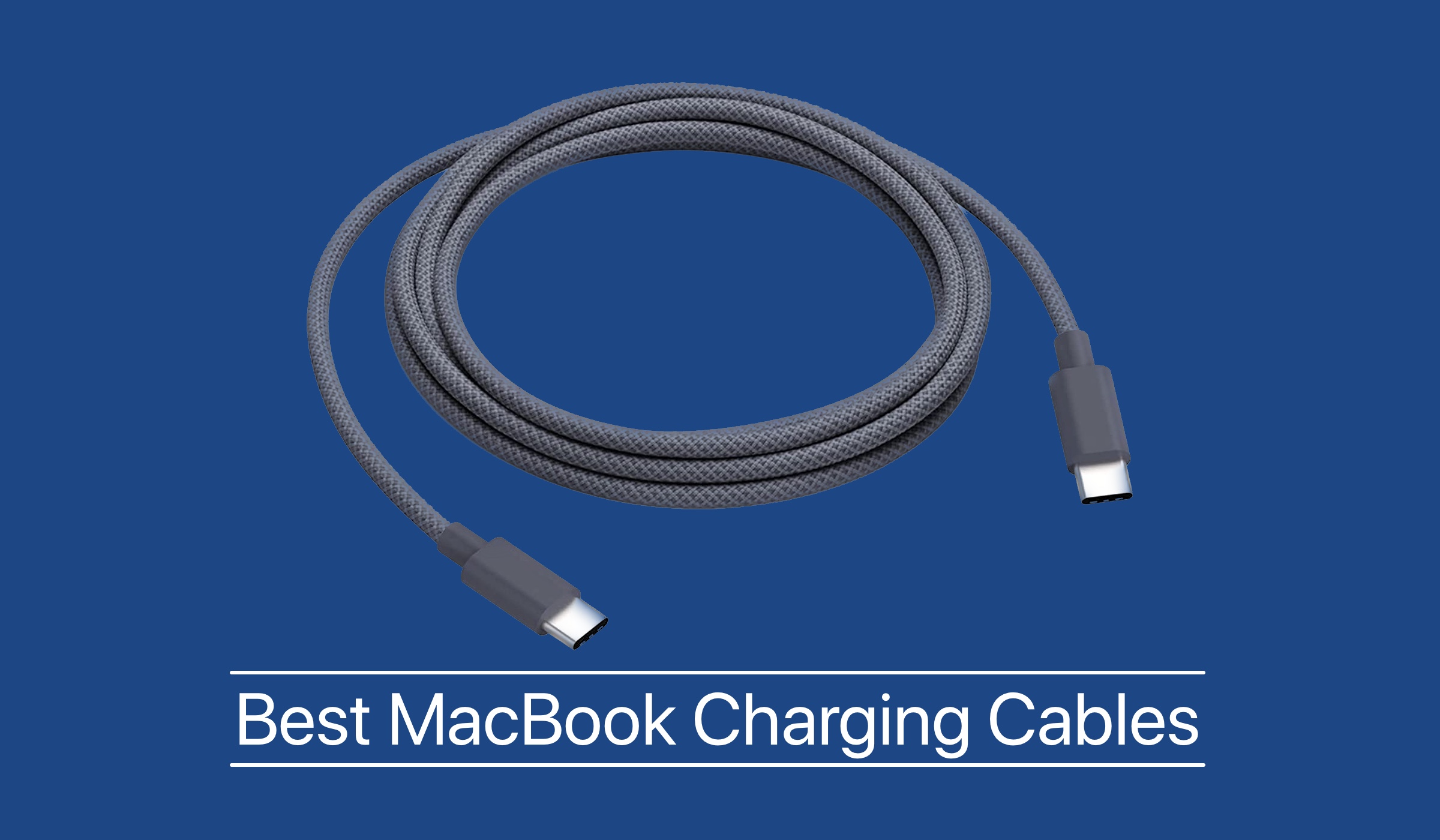 Are you looking for the best USB-C to USB-C charging cables for your MacBook in 2023 for charging and data transfer? Then we have the perfect list for you.
MacBook is known for its ease of use and high performance, making it one of the most powerful laptops on the market. It is an excellent device used by millions of people around the world.
MacBook laptops now feature USB-C ports, and MacBook Pro models now have a card reader and HDMI output.
USB-C is a new standard of USB that offers significantly faster transfer speeds than USB-A while enhancing the speed of charging by up to 10Gbps. Likewise, USB-C is not only a data transfer device but also a video output and a power source.
Hence, we created a list of the best USB-C to USB-C charging cables for you.
Best USB-C Charging Cables for MacBook in 2023
The USB-C cable comes in handy for transferring data and charging phones, tablets, and laptops. So, here are our recommendations for the 2023 MacBook charging cables.
1. Apple USB-C Charge Cable (2m)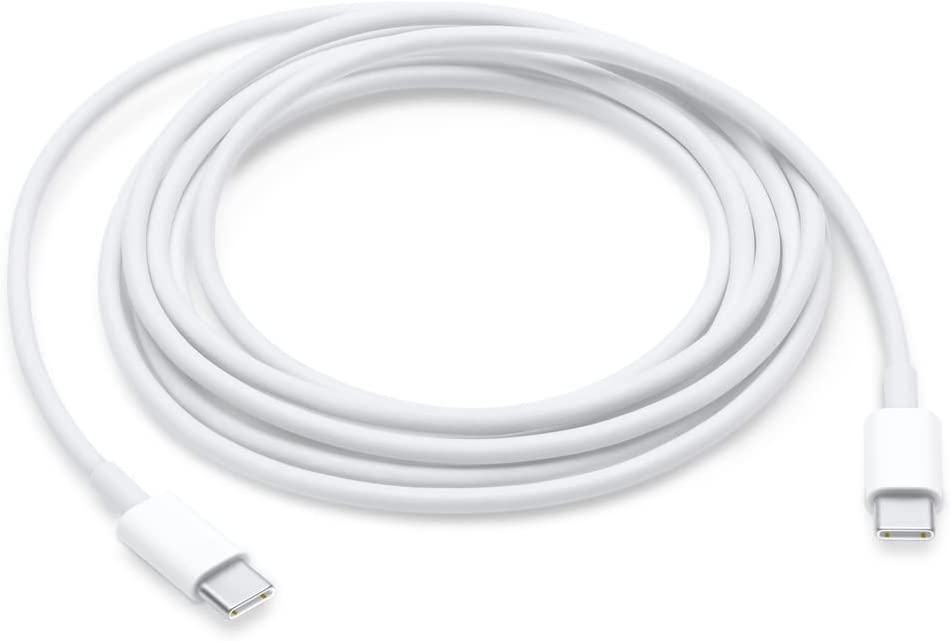 The Apple USB-C cable is made with top-quality materials that provide maximum power to your laptop, phone, or tablet. What if you could charge your laptop all day at 100 watts? With the Apple USB-C Charge Cable, that shouldn't be an issue.
In terms of data transfer, this is an ideal charging cable. It can drive Thunderbolt devices or your monitor, but as a charging cable, it does well.
The price is another drawback, but if you want a name-brand cable, you can't beat it. In addition, buying it from an Apple store or retailer ensures you're getting the genuine article.
All in all, it supports fast charging and can be used with any USB-C power adapter that is compatible with USB-C data cables.
Buy Apple USB-C Charge Cable for $19 here
2. IFEART USB C to USB C Charging Cable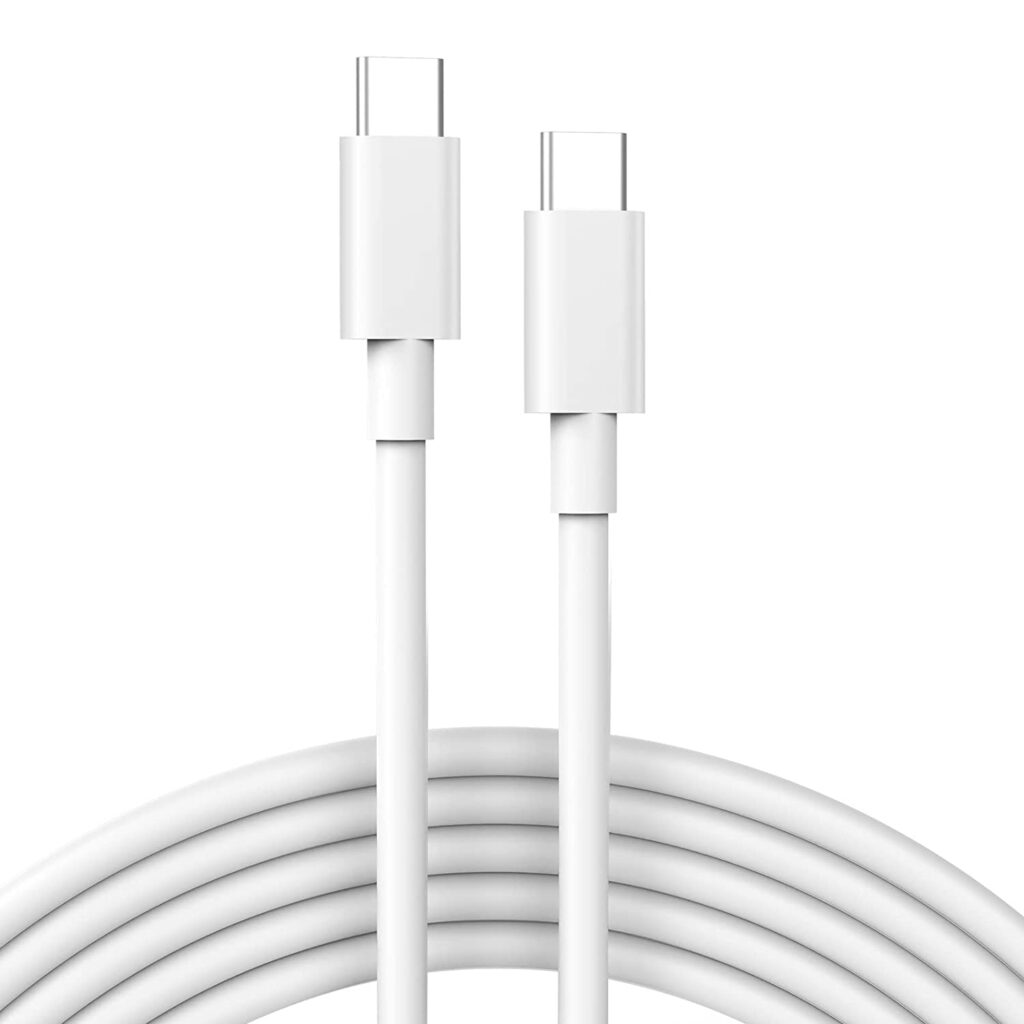 With a power output of 20V, 3A, and a data transfer speed of 480Mbps, you can be sure this one of the best MacBook charging cables is safe for charging. You only need to connect your cellphone and laptop for data transfer.
It is twice the length of other cables (others: 3.3ft) which lets you work and charge your laptop or tablet wherever you are.
Military-grade materials with international safety standards make this USB C to C cable more durable and tangle-free while preventing overheating, charring, and fire.
Buy IFEART USB C to USB C Charging Cable for $7.99 here
3. Anker USB C Cable 100W 10ft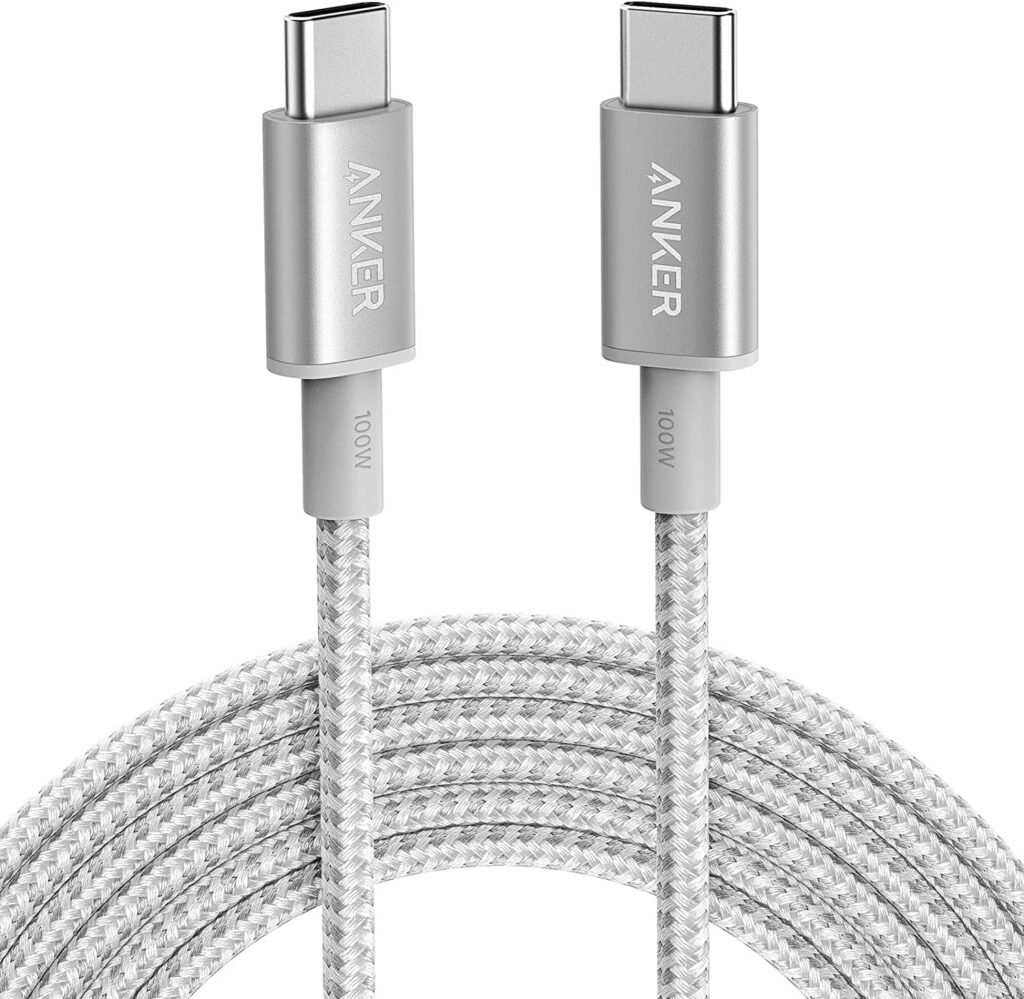 This cable is durable enough to endure daily wear and tear with a lifespan of 12,000 bends. The cable features an e-Marker chip on each end for safe and stable charging by communicating power requirements with connected devices.
This is one of the high-quality charging cables for MacBook that looks good and lasts longer with its tough, two-shade braided nylon.
The cable can charge anything from phones to laptops with a maximum output of 100W. The USB-C Power Delivery charger can power up a MacBook Pro 16ʺ in just 2 hours. The product has been tested and proven to withstand 12,000 bends in strict laboratory conditions.
Up to 480 Mbps of download speed allows you to transfer your movies, music, and more.
Buy Anker USB C Cable 100W 10ft for $15.99 here
4. IFEART 10ft USB C to USB C Charging Cable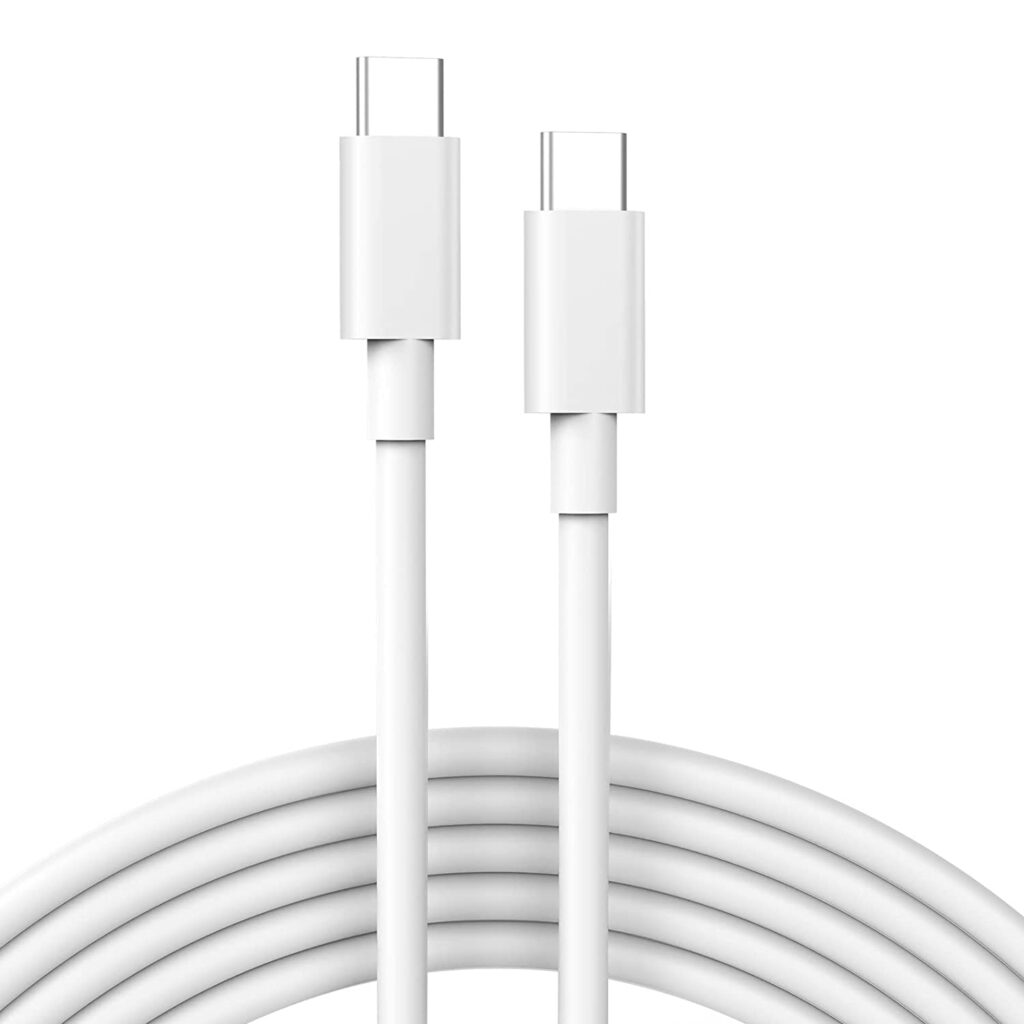 Featuring output power of 20V, 3A, safe charging, and data transfer rates of 480Mbps with USB 2.0, this USB-C cable could be the ideal option. It also supports data transfer.
You can charge your laptop or tablet anywhere with this 10ft long USB C to USB C cable.
Having been certified to meet international safety standards, the cable features military-grade material, reducing overheating, charring, and fire risks. It's also durable and tangle-free.
With the special reversible USB C-to-USB C connector design, you can always insert the connector correctly. Whenever you plug it in, you won't have to wonder which way is up.
Buy IFEART 10ft USB C to USB C Charging Cable for $9.99 here
5. MARSDOCK USB C to USB C Cable 100W 6.6ft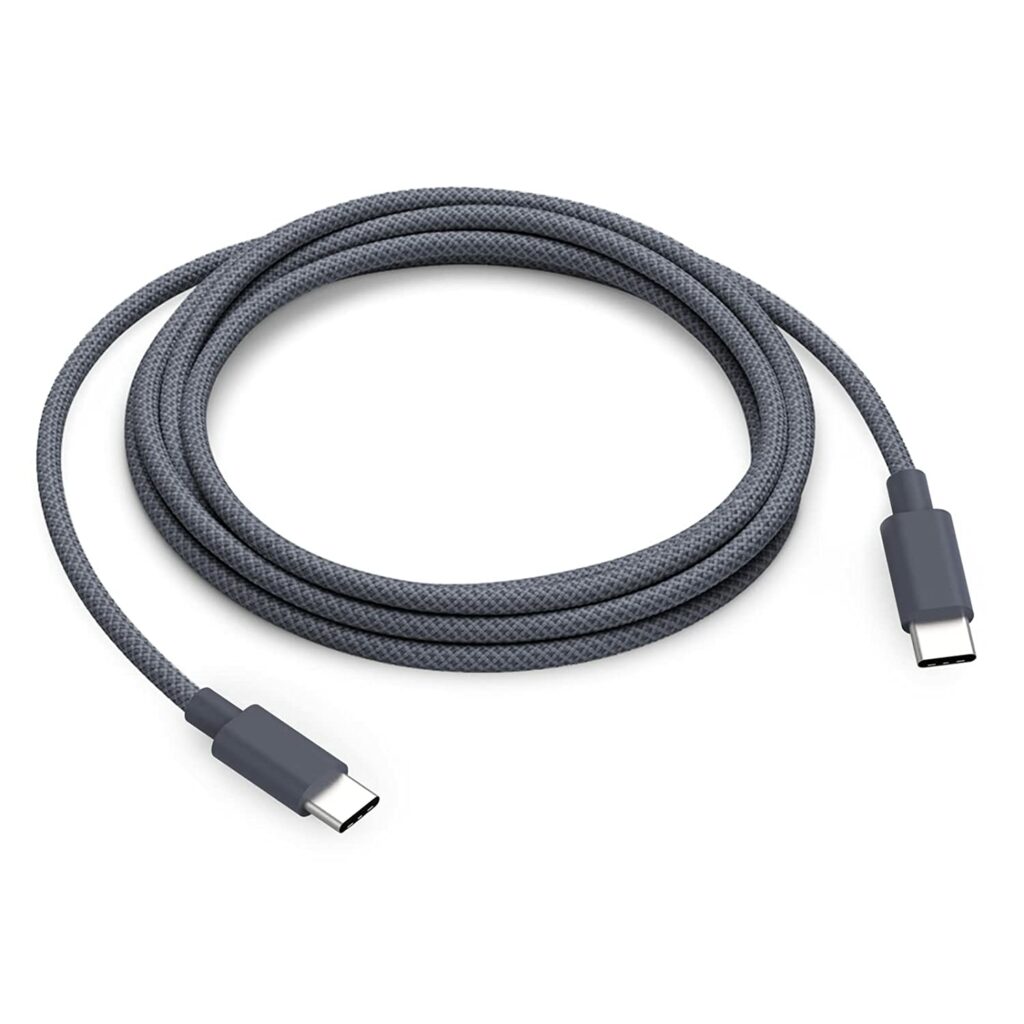 MarsDOCK Woven Cable with Braided Polyester Yarn has a seamless braided design, making it thinner, more compact, and dust resistant than Nylon-Braided Cable.
Built-in E-Marker chip optimizes charging for most USB-C laptops, tablets, and cellphones. It charges MacBook Pro 14 inch to 50% in 30 minutes 66% faster than 60W cable; Samsung Galaxy 45W PPS super-fast charging, charging up Samsung S23 Ultra to 89% in just 30 minutes while 3A cable is 54%; up to 100W 20V 5A through, supporting data sync speeds up to 480Mbps.
Copper wire cores prevent overheating and cable coat melting, adding surprising durability. 100W/5A cable has a charging efficiency of 88%, and a charging stability of 93%, which is higher than 60W/3A cable. Over 20000+ bends ensure a 4 times longer lifespan, metal parts never break, and tensile strength up to 175 pounds.
Its 2m length / 6.6ft width enables you to charge and have fun everywhere, in your bedroom, on your sofa, in your library, or the office, even as you drive in the back seat. Velcro tape can be folded for shortening at your convenience, and it remains tangle-free despite being stuffed inside a bag or pocket.
Buy MARSDOCK USB C to USB C Cable for $11.99 here
6. Anker USB-C to USB-C Cable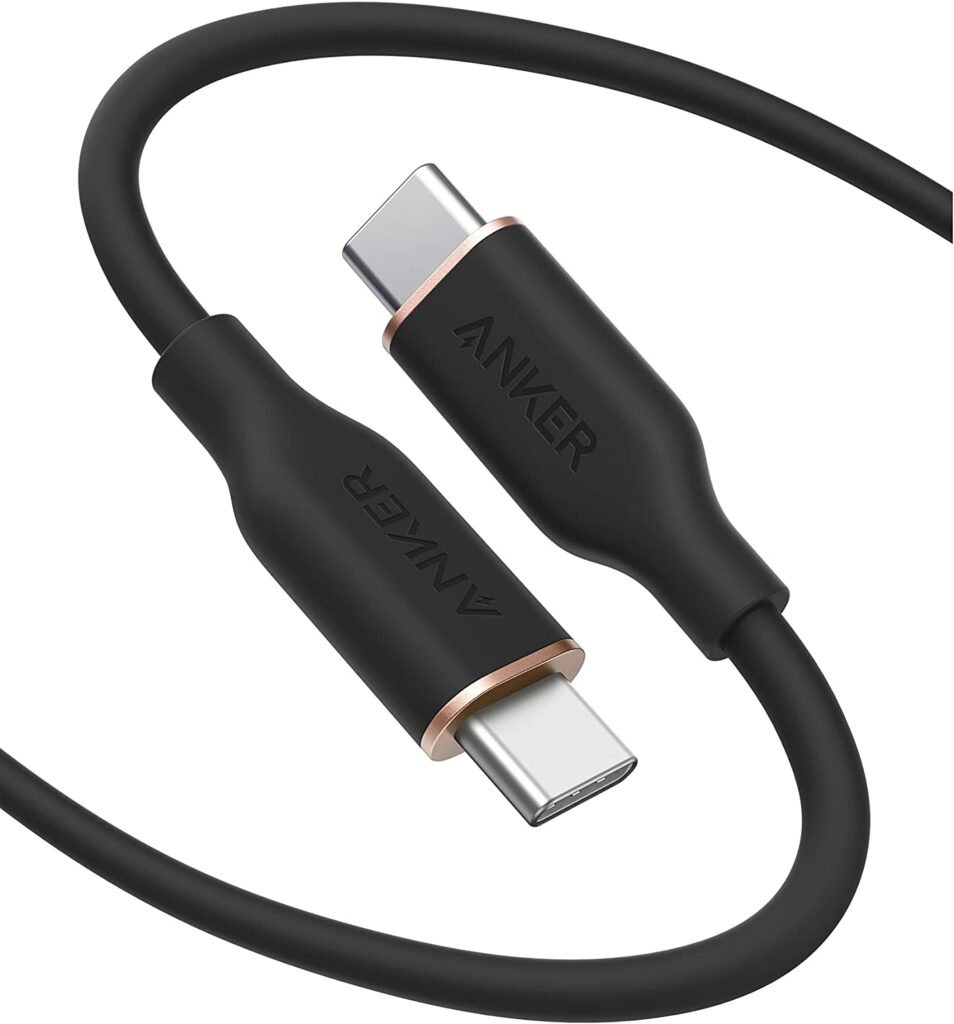 The cable feels like nothing you've ever felt before. Plugging the cable into your device feels surprisingly soft thanks to the silicone finish.
Despite being soft, this cable is one of the strongest. With a lifespan of 25,000 bends, this cable is more than ready for charging on the go.
It stays tangle-free even when stuffed in a bag or pocket or wrapped around a portable charging device.
It can power virtually all USB-C devices, including iPhones, tablets, and MacBooks when paired with a wall charger of 100W or above.
Buy Anker USB-C to USB-C Cable for $21.99 here
7. INIU Fast Charging Type C to Type C Cable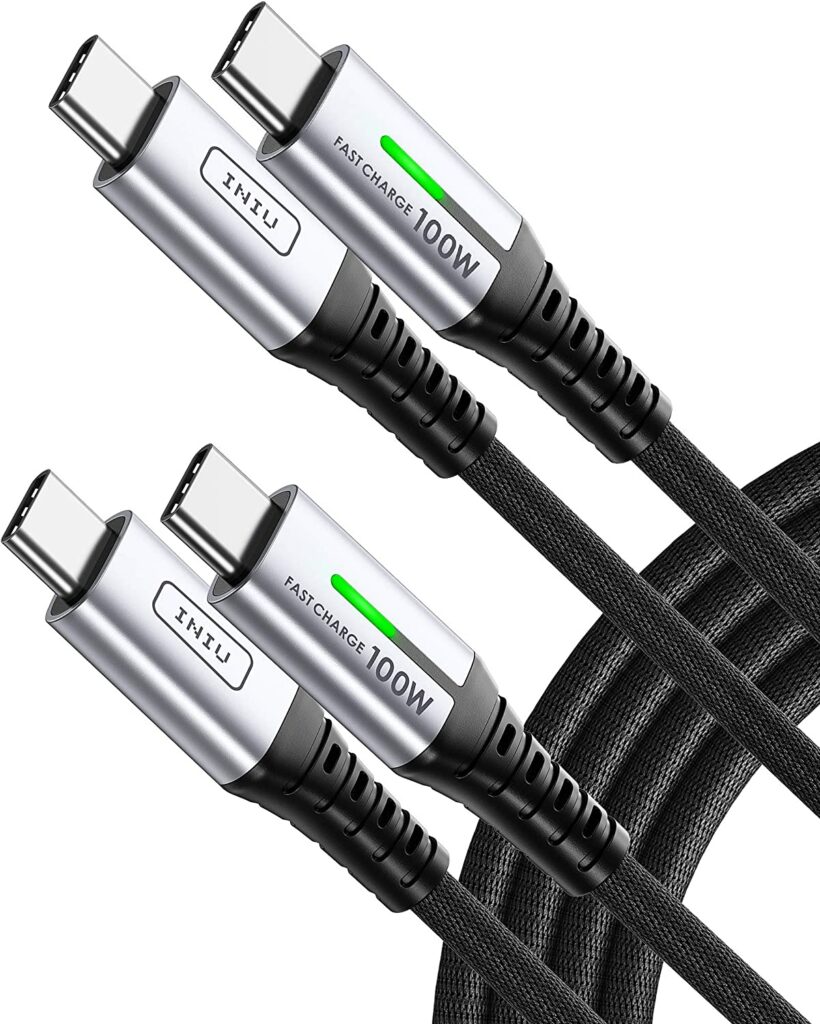 A 100W Power Delivery technology takes charging to a whole new level. It takes just 45 minutes to get your MacBook Pro 16″ to 60%-that's 58% faster than a 60W cable.
Powered by 100W on both ends, the next-level USB C cable delivers faster charging speeds to all of your phones, tablets, and laptops – charging Samsung S22 Ultra to 89% in just 30 minutes, compared with 60W and 3.1A cables that can only deliver 54% – saving you 45 minutes in the waiting room.
There are other 60W without Emark that are prone to exploding and causing fires. Emark2.0 chips, exclusive to 100W, maximize charging safety by automatically adjusting power and preventing battery damage from overheating.
The FLYWEAVE braided nylon coat, plus flexible anti-rupture SR joints, built the cable, which remained intact after the market's most rigorous testing (45,000+ bends).
As a 100W charger, it can charge even more USB C devices and PCs than 60W cables, including smartphones, tablets, and virtually any flagship notebook, Nintendo Switch, etc.
Buy INIU Fast Charging Type C to Type C Cable for $12.58 here
Conclusion
The USB-C standard isn't a hassle, it's a new technology, so products like these are just bridging the gap. Using USB-C cables to charge MacBooks can save you time and deliver adequate charge to your laptop.
So, grab any of the above-mentioned fast charging cables for your MacBook and get ready to maximize your productivity.
Was this article helpful? Let us know in the comments section.