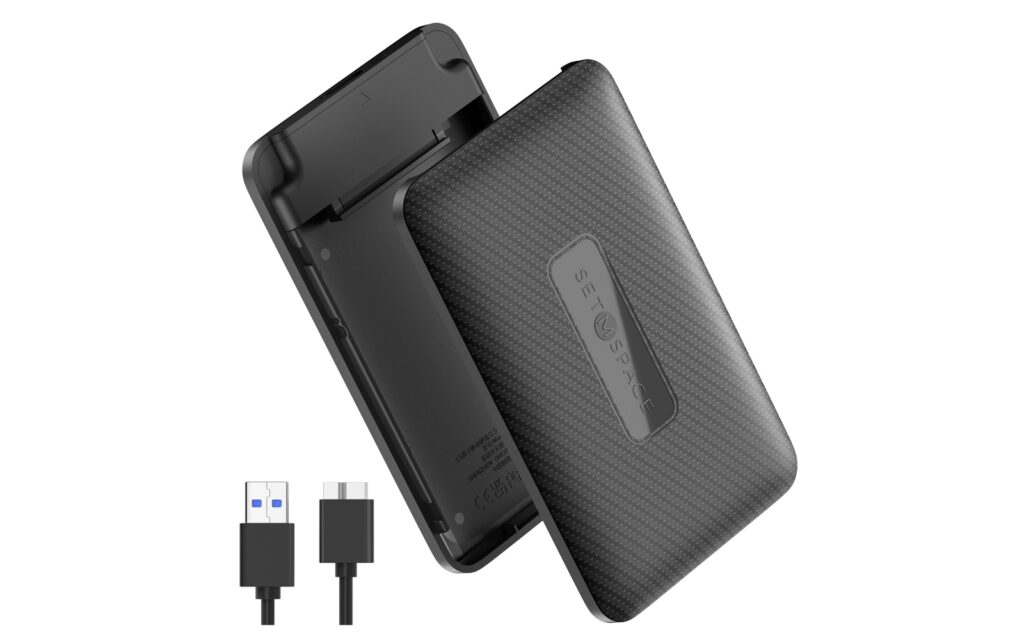 Do you have a broken computer whose hard drive is perfectly working? Or perhaps you have a spare SSD or Hard Drive lying around the house and want to turn it into a cost-effective portable hard drive. No matter what your purpose might be, you can take advantage of SETMSPACE's Tool-Free 2.5″ Hard Drive Enclosure.
This handy little gadget makes it possible for users to place a 7-9.5mm SSD or HDD hard drive and turn it into a portable hard drive that becomes plug-and-play. You can then plug the hard drive into your computer and transfer data to and from it in just a few clicks.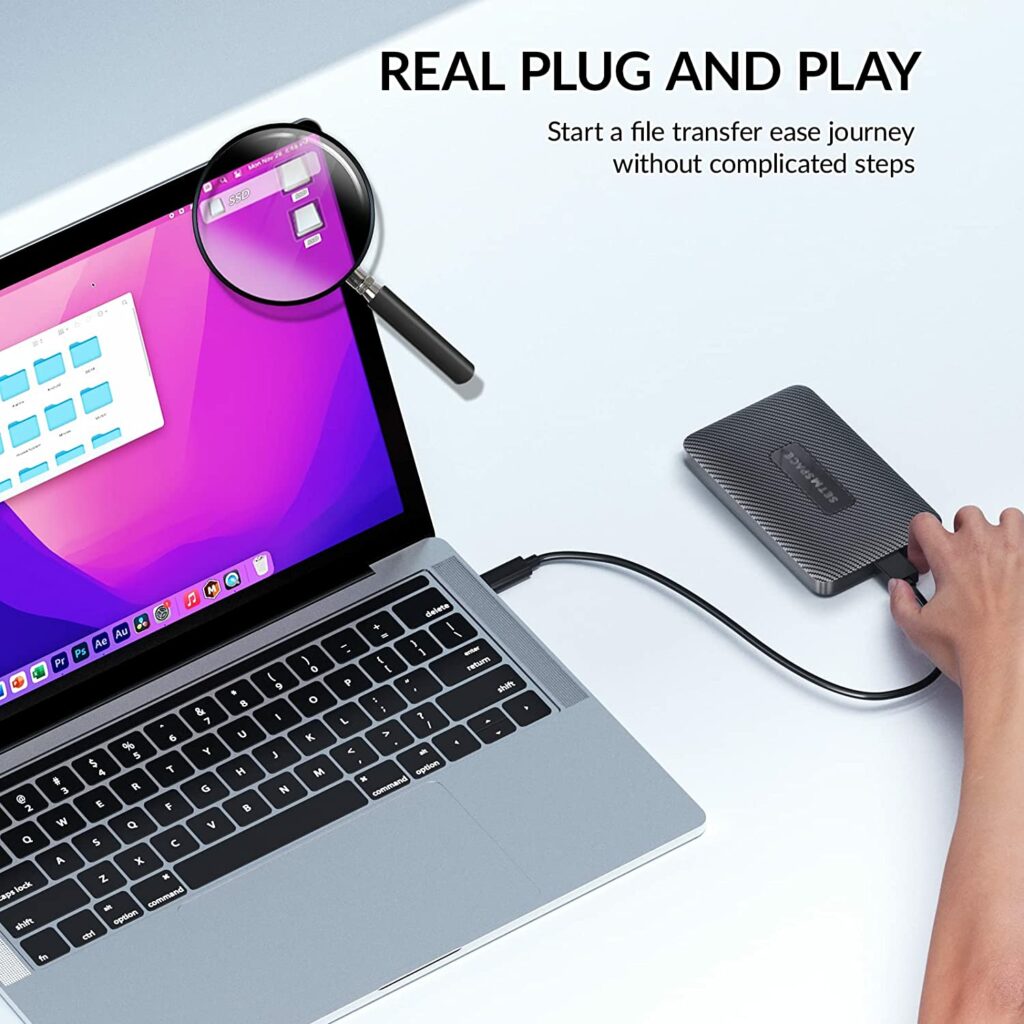 The hard drive enclosure comes with a USB port, which means it is completely plug-and-play and allows users of Mac or Windows computer to simply plug in their drive using a USB cable. The enclosure comes with a Micro B to USB A cable however, if your Mac has a USB-C port, then you can also opt for the USB-C to USB-C enclosure.
The unit that we reviewed supported a maximum hard drive storage capacity of 4TB, which was more than enough for the hard drives that we had. In fact thanks to the enclosure I was able to recover some important family photos that were stored in a dysfunctional Windows laptop from 2010. After recovering the photos I quickly transferred them to my Mac and Dropbox so I don't lose them again. This was only made possible thanks to this hard drive enclosure.
With SETMSPACE you can expect to get transmission speeds of up to 5Gbps. This transmission speed means you can make fast transfers of data to and from the hard drive that you have stored in the hard drive enclosure.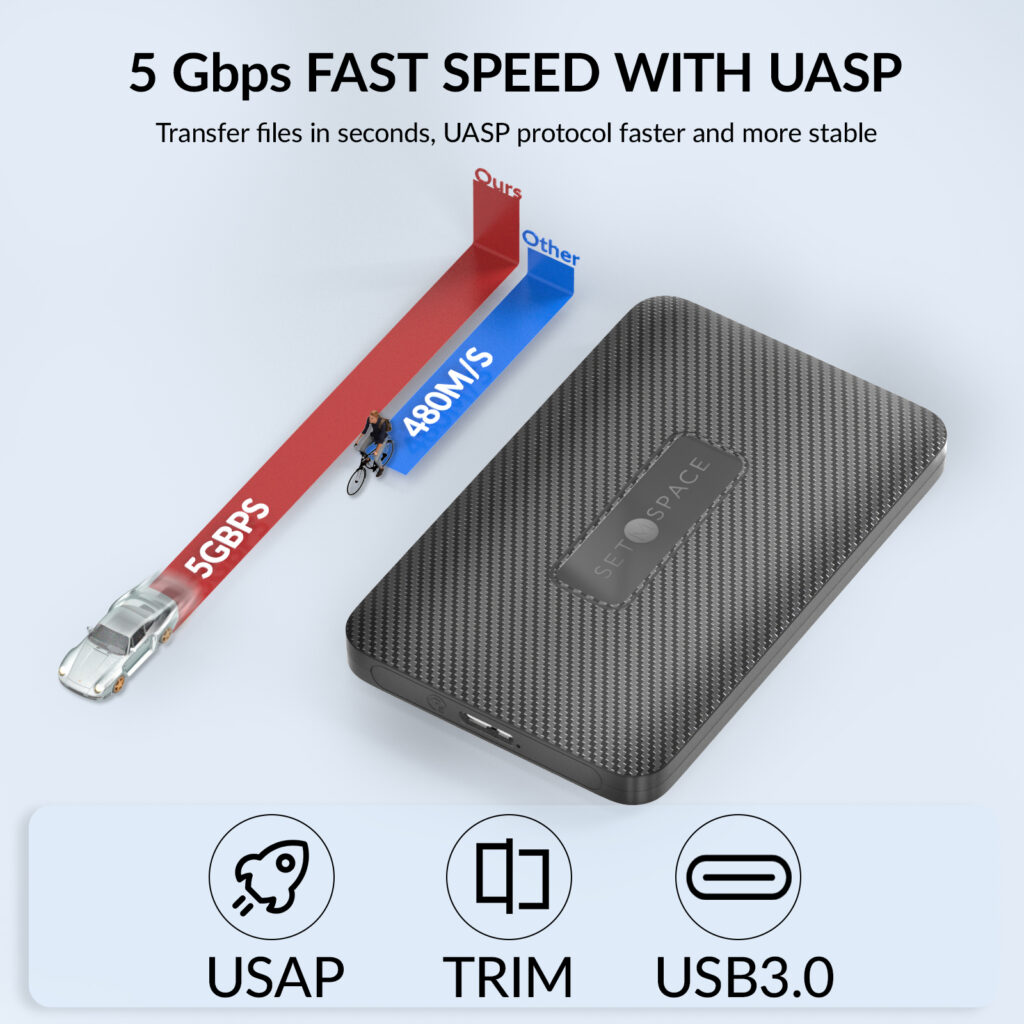 The SETMSPACE Hard Drive Enclosure is super portable and measures only 132x80x15mm. This makes it portable to the point that you can carry it around no matter where you go. This is great for turning your old and unused SSD or HDD hard drive into a budget-friendly portable drive. This can potentially save you hundreds of dollars.
Using this hard drive enclosure is super simple. Just open the enclosure without using any tools and place your 2.5-inch or 7-9.5mm hard drive into it. Once you have done this and properly closed the enclosure, you can then proceed to plug it into any device to use it as a portable hard drive.
SETMSPACE Hard Drive Enclosure works with a variety of operating systems and devices. You can use it with your Mac, Windows PC, iPhone, iPad, Linux computer, or Android device. Not just that, but console gamers can turn their old SSDs and HDD hard drives into gaming hard drives and use them to store their digital PlayStation or Xbox games.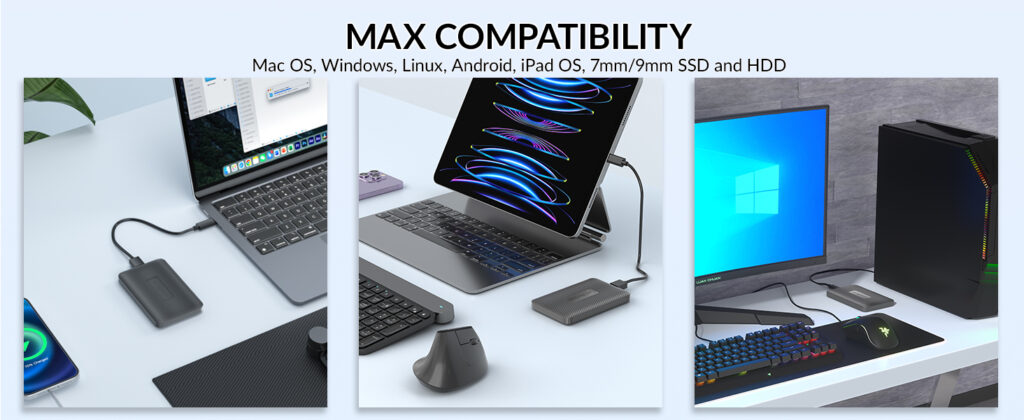 There are other benefits to storing your hard drive in the SETMSPACE Hard Drive Enclosure instead of storing it with the enclosure. With the added protection of the enclosure, your hard drive is protected from damage, crashes, dust, and other harmful things.
You can buy the SETMSPACE Tool-Free 2.5″ Hard Drive Enclosure from SETMSPACE's official Amazon store for $12.99. With the 50% off coupon, which can be applied to Amazon's product page you can get this Hard Drive Enclosure for just $6.50, which is a great price.