Looking for the best mechanical keyboard for your Mac? Then stop looking as we have gathered the best available option out there.
Whether you need a keyboard for working purposes or gaming needs, choosing the best one can be a daunting task since options are countless. But the best part is you can even get your keyboard customized according to your requirements. Convenient, no?
Despite it being a subjective topic, there are a few things we can all agree upon: the keyboard should be stylish, durable, and most importantly, not costly. But perhaps for many even more important factor is that it should make a nice clicky sound.
Keeping these reasons in mind, a good Mac mechanical keyboard is a better choice. But again, which one should you go for? To make it easier for you, we have put together the list of the best mechanical keyboards for your Mac. 
Best Mechanical Keyboards For Mac
1. Keychron K4 96% Layout 100 Keys

A 96% layout (100-key) white LED backlight wireless mechanical keyboard comes in a compact design with a number pad. If you want to ensure productivity or experience tactile typing, then this keyboard would be your best bet.
This keyboard can get connected with your iDevices, via broad compatibility Broadcom Bluetooth and switch among them effortlessly. You can even connect it with a USB Type-C connection to convert it into wired mode.
This unique K4 mechanical keyboard with a Mac layout is equipped with all the essential Mac function keys. On top of that, it is also compatible with Windows.
The K4 is the only keyboard with a 4000 mAh battery that lasts over 240 hours. N-key rollover (NKRO) on wired mode or 6KRO on wireless mode.
Get your hands on Keychron K4 69% at $79.99
2. Logitech MX Mechanical Wireless Illuminated Performance Keyboard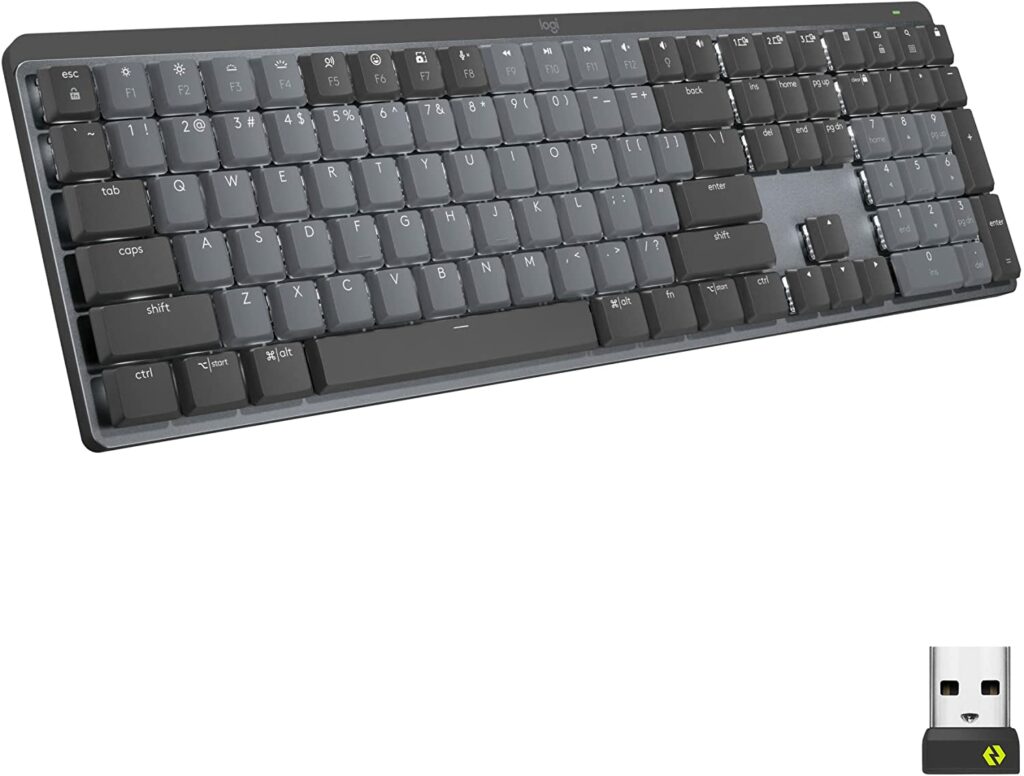 Logitech is yet another one of the best mechanical keyboards for Mac out there that offers fluid and quiet mechanical typing with low-profile keys that deliver next-level flow.
It is designed with smart illumination that lights up Backlit keys the moment you lay your hands on the keyboard. Additionally, it automatically adapts to different lighting conditions so you can work on it even on the go.
You can pair MX Mechanical wireless keyboard with 3 several devices on nearly any operating system via Bluetooth Low Energy.
The battery life of this keyboard is also impressive, as it can last up to 15 days on a full charge or up to 10 months with the backlight turned off.
You can purchase Logitech MX Mechanical Keyboard for $169.99 at the link below
3. Keychron Q2 Wired Custom Mechanical Keyboard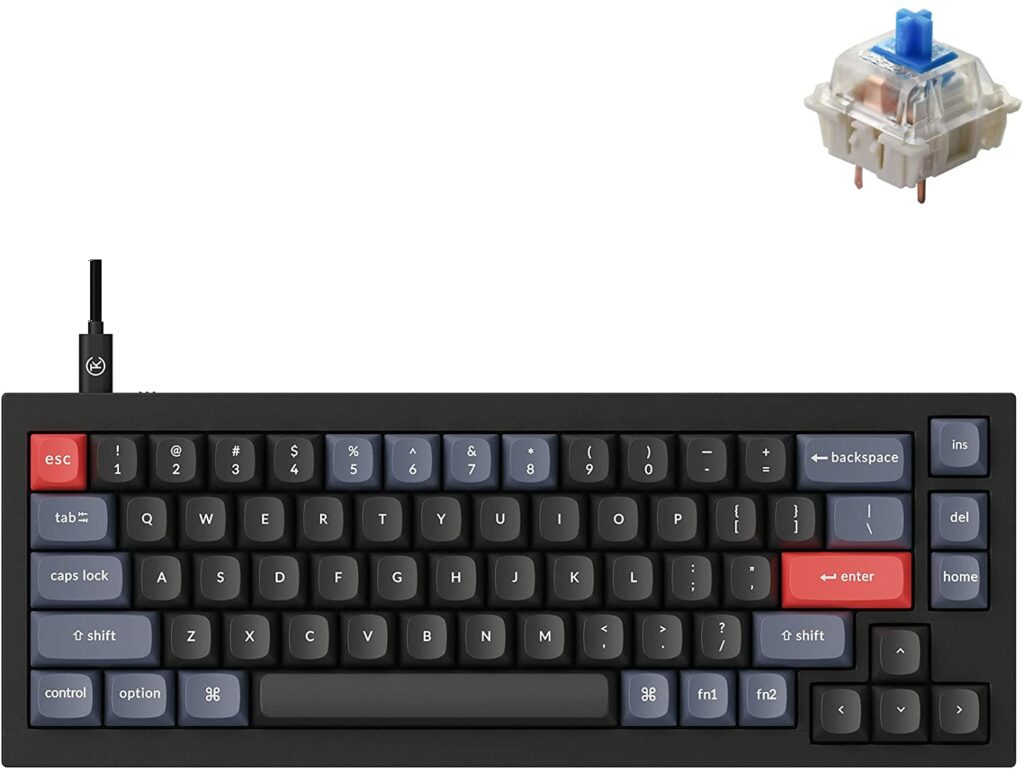 If you haven't come across a keyboard that could be customized according to your needs yet, go for Keychron Q2.
Keychron Q2 is a mechanical keyboard that can be fully customized with a compact 65% layout. This Q2 keyboard features a full aluminum frame that can be assembled easily for personalized premium typing comfort.
It includes QMK and VIA support, which gives you the opportunity to program and remap each key on the keyboard conveniently.
You can simply connect the Q2 to your device with a cable, import the Q2 keymap JSON file into the VIA software, drag and drop your preferred keys or macro commands to remap any key you want on macOS, Windows, or Linux operating system.
The south-facing RGB design is aimed at better lighting the keyboard backlight from the typing angle with the premium non-shine-through PBT keycaps installed. In addition to providing excellent oil resistance, PBT keycaps prevent the legends from fading and improve the feel of typing.
Get Keychron today for only $199.99 at the link below
4. Macally Backlit Mechanical Keyboard for Mac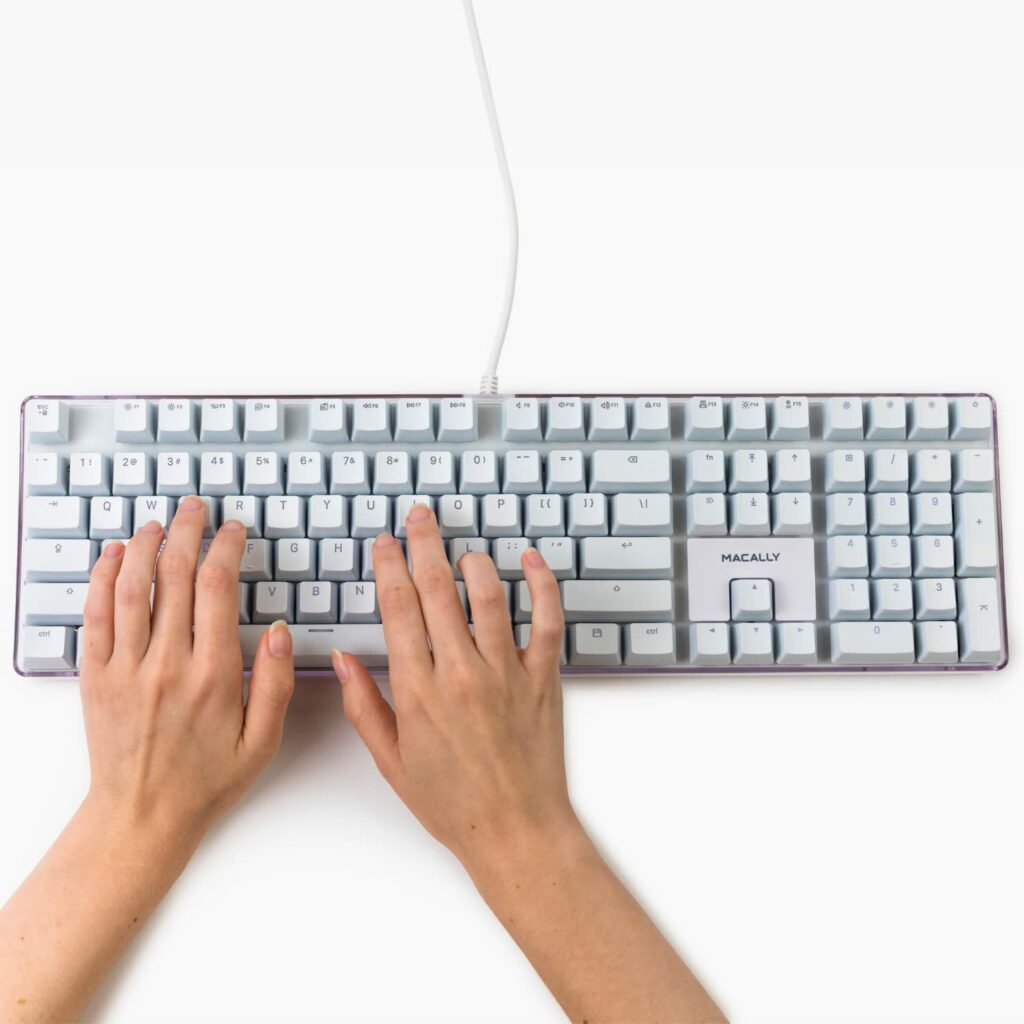 The Macally backlit mechanical keyboard features brown mechanical switches, a weighted base for stability, and a stylish, see-through frame that provides you with the ultimate mac keyboard experience.
This keyboard is ideal for workers, gamers, video editors, as well as graphic designers. Because it gives you the option to set brightness levels in three ways so you can work seamlessly even in dim light.
For enhanced productivity, Macally Mac mechanical keyboard features a 104-key mac specific layout with 16 convenient shortcut keys.
Get Macally for only $129.99 at the link below
5. Das Keyboard 4 Professional for Mac Wired Mechanical Keyboard

If aesthetics is your main concern, Das Keyboard 4 professional is the thinnest and hands down the best mechanical keyboard for Mac!
Das Keyboard 4 offers a combination of tactile feel, the psycho-acoustic experience, and incredible craftsmanship to deliver an unmatched and faster typing experience.
This Mac mechanical keyboard is ideal for fast typists, productive professionals, and game enthusiasts as it supports full NKRO over USB.
Its laser-etched keycaps are paired with Cherry MX Brown switches to ensure maximum durability, giving the keyboard life up to 50 million keystrokes.
Gold-plated switches, on the other hand, provide the finest typing and contact experience because, unlike metals, gold does not rust, which extends the lifespan of the switch.
Get Das Keyboard 4 Professional for Mac for $169.00 at the link below
6. Havit Mechanical Keyboard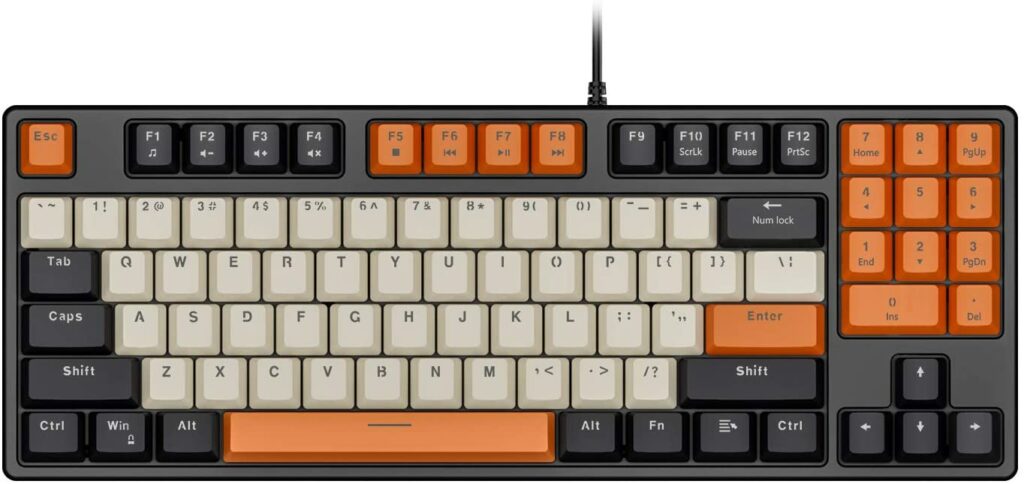 If you are on the lookout for a keyboard that gives an excellent touch experience and long-serving time then the Havit mechanical keyboard is the one for you.
In combination with the two keyboard kickstands, this mechanical gaming keyboard has been designed to provide a comfortable angle for typing, which effectively reduces the strain on the wrists.
Besides, it is aesthetically pleasing as well, its colorful keycaps enhance your mood while playing games or working, giving new life to your dull workspace.
Its compact size offers you space on your work table and makes it easier for you to carry it around during meeting sessions and gaming.
This 89-key mechanical keyboard is compatible with Windows 10, Windows 8, Windows 7, Windows XP, Windows VISTA, and other systems.
You can get Havit HV-KB487L for $39.99 at the link below
Key to Your Success
Whether you are a writer, video editor, graphic designer, a corporate professional, or a gamer buying a mechanical keyboard might cost you an arm and leg. Though think of it as an investment because they offer a premium typing and gaming experience.
Now that you have gone through the list of the best mechanical keyboards, it will be easier for you to pick the one that would suit all your needs.
Comment down any queries you have and we will get back to you at our earliest convenience.