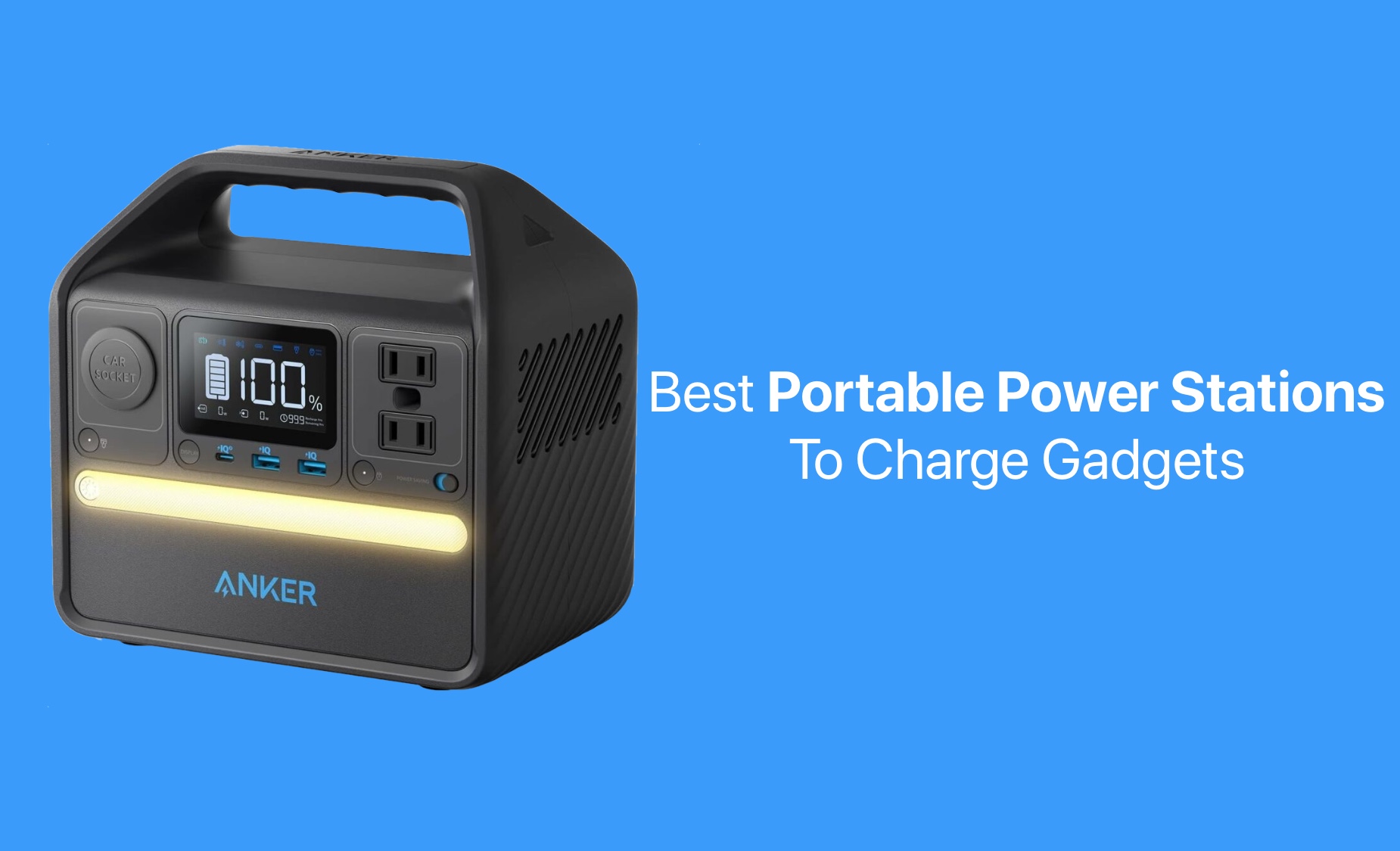 In this article, you will find the best portable power stations that allow iPhone, iPad, and MacBook users to charge their gadgets and electronics while on the go.
Have you ever found yourself in the middle of nowhere with a dying smartphone, desperately wishing you had a magic power source to revive your lifeline to the digital world? Well, wish no more, because in today's tech-savvy era, high-capacity portable power stations have emerged as the modern-day heroes for all our gadget-charging needs.
Whether you're camping deep in the wilderness, road-tripping across the country, or simply facing a power outage at home, these compact powerhouses are here to rescue you.
Let's embark on an electrifying journey through the best portable power stations for iPhone and iPad on the market, showcasing the most versatile and reliable options to keep your gadgets juiced up when you're on the move.
Best Power Stations to Charge On the Go
The best portable power stations for you depend on your specific needs, whether it's a compact powerhouse for daily use or a rugged, solar-charging companion for off-grid adventures.
Let's explore the best options for you!
1. Anker 521 Portable Power Station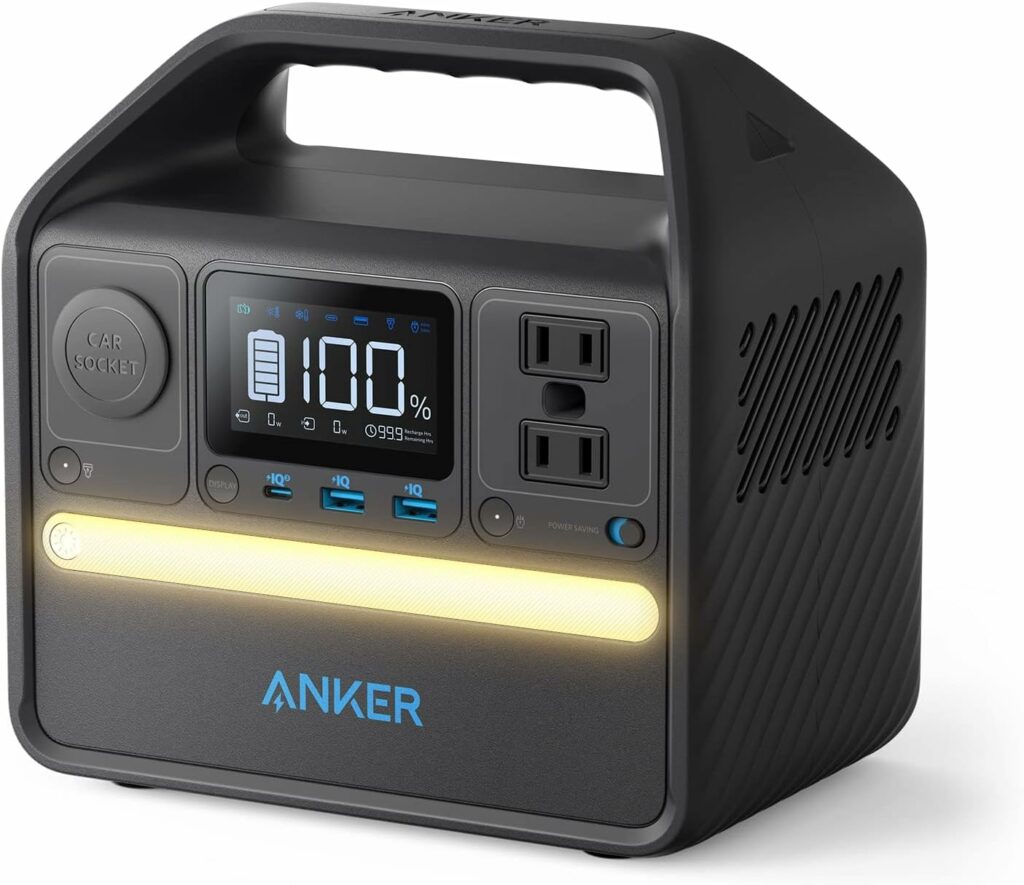 Anker is back with another groundbreaking innovation in portable power solutions. The brand has always been at the forefront of technology, and the Anker 521 Power Station is no exception. Whether you're gearing up for an epic outdoor adventure or need a reliable backup power source for your home, the Anker 521 Portable Power Station has got you covered.
What sets the Anker 521 apart? It's all about durability and longevity. The brand has harnessed the power of InfiniPower technology, combined it with LiFePO4 batteries, and integrated ultra-durable electronic components. Plus, the smart temperature control system keeps a watchful eye on the temperature, checking it up to 100 times per second. And don't worry about accidents—the impact-resistant structural design ensures this powerhouse can take a beating.
With the Anker 521 Portable Power Station, you can trust it to last over a decade, even with daily use. So, power up and let Anker be your reliable energy source wherever you need it!
Buy the Anker 521 Portable Power Station for $186.99 here.
2. GRECELL Portable Power Station 300W
With a robust 330W (600W surge) pure sine wave, GRECELL Portable Power Station has the juice to power laptops, tablets, phones, lights, fans, CPAPs, projectors, TVs, mini-refrigerators, speakers, and cameras (rated power less than 330W).
Ready for a device party? The GRECELL solar generator can power up to eight devices simultaneously (as long as they stay under 330W combined). Each output module is under your control with individual switches.
Compact and lightweight, this 288Wh beast is your ideal companion for camping, road trips, and family outings. GRECELL takes battery quality seriously, opting for top-notch lithium batteries to ensure your safety. The upgraded BMS brings peace of mind with built-in overload, overcharge protection, and short-circuit safeguards. Plus, dual silent cooling fans keep the temperature cool and breezy.
Buy GRECELL Portable Power Station 300W for $199 here.
3. HOWEASY 120W Portable Power Bank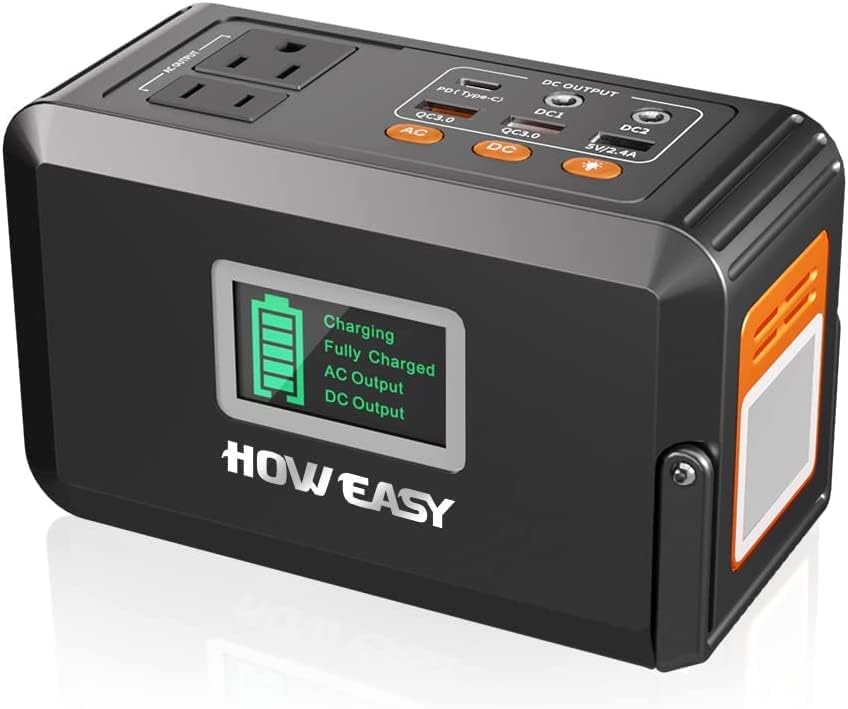 This compact powerhouse boasts a whopping 24000mAh capacity and 8 output ports to keep all your devices juiced up. We're talking 2 USB 3.0 QC ports, 1 USB 5V 2.4A port, 1 speedy USB-C port, and even 2 DC ports (12V, 10A max), not to mention 2 pole and 3 pole output sockets, each delivering a solid 120W of power (with a peak of 150W). It's a versatile beast that can handle your iPhone, tablet, camera, radio, USB-powered night light, mini fan, and more, as long as they stay under 120W.
With an impressive 88Wh of power onboard, you've got three convenient ways to recharge this portable powerhouse. Plug it into an AC outlet using the included adapter, harness the sun's energy with a compatible solar panel, or charge it up on the go with your car's 12V/24V socket and car charger.
The power bank features built-in cooling vents to keep things running smoothly during recharging while also offering three lighting modes (steady light, flash, SOS) for various needs. Additionally, there are separate AC/DC buttons for easy operation.
Buy HOWEASY 120W Portable Power Bank for $69.99 here.
4. GOLABS R300 Portable Power Station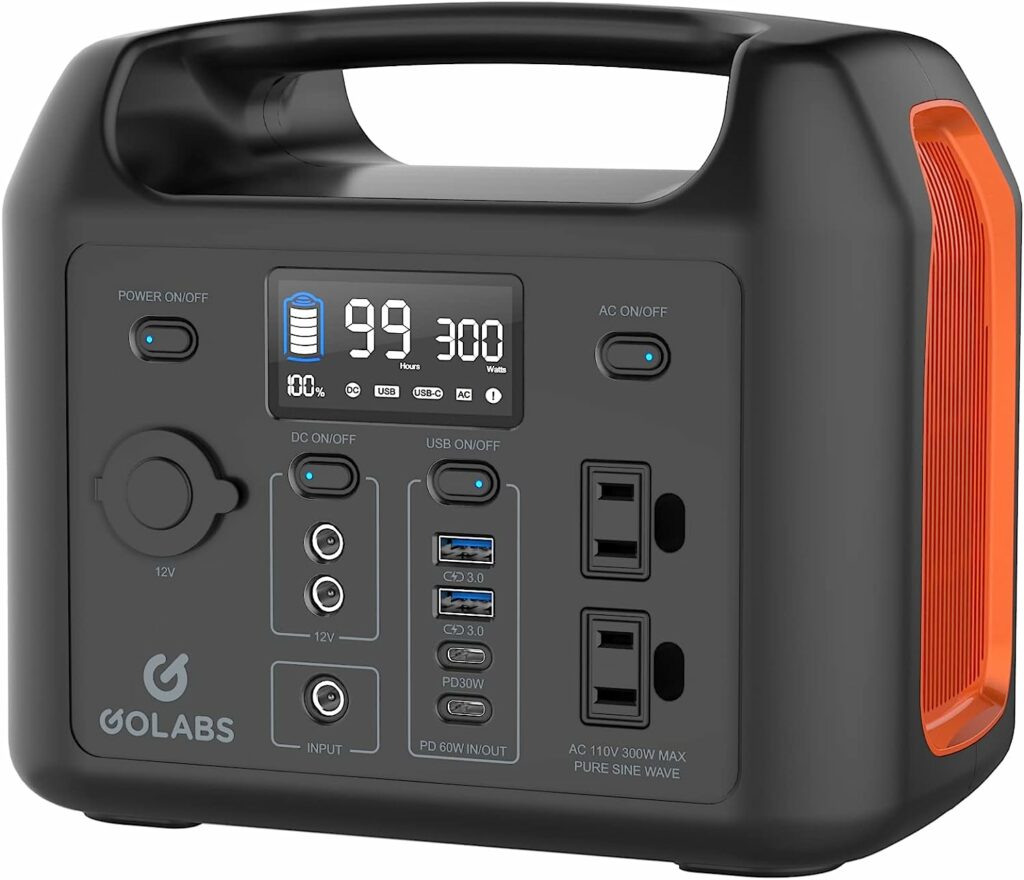 GOLABS R300 Portable Power Station is equipped with LiFePO4 batteries, and they bring a significant advantage to the table – superior thermal and chemical stability. Why does this matter? It greatly enhances the safety of your power station. You can count on this powerhouse for over 2000 cycles, and it's designed to serve you for more than a decade. Impressive, right?
Now, here's the kicker for those sensitive devices like CPAP machines and laptops – this GOLABS portable power generator delivers clean and stable electricity with a pure sine wave. That means this is one of the best portable power stations for MacBook and other iDevices as it keeps your gadgets protected. Need more power? The continuous 300W AC outlet can even hit a peak of 500W to handle those demanding electrical devices.
Buy GOLABS R300 Portable Power Station for $154.98 here.
5. Egretech Sonic 600W Solar Generator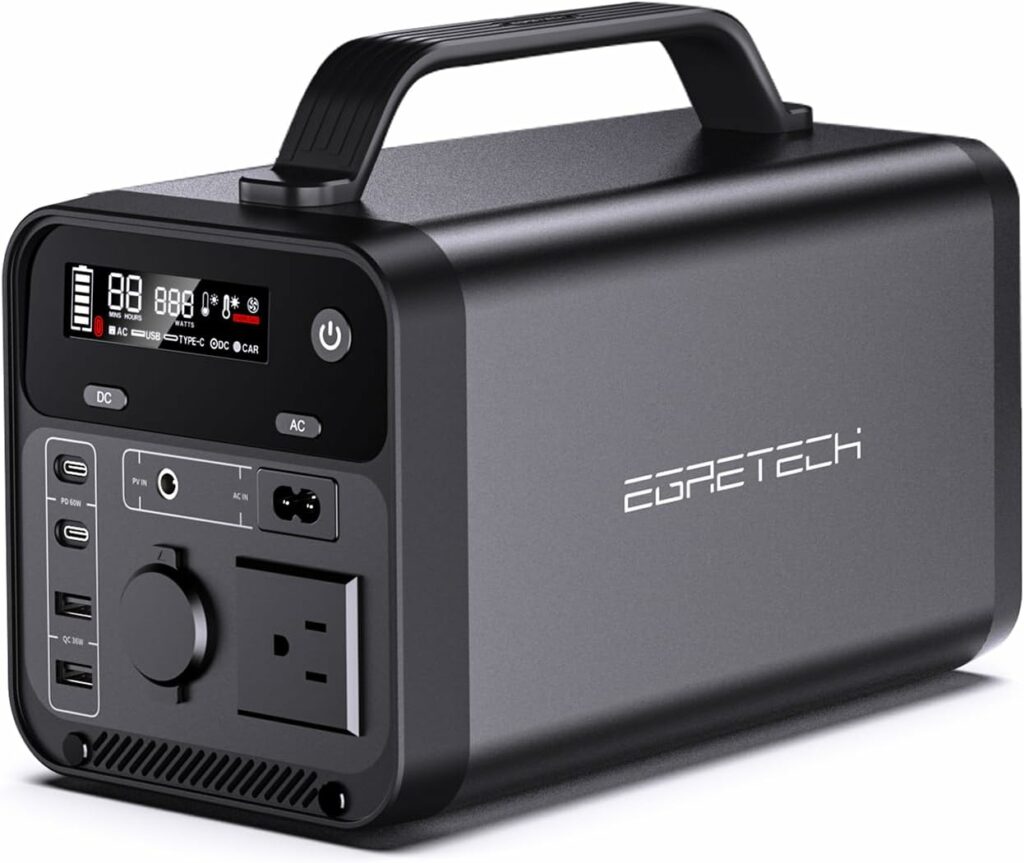 Egretech Sonic 600W Solar Generator is versatile as it boasts a real capacity of 500Wh and delivers a pure sine wave output of 600W. What sets it apart is Egretech's G-Wave overload inverter technology, which can handle equipment up to 1200W at its 600W rating without a hitch. Need to power multiple devices simultaneously? No problem – the Egretech generator can support up to six devices, including essentials like rice cookers, mini fridges, hair dryers, fans, and even drones.
When it comes to recharging, Egretech doesn't disappoint. Thanks to the G-Flow bidirectional inverter fast charging technology, you can reach 80% charge in just one hour, with a full recharge taking only one hour and 40 minutes. Say goodbye to bulky adapters – a single cable does the trick, making it incredibly convenient.
Buy Egretech Sonic 600W Solar Generator for $359 here.
6. Jackery Portable Power Station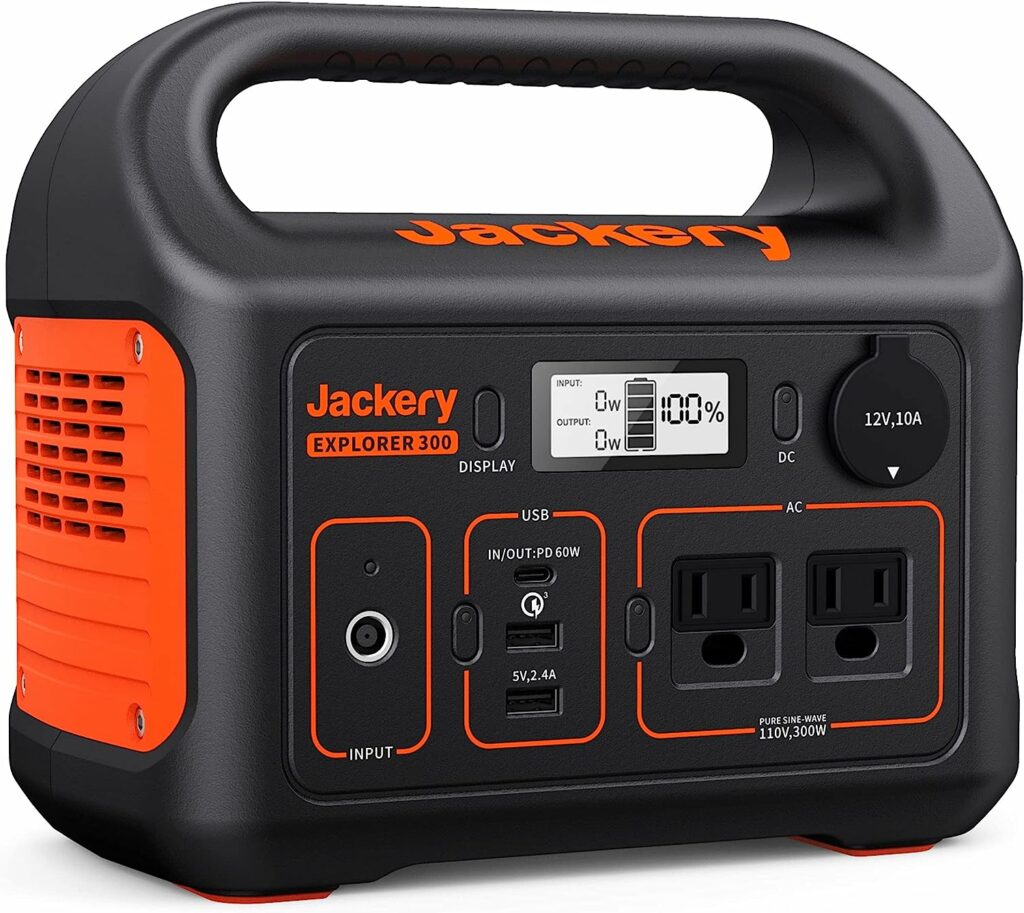 In just 2 hours, you can recharge 80% of this powerhouse through a standard wall outlet and its 60W PD USB-C port simultaneously. And when you're at home, on a road trip, or even out in the wild with a Jackery SolarSaga 100, recharging your power station is a breeze.
With its 293Wh lithium-ion battery pack, the Explorer 300 packs a punch, boasting 2 Pure Sine Wave AC outlets that provide a stable and safe 300W of power. Remarkably, this portable powerhouse only weighs a mere 7.1 pounds, so it won't weigh you down during your outdoor adventures.
And the best part? It's compatible with the Jackery SolarSaga 100 solar panel, thanks to its integrated MPPT controller. This means you can harness the power of the sun to recharge your power station faster, making it the perfect companion for activities like tent camping and overland journeys.
Buy Jackery Portable Power Station for $199 here.
7. FlashFish 40800mAh Solar Generator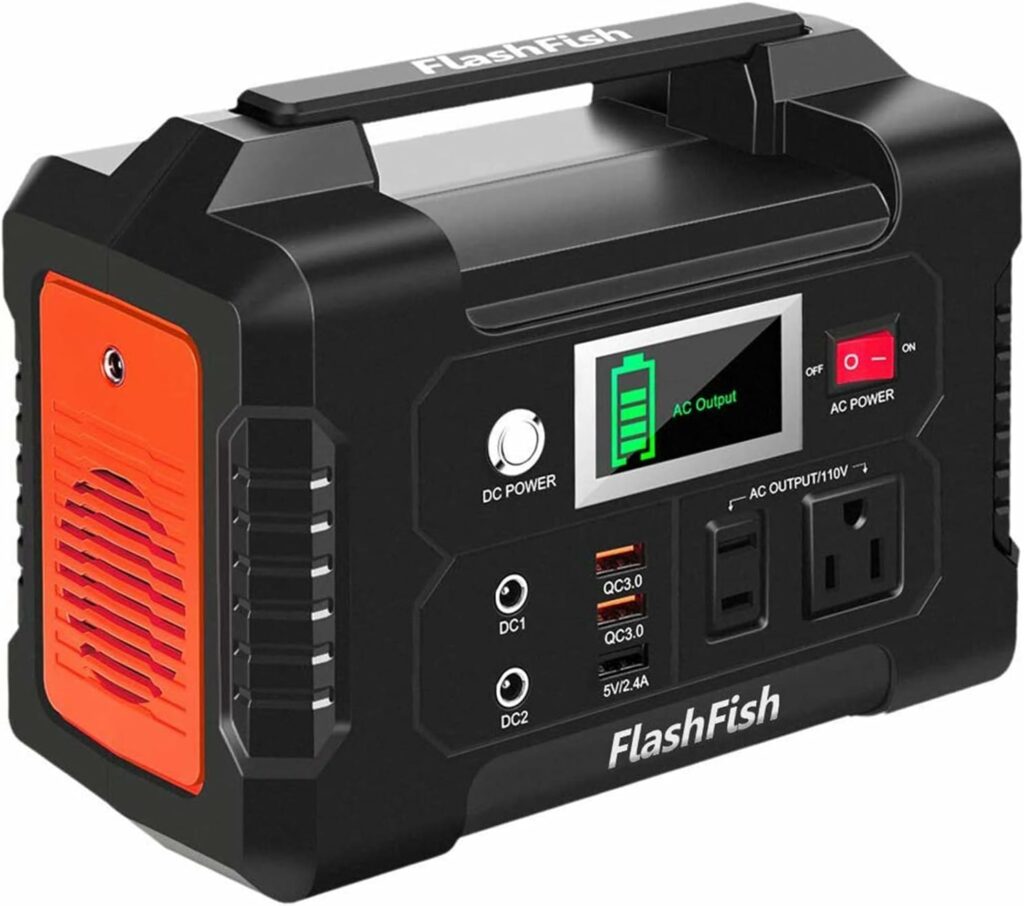 This portable station boasts a 110 AC output (200W), 2 DC outputs, 2 QC 3.0 quick charge USB ports, and 1 USB port (2.4A auto). It's versatile enough to juice up your smartphone, tablet, laptop, camera, lights, drones, fans, in-car gadgets, and even your CPAP machine.
With a 151Wh (40800mAh) battery, it's got the juice to handle various electricity needs when you're out and about. Weighing just 4.07lb and featuring a convenient handle, it's a breeze to toss into your backpack or car for power on the move.
Want to go green? The Jackery Power Station can be recharged using a 15-24 volt solar panel (not included), an AC wall adapter, or a car charger. It's eco-friendly and doesn't suffer from memory effects, so you can count on it for the long haul.
Buy FlashFish 40800mAh Solar Generator for $109.99 here.
8. Powdeom 155Wh Portable Power Station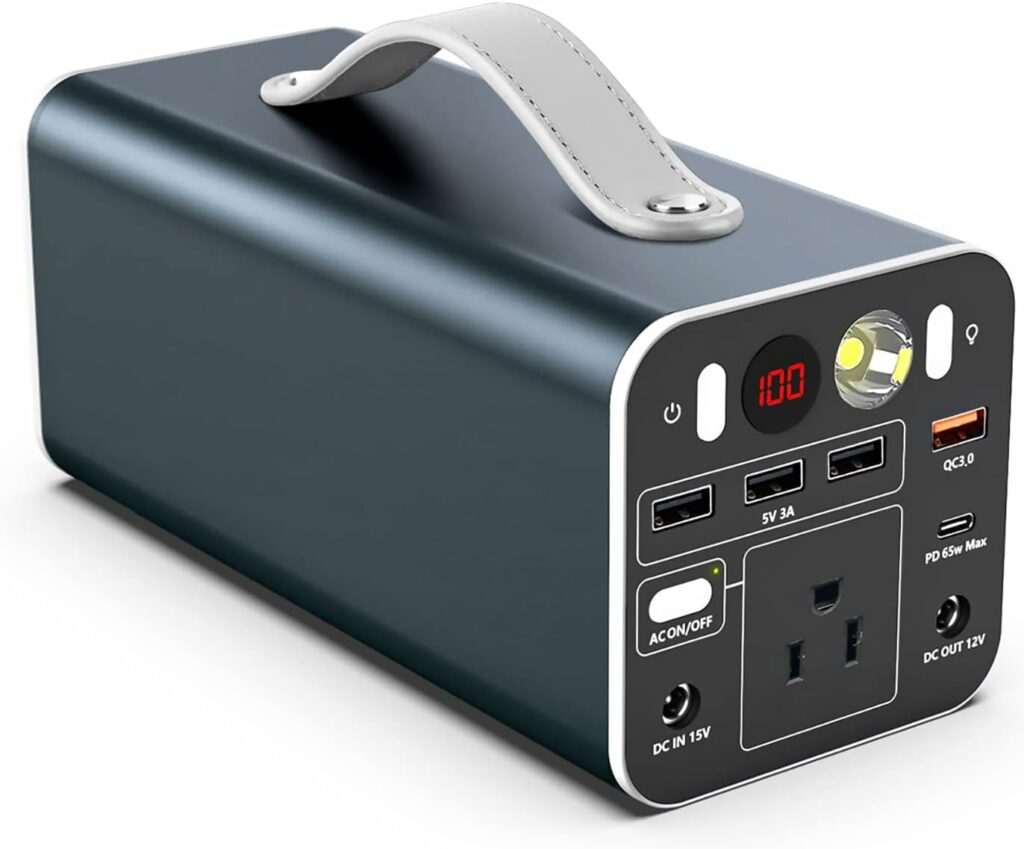 The Powdeom 155Wh Portable Power Station lets you power up a variety of devices, as long as they have a rated power of less than 150W. Think laptops (rated power less than 140W), mini-fridges, fans, fish finders, and even small appliances for your camping escapades. Plus, it's your trusty backup during emergencies, keeping your electronics running.
Charging the Powdeom power bank is a breeze – it can be recharged via a wall outlet, PD port, or a 60W solar panel. You can even charge it using a wall outlet and PD port together. Whether you're outdoors, on a trip, or just relaxing at home, this power station will keep you connected to an endless supply of energy.
Weighing in at just 4 pounds, this lightweight portable laptop charger is suitable for everyone – men, women, and even kids. The soft leather handle design ensures comfort while carrying, and it's equipped with bright light, flash, and SOS lighting modes to suit your needs.
Buy Powdeom 155Wh Portable Power Station for $89.99 here.
To Conclude
The array of portable power stations available today offers a transformative solution for those seeking reliable, on-the-go charging for their myriad electronic devices. The best part? You can charge MacBook and iPhone with portable power stations. The portable power stations for all Apple devices featured in this article cater to diverse needs and preferences. These compact and powerful devices not only provide a lifeline for our gadgets but also contribute to a more sustainable and connected lifestyle.
Embracing the convenience and versatility offered by these top-notch portable power stations for 2024 is not just a choice but a smart investment in the seamless integration of technology into our daily lives, wherever our adventures may take us.
Disclosure: iOSHacker may receive a commission if you purchase products through our affiliate links. For more visit our privacy policy page.