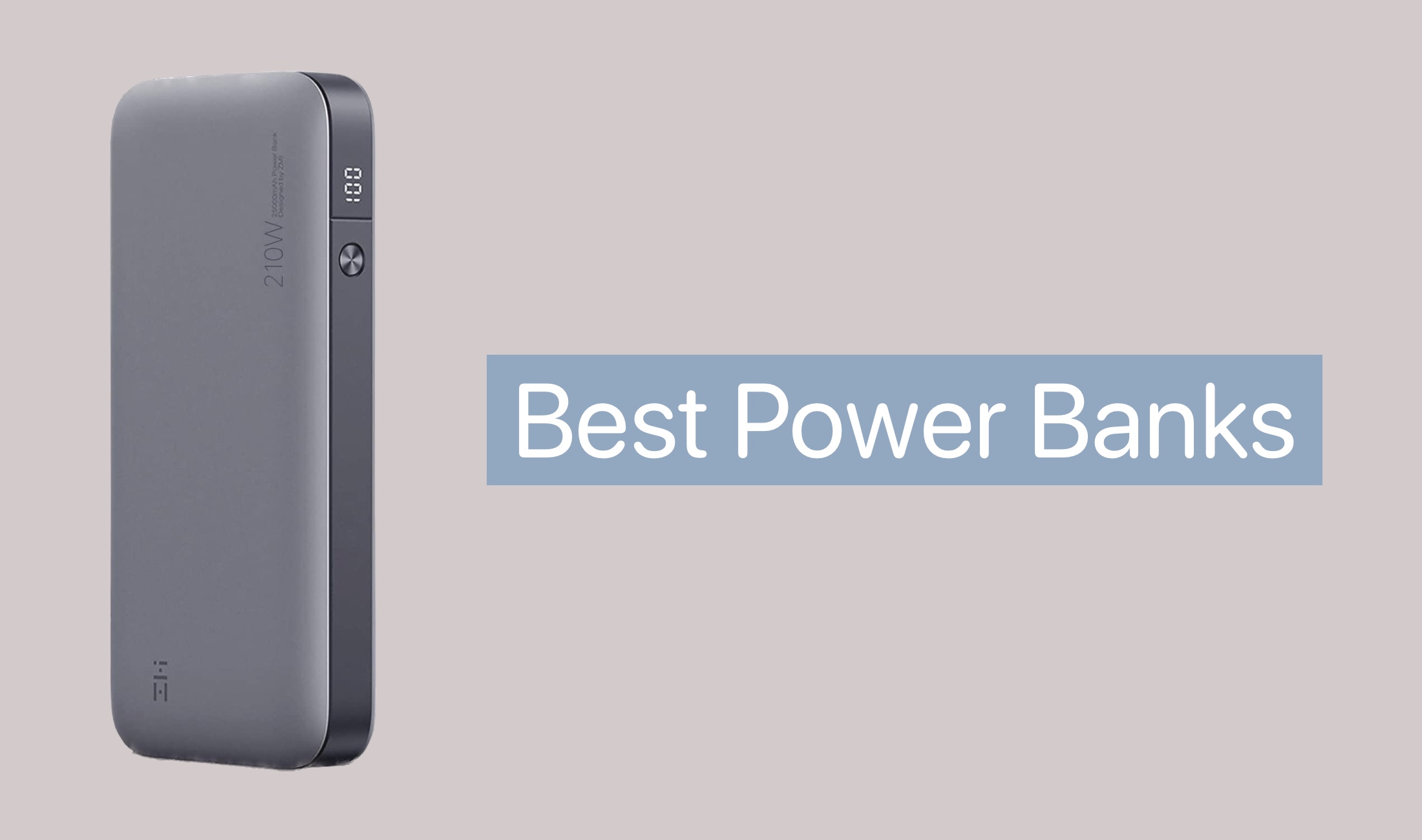 Looking for a powerful power bank in 2023? Then look no further than these best power banks that can charge your iPhone, iPad and even MacBook at the same time.
It's unlikely that you find an outlet when on the go or traveling. Hence, the availability of charging ports in cafes has been regulated, so it's not as easy to leave the house without charging your device – which is especially true as gadgets become more powerful and consume more power.
The need for a power bank with USB-C has never been greater, especially if you frequently use your phone, tablet, or laptop away from home. It's no surprise, then, that they're virtually everywhere, from tech and appliance stores to supermarkets.
With so many types and options to choose from, you must make sure you research and consider your on-the-go needs.
Best Power Bank for 2023
Most of the top power banks for everyday use are pretty straightforward. In general, these are the ones you take to and from work every day. It offers a medium capacity, and is easy to carry, but is not quite as lightweight or slim as those categories.
Although they are not particularly strong in any one area, they are solid all-rounders. However, they typically have the advantage of being reasonably priced for what they offer.
Here's our list for the best power banks.
1. ZMI PowerPack No. 20

The ZMI PowerPack can deliver 100W USB PD over its first USB-C port. This charger is ideal for charging high-powered laptops, such as the 16-inch MacBook Pro. Furthermore, it is capable of supplying 45W through the second USB-C port and 65W through the USB-A port at the same time, resulting in a combined maximum output of 210W.
You can charge a 13-inch MacBook Pro 1.3 times using a battery that has a capacity of 25000 mAh. However, it is still under the FAA's size limit for carry-on luggage, so you can take it with you while traveling.
It features five 21700 high-quality power cells for improved capacity and energy density over traditional 18650 batteries. Further, the device has temperature, overcurrent, overvoltage, and short circuit protection.
Buy ZMI PowerPack No. 20 for $159 here
2. Anker 337 Power Bank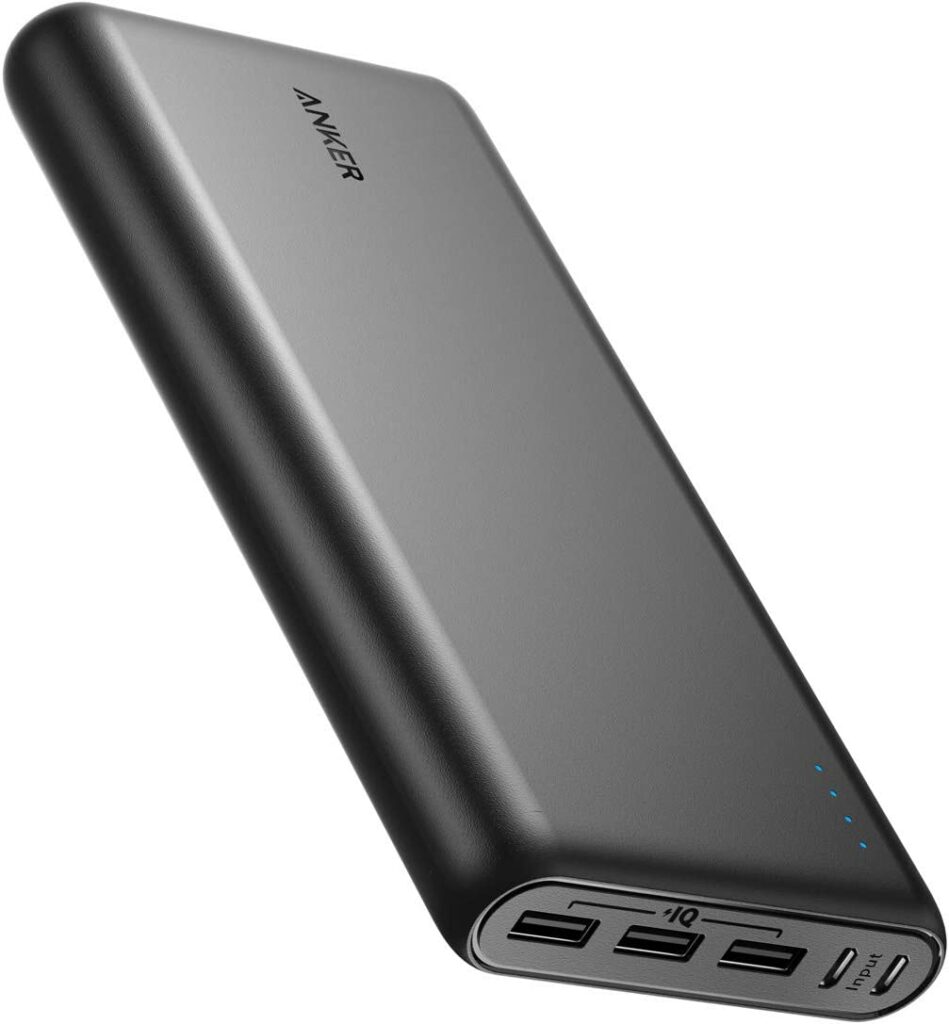 Anker 337power bank provides extra capacity for your iPhone, Android phone, iPad, or tablet while you're on the go.
This 26800mAh charger from Anker powers most phones or tablets 6 times, a tablet at least 2 times, and other USB devices multiple times. One of the best things about the power bank is that it takes just over 6 hours for it to fully recharge.
This charger offers three USB output ports and Anker's PowerIQ and Voltage Boost technology so you can charge three devices at the same time though it is not compatible with Qualcomm Quick Charge.
This best power bank for iPhone is lightweight and compact, making it ideal for long trips and days out.
Buy Anker 337 Power Bank for $55.98 here
3. RGVOTA LCD Display Power Bank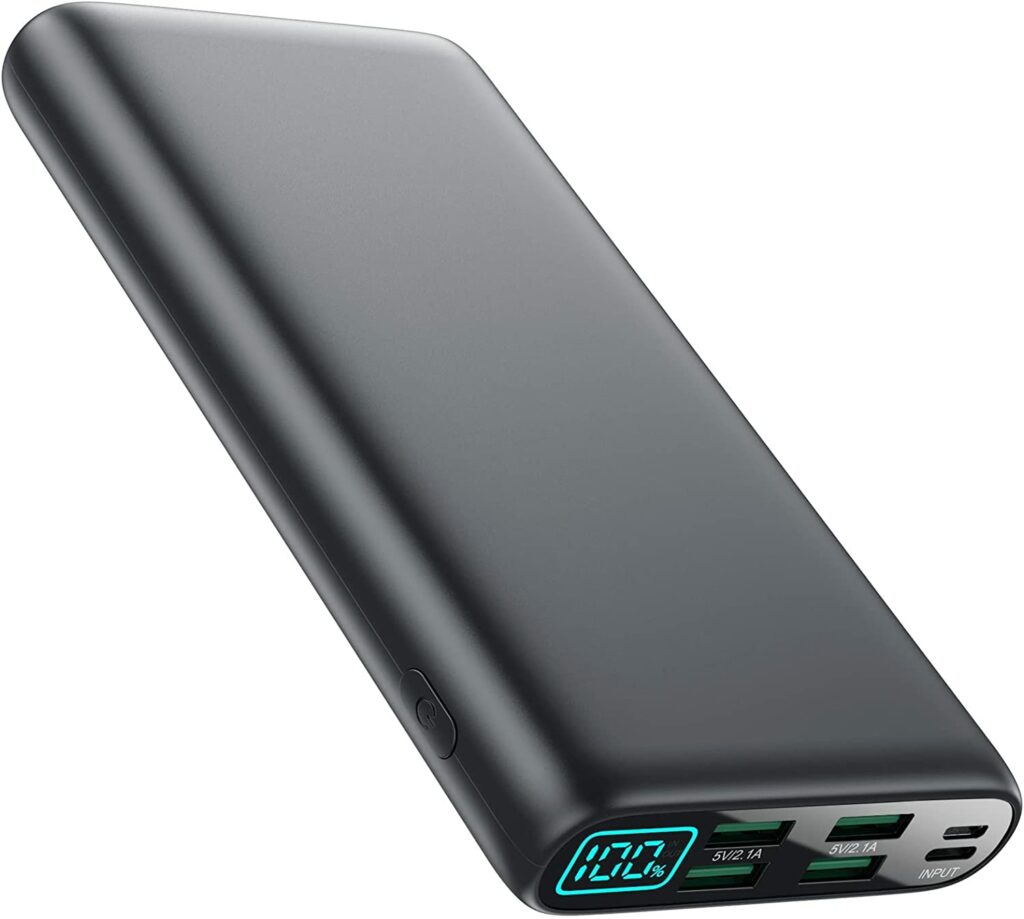 It has a capacity of 38800mAh, making it one of the most portable chargers on the market! Charge your iPhone 12 /11 over 6 times and your Samsung Galaxy S20 over 5 times with this ultra-high capacity 38,800mAh portable charger. Make sure your phone runs all day long without worrying about low battery life.
You have more options over how you recharge and how many devices you want to quickly charge simultaneously with 4 USB Output ports and Dual Input (5V/2.1A).
You can easily monitor the status of your charge on the LED Digital Display. The battery pack charger is equipped with an intelligent chip that protects your devices against overcharging, over-discharging, excessive currents, short circuits, and overheating.
Buy RGVOTA LCD Display Power Bank for $34.95 here
4. mophie Powerstation XXL Power Bank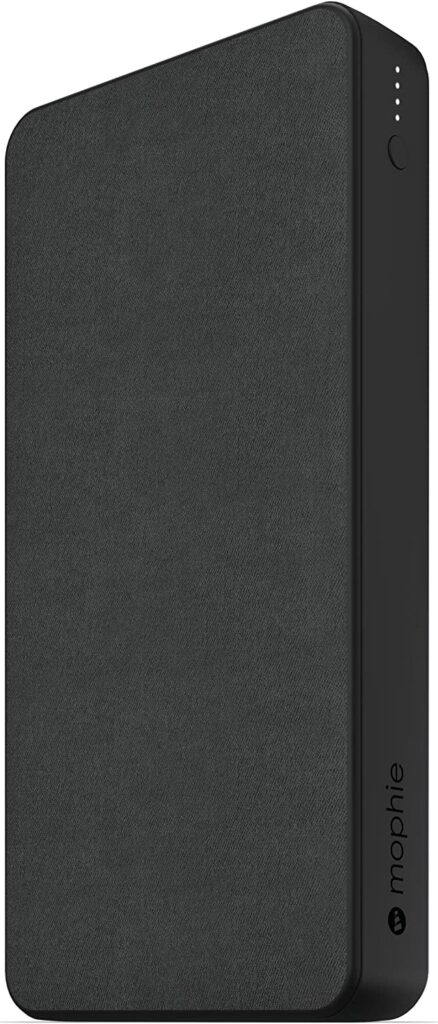 This mophie Powerstation XXL high-capacity power bank features a 20,000 mAh large internal battery for superfast charging that can recharge your phone up to 4.6 times. You can simultaneously charge three devices with this best power bank with big capacity.
Charge your phone at the fastest possible speed with an 18W USB-C Power Delivery output and get up to 50 percent battery life in just 30 minutes. You can recharge the power station itself with the USB-C port in record time.
It has a 4-light LED display indicating the charging status and battery life, so you won't run out of juice on the PowerBank or your devices.
Buy mophie Powerstation XXL Power Bank for $59.99 here
5. FOCHEW Wireless Portable Charger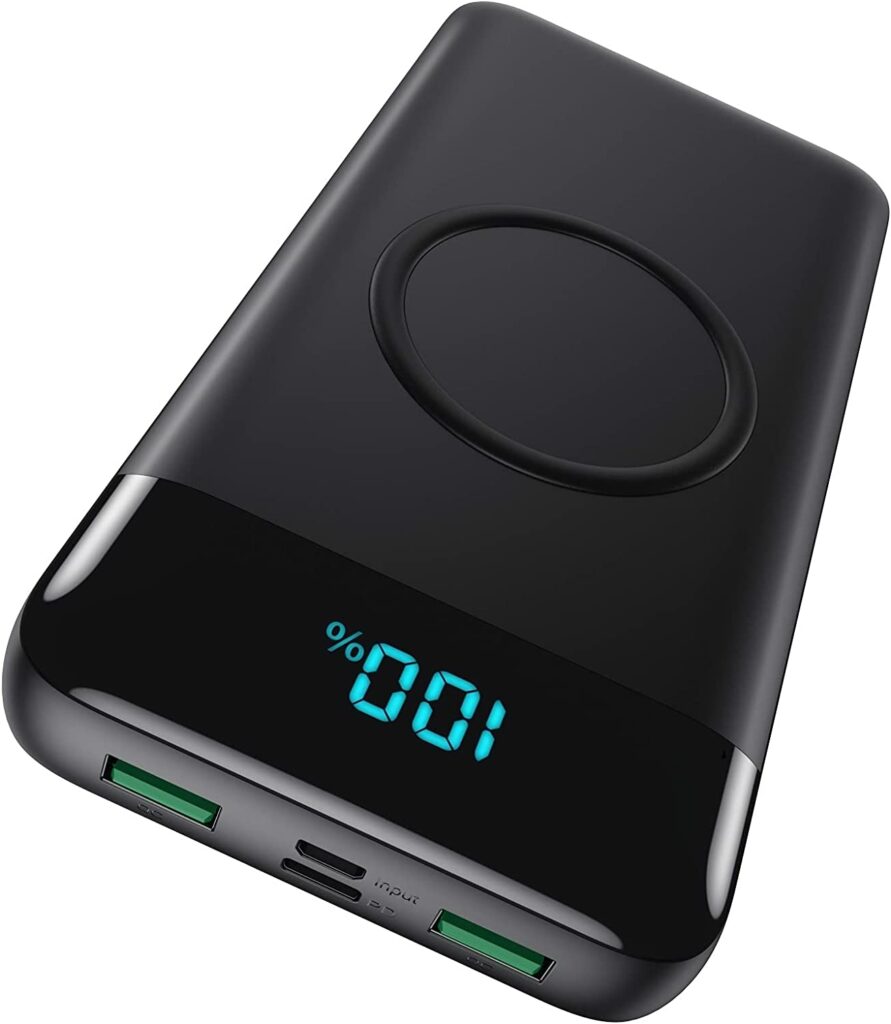 FOCHEW wireless portable charger supports wireless fast charging at 5W, 7.5W, 10W, and 15W max. You can conveniently charge your QI-certified devices up to 15W without connecting a cable.
It delivers an optimized charge to your devices at up to 25 W with power delivery 3.0 and quick charge 4.0. It provides fast charging for smartphones and tablets within 1.5 hours. Besides, it takes only 3.5 hours for this portable charger to be fully charged using the USB-C fast charging cable and the PD wall charger.
You can charge other devices with one of two micro-USB outports (QC 4.0 +2.1A) or USB-C 25W PD ports while charging your Qi-certified cellphones. Using the LED battery level indicator, you can see how much battery is left.
Buy FOCHEW Wireless Portable Charger for $34.95 here
6. BLJIB Portable Charger
Featuring a 32000mAh Li-polymer battery that can charge your phone 8 times. Samsung Galaxy 6 can charge 6 times, iPad Mini 3 times, perfect for business trips or on the go, you won't worry about your phone running low. This power bank with a cable inbuilt with an LED display will display the remaining battery level, and the low power reminder will alert you when you need to recharge the power bank.
There are micro inputs, iOS inputs, and Type-C (PD 20W) inputs and outputs for most mainstream devices including earphones, phones, and smartwatches. A PD 20W charger will enable you to fully recharge this portable charger power bank in only 6.5 hours, thus saving you more time.
It features an ergonomic design, which fits comfortably in your palm; besides, it comes with multiple safety protections, including overcharge, overheating, short circuits, etc. The pack weighs less than a half-liter bottle of water, making it ideal for camping, traveling, hiking, and other outdoor activities.
Buy BLJIB Portable Charger for $38.99 here
7. Zendure Portable Laptop Charger

The SuperTank S5 24000mAh large-capacity power bank comes with super-fast charging technology that can quickly charge your device multiple times.
The maximum combined power of 205W is available via the two USB-C ports and one USB-A port, which allows for fast charging of three devices at once.
This lithium polymer battery from Zendure SuperTank S5 is lighter, safer, and more explosion-proof with nine layers of safety protection.
What's more, this 100W PD portable charger comes with a strip design, weighing nearly 1.2 pounds, making it one of the lightest on the market. SuperTank S5 has a unique Roman Pillar Stripe that makes it anti-skid as well.
Buy Zendure Portable Laptop Charger for $119.99 here
8. Pxwaxpy Portable Charger Power Bank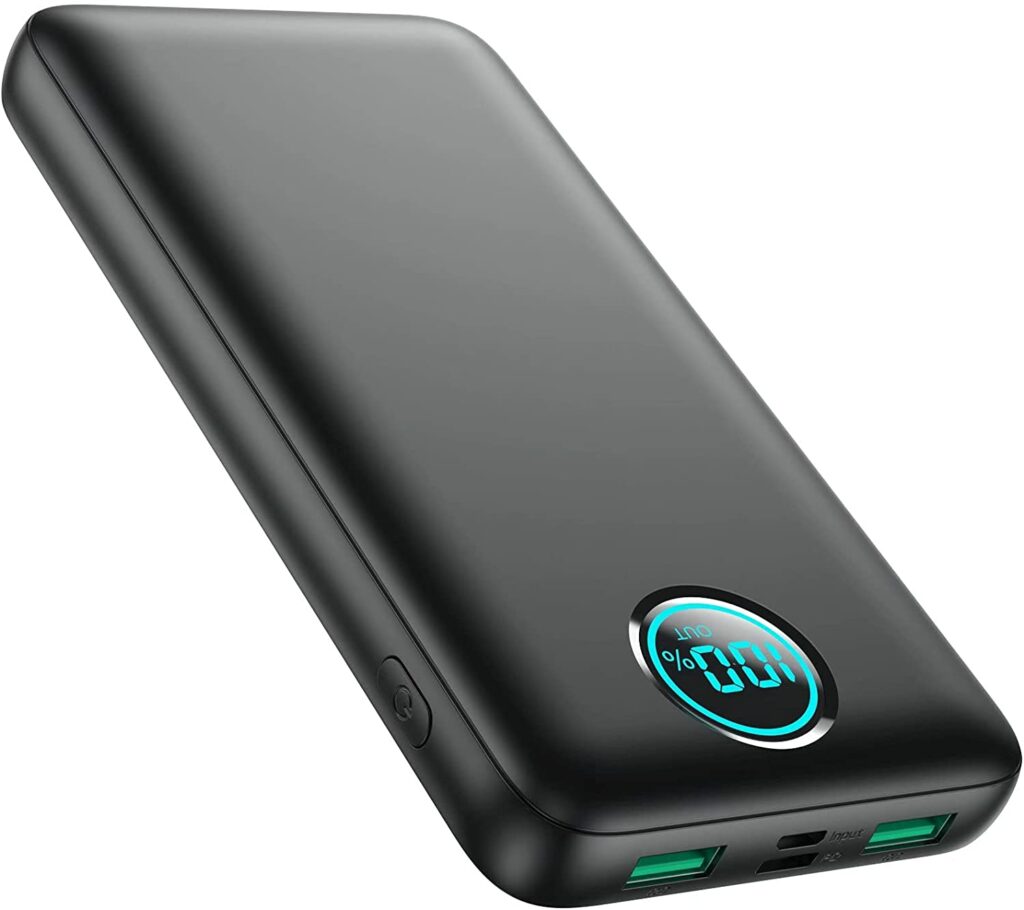 The power bank features a classy design and is the perfect travel companion. Carrying it in your bag will eliminate the need for individual chargers, whether you're going to work or on an adventure.
This 30,800mAh power bank will be able to charge your phone at least 6-8 times.
A powerful Intelligence Control IC prevents the power bank from being overcharged, overvoltage, overcurrent, or short-circuited.
You can charge three devices simultaneously using its 3 outputs – QC4.0, PD, and 2.1A USB. You can charge your gadgets at up to 25W with Power Delivery 4.0 output and Quick Charge 4.0 output. All in all, this fast-charging power bank saves more than half the time compared with standard charging power banks.
Buy Pxwaxpy Portable Charger Power Bank for $31.95 here
Conclusion
Make sure that the power bank you purchase can charge your devices quickly and efficiently and does not require days on end to charge itself. Take into account the capacity, portability, port selection, and price when choosing it. It is necessary to get something with at least two ports and high capacity if you have a lot of devices.
Our list will surely help you choose the best one to meet your needs.
Was this list helpful? Let us know in the comments section.