If you are interested in beefing up your home security, then we have the best security cameras that work with Apple HomeKit.
The HomeKit support means once you have set up your security camera you will be able to monitor it through the Home app and control its functions as well.
So without any further ado, let's take a look at the best security cameras that work with Apple HomeKit.
HomeKit Cameras You Should Buy For 2021
eufy Security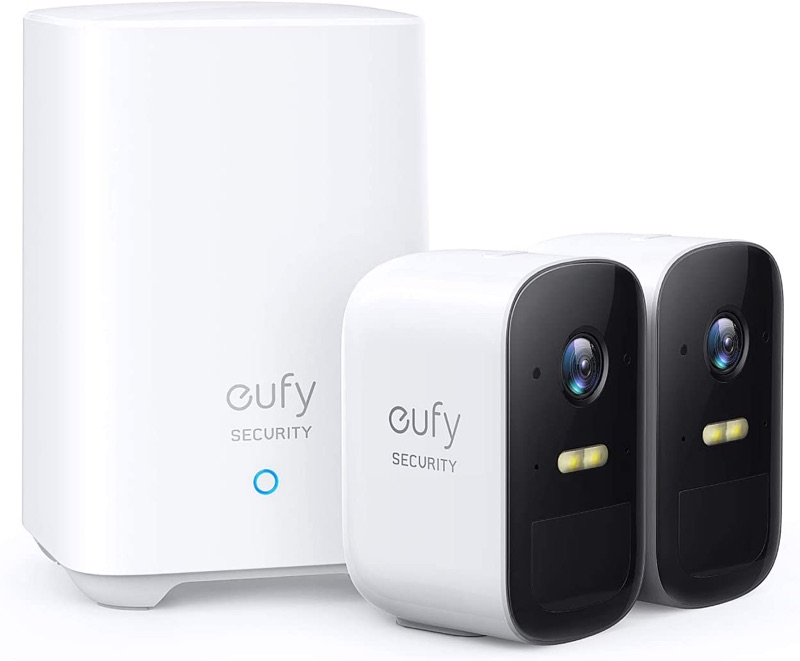 First on our list of HomeKit compatible security cameras is Eufy Security. With Efy Security System, you get night vision, 180-day battery life, HomeKit Compatibility, 1080p HD quality, you name the feature, and Eufy has it.
There is no monthly fee for your home security system with Eufy. The best thing about Eufy security is you get picture-perfect surveillance that includes live-stream and footage records in its 1080p HD video display.
Its ability to show you a 135° diagonal view lets you keep an eye around your home. Moreover, you need to charge it one-time and let it work for half-year. This security system comes with human detection technology that detects the body shape and face pattern intelligently and alerts you when a human enters your premises. Regardless of the weather conditions, this security system withstands all odds! 
You can buy this HomeKit Security Camera from eufy for $220.
Logitech Circle View Security Camera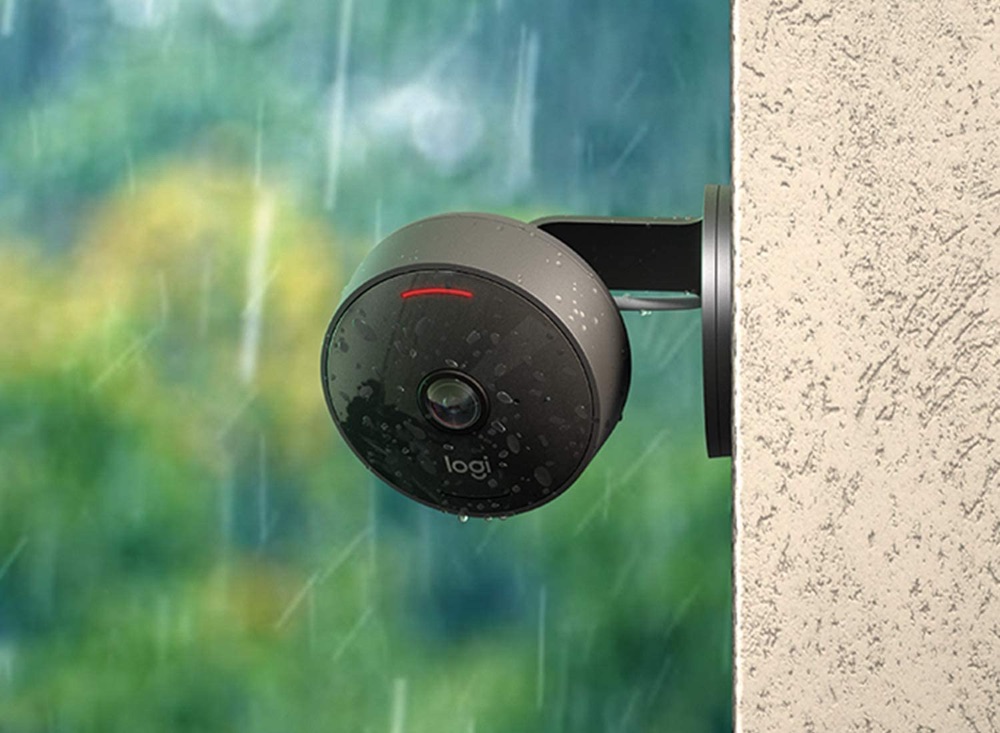 Logitech's Circle View security system is ideal for those who are looking for an easy-to-use home security system. It is durable and weatherproof with an IP64-rated body, with brackets to install the camera easily. This Circle View camera gives you 180° field-of-view with super quality 1080p HD video. With the help of its wide and dynamic range and high-quality sensor, you can have sharp and excellent attention to detail.
Be it the middle of the day or late night, its high contrast video shows you crystal clear captures up to 15ft away. Want some privacy? Simply, tilt the camera down or push the on/off button. Its metal base, matte body, and power cable can easily be fit in any space. As Logitech's Circle View camera is designed for Apple HomeKit, you can view the camera across your Apple devices.
You can buy this best security camera with HomeKit support for $160. 
Eufy Security 2K Indoor Cam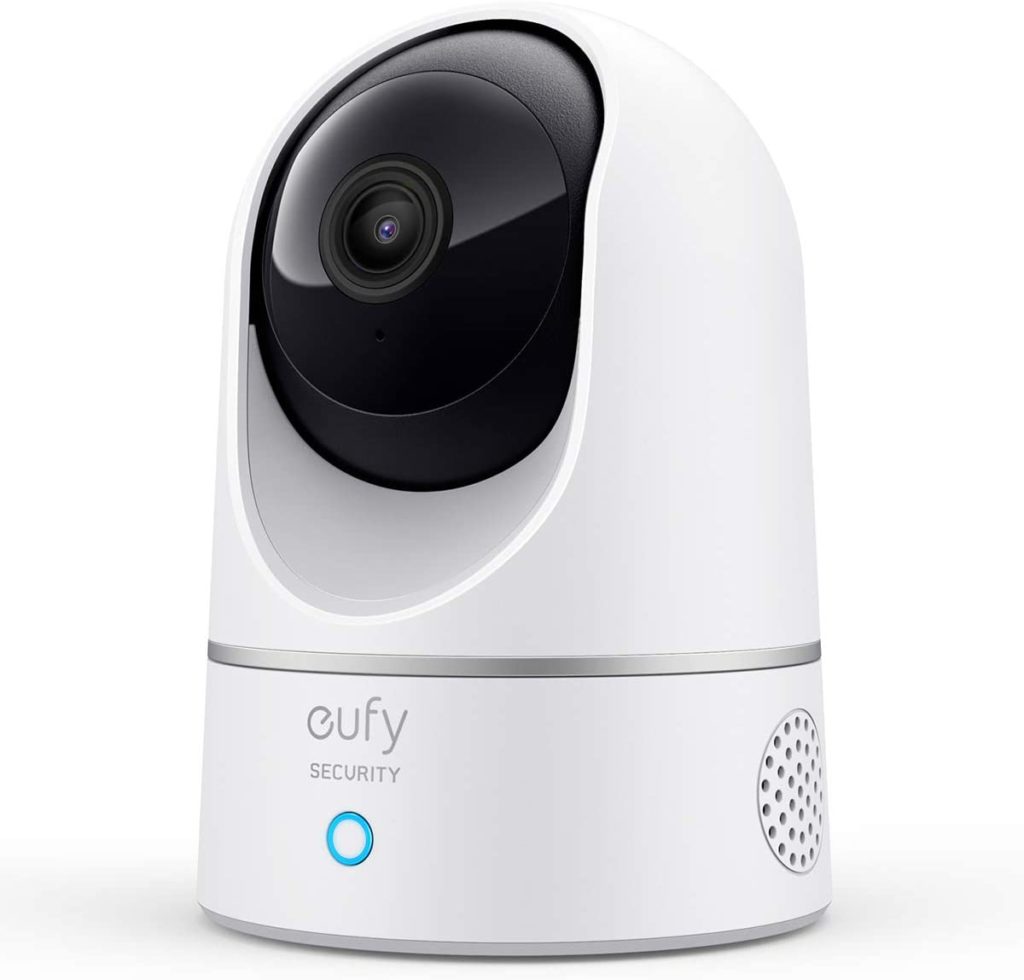 Now, this Eufy security system has some advanced features than the one we mentioned in the previous Eufy security system. This 2K indoor cam has an AI system that detects both humans and pets and records the events of interest. And through 1080p video, also gives superior and flawless attention to detail.
In order to use its smart integration, you need to connect your Eufy 2K Indoor Cam to multiple apps such as Apple HomeKit, Google Assistant, or Amazon Alexa and can control the surveillance of your home completely. The features don't end here!
This smart security system automatically tracks and follows the movements. You can use the lens in 360° mode horizontally or tilt at 90° vertically to have a clear view of the entire area. Still, want more features? You can speak in real-time to people who pass through the camera's built-in two-way audio. It is certainly a great security camera for Home app users.
You can buy this budget HomeKit Security Camera from eufy for just $51.99.
Netatmo Smart Indoor Security Camera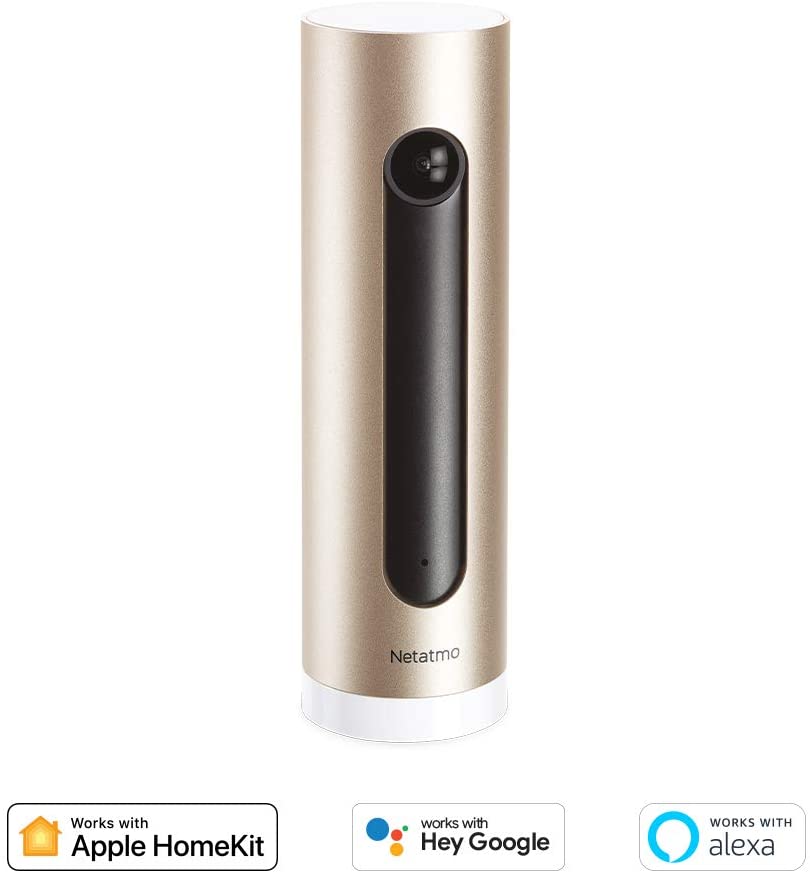 This indoor security system ensures the safety of your home 24/7. It immediately alerts you about the intruders on your smartphone directly. Moreover, its facial recognition system distinguishes between the intruders and your friends and family. Its HD footage gives you a clear picture of what happens around your home.
And if you want to save more videos free of charge, then Netatmo should be your go-to indoor security system. Whether you own an Apple device or Android 5.0, it works on both. The design is quite practical and takes a few minutes to setup.  In addition to Apple HomeKit this camera slo works with Google Assistant and Amazon Alexa.
You can buy this best security camera with Apple HomeKit support for $199.99.
ONVIS Indoor Security Camera Smart Cam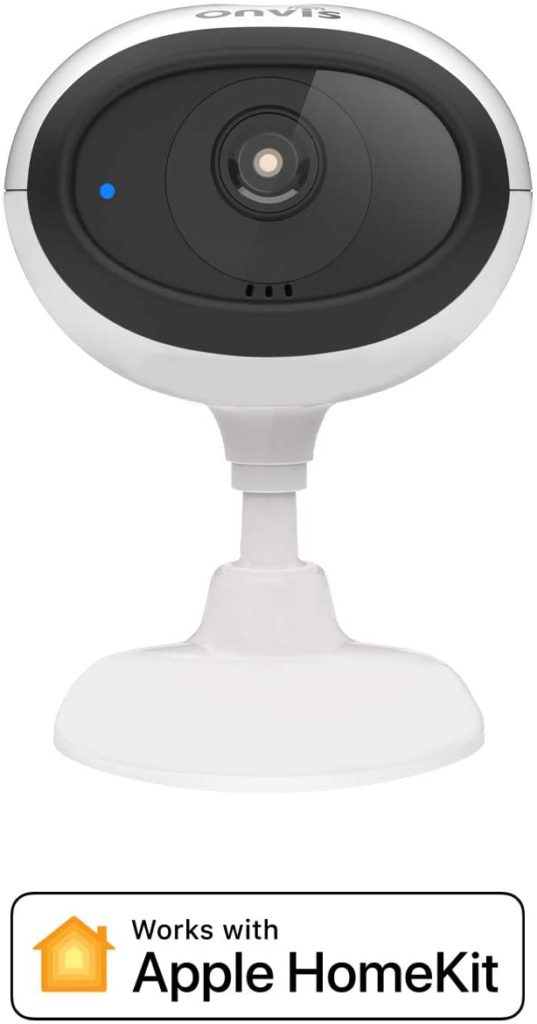 Onvis two-way talk indoor security camera gives you peace of mind when you are away from home. The footage is stored in Apple iCloud, as well as gives you 2 live streaming, 1 to MicroSD card, and 1 to iCloud so that you can watch videos in real-time or later on whenever you want to. Its night vision sensors and HDR give you sharp and clear display results.
In case you are looking for extra memory, you can add one camera to your 200GB plan or add 5 cameras to a 2TB plan without any monthly fee. Speaking of its Wi-Fi, this camera uses both 5GHz and 2.4GHz that enables high-speed data transfer.
With any motion detection, you can receive iOS notifications directly on your device locked screen with an image preview. With your HomeKit enabled device, you can set Automations and scenes for smart control. 
You can buy this HomeKit Security Camera for $89.99.
Eve Cam – Secure Indoor Camera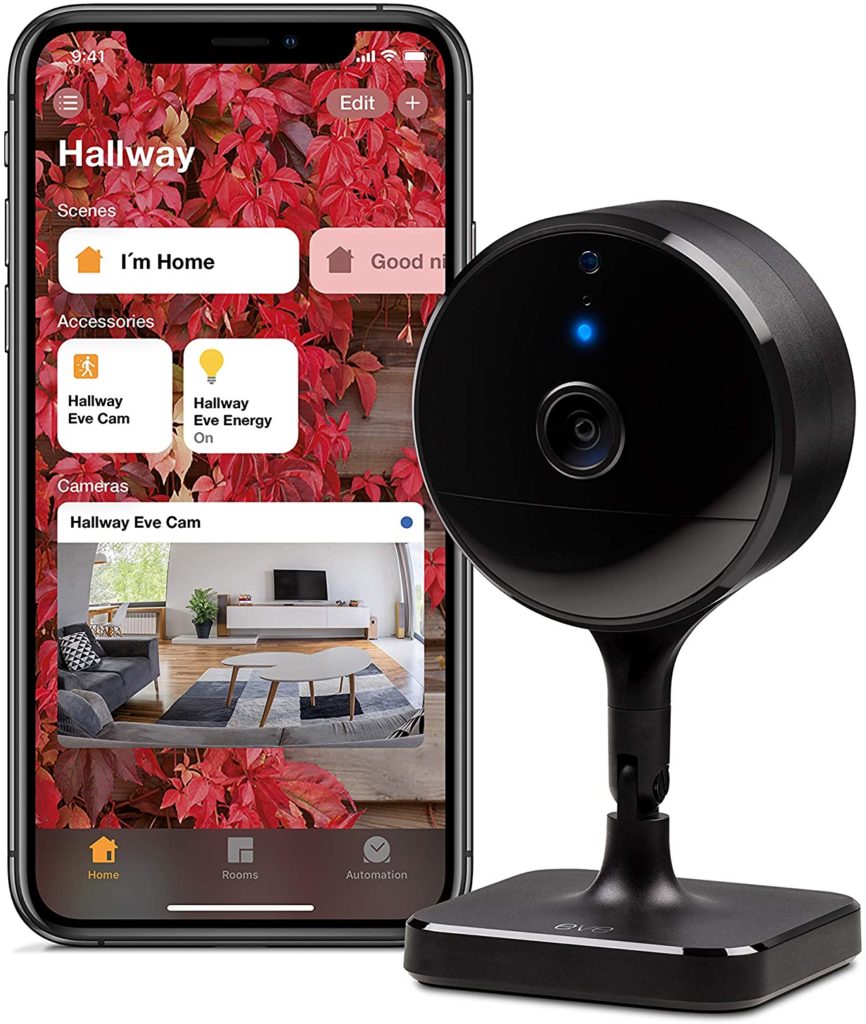 Last but certainly not the least on our list of best security cameras with HomeKit support is from Eve. Eve Cam indoor security camera gives you excellent privacy, maximum data security and is designed exclusively for Apple HomeKit Secure Video.
With any motion detected, Eve security camera immediately notifies you of the activity and records every movement automatically. Moreover, it distinguishes between pets and humans. Through its end-to-end encryption, only you can watch live streaming or recorded videos. 
You can buy this Apple HomeKit Security Camera from Eve for $150.
There you have it, these are the best security cameras with HomeKit support that you should buy for 2021.
Which security system you liked the most? Share with us in the comment below. And don't forget to share this post with your friends and family.
For more interesting products and apps supported by your Apple devices, stay tuned to iOSHacker.com. 
Disclosure: iOSHacker may receive a commission if you purchase products through our affiliate links. For more visit our privacy policy page.