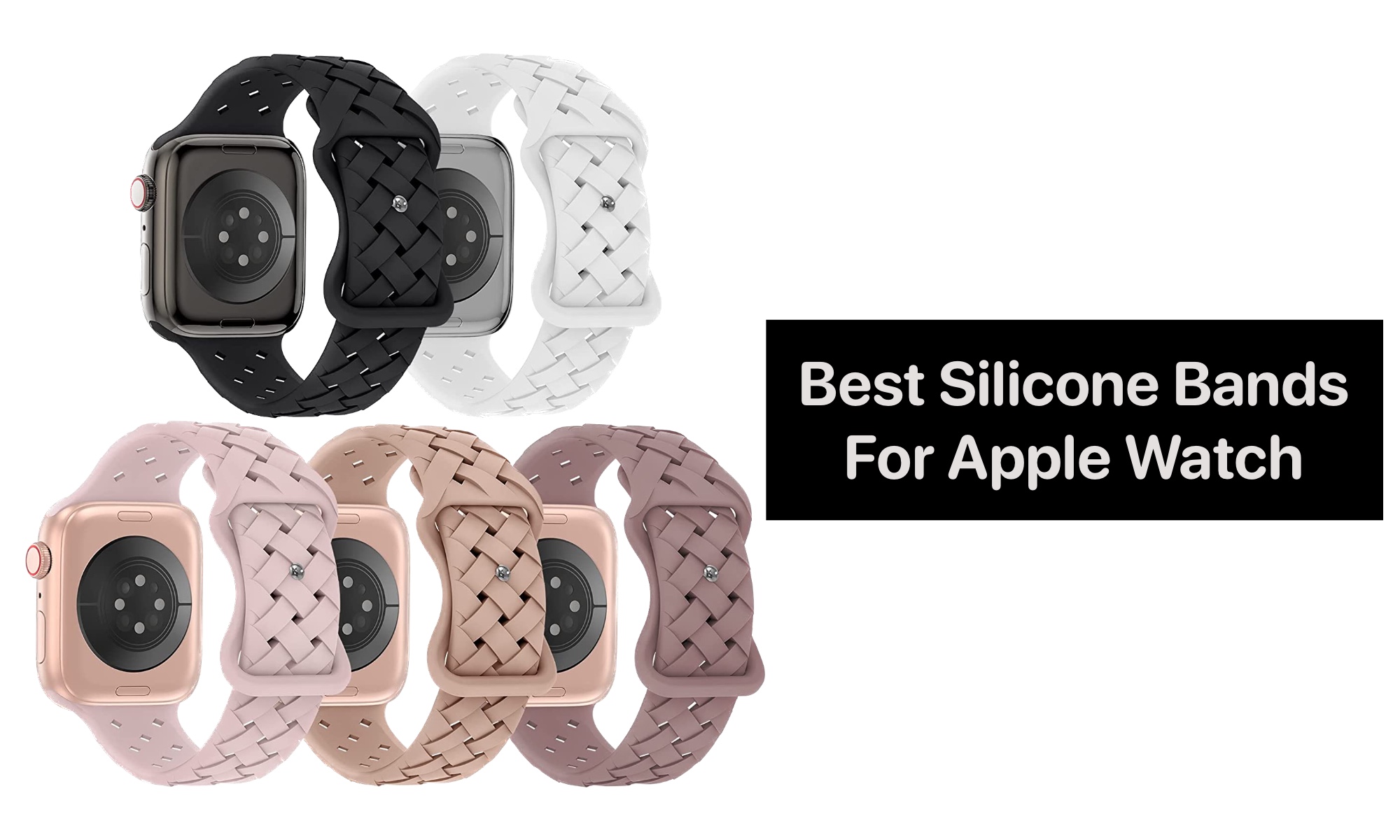 In addition to health sensors, the latest Apple Watch models offer a variety of handy features. Aside from that, they are characterized by a stylish, futuristic exterior design. It is worth mentioning that these excellent smartwatches come with dull bands as a default. It is also possible to smash the display if you bump your arm against a solid object.
Plenty of Apple Watch bands and cases are available to make your Apple Watch look fresh and offer a little extra protection.
In this article, we have listed below our picks for the best silicone bands for Apple Watch options available right now.
Silicone Bands Apple Watch 2023
Since the Apple Watch is an everyday wearable, it deserves an equally everyday Apple Watch band. The bands look good and are durable enough to withstand whatever you throw at them.
While they might not look as fashionable as an expensive designer option, they'll be just as appropriate on public transportation as in the office. You can think of these bands like your favorite T-shirt or jeans.
Here are our recommendations for the aesthetic Apple Watch Silicone bands!
1. Arctime 5 Pack Soft Silicone Bands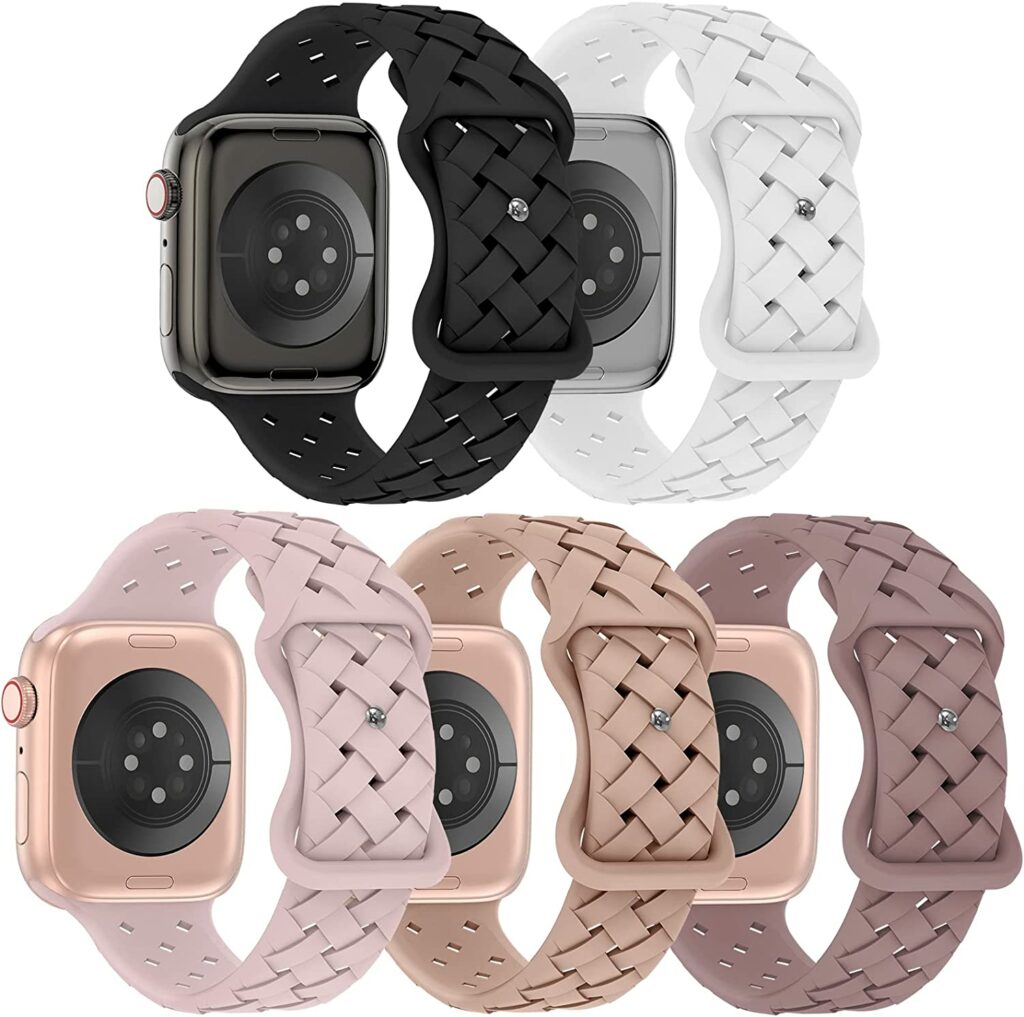 The Arctime iWatch straps are smooth, breathable, and waterproof. The soft silicone guards the skin, and the snug and lightweight design keeps your wrists free from weight, making them a perfect choice for fitness, leisure, work, or everyday use.
The Apple Watch sports strap comes with watch lugs on both ends, which can securely lock the strap interface, prevent the strap from loosening and falling off, and are more convenient than the traditional metal buckle.
Cross-woven wristbands allow the watchband to breathe more easily, making it ideal for sports watches. You can use it whether running, biking, swimming, or playing any other sport.
Buy Arctime 5 Pack Soft Silicone Bands for $14.98 here
2. Adorve 4 Pack Sport Bands for Apple Watch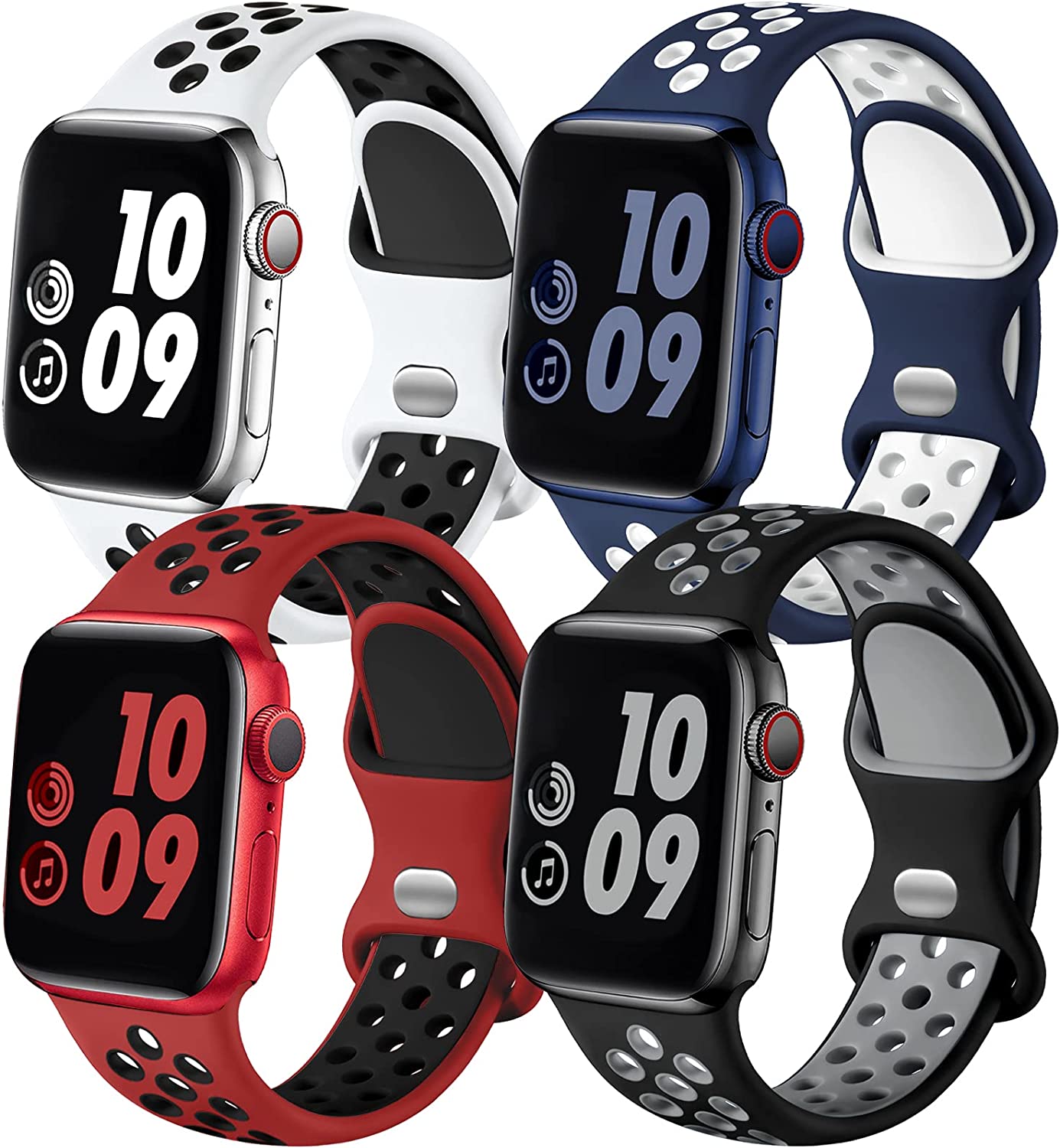 The Adorve Sporty Strap is constructed using soft, smooth silicone and hypoallergenic stainless steel, so your skin won't be irritated. Flexible, lightweight, breathable, sweat-resistant, waterproof, and skin-friendly materials make it a comfortable summer band you can wear casually or daily.
Due to the band's ventilation holes, Adorve 4-pack sports bands are lighter and more breathable than the original Apple watch band. The special design is optimized for workouts, swimming, cycling, climbing, hiking, camping, running, traveling, and outdoor activities.
Your Watch will look more fashionable, youthful, and sporty with its dual-color design, perfect for everyday or active wear, and you can wear it with almost anything. The bands in the multipack can also be mixed and matched to create a unique style.
The watchband offers easy and direct installation with one button removal.
Buy Adorve 4 Pack Sport Bands for around $10 here
3. TreasureMax Sport Band for Apple Watch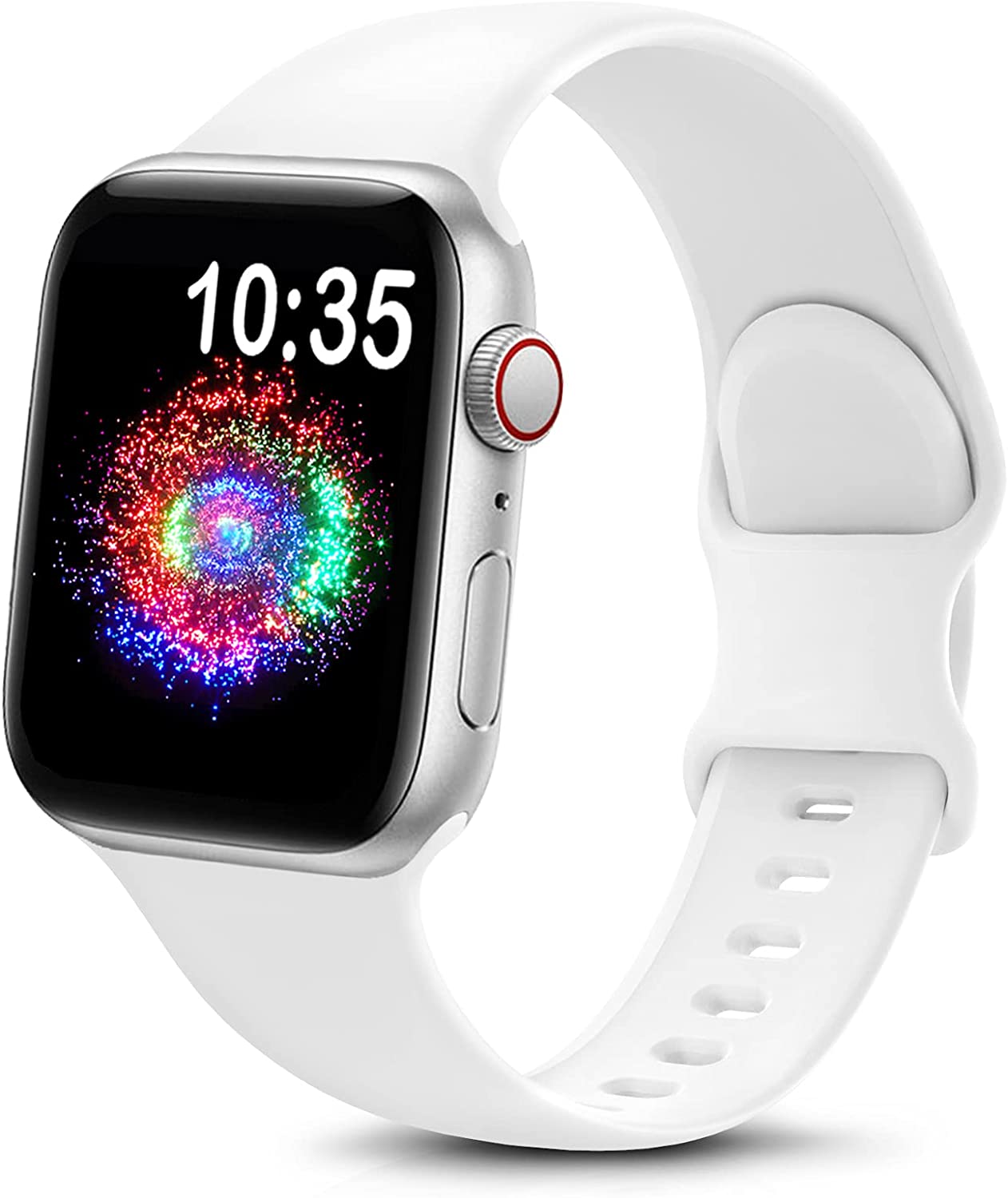 Soft silicone material provides a comfortable texture and prevents skin irritation on this iWatch sport band. With its soft, stain-resistant, durable strap, you don't have to worry about the Watch becoming burdensome to wear.
There are lugs at both ends of the silicone sports bands, which can be accurately and safely installed and removed from the Watch, and they are compatible with the iWatch strap replacement 38mm 40mm 41mm 42mm 44mm 45mm 49mm.
Depending on your needs, you can choose the color and size.
Buy TreasureMax Sport Band for $8 here
4. Heartboom Lace Silicone Band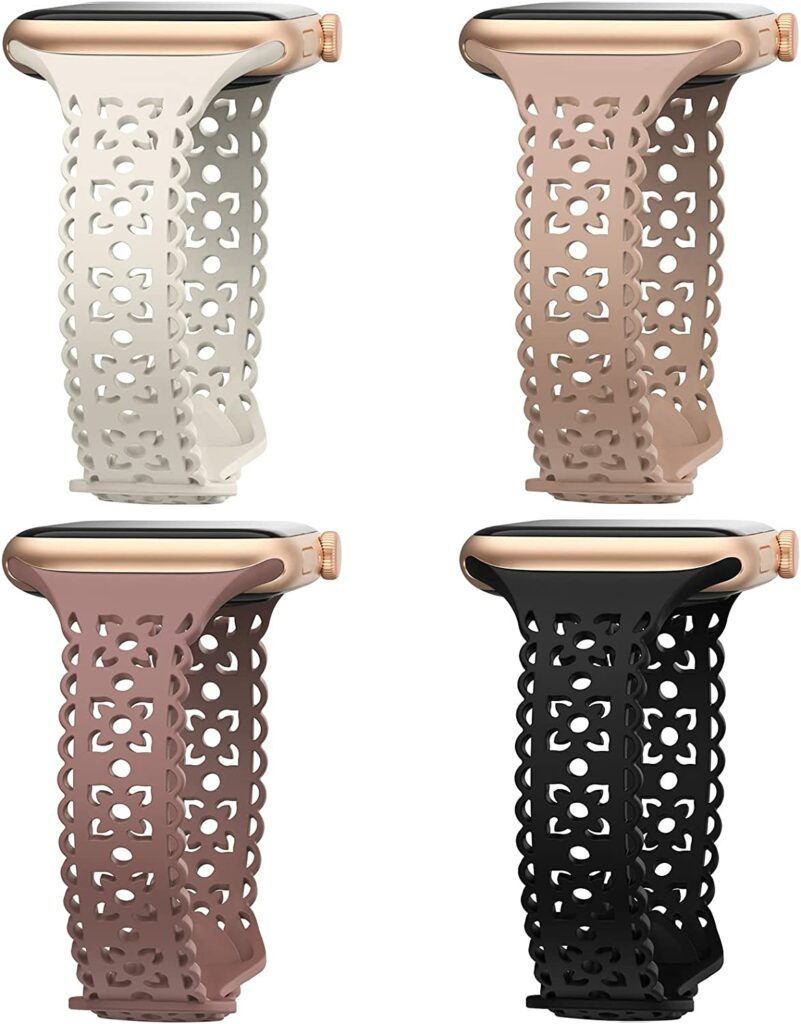 With its floral pattern and hollow-out design, the HEARTBOOM slim lace silicone Apple Watch watch band gives your Watch a softer, more feminine look. It gives you a feeling of lightness, flexibility, youth, and poshness.
Premium silicone material makes these Apple Watch watchbands skin-friendly, comfortable, breathable, lightweight, and durable. A silicone band for an Apple Watch watch gives you a comfortable touch and a feeling of freedom on your wrists.
You don't have to worry about losing your Apple watch with its double-loop closure. As a result of the unlimited holes, the silicone sports band fits wrists of any size perfectly. This one is ideal for those with small wrists and people who don't want bands to slide around their wrists!
Buy Heartboom Lace Silicone Band for $14 here
5. FERJITGR Flower Engraved Silicone Band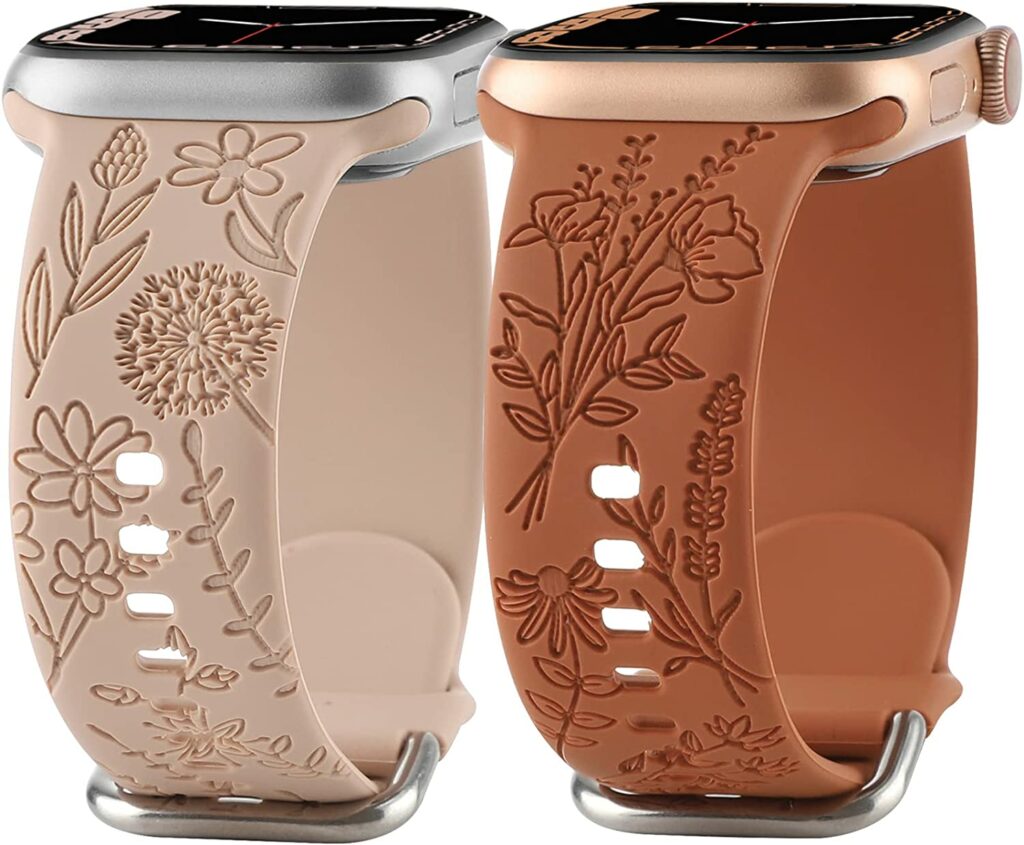 This new and unique fancy flower engraved band features two different Wildflower floral pattern designs. This thin, dressy strap wristband looks elegant and classy with its rich, clear, and colorful engraving pattern. This silicone ring has a wildflower engraving pattern, is breathable, doesn't get hot, will not deform over time, and won't rub off after washing.
These exquisite floral print engraved silica watch bands have spring lugs at both ends for precise and secure attachment to your smart Watch and prevent it from falling off or being loose.
You can easily see and feel the difference between this bracelet and others because it is made of strong, breathable, high-quality silicone. The bouquet floral silicone engraving watch strap is a durable, delicate, soft, and comfortable material that is dirt-resistant, flexible, lightweight, waterproof, and sweatproof, so it won't irritate the skin and give you the best wearing experience.
Buy FERJITGR Flower Engraved Silicone Band for $12.79 here
6. STG Sport Watch Band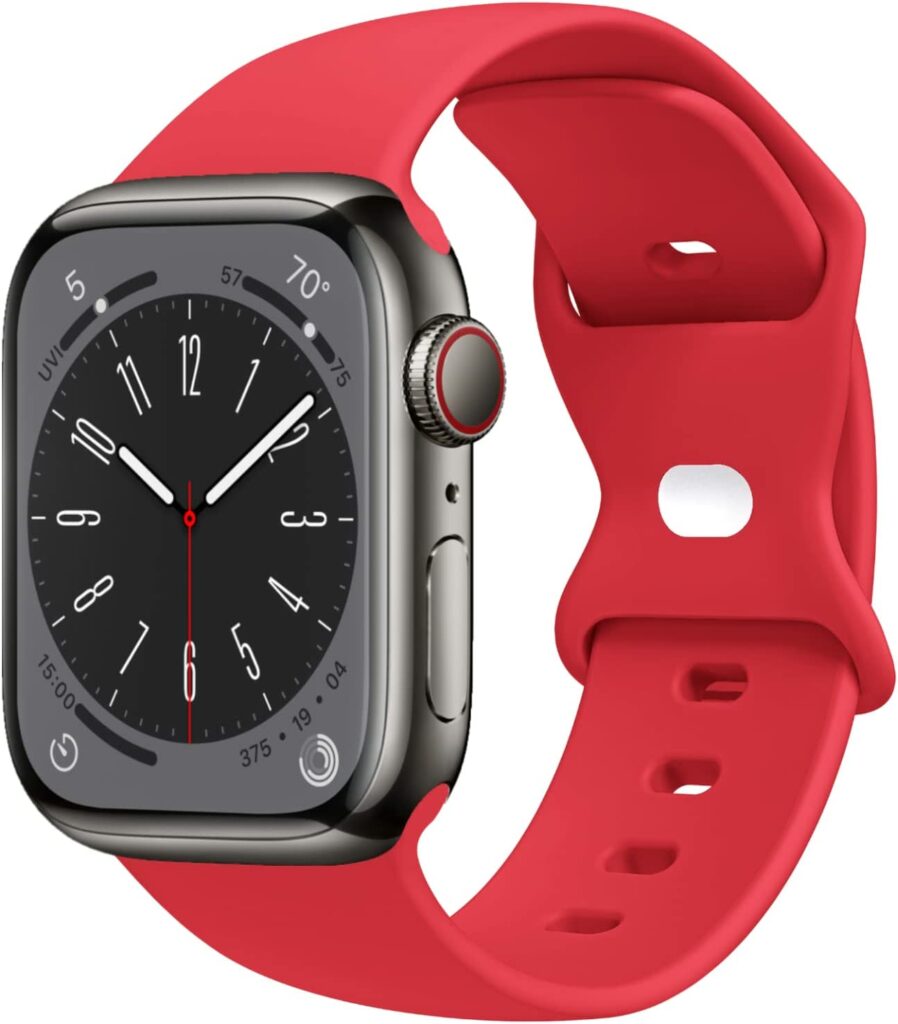 There are various colors and two selected sizes for you to choose from, so you can make your Apple Watch fit your mood and outfit in everyday life; you can mix and match different colors of Apple Watch bands to make your Watch stand out and highlight your likes.
The silicone bands for Apple watches are durable and soft, preventing irritation to the skin, flexible, lightweight, and very comfortable to wear. You can choose from a variety of colors and two different sizes to personalize your Apple Watch to suit your mood and outfit in daily life. Dress up your Watch and highlight your individual style. In addition, an easy pin-and-tuck closure ensures a perfect fit.
Buy STG Sport Watch Band for $7.99 here
7. Distore Bands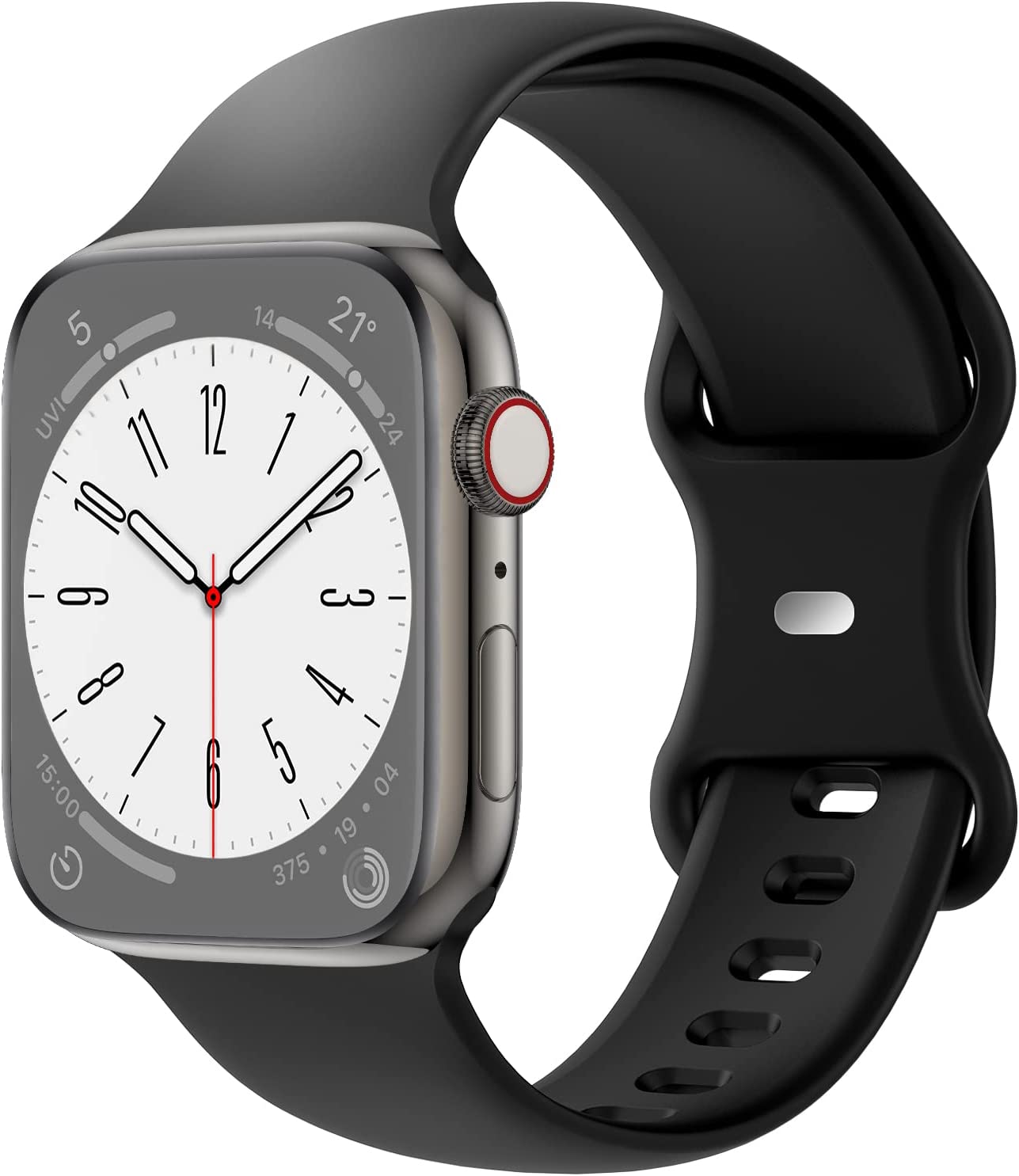 Like most watch bands on the list, the Distore replacement band is also made of high-quality elastomer, preventing skin irritation. It is light, durable, versatile, anti-dust, sweat-resistant, dirt-proof, odorless, and does not fade.
A colorful sport band lets you personalize your Apple watch and match your mood and outfit, and dress up your Apple watch to reflect your unique style.
There are a variety of popular colors available for women and men. They make you stand out and suit any occasion, dress, or mood in your daily life. They are perfect for boys, girls, men, women, and kids.
All in all, they are exclusively designed for running, swimming, riding, working out, parties, climbing, hiking, camping, and traveling.
Buy Distore Bands for $6.99 here
8. TurnForY Leopard Engraved Band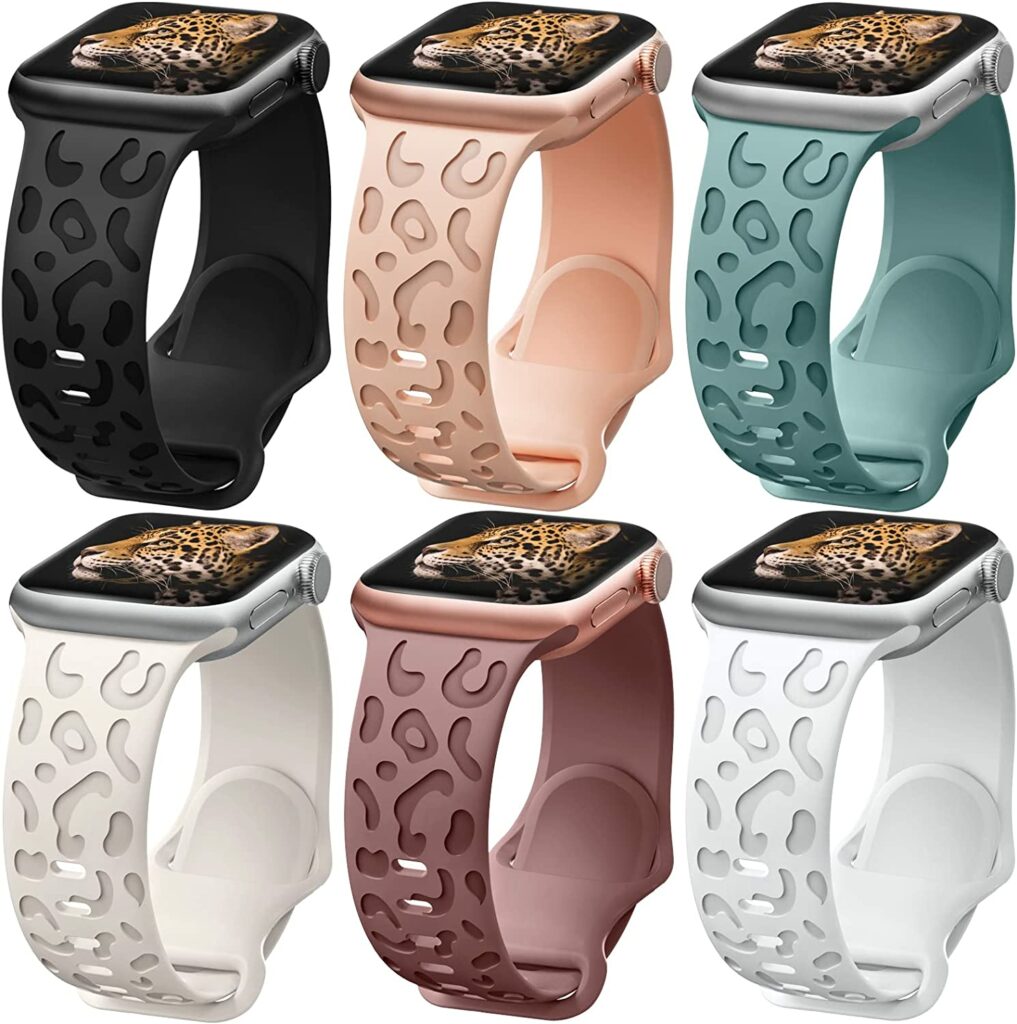 This beautifully crafted cheetah engraved strap has a leopard print laser printing that is both elegant and eye-catching. It is your unique choices that will set you apart from the crowd.
Smart watch straps are compatible with Apple Watches and are made from soft, skin-friendly silicone. The strap is not only durable, stylish, stain-proof, flexible, waterproof, and sweatproof, but it also prevents irritation and allows you to wear it more comfortably.
Make your iWatch uniquely yours with this fun and beautifully engraved printed strap. It's easy to incorporate your style into your smartwatch by mixing straps of different colors.
Buy TurnForY Leopard Engraved Band for $14.99 here
Style Your Watch!
The Apple Watch bands on our list come in all colors, shapes, and sizes. Whether you are searching for something aesthetic, fancy, or eclectic mix; you're sure to find something you like.
The Apple Watch is delicate, so if you frequently smash it against random objects, you should invest in a protective case. You will likely save hundreds of dollars in repair costs by using these basic accessories.
Was this article helpful? Let us know in the comments below.