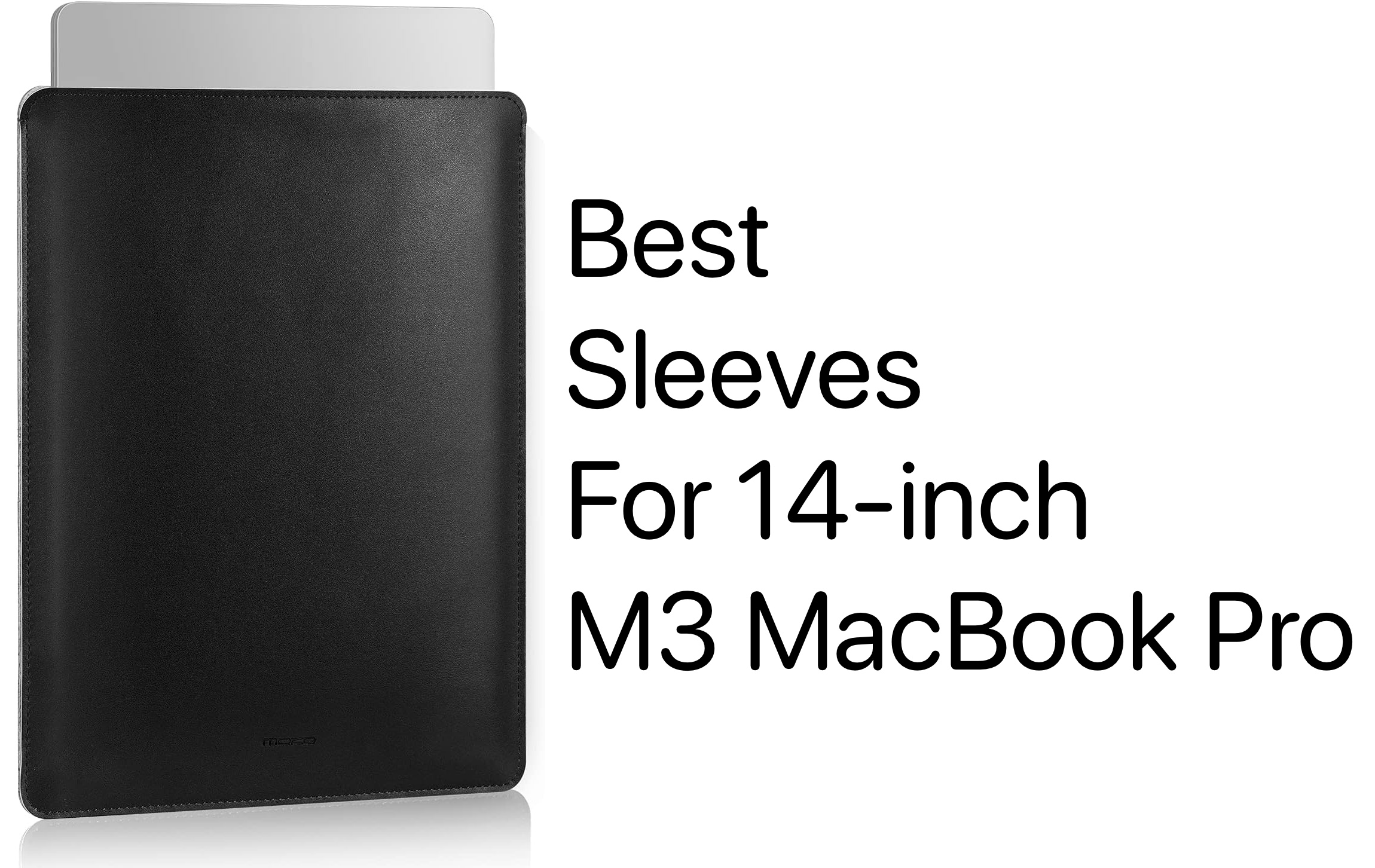 Are you tired of your 14-inch M3 MacBook Pro feeling a bit too naked and vulnerable? Do you find yourself cringing at every accidental scratch or minor bump? Fear not, tech enthusiasts and MacBook guardians, because we've embarked on a quest to uncover the best sleeves that will not only protect your sleek device but also add a touch of style to your daily tech ensemble.
In a world inundated with options, finding the perfect sleeve can be a daunting task, but worry not—we've sifted through the plethora of choices to bring you a curated list of the best sleeves for 14-inch M3 MacBook Pro that promise to cradle your MacBook Pro in comfort and elegance.
Best Sleeves for 14-inch M3 MacBook Pro
Join us on this journey as we explore the realm of MacBook Pro accessories and unveil the best sleeves tailored specifically for the 14-inch M3 MacBook Pro, because your laptop deserves nothing but the finest armor!
1. tomtoc 360 Protective Laptop Sleeve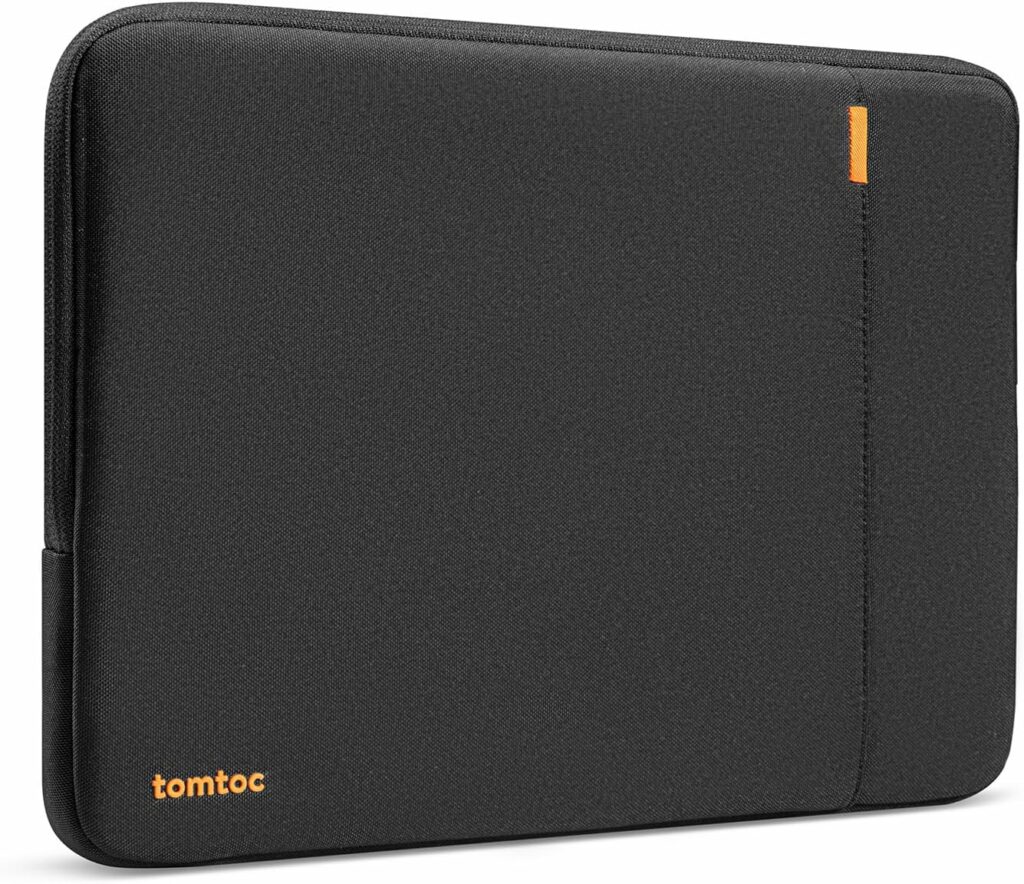 The tomtoc 360 Protective Laptop Sleeve is your laptop's new fortress against the daily chaos! Ever had that heart-stopping moment when your laptop takes a nosedive off the table? Fear not, because tomtoc's got your back with their 360 protection concept.
This best sleeve for a 14-inch M3 MacBook Pro offers cornerArmor Technology, high-resilience edges, and high-density soft padding working together like a superhero squad, passing the Military-Standard-Drop-Test with flying colors.
tomtoc didn't cut corners here (pun intended). They've gone all out with premium spill-resistant recycled fabrics, YKK zippers, and a sophisticated interline-designed soft lining that feels like a hug for your laptop.
And guess what? They're eco-warriors too! By using recycled fabrics, they've repurposed hundreds of thousands of discarded plastic bottles, all in the name of saving our planet.
Let's face it, your laptop isn't traveling solo. Charger, cable, mouse, external backup drive – the gang's all here. That's why tomtoc added an extra front pocket, ensuring you can pack all your essentials in one go.
And for the forgetful souls out there, they've even thought of an additional strap for your Airtag or key. It's like they're saying, "We've got your laptop, your stuff, and even your keys – you're covered!"
Buy tomtoc 360 Protective Laptop Sleeve for $28.99 here.
2. Askuko Laptop Case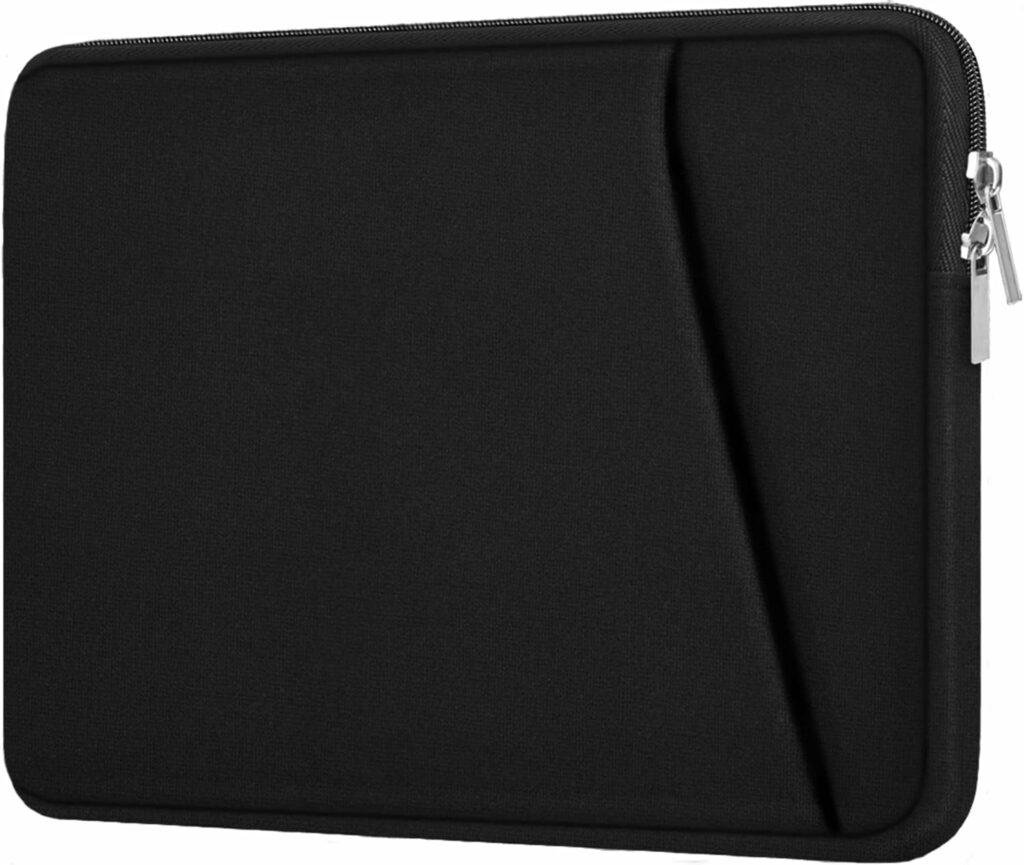 Whether you're jetting off on a business trip or heading to the office, let your laptop travel in style and safety with the Askuko 14-inch Laptop Sleeve Case. The Askuko sleeve goes beyond functionality; it's a stylish statement in itself, blending practicality with a sleek design that suits both men and women.
With dimensions tailored to fit most 14″ laptops, this protective MacBook Pro 14-inch Sleeve is the perfect companion for on-the-go individuals, whether you're a seasoned traveler, an office pro, or a business enthusiast.
The outer fabric layer acts as a shield against dust, dirt, and scratches, ensuring your laptop stays in top-notch condition. If you are worried about bumps and shakes? Don't be! The padded design in this 14-inch MacBook Pro Sleeve with pockets provides protection against the unexpected jostles of backpack or suitcase life.
Inside, you'll find a spacious main compartment dedicated to cradling your laptop, while the additional front pocket is a neat organizer for pens, cables, chargers, phones, and other essentials.
Buy the Askuko Laptop Case for $13.99 here.
3. Native Union STOW Slim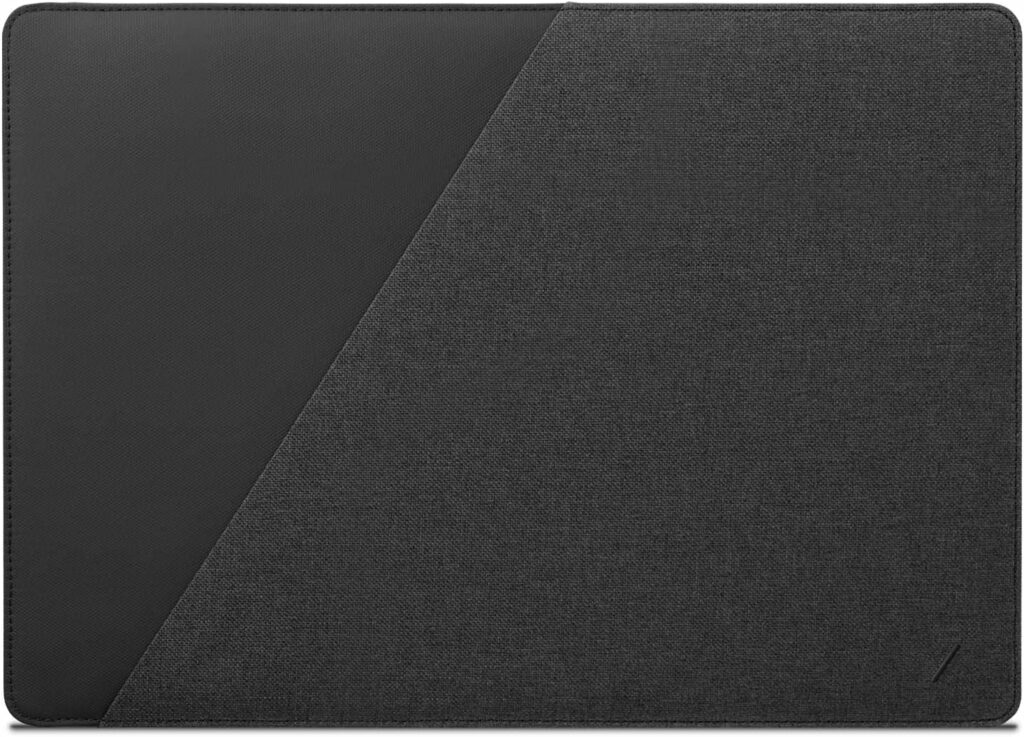 The Native Union STOW Slim is a blend of craftsmanship and convenience that brings style to your on-the-go lifestyle. Crafted with the precision of leather goods, this protective MacBook Pro 14-inch Sleeve is all about the details.
An effortless magnetic closure and a handy external pocket make accessing your essentials a breeze.
But it's not just about looks; it's built to withstand the hustle with a resistant textile exterior and a soft quilted interior that shields against wear and tear.
What's even better? It's eco-friendly – made with recycled polyester from discarded plastic bottles, so you can carry it with a conscience.
Say goodbye to hiding your carry; with STOW Slim, flaunt your style effortlessly while keeping your belongings safe and sound.
Buy Native Union STOW Slim for $79.99 here.
4. MOSISO Laptop Sleeve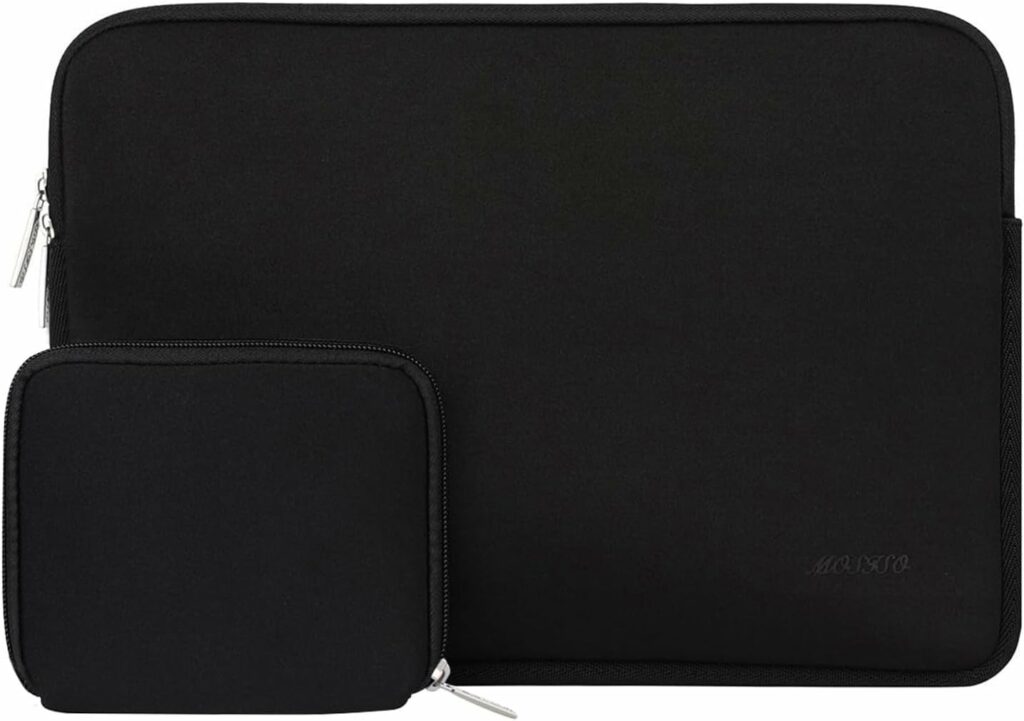 MOSISO Laptop Sleeve is your go-to armor for on-the-go creativity. Crafted with a neoprene foam padding layer and a fluffy fleece fabric lining, it's like a cozy blanket for your laptop, shielding it from bumps, shocks, and accidental scratches. Designed to keep up with your dynamic lifestyle, it doesn't just stop at protection.
This 14-inch MacBook Pro Sleeve with pockets is all about convenience. Toss in your laptop mouse and earphones into the additional small storage pouch bag, matching the color of the big sleeve for that extra touch of style.
And when you're on the move, it won't weigh you down – slim, lightweight, and effortlessly sliding into your briefcase or backpack. The top-loading zipper ensures easy access to your laptop, making it a hassle-free companion for your daily adventures.
Buy MOSISO Laptop Sleeve for $15.99 here.
5. Vandel Puffy Laptop Sleeve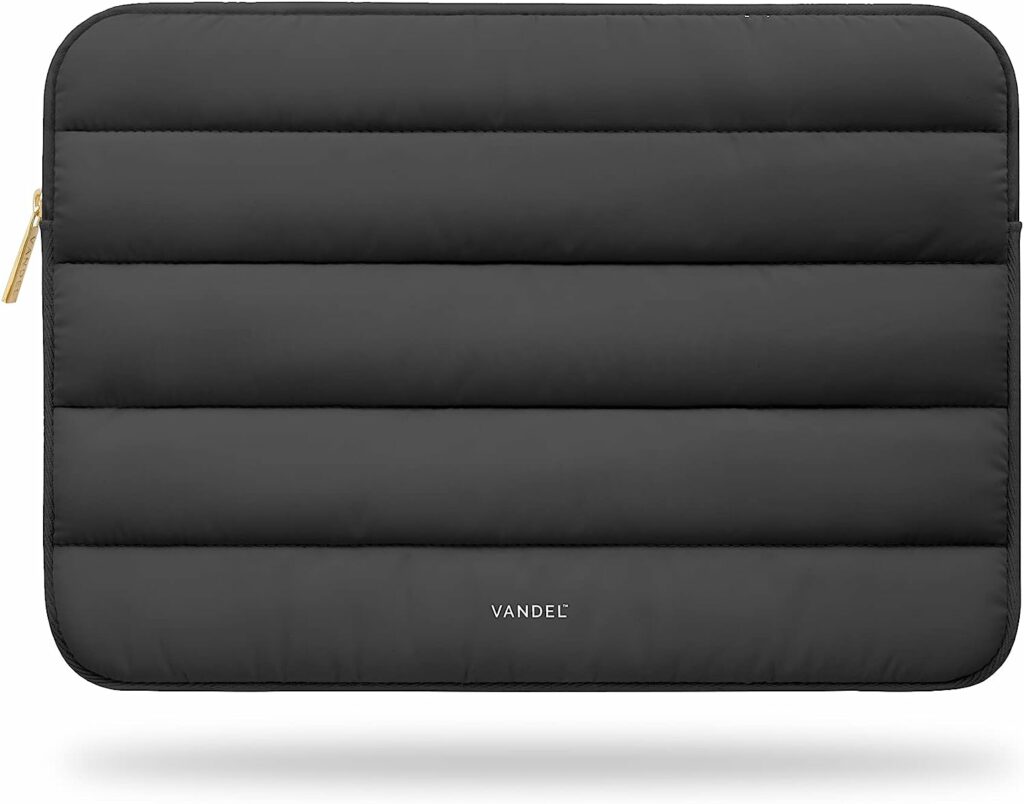 The Vandel padded laptop case is a game-changer, easily compressing to slide into your bag or laptop backpack without compromising on protection. Whether you're sporting a MacBook Pro, MacBook Air, HP, or Dell, this one of the best M3 MacBook Pro sleeves has got you covered.
It's not just practical; it's cute too, making it the ideal laptop sleeve for women with its range of trendy designs, from leopard and cheetah prints to stars and classic neutrals.
Perfect for work or school, this 14-inch MacBook Pro sleeve accommodates 13 to 14-inch laptops and can double as a MacBook sleeve, MacBook Air 13-inch laptop sleeve, MacBook Pro 14-inch sleeve, Surface Pro sleeve, HP laptop sleeve, or a Dell XPS laptop sleeve.
So, why settle for ordinary when you can safeguard your tech in style with the Vandel Puffy Laptop Sleeve? Choose your favorite design and strut into the future of laptop protection!
Buy Vandel Puffy Laptop Sleeve for $28.99 here.
6. MoKo 14 Inch Laptop Sleeve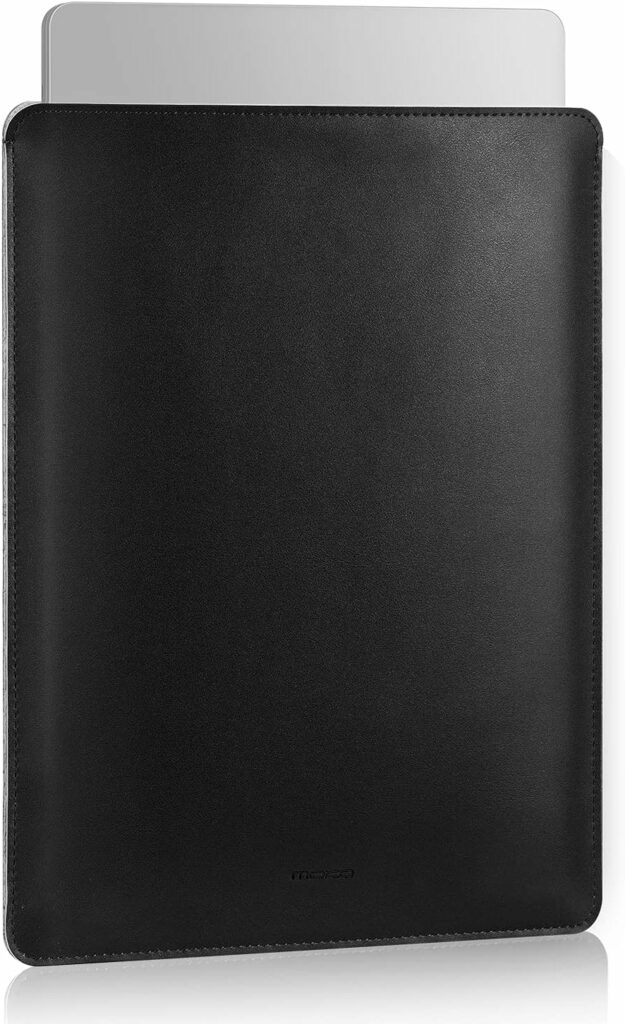 Meet your MacBook Pro 14″ 2021's stylish guardian – the MoKo 14 Inch Laptop Sleeve. It's not just a case; it's a sleek, ultra-thin bodyguard designed for your daily adventures.
Crafted with a minimalist business look, this 14-inch MacBook Pro sleeve brings a touch of sophistication to your tech ensemble.
The PU leather exterior not only adds a smooth texture but also stands up against the elements, making it water-resistant for those unexpected splashes.
Your device gets a cozy home with a soft lining that protects it from shocks, ensuring your MacBook stays safe and sound. The exquisite stitching not only adds an elegant touch but also makes the bag durable for the long run.
Slide it effortlessly into your backpack, briefcase, or messenger bag – the slim sleeve design ensures portability without compromising on style.
This isn't just a 14-inch MacBook Pro sleeve; it's your companion for life on the move. From daily commutes to jet-setting adventures, your laptop and accessories are in good hands.
Buy MoKo 14-Inch Laptop Sleeve for $14.99 here.
7. Thule Gauntlet MacBook® Sleeve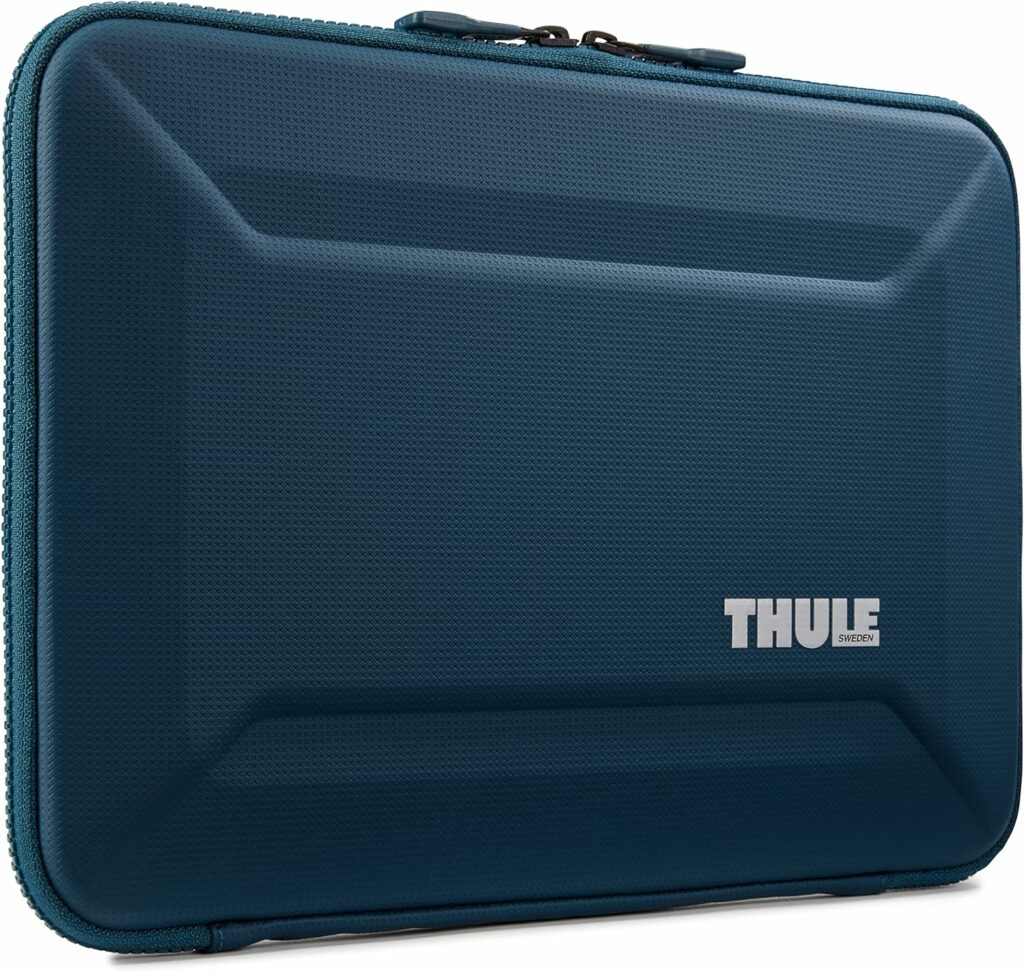 With Thule Gauntlet, your MacBook isn't just protected; it's stylishly suited up for every adventure. This bad boy is tailored to fit like a glove, whether you're rocking a 14″ MacBook Pro, 13″ MacBook Pro, MacBook Air, or any laptop up to 31.3 x 22.1 cm.
It's not just a sleeve; it's a fortress with its rigid exterior and beefed-up corner and edge protection. Say goodbye to those accidental bumps and scratches – the padded interior has got your back.
The clamshell design lets you flaunt your productivity skills directly from the case. Need to send a quick email or showcase that killer presentation? No need to strip your MacBook naked; just unzip and conquer. It's like your laptop's VIP entrance, providing easy access without compromising safety.
Thule knows the importance of convenience, so they've thrown in a front pocket. Charger, cables, a snack for those long work hours – stash them all in there. It's your on-the-go command center.
Buy Thule Gauntlet MacBook® Sleeve for $50.95 here.
8. Comfyable Laptop Sleeve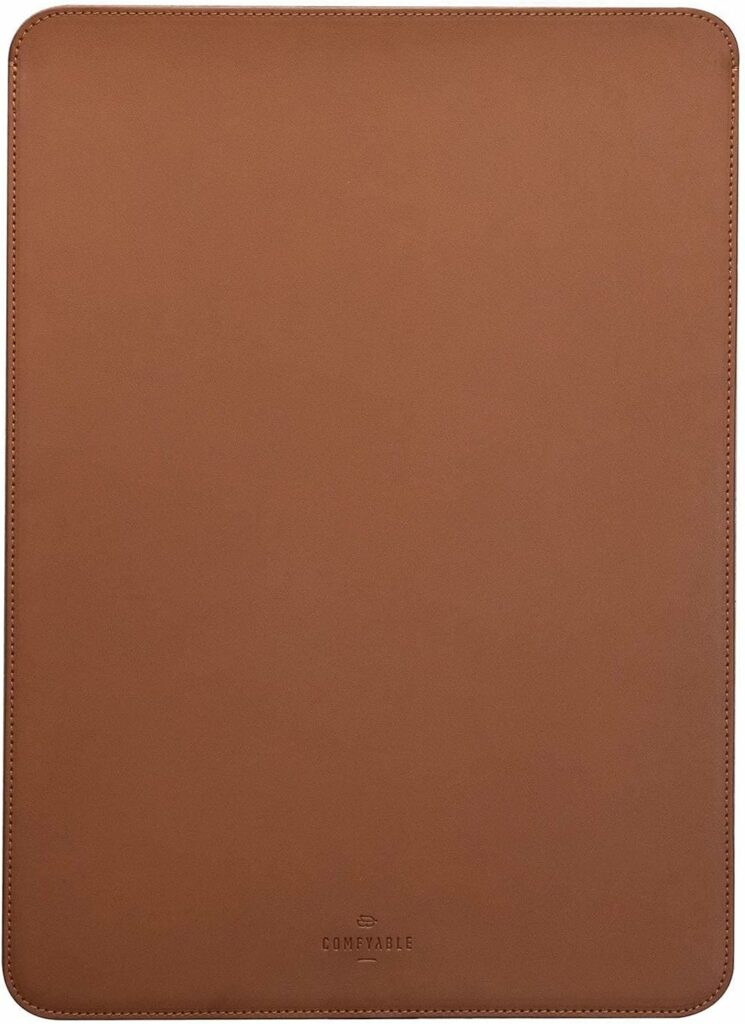 For those who appreciate a neat and clean-cut appearance, the Comfyable Laptop Sleeve is a stylish choice. Crafted from faux leather and felt, this open-top sleeve exudes sophistication, offering protection in style whether you're in the workplace, college, or a coffee shop.
The short-side open-top design keeps bulk to a minimum, providing a sleek and minimalistic solution for MacBook Pro 14-inch users.
The Comfyable sleeve is designed to be snug, requiring a bit of strength for initial device entry. As you keep your laptop inside overnight, this 14-inch MacBook Pro sleeve will naturally stretch, achieving a perfect fit after a few days of use.
Both the front and back of the sleeve are made from premium synthetic leather, ensuring 100% animal-free materials. The interior, facing the MacBook, boasts the finest felt for an extra layer of protection.
Beyond its primary function, the Comfyable Laptop Sleeve is 100% flat, doubling as a convenient bottom pad for your laptop. This additional feature adds an extra layer of protection, making it versatile for both storage and use.
Buy Comfyable Laptop Sleeve for $17.99 here.
To Conclude
In the vast sea of laptop accessories, finding the best Sleeves for a 14-inch M3 MacBook Pro can feel like a quest. However, as we navigate through the myriad options, it becomes evident that the M3 Pro MacBook Pro Sleeves 2024 are not just about protection but an extension of our personal style.
In this roundup, we've dived into the realm of functionality, aesthetics, and durability to present M3 Pro MacBook Pro Sleeves 2024 that go beyond mere storage. Your MacBook deserves a companion that not only shields it from the external world but adds a touch of flair to your everyday adventures.
So, whether you lean towards sleek professionalism or vibrant individuality, these M3 MacBook Pro sleeves are more than just cases; they're a statement, a reflection of your unique tech-savvy personality.
Embrace the journey of selecting the perfect sleeve for your 14-inch M1 MacBook Pro, and let your laptop travel in style.
Disclosure: iOSHacker may receive a commission if you purchase products through our affiliate links. For more visit our privacy policy page.