Many of us have to regularly use two computers at home. In such scenarios, one computer might be a work laptop that occasionally needs to be connected to the home workstation's accessories alongside a home Mac or PC that is used for gaming, entertainment, or personal use.
If you are in a similar situation, then you would know how difficult it could be to switch between the two computers, as it would require you to plug in your monitor and all accessories from one computer to the other. This is not only time-consuming but can also negatively affect your productivity.
The AV Access iDock C10 KVM Switch Docking Station, which we are going to unbox and review today could prove to be the perfect KVM Switch Docking Station for your home workstation setup.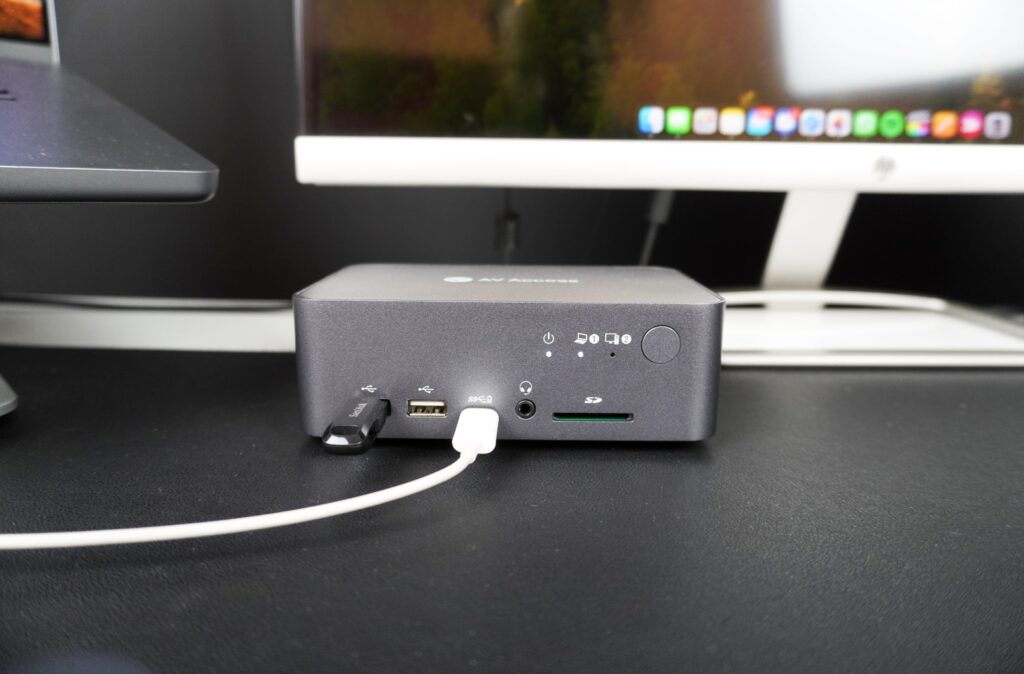 A KVM Switch docking station makes it possible for users to quickly switch between two computers with a press of a button. The connected computers can share a set of peripherals and accessories between them, thus eliminating the need to unplug and plug them into computers every time the user wants to switch between his or her machines.
Read on to learn all about the AV Access iDock C10 KVM Switch Docking Station and whether it is a good fit for your home or office work setup.
Features and Capabilities
This amazing little 12-in-1 dock allows users to connect two computers and then share accessories between them. It comes with 12 ports and slots that are available to both laptop and desktop computer that are connected through this KVM Switch Docking Station.
Here's the list of ports that are available to the user on both machines.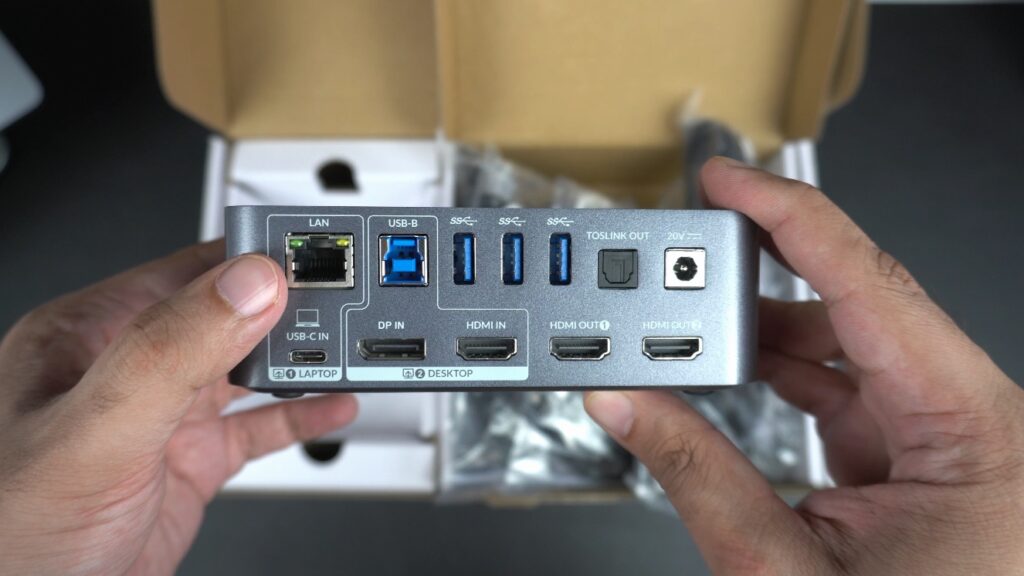 3 USB 3.0 ports
2 USB 2.0 ports
1 USB-C port
1 SD card slot
1 LAN port
1 Toslink out (Optical Audio Output)
1 3.5mm headset
2 HDMI output ports
Apart from the ports mentioned above, users get access to a USB-C in port that can be used to connect the MacBook to the dock, a USB-B port, a DP In port, and an HDMI In port for connecting the desktop computer.
The USB-C port that is used for connecting the MacBook to the dock is a full-featured USB-C port. This means it is a powerful port that allows up to 20Gbp/s transfer speed, which is enough to input dual 4K UHD videos. It can also transfer large amounts of data at up to 5Gbp/s while charging your MacBook at 60W speed.
Users can connect up to 2 4K displays to their computers with this dock. And it offers ultra-high refresh rates for both displays. For this, it features HDMI 2.0, DisplayPort 1.2, and DisplayPort 1.4a (USB-C) ports. With these ports, the dock supports up to 4K@60Hz as well as 1080p@240Hz/165Hz/144Hz/120Hz.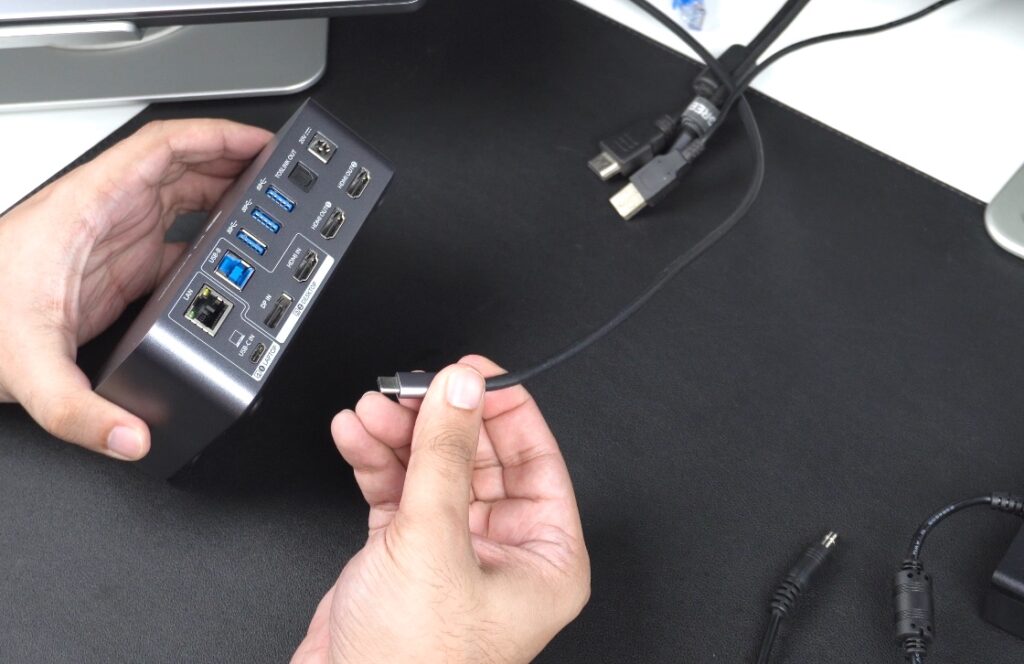 In addition to letting users share two monitors between their laptop and desktop workstation, users can also connect their peripherals such as mouse, keyboard, speakers, printer, scanner, SD card, headset, AV receiver, webcam, etc, and share them with both machines.
The best thing about the AV Access iDock C10 is that it features super-fast switching between the MacBook and desktop computer. You can instantly switch between your connected computers by pressing the button located on its front side. It offers features like PC wake-up function and EDID simulation, that make the switching process super fast.
Design and unboxing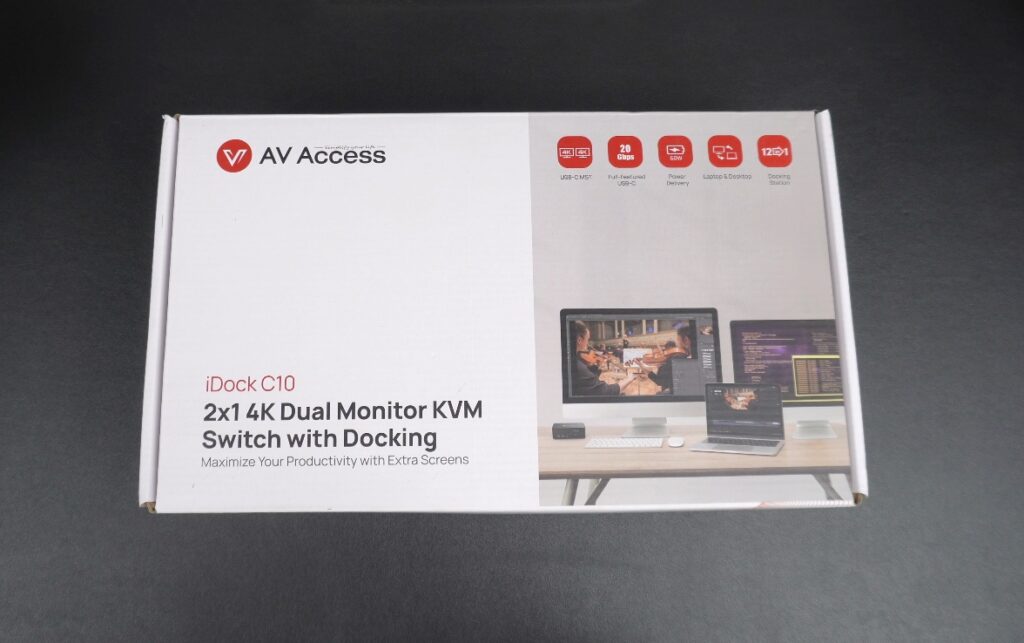 The AV Access iDock C10 KVM Switch Docking Station features a really nice and subtle design that looks great when placed on your table. It is also compact in size and does not take up much space on your desk, which is an added bonus. At the bottom, you also get rubberized feet, that help keep the dock in one place.
The dock comes in a nice space grey finish that matches well with the Space Grey color of the MacBook Pro. On the front you get access to handy USB-A ports, USB-C ports that are great for charging iPhone, a headset port, and an SD card slot.
The front side of the dock also features a switch button that you can press to quickly switch between your laptop and desktop computer. The dock has an LED indicator that tells you which computer is currently selected and the light switches to the computer that is currently in use as soon as you press the switch button.
On the back, you get access to a plethora of ports that enable you to plug in your displays, laptop, USB accessories, and more. This side of the device isn't visible when the dock is placed on the table.
Inside the box
The AV Access iDock C10 comes inside a fairly large box. Inside the box, you get the following items.
A iDock C10 Docking Station
A power adapter
A 1m USB-C to USB-C cable
A 1.5m USB-A to USB-B cable
A 1.5m HDMI 2.0 cable
A 1.5m DisplayPort 1.2a cable
A User Manual
Our Review Of The AV Access iDock C10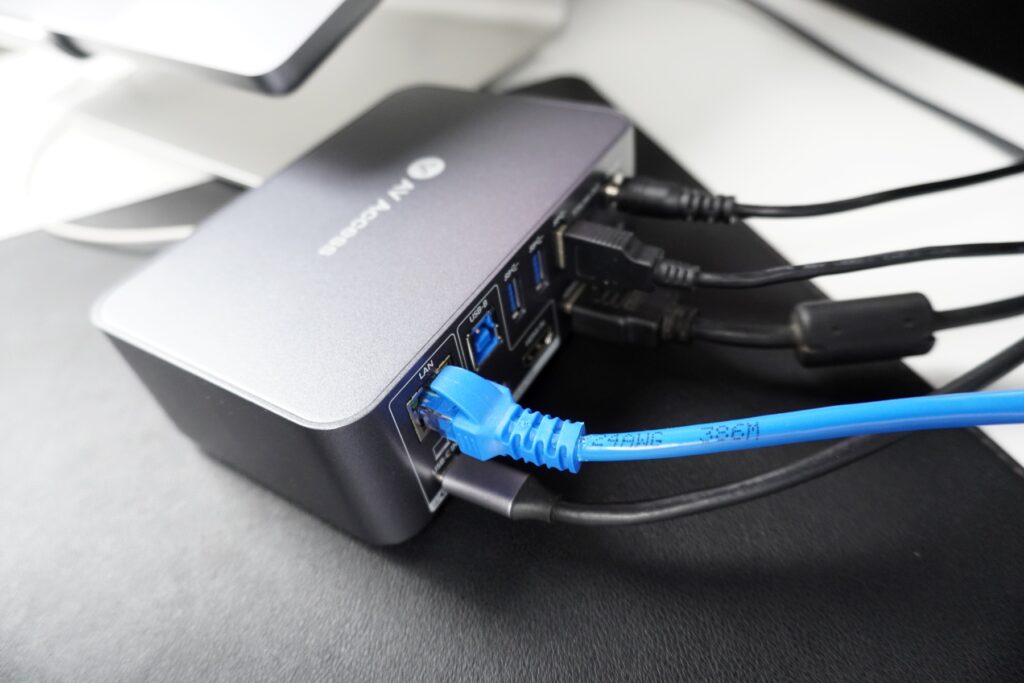 I have been looking for a KVM Switch Docking Station for my work-from-home desk. After getting the AV Access iDock C10 KVM Switch Docking Station and using it for a few weeks I can never use my computer without it again. I have been using this dock with my MacBook Pro and plan on adding a Mac Studio to my desk setup soon. This KVM Switch Docking Station would be invaluable when I end up getting the second machine.
Even today this docking station has proved to be an invaluable asset to my setup and has improved my workflows by eliminating the need of plugging and unplugging accessories and monitor from my MacBook Pro every time I want to take it away from the desk.
Now my monitor, LAN Internet cable, USB monitor light, and other accessories stay plugged into the docking station at all times while I can easily remove a single USB-C cable from my laptop. When I am back I can simply plug in the USB-C cable to my computer and instantly connect the monitor and all accessories to it.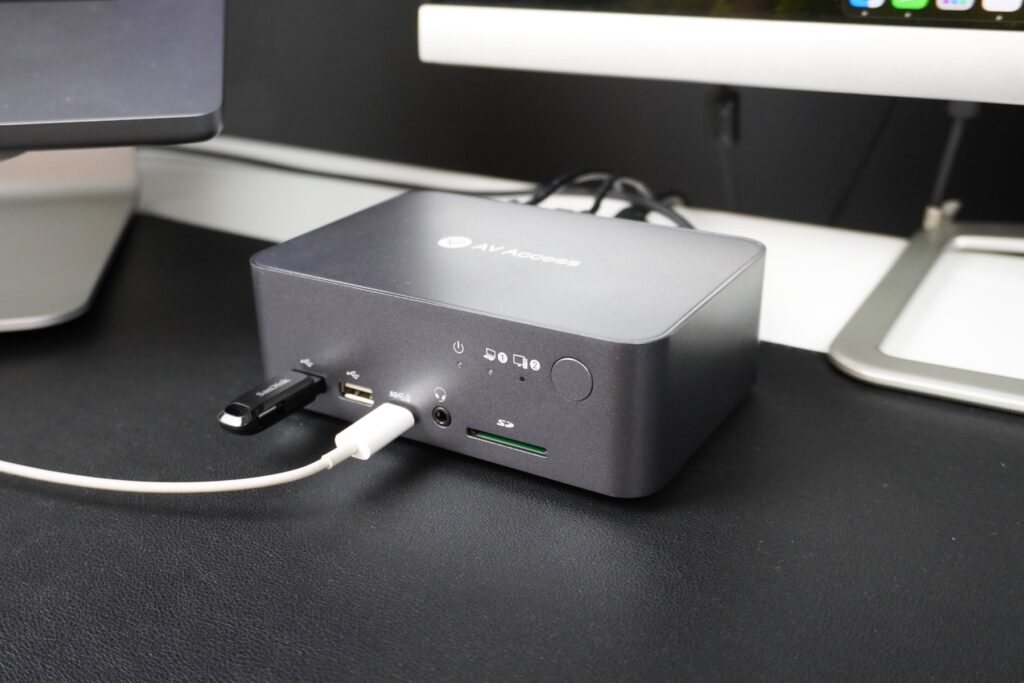 The fast data transfer speeds that are available through the dock allow me to connect my external hard drive to its front USB ports and transfer large video files to the computer and back to the hard drive for backup purposes.
A big issue that I used to face when using a docking station from another brand was whenever I would wake up my MacBook from sleep, the screen would flicker every 5 or so seconds. For this, I had to unplug the USB-C cable from the MacBook Pro and plug it back in. With the AV Access iDock C10 that issue has been resolved and this has made my experience of using the MacBook Pro with a desk setup a lot more convenient.
Another major benefit that this dock brought to my desk setup is the addition of a LAN port. This allowed me to add wired Internet connect to my MacBook, which brought a significant speed boost.
Pricing and availability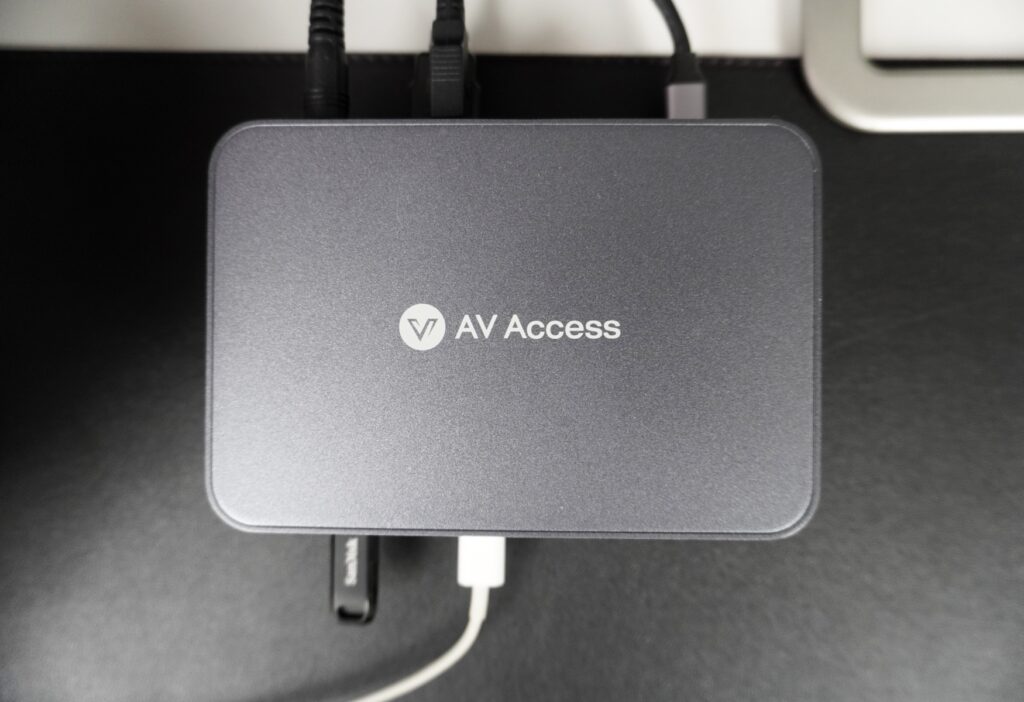 The AV Access iDock C10 KVM Switch Docking Station is available from AV Access's official website for $259.99. You can buy it for yourself here.
Ratings
We rate the AV Access iDock C10 KVM Switch Docking Station 10/10 for its features, design, and capabilities.
Disclosure: iOSHacker may receive a commission if you purchase products through our affiliate links. For more visit our privacy policy page.