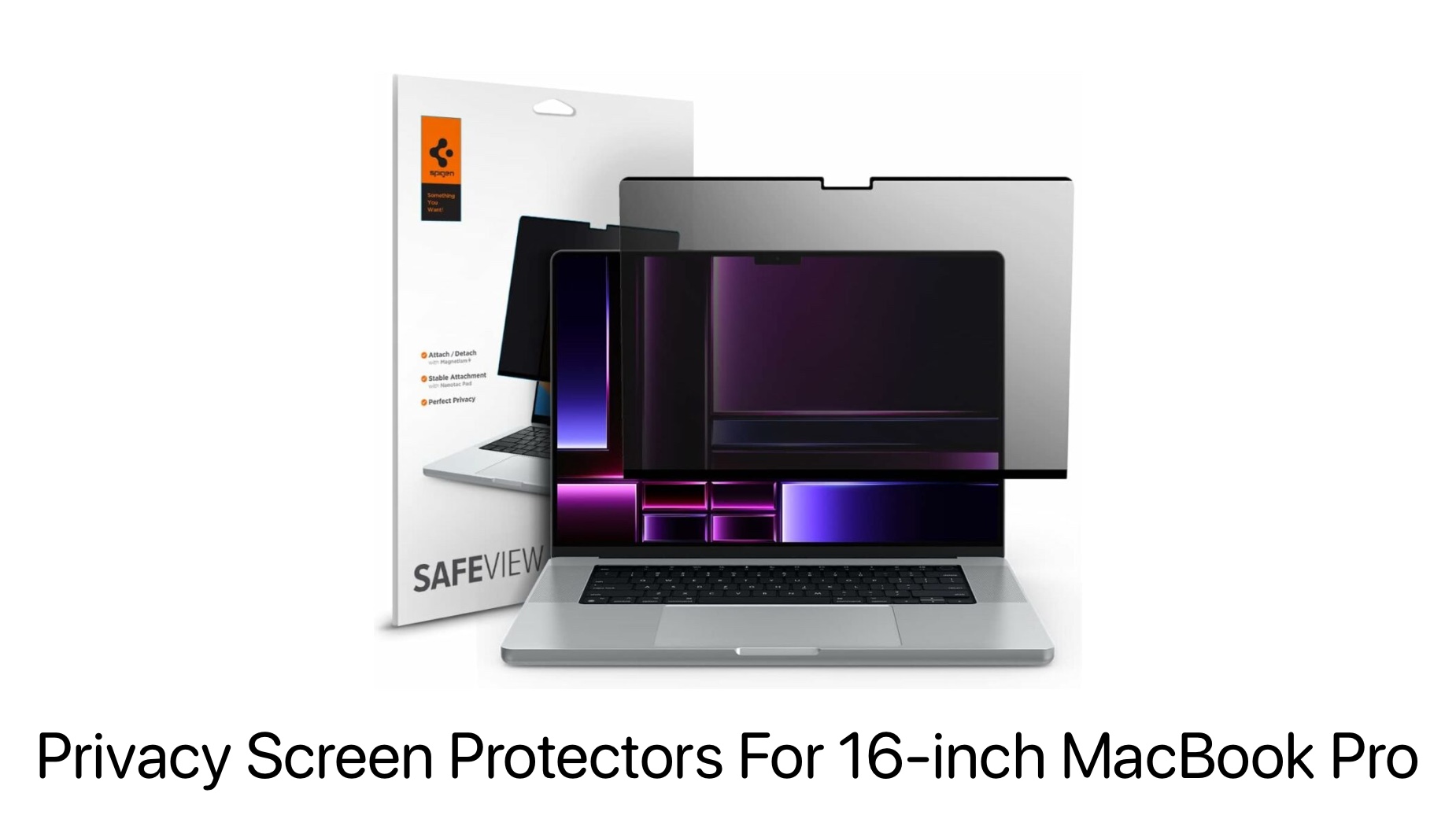 In this article, we're diving into the realm of privacy-enhancing accessories to help you find the best shield for your digital secrets, ensuring that your MacBook screen is for your eyes only. Welcome to a new era of personal space in the digital age!
Here you will find a list of best privacy screen protectors for 16-inch M3 Pro MacBook Pro that you can buy for 2024.
Have you ever felt like your laptop screen was broadcasting your digital life to the world? We've all been there, typing away on our 16-inch M1 MacBook Pro, only to realize that the person in the coffee shop line behind us is reading every email and document with an unintended sense of intimacy.
It's time to reclaim your visual space and keep your virtual world just that – virtual. Enter the world of the best privacy screen protectors 16-inch MacBook Pro, where a thin layer transforms your screen into a fortress of solitude.
If you're not interested in privacy screen protectors, then you can also check out glass screen protectors for the 16-inch M3 Pro MacBook Pro.
Best 16-inch MacBook Pro privacy screen protectors 2024
Let's dive into the world of discreet guardianship for your MacBook, where privacy meets style seamlessly, and find out which is the best M3 Pro 16-inch MacBook Pro Privacy screen protector out there!
1. SightPro Magnetic Privacy Screen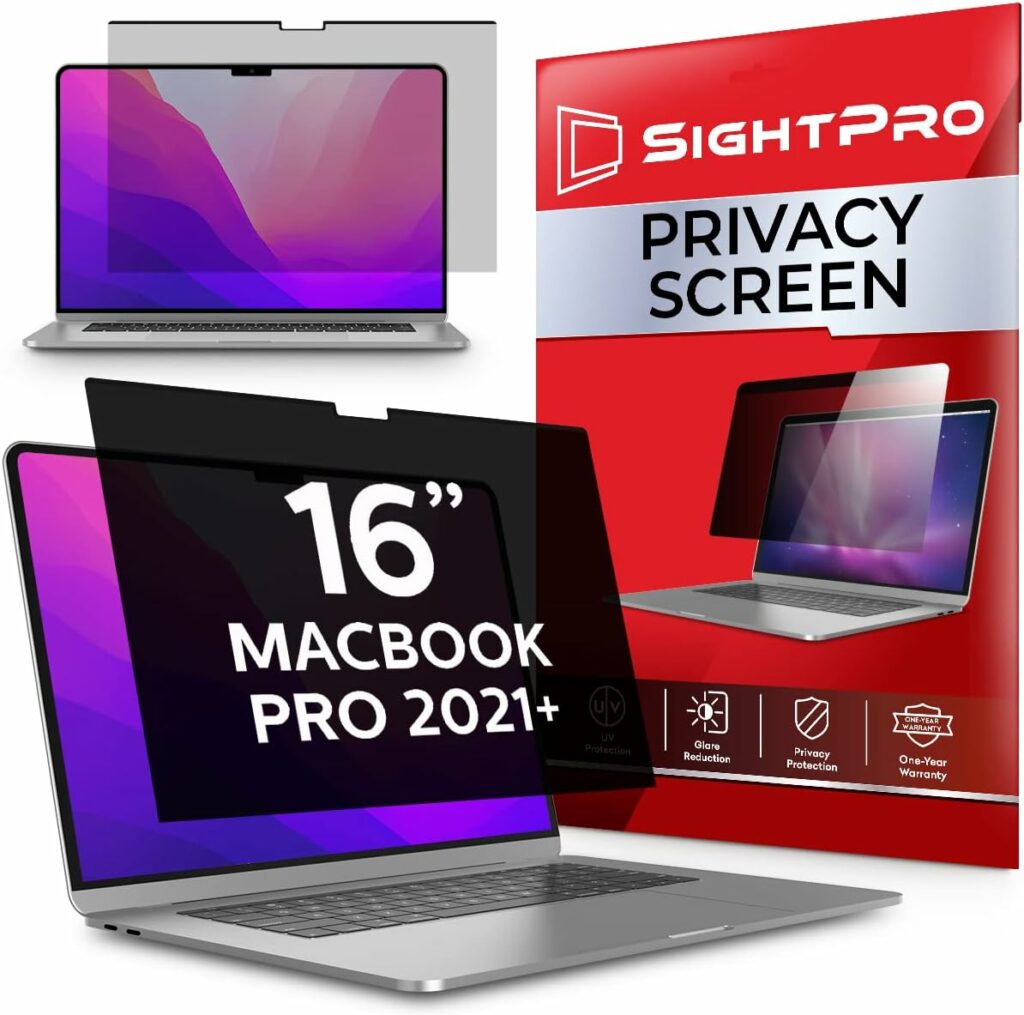 Tired of nosy neighbors or curious coworkers peeking at your screen? Introducing the SightPro Magnetic Privacy Screen for MacBook – the hassle-free solution to your privacy needs. No more struggling with tape or sticky residue. Just effortlessly place it along the top of your MacBook, and let the magnets do the work.
This advanced multi-layered film filter goes beyond by blacking out your screen from side viewers while keeping it crystal clear for you. Plus, say goodbye to eye strain with protection against harmful glare, UV, and blue light.
Whether you're a healthcare provider, a student, or a frequent flyer, this MacBook Pro Privacy Screen Filter is your go-to companion. Stay compliant and protect sensitive information, whether you're working in crowded airplanes, bustling subways, busy airports, or public spaces.
Buy SightPro Magnetic Privacy Screen for $34.99 here.
2. Peslv Privacy Screen Protector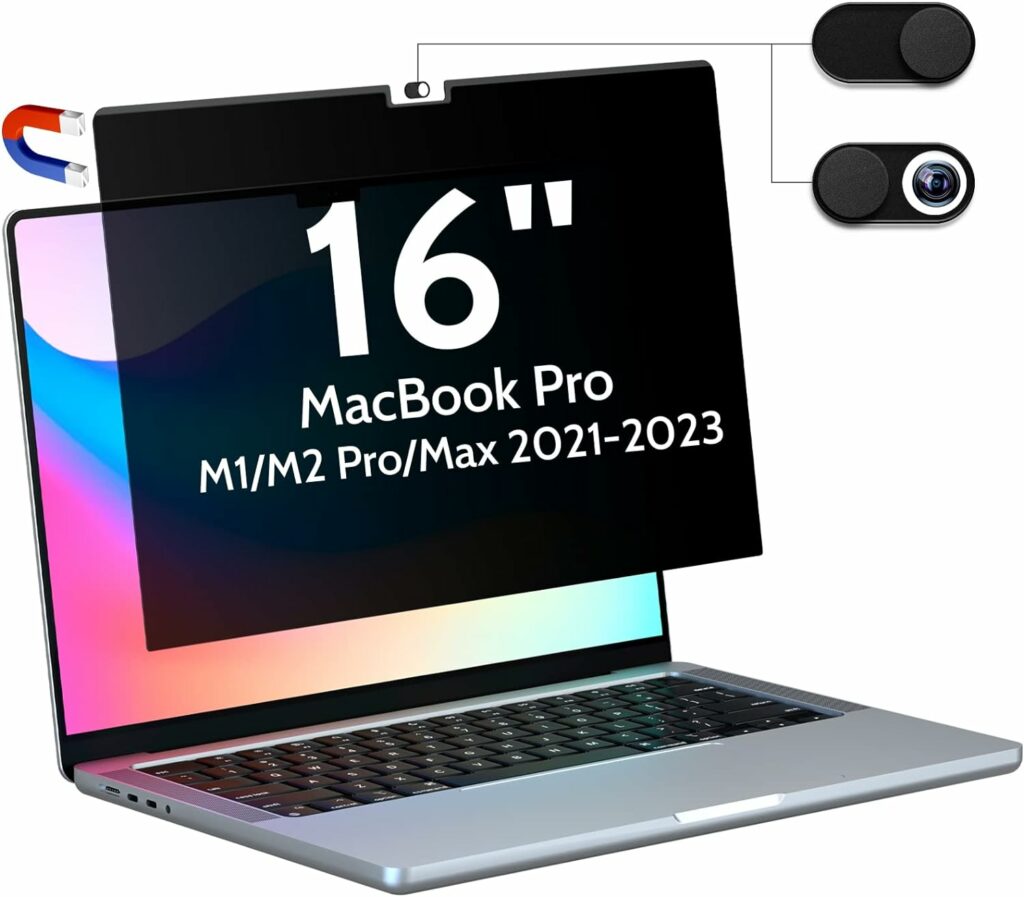 Tired of fumbling with installation? Peslv has your back with an innovative magnetic mounting method. Say goodbye to the struggle and hello to simplicity – just align the reinforced magnetic strip with the top bezel of your screen and press gently. Voila! You're shielded from prying eyes in seconds.
Worried about awkward angles? Fear not! Peslv has meticulously corrected the viewing angle more than 5000 times, ensuring that only the +-30° sweet spot directly in front of your screen is visible.
Crafted with precision, the Peslv Privacy Screen Protector boasts high-quality materials imported from Japan and a cutting-edge process from Germany. This screen protector doesn't just shield you from curious eyes – it's a multitasking marvel.
The filter layer reduces 95% of blue light and 92% of UV light, while the matte surface and anti-glare features intercept a whopping 95% of reflected light. Worried about scratches? Peslv has that covered, too, with an anti-scratch layer, ensuring your screen stays pristine even with daily use.
Buy Peslv Privacy Screen Protector for $31.99 here.
3. Kensington MagPro Elite Magnetic Privacy Screen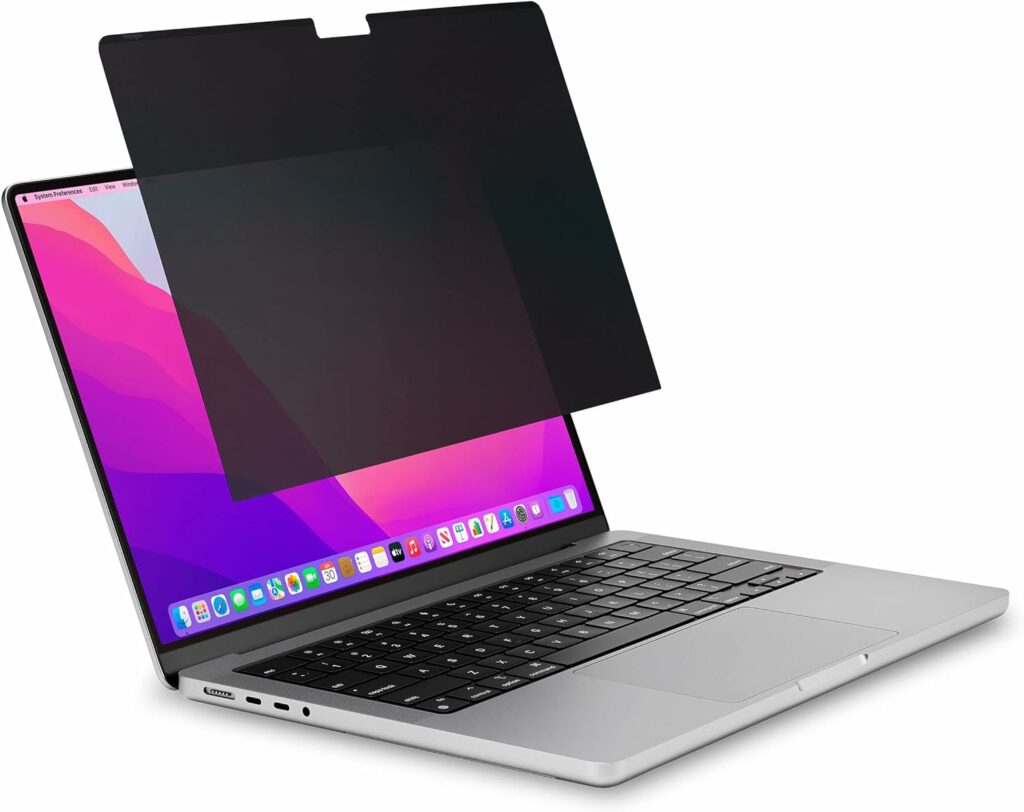 The Kensington MagPro Elite Magnetic Privacy Screen is the perfect companion for your 2021 MacBook Pro 16″! Forget the hassle of tricky installations; this privacy screen effortlessly attaches to the built-in magnets on your MacBook's frame.
With a clever limited viewing angle of +/- 30 degrees, you can bid farewell to nosy onlookers and keep your sensitive information truly private, whether you're working in the office or on the go.
Say goodbye to eye strain with a blue light reduction of up to 22%, ensuring your eyes stay comfortable even during those marathon work sessions. The low reflective coating also kicks glare to the curb, providing crystal-clear clarity when you need it most.
What's even better? No need to remove the privacy screen when closing your laptop – it automatically puts your MacBook to sleep, seamlessly blending security with convenience.
To top it off, Kensington has got you covered with a cleaning cloth and a screen holder to keep your privacy screen looking pristine and scratch-free when not in use.
Buy Kensington MagPro Elite Magnetic Privacy Screen for $66.99 here.
4. Peslv Magnetic Privacy Screen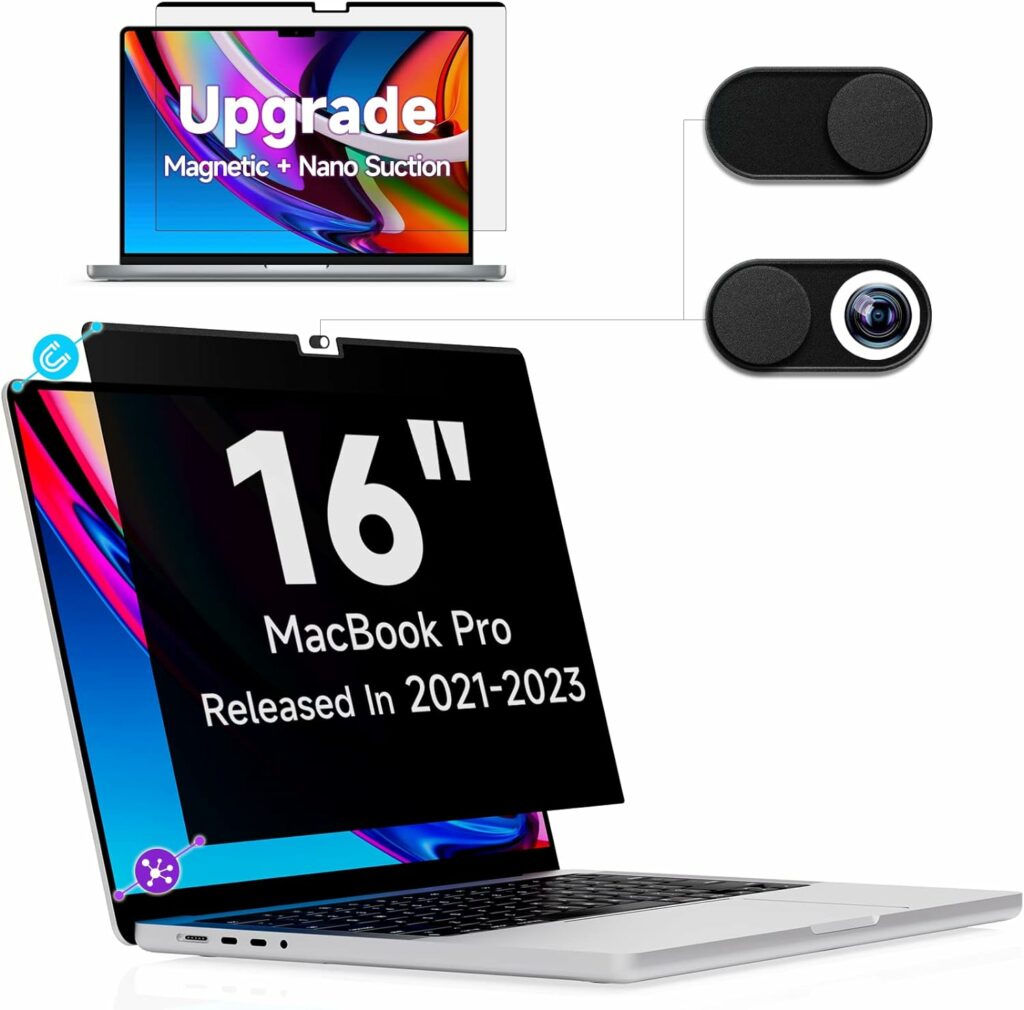 Designed specifically for MacBook Pro, the Peslv Magnetic Privacy Screen ensures that only the +-28° angle directly in front of the screen is visible, guarding your data against prying eyes.
The company has gone the extra mile by correcting the screen angle over 5000 times to block unwanted views. Plus, two easy-to-install magnetic camera protection covers are included for added security.
Peslv understands the importance of quality, using high-quality materials from Japan and a process imported from Germany to enhance the performance of the MacBook Pro 16-inch privacy screen. It features a top-notch filter layer that reduces 95% of blue light and 92% of UV light, a matte surface that's anti-glare, and an anti-scratch layer for daily durability.
The 1:1 restoration ensures a perfect fit, and the advanced light-transmitting layer guarantees a super high-definition screen with unparalleled picture quality close to the original.
Buy Peslv Magnetic Privacy Screen for $31.99 here.
5. PYS Magnetic Privacy Screen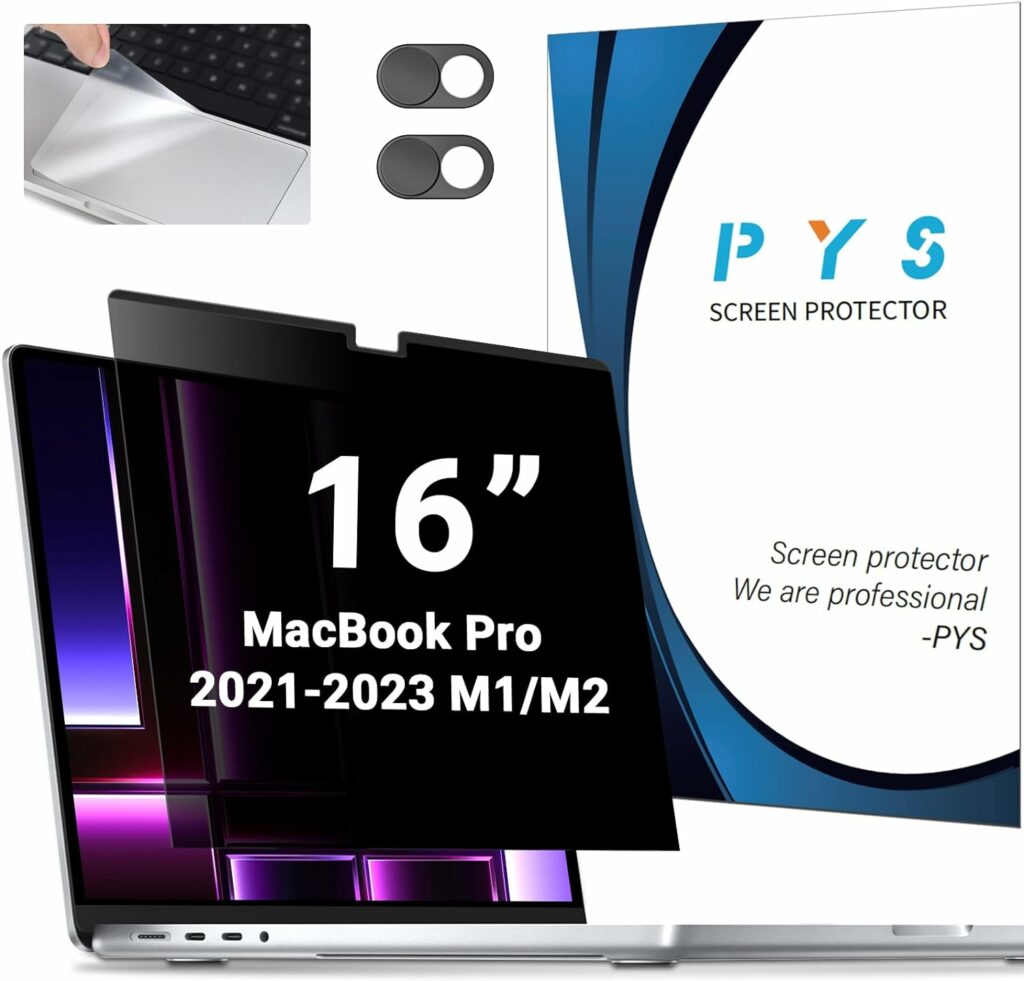 The PYS Magnetic Privacy Screen is tailor-made for your Mac Pro 16-inch, promising a seamless fit that doesn't compromise style or functionality.
Picture this: you're in the library, engrossed in your studies, or maybe you're hustling in a busy coffee shop, grinding away on your latest project. The PYS Privacy Screen becomes your trusted ally, guarding your screen from prying eyes with its multi-layered film filter.
PYS has thrown in some anti-glare magic to protect those precious eyes of yours from harmful glare and pesky blue light. It's the ultimate shield for your eyes, ensuring you can work for hours without the strain.
Here's the kicker – this privacy screen isn't just for the 9-to-5 grind. It's a jetsetter, ready for action in planes, subways, airports, or any public space where you want to keep your work your own.
Buy PYS Magnetic Privacy Screen for $31.99 here.
6. FILMEXT Macbook Pro 16-inch Screen Protector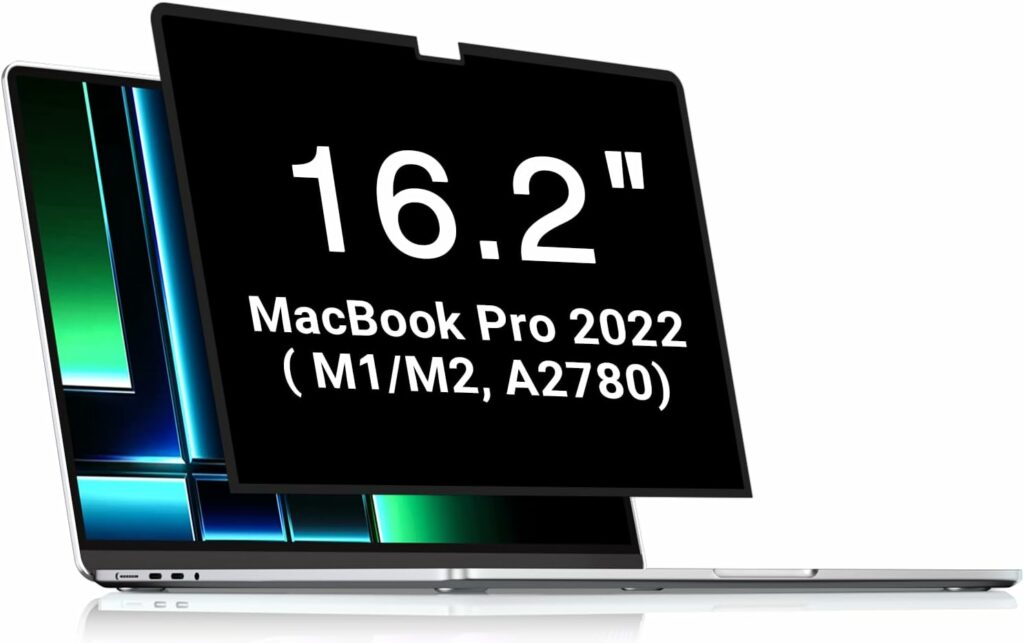 Specifically designed for Macbook Pro 16-inch 2023 M2 (A2780) and Macbook Pro 16-inch 2022-2021 M1 Pro/Max Chip (A2485), FILMEXT Macbook Pro 16-inch Screen Protector is the result of cutting-edge research and development.
The high clarity ensures that your screen maintains the same resolution from the front, providing a comfortable, non-eye-straining experience during prolonged use.
Say goodbye to the hassle of bubbles with the bubble-free design featuring a silicone seal at the border. Easily removable and re-attachable, this M3 Pro MacBook Pro privacy screen protector is a breeze to put on or take off.
The 30±5 privacy angle guarantees that you can read data clearly from the front while creating a darkened screen when viewed from the side. With a 35% blue light-blocking capability, this screen protector is not just about privacy; it's about protecting your eyes.
Buy FILMEXT Macbook Pro 16-inch Screen Protector for $27.99 here.
7. Spigen Privacy Filter Screen Protector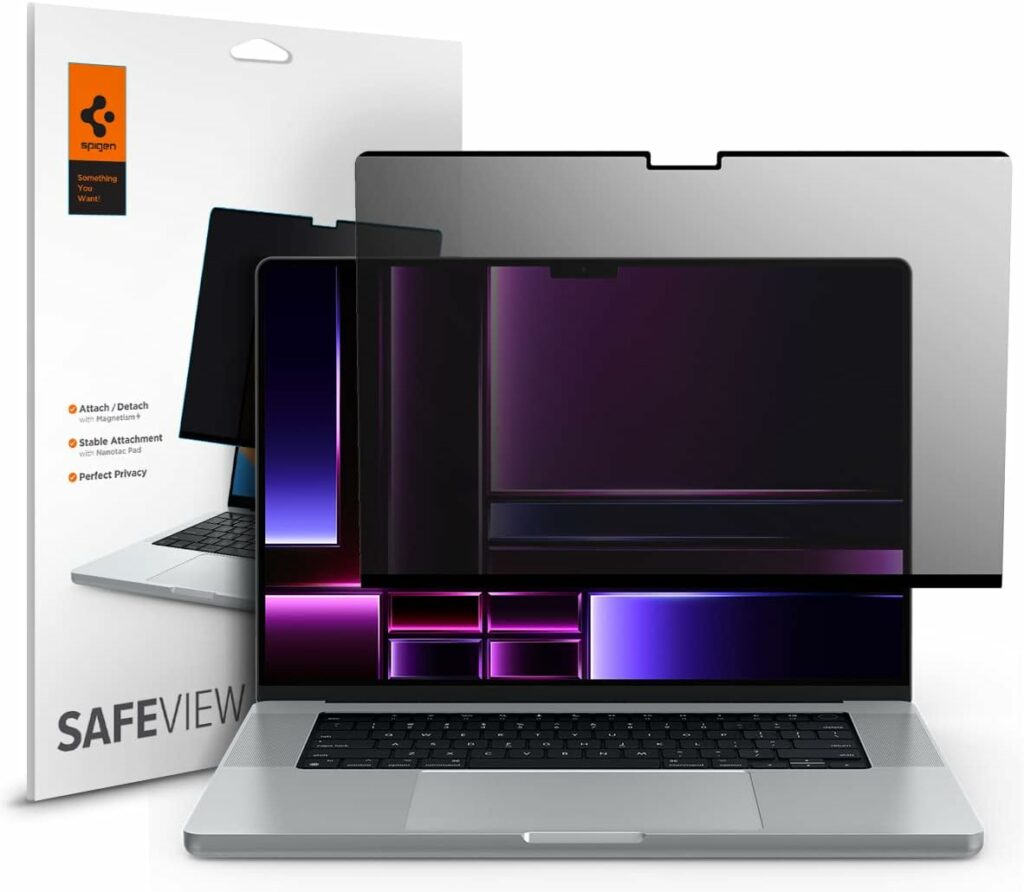 Crafted from top-notch materials, the Spigen Privacy Filter Screen Protector is your go-to for long-lasting privacy. Installing it on your MacBook Pro 16″ is a breeze, thanks to its magnetic attachment and residue-free base.
Worried about that webcam? Fear not! Precise cutouts ensure a snug fit around it. Plus, the added bonus of a storage folder keeps your privacy filter safe and sound when it's off duty.
What's even better? This one of the best 16-inch 2023 MacBook Pro privacy screen protectors is a champion of sustainability – it's reusable! Just give it a quick rinse, let it bask in some air, and it's ready for round two.
So, whether you're hustling in a coffee shop or taking your MacBook on a globe-trotting adventure, the Spigen Privacy Filter has your back, making sure your screen is for your eyes only!
Buy Spigen Privacy Filter Screen Protector for $31.99 here.
To Conclude
As we bid farewell to the dazzling array of choices for the 16-inch MacBook Pro privacy screen protectors, remember that protecting your screen is not just about shielding it from prying eyes but about embracing a sanctuary where your work, ideas, and musings can thrive undisturbed.
So, here's to the perfect blend of style, security, and the seamless dance between you and your MacBook Pro—an alliance sealed with the trusty cloak of the privacy screen protector for MacBook Pro.
May your screen remain a canvas for your creativity, shielded from the curious glances of the world.
More 16-inch MacBook Pro accessories:
Disclosure: iOSHacker may receive a commission if you purchase products through our affiliate links. For more visit our privacy policy page.