In this article, you will find some of the best iPhone and iPad wallpaper apps that are available through the App Store. These apps give users access to 4K quality high-resolution wallpapers that are suitable for any iPhone including the latest iPhone 15 Pro Max.
Have you ever glanced at your iPhone or iPad screen and thought, "Hmm, it's time for a change?" Well, you're not alone! In a world where personalization is key, the right wallpaper can transform your device from mundane to magnificent with just a tap.
Whether you're into vibrant abstract art, breathtaking landscapes, or quirky illustrations, the App Store is brimming with the best wallpaper apps for iPhone and iPad to suit every taste.
Say goodbye to the default wallpapers that came with your device and dive into a world of endless possibilities.
We've scoured the App Store to bring you the crème de la crème of iPhone 15 Pro Max wallpaper apps, ensuring that your digital canvas reflects your unique style.
Best Apps to Download Wallpapers Free on iPhone
Let's explore the Best 4K wallpaper apps for iPhone that will not only refresh your screen but also add a touch of personality to your daily digital interactions.
1. Live Wallpaper 4K: Screen Life
Ready for a total home screen makeover? Dive into a sea of options with Live Wallpaper 4K: Screen Life. From live wallpapers to charging animations, trendy patterns, and the latest designs, your phone is about to get a serious upgrade.
Live Wallpapers 4D doesn't just stop at being visually stunning; it's also packed with features. Explore trending and popular categories like Venoms, Marvel, Animes, Animals, Sports, Entertainment, Abstract, Nature, and Food. And the fun doesn't end there – the app keep things fresh with daily updates, bringing you wallpapers for every occasion, from festivals to New Year, Christmas, All Saints' Day, Valentine's Day, and more.
Can't get enough of a particular wallpaper? No worries! Save your favorites in one convenient spot with the "Favorites" feature. And with the extensive catalog of FREE 4k/HD wallpapers, you'll never run out of options to revitalize your home and lock screens.
Install Live Wallpaper 4K: Screen Life from the App Store now!
2. Best Wallpapers 4K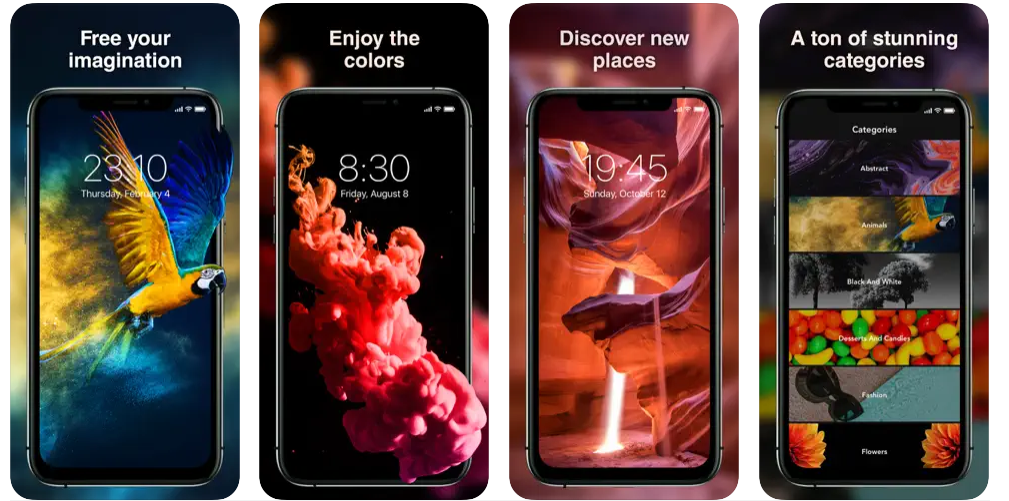 Ready to give your phone a makeover? Introducing Live Wallpaper 4K: Screen Life, your go-to for a fresh device vibe. Spice up your lock screen with this easy-to-use app—just download and share the animated magic with your pals!
From cute and funny to downright psychedelic, the app has got a treasure trove of live wallpapers, charging animations, and trendy patterns to make your home screen pop.
Save your faves in the "Favorites" section for quick access. Dive into the world of 4K/HD wallpapers with a massive catalog, or get personal by creating custom wallpapers from your own photos.
With daily updates and a plethora of HD wallpaper categories like abstract, animals, space, and nature, your phone will never be boring again. Embrace the uniqueness that is you by downloading this iPad wallpaper app and choosing from a sea of cool wallpapers.
Install Best Wallpapers 4K from the App Store now!
3. Dope Wallpapers for iPhone 4K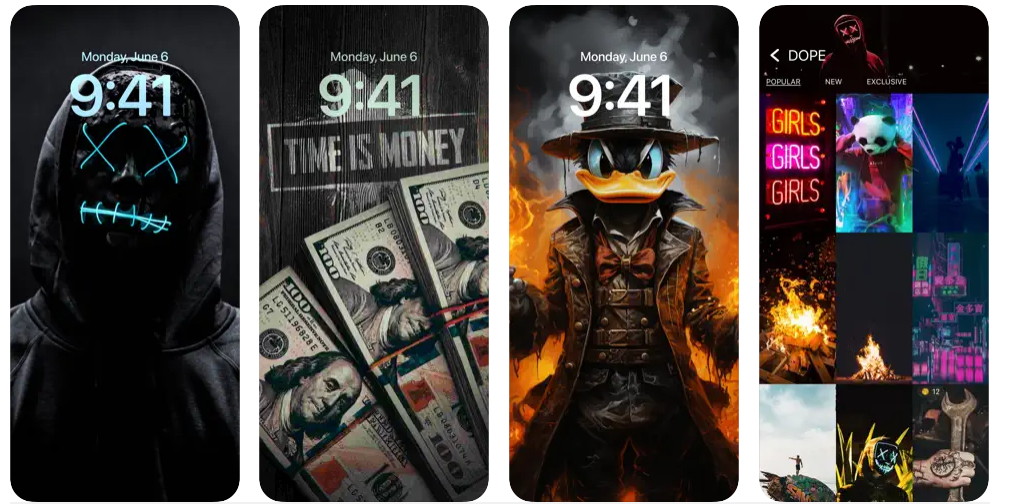 Elevate your iPhone game with this Dope Wallpapers for iPhone 4K! Transform your device into a style statement with this pixel-perfect collection of dope wallpapers. Whether you're into the latest trends or have a penchant for classic cool, the app has got you covered.
The app comes loaded with features like editable favorites, easy customization with image filters, and the convenience of saving directly to your Camera Roll.
What sets this app apart? Well, the app developers have made it super easy for you – no internet connection is required. It's all about bringing the coolest vibes to your fingertips without any hassle.
Plus, enjoy the flexibility of portrait and landscape orientations on iPads, ensuring your device looks sleek from any angle. So, don't miss out on the chance to make your Home and Lock screen truly magnificent.
Install Dope Wallpapers for iPhone 4K from the App Store now!
4. Wallpapers for iPhone – themes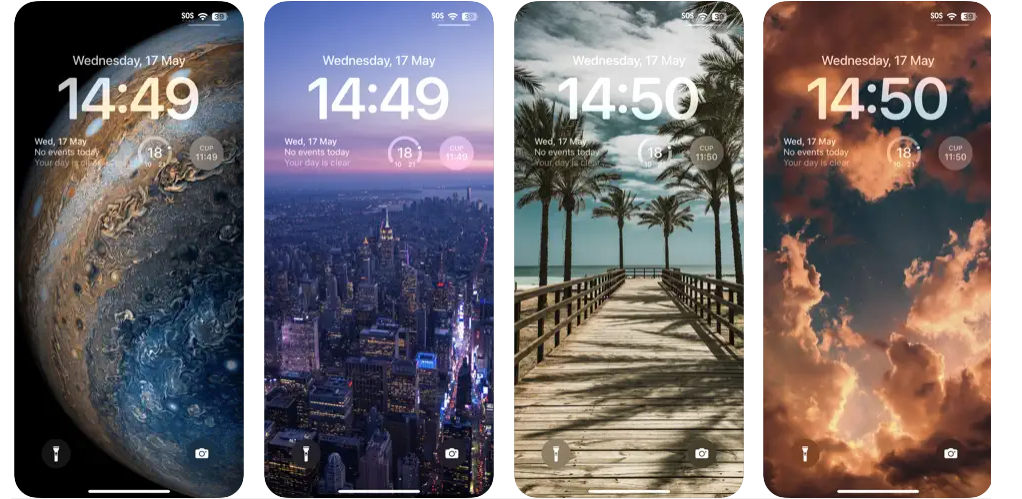 Transform your iPhone into a visual masterpiece with a collection of captivating themes and wallpapers! Elevate your screen with pixel-perfect images in the retina and standard resolutions. Choose from 12 categories, including Abstract, Animals, Nature, Masterpieces, Minimal, Cartoon, Cities, 3D, Sci-fi, Sports, Holidays, and Zen.
The cool themes let you create a stylish and harmonious look for both your Home and Lock Screen. Easily navigate through new arrivals in the "New" tab or explore popular choices in the "Popular" tab.
Preview feature? Absolutely! Just tap the screen to reveal icons and get a complete look. Whether you prefer Landscape or Portrait images, the app has you covered – even for iPad users!
Expect something new every day with daily content updates! Stay in tune with special holiday and seasonal content renewals. Sharing is caring – bring a smile to your friends by sharing your favorite images to social networks or via email.
Install Wallpapers for iPhone – themes from the App Store now!
5. HD Wallpapers and Backgrounds.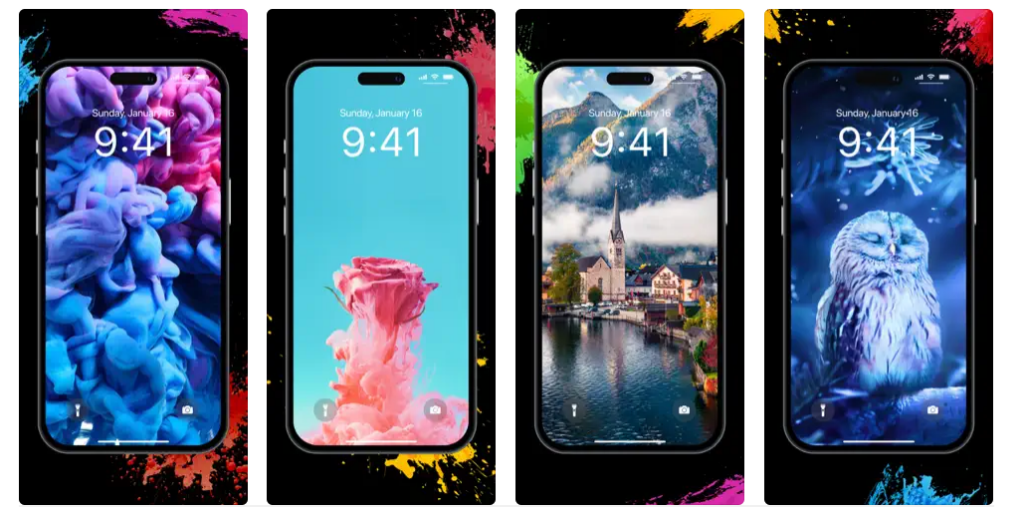 Elevate your phone's aesthetic game with this HD wallpaper and background app! It's not just about wallpapers; it's about making a statement with your device. From classy images to cool frames and stickers, the app offers everything you need to turn your Home & Lock Screen into a visual masterpiece.
This app boasts a vast collection of high-quality wallpapers, ensuring you find the perfect backdrop for any mood or occasion.
The app keeps things fresh with weekly updates, delivering new cute backgrounds and themes regularly. Choose from a variety of categories, including classy, trendy, and downright cool options.
The app has thrown in over 50 awesome frames and stickers to add that extra flair to your wallpapers. Express your style with cool iPhone themes that will leave your friends impressed.
Share your favorite themes and pictures to inspire others and create a visual vibe that's uniquely you. So why settle for a mundane screen when you can turn heads with HD Wallpapers and Backgrounds?
Install HD Wallpapers and Backgrounds. from the App Store now!
6. Live Wallpaper – LightWave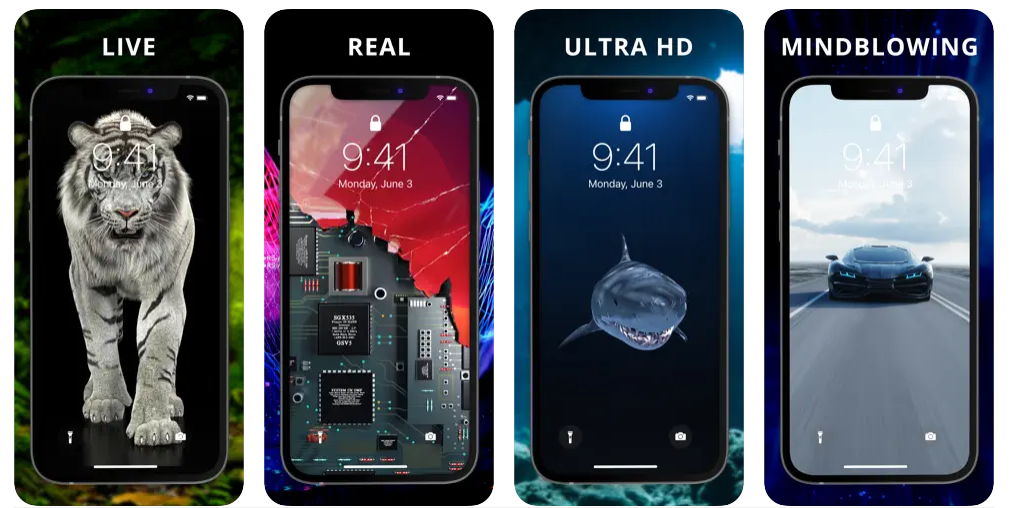 LightWave has a stellar collection of 4K wallpapers, mind-bending 3D effects, and animations that range from bright and classy to downright funny. The designs are handpicked by artists and design experts, ensuring a unique touch to your device.
But it's not just about aesthetics; LightWave brings functionality to the forefront. Easily download and customize your lock and home screens with the user-friendly app.
Touch and hold your lock screen to witness the magic unfold! From animals to abstract art, sports to special holiday collections, the app has a wallpaper for every mood and occasion.
And here's the kicker – regular updates ensure you're never bored. Whether it's New Year, Christmas, or just a regular Tuesday, the app offers special collections to keep your screen looking fresh.
Save your favorites for quick access, and share the love by downloading and sending wallpapers to friends in a breeze.
Install Live Wallpaper – LightWave from the App Store now!
7. Wallpapers HD for iPhone!
Dive into the world of Live Wallpapers 4K and watch your device come alive. Whether you're into cute, funny, or mind-bending designs, the app has got you covered.
Specifically optimized for iPhone 13/12/11/8/SE, iPod, and iPad, this app brings you a hand-picked selection of the best wallpapers and backgrounds around. Immerse yourself in 4K/HD quality that'll make your screen pop.
Want to add your personal touch? No problem! Use the built-in photo editor for easy customization.
Easily animate your Lock Screen with moving wallpapers and revamp your home screen with the coolest patterns and designs. From Venoms to Marvel, Animes to Animals, the app has got trending categories that'll suit every taste.
Plus, enjoy daily updates for special occasions like festivals, New Year, Christmas, and more. Save your faves in the "Favorites" section, and voila – your phone just got a whole lot snazzier! With the user-friendly interface, downloading and using these 4K/HD wallpapers is a breeze.
Install Wallpapers HD for iPhone! from the App Store now!
To Conclude
In a world where personalization is paramount, finding the perfect wallpaper is like putting the finishing touch on a well-crafted masterpiece.
With the myriad of choices out there, our exploration of the best HD wallpaper apps iPhone and iPad has been a journey through a kaleidoscope of creativity.
So, as you embark on the visual journey of customizing your device, remember that your wallpaper is not just a backdrop; it's a reflection of your style, mood, and individuality.
With these free wallpaper apps iPhone at your fingertips, your screen becomes a canvas waiting for the strokes of your personality. Let your device resonate with your essence, and may your wallpaper be the beacon that sparks joy every time you unlock your world.
Cheers to a screen that's uniquely yours!