In a world where our smartphones have become the trusted companions of our daily lives, it's time to ask a burning question: can your phone help keep you safe, even when you're not actively using it? The answer is a resounding "yes," and it comes in the form of smart smoke detectors that sync seamlessly with your iPhone.
These cutting-edge devices are revolutionizing the way we protect our homes, combining advanced safety technology with the convenience and connectivity we've come to expect from our trusty pocket-sized sidekicks. From real-time alerts to intuitive control at your fingertips, we'll explore the best smart smoke detectors for iPhone that make your home not just smarter but safer too.
So, join us on this journey to discover the future of fire safety – because when it comes to protecting your loved ones and your cherished abode, there's no app for that, but there is a smarter way.
Best Smart Smoke Detectors For Smart Homes
Here you will find best smart smoke detectors for smart homes that come with iPhone and iPad apps. You can control these smart smoke detectors for 2024 from your iOS device and get alerts while you are outside your house.
1. X-Sense Smart Smoke Detectors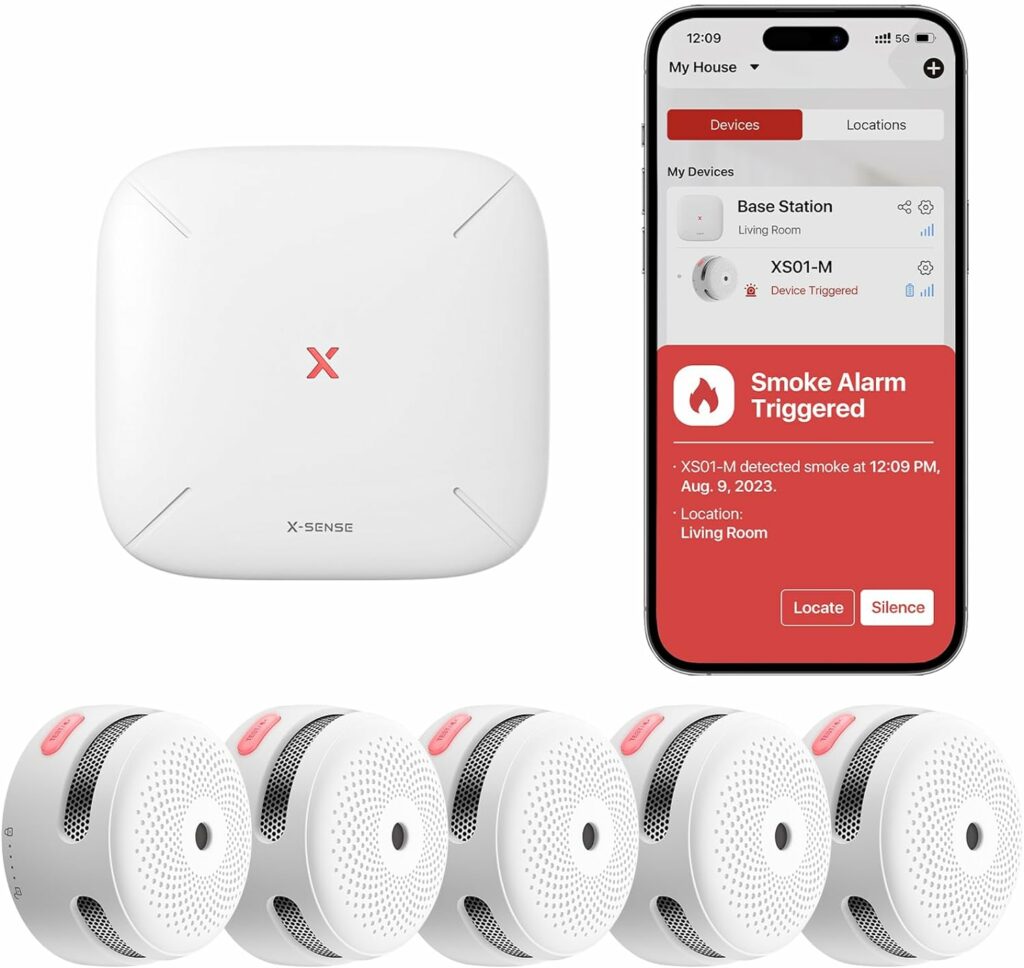 The X-Sense Home Security system is your ultimate shield against unexpected emergencies. With the comprehensive package, you get a SBS50 base station, 5 XS01-M smoke alarms, 1 power adapter, and 1 power cable – everything you need to secure your home effortlessly.
You can expand your safety net by adding up to 50 alarms to the SBS50 base station. This interconnected system means that if one alarm goes off, they all do. Plus, with a remarkable 1700 ft (500 m) open-air transmission distance, your devices maintain a rock-solid line of communication.
And when it comes to smoke detection, you're in the know. Your phone receives a push notification, and all devices, including the base station and alarms, sound simultaneously. That way, everyone at home is instantly aware of the emergency.
Buy X-Sense Smart Smoke Detectors for $39.99 here.
2. Gaoducash WiFi Smoke Detector
Imagine a smoke alarm that's not just your ordinary beeping gadget. It's like having a guardian angel watching over your home 24/7. Meet the iPhone smoke detector that's got your back. It's a smart choice, literally. This sleek device connects seamlessly with your 2.4 GHz WiFi. Once it's in sync with your home network, it becomes your silent sentinel.
Now, when smoke decides to crash your party, this guardian angel doesn't just scream loudly at 85 decibels; it's smarter than that. It sends quick app alerts straight to your phone because, let's face it, the sooner you know about smoke, the faster you can react. No more panicking or fumbling in the dark. It also features a nifty low-battery warning to keep you in the loop.
This guardian angel plays well with others. It's in cahoots with your other Tuya smart devices. You can set up clever scenarios, like making the lights turn red when the smoke alarm goes off.
Buy Gaoducash WiFi Smoke Detector for $24.99 here.
3. Google Nest Protect Smoke Alarm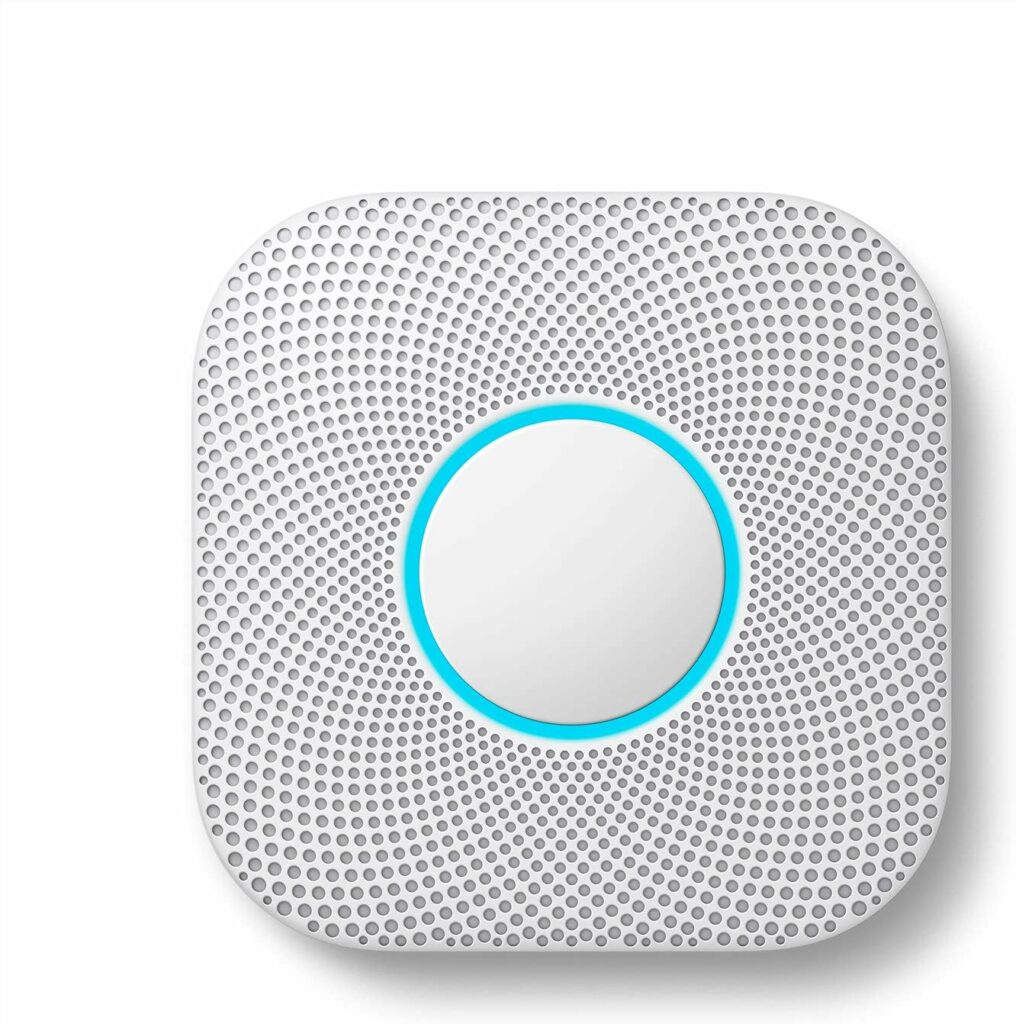 The Google Nest Protect Smoke Alarm is your home's vigilant guardian. It's not just a smoke detector; it's your trusted companion in safety. This smart device goes beyond the beeping and offers you a friendly, informative voice when it senses smoke or carbon monoxide in your home.
Equipped with a Split Spectrum Sensor, it's like having two sets of eyes that can detect both fast-burning and smoldering fires. It tells you exactly where the danger is lurking. No more guessing games when something goes wrong.
And the Nest Protect's smart features don't stop there. It's got your back with a built-in carbon monoxide detector that pinpoints the exact location of the threat. Worried about fumbling around in the dark? Nest Protect has Pathlight, a soft light that guides your way when you walk beneath it.
Buy the Google Nest Protect Smoke Alarm for $119 here.
4. Kidde Smart Smoke Detector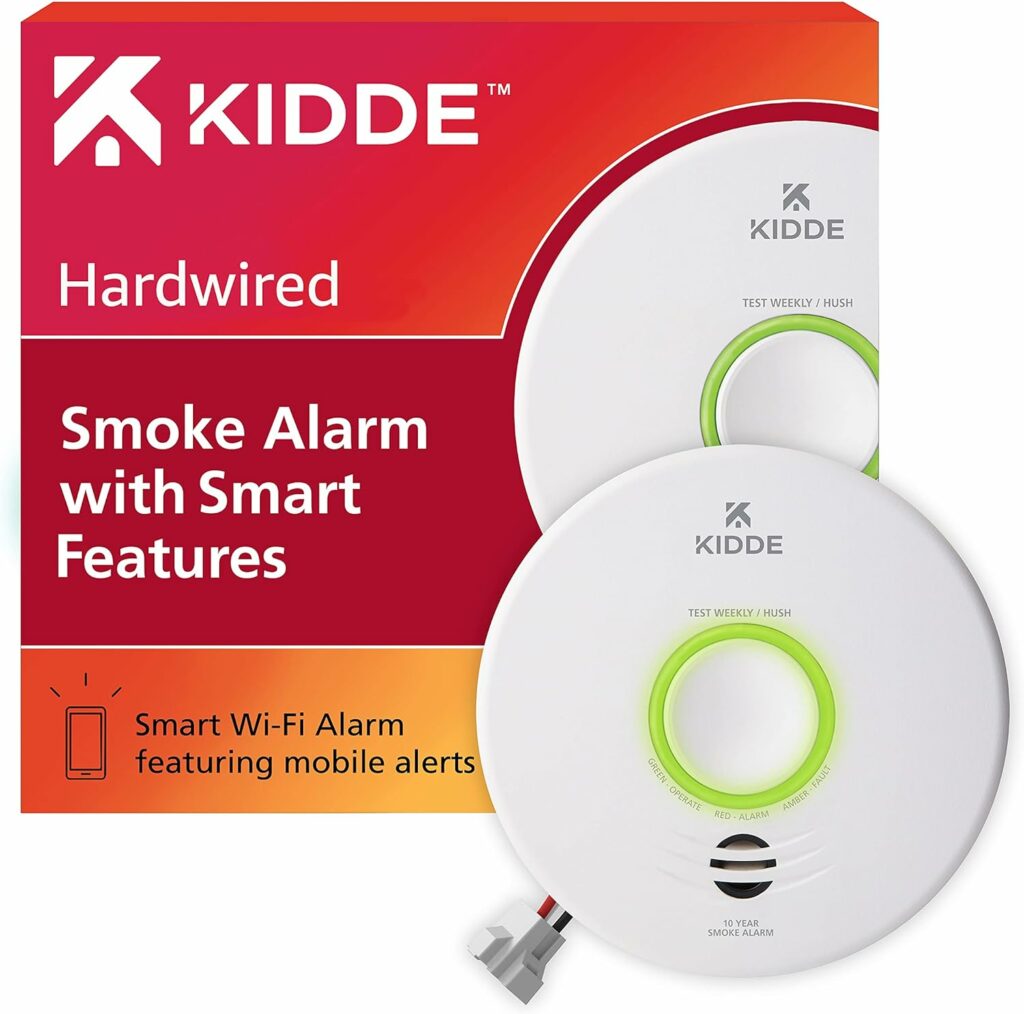 When it comes to alerting you about potential hazards, Kidde Smart Smoke Detector goes above and beyond. Its Voice Alarm doesn't just blare a generic sound; it tells you exactly what's going on. If there's smoke or fire, you'll hear a clear "Fire!" warning. And when it's time for a replacement, it won't leave you guessing; it'll kindly say, "Replace Alarm." Getting started is a breeze – just download the Kidde app, scan the QR code on the back of the detector, and you're good to go.
This one of the best carbon monoxide detectors for iPhone plays nice with other tech, too. It's compatible with Amazon Alexa, Google Home, iPhones, and Android devices, ensuring it fits seamlessly into your smart home ecosystem.
The Kidde Smart Smoke Detector doesn't just make noise; it communicates with you. It boasts an 85-decibel alarm and LED indicators that convey different messages. Green means all is well, amber warns you of an operating error, and red signals a smoke, fire, or carbon monoxide event. Plus, it uses Wi-Fi technology to send notifications not just to your smartphone but also to your friends and family in case of a smoke hazard.
Buy Kidde Smart Smoke Detector for $53.93 here.
5. SITERWELL 2.4G Smart Smoke Detector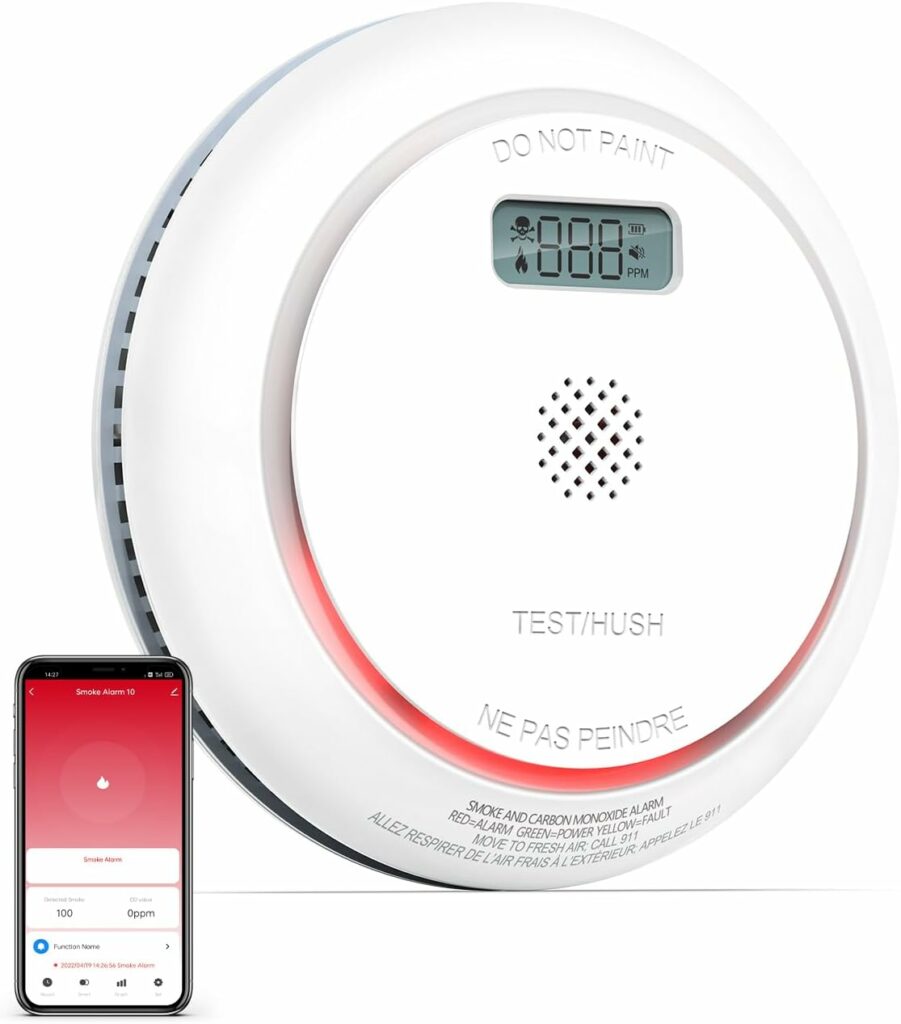 The SITERWELL 2.4G Smart Smoke Detector is your modern shield for home safety! This smart device is designed to keep you in the know and keep your loved ones safe. It connects seamlessly to your 2.4 GHz WiFi, ensuring a strong and stable connection.
When there's smoke in the air, you won't be left in the dark. The smart app sends instant notifications to your smartphone, so you're always in the loop. Plus, it boasts an 85-decibel siren that'll grab your attention and get you moving in the right direction.
What's more, this smart smoke detector takes care of itself. It continuously checks its own circuits, electronics, and battery status, ensuring everything's in tip-top shape. And if there's ever an issue, your trusty smartphone app will let you know immediately.
Buy SITERWELL 2.4G Smart Smoke Detector for $49.99 here.
6. AEGISLINK Smoke and Carbon Monoxide Detector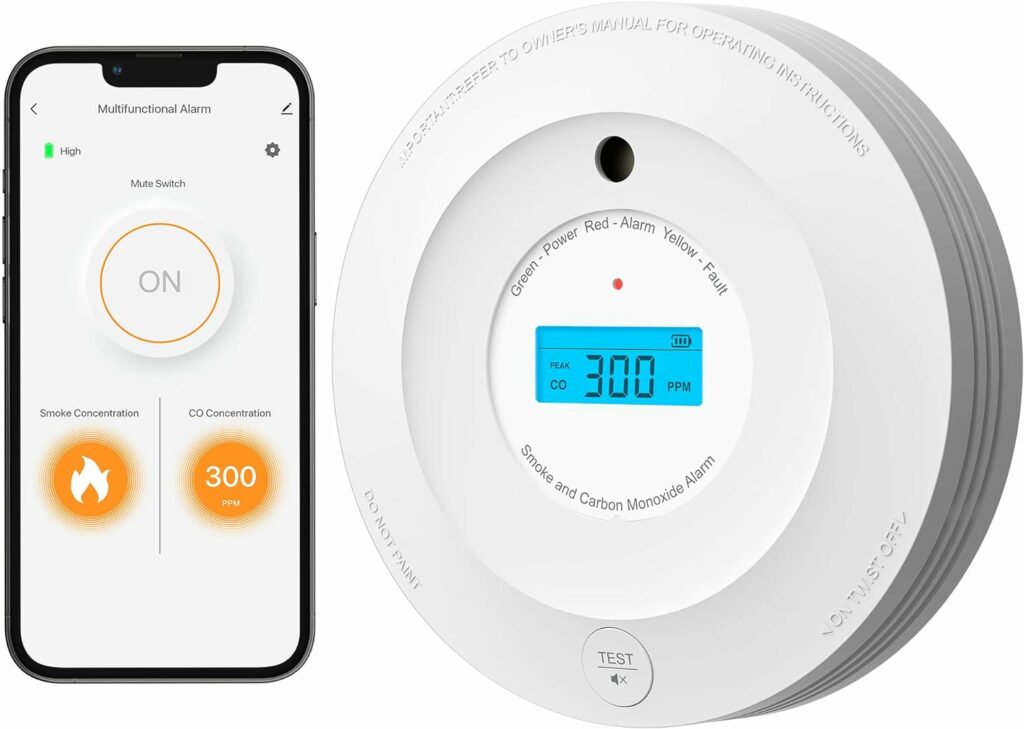 The AEGISLINK Smoke and Carbon Monoxide Detector is a smart, lifesaving addition to your home. This intelligent device doesn't just sit quietly; it's always on guard. It continuously checks its sensors, battery, and Wi-Fi connection, ensuring your safety around the clock. Should a problem arise or a threat be detected, you'll receive real-time push alerts, empowering you to take action promptly to protect your home and loved ones.
This alarm doesn't compromise when it comes to safety. It features a photoelectric smoke sensor and an electrochemical CO sensor, offering dependable protection against both smoke and carbon monoxide. Thanks to advanced photoelectric technology, it can detect smoke more accurately than previous sensor generations, providing an extra layer of safety.
The AEGISLINK alarm is equipped with a replaceable lithium battery, and it'll let you know when it's time for a battery change with a low-battery warning. Plus, a 3-color LED indicator keeps you informed about the device's status at all times: green for normal operation, red for alarm conditions, and yellow for malfunctions or low battery.
Buy AEGISLINK Smoke and Carbon Monoxide Detector for $38.99 here.
7. Siterlink Smart Smoke Detector
The Siterlink Smart Smoke Detector isn't just your average smoke alarm; it's a two-in-one lifesaver. It's equipped to detect both smoke and carbon monoxide, providing you with double the protection. When a threat is identified, it doesn't just blare an alarm; it uses LED lights, a loud siren, and even a voice report to communicate the nature of the danger. This ensures a calm and orderly evacuation.
With the mobile app, you can quickly silence these disturbances without fumbling for a mute button. It's a convenient feature that makes life easier, especially for the elderly.
Safety is paramount, and that's why this Wi-Fi smoke detector and CO alarm is designed with high-quality, flame-retardant, and high-temperature-resistant ABS material. It's completely safe, free from radioactive substances, and poses no harm to your health. Installation is a breeze, and once it's connected to the app, you're ready to go.
Buy the Siterlink Smart Smoke Detector for $67.99 here.
To Conclude
In a world where our smartphones have become the central hub of our lives, it's only fitting that our safety measures catch up with the times. The best smart smoke detectors that work with iPhone are not just gadgets; they are guardians, ever-vigilant sentinels protecting our homes and our loved ones. With the seamless integration of advanced technology and the ease of remote monitoring, these devices bring a new level of peace of mind to our lives.
So, as you explore the world of the best smart smoke detectors 2024, remember that they're not just about convenience; they're about a safer, smarter future.