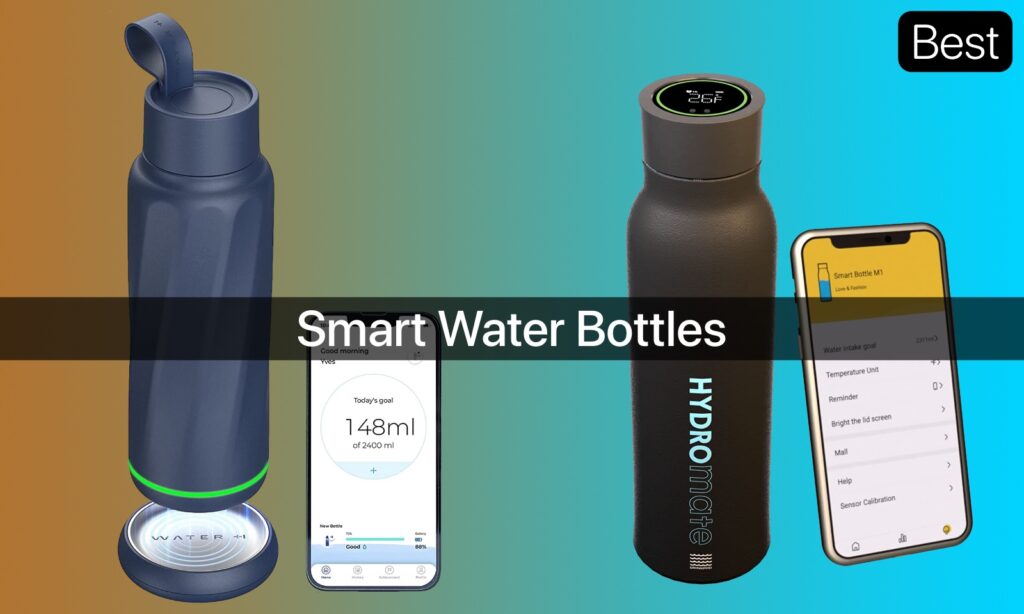 Being hydrated is essential for maintaining a healthy lifestyle, as well as keeping yourself fit. Drinking water doesn't mean you must consume it constantly. You don't need to drink water continuously. The key is to remember to drink water at regular intervals, and you won't have to worry about dehydration. The solution lies in the best iPhone smart water bottle.
Never again will you think of a glass of water the same way. A smart water bottle with iPhone app offers the same digital experience you'd expect from a large appliance. Hydration becomes fun again with the best smart water bottle, which provides light-up notifications that remind you to drink.
There are smart water bottles that come with UV technology that self-cleans, charging ports for other devices, and Bluetooth speakers.
Best Smart Water Bottle with Drink Reminder
Today, there are a multitude of smart water bottles available in all shapes, sizes, materials, and technologies. Some water bottles offer all sorts of bells and whistles, but they may not quite fit your lifestyle. Occasionally, you just need the motivation to drink more water.
At the end of the day, a smart water bottle has done its job if it just makes you want to drink more and is Bluetooth-connected, which tracks how much you drink (welcome to the future).
Here are some of the suitable options to track water intake with smart water bottle.
1. WateReminder Smart Water Bottle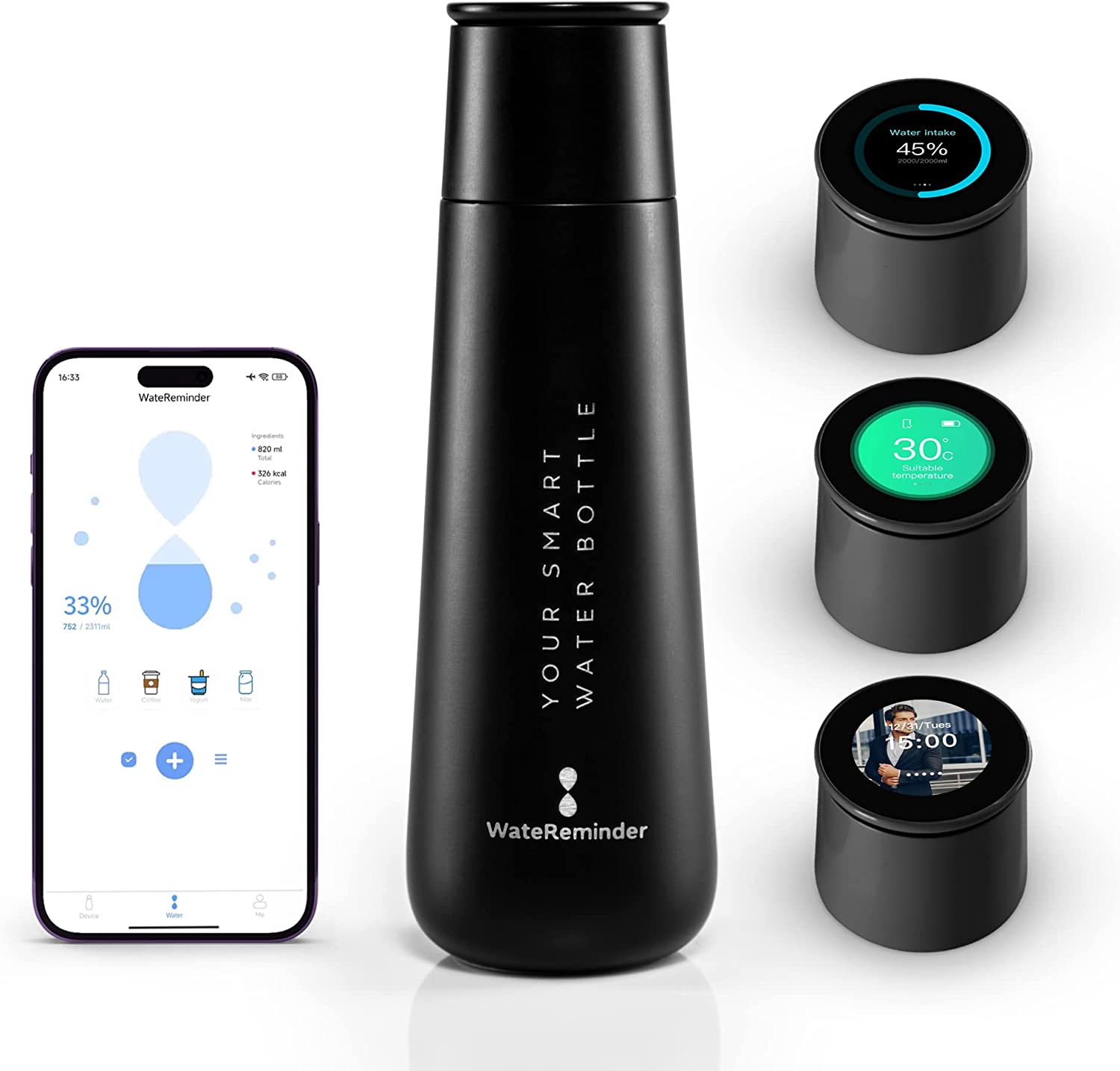 With this Smart Water Bottle, you can track water intake through an app available on Android or iOS devices. In the market, there is no better stainless steel water bottle than this one. You can use it for different types of beverages (coffee, milk, tea, juice).
This drink reminder water bottle comes equipped with a high-definition touch-sensitive LCD screen display interface, a menstrual cycle reminder for women, a temperature display, a Pomodoro timer, and a drinking water reminder in addition to the temperature display.
An innovative three-sensor system (temperature sensor, drinking water detection sensor, six-axis acceleration sensor, and gyroscope) and APP help you develop a healthy drinking habit. With the water bottle, you can record yearly, monthly, and daily drinking records, and you can even detect the quantity of water you consume in real-time.
The charger uses magnetic adsorption, is current-protected, and you won't need to open the cover, so it's very convenient to charge the bottle. Besides, it takes an hour to charge and lasts for ten days.
Buy WateReminder Smart Water Bottle for $75 here
2. DRINKPOD Hydromate Smart Water Bottle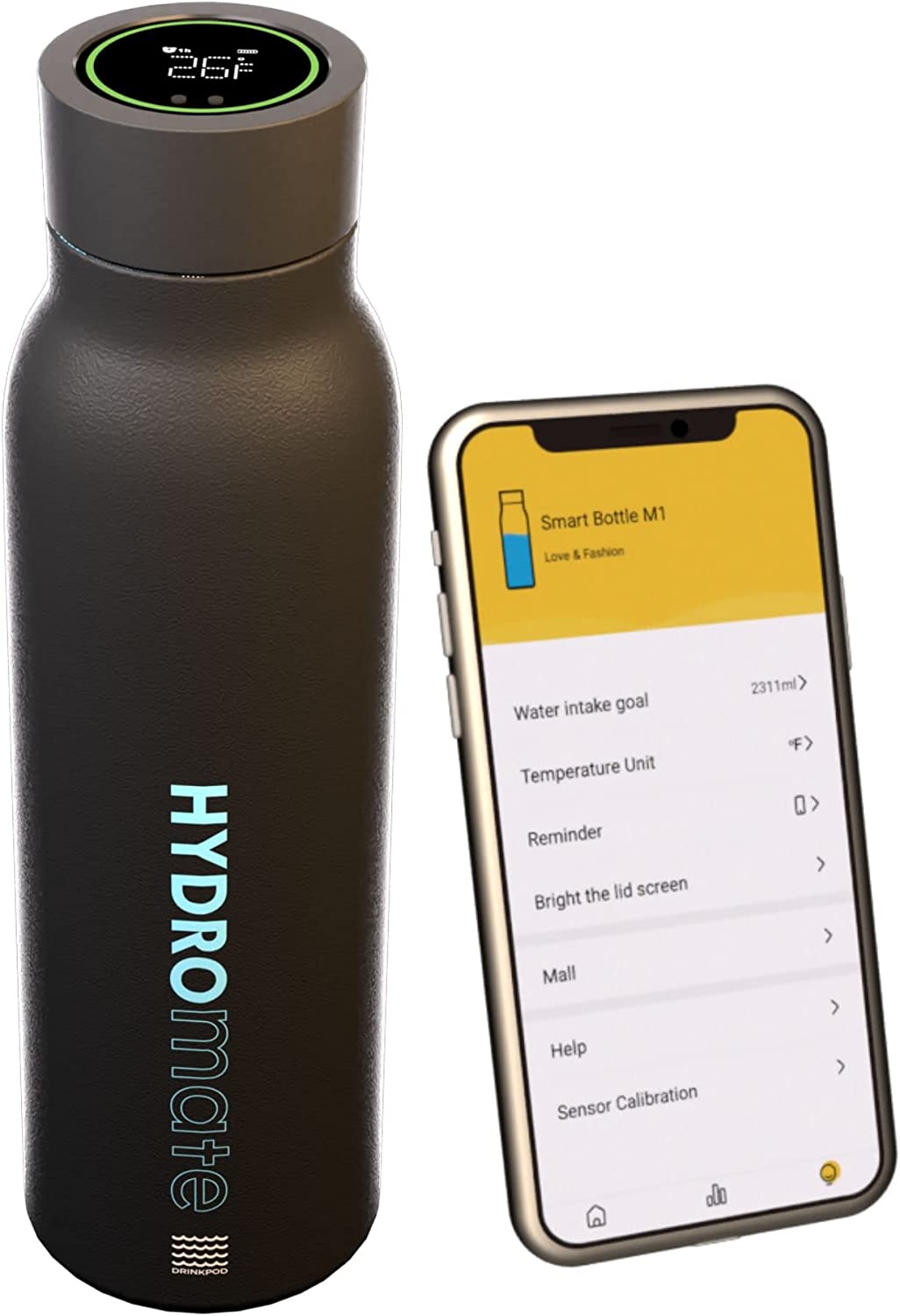 The Hydromate Smart Bottle is a water flask and sports water bottle that connects to an app, allowing you to create personalized hydration targets based on your body structure and track your water consumption in real time. This feature makes it a smart water bottle that genuinely helps you unlock your hydration potential and reach your hydration goals. The insulated bottle features vacuum-sealed technology to keep your water at the perfect temperature for up to 24 hours.
The Hydromate Smart Bottle is a vacuum-sealed water bottle that features automated drinking reminders to help you stay on track with your hydration goals. This ensures that you never forget to drink water again, even when you're busy and on the go.
With a 20 oz. capacity, the Hydromate Smart Bottle is the perfect insulated water bottle for all-day use and can hold enough water to keep you hydrated throughout the day. No more refilling, no more interruptions, just hydration on-demand.
Designed to keep drinks cold and hot for up to 12 hours, the Hydromate Smart Bottle keeps drinks cold for 24 hours and hot for 12. No matter where you are, whether on a hike or at the beach, you will always have the perfect temperature drink.
With a touchscreen display and a sophisticated magnetic charging system, the Hydromate Smart Bottle lets you monitor your hydration status and track your hydration progress easily. With this smart water bottle, you can live a healthier, more convenient, and easier life.
Featuring an easy-to-carry design and a vacuum-sealed water flask, the Hydromate Smart Bottle is ideal for those on the go. While it is slim, it has a high 20 oz capacity, making it suitable for long-term use and keeping you hydrated.
Buy DRINKPOD Hydromate Smart Water Bottle for $58 here
3. WaterH Smart Water Bottle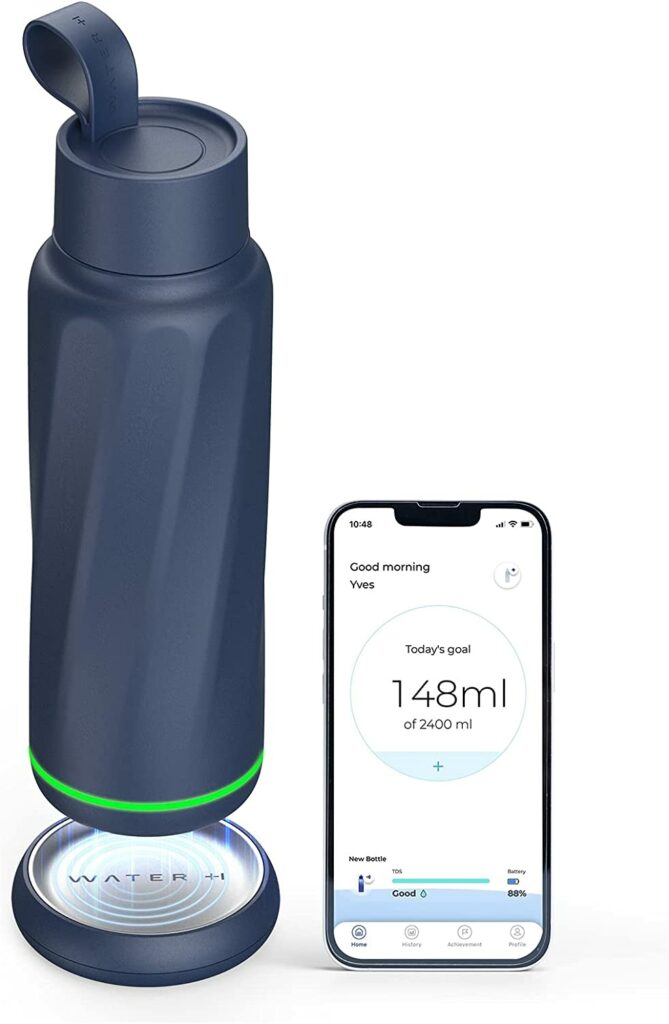 As one of the best smart water bottles on the market, the WaterH Smart Water Bottle automatically detects your hydration level. WaterH gives you personalized hydration goals based on your weight and activity level so you can stay hydrated.
Featuring a 360° LED Hydration Reminder, the WaterH Smart Water Bottle reminds you to drink water at the right time, so it's the perfect smart water bottle. Using the WaterH app, you can customize reminder frequency and preferences to meet your hydration goals.
WaterH Smart Water Bottle incorporates a TDS (Total Dissolved Solids) sensor meter to monitor water quality, making it a top smart water bottle that tracks water intake.
Each WaterH Smart Water Bottle is designed for performance, with long-lasting power and a durable battery that can last for days. The WaterH Smart Water Bottle helps you stay hydrated throughout the day, whether you're on a hike or at your desk.
The WaterH Smart Water Bottle is perfect for any adventure thanks to its durable construction and stylish design.
Buy WaterH Smart Water Bottle for $62.99 here
4. VSITOO Insulated Sports Water Bottle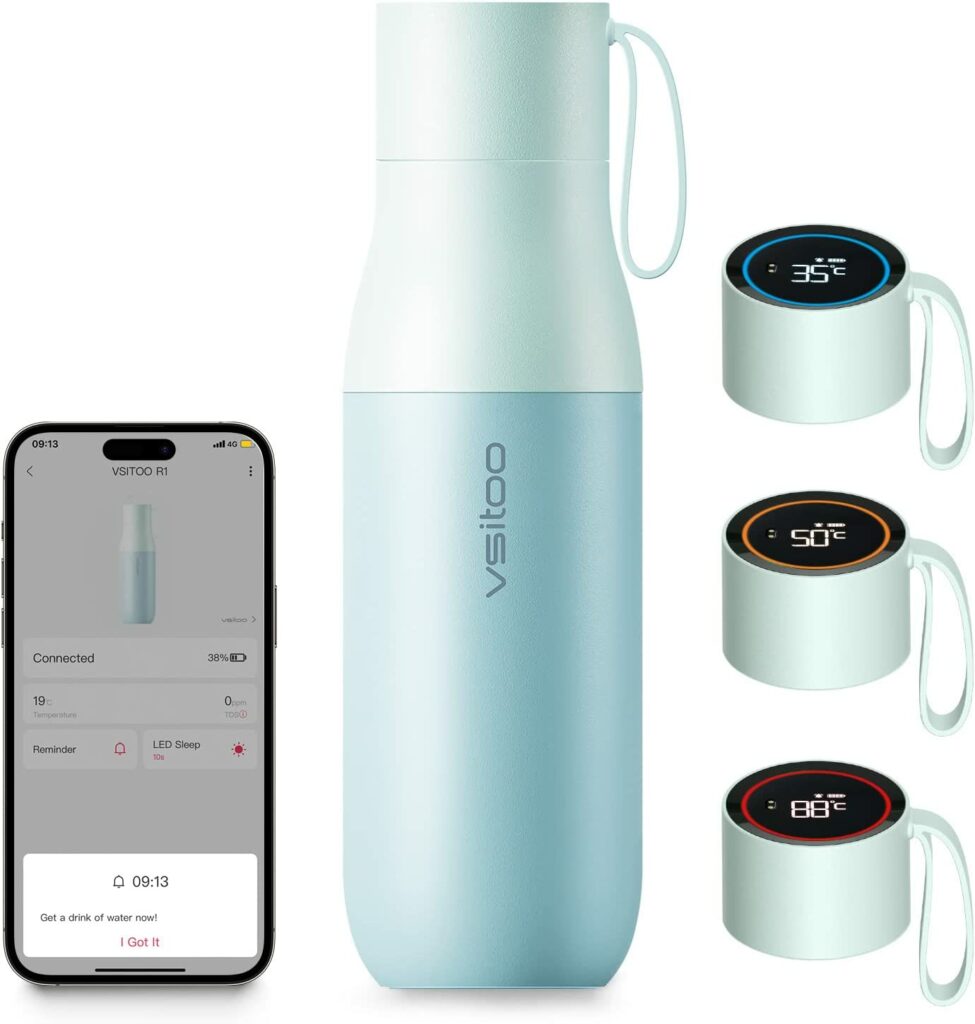 It has a waterproof LED display, a low power consumption, and it can last several years without a battery change! You can see the temperature of the water inside the thermos immediately by pressing the top of the thermos softly. This prevents embarrassment and burns.
You can use the Smart Bottle for up to 10 days with its magnetic USB charging port and rechargeable battery.
The inner and outer wall is made of high-quality food-grade stainless steel. In addition, they have silicone bottoms to prevent sliding and spilling. Other components of these travel mugs are made from BPA-free PP, food-grade contact silica gel, and 100% co-polyester plastic that is safe and healthy.
With this sleek, beautifully crafted, long-lasting bottle, you won't have to compromise fashion and functionality.
Buy VSITOO Insulated Sports Water Bottle for $49.99 here
5. Caracas Canteen Modern SMART Sports Water Bottle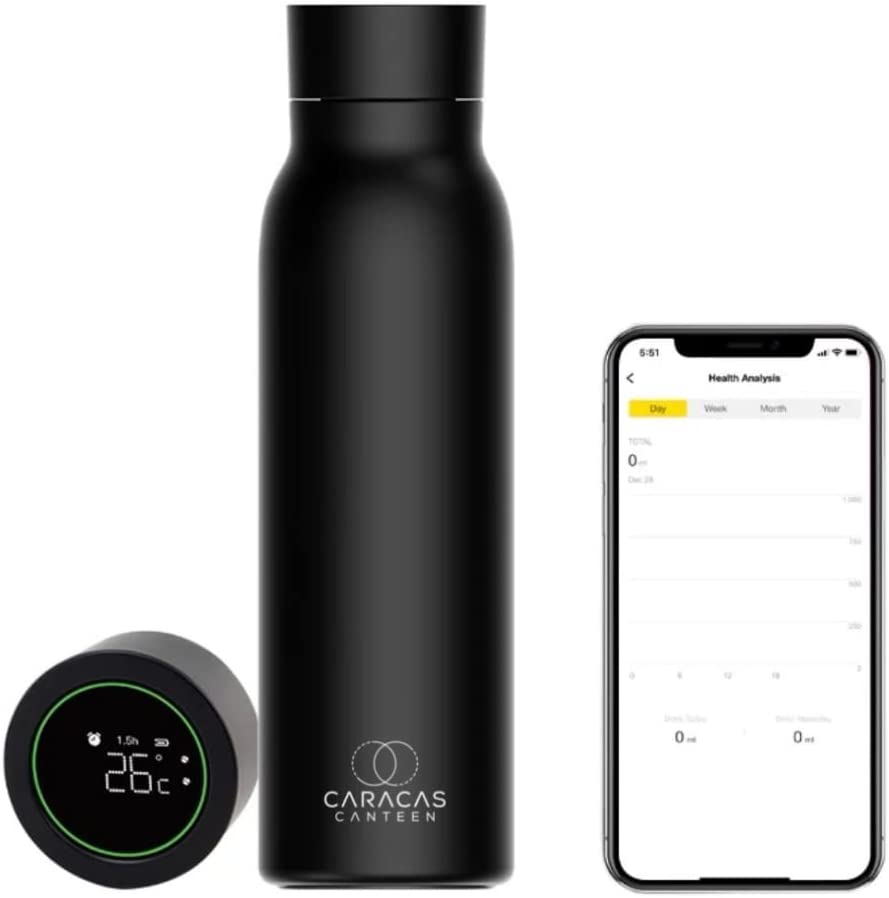 Tracking your water intake has been proven to be an effective method for increasing your overall water intake. If you keep track of the amount of water you drink every day, you can quickly identify areas where you may be falling short and adjust accordingly. In addition, tracking your intake helps you stay motivated and accountable, helping you achieve your hydration goals.
The Caracas Canteen Modern SMART Sports Water Bottle and App combo keeps track of your hydration habits wherever you are. It tracks your water intake throughout the day, so you'll never forget to drink it again.
Make your own hydration goals and keep track of them with a customizable water bottle and its integrated setting alarm mode every one h, 1.5h, or two h.
The bottle is eco-friendly and equipped with the SMART temperature display plus Visualized drinking water statistics.
Hydrate more with your Caracas Canteen to boost cognitive function and improve concentration and memory!
Buy Caracas Canteen Modern SMART Sports Water Bottle for $79.50 here
6. SOLARA Motivational Water Bottle with Straw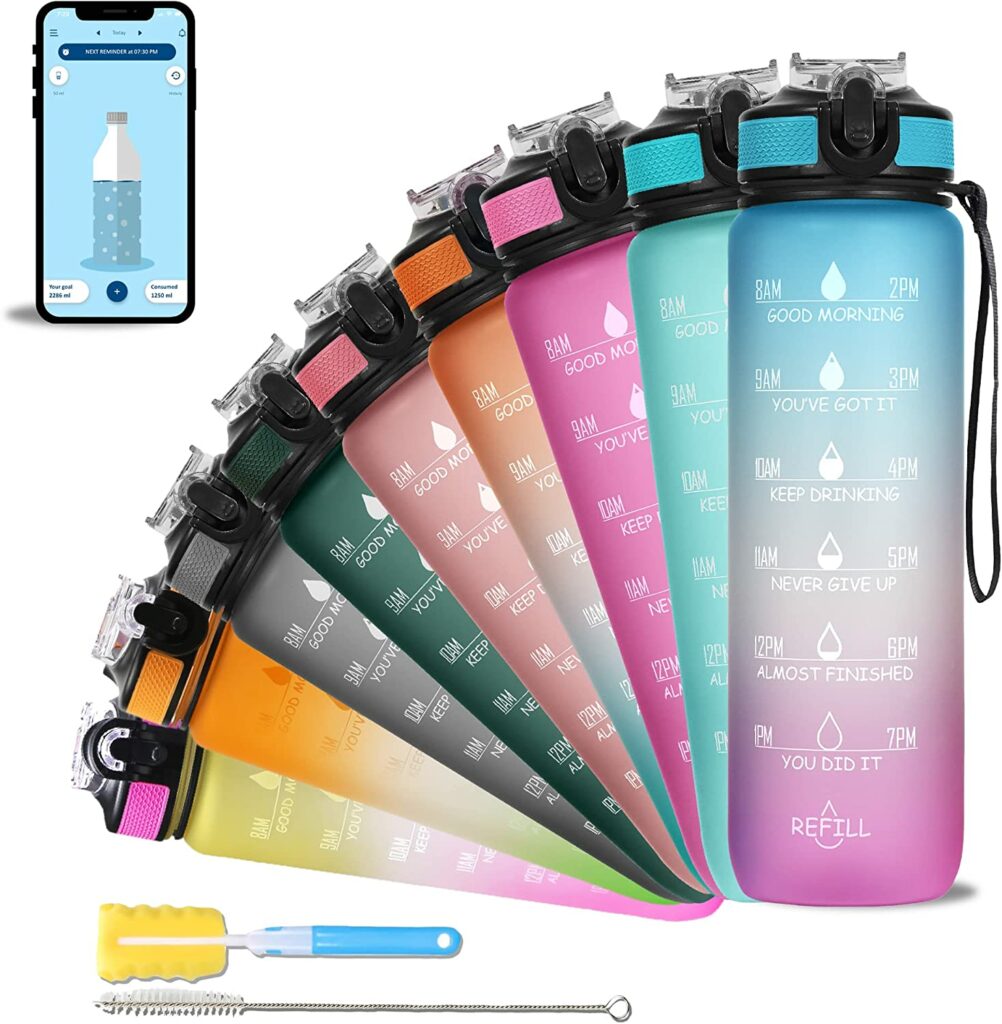 The water bottle includes an inspirational quote and time markers so that you can keep track of your daily water intake and stay hydrated all day long. It's essential for anyone trying to lose weight, control their appetite, or improve their overall health.
There is a secure lock on the flip-top lid, which prevents dust and leaks. With a silicone straw, you can enjoy spill-proof drinking. It is easy to clean, and the mouth is wide enough to accommodate ice cubes.
Using high-quality tritan co-polyester plastic, this water bottle is 100% BPA & TOXIN FREE, odorless, and safe to use. It is perfect for homes, offices, gyms, and outdoor sports
In spite of its 32oz capacity, this motivational water bottle remains lightweight enough to make it easy to carry wherever you go. In addition, it fits easily in the cup holders in cars and into the bottle holder on backpacks.
Buy SOLARA Motivational Water Bottle with Straw for $14.99 here
7. Hidrate Spark PRO Smart Water Bottle
You can track your water intake with the free iOS & Android app that uses the LED smart sensor puck to remind you when to drink.
In addition to keeping drinks cold for up to 24 hours, this vacuum-insulated stainless steel bottle also prevents sweating. Also, the top-rack dishwasher-safe lid makes cleaning easy.
With the app, you can choose from custom glow colors and exciting light patterns to make it your own.
You won't have to worry about your bottle being missing with the HidrateSpark App; which includes a fast-charging cable so you don't miss a drop
Using the Hydration Equation, you can calculate your daily water goal based on your personal factors, such as age, height, weight, sex, elevation, and exercise. The result is optimum health through proper hydration.
Buy Hidrate Spark PRO Smart Water Bottle for $69.99 here
Stay Hydrated!
Even though each smart water bottle on our list is excellent, what matters most is what you prefer. What kind of smart features would you like to see in your best smart water bottle? Are you more interested in tracking your hydration or in portable charging? It is also important to consider how much money you are willing to spend, as well as your ideal water capacity.
Choose any of the above-mentioned bottles because now you never have an excuse to forget to drink water – unless your phone runs out of battery, of course.
How many glasses of water do you drink in a day? Share with us in the comments section.