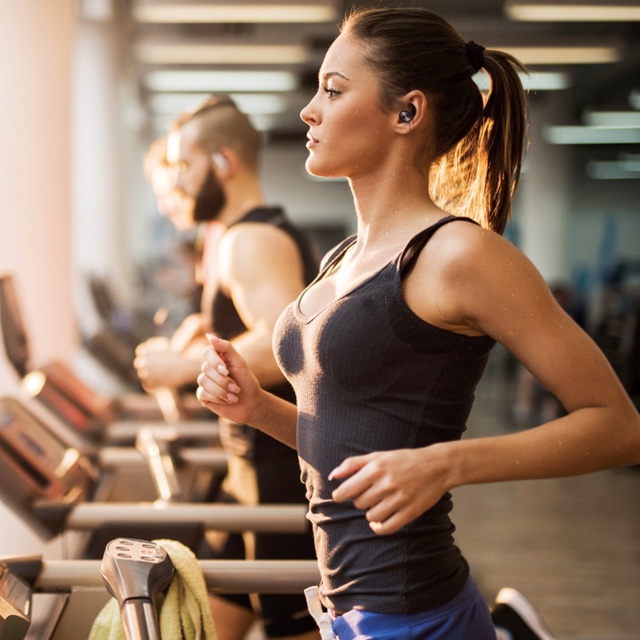 Truly Wireless headphones have quickly become the most wanted smartphone accessory for many users. Thanks to lack of a headphone jack on the iPhone 7 and growing market trend towards wireless Bluetooth headphones, accessory makers are inclined to release affordable truly wireless headphones that not only connect nicely but also sound good. Sure there are many high-end options out there, however not everyone wants to spend upwards of $200 on a piece of technology that they might quickly lose.
If you are someone who wants to try out the new truly wireless headphones but don't want to spend big amount of money on them, then we have got you covered. In this article we will show you the best truly wireless headphones under $100 that you should consider buying in 2017. All of the options mentioned here work well with the iPhone and offer a 'truly wireless' experience to the user. Without any further ado lets get started with our roundup of best truly wireless headphones.
1. AXGIO Dash True Wireless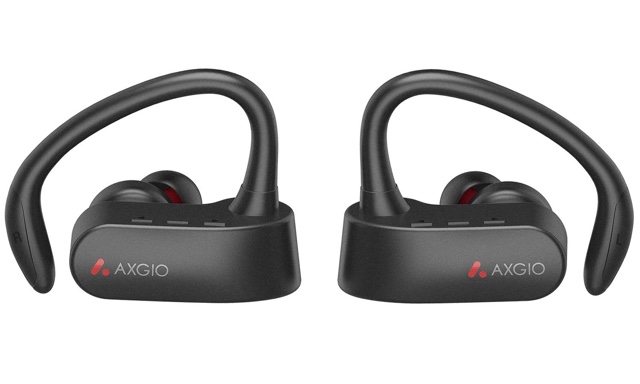 AXGIO Dash True Wireless Headphones are just like any other wireless bluetooth speaker that offers cordless design but with a twist. These headphones feature a design similar to the Beats Powerbeats complete with ear hooks that make sure the headphones don't fall off when you are using them during workout. Speaking of using them during workouts, these headphones are sweat-proof. AXGIO Dash True Wireless headphones use Bluetooth v 4.2 for connectivity. They sound quite decent for the price they are available at. You get noise isolation feature with these headphones that allow you to enjoy your music and use them for calling without any issues. They offer a 95mAh polymer battery that can give you up to 8 hours of music playing time at 50 percent volume.
But here's the twist we talked about earlier, what makes these wireless headphones different from others is that you can also use the two headsets as individual Bluetooth headphones. So you can either pair them together and use them like a normal pair of headphones, or use them separately even with different devices. You can buy AXGIO Dash True Wireless headphones for $49.99.
2. GRDE Bluetooth Earbuds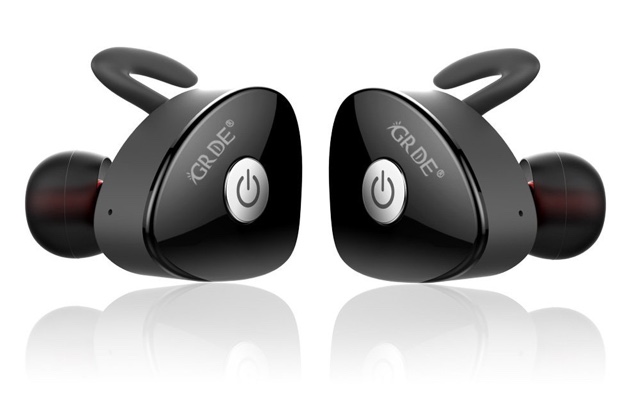 The GRDE Bluetooth Earbuds come with a beautiful design that is complemented with a BeatsX-like wing tips that provide extra secure fit, making them good for workouts. The headphones connect with the iPhone using a Bluetooth 4.1 based connection. Features offered by GRDE Bluetooth Earbuds include stereo sound, single and double ear modes making it possible for users to use them together as well as separately. They are sweat-proof, offer 3-5 hours of running time with 125 hours of standby. For controls the headphones takes a one button for all approach by offering pairing, play/pause, answer or reject calls with just one button. You can buy GRDE Bluetooth Earbuds for $47.99.
3. Jabees 

True Wireless Stereo Bluetooth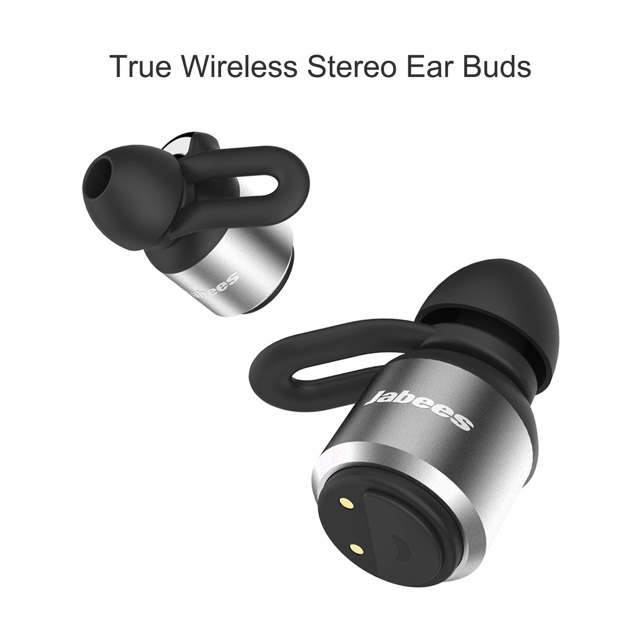 The Jabees True Wireless Stereo Bluetooth headphones barely made the cut to our list of best Truly Wireless Headphones under $100 with its price tag of $99, but the device is worthy of being in this list for a number of reasons. It features a beautiful aluminum design that is lightweight, waterproof and comfortable. For extra grip the Jabees come with wing tips making them perfect for workouts. These headphones come with a carrying case that has a battery capacity of 450mAh, which can recharge the headphones 4 times on single charge. The headphones themselves work for up to 4 hours on a single charge. They support iPhone, iPad, iPod touch and Mac. You can buy the Jabees True Wireless Stereo Bluetooth headphones for $99.
4. SmartOmi Boots Mini Wireless Earbuds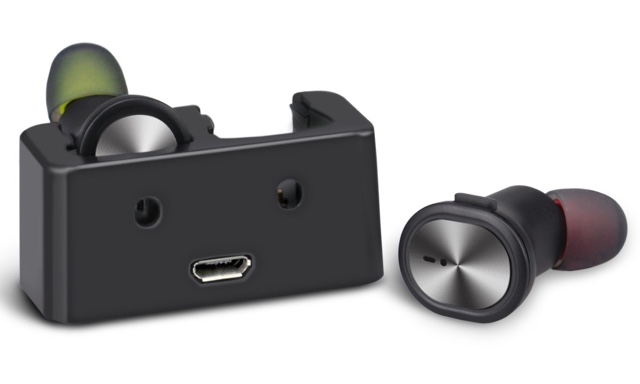 Next on our list of best truly wireless headphones under $100 are SmartOmi Boots Mini Wireless Earbuds. They feature a good design, rich sound, sweat-proof capability and more, making them perfect for all sorts of activities. You can use them to talk to Siri or Google Now with press of a button. Just like some other choices in this list you get the ability to connect one or both headphones based on your requirement. While these headphones don't come with a charging case, they offer up to 5 hours of continuous music playback on a single charge with a standby time of 200 hours. You can buy them for $70.
5. Kinnara QCY Mini Dual Bluetooth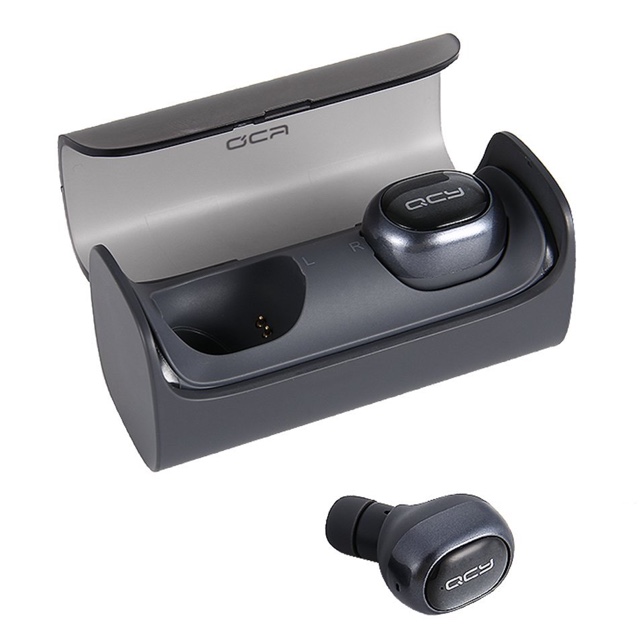 Last but certainly not the least on our list of best truly wireless headphones under $100 is Kinnara QCY Mini Dual Bluetooth headphones. These headphones look very similar to the high-end headphones of this type and even come with a charging case that greatly extend the time you can use them before having to plug them to a wall charger. Each headphone when fully charged will run up to 2-3 hours before you have to put them in the case for recharging. The case itself is capable of storing battery that can run the headphones for up to 12 hours of music listening.
The headphones use Bluetooth 4.1 for connection, offer stereo sound, have a built-in microphone for calls, have a fully cord-less design that is made to fit in user's ears comfortably for long periods of time. Perhaps the best thing about these headphones is their price as they are available for $65 in the market.
So there you go folks, these are the best truly wireless headphones under $100 that you should buy if you are on a budget. Let us know what you think about these headphones in the comments section below.