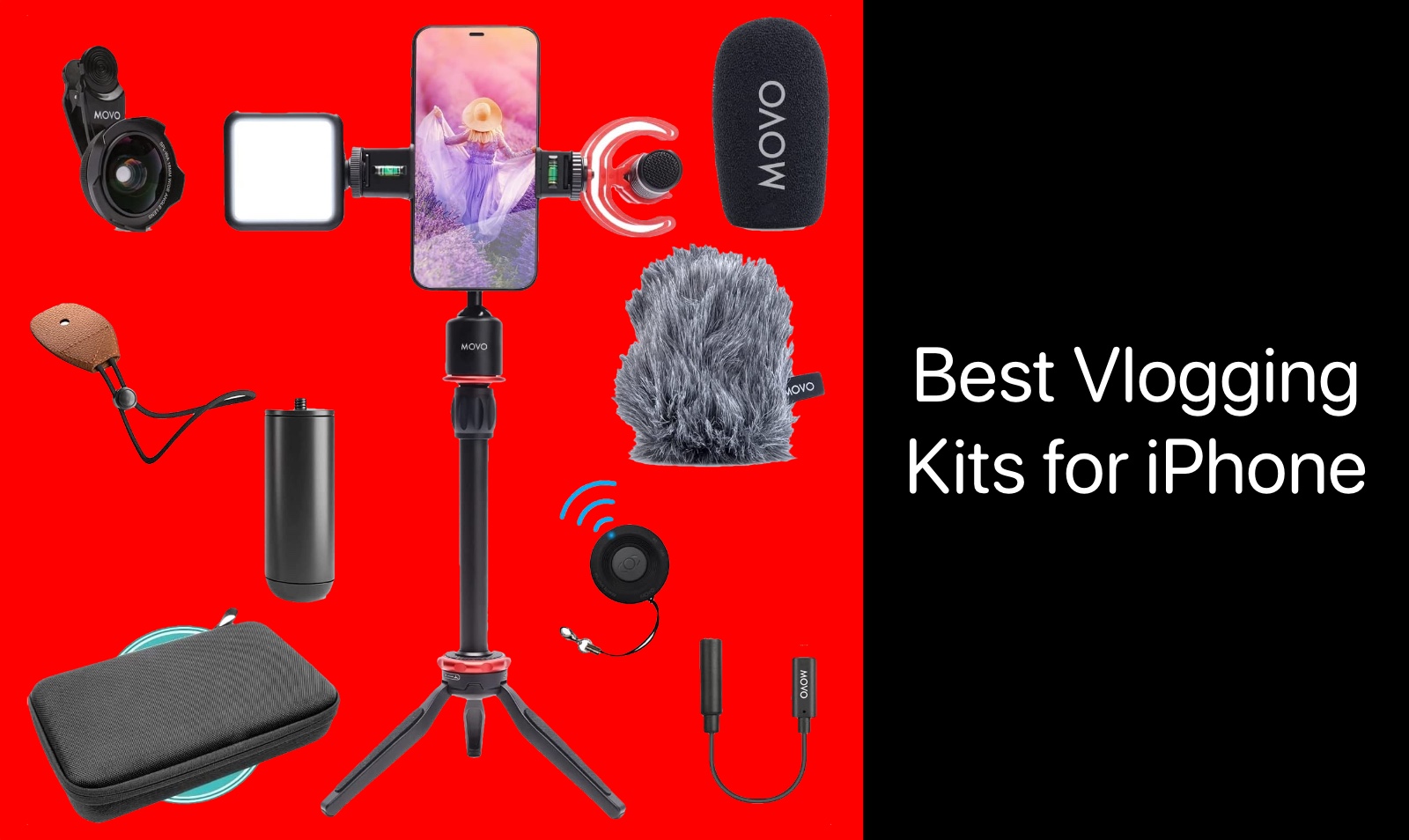 Want to start your own vlog? Are you looking for the best vlogging kit with a mic, light, and stand for iPhone? When it comes to creating the perfect vlog and getting your message out there, the right equipment can make all the difference. Check out this list of the best vlogger kits for iPhone and make sure you have all the gear you need for a successful vlog.
To get started, you do not need much, especially if you already have a smartphone. The smartphone is probably the most convenient way for beginners to begin creating content, but action cameras, small digital cameras, and compact mirrorless cameras are equally useful – and they won't run you broke.
Here are some of the best vlogging kits for all kinds of budgets to get you started vlogging with iPhone 14.
Only want the best microphone for iPhone or iPad? Then check our list.
Best Vlogging Kits for iPhone
The market is flooded with options to choose from when it comes to the best vlogging kit for smartphones. Since there are so many products available on the market, deciding which is the best option can be difficult. 
Here are the 7 best iPhone vlogging kits options that you should consider before making your purchase:
1. Movo iVlog1 Vlogging Kit for iPhone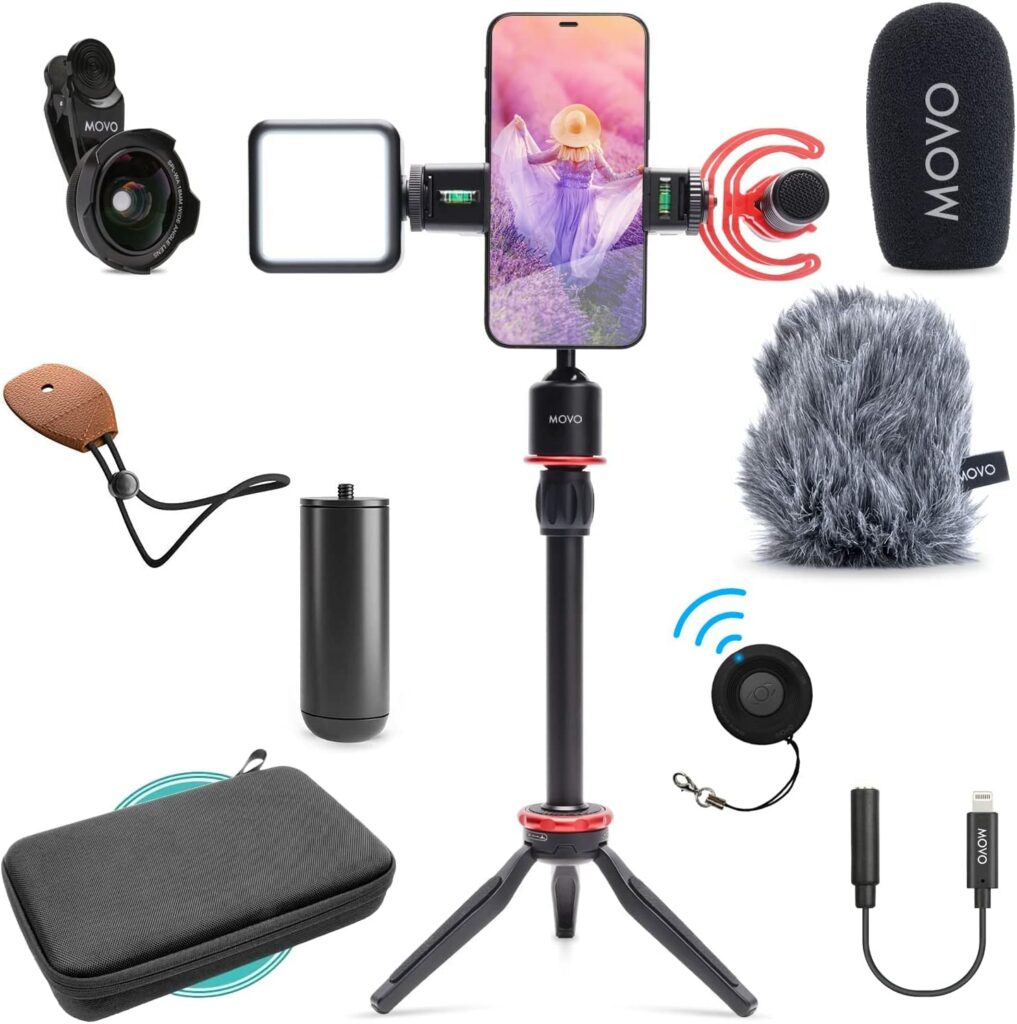 The Movo vlogging kit includes the VXR10-PRO Cardioid Microphone with Shock Mount and Windscreen, the MV-T1 Tripod, the PR-3 Phone Holder for Video Recording, the LED-XS Panel Light, and the SPL-WA Wide-Angle Lens.
With its super-cardioid polar pattern, the VXR10-PRO shotgun microphone captures sharp, directional sound with no background noise.
There are five brightness settings available on the LED-XS, so you can get the right light for any situation.
The bottom line is, it is an ideal vlogging kit, especially for beginners.
Buy Movo iVlog1 Vlogging Kit for $129.95 here
2. USKEYVISION Smartphone Vlog Microphone Video Kit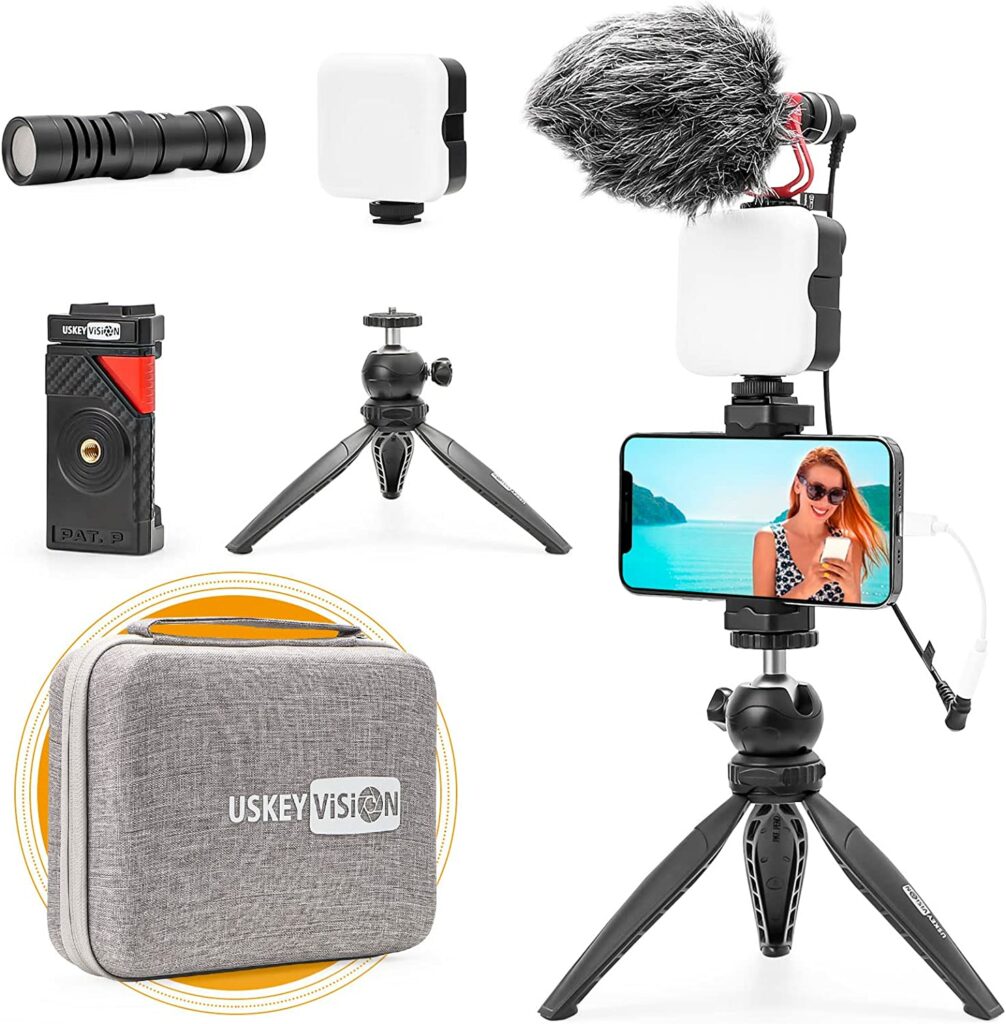 The USKEYVISION VLOG K2 is designed specifically for vlogging with iPhone 13 or a camera. Get rid of complicated, expensive filming setups. You can effortlessly take vlogging and travel videos with the Vlog K2 phone video kit, whether you're starting a YouTube channel, using TikTok, interviewing, or creating vlogs.
You can record audio clearly with a windscreen dead cat to enhance video performance. The Noise Reduction Microphone reduces background noise significantly, resulting in crisp, clear audio recordings without interference from external noises.
Featuring an adjustable brightness UVZL-S video light with a built-in rechargeable battery of 2000mAH. Easily adjust your lighting from 1% to 100% brightness to get the perfect setup for you. Due to its 2000mAH built-in rechargeable battery, it will ensure you have light anytime anywhere, even without electricity.
Buy USKEYVISION Smartphone Vlog Microphone Video Kit for $57.99 here
3. ULANZI Smartphone Vlogging Kit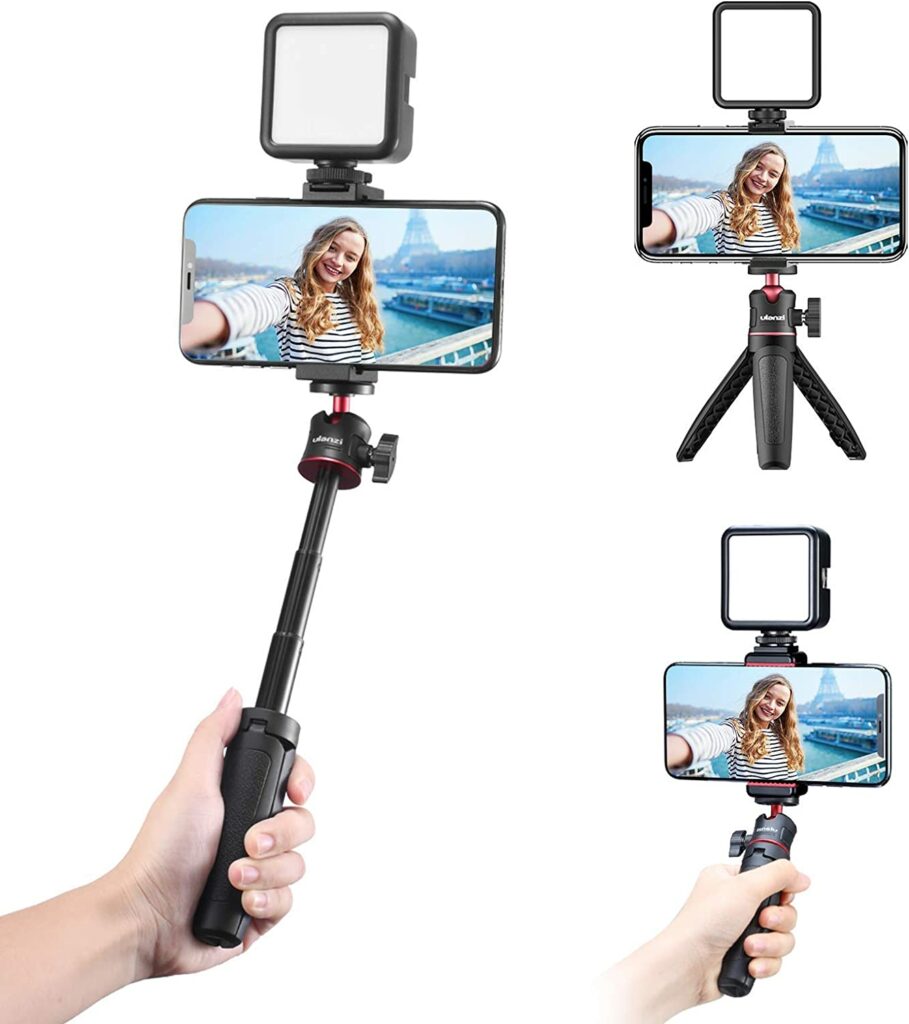 YouTubers, Instagrammers, and Tiktokers who regularly live-stream or record videos using their smartphones will love this ST-02S Vlogging Kit, which allows them to get stable pictures and advanced lighting.
It brightens you up even in the dimmest environments and brings out your natural skin tone. With a 360°rotation tripod, you can find the perfect shooting angle, whether you're shooting people, landscapes, high angles, or low angles.
You can adjust the brightness from 5 levels, resulting in a brighter and softer video light. An integrated 2000mAh lithium battery provides a maximum brightness output of 120 minutes and a minimum brightness output of 300 minutes.
Buy ULANZI Smartphone Vlogging Kit for $39.95 here
4. Docleen Vlogging Kit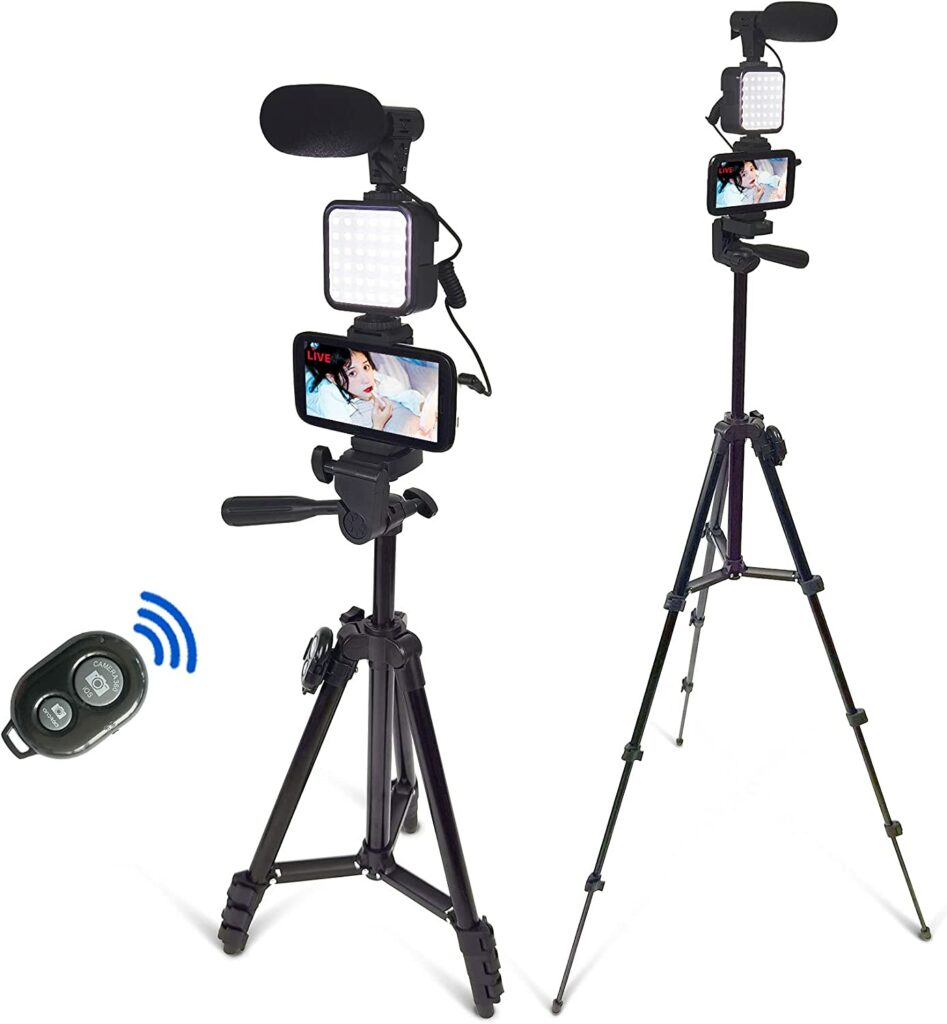 Docleen Vlogging Kit can be used for video conferencing, remote online working, zoom meetings, self-broadcasting, live streaming, YouTube video, and TikTok.
There are three leg locks on this tripod. In fact, it can be extended to a length of 50 inches with ease.
The light will enhance the video quality effectively. Featuring 36 LED lights, it can be adjusted to fit any environment.
In addition, this vlogging kit has a remote controller. The remote controller allows you to take photos and videos.
Also, it comes with a professional microphone, so you can hear the clear sound outside. In contrast, if you are using an iPhone, you will need to use an audio adapter.
Buy Docleen Vlogging Kit for $45 here
5. NEEWER Universal Phone Video Rig Kit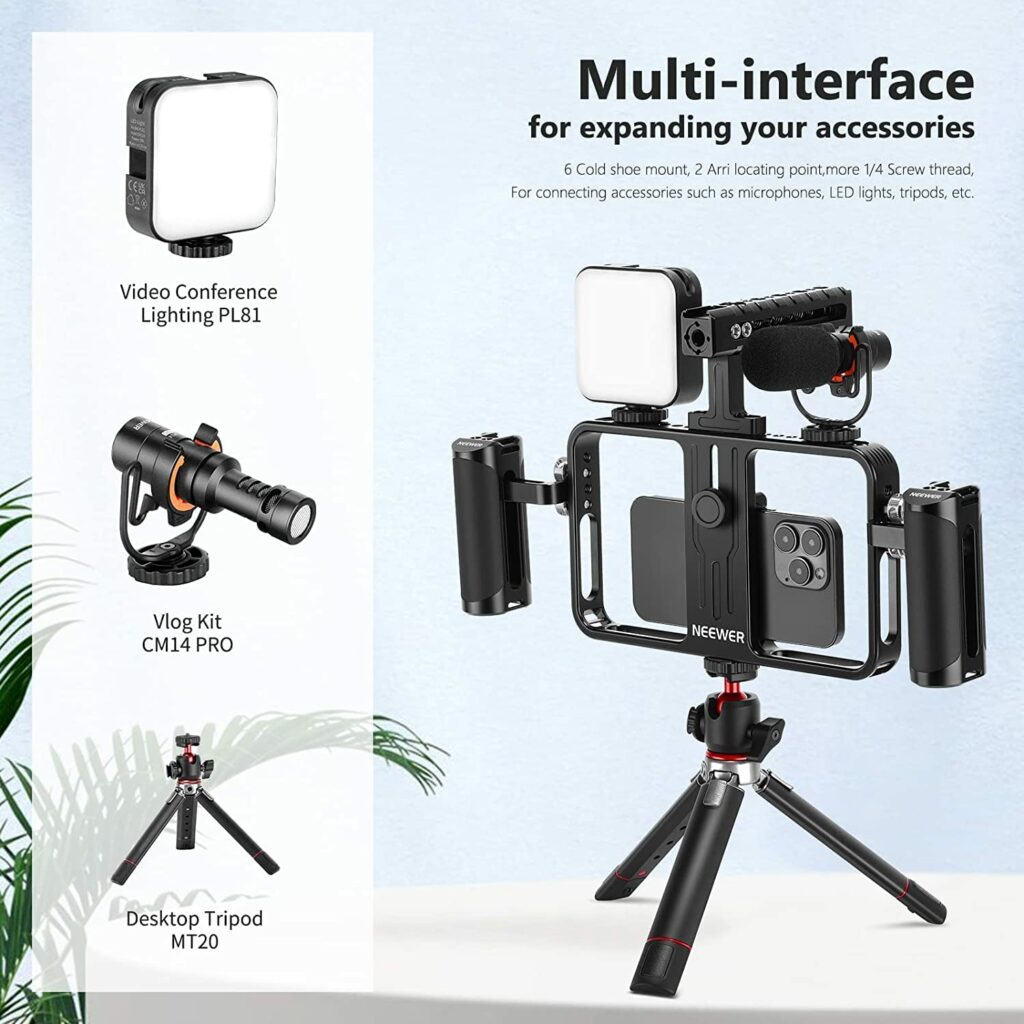 Video production is already one of the most popular uses of your phone. Everyone uses it daily to capture life's precious and cherished moments, edit them, and share them. Designed for filmmakers, YouTubers, and vloggers, the Neewer smartphone video rig provides mounting options for additional accessories.
This mobile phone video rig is compatible with most smartphones, including iPhone 14 Plus 14 13 Mini Pro Max Samsung Galaxy S20 5G.
This kit comes with two side handles and a top handle for more comfortable and stable phone shooting. You can shoot low angles more easily with the top handle.
In addition to six cold shoe mounts, it has two standard mounting points and multiple 1/4″ threaded holes for attaching accessories like the CM14 PRO microphone, the PL81 LED light, and the MT20 tripod.
Buy NEEWER Universal Phone Video Rig Kit for $105.99 here
6. SmallRig Universal Phone Video Rig Kit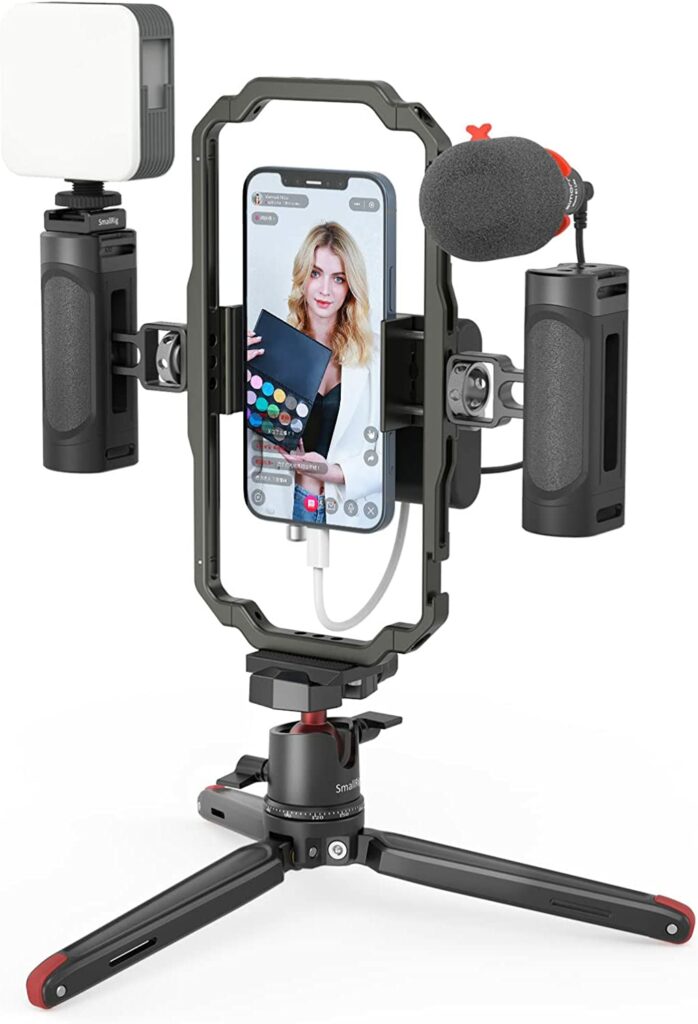 A professional phone video rig kit like the SmallRig 3384B is specially designed for video blogging and live streaming. You can shoot from either a handheld camera or a tripod, according to your preference. Kit contents include a universal phone cage 2791, two side handles 2772, a desktop tripod BUT2664, a USB power bank holder 2790, a cold shoe mount 1241, 2 cables, and a mini LED light 3286.
Featuring 0-100% brightness control and CRI95, Video LED Light comes in a variety of color temperatures ranging from 2700K to 6500K. Built-in 2200mAh lithium-ion battery provides 105 minutes of operating time (maximum brightness) and is rechargeable by USB Type-C cable.
Shotgun microphones have a cardioid pattern that reduces background noise and directionally captures audio. Compact microphones come with a standard foam windshield, but if you are using them in windy conditions, you can enjoy a furry windshield.
In addition to the 1/4″-20 thread holes, the phone cage kit also provides cold shoe mounts for more mounting options. It offers more shooting opportunities and brings more fun by allowing free collocation and a combination of accessories.
Buy SmallRig Universal Phone Video Rig Kit for $169 here
7. Mirfak Vlogging Kit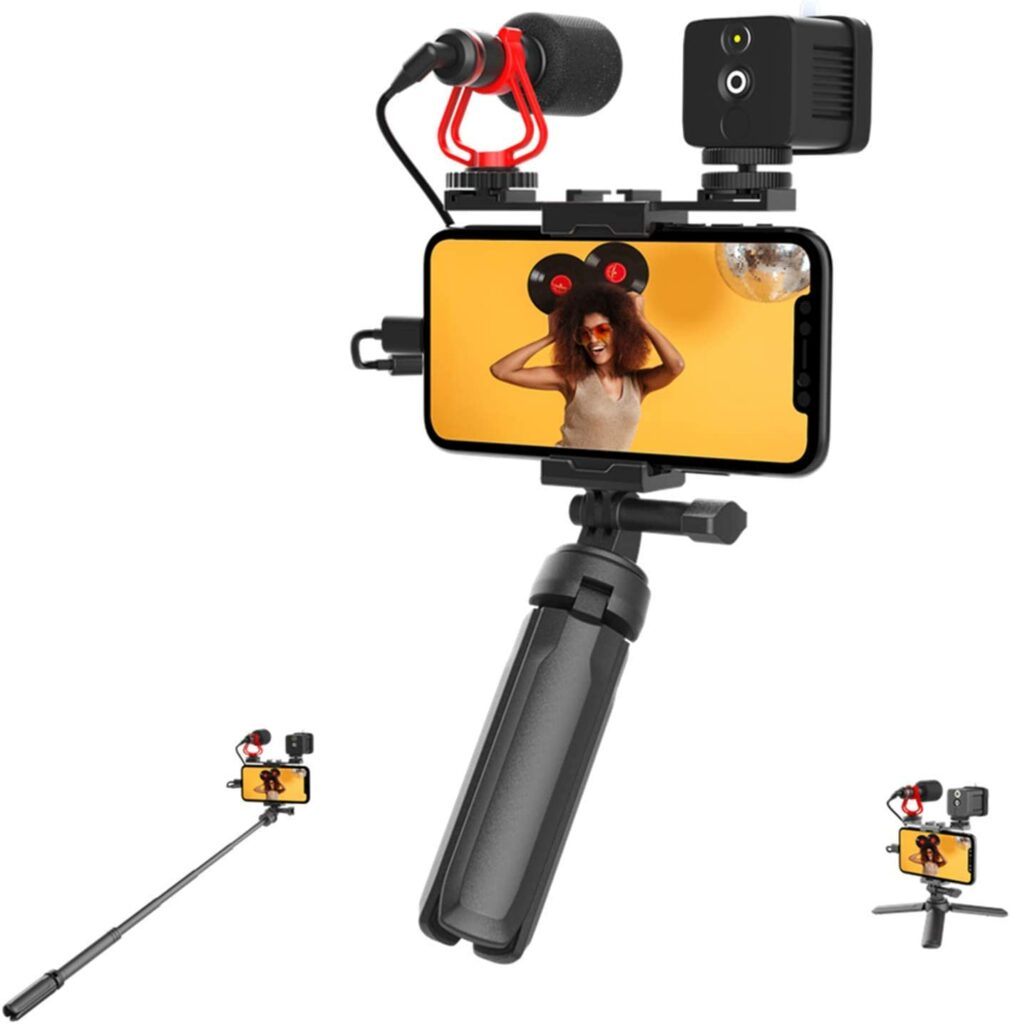 The Mirfak professional mobile vlogging kit combines audio and video, allowing you to make a pretty clean voice recording.
The Mirfak vlog kit includes an extension pole, directional mic (universal 3.5mm jack), phone holder (fits phones 56 mm-84 mm), and tripod.
It is ideal for hand-holding, while its extended length of 695mm makes it ideal for selfies. It can also be desk mounted for work-from-home video-conferencing, live streams, travel, YouTube, Instagram, TikTok, short videos, etc.
A mere 488g of weight allows you to vlog anywhere, anytime, without being limited by scene, environment, or light. It is compatible with multiple accessories thanks to its two cold shoe extension interfaces. Additionally, with a GoPro interface, creators can get the best view during adventures.
Buy Mirfak Vlogging Kit for $46.95 here
Conclusion
When it comes to picking the best starter kit for vlogging on iPhone, you should consider a few things. Make sure you define your needs, consider the costs, check the ingredients, and give your research a thorough look before making a purchase. You will be able to choose the right product if you keep these factors in mind.
So, which vlogging kit will you choose? Let us know in the comments section.