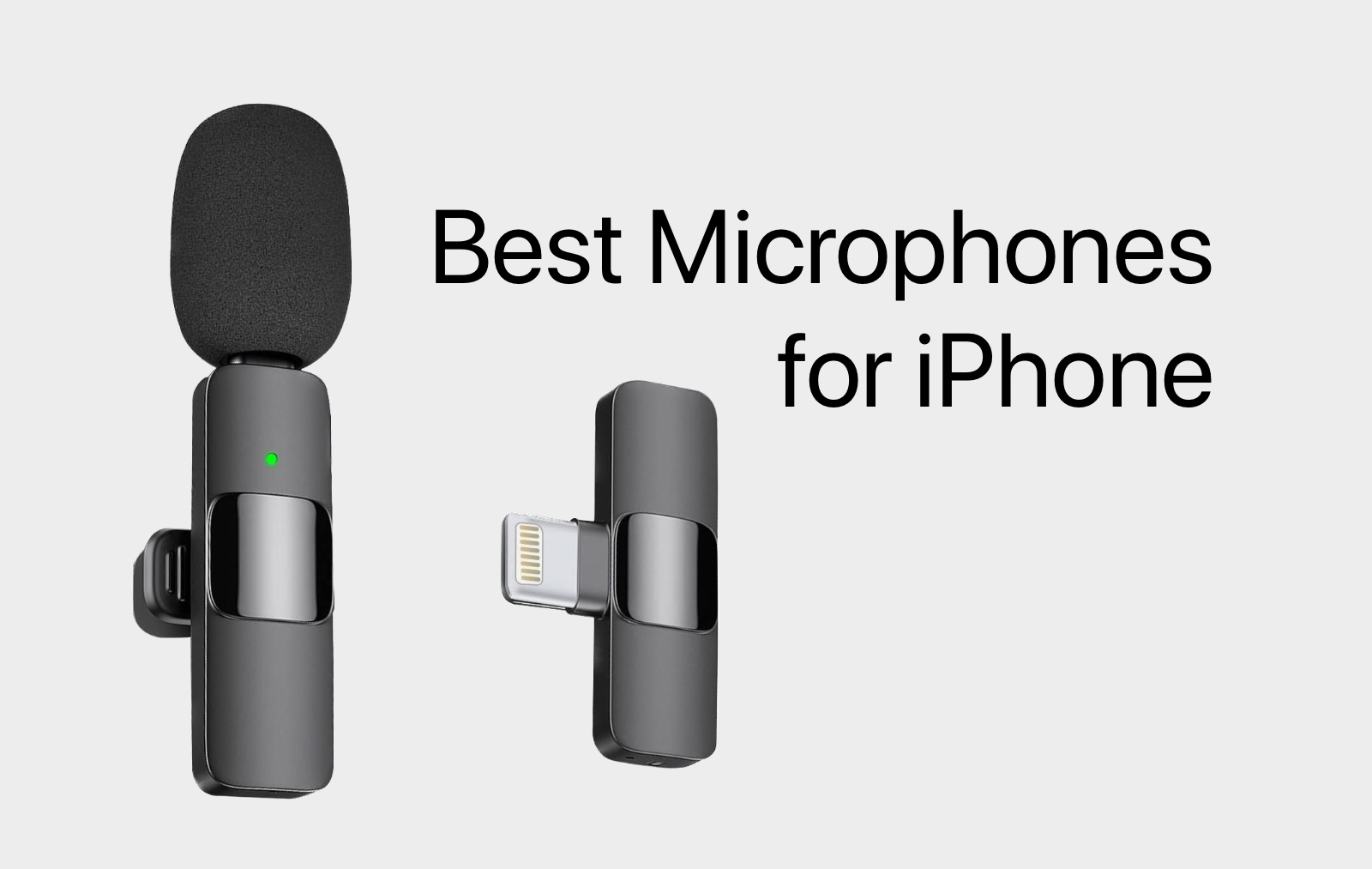 If you are into vlogging, podcasting, recording, or creating content and want to get your hands on the best Mics for iPhone then you are on the right page!
It's no secret that Apple's new iOS devices are packed with features. Despite the immensely powerful capabilities of the updated iPhones, the ludicrously fast, M1-powered iPad Pro series has the power to rival and even outgun many mainstream laptops and desktops. Sadly, these devices lack only one feature, and that is an onboard microphone.
Despite this, the quality of one-to-one calls is not too bad, since many iOS devices come with multiple microphones, and Apple engineers have also installed some very smart noise-cancellation technology. However, these miniaturized microphones are helpless when it comes to performing meaningful tasks.
Hence, you will have to invest in one of the best external mics for podcasts.
Looking for a microphone for Mac or a Mac microphone arm? Then check these buying guides.
Best Microphones for iPhone in 2023
Even if you are having problems installing cable in your house or having a difficult time recording or live streaming in a crowded place. You don't need to worry about your problem anymore. In this article, we've compiled a list of the Best microphones for iPhones and iPads that have coverage of 65 to 70 feet and noise reduction technologies.
Let's get started.
1. MAYBESTA Professional Wireless Lavalier Lapel Microphone for iPhone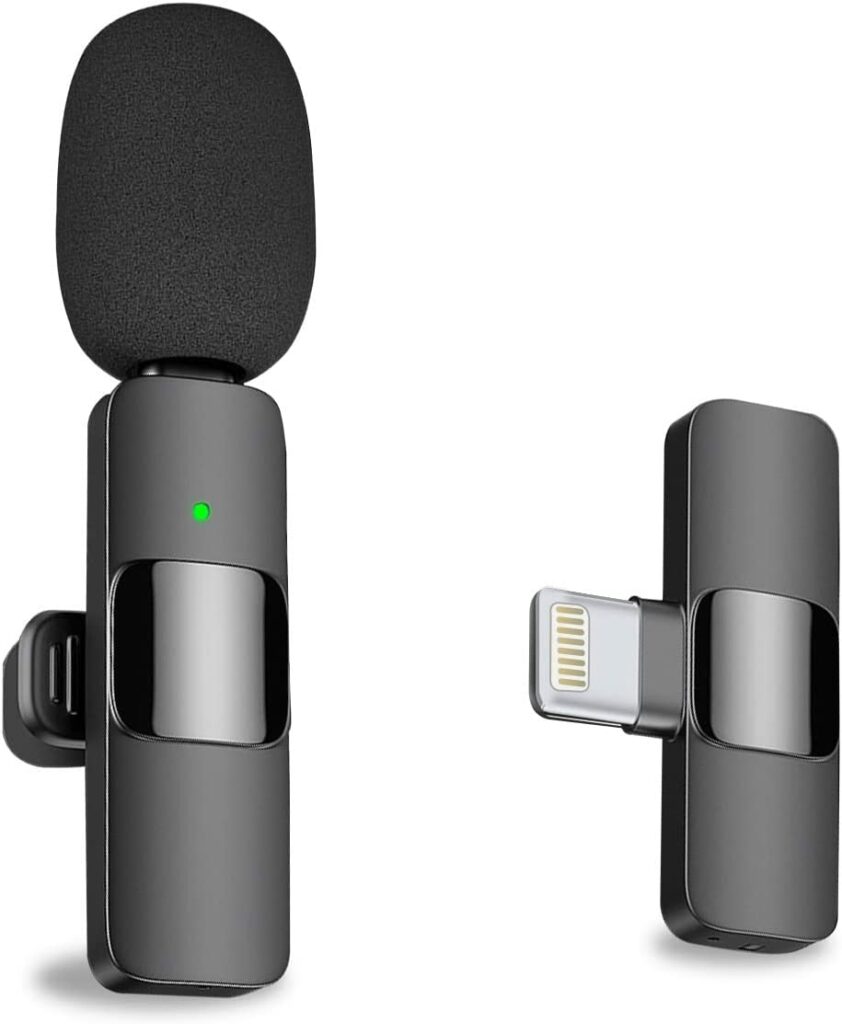 Compared to traditional lav microphones, this wireless model is much easier to set up. You don't need an adapter, a Bluetooth device, or an application to use it. The receiver will automatically pair with your devices once you plug it into them and turn on the portable mic.
This device features a high-density spray-proof sponge and a high-sensitive microphone to capture every detail of the sound regardless of the surrounding environment. To ensure high-quality recordings, Noise Reduction Technology eliminates any noise interference while recording.
This upgraded wireless clip-on microphone includes a connector and a charging cable.
Depending on your preference, you can hold it by hand or clip it to your shirt. Provides 50ft of signal coverage, eliminates messy wire, and allows you to record or take videos indoors or outdoors at a distance of further than 50ft.
This wireless lavalier microphone has 65MAH rechargeable batteries with up to 4.5 hours of operation and only two hours of charging.
Buy MAYBESTA Professional Wireless Lavalier Lapel Microphone for $25.49 here
2. BOYA by-XM6 S4 Wireless Lavalier Microphone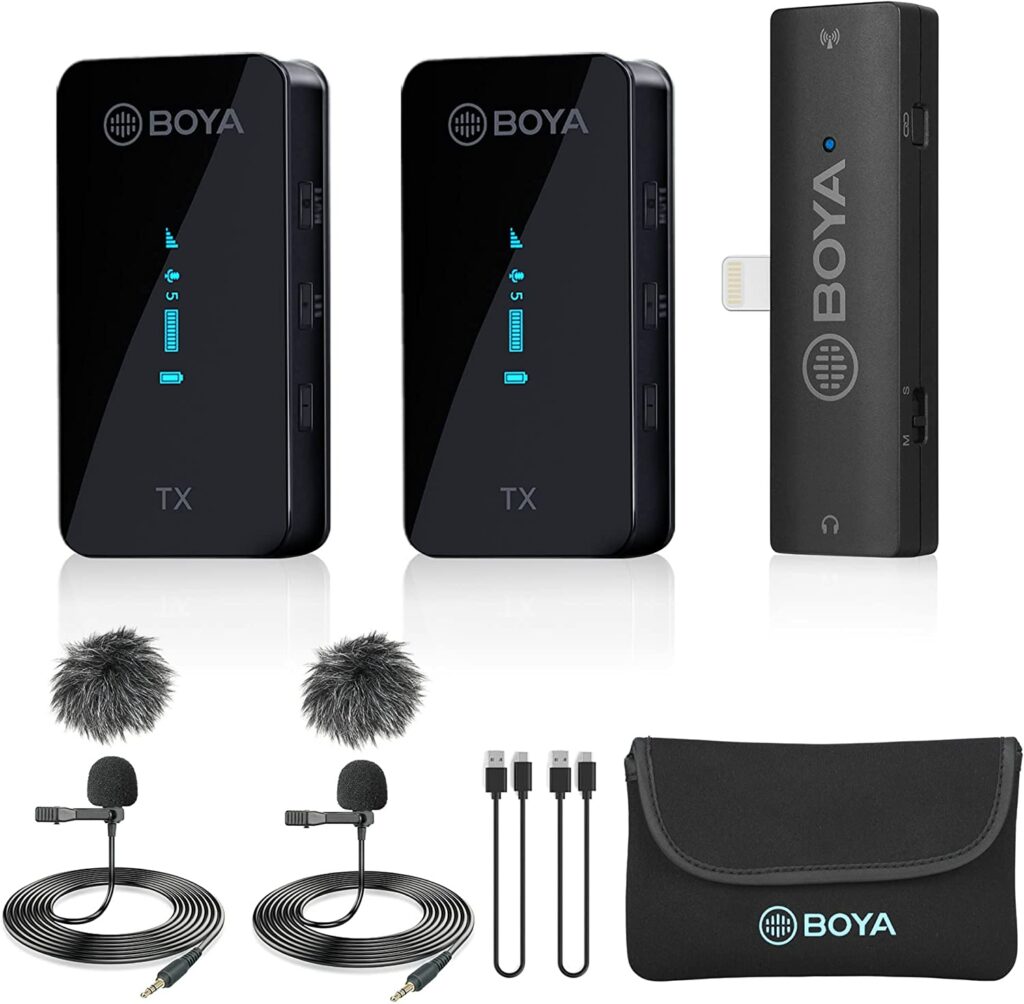 This BOYA BY-XM6 S4 lapel microphone system features two transmitters and a lightning receiver, operating at 2.4GHz. 
Powered by your iPhone or iPad, the Lightning receiver transmits data wirelessly. With its built-in rechargeable lithium battery, the wireless transmitter can operate continuously for 7 hours. Its USB Type-C charging interface supports on-the-go charging, so you don't have to worry about running out of batteries while shooting for the whole day.
With each transmitter, there is a lav mic and an omnidirectional microphone built in. The transmitter can be clipped to the collar and used to capture sounds, or users can plug a lavalier microphone into the transmitter's MIC IN jack to achieve sound recording.
BY-XM6 wireless lav mic uses a 2.4 GHz frequency and can transmit up to 328 feet barrier-free, eliminating the hassle of being tethered to a wire.
On the receiver end, the Wireless Microphone has a 3.5mm headphone output for real-time monitoring.
All in all, changing the receiver's stereo/mono output mode is all that's needed to satisfy different recording needs and simplify post-editing.
Buy BOYA by-XM6 S4 Wireless Lavalier Microphone for $169.95 here
3. Zooblu Wireless Lavalier Lapel Microphone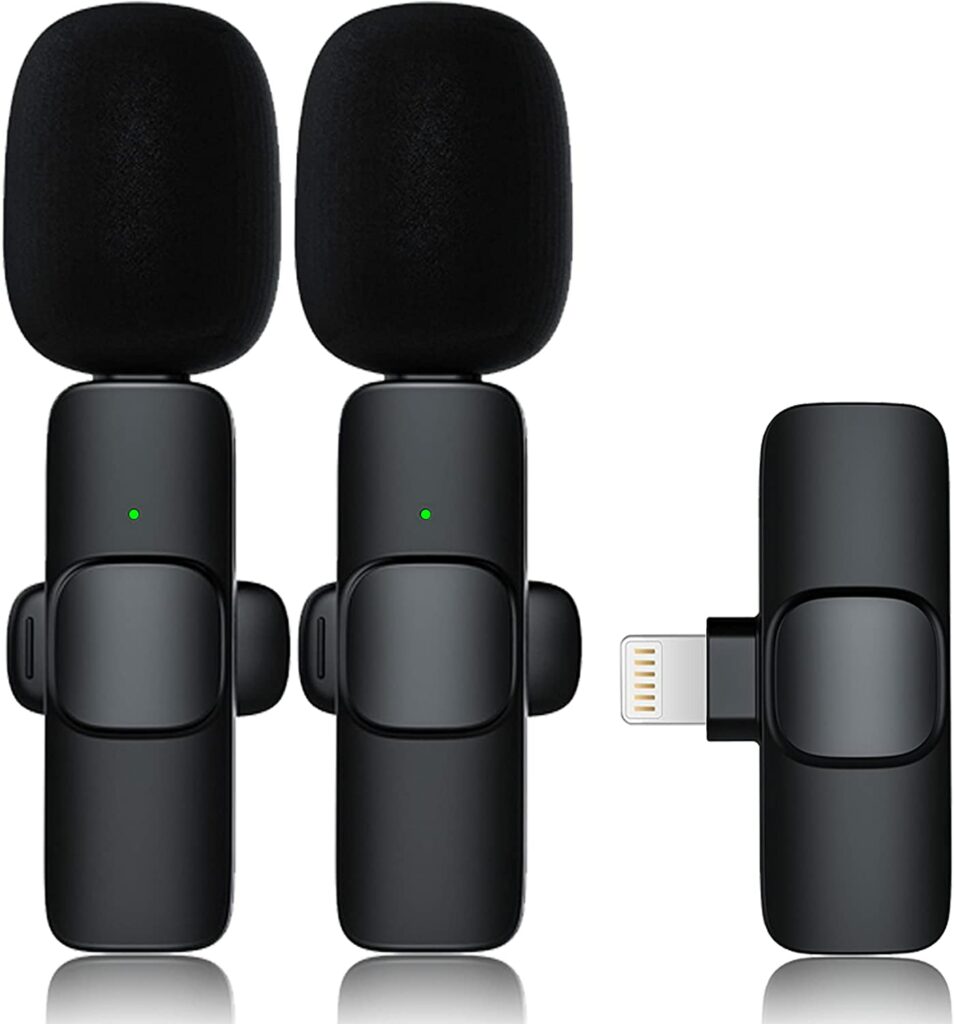 Like the other best iPhone mics for an interview in the list, this one also doesn't require an adapter, additional app, or Bluetooth, just plug the receiver into your device, turn the mic on, record (automatically connects and syncs), and you're ready to go!
In contrast with traditional BT microphones, this microphone can be used directly for interviews, online meetings, podcasts, vlogs, and live YouTube or Facebook streaming.
More than 6 times the frequency of conventional monomers, this wireless microphone provides professional full-band audio. Using real-time auto-sync technology, you can reduce the amount of post-editing work.
This wireless lavalier microphone is equipped with a 65MAH rechargeable battery. The battery provides up to 4.5 hours of working time with only 2 hours of charging, and the device can be used continuously for more than 6 hours when fully charged.
Buy Zooblu Wireless Lavalier Lapel Microphone for $29.89 here
4. DJI Mic Wireless Lavalier Microphone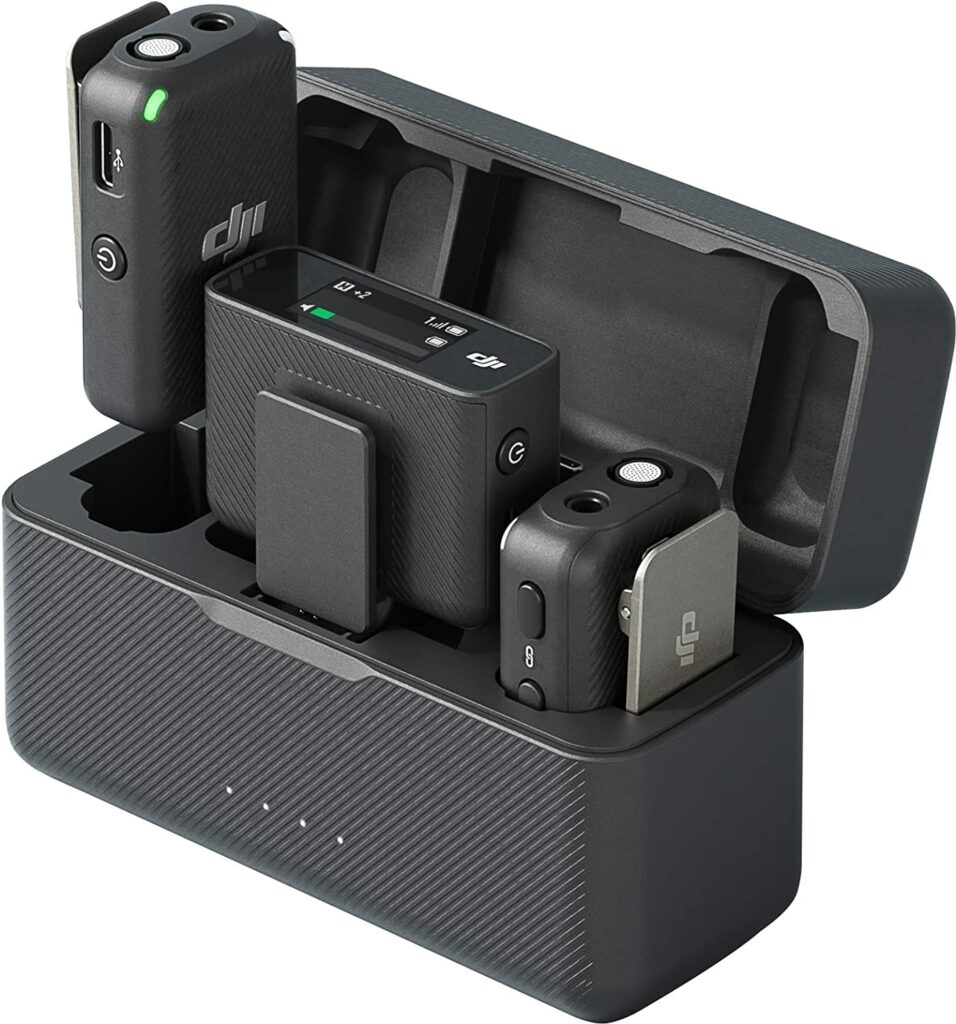 An all-in-one design makes DJI Mic Wireless Lavalier Microphone extremely portable and easy to use.
DJI Mic offers a maximum transmission range of 250 meters (820 feet) in open, unobstructed environments, making it ideal for live streaming, video blogging, and outdoor recording.
You can easily attach DJI Mic to clothing or other objects for flexible and convenient use in any environment since it is discreet, hideable, and suitable for coordinated recording.
With a 0.95-inch OLED touchscreen, the receiver provides intuitive control of transmitter options, as well as brightness, volume, and battery information.
With 8GB of internal storage, you can store up to 14 hours of 48kHz 24-bit audio without compromising quality.
Buy DJI Mic Wireless Lavalier Microphone for $329 here
5. Hollyland Lark C1 Wireless Lavalier Microphone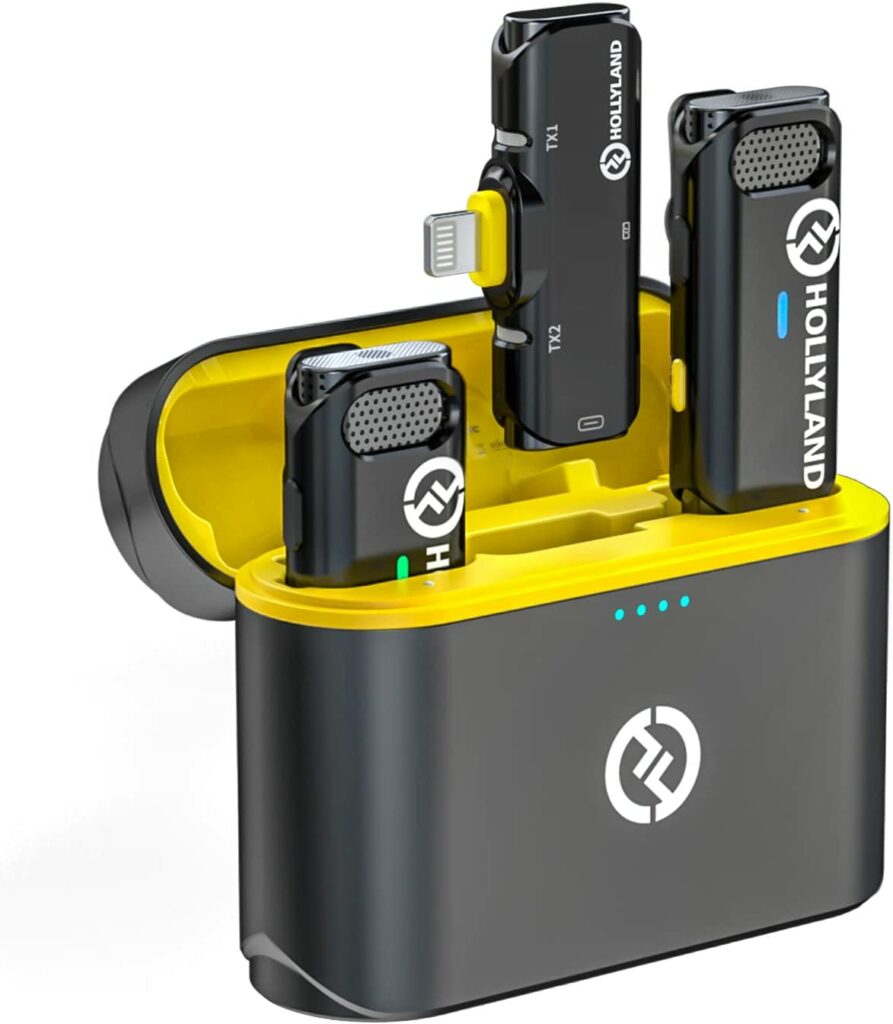 The Lark C1 wireless lavalier microphone features MFi certified RX lightning interface, which increases audio clarity, reduces background noise, and offers a reliable working performance.
With its excellent algorithmic chips, the Lark C1 has an active noise cancellation function, which can cancel up to 14dB of noise. It is a perfect solution for recording outside or blocking unwanted noise, which greatly improves the audio quality of your video.
This lapel microphone from Lark supports playback even with the receiver plugged in, so there is no need to take the receiver out of your device to monitor the video audio. Additionally, Lark C1 provides continuous usage by charging iPhone/iPad via RX, ideal for outdoor and long-term live streamers.
Buy Hollyland Lark C1 Wireless Lavalier Microphone for $179 here
6. VMKLY Wireless Microphone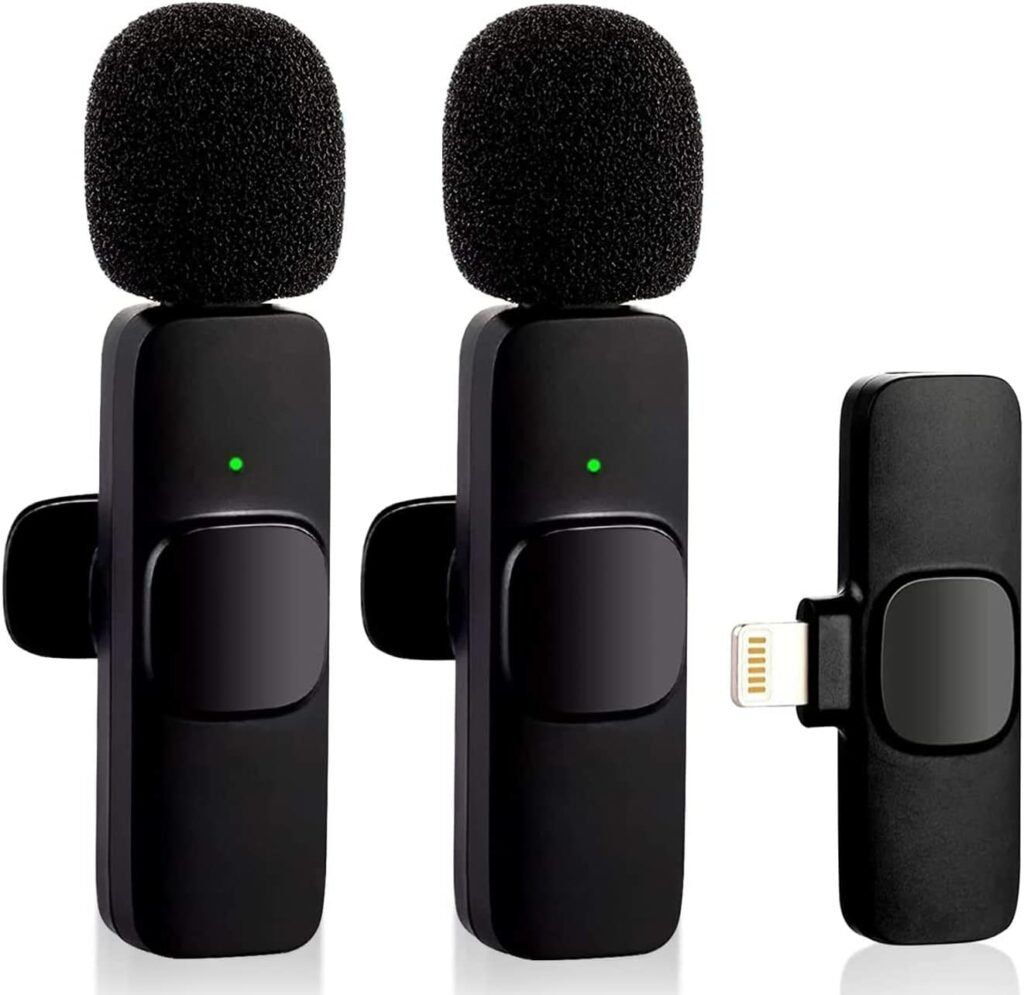 With its professional-grade intelligent noise reduction chips, this wireless lavalier microphone identifies the original sound and allows clear recording even in noisy environments. Real-time auto-sync technology greatly reduces video post-editing time, enabling viewers to enjoy videos to the fullest extent possible.
New wireless microphone transmission technology provides 65 feet of stable audio transmission without cables and harsh noises. You can charge the receiver while you charge your device, while the transmitter can run for 4-6 hours on its built-in batteries.
Buy VMKLY Wireless Microphone for $26.99 here
7. Rode Wireless GO II Dual Channel Wireless Microphone System

A multi-award-winning wireless audio system, the RØDE Wireless GO II is simply the best sub-miniature wireless audio system available. The Wireless GO II delivers professional-grade audio no matter how you create the content, or whatever device you use.
The Wireless GO II expands the possibilities of wireless connectivity. With the 3.5mm TRS analog output, you can connect cameras, audio recorders, smartphones, tablets, and computers. Filmmaking, presentations on camera or stage, vlogging, Tiktoking, YouTubing, and live-streaming can all be done with this tool.
With rock-solid wireless performance and a range of up to 200 meters, the Wireless GO II delivers broadcast-grade audio at every turn. No matter how challenging the conditions may be, your audio is always safe on each transmitter due to its onboard recording capability.
Buy Rode Wireless GO II Dual Channel Wireless Microphone System for $299.00 here
8. ULANZI J12 Wireless Lavalier Microphone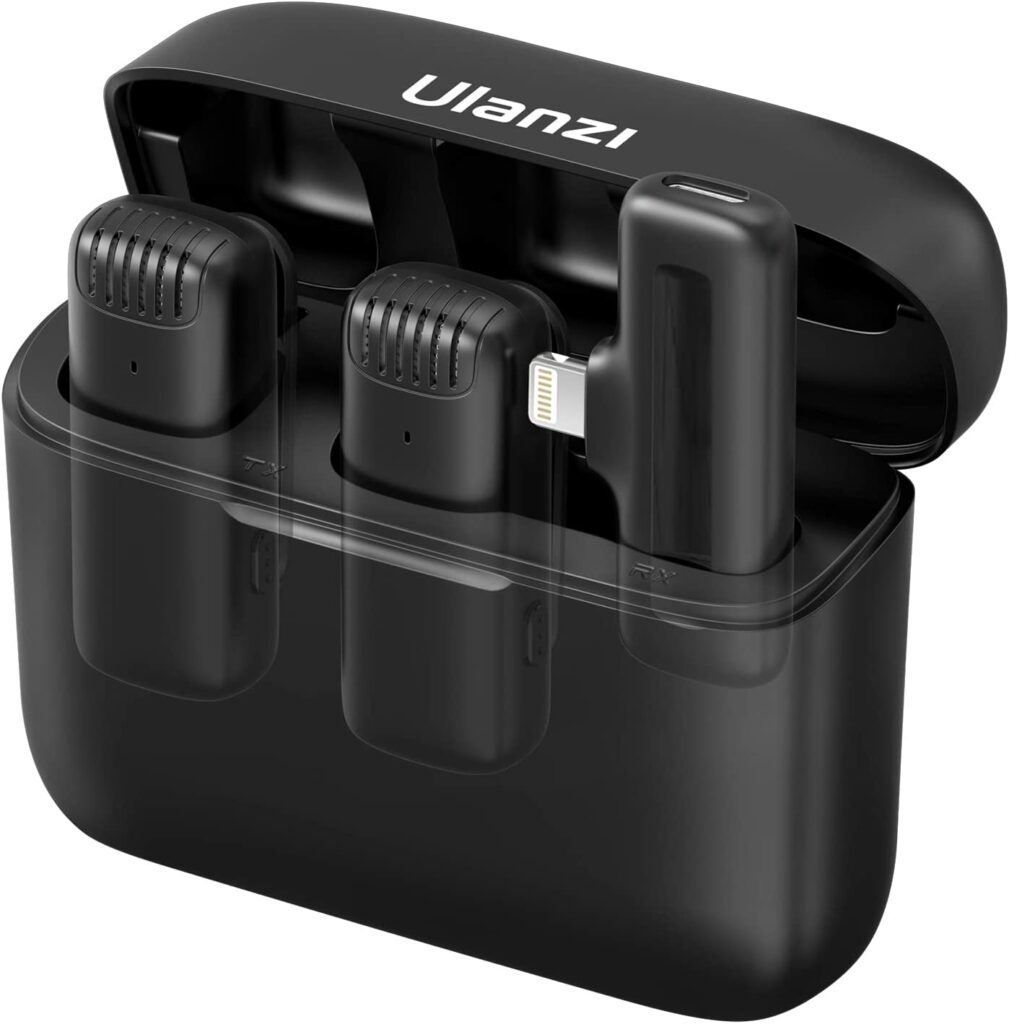 You just need to clip the ULANZI microphone to your collar and plug in the Lightning receiver to connect them automatically. Get the most out of your live streaming by making it easy and fun!
This device comes with an integrated intelligent noise reduction module, which filters out the noise and provides high-fidelity sound. Featuring omnidirectional condenser radios and 360° surround pickup, this wireless lavalier microphone produces a three-dimensional sound.
In addition to housing the microphone, the storage case is also where it is charged. The microphone and receiver can last approximately 6-7 hours per charge after the storage box has been fully charged. The device overall is easy to store, lightweight, and portable, weighing only 69 grams.
Buy ULANZI J12 Wireless Lavalier Microphone for $49.95 here
To Conclude
When it comes to audio, we only realize a fraction of what all of this powerful hardware and innovative software are capable of without a microphone.
So, give your followers a break and invest in any of the above-mentioned best lightning microphones for iPhone instead of windblown interviews or noisy backgrounds.
This advice may also be helpful if you participate in Zoom calls daily and want to rise above the clamor.
Which one of these best iPad microphones would you purchase? Let us know in the comments section.