Having a good microphone arm on your Mac desk setup can help you in reducing clutter and make using the experiencing of using an external microphone with Mac easier.
If you are looking for the best microphone arm for your Mac desk setup, then look no further as that is exactly what you are going to find in this article.
It's a given that purchasing the right gear is extremely important. Yet, that's easier said than done, when there are billions of boom microphone stands out there, doesn't it? Due to the rise of streaming and podcasting, desk-mountable suspension boom arms have gained a great deal of popularity in recent years.
Our goal in this article is to help you choose the best mic arms on the market today, so you can spend your money wisely.
Also read: 7 Best USB Mics For Mac Users To Buy
Best Microphone Arms for Mac Desk Setup
Now is the time to invest in a better microphone arm! Investing in high-quality audio recordings could turn out to be the best decision you have ever made.
Here is a rundown of the best microphone arms for desk. Let's get started.
1. InnoGear Microphone Arm
The InnoGear company is a pioneer in aromatherapy, solar lighting, and music accessories that are designed to enhance the quality of your life naturally.
As this microphone arm is extremely light in weight, it can be easily moved from one location to another on stage. In addition to performing well, the stand is easily transportable and storage-friendly.
You can fold up the adjustable microphone arm and carry it anywhere you like. This feature lets you adjust the boom arm at the best angle and height to deliver your perfect voice.
As compared to the old versions, this zinc alloy desk mount has an anti-scratch pad and a wider mouth that fits most desktops.
In the package, you will find a male-to-female adapter for 5/8″-27 screws that will fit a blue snowball and HyperX QuadCast. The product is suitable for any type of business, including stores, families, stages, studios, broadcasting stations, and TV stations.
Buy InnoGear Microphone Arm for $20.99 here
2. EWONLIFE Overhead Mic Boom Arm Stand
EWONLIFE is yet another brand that can meet your studio requirements. The product is equipped with phenomenal features.
To start with, the mic stand has a high riser column (20CM/7.8in) which can be vertically increased. As a result of the increase, the vertical distance between the monitor and the mic stand can be as much as 950mm/37 inches, and you can face the screen less obstructed. The screen occlusion can be reduced, allowing you to enjoy more of your game-broadcasting and podcasting sessions.
Having a flat back and a thickness of only 3MM, the clamp can be mounted along the wall without taking up any space. Furthermore, 5.6×4.5=25.2cm2 of the fixed surface can be clamped from the side, and the mounting hole can be moved from one side to the other.
This boom arm is made of a new, stronger material, and the connector with the riser is made of a solid column, so that it will not bend or break, and can be adjusted 360 degrees. Using the Microphone Boom Arm, you can adjust the suitable angle according to your needs, and master any angle you desire.
Due to its all-metal construction, it is unbreakable. As a final feature, the clamp has a built-in anti-scratch pad and an increased clamping distance of 60MM, or 2.36 inches, which can clamp thicker tables.
Buy EWONLIFE Overhead Mic Boom Arm Stand for $22.99 here
3. RenFox Adjustable Mic Stand
Next on our list is RenFox Adjustable Mic Stand. With its sturdy metal frames and strong springs, it provides additional support, firmly holds your microphones, and effectively reduces noise and vibration. Each boom arm has double suspension springs secured with heavy-duty steel tripods, ensuring that your mic stand can hold more weight.
Microphone boom arms can rotate 360 degrees left and right as well as move upward and downward 180 degrees. The microphone arm fits on tables up to 2.1 inches thick with its upgraded clamp and protective cushion.
You can adjust the O-rings on shock mounts compatible with various microphones to change their diameter. By holding your microphone in place with it, you can isolate it from vibrations and boom movements that cause noise.
With a flexible gooseneck connector, this pop filter can be bent or adjusted according to your needs due to its double-layered stretchy nylon and robust plastic outer ring. Furthermore, for the best sound quality, it can effectively intercept droplets, popping, crackling, and breathing sounds.
Buy RenFox Adjustable Mic Stand Desk for $22.99 here
4. Puroma Microphone Arm Stand
With its built-in spring balance system, the Puroma Microphone Arm Stand is precision-engineered to provide a more professional and concise user experience. In addition to taking up little space, the foldable mic stand can be adjusted to fit whatever area you need.
With the 14″/35cm adjustable arm, you can rotate the arm 360 degrees for precise microphone placement. You can rest assured that the mic will stay in place for a long time without bouncing up.
The mic boom arm is made of metal steel tubing for long-term strength and durability. The maximum load capacity is 3.5lb/1.6kg, and it is not easily bent or broken.
In short, it's a handy accessory for broadcasters, voice-over artists, and podcasters.
Buy Puroma Microphone Arm Stand for $36.99 here
5. eWonLife Microphone Stand Desk Mount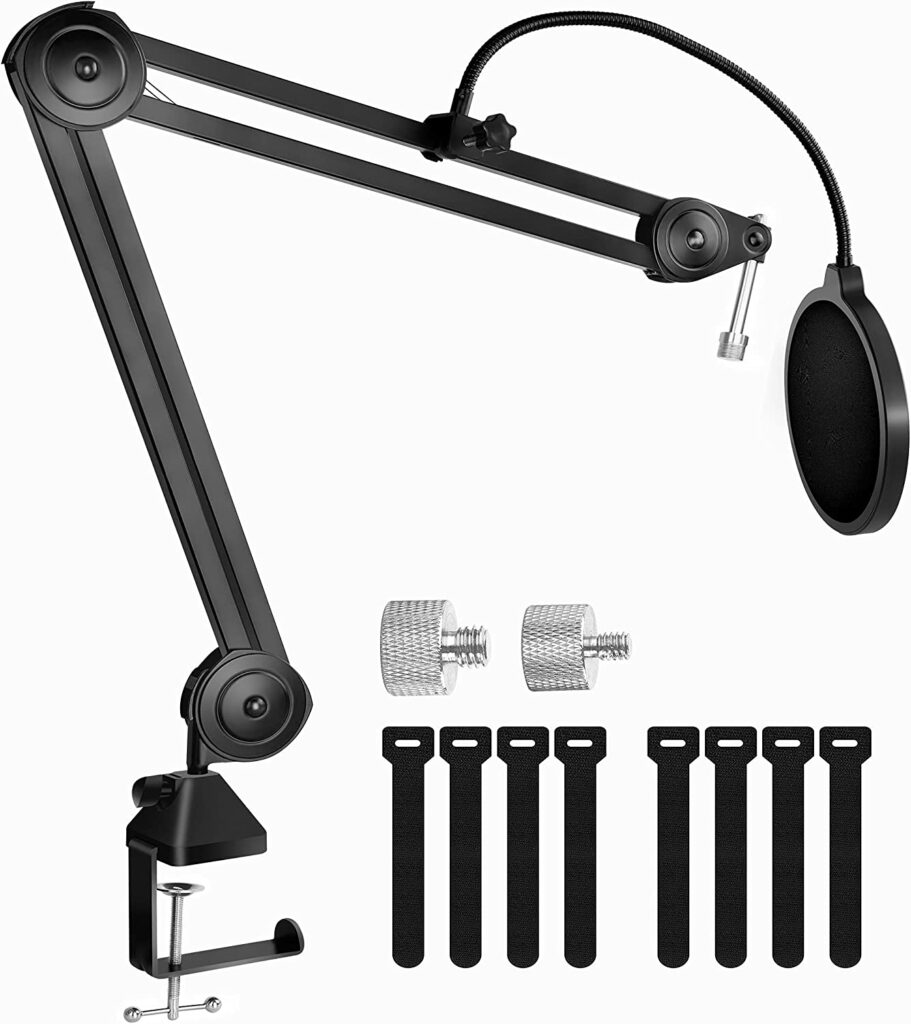 With its metal thickness of 1.3mm, this EWonLife microphone arm stand keeps the mic well-placed, without shifting or sinking. The mic arm can also be adjusted flexibly, so it won't be stiff. This mic arm stand is well-designed with smooth joints that allow fore-aft, vertical, and side-to-side motion quite smoothly.
The product is stable because of its 39cm2 wide grippy contact point on the desk. It can support desks up to 2.4 inches thick. The desk microphone stand can also be used with desks with small edges (1.18″/3cm).
The mic arm desk mount does not squeak when moving due to high-quality and well-designed internal springs. It reduces the velocity of air blasts by blocking and dissipating them with two screens.
The microphone desk arm stand can be used with the Blue Yeti, Blue Snowball, Shure Mv7, Sm7b, Hyperx Quadcast, Fifine, and other microphones.
Buy EWonLife Microphone Stand Desk Mount for $39.99 here
6. Luling Arts Microphone Stand for Blue Yeti
Luling Arts Microphone Stand for Blue Yeti microphone allows you to get your streaming and recording on the right track. This microphone stand is specially designed for the popular Blue Yeti series of microphones however you can also use them with other products.
The desk mount features a zinc alloy construction, an anti-scratch pad, and a width up to 2.16″ (the product is 6 cm) to fit most desktops and can carry heavy microphones for a long time.
You can adjust the diameter of the mic clip by adjusting the O-rings on the shock mount, perfect for microphones larger than 4.5cm in diameter. Professional suspension shock mounts isolate most studio condenser mics from vibration, and floor noise.
A pop filter blocks air blasts as it would normally do; the gap between them disperses the remaining pressure, so by the time the blast passes the second screen, it's easy to contain. With this mic, you can block those offensive "plosives" that come after "B" and "P" and get rid of the dreaded hissing and lisping sounds.
Buy Luling Arts Microphone Stand for Blue Yeti for $26.99 here
To Conclude
When selecting a microphone boom arm, you should consider several factors. To start, it is best to review equipment with essential features such as durability, compatibility, adjustability, and portability.
Taking this approach and the listed products will allow you to make an informed decision before you make a big purchase.
So, which microphone arm caught your eye? Let us know in the comments section.