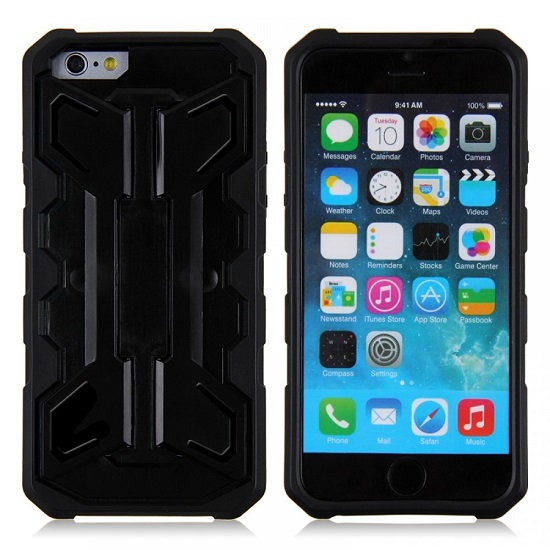 There's no denying to the fact that iPhone cases are prone to scratches. No matter how careful you are you will end up getting multiple marks on your device, which will significantly reduce its beauty. Luckily we can avoid this disaster by using a protective case. While many cases hide the iPhone 6's flawless design and make it bulky there are a number of cases that add a totally new personality to it. One such case is Guardiant Eagle Series case for iPhone 6. This particular case not only features a great design but also has a number of other useful features that make it a great choice for people who are looking to protect their device in style.
Despite all other features the most important thing that everyone looks for in an iPhone case is strength and durability. This is where Guardiant's Eagle Series case shines with its rugged TPU and polycarbonate hybrid material that does not allow any kind of impact to reach your device. On top of that its raised front lips make sure your device's front part is secure from scratches and remains safe in the event of a deadly drop. However the material the case is made up of provides a strong grip that makes sure you don't drop the device in the first place.
The accessibility to ports, cameras and buttons of the device has been made easy with perfectly sized cut outs and soft areas. Instead of cut outs found in most iPhone cases the Eagle Series case features soft buttons that make it easier for users to press the power and volume buttons while still keeping the device covered from sides.
Perhaps the most important feature of this Eagle Series iPhone 6 case is the kickstand, which makes it possible for you to watch videos, movies and Facetime with your loved ones by remaining hands-free. A kickstand can make your life much easier as you can continue doing some other work while still enjoying the content running on the iPhone. A good thing about this case is that the presence of kickstand doesn't make it look thick, instead the design of the kickstand enhances the overall look and feel of the case.
The Guardiant Eagle Series Case for iPhone 6 with Kickstand is available for purchase through Amazon at an affordable price of $9.95.