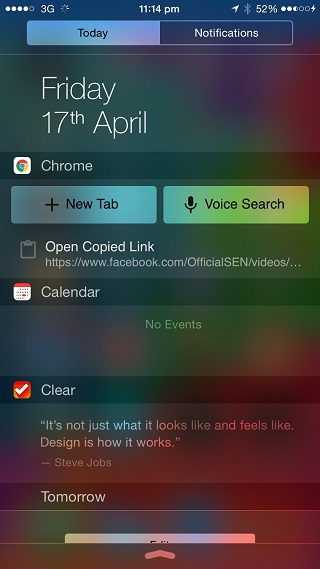 Chrome is the most popular third-party web browser for iOS and it just got even better with the latest update. The update that is now live at the App Store not only brings a refined design and pull to refresh gesture but also adds notification center widget support to the browser application. So now you can have a Chrome widget in your NC using which you can perform some useful functions that includes opening a new tab in Chrome, performing a quick voice search and the very useful feature that allows users to instantly open the URL that is copied in the clipboard of the device.
When you tap on any button on the Chrome's Today view widget the Chrome app is launched and the relevant function is performed. For example, if you tapped the 'New tab' button then the app will launch with a new tab that you can use to open a web address quickly. Similarly tapping the 'Open Copied Link' button opens the URL that is in your clipboard in a new tab. To put a URL in your clipboard all you have to do is copy a link by tapping and holding on it.
You can add the Chrome widget to the Notification Center by tapping on the 'Edit' button. More details are available here.