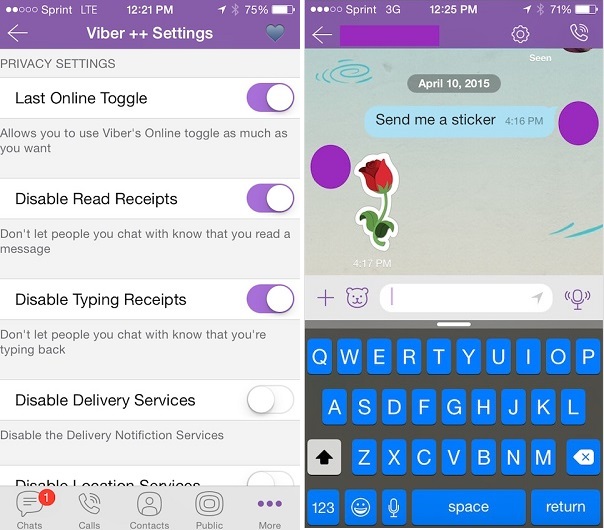 If you use the popular Viber app for messaging and calling on your iPhone then Viber ++ tweak is a must have for you. The tweak brings tons of privacy, security and appearance related features and options to the app that makes the experience of using it even more fun. With Viber ++ you can disable a number of features of the communication app that enhances you privacy. This includes ability for users to disable read reports, delivery reports, typing indicator, last online indicator and location services. To disable these Viber features all you have to do is flip a switch from Settings.
To access the tweak's preferences simply hit the 'More' button and then go to 'Viber ++'. While the privacy features mentioned above are enough to make this hack download worthy there's a lot more you can do with it. With Viber ++ you can disable the often annoying hold to record feature, send unlimited attachments to your friends, have unlimited contacts in a group and show call alerts for missed calls. To make Viber more secure for users the tweak is capable of adding a dedicated passcode as well as Touch ID based login.
You can also change the appearance of Viber app as this tweak allows users to change keyboard colors, make the top bar slimmer, view the app in fullscreen mode and disable rotation.
Lastly, you can change the behavior of notification banners within the app by hiding chat badges, sticker badges, bar icon badge and disable all kinds of vibrations when using the application in silent mode.
You can download the Viber ++ tweak from Cydia for free.