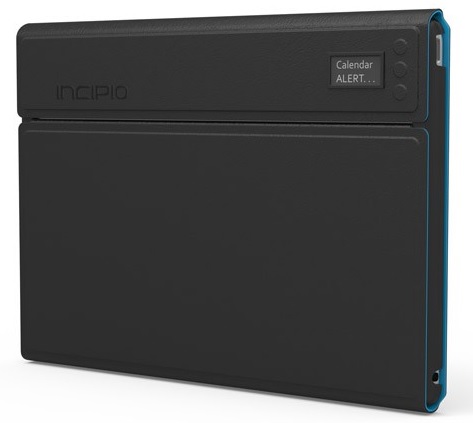 Incipio cases have always been part of our best cases for iPad articles and it seems like we already know which one from this company is going to be part of the next one. The upcoming Incipio PROMPT Folio case for iPad Air 2 is a new case that has a unique feature, which hasn't been seen on iPad cases before. It features a small OLED display that displays a short message for incoming notifications to the user so he or she does not have to open the case to view it.
The PROMPT Folio case wirelessly connects with the iOS device using Bluetooth Low Energy (BLE). Apart from the OLED display it is pretty much a normal protective case, which is a good thing. The notification screen on the case is powered by a built-in lithium polymer battery that once charged lasts for 7-10 days.
The case feature has nice leather exterior and provides users with multiple viewing angles. There's also a typing mode that makes it easier for users to type on the touchscreen.
Overall the Incipio PROMPT Folio case for the iPad Air seems like an interesting option and is especially for those who are looking for a case that can provide them something more than just protection.
It is not available for sale yet but once it is you will be able to buy it for $90. iPad mini or iPhone versions of PROMPT case haven't been announced yet but we would surely love to see those as well. [Incipio]