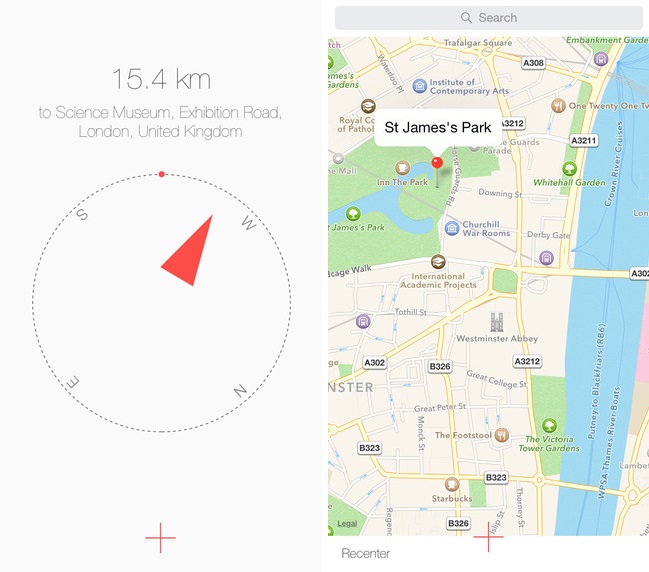 If you are someone who likes to go on long walks instead of taking the bus or driving a car, then a new app called Red Arrow can make your life much easier. This app puts a fully functional compass on your iPhone that always points to your destination by taking advantage of device's sensors and GPS. To start using the app all you have to do is type in the location name or address where you want to go. Then on the map drop a pin on the exact spot where you want Red Arrow to point at. Once you have done that the app will show you the direction of that place through its compass. You will also be able to see how close you are by looking at the Kilometers or Miles on the screen.
Perhaps the best feature of Red Arrow app is that it includes a NC widget that puts a compass on the Notification Center of the device. This compass can be accessed by simply pulling down the Notification Center. This allows you to get the direction update even when you are using some other application, or when your device is locked since you can still pull down Notification Center from the lockscreen.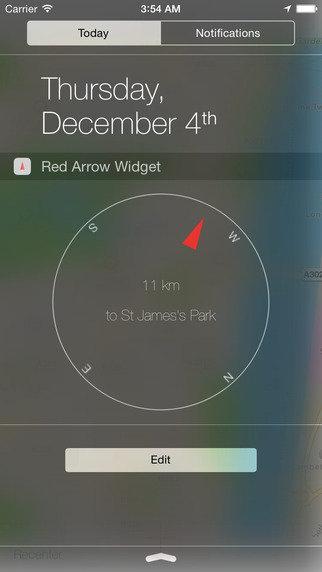 Red Arrow's compass works like a normal compass, however instead of pointing towards north, it simply points towards the place you want to go at all times. The idea behind this app is quite neat. Also, its clean design and features make it a must have for anyone who likes to take long walks.
You can download Red Arrow app from the App Store where it is available for $0.99.