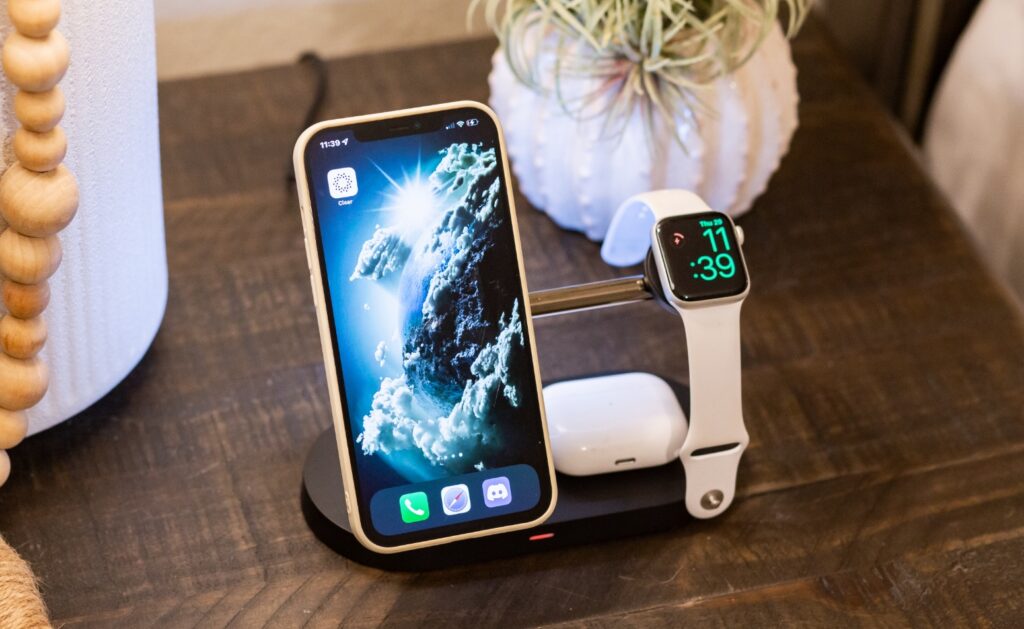 Almost every iPhone user that I know owns an Apple Watch and an AirPods as well. Owning all three of these devices is a no brainer for someone who is in the iPhone ecosystem, as they add amazing quality of life benefits for the users.
While owning an iPhone, Apple Watch and AirPods brings convenience, there's one thing that makes the experience a little annoying. If you haven't guessed it already, I am talking about charging all three of these gadgets after a day's use.
That's where the Moderno Collections Premium MagSafe 3 in 1 Fast Wireless Charging Stand comes in. You might have seen plenty of multi-device chargers already, however what made this particular charging stand compelling to me is that it supports all three types of charging and features a sleek design and additional features not found elsewhere.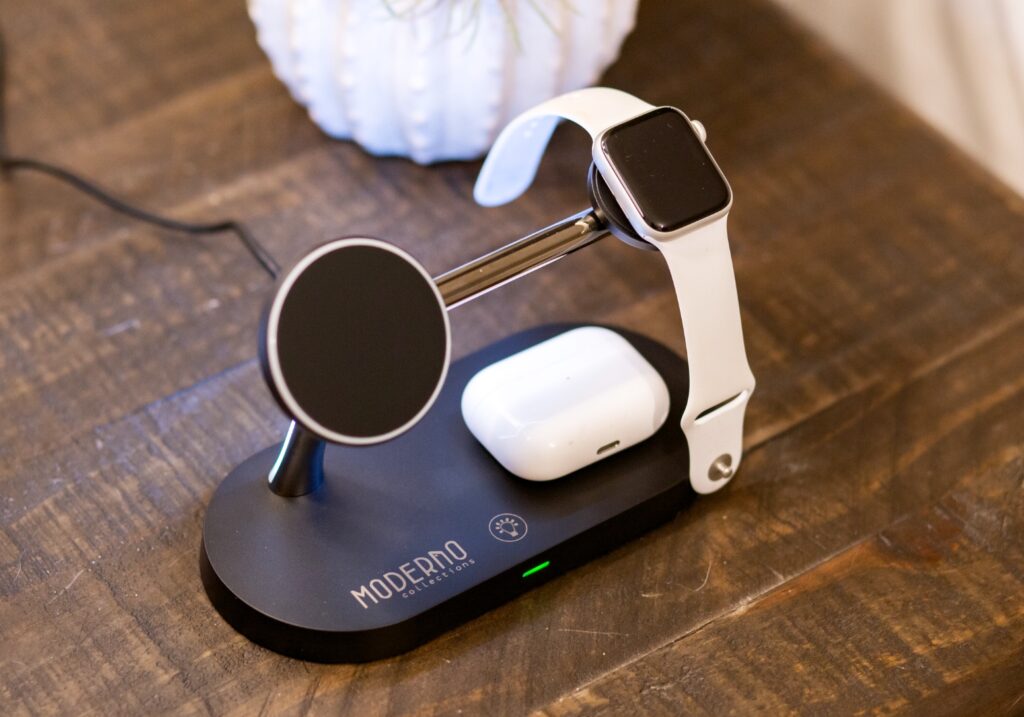 Its elegant design makes it a perfect accessory for your home or office while it also reduces the number of charging pads and cables in your living spaces.
The Only Apple Device Charger You Will Ever Need
With Moderno Collections MagSafe Charging Stand you get MagSafe, Qi wireless and Apple Watch charging all in one charging stand. You can place this charging stand on your bedside table or work desk and conveniently charge all of your device at once.
This fast charging stand also supports Apple Watch's Night Stand feature, which allows you to check time at night with ease while all of your devices charge.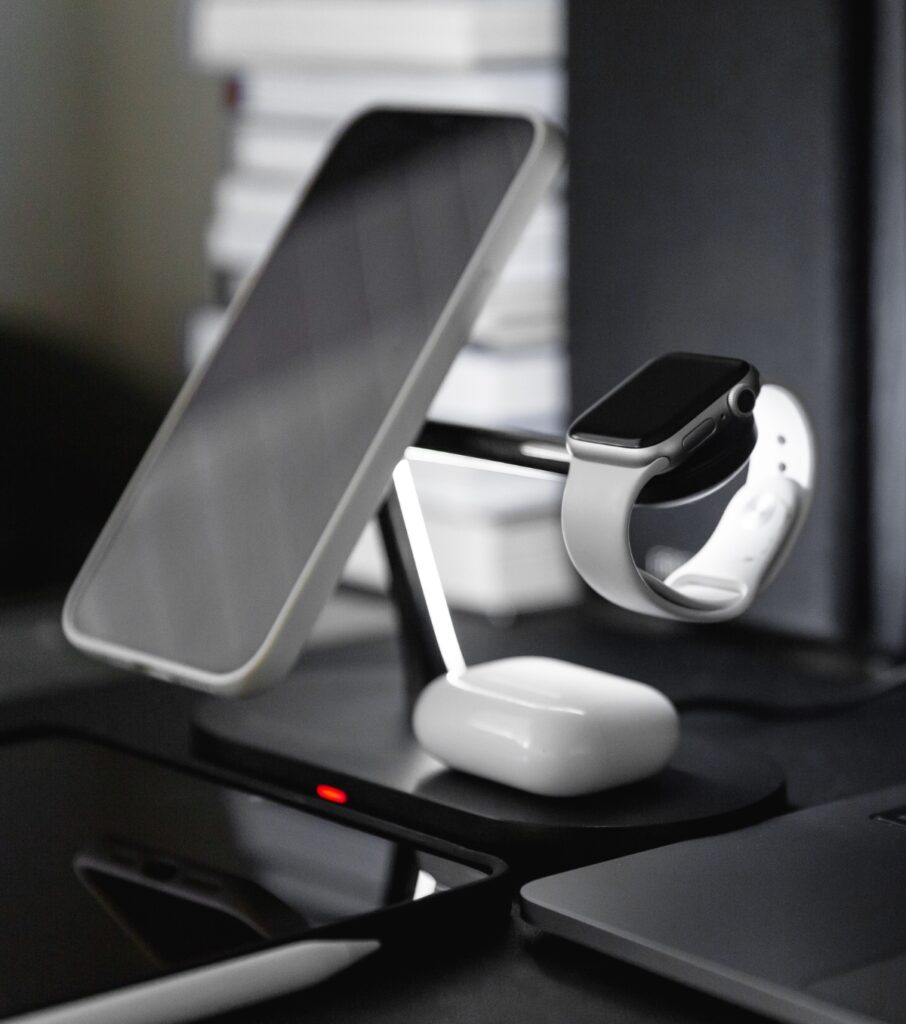 One non-traditional and super useful feature of this MagSafe Charging Stand is its built-in night light feature that lets you see at night. You can easily turn this light on and off with the help of the dedicated touch sensitive button. You can even control the intensity of the night light based on your personal preference.
The Moderno Collections MagSafe 3 in 1 Charging Stand features a strong MagSafe connector that sturdily holds your iPhone in place. The magnetic connection of the MagSafe charging is pretty strong and works great with MagSafe supported cases. The magnets are strong enough that you don't have to worry about your iPhone falling off the charger.
You can even place the iPhone in portrait or landscape orientation on the charger. With landscape orientation you can enjoy movies and watch YouTube videos while your device is charging. This is great for those who want to place the charging stand on their work desk.
This charging stand is compatible with all modern models of iPhones that support MagSafe charging. This includes iPhone 12, iPhone 13 and the latest iPhone 14 devices. For Apple Watch all models starting from the original Apple Watch all the way up to Apple Watch Series 8 are supported.
Similarly you can use this charging stand to charge your AirPods, AirPods 2, AirPods 3, AirPods Pro and new AirPods Pro 3.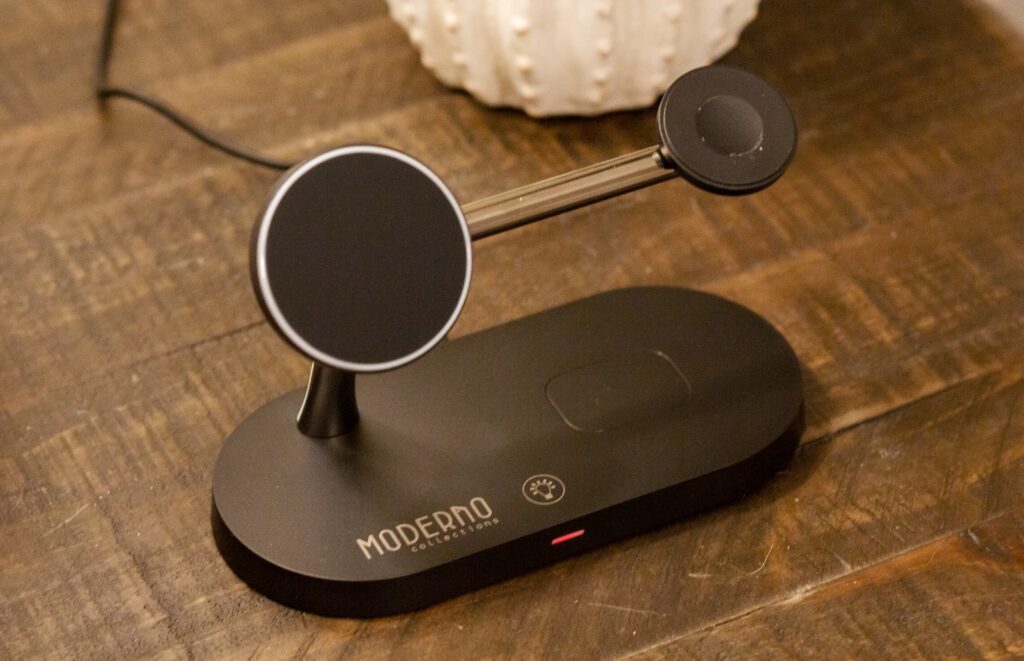 All of the devices mentioned above can be charged at the same time while they are securely placed on the device.
Speaking of AirPods the Moderno Collections MagSafe Charging Stand lets you recharge your headphones by placing them on the charging pad. To help users in identifying where the exact charging spot is the charging pad even has a subtle carving that lets users know exactly where they are supposed to place AirPods case for it to start charging.
Charging output for different devices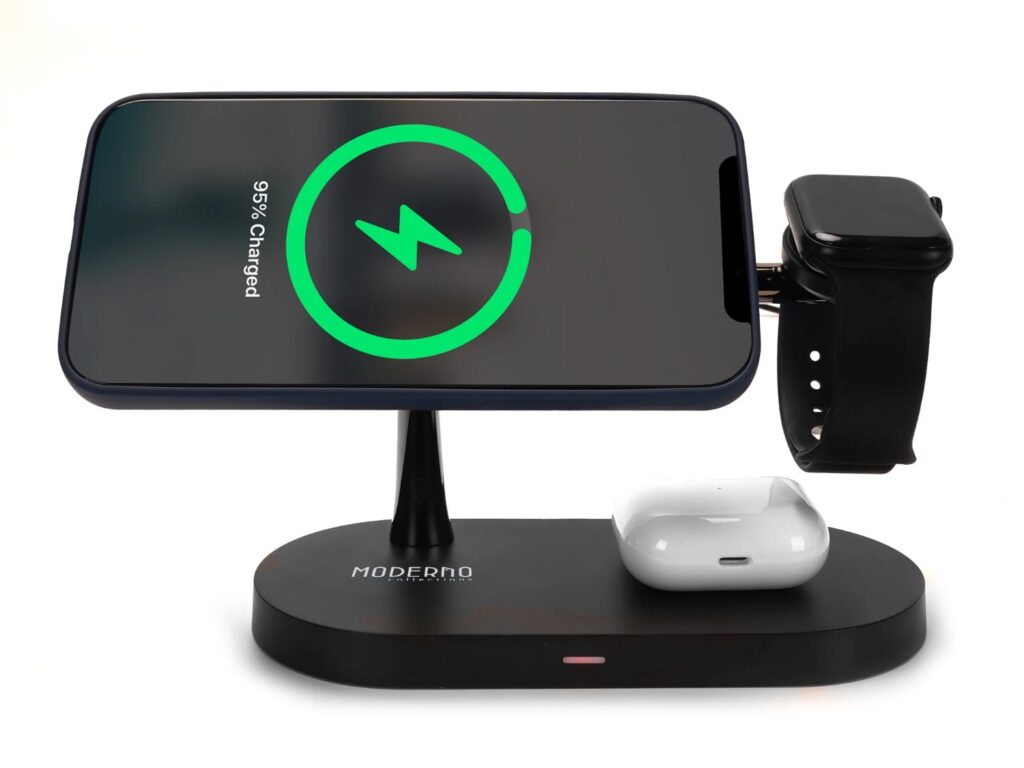 This charging stand offers 15W charging output for iPhones regardless of the model of your device. This is a good output that should charge your device pretty quickly.
For Apple Watch this charger delivers 5W output and for AirPods it delivers 3W output.
The Moderno Collections Premium MagSafe 3 in 1 Fast Wireless Charging Stand comes in Black and White color options. Both options look great however I prefer the black finish more as it looks more sleek in my opinion.
This charging stand ships with a USB-C cable and a 15W charging brick in the box, so you don't have to buy them separately.
Pricing and availability
Both White and Black color options are available for purchase on the official website. You can buy the Moderno Collections Premium MagSafe 3 in 1 Fast Wireless Charging Stand for $79.
The charging stand is available at a 41% discount right now offering you savings of $55 from the usual price of $134.
Disclosure: iOSHacker may receive a commission if you purchase products through our affiliate links. For more visit our privacy policy page.