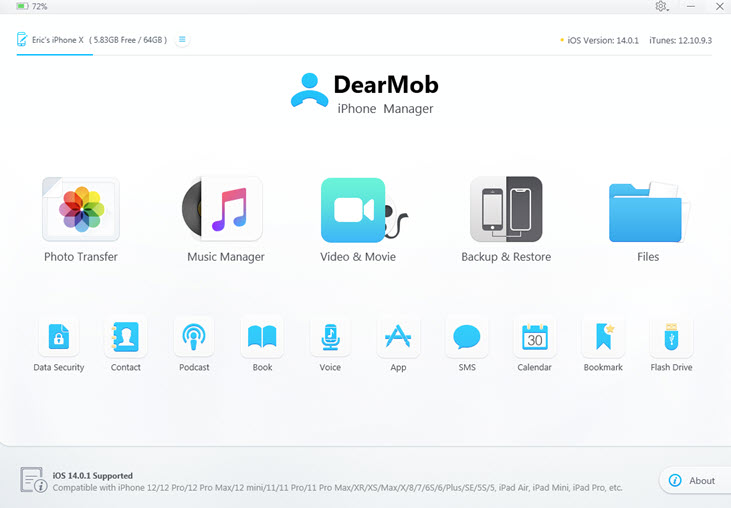 If you're looking for the best way to transfer photo from PC to iPhone, then using iTunes is the default method of transfer provided by Apple. However many users hate this solution, as they find using iTunes to be a hassle and end up facing problems like syncing issues, files not supported errors and iTunes getting stuck during the transfer process.
If you are looking for a good iTunes alternative that would allow you to easily transfer your iPhone photos to a PC, then DearMob iPhone Manager is worth giving a try.
6 Reasons Why to Choose DearMob as iTunes Alternative
This powerful software comes with a variety of features that go beyond just transferring photos between iPhone and computer. DearMob iPhone Manager is an iOS backup and transfer tool, which allows users to perform all the tasks that they have to perform with iTunes or Finder but in a more user-friendly and right way.
Speedy and convenient photo/video transfer: With DearMob iPhone Manager, it's easy to batch transfer photos and videos between iPhone and computer. Full-GPU accelerated, the transfer process is stable and lightning-fast. Besides, built-in converter provides one-stop solution to incompatible photo or video format.
Comprehensible music sync: Multiple options to organize music library are provided here. You can export music or playlist to computer, and add news song from PC to iPhone. In addition, users can also edit music info and make customized iPhone ringtones with this versatile software.
Flexible backup and restore: DearMob iPhone Manager enables robust backup and restoration at fast speed. You can fully backup and restore or just select certain types of data you need. What's more, iPhone Migration that allows 1:1 content-clone to new iPhone and iPad is a must have for iPhone switch.
Powerful files management: You can also manage contacts, podcasts, messages, APPs, and other media files with this tool.
Reliable data security: The best thing about DearMob iPhone Manager is that it manages user data with utmost level of security thanks to the use of multiple encryption algorithms including 1024-bit RSA, 256-bit AES, PBKDF2, and Argon 2.
User-friendly: This straightforward and simple software makes it easy-to-use for everyone. Video tutorials are available on website that provide detailed steps of performing each function.
Coming back to DearMob iPhone Manager's ability to transfer photos, one of the most important things that make it better than iTunes is its ability to transfer photos in batch as well as enabling users to selectively import, export and delete photos.
This tool also features a built-in converter, which can automatically solve incompatible format issues. It can even convert HEIC photos into regular JPG format so user can share them on devices that don't support HEIC format.
Similarly videos are converted in Apple-friendly MOV/MP4 formats so they can easily be transferred to an iOS device. for video transfers it takes advantage of GPU acceleration for fast and stable transfer process. It can transfer 4K and 8K videos without freezing and transfer upt o 100 photos in just 8 seconds, which is super fast.
How to transfer photos with DearMob iPhone Transfer
It is very simple to transfer photos with the help of DearMob iPhone Transfer tool. Here's how you can do it.
Transfer photos from computer to iPhone or iPad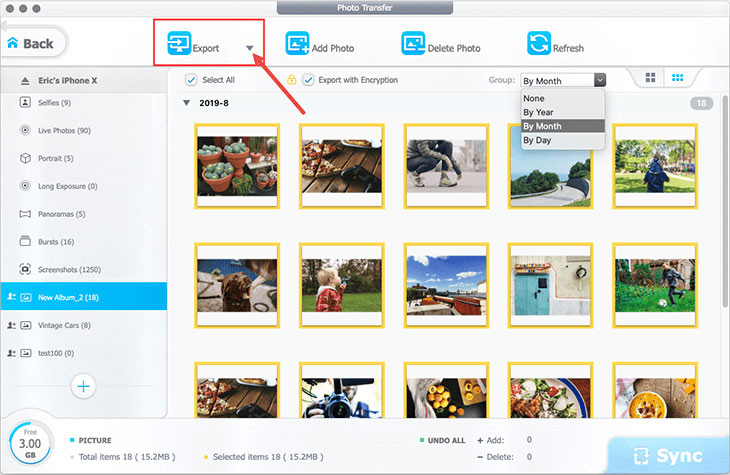 Step 1. First of all launch the DearMob iPhone Manager on your computer. Then connect your iPhone or iPad to the computer with a USB cable.
Step 2. After launching the tool select Photo Transfer option and then select the photos that you want to export to your computer.
Step 3. Once all the photos have been selected click on the Export button.
Transfer photos from iPhone to computer
Step 1. Launch DearMob iPhone Manager tool and connect your iPhone or iPad to computer with a USB cable.
Step 2. Now click on the '+' a new album and then click on the newly created album.
Step 3. Next click on Add Photo option and choose the photos that you want to add to your iOS device.
Step 4. Click on the Sync button to start the transfer process.
Let DearMob iPhone Manager export your selected photos to your computer. After its done you should be able to find these photos on your computer.
DearMob iPhone Manager is a paid tool that lets you transfer data between your iPhone, iPad and computer without relying on iTunes.
This is a paid tool that costs $39.95 for a lifetime license. You can buy DearMob iPhone Manager from the official website here.