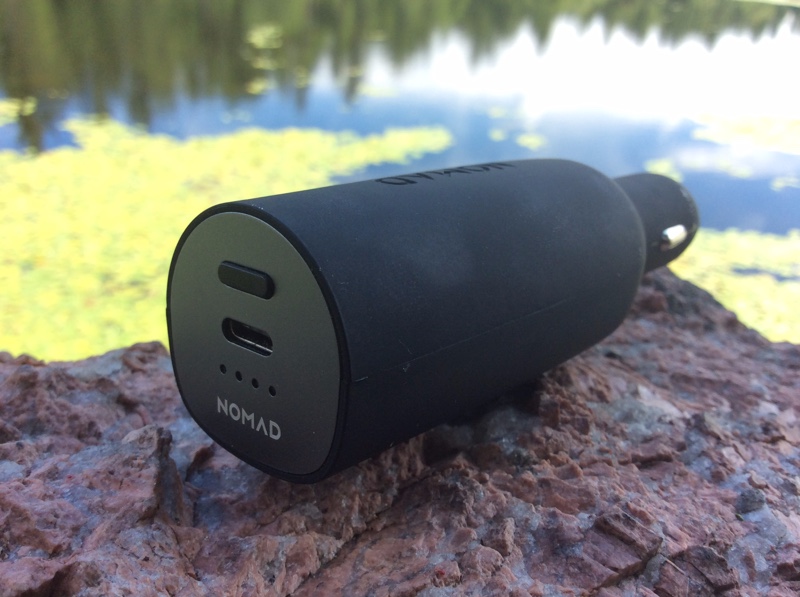 Have you ever been on vacation, perhaps hiking somewhere, and your battery dies? Ever been in the back seat of the car where both you and your friend need to charge your phones at the same time, but there is only one car outlet? The Roadtrip by Nomad is a car adapter for a USB charger, but with a few twists. Probably the most notable feature is the 3000mAh battery built into the device. You see, this car adapter also doubles as a battery pack. You can charge your device in the car as you are driving (or not, depending of the car you have. The car I had did charge the Roadtrip even when it was turned off, which was great for testing. Keep in mind that this might not be the best thing for your car battery.)
What makes the Roadtrip special though, is that you can charge your device when you get out of your car. It works great! Nomad says that it takes about two hours to fully charge the Roadtrip, and that is the time I got while testing it. They also say it gives you 125% extra battery power for an iPhone 6S while acting as a battery pack, and I must say this is also quite accurate.
It charged my iPhone 5S from being dead to 100% in about two and a half hours. It also then gave me some extra percentage on my iPad mini 2 (keep in mind that an iPad battery is much larger than a iPhone battery, hence why it didn't charge it by 25% percent). I'm using the Roadtrip right now on my iPad as I type this review, and in the past few weeks that I have been using the Roadtrip, I find that my battery has been much better. Before when I used my phone, I would need to charge it at least once or twice a day. Now, I only really to connect it to a wall outlet whenever I'm going to bed. The Roadtrip allows me to be not so tethered to the wall.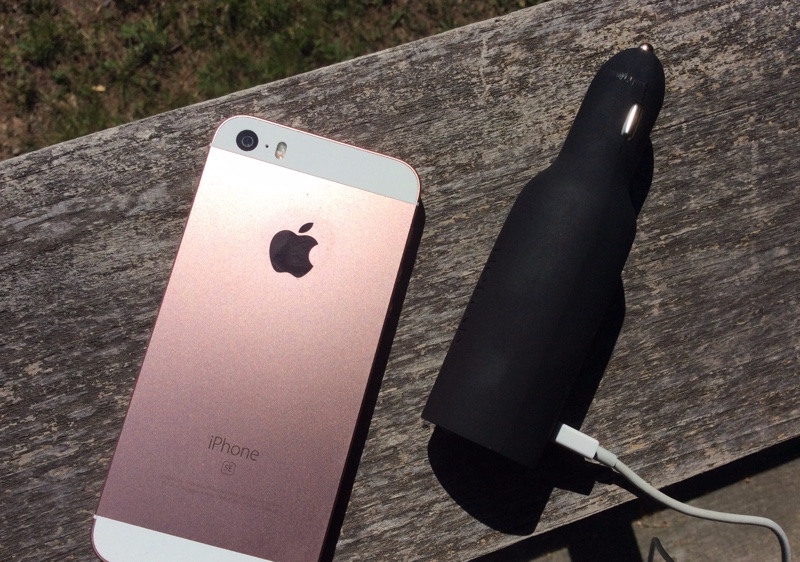 As you might have guessed from the title, the Roadtrip is great for traveling. I was thrilled to receive it just before I went on vacation, as it would allow me to use it to it's full potential. It worked wonderfully! I was able to charge my device in the car on my way to the airport (normally my iPhone, but on a occasion sometimes my iPad as well), then I was able to use it on the plane, then use it again after landing and driving some more. My devices never died, which was great because it allowed me to pass the time more quickly. I also stayed at a cabin for a little while with lim electricity, so the Roadtrip came in handy then too, as someone else could use the electrical outlet, while I used the Roadtrip. It also helped with not unnecessarily starting the generator just to charge my iPhone.
The Roadtrip is smart, in the sense that it will charge your devices before it charges itself. It has four LEDs to show the battery level of the Roadtrip. The next light would blink to show when its's charging, and then they all turn off when it's done. I found that rather odd, as it's the same state as when the device is not charging (all lights off). It would be nice it all the lights could pulse or something to show when it's fully charged, and perhaps disable the pulsing by pressing the button above them or disconnecting from power, in case it's distracting. It's a small detail, but it would be a nice little touch.
Also read: Nomad Wallet is the best accessory to double your iPhone's battery (review)
When it's not connected to power, you can press the button to see how much power is remaining. If you want your device connected, but don't need it charging at the moment, you can hold the button to disable it charging the device, which is great for saving the battery.
At the beginning of the article, I posted the situation of having only one outlet and two people wanting to charge their phones. While it's true that you can charge two devices at the same time, there is a important detail that you need to take note of; one of the USB ports is USB Type-C. So while, yes, you can charge two devices simultaneously, one of you is going to need a USB type-C cord. While it seems that USB-type C is heading into more and more devices; the new MacBook and some Android phones, most people don't use them for anything else. I've never seen an USB Type-C to lightning cord in person before. Since USB Type-C seems like it's going to be the future standard, that is why Nomad has chosen to include it, so their devices are future-proof and they last a long time. Keep in mind that you can still charge USB Type-C devices with a USB Type-A to USB Type-C cord. I have one of them for my Apple TV. I couldn't use it for much when I was testing however. When trying to plug the Roadtrip into a USB charger or computer for example, nothing happens. You can only charge the Roadtrip in a 12V socket, unless you have a 12V to wall adapter. It's not often that you'll need to charge it inside the house, but it would be a nice feature to have, especially if you need to have your vehicle running to charge it.
Speaking of having your car on to charge it, that's something that the Roadtrip excels at compared to other car charges. If you have been driving for a little bit let's say, then stop to take a break, when you turn off your car, the Roadtrip can change from charging your device from the car to the battery. That means you can charge your device even when you turn your car off without skipping a beat. Then when you turn it back on, the Roadtrip will automatically switch back to using the car, saving it's battery.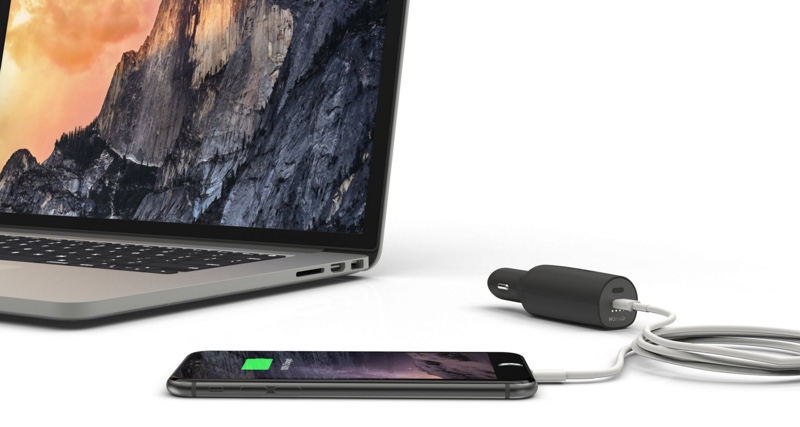 It's hard to criticize it too much, considering the size factor, but I do wish it contained a slightly larger battery. I feel that if one of the abilities they feature is to charge two devices simultaneously, it should charge them fully. I personally don't go through so much battery that a 200% battery is necessary, but I think for people who are going to be charging two devices at the same time often, a 200% battery would be most welcome.
The last thing that I would like to examine is the design of the device. By looking at the pictures, it looks quite light. However, the device does have some weight to it, since it has a battery onboard, but it doesn't feel heavy at all. The USB Type-A port is located at the bottom of the device, with the USB Type-C located underneath the button on the front. It looks great, since both the button and port are the same size and shape. Everything on the front is aligned, which I like. I did notice after using it after a while that a little ring showed up where you plug it into the car, but it's not that noticeable, and never did it affect the performance in any way.
Overall, if your going on vacation, or find yourself often on the road, the Roadtrip is a great buy. You can buy Nomad Roadtrip for iPhone and other devices for $49.95. Buy Nomad Roadtrip