CES 2014 is about to kick off and awesome accessories have already started pouring in. Although Apple does not take part in the Consumer Electric Show itself many companies that develop products for iOS devices showcase their creations at the event. Several great accessories are revealed at this annual show and this year is no different.
We have featured some of the best iOS accessories that have been introduced during the show until now. Of course we will report about more products as soon as they are announced. Today's roundup includes SteelSeries iOS controller, iPhone and iPad controlled Parrot MiniDrone, Sphero 2B toy, GuitarSidekick, StudioConnect HD and Kolibree Wireless Toothbrush (yes!).
SteelSeries Stratus iOS Controller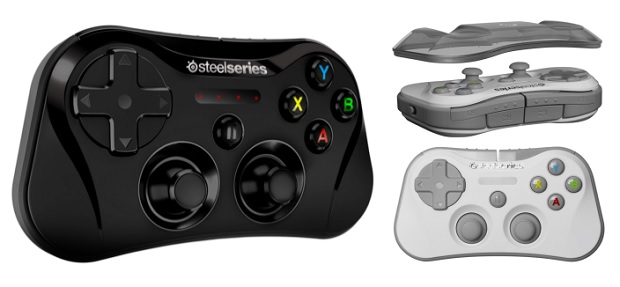 Joining the list of 'Made for iOS' controllers with Logitech PowerShell Controller 
and MOGA Ace Power
 is SteelSeries' Stratus iOS 7 game controller. It is made by SteelSeries, which is a well known brand in the world of PC peripherals. Unlike the other game controllers that are available in the market Stratus takes a different approach as instead of physically connecting with the device it uses wireless Bluetooth connection. The Bluetooth connection feature means that it can also be used with the iPad since there are no size issues. This makes it the first MFi controller ever to feature support for the iPad. It has a battery that is good enough to run it for 10 hours of gameplay.
Although there is a positive aspect of not connecting with the device physically there's a downside as well. SteelSeries' Stratus does not charges the iPhone like other MFi controllers. Also, its lack of an important feature does not mean it costs less as it is also priced at $99. If you are interested then pre-orders are available at SteelSeries' website. Official release date has yet to be announced.
Parrot MiniDrone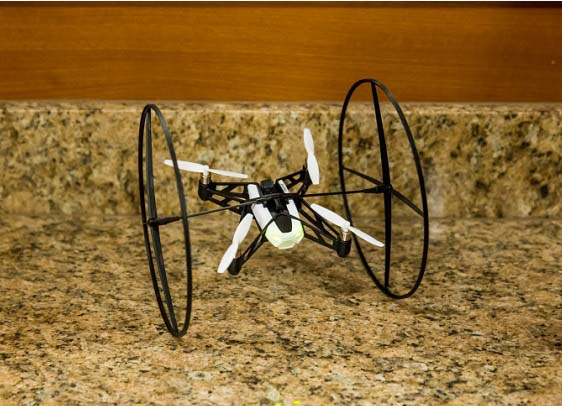 For non-lethal drone enthusiasts Parrot's new MiniDrone is a smartphone controlled drone that in addition to flying is also capable of rolling over the ceiling. It is essentially a smaller version of AR Drone making it more portable and fun to use indoors. However there are downsides of it being really small, which includes lack of camera. MiniDrone is set to get released later this year. Pricing details are yet to be unveiled.
Parrot's Jumping Sumo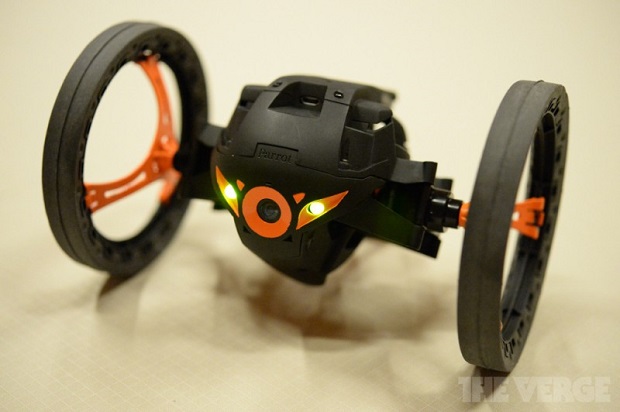 Just like its name the Jumping Sumo is another cute iOS-controlled robot toy introduced by Parrot. Unlike MiniDrone the Jumping Sumo is equipped with a built-in camera and is ground-only. That does not mean it does not have aspirations to fly as this small robot is capable of jumping up to 80cm. It is also coming soon later this year. (Img Credit: TheVerge)
Sphero 2B

At this year's CES 2014 Ortobix that gave us Spehro is back with another iOS controlled toy called the Sphero 2B.  It comes with a dedicated iOS app that allows users to control it out of the box. It is twice as fast as previous versions of Sphero products and is capable of getting into air at around 3 feet when you hit a jump at full speed. The Sphero 2B is a budget toy that will be priced at $100 and will be available around summer.
GuitarSidekick

Griffin announced the GuitarSidekick for iPhone. It is a clamp for the guitar that is capable of holding the device on the headstock. This accessory aims to help users to hold their iOS device while they are using music apps on the iPhone. It will be available in March and cost $20.
Griffin StudioConnect HD

Another iOS accessory Griffin introduced today is StudioConnect HD. This one is not limited to iOS or iPhone only as it also supports Mac. Features include a pad switch, clip indicator, 48v Phatom Power, two combo 1/4 inch /XLR input as well as two TRS 1/4 inch balance outputs for studio monitors. It will be launched in the fall with the price of $199. (via 9to5Mac)
Also read: Top 6 iPhone controlled RC helicopters money can buy
Kolibree Wireless Toothbrush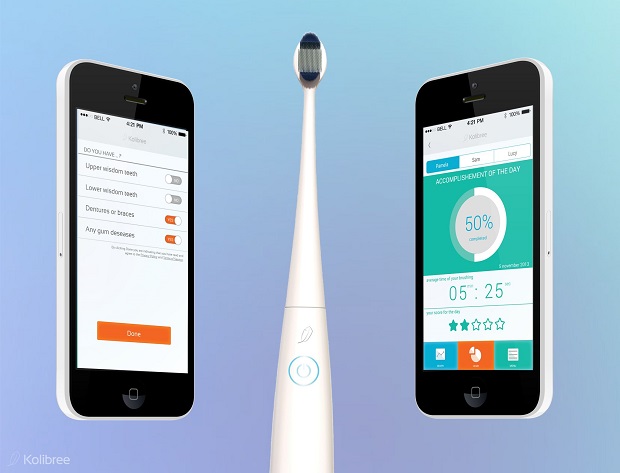 If you got confused after reading the headline above then don't be as this thing is real. At CES 2014 Kolibree has introduced a wireless toothbrush complete with its dedicated iOS app. It is a toothbrush for ultra tech-savvy users that has been designed to "outsmart your dentist" and with a goal to "reinvent oral care". The Kolibree Wireless Toothbrush is equipped with accelerometer that it uses to analyse your brushing. This electronic toothbrush is capable of figuring out how much tartar is being removed from your teeth. It sends the data to the iPhone app, which provides users with complete analysis.
Kolibree toothbrush is great for parents who can compare their dental performance with their kids and see if they are cleaning their teeth rightly or not. Kolibree will start a Kickstarter campaign for this device and will allow buyers to get it at a price ranging between $99 to $200.
Disclosure: iOSHacker may receive a commission if you purchase products through our affiliate links. For more visit our privacy policy page.